Que Pasa
Both yellowfin and bluefin dominate Baja Bytes sportfishing on both coasts. On the west coast rough weather and finicky bluefin frustrate anglers. On the other hand, yellowfin from cow size to schoolies are the first to bite as spring lights up.
Inshore, roosterfish, pompano and a few dorado are putting smiles on everyone's faces. Plus the grouper, cabrilla and pargo are biting up in the northern part of the Sea of Cortez.
Right Whale sightings in Baja?
"Gary, we have met several times in the past at RBV or Rancho Leonero. You were our point of contact to help John and his group book RBV fishing 20 years ago. Currently, I make a trip with a different group out of San Diego in October every year. We settled on Leonero (over La Paz) roughly eight years ago.
"Help me with an encounter I had in 2012/2013 with seeing a Right Whale at the entrance to the new marina (where Four Seasons currently is building). The panga from Leonero abruptly turned to avoid what turned out to be a whale. The captain called it a white whale — and my buddy and I figured later he was saying right whale. There was no dorsal fin.
"We are now living in St. Augustine, Florida and volunteer for Sea Turtle Rescue. I spoke with a Florida Wildlife gentleman today at an Earth Day event where they had a display for Atlantic Right Whales — as they are slightly more common on the East Coast. He was interested in my story and asked if it could be confirmed whether anyone would know whether a Pacific Right Whale sighting was odd — or common on the East Cape.
"Gary, in all your years on the East Cape, were you ever aware of a right whale sighting? The captain seemed to indicate that the whale had been in that location before — but I could not understand if the frequency was yearly or over the past few days.
"Any insight you can offer would be appreciated."
Readers: Any information on the Right Whale, please reply.
North Pacific right whale (Eubalaena glacialis) sighting South of Baja California
Records of North Pacific Right Whales along the coasts of California, Baja, Oregon, Washington and Hawaii
Tijuana Bull Ring
First the bad: Conditions were not the greatest. The seas were rough and sloppy causing many to get sea sick on the larger sportfishing boats. It was even worse for the small private boaters.
The good news is that some bonito and yellowtail have moved in to finally give this area something new to fish for, after months of nothing but little rockfish. Today the bite was on the slow but the fish are still around.
They are out west a little bit, about a mile or so, and they spread down to the Mexican Border at the International Reef. Trolling small feathers and/or Rapalas is working to locate the school and a stop is normally followed up by a few more on the anchovy or the sardine.
It is far from wide open fishing. In fact, it will take some effort to make a score but it beats fishing for mini-rockfish…fishdope.com
Coronado Islands
More cold, dirty water is still an issue.
There are some big bonito around the Islands but no sign of yellowtail.
If you want yellowtail your best bet is to keep going to the SSW and fish the kelps in the area from the 425 to the Upper Hidden Bank.
Calico bass fishing is decent in tight to Middle Island and the north end of South Island. Some big sheepshead are in these areas, too.
Offshore
425 / 371 / Upper Hidden Bank
Weather today is worse than yesterday, and it wasn't very nice then either. It's fishable today for big boats but not really for small private boats.
This zone has mixed-grade bluefin along with kelp-paddy yellowtail and big bonito.
The bluefin are in three size classes: 20-30, 50-75 and 100+.
The boats are seeing many more than they are catching.
The 371 area has green water and a lot of big bonito.
Below the 425 there is an area of kelps. Many of these have yellowtail on them and a few have some bluefin on them, too.
A wad of BIG 8- to 10-pound+ bonito was found inside of this a bit.
Also a school of 30-pound bluefin was found working under terns. They didn't want to bite anything with a hook in it though.
295 / 238
There were a couple of boats that ran long yesterday in spite of the really ugly weather.
They found bluefin in the area closer to the 295 than before. Actually, now they are are above it a couple of miles. The tuna appear to have moved north 10 to 15 miles and are located in a 5- to 10-mile block.
This is just a bit over 63 miles from Point Loma on a course of 192 degrees.
There were some bluefin from 20 to well over 200-pounds but only the 20 to 35-pound stuff wanted to bite.
They bit on the fly lined sardine fished on 25- to 30# fluorocarbon best but there were a couple caught on the 150- and 200-gram Flat Fall jigs.
Ensenada

A last minute afternoon charter resulted in a wide open barracuda, one nice ling cod and a couple of bass and rockfish…Louie Prieto
San Quintin
Very quiet on the fishing front forced some to turn to surfing instead.
Northern Sea of Cortez
Gonzaga

Been chartering my Parker and it's been good … leopard grouper, gulfy, yellowtail, corvina, pargo, sierra…wow!
I'll be here till mid-May. Some of you may want to give this area a try…Juan Cook
https://www.bdoutdoors.com/forums/threads/gonzga-bay-the-last-few-days.683144/
Punta Chivato
Flew down to the Chivato Casa with a friend with a turbo Bonanza … three hours from Hemet airport to the dirt at Chivato. Worked on the Albemarle 26 CC, then my reward was being able to fish one day off the beach. Since there were no yellows around, we went to my secret spot where the reds and dogtooth were on the bite; We caught plenty for the freezer before heading home the next day. Seems so strange to take off from Chivato at 9am and be home in U.S. in a few hours….Craig+Theresa Cove.
Loreto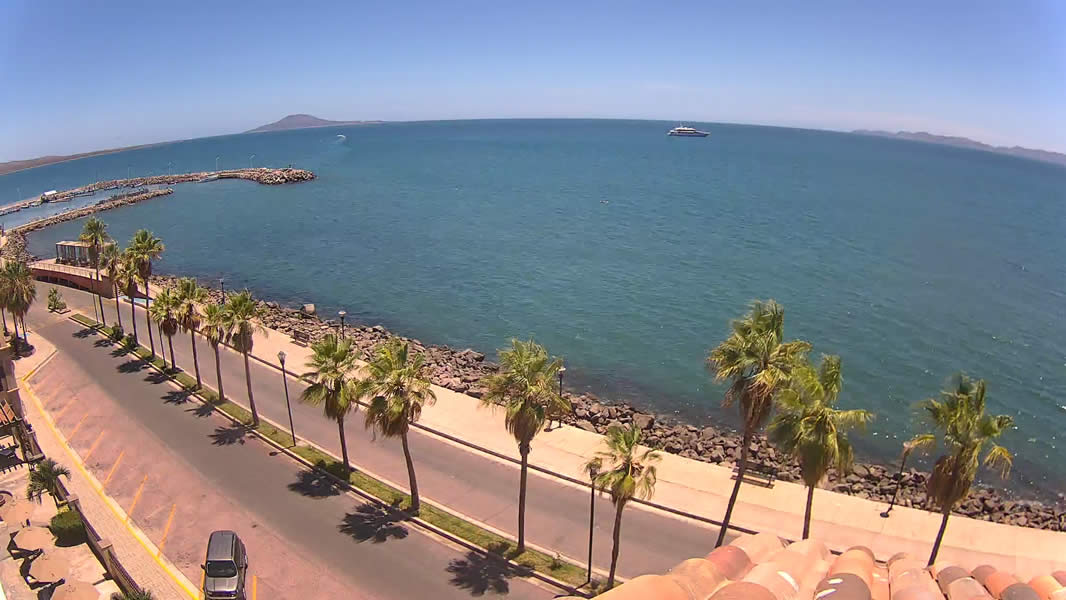 The temperature crept up into the low 90's this week and even better, the fishing started to get hot.
Most of the Loreto-based boats are hitting the area from Carmen's north point all the way south on the east side.
Lobo and just outside did the "happy trick" for yellowtail with most fish between 15 and 25-pounds.
Ditto for farther south at "pero", a high spot that the Escondido crowd calls "Perico".
The cabrilla have been non-attending this week except for a few caught on trolled hard-bait.
I had asked Captain Tony Davis if anything was happening up north at Almeja or Pulpito and he replied, "Everybody is catching fish at the usual "go-to" spot, so why do the long drive north?"
I agree with that logic, but one wonders where the 35-pound yellowtail are dining…Rick Hill, Pinchy Sportfishing
La Paz

MEXICAN MINUTE LA PAZ FISHING REPORT from TAILHUNTER SPORTFISHING for Week of April 22-29, 2018
Sarah Gardener finds a fifty plus rooster on the fly with Gary Bulla's Flyfishing Adventures at Las Arenas
"Absolute fish of a lifetime! I'm still grinning. I can't believe I caught that beast on a 10wt"..Sarah Gardener
East Cape

Water temps are reaching 70- to 75-degrees right now, so the conditions are getting right for a host of species this week…Van Wormer Resorts
https://www.bdoutdoors.com/van-wormer-resorts-spring-fishing/
The weather has been absolutely fantastic on the East Cape with calm seas. The fishing was a little bit up and down this week. Some days the bite was red hot and others just "so so". Maybe it was the moon phase or the fish were just plain being picky. The good news is that despite the inconsistency we still caught quality fish each day including yellowfin tuna.
https://www.bdoutdoors.com/forums/threads/scorpion-sportfishing-ft-el-regalo-east-cape-fishing-report-april-29-2018.686021/
Puerto Los Cabos
Calm winds, with warming ocean temperatures, now averaging in the 71- to 74-degree range. Still some strong currents are running through the region, as one day the ocean was much bluer and then in the same area the next day, it could be a little greenish. Also, some serious marine layer fog to deal with was north of San Jose del Cabo mid-week.
The great thing in recent days has been that the yellowfin tuna on the Iman Bank are now
very active; most all these fish have been in the 25- to 60-pound range. Sardina has been the bait of choice — a couple of different varieties — and have been available on a daily basis. Some anglers reported success on strips of squid and at times live caballito or chihuil were working.
Through the week charters were doing well, averaging from two to six yellowfin per boat, with many other hook ups lost due to various reasons, including seas lions, sharks and cut lines from having to use lighter leaders because the fish were more shy and finicky. Tuna could be seen boiling and jumping clear out of the water. Very exciting action!
Besides the yellowfin tuna, there wasn't much going on, except mid-week when a couple of days of good striped marlin action was encountered on the same grounds where the tuna were schooling. Some nice-sized stripers up to 140-pounds were landed.
Off the bottom there was limited action, with part of the reason being that almost all charters were now targeting the tuna bite. There were a handful of yellowtail, amberjack, leopard grouper and other species accounted for when working the bottom with iron jigs and larger baits.
Inshore the main action reported were jack crevalle, some up to 25-pounds plus, a few sierra and smaller-sized roosterfish. Schools of the clear type of sardina were found just north of the Puerto Los Cabos Marina jetty and anglers fishing from the shore reported some decent action on halibut to over 10-pounds and several corvina to 25-pounds.
As this summer-like weather continues, we expect the water temperature to warm even faster and this in turn will bring in more schools of bait, with a wide variety of gamefish following closely…Eric Brictson, Gordo Banks Pangas
Cabo San Lucas
Numbers at a glance: Billfish 10%, tuna 79%, dorado 36%, other 12%.
Weather in Cabo has improved this week, with winds dying down and only a bit of swell appearing just after midweek. With 39 out of 41 boats catching fish, it's been the most successful week fishing this month. Tuna was undoubtedly the most caught fish for the fleet. Variety improved with more dorado and wahoo. Smaller game fish were only caught by those who decided to stay close to shore.
The yellowfin counts dominated the later part of the week starting on Tuesday with big sierra counts happening over the weekend and earlier in the week.
The marlin fishing was definitely off, but most boats targeted the yellowfin beginning on Tuesday.
Cabo Climate: The April weather has returned to mostly sunny skies with average daytime temps in the 80s and evenings in the upper 60's to low 70's. The two-week forecast is a bit cooler with daytime temps in upper 70's and evenings in the mid-60s. No precipitation predicted over the next two weeks. Winds are expected in the 10- to 14-mph range through first part of May. Humidity expected to run in the 70%-range into early May.
Sea Conditions: Relatively calm seas throughout the area with some surface chop occasionally stirred up by surface breezes at 10- to 14-mph mostly out of the SSW. Forecast is for more of the same with winds in the 10- to 14-mph range out of the west. Sea temps around the Golden Gate and Jamie Banks are running in the 68- to 70-degree range. Water around Cabo Falso east to the Gorda Banks is warmer in the 71 – to 72-degree range.
Best Fishing Areas: The San Jamie was the hot spot for yellowfin. The Herradura area produced marlin that were caught and Migrino seemed to be the hot spot for sierra.
Best Bait & Lures: Feathers and cedar plugs were the favorite for the yellowfin with Hoochies the hot ticket for the sierra.
Bait Supply: Plenty of bait available at the $3.00 per bait rate upon exit from the harbor.