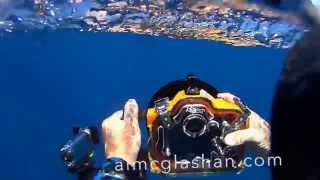 Incredible underwater video by Al McGlashan of marlin lit up and feeding as he jumps in to video them. The colors are amazing and he is up so close. Al McGlashan is no stranger to big game fishing. He is one of Australia's favorite TV fishing personalities who travels the globe capturing the essence of big game fishing.
Al has been able to experience what most of us only dream of.
Check out this video of a giant mako shark attacking a marlin while Al is in the water.
Photo Credit: Video capture from Al McGlashan on Youtube