Que Pasa
An ample supply of bait has begun to attract a number of exotics, so standby — Sportfishing Baja is about to transition!
In the meantime, the weather hampers the bluefin tuna tease on the Baja Pacific side and the attention remains on the Sea of Cortez as wind plays cat and mouse with anglers. Be patient, wait the wind out and be rewarded with some impressive catches.
Farther south …. "tuna, tuna, tuna" seems to be the mantra at the moment with billfish, dorado, and wahoo just beginning to get in the game.
Tips for Baja

https://www.bdoutdoors.com/ballyhoo-preparation-video-from-fly-navarro/
Tijuana Bull Ring
There has been a small rockfish bite on the outer drop off areas on the kelp line and the pipe, but there hasn't really been much else going on. There's been lots of wind lately that has turned the water over and slowed the bite way down.
Coronado Islands
It's still very slow for surface fish. The cold, green water killed any shot at yellowtail or bonito, at least until conditions stabilize and the water begins to warm and clean up.
Offshore Sportfishing Baja
390 to the Upper Hidden Bank
A few sport boats found some clean, 62-degree water, but after taking a quick look at the area, there wasn't much worth sticking around for. Local anglers add that although the wind has hampered the surface fishing, it appears that the yellows and large bonito are still around.
Hidden Bank / Upper 500
Most kelp are empty in this area, but there are one or two holding small- grade, 3- to 8-pound yellowtail on the clean side of the color break.
This zone has held scattered spots of 20- to 100-pound bluefin and a few kelp are holding good numbers of 5- to 12-pound yellowtail. The bluefin have been showing briefly around gray light, but are then sinking out for most of the morning, popping up again in the afternoon as scattered jumpers and sonar spots are being located from 5- to 30-fathoms down. The general area is a 5- to 10-mile block on the warm, clean side of the north/south color break.
The bite has been far from wide open, and only a lucky few boats have found spots where the bait is willing to stick with the boat and eat a little; the bites seem to be coming on the long soak on light line, small hooks, and fluorocarbon leaders – standard "plunker" bluefin fishing.
Because most of the biting tuna are coming from sonar spots, it is still recommended jumping on a boat with sonar if you want to get in on this early-season bite.
This is a long run for a few kelp paddy yellowtail if you don't have high-end electronics on the boat.
Ensenada

Cold water and windy conditions shut off most of the surface action, leaving most of the fleet struggling to come up with limits of a variety of bottom fish…It's 4 reel sportfishing
San Quintin
Cranky seas pin anglers to the beach, but better days are coming soon.
Bahia de Los Angeles
Just came back from BOLA fishing Monday thru Wednesday. Roads were great. Weather was nice as well. Hot in the daytime settling in to cooler evenings. Monday was fishable, Tuesday was really windy but Wednesday was the nicest. Went north and proceeded to get some 15- to 20-pound yellows. Also got a few decent groupers, all on the troll fishing north of Alcatraz. Size 20, green Yo-zuri Xraps were killing it. Stayed at casa Diaz and finished with Chato. The main reason I was there was to deliver funds to help out a local church who needed to build a new roof for the pastor's parsonage. Had a great time and will return in June. If you have any specific questions feel free to ask…Sam, City of Orange
https://www.bdoutdoors.com/forums/threads/bola-april-trip.682899/
Gonzaga


There are similar conditions all the way down the East Coast of Baja making for decent Sportfishing Baja. Yellowtail, sierra and corvina on the surface, plus some phenomenal bottom fishing for pargo, cabrilla and trophy-sized grouper for the anglers who put in the time and know how to work around the wind.
Bahia Asunción
I had a Pacific Sunfish (Mola Mola) hang out with me today — one of the larger ones I've seen.
This is the first one I have seen down here. They spend a good bit of their time hanging out on the surface. I usually see them around floating kelp as they are mostly vegetarian; they are seldom hooked by anglers unless foul hooked. They are usually very social around boats.
Now this is strange — couple of days after I see the big Mola, with no jellies around and miles and miles of cold green water, one of the locals comes in with this guy… What the heck is going on? I have not spoken to the angler yet but there must be a good story!!! ...Ross Zoerhof
Loreto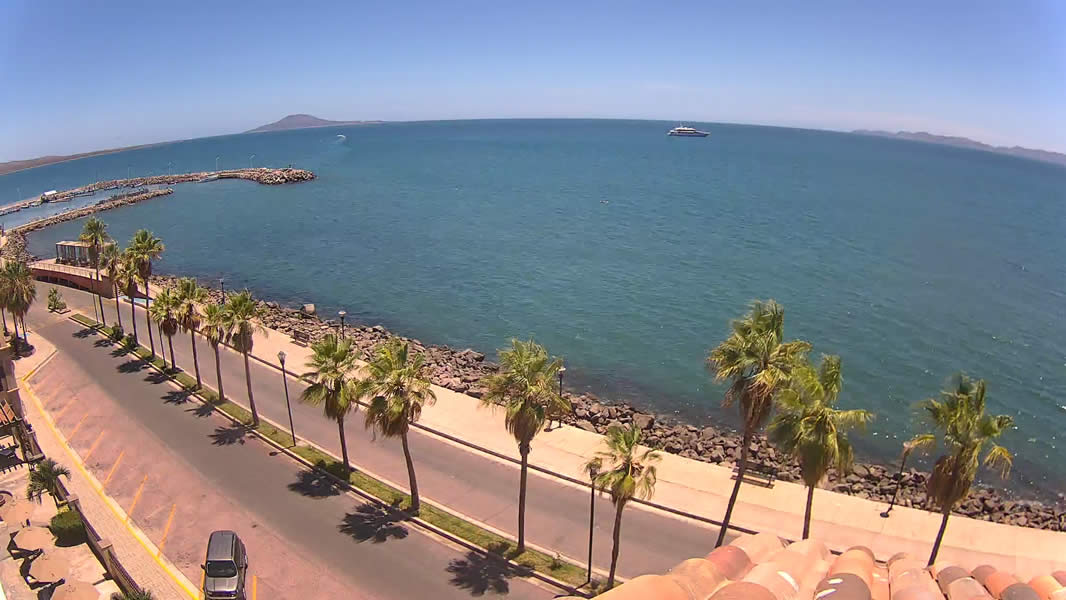 We almost had a mini-tournament blown out by the wind this weekend. The first day looked pretty marginal with the sea whipping up wet but not dangerous with white caps. The final day was smooth as glass which makes the required traveling much more comfortable.
Not much change in the fish-catching with yellowtail being the "as always" target. A few larger fish are being caught off the north tip of Catalana Island with some fish in the 30-pound range.
Cabrilla are starting to get more active and into the shallower waters. The bottom fish scene remains constant with mostly pintos, reds and whitefish.

Spring changes:
Every year about this time we get a few windy days that churn up a mass of "sea lettuce" that has always stirred "visions of sugar plums dancing in my head!" The first few years I imagined dorado doing the dancing but that has yet to happen…
The reality of the green stuff is … it's a signal of the changes that bring the cabrilla to shallow waters. Yellowtail come out of wherever they have been hiding with a huge appetite for anything "mackerel"!
Soon to start will be the hot action at most of the hot spots around the local islands. Out in open water we have already been seeing the dining frenzy on bait schools…Rick Hill, Pinchy Sportfishing
La Paz

MEXICAN MINUTE LA PAZ FISHING REPORT from Tailhunter Sportfishing for Week of April 8-15, 2018 2
East Cape
The Nilsen clan is hanging out at Rancho Leonero Resort fishing with Team JEN WREN Sportfishing. Valiant 500 with the honors on recent Father-son trip.
According to John Ireland on Let's Talk Hookup this weekend, there are lots of striped marlin around with very little pressure as everyone is after the tuna. South of Pulmo, yellows have been found under porpoise.
First day out, dorado were found, mostly peanuts, but some bulls in the 30- to 40- pound range. A 35-pound tuna was taken by a Rancho Leonero guest, right in sight of the beach, three or four miles out.

What a great day of fishing in the East Cape! Suzy T. landed a 180-pound tuna,
Finatic landed a 50-pound dorado and Rude Baby landed a 40-pound dorado. Lots of tuna for everyone! East Cape is rocking!!!!…Van Wormer Resorts
https://www.bdoutdoors.com/forums/threads/east-cape-was-rocking-over-the-weekend.657957/
Puerto Los Cabos
Unpredictable and rapidly changing weather patterns; ocean conditions which had turned over are now rebounding, cleaner currents are pushing back in and the water temperatures have warmed back up in to the 71- to 75-degree range. Lighter crowds continued.
Through the first half of the week there was no surface action going on, with the only action being off the bottom for a variety of species, hit or miss from spot to spot.
The highlight was a few grouper up to 40 pounds, yellowtail to 30 pounds and amberjack to 50 pounds using various bait and some yo-yo style jigs.
Some days the winds made it tough to reach the more productive fishing grounds.
On Thursday, conditions began to improve, with a handful of 40+ pound yellowfin tuna being accounted for; they were found between San Luis and north of Vinorama using sardina which most days were available. On Friday, the tuna bite was even better with the best spot being near San Luis Bank. The yellowfin were in the 20- to 40–pound class range. Most all charters that targeted tuna were landing at least a few fish, and some had as many as ten.
There were no dorado spotted, other than a few small fish, though some wahoo were seen and even hooked into, but not landed. Quite a few whales were spotted, despite it being late season for these mammals. Early in the week there was some form of krill hatch going on and the whales and big groups of manta rays were seen getting involved in this feeding frenzy…Eric Brictson, Gordo Banks Pangas
Cabo San Lucas
Numbers at a glance: Billfish 19%, tuna 58%, dorado 6%, other species 31%.
This week of fishing in Cabo was, simply put: fun! With our main catch, yellowfin tuna, quite far out, at distances upwards of 20 miles offshore on some days, it was a true offshore fishing experience for anglers. And it was well worth it, as the tuna have been abounding! Averages of 25 tuna per boat were not unusual this week. Marlin have slowed considerably, but the few persistent marlin hunters have been able to find them.
Small game such as sierra, roosterfish, and grouper or triggerfish have also been great fun for those looking to stay closer to shore.
Cabo Climate: The April weather has returned with mostly sunny skies and average daytime temps in the mid-80s, evenings in the upper-60s to low-70s. More great weather expected through the end of the month with daytime temperatures in the lower-80s and no precipitation predicted over the next two weeks. Daytime temperatures in early May are expected to dip a bit the first week into the upper 70s. Winds are expected in the 10- to 12-mph range through first of the month. Humidity has been relatively low but expect an increase into the upper 60% to 70% range by early May.
Sea Conditions: Relatively calm seas throughout the area with some surface chop occasionally stirred up by surface breezes at 10- to 12-mph mostly out of the SSW. Forecast is for more of the same with winds in the 8- to 12-mph range out of the West and WSW. Sea temps around the Golden Gate and Jamie Banks steadily cooling into the 68- to 70-degree range. Water around Cabo Falso east to the Gorda Banks is warmer in the 71- to 73-degree range.
Best Fishing Areas: The Herradura was clearly the hot spot with solid catches of yellowfin. The El Faro area produced marlin and yellowfin appeared there as well.
Best Bait & Lures: Live bait tossed to surface fish seemed to be the ticket for the marlin. Feathers and cedar plugs were the ticket for the yellowfin.
Bait Supply: Plenty of bait available at $3.00 per bait upon exit from the harbor.