Sportfishing Baja
Que Pasa
57-Hour San Ysidro Southbound Border Closure: Sept. 23-25
A temporary closure of the San Ysidro El Chaparral border will take place for southbound vehicular traffic from September 23-25, 2017. The 57-hour closure will be in effect from Saturday, September 23 at 3am to Monday, September 25 at 12 noon. Both the I-5 and 805 freeways will be closed for all southbound traffic beginning at the I-905. Southbound vehicle border crossings will be diverted east to the Otay Mesa border crossing.
The San Ysidro pedestrian crossings (northbound and southbound) will remain open as usual and northbound vehicle traffic at the San Ysidro border will not be affected.
The temporary closure is the first stage of a seven-stage process that will last until Spring 2018 and will consist of lane reductions and construction to reroute the southbound San Ysidro El Chaparral border crossing and realign the I-5 freeway. The entire realignment project is expected to be completed by June 2019…Discover Baja
Baja Norte
Coronado Islands
Recently the Middle Grounds have seen increased traffic as summer settles in with plenty of yellowtail, bass, barracuda and bonito to target. Most of the yellows are in the 8- to 15-pound range with a few larger ones mainly caught on surface iron; there have also been some very nice calico taken on surface iron. The barracuda, bonito and smaller yellowtail have been eating slow-trolled sardines and Rapalas.
South Island has also had some fair action on the same mix of species and sizes and is a little less crowded. Both the lee and weather sides of the island have been productive at times, as have the Lighthouse, the 5 Minute Kelp and the South Kelp Ridge areas to the south.
Another area that is working is the lower end of South Island on the weather side and the Lighthouse kelp.
The bigger yellowtail are mainly found at North Island and do not want to bite as well as the yellowtail on the Middle Grounds. Try slow-trolling sardine and/or mackerel and putting one out on the surface and another down with a 10-oz. torpedo sinker.
Offshore below the Islands a few sport boats and private boats found kelp paddies holding yellowtail along with a few dorado mixed in. Many boats working this area are scoring full limits of yellowtail up to 18 pounds. They are ranging from 4 to 6 pounds up to nice-size fish in the 12- to 18-pound class.
The same area is also producing a few 20- to 45-pound yellowfin on dolphin schools and they are being caught on blind jig stops as well. There's no big volume, but just enough to make it worthwhile to keep the jigs out.
Tijuana Bull Ring and below
Pretty quiet as most skiffs are heading out to the Coronados. Still, there are some sand bass and halibut for the few boats that are there each day.
Ensenada


A mixed bag greeted anglers visiting this week … large bonito, sheepshead, calico on iron, barracuda, small yellowtail and an occasional, bonus white seabass, along with a variety of rockfish, ling and whitefish to round out limits.
San Quintin
One of the best days of calico bass fishing I've ever had out at San Martin… 6- to 8-pound fish for 3 hours straight … long drifts. We used the biggest bait we had.
The next day it was sea bass…Kelly Catian
Awesome day, no wind and flat seas. Most of the fleet went out to San Marti
n. We worked bait on point and decided to fish the shore off point for butts and bass … BABOOM! … two halibut and limits of calico and sand bass.
The water was clean, 67 degrees with lots of small bait around. It's going to be a great summer here in San Quintin…Alex
https://www.bdoutdoors.com/forums/threads/oldman-fun-on-the-bass.661515/
Cedros Island
Warm weather with light offshore winds and occasional monsoon rain showers have come throu
gh with 71 degree water on the front side and 66 degree water on the back side; loaded with red crab, it seems to be the perfect formula for good fishing.
School-size white seabass continues to be a crowd-pleaser biting white plastics on the backside of the island in the coves.
The yellowtail continue to be taken on trolled (almost any color) Mag 30 Rapalas which are doing the trick.
The reaction style baits are proving successful in attracting the better quality calico bass.
On the backside a nice grade of halibut are lurking tight to the beach taking artificials.
Islas de Benito
A recent group fishing from kayaks had excellent bass fishing with sizes up to 8-plus pounds. Smaller 10-pound yellows were also biting very well at the East Island in the purple blue water.
Micro-sized red crab were common and Daiwa SP minnow in the Lazer Sardine pattern, along with senorita-colored Kicker Jigs surface iron were the best bass and yellowtail baits. …Jeff Mariana, Cedros Tackle
Bahía de Los Ángeles
Fishing was real slow for us; we went south and only caught 2 yellowtail 'til noon, then went behind Horsehead Island and caught about 6 or 7 from 12:30pm to 2pm, all about 10 to 15 pounds, with one weighing around 20ish. We caught more cabrilla than yellows. Next day we planned to head for the backside La Guardia if weather permitted. Alfonso Daggett did very well there today.
https://www.bdoutdoors.com/forums/threads/current-bola-bite.661411/#post-4375843
Don't miss the upcoming PESCA LA BAJA 2017 Championship series — July 21-22 at Los Angeles Bay in the Gulf of California!! We hope to see you in the 3rd stage of the FISHING LA BAJA Championship July 21 and 22 … more information on bases, regulations and prizes at: www.pescalabaja.com
Bahia Asunción


This year there were only 2 yellowtail caught in the annual fishing tournament of the Cooperative California de San Ignacio, a fund raiser for the student scholarship program. They were pretty far offshore and many were seen but they weren't biting. First place in Alta Mar yellowtail category was won by the distinguished Tomas Arce from Pta. Eugenia with a 24.9-pound fish!…Shari Bondy
https://www.bdoutdoors.com/forums/threads/yellowtail-starting-to-show-in-bahia-asuncion.660021/
Mulege

Last Friday Earth Ocean Farms, a leader in mariculture in Mexico, successfully released 30,000 juvenile totoaba (Totoaba macdonaldi), an endangered fish species that is unique to Mexico, back into the Sea of Cortez, as part of a groundbreaking program to save the species, protect the ocean ecosystem, and provide new economic development options for the state. This historic totoaba re-stocking is the largest in the history of Baja California Sur and was undertaken in close collaboration with SEMARNAT, CONAPESCA, the Baja California Sur Governor's office, the Municipality of Mulege, Eco-Alianza de Loreto, and Alianza Waterkeeper-Mulege, on the shores of Playa Santispac in Bahia Concepción.
Loreto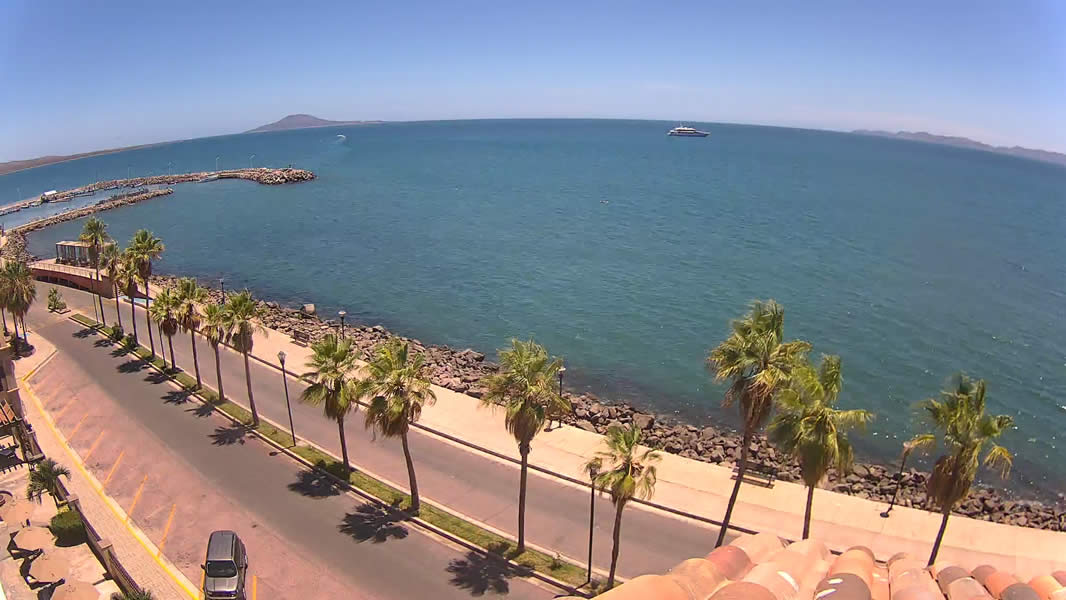 The Loreto summer fishing scene is looking more normal than it has in the past few years, although the dorado are still small.
The most frequently caught size this past week has been under 10 pounds.
Sailfish and marlin are sneaking slowly into the fish count, but so far there have been no "wide open" events.
The key to this story I feel can be interpreted from our scuba diver's comments:
"The water at Danzante Island is warm enough to dive with only a shortie (wetsuit) and the visibility is 100 feet."
"Coronado Island has good visibility but the water temperature is a butt freezing 60 to 66!"
Summer fishing depends on finding the right water, clean and blue, with the right temperatures … 78-82 being the numbers to look for.
With such a wide spread of water temps the fishing crowd needs to search the typical spots and listen to the radio (Ch#11)!
So far we have had a good supply of sardina which is almost a must for the fly fishing warriors! …Rick Hill, Pinchy Sportfishing
La Paz
There were lots of small dorado inshore and around the buoys and we saw several jumper and sleeper marlin as well. I think anyone fishing La Paz/Las Arenas in the next few weeks is going to score.
https://www.bdoutdoors.com/forums/threads/cerralvo-report-7-3-7-10.661122/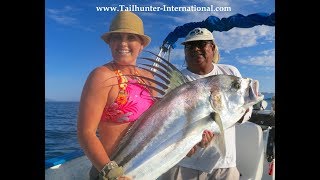 Mexican Minute La Paz Weekly Video Fishing Report for July 9-16, 2017
Tailhunter Sportfishing…Jonathan
East Cape

Building on last week's better fishing, the East Cape exploded this week with phenomenal sportfishing! Water temperatures are up a bit and clear blue water is being found within miles of shore. Large schools of bait have come into the area and the action is HOT! After two slower-than-normal El Nino years, the East Cape is back baby…Fish Scorpion & El Regalo, Matt Clifton
https://www.bdoutdoors.com/forums/threads/scorpion-sportfishing-feat-el-regalo-east-cape-sportfishing-report-july-15-2017.661495/

With 141 teams competing, a 61.4-pounder on Don Julio wins truck…Van Wormer Resorts.


Conditions remained excellent for fishing – hot days with light midday breezes helping cool things down a bit. The most productive water was measured at 82 degrees with quite a variation in temps…John Ireland
https://www.bdoutdoors.com/forums/threads/dorado-shootout-delivers.661498/
Puerto Los Cabos
Ocean temperatures have warmed up into the 82-degree range on the Sea of Cortez side, but the Pacific is still slightly cooler.
Live bait options consisted of caballito and mullet, along with some chihuil and bolito which were being found and used for trolling on the offshore grounds.
Inshore fishing action has slowed but with higher surf conditions, a scattering of roosterfish and jack crevalle were taken. Most fleets are working the grounds from Iman to the San Luis Banks; this is where the most productive all-around action was encountered.
With the warming currents, the fast action for huachinango has slowed, though there were still some to be caught, all on yo-yo jigs off of Iman and San Luis Banks, along with a mix of Eastern Pacific bonito up to 10 pounds. These were the same grounds where quality-sized yellowfin tuna were schooling … not in huge numbers … but tuna in the 30- to 80-pound range were being hooked into on a daily basis. These yellowfin were also striking the yo-yo jigs well this past week, not something they commonly do; usually they prefer various whole or cut bait. Besides striking on yo-yo jigs, these tuna also hit while drift fishing or slow-trolling bait.
Most charters were having chances at least for one or two tuna, while others landed as many as three or four. Many fish were lost as well, because these yellowfin were a bit line shy; most anglers were using 40- to 50-pound leaders in order to have better chances at hooking up, resulting in a greater percentage of lost fish.
We have seen a couple of nice-sized amberjack recently. This is the time of year when we see the largest of these ambers of the season … not uncommon to see fish up to 80 pounds now…Eric Brictson, Gordo Banks Pangas
Cabo San Lucas

Fishing in Cabo has been mostly good this week, although there was a slow down with about half of boats skunked a few days mid-week. However, when it has been good throughout the rest of the week, we've seen boats land a varied array of summer species. We saw another rare Pacific shortbill spearfish this week so we doubt that anyone is going to continue to believe that they are that rare in our waters. However, we usually see about 2-3 of these in a whole year. We saw quite a few sailfish this week as well, which generally signals that the summer water temperatures have arrived. There were also a number of blue and striped marlin caught on Pisces boats, along with some very large dorado, yellowfin tuna, wahoo and grouper.
Our top boats this week:
The 31-foot Pisces Tracy Ann captained by Julio Castro and deckhand Martin took out Chad and Melissa Wyler from Ohio. Melissa was lucky enough to release a 30-pound spearfish; they also landed a 340-pound blue marlin on a petrolero lure, and a 35-pound wahoo. They also landed 11 yellowfin tuna in the 10- to 20-pound range; all were landed at San Jaime.
-The 42-foot Pisces Hot Rod captained by Erick Orozco, took out anglers Logan and Steven from Gastonia, North Carolina about 26 miles to the 1150 Spot. They had an incredible triple hook-up into two sailfish in the 100- to 110-pound range, as well as a 170-pound striped marlin. They later landed two yellowfin tuna around 15 pounds each.
-The 31-foot Pisces Ruthless captained by Beto Lira had the Giglio's from Houston, Texas on board and headed out to the 120 Spot. Here they released two striped marlin weighing near 110 pounds, as well as a very impressive bull dorado of 52 pounds; all were landed on live caballito. They also landed two yellowfin tuna around 10 pounds each on cedar plugs.
-The 38-foot Pisces C Rod captained by Abel Ramirez released a nearly 300-pound blue marlin for the Arbela's from Springvale in Queensland, Australia. The 42-foot Pisces Yahoo captained by Ricardo Escamilla released a 200-pound blue marlin for some anglers from Dallas, Texas; the 31-foot Pisces Cabolero captained by Hector Ayala released a 160-pound sailfish for anglers from Arlington, Texas. The 28-foot Pisces Andrea captained by Orlando Murillo released a nice 100-pound sailfish and landed a good-sized dorado at 30 pounds for the Callahan's from Virginia. The 35-foot Pisces Knot Workin captained by Tito Olascoaga released a 170-pound striped marlin, as well as landing a 30-pound wahoo and three yellowfin tuna for some anglers from Texarkana, Texas and last but not least, the panga Salsa landed two nice grouper near 20 pounds on caballito live bait for Gretchen and Ryan from Bellevue, Washington.
LOCATION: Cabrillo Seamount, San Jaime.
WEATHER CONDITIONS: Clear skies and calm seas most of the week; air temps averaging in the 80s.
AVERAGE WATER TEMP: 80ºF.
BEST LURES: Caballito live bait, cedar plugs.