Baja Sportfishing Hot – Best Baja Fishing
Southern Baja sportfishing on fire…from Loreto to the tip by all accounts its summertime fishing at its best with weather to match.
While northern Baja begins to catch-up as sea-temps on the Pacific side continue to climb.
Don't miss what many locals are saying is back to normal (GREAT) fishing that made Baja famous
Que Pasa
Grande yellowfin return to Loreto for summer curtain call!
Tijuana Bull Ring
It's been on the slow side in the afternoons recently after the tide change switches the current around and starts to push inshore; the calico bass become more active and in a biting mood along the kelp lines.
And all along the coast below here, the kelp is providing good calico bass fishing along the outer edges (again, where you find a little bit of current running along the beach).
Coronado Islands
Yellows seemed to have disappeared leaving the bass to do their own thing around the islands. You may find a few yellowtail and/or bonito around North Island through the Middle Grounds to the north end of South Island and down the weather side to the lighthouse and South Kelp Ridge, but the bite is way off the pace from over the previous month or so.
Coronado Canyon
There are some small wolfpacks of 30- to 40-pound. bluefin and 10- to 20-pound yellowfin under terns but they didn't want to bite very often.
You may also find a few kelps with some firecracker, 5- to 10-pound yellowtail and maybe a dorado or two. Overall, though, the better volume of tuna is another 10- to 15-miles to the west.
425
It's fairly slow through this zone now. The water is a little streaky in here, but kelps in the clean, 71- to 72-degree water are holding some yellowtail and dorado. You might also stumble across some bluefin or yellowfin, but the volume is way down compared to the main body of fish above the border.
Ensenada

There have been recent reports of yellowtail, bonito, skipjack, and barracuda; in addition, there are reports of bluefin tuna about 20 miles outside the Todos Santos Island.PHOTO
Fished on the No Limitz 2 with my son and two other guys. Wide open for barracuda and 6 small yellowtail. Fun day on the water. Barracuda where hitting all iron and mega baits. Yellowtail were caught on live bait..Paul
https://www.bdoutdoors.com/forums/threads/local-ensenada-trip.693820/
San Quintin
Yellowtail are still slow, water is a bit off color but very warm up to 74-degrees in some areas, calico bass have been off the hook down here as well as sand bass, reds and lings are good and the halibut have moved in.
We went 9 for 14 take downs, two other boats in the area did as well, offshore lots of sea life, good signs of bait and dorado all have lock jaw…Captain Juan Cook
https://www.bdoutdoors.com/forums/threads/its-halibut-time-in-san-quintin7-14-18.693877/
Bahia Ascension
I talked a local fisherman who witnessed his friend catch a 24 kilo (about 53 pounds) yellowtail on Thursday, off Punta San Pablo. I decided to head out there yesterday. It is about a 15 mile trip up the line from Bahia Asuncion.
The first thing I noticed at the launch was that the water temperature had dropped a couple degrees again and I was reading 59 degrees in the Bahia. As I headed up the coast the temperature remained about the same and even got a little cooler. As I passed Punta San Roque, 5 miles from my destination, I was reading 58 degrees. I was thinking that this was a worthless trip with these water conditions but then my temp reading started to climb.
By the time I reached Punta San Pablo I was reading 66.7 degrees inshore and 69 degrees about 3 miles off the beach.
Sorry, no fish to report but I have never seen that kind of temperature break in a 5 mile distance…Ross Zoerhof
Cedros Island
Great weather and 50lb class Yellowtail were chasing slow trolled Macs along the South
end of the island by the airport. My clients unfortunately went 0-3 on the tankers. This is a good reminder to all that come down to Cedros. Bring your quality gear. You can't have reels full of spliced lines and not well maintained. You will have no chance against these fish.
Calico Bass fishing remains good to very good all around the island.
Fishing are ready to spawn and are sitting in 20-25′ all around the island. They are loaded with eggs and ready to do their thing.
Water temp was 70 along the frontside and 68 along the weather side beaches. Tuna and Dorado should be around, but no one has gone out looking yet…Jeff Mariani, Cedros Tackle
Bahia de Los Angeles
Nice weather with plenty of bait near the launch ramp which is a big help. Recent catches have been white seabass, yellowtail, grouper, cabrilla, and snapper; all of which are on the summer menu for visiting anglers.
Loreto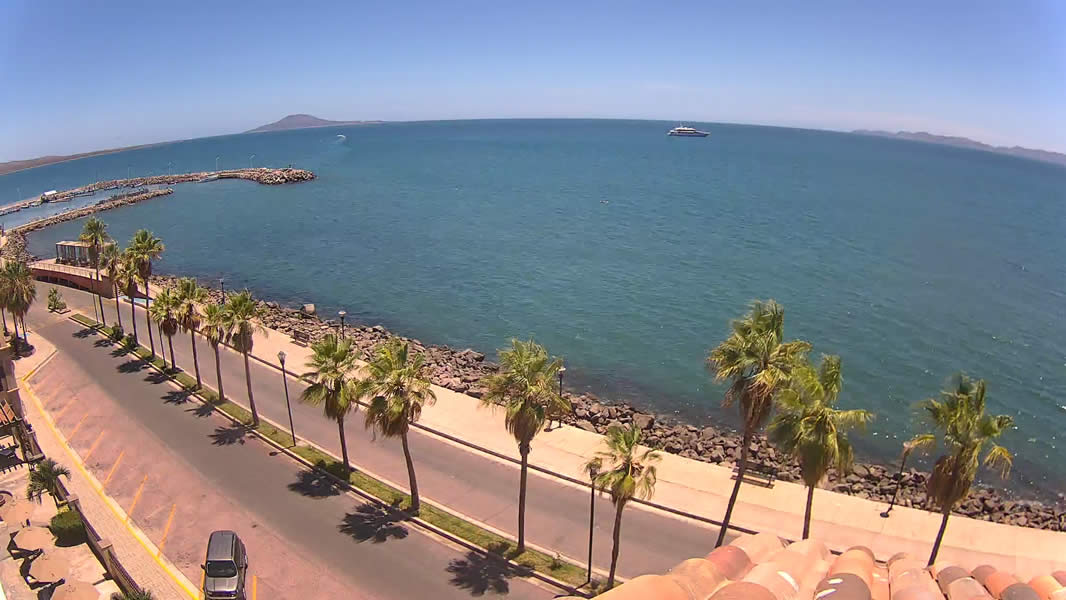 We had a slow start this week following all the dorado tournament activities. By Saturday most of the "everyday" boats were back out hunting sargasso patches and taking the vacationers to the Coronado Island beaches.
Dorado continue to gorge themselves on all the bait we have in the water.
The smaller dodos are the ones being the most frequently caught with sardina.
Not much need for chasing any trolled feathers except in the farther offshore current lines where bait schools are more thinned out.
Bigger dorado and billfish, mostly stripped marlin are outside of Carmen and Catalana Islands.
The shallow water rock piles and reefs are consistent for snappers and all the triggerfish you could want for ceviche!
Air temps get into the mid 90's everyday and the sun can sizzle bacon if you aren't careful…Rick Hill, Pinchy Sportfishing
Greetings! Things are slowing down a bit but we're still having a great time. Regarding Dorado they're getting hard to find. We had lots of wind and it sunk the sargasso, and it seems most of the Dorado left town along with it. But we have had some bright spots.
One guy got a 35-pounder yesterday and I landed a 25-pounder today. Also, they held their annual tournament down here and the winner weighed in at 44 pounds and second place came in at 37. There are still tons of Marlin if you don't mind trolling around with a searching fly. We've been so busy "on the hunt" that we haven't tried Rooster fishing yet, but we're going to give that a try tomorrow or the next day…Carl Blackiedge
Huge yellowfin return
Outpost Charters
La Paz
MEXICAN MINUTE LA PAZ FISHING REPORT from TAILHUNTER SPORTFISHING for WEEK of July 8-15, 2018
Water temperature is now in the lower 80ºF range, and as every day goes by, the visibility improves more and more. There are a few thermoclines here and there, but it can only mean good news because some kinds of fish like the coveted amberJack (Hamachi) roam through such waters.
Although hurricane season is on, we're looking at some stable conditions and not many big storm systems forming in the next few days; We are certain that this summer will provide us with many epic days with the right contrast between warm days and refreshing waters…BACO
https://www.bdoutdoors.com/forums/threads/off-the-hook-summer-fishing-season-is-on-fire.693839/
East Cape
Action continues to be hot in what has been a banner year on the East Cape. We still have openings for both Scorpion and El Regalo. We would love to get you that fish of a lifetime…Scorpion Sportfishing-Matt Clifton
https://www.bdoutdoors.com/forums/threads/scorpion-sportfishing-ft-el-regalo-east-cape-report-july-8-2018.693248/
Fishing on the East Cape continues to be one of the best, most consistent seasons we've had in over a decade.
This past week we are still on an incredible tuna bite that started back in May and has been very consistent through today. We haven't seen anything over 100lbs. yet, but we are seeing some nice fish in the 50-80 pound class. The roosterfish have been in town all season, but this week we started to see some monster roosters show up. I'm talking about 60-80lbs. gallos that will rock you when you hook one. A few boats that actually targeted roosters have been landing 10-15 in a single day. Most of these guys are smaller fish, but you always have a shot at one of the ones pictures below (all landed the last couple of weeks)…Van Wormer Resorts
https://www.bdoutdoors.com/forums/threads/epic-season-continues-on-the-east-cape.693764/
Picked up a monster wahoo Saturday the 6th that weighed 116 lbs on the scale! Fish hit a trolled Rapala near Punta Arena at about noon. Also picked up a 25-pound tuna on the troll. Weather was hot, and the beer was cold. Great trip with great friends miss it already…mulegemike
https://www.bdoutdoors.com/forums/threads/east-cape-report-7-4-7-8.693392/
Puerto Los Cabos
The numbers of anglers continued to be smaller than we might expect, though maybe the more serious anglers are waiting for the fish reports to improve. Tropical weather patterns remained very quiet, with light ocean swells and high temperatures near 90 degrees; water temps are now back up to 80+ degrees, and the water is steadily cleaning, with no new storms seen developing on the horizon. The extended forecast is looking quiet for the next ten days; it all appears to be favorable for putting our summer season back on track.
Supplies of baitfish now include caballito, mullet, sardina, with a few moonfish in the mix. Most of this bait activity is found right in the marina channel area. With the variety of baitfish in this area, there have been some amberjack being hooked into right offshore of the nearby marina jetty. Of course, the word travels fast, and many locals are now taking advantage of this limited opportunity.
Offshore action was hit or miss, mostly just heading 10 to 30 miles out, looking for schools of porpoise, with hopes of finding yellowfin tuna. With water temperatures warming and clarity improving daily, we have seen the action for yellowfin tuna near San Luis Bank rebound. No significant numbers yet, but every day we see some tuna brought in that are averaging 50- to 70-pounds; these fish have been striking on caballito, sardina and some on yo-yo jigs. Many of the silky sharks were lurking on these same grounds, ready for any chance they can find for an easy meal. Most charters were doing well to land one of these quality yellowfin, though some were more fortunate and landed up to three tuna. Mixed on these grounds were red snapper (huachinango), bonito, sailfish and striped marlin. With water clarity looking much better, anglers reported seeing free-swimming wahoo on these grounds as well; maybe if the water does not become too warm, these fish will also start to bite.
Along the shoreline, there were still some trophy-sized roosterfish found.
The best bait for these fish seemed to be live mullet. Please remember to release these trophy roosterfish, as this fishery is becoming more fragile with each passing season and it is critical to preserve this species for future generations.
Only a scattering of smaller-sized dorado were seen recently. However, with improving ocean conditions, we should begin to see some larger fish. Later in the month of July and throughout the remainder of the summer is considered the big fish season…Eric Brictson
Cabo San Lucas

This beauty was caught aboard Pisces 42' Hot Rod yesterday by Capt Erick Orozco Gonzalez and son (pictured). Fishing has been FIRE this week in Cabo…Pisces Sportfishing
Numbers at a glance: Billfish 37%, tuna 82%, dorado 7%, other species 3%.
This has been one of our summer's best fishing periods here in Cabo;
therefore, this fish report has been one of the hardest to write! There have been so many fish caught of different sizes and species that I wish I could fit them all in, but I've had to pick and choose what I consider the best of our catches. Billfish have included sailfish, striped marlin, and blue marlin — all released. We've had more tuna than we can fish, as well as a standout BIG wahoo!
LOCATION: South of Lands' End: 11:50 Spot, 130 Spot, 95 Spot, 120 Spot
WEATHER CONDITIONS: Clear sunny skies, calm seas.
AVERAGE WATER TEMP: 80 – 82 F.
BEST LURES: Cedar plugs and feather lures, caballito bait.
Mainland Mexico