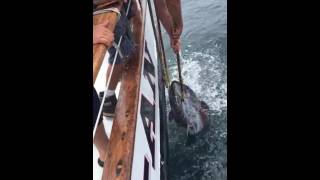 Excited Language disclaimer in the video above. 
Bluefin Reaches New Heights
Southern California is still heavy in the throws of an epic bluefin bite.  Big fish have been the highlight of this very unusual fishing event, but a new level has just been hit.
Tim Woodall, fishing aboard the New Lo-An with Markus Medak and the crew, just landed a 278.6-pound bluefin after an epic battle.
Tim said, " It was a mackerel on the kite. 1 hour 25 minutes. Penn 50Wide 2 speed and an old fiberglass rod. 150-pound braid to 130-pound fluorocarbon leader. We were using 6/0 Mustad small offset circle hook. We were in Cal waters but I don't know where. I knew it was going to be big but when it surfaced the first time the whole boat yelled.  It was an amazing experience and I'm so appreciative of Markus, Jarred and Matt on the New Lo-An. They're awesome."
Congratulations to Tim Woodall and the New Lo-An crew!
The New Lo-An runs out of Point Loma Sportfishing and specializes in trips ranging from overnights to 2-day trips.  You can contact them for upcoming trips.
On this same trip, the boat came in with 8 bluefin, 5 were over 100-poounds and 2 were over 200-pounds.
Don't miss your chance to tap this incredible bite.
Check out New Lo-An's website for more details.