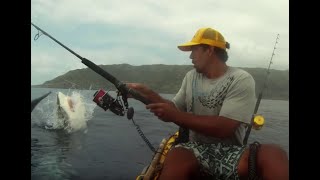 Shark Video Kayak – Hawaii Shark Attack
In February, BD Outdoors published a story about Isaac Brumaghiam, the Hawaiian kayak fisherman who is reconnecting with his Polynesian ancestry by targeting large fish in the deep waters around his home.
Read that article, titled BIG MAN IN A LITTLE BOAT, here.
Isaac has caught marlin, tuna over 100 pounds, trophy-size mahimahi and wahoo. He is on the water nearly year-round in his custom-fit kayak rigged with electronics and the latest fishing equipment.
In our interview, he did mention that sharks can occasionally be a problem, but Isaac recently experienced a close encounter with a shark that clearly surprised him.
Isaac had been reeling in a tuna when, quite suddenly, an enormous shark barrelled out of the depths and attacked it. See the video here: