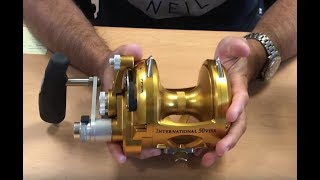 A little surprise showed up in the office today. The Local Knowledge crew will be some of the first to try out the new PENN International reel VISX which is out in stores sometime in July after ICAST. Captain Rush Maltz and Ali Hussainy are excited to try out this beast of a reel. It going to give the competition a HUGE run for their money.
The new International VI's are lighter and quieter.
PENN will redefine offshore big game fishing once again. I think the LK crew is going to be one step closer to that trophy fish of a lifetime
PENN International Reel VISX  Features
Quieter than generation V (Silent Anti-Reverse)
Lighter (Average 7% lighter than generation V)
More refined/adjustable Dura-Drag system (Versa Strike)
Line Shedding Lugs
Available in Silver and Gold
Made in USA (w/domestic and imported components)
Visit Pennfishing.com to learn more.
See our previous PENN International Review.