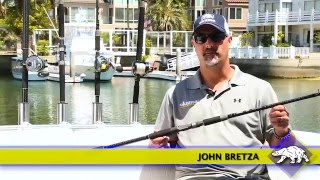 Okuma SCT Boat Rods Review
The BD crew enjoys putting new tackle and technology to the test in real life applications. Over the last few months, we've had the opportunity to test the new line of Okuma SCT Inshore rods.
There is an SCT Inshore rod for all SoCal anglers.
Okuma developed smaller and lighter reels to take advantage of the braided line revolution.  Popular reels like the Makaira, Andros and Metaloid have given anglers the advantage of using smaller tackle to catch big fish.
Now Okuma has designed the rods to match; the new SCT Inshore rods are lighter, more responsive and definitely stronger.
This inshore series was specifically designed for the Southern California anglers offering them four models in 8-foot and 8'6″ versions.  These rods are perfectly matched for slinging iron and other lures for calico bass and yellowtail.  They also carry over to a wide variety of other fisheries around the country.
Ali Hussainy of BD put the SCT rods through their paces on his boat out of San Diego.  He and some buddies put it on the yellowtail and he said, "these new rods are really nice.  Very responsive with plenty of backbone, yet still sensitive where it counts."
On another trip, Michelle Gandola, BD's Marketing specialist used the rods paired up with the new Komodo low-profile bait casting reel.  She caught a variety of bass and rockfish on the outfit and said, "I thought the SCT rods were a perfect match for the fishing we were doing.  I know I could catch about anything on it and can't wait to use it again."
SCT Inshore rods utilize two core technologies to advance angler performance.
The first is a proprietary blank construction process dubbed Unidirectional Fiber Reinforcement. UFR blends unidirectional fiber over graphite in the extended tip section of the rod to increase lifting power, of this critical area by up to 3x.
The second is Okuma Spiral Carbon Technology that reinforces the complete rod blank with a double helix wrap configuration containing over 6000 individual strands of carbon fiber. In combination, the finished rod remains exceptionally agile, delivers great feel, and is fortified with incredible power and durability.
The component systems are all top-of-the-line.
The guides include Fuji K-concept guide frames with Alconite inserts for maximum compatibility with braided line. The guide system is wrapped with pure carbon thread for incredible holding power. EVA split grip handle designs include Fuji trigger reel seats for dependability. In all cases, the component systems are optimized for strength, performance, lighter weight and durability.
Okuma SCT Inshore Rods
Extremely light weight and responsive 24-ton carbon rod blanks
SCT blanks: Spiral carbon technology improved strength and durability
SCT is a dual helix wrap configuration with over 6000 strands of carbon fiber
Fuji K-concept guide frames for maximum compatibility with braided line
Fuji Alconite guide inserts. Compatible for braided line
Guide wrappings with pure carbon thread for improved holding power
EVA foregrip and EVA rear split grip for reduced weight
Fuji trigger reel seats for maximum dependability
SCT rods are backed by a 1-year warranty
You can find an Okuma Dealer near you and go check out the SCT Inshore rods.