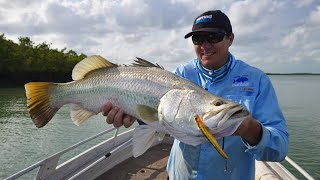 Join Damon Olsen and Ben Currell from Vision Sportfishing in western Arnhemland. The guys test out the new range of Nomad Design Barra lures.
Nomad creator Damon Olsen said, "Every lure created starts as a sketch before being 3D modeled, prototyped, perfectly balanced and then rigorously tested in all conditions. The internal weight options are selected, manufactured and hand tested on the water to achieve the perfect action and balance for every style, every time. With the construction locked away, I hand draw meticulously chosen patterns and colors for each style of lure, based on the target species and prevalent bait fish, resulting in an exceptional factory hand painted lure protected by our Triple Shield clear coat. The world's best hooks and terminals are then chosen as the final accompaniment to a Nomad Design lure. My lures are the result of a lifelong passion for fishing and an uncompromising desire to create lures for every species of fish, inshore and offshore anywhere in the world. I can say with total commitment, Nomad Design lures are Crafted by Experience."
The Maverick, styx and DTX Minnows and Riptides get some incredible bites. The barra bites filmed on this trip are probably some of the best ever filmed.
Of course these lures will work in your hometown fisheries too, and you will reap the benefits that they were built to be incredibly tough to endure the punishment of these incredibly strong gamefish.
Check out the Nomad Design website to see these and so many more awesome lures.