Hurricane Rosa threatens the Pacific coast of Baja and the wahoo bite takes off in Mag Bay and the East Cape in this week's Baja Bytes fishing roundup.
Que Pasa – Hurricane Rosa Threatens Cedros Island
Send your good thoughts to Cedros Island. "Rosa" is now a tropical storm passing close by to the west of the Island.
We had to cancel trips on Friday and for today (Monday), and get other clients out early over the weekend. Therefore, you need trip insurance, especially in the fall, my friends! They got a lot of rain overnight from Hurricane Rosa as you can see from the pics sent to me by our bookkeeper, Veronica Villavicencio. The arroyos and some of the town is flooding. I don't have an update on Baja Magic Lodge so far, but El Jefe, Jose Angel and the team, are there protecting and serving. The storm is predicted to peak at about 11 a.m. with more rain and wind gusts up to 48 mph…Cedros Outdoor Adventures
Tijuana Bull Ring
Expect unsettled condition for most of this week and until the residuals from Hurricane Rosa have dissipated.
Coronado Islands
Bonito! North Island has them and you can also find them in the Middle Grounds and SKR. The SKR area also gave up a 15-pound bluefin recently. We haven't heard of any since then, but we haven't heard of any yellowtail in several days either.
Heads up: Bracelets are now required to fish within the Pacific Island Biosphere Reserve areas, including the Coronado Islands, Todos Santos, and San Martin Island.
You can purchase bracelets for $5 per person per day at Fisherman's Landing Tackle Shop, Point Loma Sportfishing Tackle Shop, and Dana Landing Market & Fuel Dock. You will need to provide your boat name, boat owner's name, number of passengers, and dates you will be in the reserve areas, but you don't need any other special IDs or info to purchase the bracelets. Everyone on board must have a bracelet to enter the Biosphere Reserve. Biosphere Reserve boundaries are now available on the FishDope Charts (click the "Closures" layer).
For more information, see https://www.bdoutdoors.com/pacific-islands-biosphere-reserve/
and for the full Biosphere Reserve Declaration, click here: http://dof.gob.mx/nota_detalle.php?codigo=5464451&fecha=07/12/2016 (You may need to refresh a few times to display the document – in Spanish).
The boundaries of the Biosphere reserve are:
N32 20.000′ to N32 29.000′, and W117 12.000′ to W117 20.000′
Offshore
Lower 9 / Coronado Canyon through the 101 / 425 area to the Upper Hidden Bank
Same deal here — very little, if anything has changed.
This big zone continues to see mixed yellowfin and skipjack. Some good stops are coming off schools of dolphin and kelps are playing a big role as well. Boats are also getting plenty of blind jig stops.
Most of the yellowfin are in the 8- to 15-pound class but there are yellowfin in the 20- to 30-pound class too. Most of these are on the dolphin.
Many jig stops start out as skipjack and turn into yellowfin after a few minutes, so be sure and give those jig stops a chance to develop before moving on.
Bright color feathers continue to be best for the skippies. Zucchini is HOT! Red/white, orange, pink and blue/white is also working great.
The yellowfin tend to like the plugs. Trolled cedar plugs, Rapalas and Halcos are getting most of the fish. …fishdope.com
Ensenada
Good bottom fishing with a few surface barracuda and bonito under the bird schools…Sammy Susarrey Amador
Off Colonet / 330
This is the zone where the 1-½- to 3-1/2-day trips are fishing.
They are loading up quickly on mixed-grade yellowfin from 5- to 30-pounds.
In addition, some are finding a fair number of dorado.
The action is happening on kelps and sonar marks with only a few jig stops…fishdope.com
San Quintin

Lotta' water moving out there today! Paddled out with Christian Catian…
Ripping current and some beasts sets but we got a few before being swept down the beach.
Lotta' people preparing for Hurricane Rosa in town. There were long lines at Pemex; they ran out of green gas…only red now, and there were long lines to get propane. Groceries were going fast.
It's been raining in the mountains non-stop so, arroyos will be running soon! No wind, but there has been thunder and lightning in mountains.
Isla Cedros is gonna' wear it like a hat – I hope everyone's okay out there…Captain Kelly Catian
Cedros Island
Bahia Ascension
It has been a dramatic day here at the blowhole in Bahia Asuncion with Hurricane Rosa's enormous swell —
BIGGEST I've ever seen here!
Things seem to have taken a turn for the worse; the wind is whipping up now and the tide is rising with lots of waves over 20 feet now. The ambulance drove around sounding a red alert for everyone to be prepared for heavy winds and swell tonight. It's gonna' be a long night! Good luck to all out there on Cedros and Natividad — be safe all!
5:33 a.m. Monday: Very nasty right now…gusts of 40 to 50 knots; seas over 20-feet. Kicking our butt at La Bufadora Inn!
Bahía de los Ángeles
No Report.
Loreto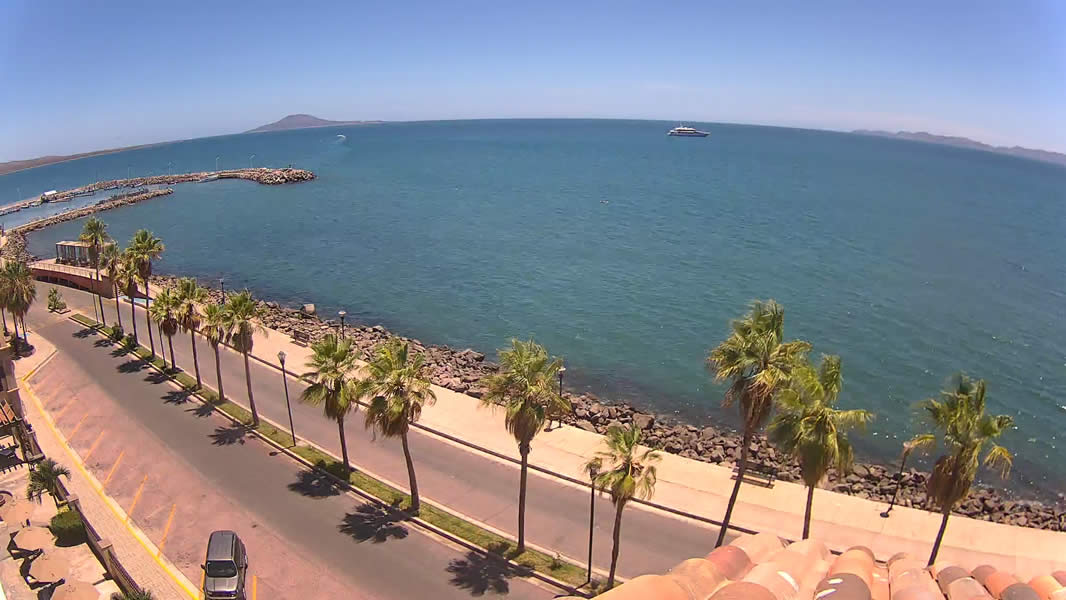 We've spent a lot of time wondering about what the weather is actually going to do this week. Watching the sky and also the weather and satellite shots of our impending tropical storm was all for nothing. I will say that it didn't keep any boats off the water and the dorado action was still going strong.
We still have the small-to-medium versions of dorado, but they continue to hang along the coast, making for quick limits for most boats. The "keepers" were mostly in the 10-pound range with many shorts being released.
Cabrilla and roosterfish were a plus for the boats working along the south end of Carmen Island and out as far as the high spot known as "el bajo."…Rick Hill
Got out with a plan to go after big marlin but was quickly side-tracked as we found another pod of porpoise with birds. We changed our co
urse and headed that way putting out the trusty cedar plugs. Not long after entering the porpoise, the lines were going off again. As we were landing the first yellowfin tuna more started to come to the back of the boat.
We started throwing out sardina and fly-lining sardina, hooking up to some tuna that way as well. The tuna were a lot more active today as they were jumping across the surface as well. We caught some good-size tuna with the biggest being 75 pounds. There were some bigger ones in the school, but we just didn't have any luck with them. Water is starting to get a little choppy with storms approaching – temp was 86 degrees…Outpost Charter Ricky Trevor
https://www.bdoutdoors.com/forums/threads/9-29-loreto.700735/
Magdalena Bay
While Hurricane Rosa looped offshore before changing course and providing some weather on Baja farther north,
the Ridge today outside Mag Bay was calm and placid.
The wahoo bite was good, and I was headed in with a limit before noon. All the wahoo were caught on two lures – a Yo Zuri Bonito and a skirted lure rigged on a head made by retired machinist and Loretano Bob Meeks.
The 'hoos might also have liked Halco Laser Pros but small yellowfin tuna would not give them a chance. I gave up in favor of bigger lures after releasing four or five footballs…Bill Erhardt
https://www.bdoutdoors.com/forums/threads/outside-mag-bay-9-28-2018.700607/
La Paz
https://youtu.be/ZuqwsKXRXus
MEXICAN MINUTE LA PAZ FISHING REPORT from Tailhunter Sportfishing for Week of Sept. 23-30, 2018
As Fall seaso
n takes over the summer, we're ready to start our Whaleshark Excursions, which can be combined with some of our other activities to have a day full of adventures for the thrill seekers. There have also been a lot of sardina moving around the Espiritu Santo Island, which is a nice sign of a thriving ecosystem all around La Paz Bay.
The characteristic billfish season is beginning to take shape, and other fish like wahoo and dorado are being caught around La Paz. It's around October that we see the epic "Marlin Runs," which are quite the sight, not just for anglers, but for anyone who dares to get in the water to see one of the fastest fish in the ocean in action…BACo
East Cape
Wahoo fishing went from a trickle to wide open in a matter of days this week.
On Wednesday, aboard El Regalo, we landed ten wahoo having at least double that number strike. Rapala XRap Magnums were once again deadly!
The epic tuna fishing continued as well. Limits of football were found around the lighthouse with bigger models at San Luis and Iman banks. Marlin, sailfish and snapper rounded out the action.…Matt Clifton-Scorpion Sportfishing
https://www.bdoutdoors.com/forums/threads/scorpion-sportfishing-ft-el-regalo-east-cape-report-september-29-2018.700813/
Van Wormer 2018 Tuna Shoot Out – Save The Date

https://www.bdoutdoors.com/van-wormer-2018-tuna-shoot-out-save-date/
Puerto Los Cabos
There were some isolated showers locally, particularly on Thursday night when Cabo San Lucas experienced heavy flooding in the lower lying areas. Swells increased to three meters, but winds were light, and anglers were able to reach the normal fishing grounds. Presently, we are watching a newly-forming tropical system off Southern Mexico, expected to become Hurricane Sergio, but is forecast to follow a similar path as Hurricane Rosa and remain safely away from any impact with Southern Baja, so hopefully these forecasts remain accurate.
There continues to be supplies of sardina near the PLC marina entrance which is the main bait now being used. There's heavy pressure coming with the fall season, so it's hard to say how the baitfish supply will hold up; there should be some control on how much brined dead bait is allowed during the upcoming high dollar tournaments. This always puts a major hurt on local bait supplies.
With clean blue water now within a mile of shore and ocean temperatures averaging close to 85 degrees, fleets have not had to go far offshore to find fish.
Most consistent action recently has been found between the Iman and San Luis Banks.
Main species has been the yellowfin tuna, and with the full moon passing, these fish have become a little more finicky than they already had been, but still there were quality yellowfin being landed every day. The average size fish was in the 50- to 70-pound range.
Some days they would bite early, others it was a late bite, and hot spots would vary each day — early in the week, San Luis was best, then Iman, then to the inside off La Fortuna. With persistence anglers were able to land one or two, up to four or five of these tuna per day.
Over last weekend, the wahoo started to bite. First on the Iman Bank, trolling Rapalas and other lures, and not necessarily early in the day. The few boats that got into this action reported having multiple strikes and landing as many as four wahoo to over 40-pounds.
The wahoo action slowed way down on the Iman Bank, but north of Vinorama reports claimed the wahoo action was very good as well; this was farther, but hopefully these fish will move on to our normal closer fishing grounds.
Not much going on with dorado. Just a handful of mostly smaller single fish being caught.
There were opportunities for billfish this week; there were striped marlin, blue marlin, black marlin and sailfish — no big numbers, but some impressive blues and blacks to over 400 pounds were reported. Slow-trolling larger baitfish (white skipjack or football-sized tuna) showed the best results on the local high spots for hooking into a big marlin.
Not much bottom action — a few snapper, cabrilla, amberjack – though not many people concentrated on bottom fishing. We did see one dogtooth snapper close to 60 pounds. Also, a 50-pound amberjack, so there are some impressive fish in the area…Eric Brictson, Gordo Banks Pangas
Cabo San Lucas
Cabo Sportfishing Pioneers – The Ehrenbergs
Celebrating the 40th Anniversary of Pisces Sportfishing, the Ehrenberg family wanted to do something very special for all the people who had made Pisces so successful over the years, many of whom had been a part of the organization for the entire time in one way or another.
https://www.bdoutdoors.com/cabo-sportfishing-pioneers-ehrenbergs/
Mainland Mexico
San Carlos
And Beyond
Costa Rica
Whale watching season is in full swing here in the Osa Peninsula.
You can still catch the humpback whales until December …Crocodile Bay Resort, Costa Rica
Guatemala
Sometimes photos speak for themselves … Sailfish ON FLY!…Casa Vieja
Panama
Maureen (MOE) Myatt with her 50-poumd roosterfish caught and released yesterday at Tropic Star Lodge!!!! That's a big Pez Gallo…
Congratulations on the beautiful fish!