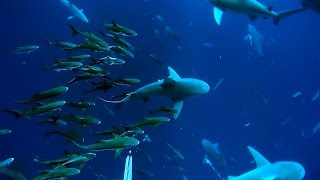 H2o Hunters
We recently got a chance to chat with Joey Antonelli and learn the story behind his viral video about shooting cobia off of big bull sharks off Florida. We learned a little more about what makes him tick and how they approach this daunting task.
Q:Where do you live?
A:I live in Indialantic, a little beach town on the central east coast of Florida.
Q:Obviously you love to dive and fish, how did you get started and what are your goals?
A:My dad, grandpa, and uncle were very much into fishing. So I guess you could say fishing was served to me on a "silver spoon". As I got older I fished more and more eventually getting into spearfishing around the age of 15. The water clarity where I live isn't too great, so while in high school I would drive down to Jupiter, Fl almost every weekend and stay with my friend Matt Budd of Jupiter Fishing Academy. He is the person who taught me how to free dive and spearfish. As for goals, I just want to keep fishing and diving with my friends for as long as possible.
Q:What do you do for a living?
A:I run a company called H2O Vinyl Designs and we make vinyl stickers. I make everything from a small sticker to put on the window of your truck too decking out a big window, truck, or trailer in vinyl lettering, logos, and pictures for business. I do have a website where I sell my fishing and spearfishing inspired designs, and I ship free world-wide. I'm always updating my Instagram with my most recent vinyl work and pictures/videos from my fishing and diving trips.
Q:Set the scene and back-story for your crazy shark and cobia video.
A:It's no secret that cobia follow basically anything that swims, so we use that to our advantage. The most important part of shooting cobia off sharks is to have a good dive team and boat driver. This isn't the sort of thing you would want to do by yourself. You are definitely going to need someone to have your back and you have to know that they are comfortable around the sharks and can read the shark's body language. When we get to a spot where we think the sharks are we gear up and 3 or 4 of us hop in. We will chum the water and use a few other tricks to try to draw the sharks in. This is the time when we are all just scanning in different directions looking for any kind of movement. We know that the sharks are aware of us long before we see them. Once we get a shark interested two people usually swim down on it.
One person's job is to shoot a cobia and the other person's job is to defend the diver and cobia from the shark.
The "back-up" diver will often place a quick second shot in the fish secure it and get it to the boat quicker. Once that has been done it is time to regroup and repeat.
Q:Have you had any memorably close calls to a shark bite or other excitement?
A:We have all had the sharks get a little fired up on us biting the end of our spear guns, but luckily that is it. I did get bit by a triggerfish once and got it on video.
My most memorable shark experience was while cobia fishing off Port Canaveral, Fl when we came across a boat that was trying to catch a cobia that was following a 12-foot tiger shark that was chowing down on a full-grown sea turtle. They tried many times but the cobia wouldn't eat anything. We then asked if they mind if we hop in and shoot if off the tiger. They said yes, so Nick Furrow and I got in the cloudy green water and swam towards the dead turtle. I remember not being able to see anything so I stuck my head out of the water and I could see the shark fin coming straight towards us. Nick shot the cobia and we got back to the boat and landed it. It was hard to tell from the boat, but the size difference between this shark and the bulls we normally deal with was insane.
Our thanks to Joey for the insight into this more adventurous side of spearfishing.  You can follow more of Joey's adventures on his East Side Fishing website.