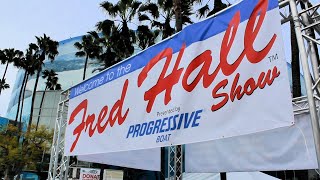 Recently, the Fred Hall Show took place in Long Beach, California and huge crowds turned out to scour the show for deals on great new tackle and fishing & hunting destinations.  There is something for everyone and we toured the show seeking out pearls of wisdom from our friends and partners.
Seakeeper
Check out the first had experience I had witnessing the Seakeeper gyrostabilizer on the Albermarle at the show.  Laying side-to the seas, the Seakeeper takes out up to 90% of the roll.  Seakeeper continues to shrink this game-changing for smaller and smaller vessels so that all boaters can benefit from this incredible technology.
Okuma
Okuma's Dave Brown is excited to show off the new Makaira 15T.  Built narrow and tall to offer benefits for SoCal Anglers looking for a premium casting and live bait conventional reel.  The Makaira series has been bullet proof for years and a goto option for big game fishing.
Phenix Rods
Phenix is excited to show off their Titan Slow Pitch rods at this year's show.  A Titan rod for every occasion and the weight and balance allows all day jigging with minimal fatigue.  Check them out.
Tailhunter International
Tailhunter Sportfishing is the premier full-service sportfishing outfitter in La Paz, Baja Mexico since 1995. You don't have to be the biggest to be the best. Your vacation is not like anyone else's vacation. Personal-service and hands-on attention from beginning to end is their hallmark.
Accurate Reels
The Tern, Accurate's first star drag offering, is perfect for anglers who want the lightest and smoothest star drag experience possible. The use of CVX technology allows for an incredibly lightweight, yet strong frame to take down the toughest game fish.  Match it up with an equally light but capable Valiant rods from Accurate.
Iron Braid
Phenix is talking about their five styles of braid including the new Iron Feather braid for freshwater.  Featuring a soft feel and function and touting superior color retention thanks to Phenix's unique dye technique.