May 11, 2011
968
559
93
Name

Gary Graham
Boat

Watercloset
Baja Bytes Weekly Overview
Friday, Sunday, January 15, 2016
Gary Graham
​
Que Pasa
According to our friends at
Discover Baja
:
On January 1, 2016, Pemex fuel prices in Baja dropped 3%. The price drop is the first in nearly seven years and is a step in deregulating the current state-owned fuel industry in Mexico. Prices will now fluctuate on a monthly basis (no more than 3% above or below the previous month's prices), whereas they previously remained rather fixed.
Border Region
PEMEX Magna (unleaded gasoline, 87 octane) – $2.65
PEMEX Premium (unleaded gasoline, 93 octane) – $2.89
PEMEX Diesel (for Diesel engines) $3.06
The Rest of Baja California and Baja California Sur
PEMEX Magna (unleaded gasoline, 87 octane) – $2.93
PEMEX Premium (unleaded gasoline, 93 octane) – $3.11
PEMEX Diesel (for Diesel engines) $3.06
There is a
Guia Pemex app
for your smart phone that allows you to locate the nearest Pemex station and to see current the prices. Just search your app store on your smart phone. It's in Spanish and downloaded onto my Windows phone.
Gary
Coronado Island
The Islands are still kicking out a handful of yellowtail and some fair, but not wide-open, rock fishing. The outside of North Island and around the Middle Grounds are always good areas to look for yellowtail. Those that are being found are deep and just like everywhere else, the dropper looped live bait and yoyo fishing with the heavier iron is going to be your best bet. …
Fishdope.com
Ensenada
Surfs up!
Cesar Cuevas and Ángel Garcia...fished half day noon to 4pm hooked 8 yellows brought in 3 the seals took the rest. Also 1 to 3 lb. bonito are everywhere…
Louie Prieto, It's 4 reels
Colonet
Yellowtail biting well at Colonet for the one-and-a-half-day trips coming down from San Diego. These fish are almost all coming on the yo-yo iron. Boats are also scoring on rockfish when the yellows shut off.
San Quintín
Grumpy weather! …Captain Kelly Catian
Bahía de Los Angeles
Windy, but on calm days Guadalupe reef is producing some yellowtail on lures.
Bahía Ascensión
Says it all, winter is here! …
Shari Bondy
The first Laguna Ojo de Liebre Whale Census Report just in from January 12, 2016! There are 376 adults and 208 calves for a grand total of 584 whales right now in the lagoon. ...
Shari Bondy
La Bocana
But the weather is bad . . . many swells and NNW winds. Fishing inside the Estero is fair. ...
Juanchys Aguilar
Loreto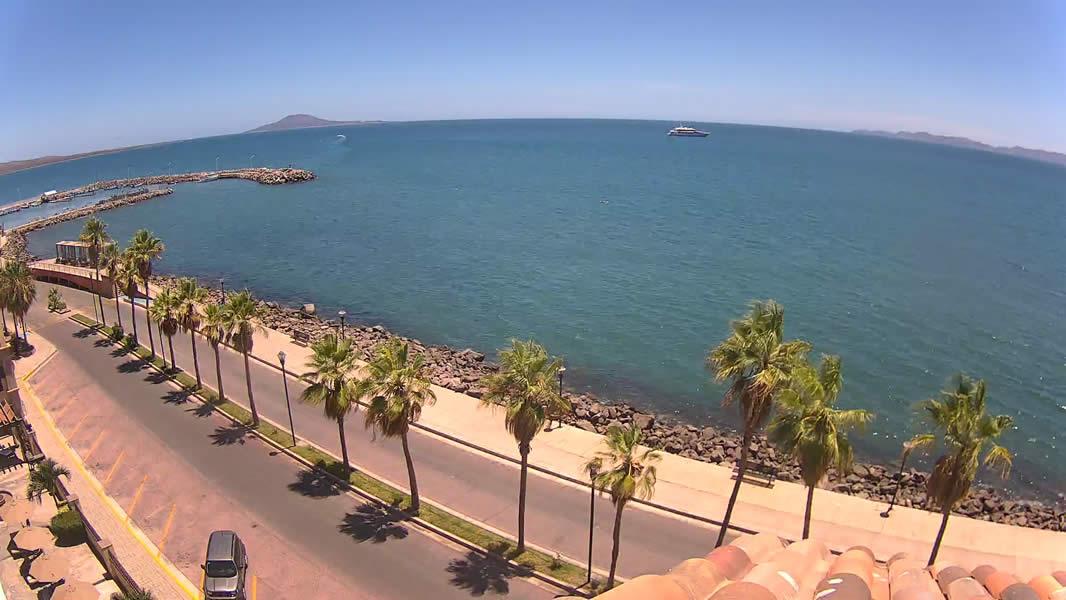 To sum things up for the week, it was back to the wind story with the afternoon winds blowing in by 8a.m.!
The best day for the weather turned out to coincide with "Cruise Ship Day" in Loreto. We did almost
one hundred clients
with half on the water and the other half enjoying the mountain ranches and San Javier Mission. Those hitting the water, of course, were not fishing.
Some of the more hardcore Loreto fishermen did brave the bumps and cool winter spray to hit some close-in rock piles this week with usual results, same as last week . . . pintos, pargo, cabrilla and yellowtail.
If you want to catch a limit here in January, you need to put in some extra effort.
I caught up with one of our favorite fishing captains as he was hauling his panga out of the water at the Marina this afternoon. Fransisco"Cuate"Fernandez is a perfect example of someone putting in the extra effort. I watched him leave yesterday afternoon with the wind blowing -- must have been 15-mph, at least. Twenty four hours later he is back with a limit of yellowtail -- one limit for yesterday and another limit for today.
As his story goes: the north wind helped him get where he wanted to go, way down south to "el bajo." (Gee, I could massage that into a nice song!) on the south end of Carmen Island. He fished for bait most of the night with an occasional yellowtail hookup. There were "mackerel swarming all around near the surface but hooking them on a sabiki took hours."
As the sun came up, he continued south to "six mile reef" where he finished loading up on yellowtail with the largest I have seen so far in 2016!
Yellows from 20 to 31 pounds and two porky cabrilla weighing out to 13 pounds each.
Extra effort means more time committed and thinking "outside the box." Starting super early and coming back late, cold and wet, with stories and maybe limits, too. Extra efforts and extra results! …
Rick Hill, Pinchy Sportfishing
Magdalena Bay
No Report
La Paz
We finally had a pretty okay week as far as wind is concerned although it was still a bit blustery. As storms slammed into California and other parts of the West, as well as other areas of the U.S., there's usually an affect down in Baja and this week was no different, but, there were actually some "windows of opportunity" to get some fishing in. The only issue . . . there's not many fishermen in town. Snow birds…yes. Windsurfers…yes. Yachts and sailors…yes. Fishermen…not so much.
But, it's off-season. So, fishermen aren't much expected anyway.
But, we did have some folks and I guess we just add-it-up-to-El-Nino…craziness. But, it's the dead of winter and we caught BILLFISH! We're not supposed to be catching billfish right now. Billfish time is when the water is warm and the weather is hot (relatively speaking). We're supposed to be catching "cold water fish" like sierra and pargo and cabrilla (sea bass).
Anyway, so we go out -- and just outside of Muertos Bay -- striped marlin and sailfish are hanging out! We're pretty much talking a few hundred yards out. How long will they stay? What are they doing there? I have no idea. Just a fluke or not, no way to know. But fun fishing. No one complaining! …
Jonathan Roldan, Tailhunter
East Cape

Lord of the Wind 2016 - Day 3
Lord of the Wind 2016 - Day 2
While anglers remained on the beach. Steady winds blessed Baja California during the five-day competition held in Mexican waters. The La Ventana Classic attracted an interesting number of kiteboarders, as well as windsurfers and stand-up paddleboard enthusiasts.
San José del Cabo
The week started off with gusty northerly winds, settling down later with nice ocean conditions for anglers, besides the early morning chill. Ocean temperatures averaged 75 degrees; warmer currents are being found on the Pacific Banks. Anglers continue to rely on the available bait sources of caballito, cocinero, ballyhoo and slabs of squid. No reports of anyone finding schooling sardina within local range. Local San Jose del Cabo fleets continue to concentrate their efforts on the grounds from Cerro Colorado/Red Hill to the Gordo Banks and north to La Fortuna and Iman Banks.
Really, there has been no particular hot spot recently; every day certain areas produced a mix of species in limited numbers. Very few dorado or wahoo reported. Though free-swimming wahoo were sighted on several occasions, not many were actually hooked and landed . . . same with dorado, they seemed to be taking the week off.
Yellowfin tuna were holding around the "twenty-five spot" off of La Fortuna, but with often rapid sweeping drifts created by winds, this spot was not always easy to fish. There was an ongoing problem with nuisance sea lions, waiting for their chance at an easy meal. Most of the yellowfin caught were under 20-pounds and were hooked while using strips of squid for bait. The Gordo Banks were also attracting a larger grade of yellowfin tuna, but only a handful of these fish were actually landed; this fishery was a late afternoon deal, done pretty much exclusively by local commercial
pangeros, fishing the late twilight hours, who reported that the yellowfin up to over 100 pounds would start feeding as the sun was just about setting. It makes for a late day, fighting fish into the darkness and then arriving back to the dock area in the pitch black of the moonless evening.
Billfish action was also very scattered, with the most common catch being smaller-sized striped marlin; no larger concentrations of offshore baitfish to attract any major feeding frenzies. With all of the normal fish migration patterns being abnormal this year, we are expecting later than usual arrival of sardineta and mackerel this season. It's hard to predict when this will happen . . . it's time now. These are mostly unprecedented events that are now occurring.
Bottom action was showing encouraging signs the past couple of weeks with more red snapper, amberjack and cabrilla starting to appear; then we saw stronger currents slowing down this action. We expect to see steady improvement for this structure activity as weather conditions stabilize. Winds have been more consistent than normal through this past Fall and now into our Winter season; this should be the time that we start having calmer days and this will help open up more bottom fishing opportunities.
Very little inshore action -- spotty action on smaller-sized roosterfish -- no sierra to speak of without the preferred sardina bait source.
…Eric Brictson, Gordo Banks Pangas
.
Los Cabos
How far does a one-year old dorado travel in a month? This little guy was tagged and released here in Cabo by the RedRum boat "El Nuevo," back on December 13th. It was recaptured days ago and the tag was recovered and reported. This type of conservation research is exactly what we need to do to make sure the next generation can enjoy chasing these awesome fish.
https://www.wonews.com/Blog.aspx?id=3365&AuthorID=96087&t=Tagged dorado dazzles the naysayers
The fishing seemed to slow up a little this past week and the better fishing remained in the area from Finistera to Cabo Falso with the most productive method being drift fishing the live baits, either the caballito or mackerel.
Cabo Climate: A mostly sunny, clear and pleasant week with air temperatures that varied from a cool 51 degrees in the mornings and evenings to 84 daytime highs and a 54% humidity level.
Sea Conditions: Sea temperatures varied a little from the Pacific side to the Sea of Cortez and reflected 75 to 76 from the Finger Bank to Jaime Bank and slightly changing from San Cristobal to San Jose at 77 to 78. From just above the Gorda Banks to Los Frailes and beyond it fell to about 75 degrees...
Larry Edwards, Cortez Charters
Last few days I had a lot of fun fishing with Paul Smith from Briton The Britonite was a blast to fish with and we caught a lot of fish some firsts for Paul he got his first Dorado, shark and Roosterfish on the fly so that's way cool he also caught a huge needlefish on the fly Thanks Paul for flying across a ocean to go fishing with me it was a hoot…
Grant Hartman, Baja Anglers
Last edited: