I Post A Lot But I Can't Edit This
Apr 25, 2005
4,242
1
94
Name

Ron
Boat

10' 2 1/64"
Lunker

Lings

Lurk

in

Local

Waters!

Hi there guys,

Wednesday 09/19

Went on a 3/4-day moo-moo out of Pierpoint Landing. Fished the Victory. Mike was the skipper, George (deckhand) was on deck and ……. ran the galley. Had a mere 32 anglers on board a vessel certified for 92!! Pretty obvious ……..the average angler-numbers on weekdays is really leveling. Only 10 rode on Tuesday!! Presently, a good number of Lings and Reds are in the counts and you really ought to come out for some decent fishing without the crowds.

Note: Countdown:

September 22nd

will be the second FREE FISHING DAY this year for everyone in California. That's

2

days away. It would be a great day to get a non-angler out on the water while saving a little cash ………. Especially a group or big family trip!

Lobster Season Opener

Get ready for a zillion threads on the bugs!! (See aside) California Spiny Lobster season starts Saturday the 29 of September ……is that Midnight??. That's

10

days away. Limit is 7 of the creatures ……… you've measured with your handy-dandy, correct, double checked scale! No you can't use just any measure ….. in a pinch …. heh heh heh !!

Target Fish:

Rockfish, Lings, and Whitefish

Short Report-

Wednesday 09/19

32 anglers (11 K of C anglers) caught 3 Lingcod, 80 Rockfish, 32 Bocaccio, and 1 Sheephead. (Rockfish included Reds, Chuckleheads, and Widow Rockfish-Bank Perch). Also a few Sanddabs and Starries were caught but not included in the count. 1 small Shark caught and released. The usual pesky Mackerel were non-existant today but Sealions were in evidence ….. yet not bothersome. Grade of keeper-fish, with a minimum size-limit, for the boat was above average …. translation ……. good margin past minimum length.

On bait, Sardines that were freshly loaded into the tanks looked like they were in good shape. With dismal conditions, the last few days' counts pretty much down (even at the island), and only the Sardines available …. we decided to stay local and hit the Bocaccio for sure limits and then go for Reds, Lingcod, etc.

The AM

Must have caught our boat limit of Bocaccio in the first 20 minutes upon arrival at the rigs. Oh! Drop a Sardine to the bottom. Fish On !! Reel ! Duh !! Miracle of miracles …. I got my Salmon Grouper on a new approach, with my plastics, to the critters! See plastics section

The am fishing was very scratchy other than the Salmon Grouper.

The PM

Again, conditions were not improving so we made a couple of major moves on the Rigs' area of the 'Shoe' with a few fish here and a few fish there at each stop. We got most of our fish in the afternoon. Got back to the dock at a little past 5:30!

(

Please widen your view to fit monitor if word-wrap looks off

)

09/19 Jackpot

At Gaff …………………………..The Winner!
Lingasaurus
Way to go on the jackpot John! A Lingcod was the winner last week as well as this week. The 14-lb fish was caught on a Sardine. Being caught on frozen Squid too!
Long Report
The Days Fishing
The morning started out with the boat being held until a little tot 6:35am ……. cause was either waiting to find someone to man the galley but ………. more than likely …. we were awaiting some anglers that were 'on-the-way'. I don't know where they were coming from but this landing occasionally has anglers from it's sister landing make the journey over to Pierpoint and the boat is held for around 20 minutes. No matter as …. 1) It's Rockfishing and the time-element is not critical, and 2) the skipper always makes things right so that even the uninitiated patron understands things have been 'evened up' in the end. In this case ….we stayed out an hour later.
Fishing Area ……………………………………………Current
Grazing in the Pasture
Moo-moos and Pbers This Trip
No sightings close enough to photograph this trip!
Round-Up
2 Rounds
1st Round
Round 1
This was a typical Rockfish trip where we got to the grounds (4-Sisters Rigs), had our choice of drifting or anchoring, went for the sure-thing first, caught our limit of Bocaccio, then hunted for more valued species. We caught the Salmon Grouper on the anchor and then dropped the hook at other spots hoping to find some Reds. Caught a few, very few fish at the four or five stops we made in the morning. Moved fairly quickly when the bite didn't develop further.
Most used the dropper-loop w/6~8oz torpedo sinker, fishing either a live Sardine or cut Squid. Fished relatively shallow at around 200 feet on hard bottom yet we did fish other structures and depths. Most caught a few fish at every stop ….. Staries and Sanddabs mostly. Didn't drift much but anchored on spots. Assume the wind/current conditions and number of patrons made it ill-advisable to try to drift.
2nd Round
Round 2

For our second round (pm) we moved in both closer and a little more westerly to some slightly shallower reef areas (at about 180~120 feet), which contained both soft and hard bottom as well as reef, rock, and kelp! I imagined it very fishy from my bottom big plastics!! We fished with the same routine as the am but were more successful. Deckhand worked very, very hard serving as both cook and deckhand. Lots of work just pulling the hook and resetting!! All three Lings and most of the quality fish caught in round 2. Oh yes …. My rail-buddy ….. fishing beside me ……. got two lings and another buddy beside him got the third ling!!!

Conditions

:

Warm, bright and sunny. Didn't need a jacket with the wind down and the air temp staying between 70º~75º during the day. Late afternoon breeze made it feel colder and a jacket felt good. Water visibility at maybe 10~12 feet. Check out the graphics for additional weather and water conditions.

Gallery

Beauty of the Day
Fish & Anglers
Although there were plenty of fish at the end, I was occupied and didn't have a chance to take my usual fishy grip n' grins. Jackpot was a gimme so no shots their either!!
Bank Perch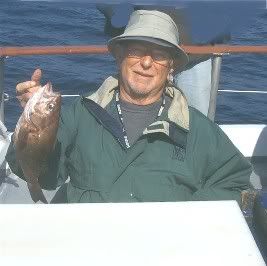 Let Them Know
The photos above are just a sample of the fish and things of interest, at least to me, on this trip.
Note: If you see a friend in the pictures, let them know they can copy the photo off the report.
Directions:
Click the right button with the 'cursor' on the picture, then click on 'save picture as', next choose where they wish to copy the picture, and lastly click 'save'. Later, they can edit and print the picture at their leisure with a simple photo-editing program.
Plastics Tweek #43
Ops …. time gone ….. next week it's …….. the 'stelth critter'!
Plastics
2 ½ - inch Winner
Mr. Skunk Sent Packing …. Just Barely
As usual, I once again loaded up my plastics stuff and was all set for a shot at the Reds …… no not the Russians, Mainland Chinese, etc. !! Got my shot and one shot it was ….. a Bacaccio.
I was determined to at least get a Salmon Grouper on plastic before eveyone else had caught 'boat limits' on their 'stinking bait' and I'd be shut off from fishing for that one lousy fish allowed with my name on him!!! I tried the usual red/orange 5 ½-inch model for a short time as well as it's evil twin …. ol' metalflake green, but saw the writing on the wall from the past day's effort.
Quickly switching (fished them 10 minutes), I went ahead and down-sized my plastic to a pattern that I knew was deadly for Calicos in deeper water. Got my smallish 4lb fishy, gave it to a buddy and waved bye-bye to Mr. Skunk !! I would never throw a lady out!!
I've got an inkling that the smaller bait appeared more lively …. especially with the ¼-oz leadhead. Fished it Carolina with a 3-oz sliding-egg sinker. Had no hits from smaller fish and didn't fish it after the Salmon Grouper.
With the pressure off, I went to my slightly oversized BH, FY, and smaller tailed Kaliln swimbait plastics as I wanted to weed out the dinks. The fact is … I got hit by many dinks and small fish that incessantly grabbed and pulled on the tail of my baits.
I used both the Carolina as well as the Texas rigs with sliding-egg sinker weights from 1 ½ ~ 2 ½-ozs. Standard, triangular leadheads were used ranging from ¼-oz to 2oz and were un-painted. Don't know if the 20lb-test fluorocarbon leader I was using was hurting the bite but ….. I was able to recover 100% of the snagged baits I had yesterday.
Water Covered? ……….. I was pretty much either hugging the bottom for Lings and Sculpin or searching the section of the water column 10~15 cranks up from the bottom, thinking maybe I could hook a Vermilion Rockfish, Sugar Bass, Johnny Bass …. something!!
Tried casting way, way out again with the Carolina rig to cover water but got no further hits on the fall. Dropping straight down with the Texas rig got me no pick-ups off the bottom! My rail-buddy also caught one Bocaccio on plastic and abandoned it quickly to fish for and win the jackpot with one of his TWO lings!
Wednesday Statistics
Lunar ………………………………………Tides!
Wind Speed and Direction ……………………………Water Temperature!
UV Alert!
Wednesday's Conditions
Fishing Grounds:
Conditions were only slightly windy, water a little choppy, with lots of current and cold water. That seems to spell Rockfishing.
Wild Creatures:
Saw lots of Sealions. Seagulls, Terns, Pelicans were around diving for the Sardines and then especially then when it was time to clean fish.
From The Deck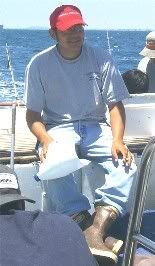 On Bag Limits
WARNING
Although guys reading this are not the guys wanting to keep 'short' fish or more than the 'bag limit', there are those on the moo-moos that are either clueless or could care less what the rules dictate.
George was re-accounting a recent incident where a boat was met at the dock and all fish were counted and measured. Tickets were issued to both the guilty, so-called anglers as well as the skipper and deckhand.
Do you realize that sometimes …. the anglers go unpunished and only the crew gets fined? This is pretty much of a raw deal as there are these so-called anglers who pull this kind of stuff ………. have all kinds of schemes to hide fish ……… from the crew!!
My comment is that if you give a dang about the boat you patronize or more importantly the crew members ……. you respect and might even like ……… it behooves you to educate your fellow-anglers when asked by the individual or to let your buddy ….. the crewmember …. make their assessment of the situation and exert their effort to enforce the regulations. On this garbage 'Don't Snitch' I call BS …. 'Don't snitch' means ……. 'I won't rat on you and your garbage (victimization of others) …..then I'll feel free to continue being the low-life, garbage I am and also shaft people with impunity!!' I'm sooooo judgmental !! ha ha ha
On the Lighter Side
I heard this one (newbie) guy enthusiastically comment to a neighboring angler about how his 'Halibut' was not yet getting the Lingcod bite he was hoping to get! Ha ha ha ha Did this guy really think that the Sanddab pinned on his hook was a small Halibut? I was laughing too hard to ask!
Asides:
An Aside
:
Lessening the Pain
Continuing …….from last week on the subject of our California Scorpionfish (Sculpin). Certain venom is said to be protein based and using an agent that neutralizes i.e. breaks down the protein, should lessen it's potency … thus your discomfort. Heat is said to be one important agent.
Sounds easy huh?! Most veterans will say hot water or coffee from the galley is one method to lessen the pain while others say just go to the head and ….. well ….. enough said on that method …. Except …. I wonder if it's the 96.8° water or the chemical makeup of the treatment that does the trick!?
With all the science available … it's strange that the composition of venom from a number of poisonous fish (such as Lionfish ….. in the Scorpionfish family) has not been brought to light as yet.
Another Aside
:
DFG Topics

Tsurikichi©2007
Help on Kelp
I was asked this question last week as I was pulling up a piece of Kelp attached to a small rock. Can you keep Kelp? How much? For any of you guys that want to chew on a piece of Kelp, by all means, knock yourselves out and harvest up to the 10 pounds per person per day allowed. Artificials only, hooks are barbles…….. ops …. my mistake… seems you just need to grab some one way or another …… being mindful to return to the water what you don't plan to eat.
Still Another Aside
:
Moo-moos
Mooooooo ................................................................San Pedro Landings!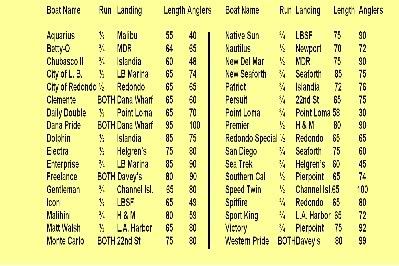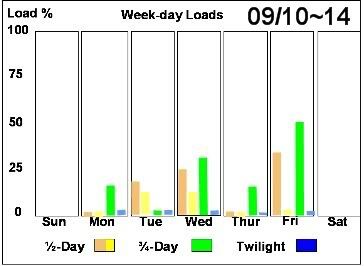 Moo-moo Load Averages

Guys are often asking me what days are lighter during the week. I'm in the process of making a chart to reference the weekly load % averages for our sportfishing landings' ½-day (am/pm), ¾-day, and twilight boat runs.

Charts will not have the name of the landing shown but simply indicate which of the 3 areas main geographical areas locally were chosen for the survey. (SMB/L.B.-S.P./South Coast)

I'll first choose one landing from each area for the first 3 weeks then rotate the areas ….eventually having done all the landings. I figure this will be a good representation of the Summer season.

Close To Last Aside

: One Example ............................Another ..................................Worn Chain!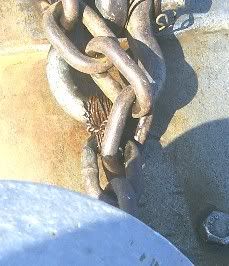 Anchors away

I'm sure …….. if you're a PBer, you won't want to literally have this happen to you! Lots of guys don't think of having an extra anchor on board. Whether you use a breakaway rigging on your main anchor or not, have an extra anchor rigged with the breakaway!! As your anchor is matched to your boat … so should your break-away system be matched to your boats weight and power.

Important

One thing to note is that you don't want to put so many wraps of wire on the anchor that it won't 'break-away'! You should be able to cause the break-away with skillful use of both the water conditions, boat positioning, gear, and application of the safe maximum power of the boat.

Closer to Last Aside

:

Ya …… I just can't let it go! One more set of comments on the 'One Fish Limit' and anglers not properly targeting alternate species issue. You've got to feel sorry for the skipper that finds the mother lode and drops the hook only to see that the boat is quickly approaching boat limits on Bocaccio (Salmon Grouper) when ….. all the while he can plainly see that there are lots and lots of other more desired species metered but not being properly fished!! Even the ol' 'change your bait often' admonition (you know …. where the unsuspecting angler reels their bait up through the zone in the water column where the fish are stacked) rarely works on many!!

I hear the instructions (pleading) time and time again !! 'Don't just fish the bottom, there are lots of fill in the species at fill in the number of cranks off the bottom.'

How about the one where some are surprised to hook a fish as the hook is being pulled (boat moving forward) and consequently the anglers bait is being raised up from it's position near the bottom to where the fish are suspended!!

If I was a skipper and saw such a situation, and had no confidence that the spot would be intelligently fished, I might just pass it up to find a 'Bocaccio only' piece of real estate ……. rather than have the frustration of getting boat limits of Salmon Grouper before more desired species could be touched or even worse …. only slightly hit.

What a joke !! With boat limits ….. the skipper would have to leave the spot and listen to some anglers whine ….. that some Reds, Chuckleheads … whatever …. were 'just starting to bite'!! Ya right….. biting for the guys that knew what to do or were following instructions. Both you and I have heard this one before if you've been on a good number of Rockfish trips with a few successful regulars aboard. Funny !! Written in good humor!

Last Aside

: Are Lobsters Fish?

Would the webmasters of some sites please …… set aside a board for the lobster guys?! Every year it's the same thing …. threads on lobster gathering …. Not fishing …. starts outnumbering the threads on fishing for Fish ….. you know ….. like ….. with the hook and line kinda stuff!

The Boat

The Victory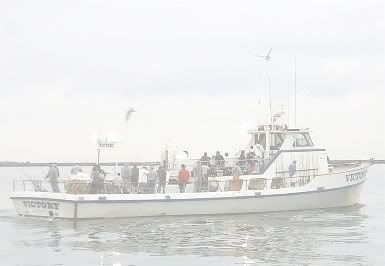 Stern Numbers …………………………......Boat Colors!
The Crew
Mike ………………………….....Deck- George ……….Galley- George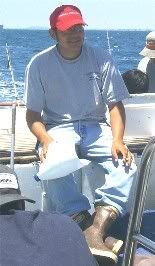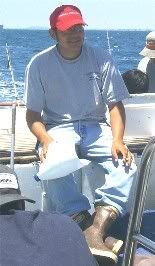 Great Day on the Water
Had a challenging day of fishing and tough day catching. Conditions will get tougher for me and my plastics as the season progresses and we fish deeper water. Good buddies (including 11 club members), skipper and crew made for a good trip!!
tsurikichi