I've posted enough I should edit this section
Apr 25, 2005
4,243
1
93
Name

Ron
Boat

10' 2 1/64"
Hey guys,
Gave
It One
Last
Shot
This

Year!
Rode Pierpoint Landing's ¾-day local moo-moo
Victory
Friday. Veteran Mike Blue is her skipper and ran the boat while Carl worked on deck and Ron, who incidentally is almost always actually in the galley, manned the galley. Fished Horseshoe Kelp. Had 35~40 anglers on that roomy 90-angler boat!
Roundup Note: There's
ONLY
NO
more fishing days till rockfish seasons' closure.
Target Fish:
Sheephead, Whitefish, and SWRF
Short Report-
Friday 12/29
Today:
No Detailed Official Report Posted
But …… Around 35 anglers caught way more that that number of 1~3 pound Sheephead, lots of Whitefish (some to 2 and a half pounds), large number of Rockfish, some good 13-inch+ Sculpin, a bunch of perchys, a Bonito, and a ton of Mackerel. Not many shorts caught today! Rockfish included: Treefish, Split-tail????, Starrys, and Reds (Vermillions). A couple of Lings caught and released. Caught 3 Rat Fish and 1 Splittail .... a similar looking fish to the Rubberlip Perch.
(Please widen your view to fit monitor if word-wrap looks off)
Friday 12/29 Jackpot
Weigh-Off ……… Winner!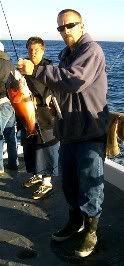 Goat Wins
Pretty close on the Size!! Congrats to the gentleman angler on the Goat!! The 4~5lb fish was caught on a regular dropper loop and squid strips if memory serves me right .... from rubber necking. Catches mostly made on Squid or Shrimp.
Other fishy photos in the gallery
Long Report
Heading Out
Old and New!!
Bright Morning
Left the dock at 7am. Cool enough to make the galley a welcome warm spot besides the smell of bacon.
Breakfast orders in, The temperature low was 42º F which rose pretty steadily to 70 º by the end of the day but ……. then there was that wind-chill factor again! Today, our ETF (Estimated Time til Fishing) was to be an hour.
As we are not getting live bait presently (although we've had it in the tanks at times) but depend on frozen Squid, we don't waste any time going to the bait receiver. That's just fine with me (selfish) as I don't use live bait which typically competes against my swimbaits for the big Bass.
The Days Fishing
Fishing Area ...................................................Bottom Contour!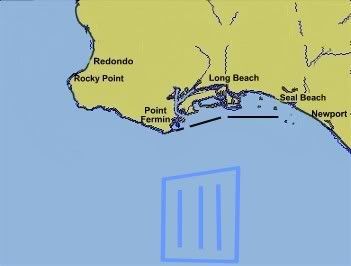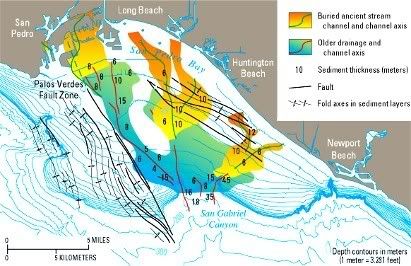 Our Backyard
We again worked our own backyard (Horseshoe Kelp) and hit a good number of spots both inside and outside, relatively shallow then mid-depth and back again, flat hard-bottom, rocky structure, and everything in-between!
With less travel time between each area and spot, getting out the gate early from not hitting the bait-barge, and leaving at 7am, it seems like we have a ton of fishing time. Today was no different! Boat worked from 7am to 4:30pm!! That's a heck of a lot of time at the rail
Moo-moo Pasture
Out to Pasture
Lots of moo-moos were grazing yesterday on the Horseshoe Kelp Pasture. I didn't even make the effort to try to take a picture of all the moo-moos much less the many PBer's out there trying to get in that last freezer trip before the closure.
Know Your Moo-moos
First ……………….........................Second ……………...................... Third!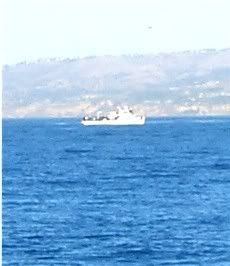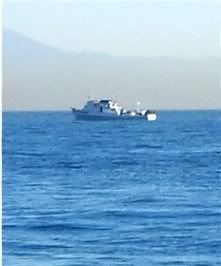 Two of Many PBer's
Nice Rig ………………....................Another!
3 Rounds
Round 1
Early morning had us anchoring in shallower 90 foot of water for a pretty good bite on a variety of fish. Moved two or three times when either the bite didn't fully develop or things got slow. Most anglers did nothing special or different from Thursday's or Friday's group (dropper loop/torpedo sinker/Squid or Shrimp) with a steady biteon the Sheephead, Whitefish, and Rockfish. The main species caught were pretty much average size. Caught a lot of different species ….. a couple downright WEIRD !!
Conditions:
Cool morning, West wind at 6 knots, with 2~3 foot swells at maybe 12 seconds and no wind waves. Water temperature ranged from 57º~60º F although it was actually colder in spots. Downhill current. Water clarity was good at around 10 feet. Air temp were in the 60º F's but going to the 70's quickly.
Round 2
The weather developed into warmer, almost short-sleeve conditions. We moved to another area and hit a couple other spots both further out and then back in and a little south. I like the idea of not just sitting on a spot to 'wait out' the bite on the species of fish we were targeting! Guys were mostly able to fish 4oz torpedo sinker rigs.
We were pecking away at the fish at every stop but sometimes it was either the wrong flavor fish (perch and or Mackerel …. at the bottom even!!) or the numbers and or size didn't justify the time of 35 anglers! Gotta remember that what might satisfy a PBer on a given spot is not viable to a skipper that's looks to produce for 35 fish-hungry anglers.
Conditions:
The wind-waves stayed at 2 feet and 12 seconds while the current was still pretty strong but fishable. Still nice and warm with the only chill felt was when we made one of our short-distance moves.
Round 3
The last round was pretty short and sweet with about an hour and a half's time left. As mentioned, there weren't any real monsters caught so everyone was fishing pretty hard thinking they might have a shot at the jackpot.
Conditions:
No really big difference for the usual afternoon water cooling and wind picking up to push the waves and swells a little higher than during the day. Interesting to notice the varying degree of this change is determined, to a certain degree, by the tide variance.
Gallery
The Fish– Sheephead, Whitefish, and Others
Beauty ………………………………….........Reference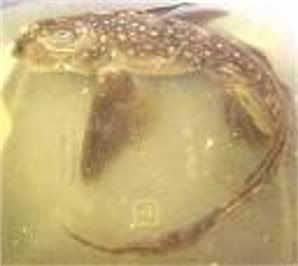 Strange Fish
This resembles one of three Spotted Ratfish
(Hydrolangus colliei)
we caught on the boat. There is another, 'Black Ratfish', of these guys that inhabit the California coast. They look rather comical but, on the serious side, have a poisonous dorsal spine. This fish is known to inhabit shallow waters as well as depths of up to 3,000 feet and more!!
Anglers and Their Fish
A Few Pics
John's Bass ……2nd Sandy ………….....Terry's ...... Sculpin ..............Nick's Bass .....Whitefish!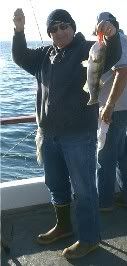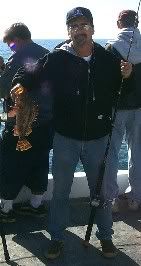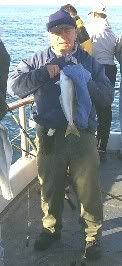 Rich's Goat …..... Nice Fish ..................Excellent .....Brandon's! ................. Happy Anglers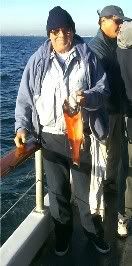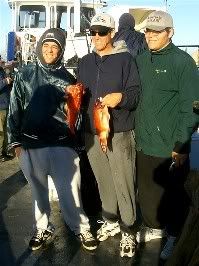 Ratfish ………... Convenient …………........... Fishys ...................................Art's Filets!
Let Them Know
The photos above are just a sample of the fish and things of interest, at least to me, on this week's trip.
Note: If you see a friend in the pictures, let them know they can copy the photo off the report, save, edit, and print it at their leisure.
Plastics
Back to Basics
Plastics …. Putting in the time
Fished swimbaits three-quarters of the fishing-time. I didn't mess with attractants but instead used squid strips and concentrated on fishing as many colors/size/weight combos as possible. Caught a few fish but nothing worth bragging about! My buddy, that fishes beside, me caught 2 very nice Sandbass right off the bat on plastics and didn't get much of anything the rest of the day!
The remainder of the time, I used my graphite rod, that I had re-wrapped with graphite roller guides, a reel spooled with Spiderwire 30lb-test(8lb-test mono diameter) braid, fluorocarbon leader material, a 6 1/2oz torpedo sinker, and small #2 ringed hook to fish squid strips. Nearly got skunked on the rig for whatever reason!!Discouraging to be successful one day and score 0 on the same rig (never changed the rig from the day before) the next day!
Tweeking Plastics #18
Torn ……........Split ……...........Pulled ……...Glue!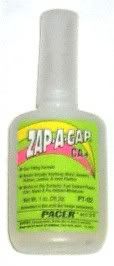 Making the Effort
If only every swimbait was made of a tougher material. (haven't tried Mann's HardNose ® series or Netters' TUFCORE® series baits yet) With swimbaits common to local saltwater fishing on moo-moos or PB's going for from 59 cents to 3 bucks a pop, losses on a trip where there's a hot bite on the 3B's can add up quick! There's three ways a bait commonly gets torn, sliced or split.
Causes include: 1) A fish can actually pull it off, bite or rip it, 2) Improperly removing it from a fishys mouth (a deck is commonly the culprit), or 3) It can be simply mishandled i.e. stepped on, caught on or between this and that, etc. Whatever the case, you'll often end up with some wounded soldiers. Oh ya ….. they get eaten too!
If having a good supply of swimbaits is important, you'll probably have a number of the same plastic at hand so that when one gets damaged in use it's simplest to replace it rather than waste valuable wet-line time.
Once removed from the leadhead, put it aside if ………it's in good enough condition to be repaired or a part salvaged. Expect to take it home for repairs as you'll be less successful in attempting repairs if the plastic is not completely dry. Separate the damaged plastics from the rest, try to keep colors separate from each other, and dry them out.
Some swear by repairs affected using a lighter to heat the plastic enough to fuse the torn areas. Not all baits can be repaired in this manner and STAY repaired. I've opted to use a specialized glue to repair my swimbaits. There are a number of such adhesives on the market that are used for both repair of swimbaits and affixing the swimbait onto the leadhead retainer shaft.
Types of Repairs
1) Repairing tears at the hook bend. (often caused by carelessness in handling)
The difficult part of this repair is that the swimbait flexes the most at the very point where the cut or tear occurs. The repair will not hold as well as others as the hook tends to move inside the bait. Again …… after through cleaning and drying, apply the adhesive from the inside and work to the outer edge of the cut, slice, or tear. Glue should be spread along the bend of the hook that is normally imbedded in the swimbait for extra holding power.
2) Repairing splits at the swimbait's head. Damage is often caused by trying to put a comparatively narrow bodied swimbait on a leadhead with a large diameter retaining shaft. This problem is exacerbated if you don't perfectly center the hook shaft along the center-line of the bait which will cause 'thin' spots to develop.
(This will be a less of a problem if you followed my tweek on reducing the diameter of the retaining shaft)
These repairs are also difficult as the plastic must be stressed when going over the leadhead retainer shaft. If trimming the nose isn't the total solution (it may help a little anyways), make sure the area to be repaired is dry and clean. Apply adhesive from the inside to the outer edges of the split. You might want to follow the advice from one of my other tweeks and file or flatten down the sides of the leadhead retaining shaft before putting the plastic back on the leadhead.
3) Repairing pull-downs. (develops as fish are either being caught or short-biting)
Truthfully the easiest way to repair this is to cut a little off the nose so that the exit point of the leadhead hook point, when newly positioned, is in a solid part of the swimbait (behind the old exit hole). Once the point comes through the swimbait skin, apply glue to the leadhead retainer shaft, slide the swimbait up to the leadhead, THEN …… add a little glue to the point where the hook bend exits from the swimbait.
Tip: Clean the baits thoroughly. Expect to encounter additional difficulty if you've used attractants and it's gotten in the area to be repaired as many of the attractants are oily. If you've soaked the baits in 'juice', don't expect much. On Gulp plastics ….. well ………
Recycling
1) Splicing remnants
If you've got swimbaits that are damaged in opposing areas, it is possible to salvage some of them by scavenging from the other. That'll be the next tweek installment.
Products for repairing swimbait tears and or gluing baits to leadheads include: Innovative Promotions'- Pro's Soft-Bait Glue®, Pacer Technology- Super Glue, Hawg Teaser Tackle- INSTA-SET® and MAXI-CURE® accelerator, SUPER GLUE CORPORATION- ZAP-A-GAP®
Estimated project time: 10 minutes the first time!
Friday's Out There
Lunar ……………………..............Wind!
Tides …………………........................................... Water Temps!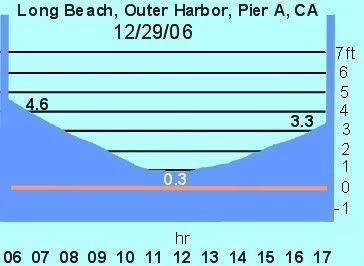 Friday's Conditions
Fishing Grounds:
The skies were clear and bright with the sun making some wish they had brought sunscreen. The air-temperature went from the high 40º's, climbed through the 50º's, and edged into the 60º's while the wind stayed down under 5kts most of the day. Wind waves below 2 feet as were the swells yet ………. the current still ripped like there was no tomorrow.
Translation = 6ozs of lead for most of the time. No whitecaps seen all day for a change. Water was pretty clean wherever we went with clarity at a good 10 feet. Some trash out in the water from the last storms.
Wild Creatures:
No Sealions visited us today … I mean NONE! Only the hardiest Seagulls, Cormorants, and Pelicans were hanging out and they were few in number.
Asides
An Aside:
End of the Year Tackle Checklist. I write out one every year for local fishing. Make it a point to watch the sales and be ready to take a Benji or two and buy enough in one shot to set you good-to-go on at least the basic …. terminal tackle and consumables you'll have needed for March. If you buy all this stuff at once … it's easier to organize too!
Another Aside:
Be aware that we might get a reprieve from the DFG on one species or another when it comes to 'species specific' fishing closure dates. If you don't believe me … check out the Southern Management Area. (pp14 of the Ocean Sport Fishing California Marine Regulations 2006 Booklet)
Making a habit of going to the DFG site for the latest info isn't a bad idea whatever the case. Have you looked into getting a lifetime license yet?
Yet Another Aside:
We caught a fishy that I thought was a Rubberlip Perch but my buddy said it was a 'Split-tail' and went on to describe the difference! Split-tail is a new one on me but he said although they resemble each other (fat lips) they are different in coloring and markings. Went to fishbase and a couple of other sites only to find a splittail listing under a fish in the Sacramento Delta area. Any help here guys?
Last Aside:
Happy New Year (Japanese: Shin~nen Omedeto Gozai~masu or upon a first meeting in the new year for say a period of 3 days to a week …. Akemashite Omedeto Gozai~masu)
Useful Information
Stern Shots
I have posted the stern rail numbers and the color sections of the boat for two past reports. In subsequent reports on this boat, I will not post the graphics again but have you refer to the report for the 11/22 trip for the visual reference. The Victory's 5 color sections (red, green, yellow, blue, and white) each have 18 numbers going clock-wise 1 to18.
The Victory
George
file photo
......
Mike
file photo
................
Carl!
file photo
...................
Ron!
file photo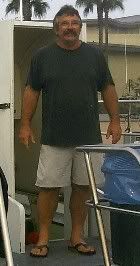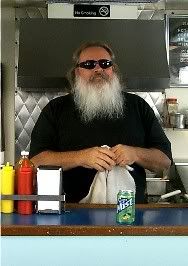 Rainbow Harbor Entrance!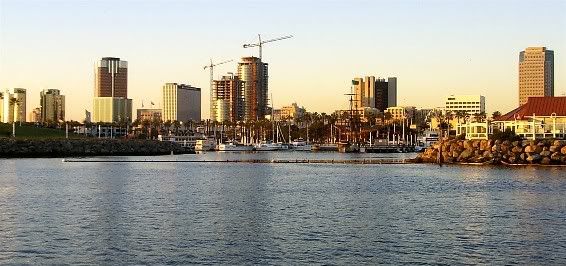 Trip's End
Today, the skipper and crew made sure my fishing club buddies, and others had an awesome day on the water and excellent fishing that turned out to be perfect ….. except for the plastics fishing. We were off the boat by 4:30 and I was home in 30 minutes.
tsurikichi