I Post A Lot But I Can't Edit This
Apr 25, 2005
4,242
1
95
Name

Ron
Boat Name

10' 2 1/64"
Hey guys,
Get

Out

and

Fish

Before

Seasons'

End



Rode Pierpoint Landing's ¾-day local moo-moo Victory yesterday … Wednesday. Mike Blue is her skipper and ran the boat while Jason decked and Ron manned the galley. Fished the usual places at Horseshoe Kelp. Only 16 on that big ol' boat!
Note !! 18 more fishing days till January 1st Rockfish Closures !! See An Aside




Target Fish:

Sheephead, Whitefish, and SWRF






Short Report-

Wednesday 12/13:





Today: Around 16 anglers caught 42 Sheephead, 50 Whitefish, 25 Rockfish, 10 Bonito, 8 Calico, 2 Barracuda, a couple of Sculpin and 15 Perch. Rockfish included: Treefish, Starrys, Olive (Johnny Bass), and Reds (Vermillions). We also caught and released a few short Lingcod, Sculpin, Calicos.

(Please widen your view to fit monitor if word-wrap looks off)

Only

18 days

till the Rockfish seasons' end!

Wednesday 12/13 Jackpot:

Weigh In ……….... Winner!

Goat Wins
Congrats Richard on the nice Sheephead!! Notice a balance scale wasn't used for the weigh-off !! Gee I wonder why?! ha ha ha As expected, a nice 10lbish Sheephead took the jackpot. The fish was caught on a regular dropper loop and a Shrimp fished on the bottom. Happily this great grade of fish has continued the last two weeks. Lots of fishy photos in the gallery
Long Report:
Off from the Dock
Christmas Lights ……………........LB Marina Entrance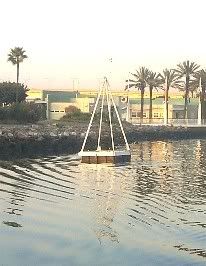 Off the Mark!
Left the dock at 7am. We did a 1 minute backup back to the dock to get extra frozen squid at the last minute. Although owner George might not always be on the trips, he's always there for that extra touch. Mike gave us the usual safety speech on the way out of Rainbow Harbor. The temperature was starting to creep up past the 50-degree mark. There was just a little breeze inside the harbor, which made us hopeful the outside wasn't getting much wind! Lots of debris in the outside harbor area from the last rains.
Having dines in the tank ……. where'd they come from … we headed straight for the Los Alamitos Light! Out the breakwater, it was another 30 minutes to the area where we made our first stop.
The Days' Fishing:
The Usual Scene!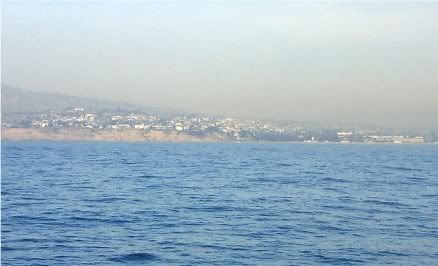 Winter Fishing!!
Sticking pretty much with what works, Mike decided on relying on the frozen Squid for bait and the dines (looked like they were a nice and well cured) for what might pop up. As is the habit of a good number of our club members, we had the deadly Shrimp but no Crawdads in attendance this week.
Moo-moo Pasture
Mapped it Out!
The Horseshoe Triangle!
Well …………. It's pretty much a triangle.
The Fishing!
3 Rounds!!
Round 1 We began to fish in 85 to 90 feet of water with good results. Seemed like we were fishing hard bottom and maybe a small rock-pile from the usual tick tick I was getting from my leadheads and the rare hang-up of someone's dropper-loop. Most were fishing dropper loops on 2-hook ganions and 3ozs torpedo sinkers with either Squid (for a wide variety of species) or Shrimp for the Sheephead. Not sure what was catching the short (out of season) Lingcod but I know Jason wasn't putting out the Sardines. I think I caught one short beside me snickering as he or she was being released over the rail!
Conditions: It was a fairly brisk, yet sky-blue morning with 2, 3 then 4 foot swells in some areas, current running moderate but gaining strength, and the wind around 5 or so knots.
Round 2 After staying a good bit on our first successful stop, things slowed and we decided to move on to different structure. Just about everybody did the dropper-loop thing with me successfully fishing plastics and another person catching Bonito on iron. We moved just a few times with the occasional fine-tuning reset or letting out of anchor rope (taking a stretch).
I like Mike's habit of trying different structure …… even after a good stop on one kind of bottom and conditions …… we're looking for better.
Besides, savvy skippers know moving to hit a couple of a little different spots helps to get a faster read on how conditions are developing and will be for the rest of the day ….. at least in my book! We fished a little deeper but not over 120 feet max. Seemed like there was a lot of kelp for a 'soft hang' type of bottom. Wind and downhill current weren't working against each other quite as bad as last week so the swings weren't as bad as they often are at the 'Shoe'.
Conditions: The swell height and wind waves lessened, as well as the wind, and things started to lay down pretty good. Pretty quickly warmed up to short-sleeve weather. Cranking on fish sorta heats ya up a little too.
Round 3 On our final set of the day, we again had a steady pick of a wide variety of species. As is often the case, the jackpot fish was caught on the last stop (big fish + freshly caught). Most people caught fish on Squid ….. fished whole or strips.
Whitefish bit pretty good on the strips and small hooks. Buddy fishing leadheads and whole Squid got lots of short bites and the expected few good Calicos and Rockfish. I got pestered by those pesky Perch who were hanging around right on the bottom!! My plastics were continually being 'nibbled' by smaller fish …. be they Perch, mini-Sculpin or smaller Rockfish.
Would have been cool to have caught a flurry of big bonies or even barries on the way back in a late-afternoon bite but alas that was not to be today!
Conditions: As is the usual routine on the 'Shoe', wind, waves, swell, and current seem to pick up from around 1pm. The bite pretty much died by 3pm but we stuck it out just to make sure there would be no last second flurry for the plastics and iron chuckers or live-liners.
Gallery
The Fish –
Sheephead, Whitefish, and Others
Beauty!
Variety and Quality!
Ditto of last week. But ….. even more species encountered. We got some especially large Whitefish today and I was treated to a good flurry of Johnny Bass.who love plastics! I think the jackpot goat was bigger than last week.
Anglers and Their Fish
Roger …............... Nick ……..............….....Mikes ……............... Jeanne ...............And Again!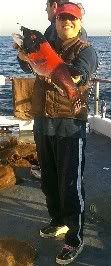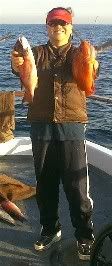 More Fish!
John! ............................Nice Bass .................Good Catch ............ Nice Mix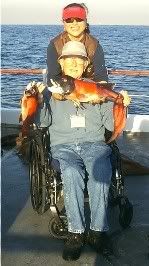 Another Goat ...... Again ................. Plastics heh heh!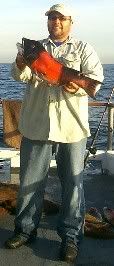 Mackerel Patrol!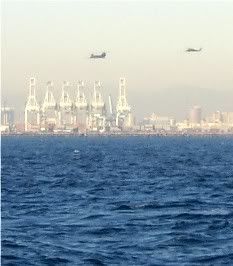 Tell Your Buddies!
The photos above and below are just a sample of the fish and things of interest, at least to me, on this week's trip. Note: If you see a friend in the pictures, let them know they can copy the photo off the report, save, edit (may need to increase resolution), and print at home.
Plastics!!
Leadhead …………..Gulp Sand Crab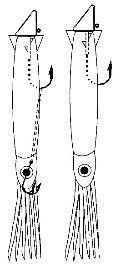 Gave the Gulp Squid & Crabs a Shot!
Fished the Gulp Squid on a leadhead last week for so-so results and gave the Gulp Sand Crabs a shot for promising results on a sliding-egg rig today. Used only 5% of my fishing time to fish the Sand Crabs today with the remainder dedicated to my own plastic fishing strategy.
The Gulp Squid, fished last week, was weighted and fished both with a 1oz leadhead-added as well asTexas-rigged. The Sand Crabs were fished on a Carolina rig. I caught a few fish on the Squid but most got short bites. None of the fish were my target fish! Reds, Calicos, maybe a monster Sheephead. I have caught Sheephead on plastic.
The Sand Crabs got me 0 fish but some really good hits …. one which would have taken my rod-tip to the water if my rod had been long enough! An outfit was also at the ready, rigged with a fresh clear/red metal-flake 4 ½-inch Blam for the abundant Bonito that constantly breezed past the boat. Bonies would have stayed to play I imagine if it were not for the dang Sealions.
We again fished the shallower depths with moderate current in the morning. (90 feet or so) I used 1oz leadheads with whatever plastic I was using. Kept everything on the bottom moving slowly to target bottom-huggers for most of the day.
Once I dialed in on the Johnny Bass I brought up my fall a little and did a slow retrieve just above perceived structure. Johnnys like a little horizontal movement! I fished the bottom up to around 15 feet for Calicos, Browns, Reds, Sculpin, Sugar Bass and Olives. Got the usual macs and bonies too!
On failed Squid technique: I made it a point to keep the Squid rig a little lower to target the Sheephead but not so high as to attract the Whitefish taps. I believe the Whitefish suspend higher than Sheephead in general. Didn't really dial in on species like I wanted to do. Pretty much fished the fall with just suspending the squid at specific depths for a little before retrieving and casting again.
Fished the swimbaits with a cast then fall and slow continuos retrieve, JerkIts with large 4-foot up-sweeps awaiting a bite on the fall at a specified depth repeated …… working my way up the water column.
Swimbait colors I went through with no particular success: metal-flake green, metal-flake red, brown and white, black and silver, red and pearl, and rainbow trout. Only consistent bait was the Kalin 4", green back and pearl sheen body.
Tweeking Plastics #14
Rigging Squid!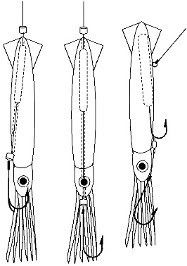 Stealthing a Gulp Squid!
Although Berkeley's Glup line of products are not a 'plastic' …. in the traditional sense, they are finding a place in the plastic slingers arsenal. Specifically, a number of their products are applicable for use with the common fishing techniques practiced on local moo-moos. Their swimbaits (Saltwater Pogy, Bait Swimmer), Slugo-type (Jerk Shad, Eel), and Squid replicas cry out for use with a leadhead, leadhead w/stinger, or other a dozen other weight and rigging schemes. (I'm not promoting these baits but suggesting an alternative to swimbaits)
This project was done to…….. a) have a realistic squid in my line-up of plastics that acted, looked, and smelled like a squid, b) test what other weight positioning could be done other than the usual Texas or Carolina rigs commonly used on whole live or fresh-dead Squid, and c) increase further the stealth factor.
Choosing the Squid!
The Berkeley's Glup 5" Squid in the sugar spice color seemed like a good choice from among the 6~7 colors available. A package of 3 Squid costs around 8 dollars. These things are messy so I suggest you rig them (as I did) 'on the water'
Weights:
Setting aside leadheads, and already having sliding egg sinkers for more conventional in-line rigs, I also dug up a few rubber-core sinkers and bought some relatively new cylindrical-shaped weights. I drug out some of my old finger-jig leadheads on the chance they might work.
Components:
A number of items are required to rig a squid. Carolina keepers, snap-swivels, swivels, hooks, and flurocarbon leader make up the additional materials needed. (Use of a multi-strand wire for leader material is optional)
Tools:
A plug-cutter (home-made metal tube), crochet needle, dental plaque remover (small spade-like), and needle-nose pliers.
Assembly/Methods:
I think that the illustrations of how the completed rigs will appear should be enough for the intrepid angler to replicate and or improve upon. Plan how and in which direction you'll punch out the cores, thread the weights, and use the Carolina keepers before you start rigging. Kinda messy! I make mine so that they are all-in-one and can be tied on the main line via a single swivel. Have fun.
Rigging Method #1: Cylindrical Weights
Rigging Method #2: Rubber-Core Sinkers
Rigging Method #3: Finger-jig Leadheads w/snap swivel eyelet extender
Testing:
Again, there is really no testing of the different rigs other than fishing them. Have a secondary zip-loc ready as you'll want to make sure the remaining one or two baits stay in their secret sauce …… and don't leak! Estimated project time: 20 minutes the first time!
Wednesday-
Out There
Lunar!
Tides ........................................................................................Water Temps!
Conditions:
Fishing Grounds: The air-temperature ranged from the 50's then 60's to short-sleeve warm then cooling big-time around 3pm when were aboutready to head home. Fished under clear blue skies. Water clarity was 6~15 feet varying from stop to stop. Water temps generally during the day went from 60 to 61 and ended at 60 degrees! But …. Mike hit a couple of warm spots going to 64 edging 65 to make for a great bite. Good hunting Mike!
Had some chop over and above the awesome occasional 4 or 5 foot swells during the morning at maybe 7 seconds that continued to lessen as the day progressed. Swells were down around 2 feet at 15 seconds around noon then growing to over 3 feet at 12 or so second intervals when heading home. Wind was blowing 10 to 12 at the breakwater. Down-hill (West) swell. Current fairly ripped during the whole day. A couple of times we did a 360 on the anchor and that's without power!
Wild Creatures: 2 adolescent Sealions visited begging (cute) for eats but eventually went away. I guess they realized we weren't using Sardines for bait. The usual Seagulls, Pelicans were hanging out and were very aggressive. Those pesky Cormorants were again attacking mine and others swimbaits! What !? Again those Cormorants were up to no good. They were chasing and actually grabbing and trying (with some success) to steal small Mackerel!
Asides:
An Aside: For the Southern Management Area: (From portions of Santa Barbara County down to and including San Diego County)
As of January 1st 2007: Taking of rockfish as designated by the California DFG (RCG complex) will be prohibited. The list below is merely some of the rockfish commonly caught by the sportfishing boats, of which ,possession will be forbidden* but does not comprise the entire list.
I suspect that if there is no relaxation or extension of the fishing season, enforcement efforts will be very stringent and immediate as of January first! The 2-months' (Jan/Feb) period the fishery is closed will be a challenge for the moo-moos to say the least.
Barberpole (Convict Bass), Bocaccio (Salmon Grouper), Black Rockfish (also Bass), Blue Rockfish (also Bass), Brown Rockfish (also Bass)Cabezon (Cab), Chilipepper (Chili), Copper (Chucklehead), Gopher Rockfish (also Bass), Green Spotted (Salsa Bass), Kelp or Rock, Greenling, Whitefish, Ocean, Olive (Johnny Bass), Quillback Rockfish (Toothpick Bass), Rosy (Rosies), Scorpionfish, California (Sculpin, Sheephead, California (Goat) Speckled Rockfish (Sugar Bass), Starry (Eye) (Starry), Treefish (Avon Bass), Vermillion (Red), Yellowtail Rockfish.
1 The list above wasn't intended to be complete and doesn't include species previously closed or those in the NO TAKE category!
Another Aside: On catching 3 bonies on 3 casts with the plastic and the immediate arrival of a couple of Sealions ……hot on my fishys trail, I decided to give up on that fishing as it just kept the dogs around. At this time in the season, I kinda wonder how successful moo-moo anglers would be in discouraging Sealions from hanging around simply by not putting out dines intentionally trying NOT to hook Bonito, and the pesky Mackerel. As many moo-moo trips presently use frozen Squid as the main bait, Mackerel (Bonito to a degree) seem always really attracted to it. Not fishing squid might be enough to keep the Mac and Bonie population from hanging around or at least lessen the frequency of their visits.
Although realistically impossible to get moo-moo patrons to try to make such an effort, I can't help but think that without the Squid ….. the Mackerel would quickly lose interest in the boat, the Bonito might just cruise on by too, and the Sealions would not bother to do anything but a cursory look-see. With 20 anglers continually and effectively chumming with their fishing squid strips, it's no wonder that in the end the dogs hang out.
I wonder if the Pbers and other anglers use, or even need to employ such a strategy? I know from experience, having a dog blow bubbles 20 feet to your side while in your float-tube and hooked up to a mac is not fun.
Yet Another Aside: Have you thought about getting a 'lifetime' California fishing license? I've had mine for 6 years. I watch the fees go up each year ….. and laugh! Make a great Christmas present too BUT ya gotta have the application postmarked …… well …. anyways check out : Lifetime License Informationhttp://www.dfg.gov/licensing/lifetime for more information.
Useful Information
Stern Shots!
I have posted the stern rail numbers and the color sections of the boat for two past reports. In subsequent reports on this boat, I will not post the graphics again but have you refer to the report for the 11/22 trip for the visuals reference. The Victory's 5 color sections (red, green, yellow, blue, and white) each have 18 numbers going clock-wise 1 to18.
The Victory
George file photos........Mike .....................................Jason ......................................Ron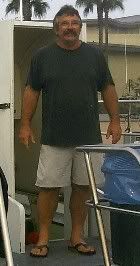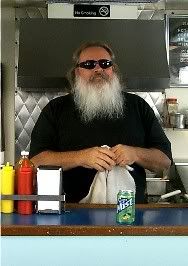 Trip's End!
Today, the skipper, crew, fishing buddies, and some regulars made Wednesday a great day to be on the water and fishing. We were off the boat by 4:30 and I was home at around 5:00pm.
tsurikichi