May 11, 2011
975
566
Name

Gary Graham
Boat

Watercloset
Baja Bytes Weekly Overview
Friday, Sunday, January 22, 2016
Gary Graham
Que Pasa
PHOTO
Ensenada toll road new slippage.
The new slippage area is about 4 km north of the Ensenada toll booth, directly above the Playa Saldamando family camping area;
Mextrans has been studying and surveying the area about 6 km north of this area.
You can clearly see the roadbed guardrails have slipped west about 40 cm (16 inches).
http://www.bdoutdoors.com/forums/threads/tj-to-ensenada-toll-road.615792/
Coronado Island
A few boats are hitting the area to the north of the Coronados for rockfish which are legal to take in Mexico but are not legal in the U.S. until March 1st. They are working from 250 to 400 feet deep for a mix of red rockfish, whitefish and a sheepshead or two.
Yellowtail are around in a couple of areas. The north end of South Island and around in the lee side to Ribbon Kelp has the best volume
BUT
these yellows are small. Most are in the 4- to 6-pound class with a few up to around 8- to 9-pounds. They are sonar fish showing in 90 to 130 feet of water and biting on both the smaller yoyo iron and the dropper loop sardine. There are a few barracuda at Ribbon Kelp, too.
The weather side of North Island has the better-grade fish but not much volume. These are sonar fish, too. You might get lucky and find a school, and if you do, these fish are bigger -- in the 15- to 18-pound class. Again, the yoyo iron and the dropper loop sardine are both working.
Bonito are all over the Islands. If you want those, try trolling Rapalas and tuna feathers. They are nice-sized fish in the 4- to 7-pound class. …
Fishdope.com
Ensenada
Derek Arneson, San Diego, scored limits of nice-sized yellowtail recently.
It wasn't long before we were at Punta Banda on the pinnacles between there and the Island. First stop, down 100' or so, I lost the first yellow of the day. Drag is down tight so you don't get rocked and it pulled the hook. We lost three fish and managed to put three more on the boat. We stopped a bunch and picked at rockfish and a bonito here and there, lost a couple of mystery fish that pulled hard and then were gone...
Kevin
http://www.bdoutdoors.com/forums/threads/ensenada-bd-charter-on-the-amigo.616281/
Colonet
Priscilla Sanga aboard the
Pacific Venture.
Last weekend saw some pretty decent yellowtail fishing on the high spot and had good action for lingcod and reds on the ridge nearby.
A number of San Diego half-day to tw0-and-a-half day boats are online to run down there again departing Friday night. These are filling up fast so if interested, you better hurry. Call quick to reserve a spot!...fishdope.com
San Quintín
Told yaaaaaa' . . . wide open tails! …
Captain Juan Cook
http://www.bdoutdoors.com/forums/threads/toldyaaaaaa-wide-open-tails-sq.616628/
This week aboard our 25 Parker with Rich Shary, Rich Stout, Kenny Lyon and Bernie Melnick of Yucca Valley, Calif. -- they caught their limits of yellowtail with 20 total -- all on the yo-yo iron. This was day two for the guys. They caught seven on their other day. …
K&M Sportfishing
Bahía de Los Angeles
Guadalupe and north of Pta. Remedios kicking out yellows on calm days.
Guerrero Negro
At Laguna Ojo de Liebre. …
Shari Bondy
Bahía Ascensión
Surfs up! …
Shari Bondy
La Bocana
Spotted bay bass, grouper, pompano, pargo liso, corvina, and snook -- Glory Hole! ...
Juanchys Aguilar
Mulege
Yellowtail Tournament
-- February 17 – 21, 2016.
Captains meeting to be held Wednesday, Feb 17 at 3
o p.m at
Jungle Jims!
The protocol will be identical to all other events. There are a few new options -- namely an opportunity to enter a separate event started by Stulege last year for the largest yellowtail caught in a specified time: say Feb. 17 until April 17. This will be a
$500 peso
entry fee with winner take all. Just an additional
hook
so to speak!! All tournament fish are included.
There will be a dinner/dance included on Saturday night at a site to be determined very soon.
Fishing is officially scheduled for Thursday and Saturday with a day of rest on Friday . . . "weather permitting."
All fishing dates are "weather permitting."
There will be regular updates on that issue
.
Packages will be available at Miguel and Claudia's Tienda by Feb. 5, 2016.
We are in the process of determining the cost as almost all items have been purchased in U. S. dollars and we are all aware of the peso exchange rate. A truckload of really spiffy items are available for the raffles.
As always there is a grand prize raffle -- 2 speed lightweight AVET reel with 80# braid already spooled with a 7-ft. custom-engraved rod).
A rolling ice chest full of booze (16 bottles).
General raffle prizes (approx. 40) and a gift for each participant.
Charities are to be determined. If anybody has a cause, please reduce it to writing.
The last dorado tournament provided some relief for five needy Mulege families. These events are ALWAYS a win-win. Additionally, there is a YT summit scheduled for Feb. 16 with the fish to ensure a great catch! We will award survivors large mackerel and two days of a hook-free environment.
Any questions or comments can be emailed to
[email protected]
phone 153-0168
Loreto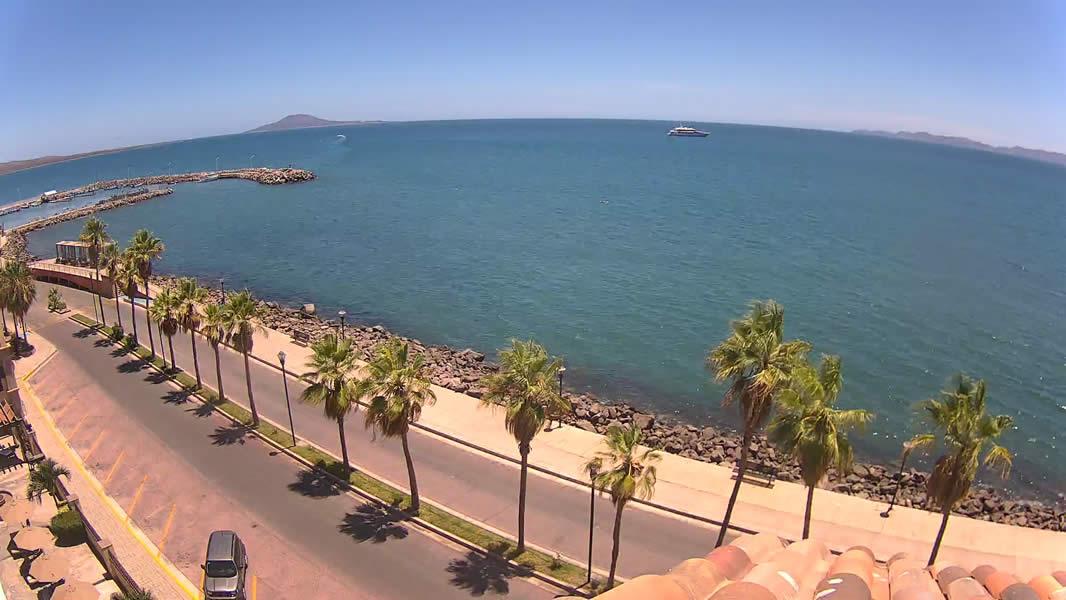 Captain "Tito" and a couple of baby pargo -- watch out for those "puppy" teeth!
Captain "Tito" and Jordan with a couple of yellows on the way to Jordan's dad's birthday dinner - all well-behaved dinner guests! The yellows were caught south of Coronado Island on live mackerel.
We actually got a few good days on the water this week.
Mackerel are being caught and sold by the bait sellers, making it an even sweeter set of circumstances. Sabikis are doing the job for the "do-it-yourselferz," too.
Now if we could only get the wind and current working in our favor things will be looking good.
From firecracker- to medium-sized yellowtail are the focus and the most popular spot continues to be "Lagrimas" off the south side of Coronado.
This same spot was being stalked by the pesky sea lions the previous two weeks but now they seem to have found a different dining spot. We had two boats hook up with good fish only to be robbed halfway to the surface.
I didn't feel the urge to report that earlier. Now that they have moved on, the memory is clearer!
So what do we have happening in Loreto's fishing scene? Lots of perfect-sized blue mackerel, 8- to 10-inches long.
Great bait for everything living on the rock piles.
Cabrilla, pargo, all sizes of yellowtail and even pinto bass hardly much bigger than the macks.
Triggerfish, which were almost pests a few months ago, have thinned out to the point where we can start wondering, "what happened?"
I think tons of mackerel are more inspiring than tons of triggers!
Inshore fishing between Puerto Escondido and Ligui has warmed up with showing of small- to medium-sized sierra.
Out a bit farther at six-mile-reef, the bigger yellowtail are hitting live bait for the boats
with
live bait. Mackerel continue to be hard to find and even harder to fill the bait tank.
One boat with the blue macks brought in six yellows with the largest weighing 27 pounds.
This same spot and another rock pile half mile north can also be good for cabrilla although it may be early for a good bite.
It's still early in the season with two more months before the yellowtail tournaments. …
Rick Hill, Pinchy Sportfishing
Magdalena Bay
There are some whales in the bay. Outside still a few wahoo, tuna and dorado. The crazy thing is, there are marlin out there now in good quantity! …
Bob Hoyt, MagBay Outfitters
La Paz
Crazy winter fishing! Wahoo – yellowtail – marlin -- sailfish! These fish aren't supposed to be here! Right outside Bahia de los Muertos and Punta Perrico! Joe Corbin from Ohio and Roger Thompson from La Ventana got seven wahoo yesterday trolling Rapalas before 11 a.m.! …
Jonathan Roldan, Tailhunter
East Cape
There are a few dorado around now, but not large numbers. Just about any captain here can put you on fish, but you need to fish for whatever is biting at the time. Also it's very windy now, so you need to be ready to bounce around a lot!
http://www.bdoutdoors.com/forums/th...ishermen-in-los-barriles.615653/#post-4010316
The East Cape has been very windy, making it difficult to get out and fish most days. On the nice days, there have been some dorado and billfish along with some yellowtail starting to show off La Ribera. Along the beach and inside, there are sierra very early in the mornings as well as some small roosterfish and jacks, but the forecast is looking like wind again this week. …
Jeff De Brown The Reel Baja
San José del Cab0
Pretty quiet around here right now; not much pressure but surprisingly not much in the way of North Winds either. Fishing has been "relatively" slow but I've been consistent on wahoo and dorado the last few times out. This morning we landed one dorado, a wahoo came unbuttoned, and we actually raised two marlin in the spread, but no takers. Back at the dock by 10 a.m., fish tacos for dinner! ...
Kevin
http://www.bdoutdoors.com/forums/threads/quick-sjd-trip-this-morning-to-catch-dinner.616552/
Sportfishing fleets were spread out in all directions, we heard reports of larger cow sized yellowfin tuna being encountered traveling with porpoise on the outside of the Pacific Banks, marlin were scattered, some days charters could find one or two striped marlin, while on others days there were none to be found, as more concentrations of baitfish move in we do expect to see more billfish activity. Some stripers were even striking on the stripped squid that anglers used for targeting tuna on the grounds from Punta Gorda to Iman Bank. This action was on and off, wind was a problem on the grounds further to the north, sizes of the yellowfin averaged in the 15 to 50 lb. range, for the most part there were no significant numbers, anglers did well accounting for two or three tuna in their combined morning catch.
Dorado action dropped way off on the grounds off of San Jose del Cabo, we did hear of more do-dos being found on the Pacific, these pelagic fish are just now returning from Southern California, where they had followed the warm El Nino current this past summer and fall. So we do expect to see more dorado appearing in the next month, especially if this warm water situation continues. Wahoo did become more active in the past week, especially early in the week, there was good early morning action found close off of Punta Gorda by anglers trolling both lures and trap hooked larger batfish, sizes ranged up to 40 lb. This bite became more sporadic as the week progressed, though these elusive gamefish are definitely still holding in the temperate conditions and we expect continued action for these fish until water temperatures become too cool for their liking.
More bottom activity being found now, rock piles north of Punta Gorda were producing leopard grouper (cabrilla), yellow and red snapper, rainbow runner, bonito, amberjack and triggerfish. No really big numbers, but more than we have seen so far this season, anglers had success on yo-yo jigs, as well as on whole or strip baits.
Not much reported along the shore, no sierra to speak of, a few roosterfish north of the marina jetty, the majority being smaller sized fish which should always be released with care.
…Eric Brictson, Gordo Banks Pangas
.
Los Cabos
A tragic reminder of the dangers of the surf at Cabo on the Pacific side beaches.
A four-year-old girl from Canby died Monday after being caught in a sneaker wave while on vacation in Mexico.
Katie Greer and her daughter, Marissa, were walking on the beach in Cabo San Lucas, Mexico when the wave snagged the two of them along with two others
from the shore
. Greer said it happened within seconds.
"We went into the water together and the waves just kept crashing," Greer said in an interview with The Oregonian/Oregon Live." She slipped out of my hand."
The group was rescued from the waves but Marissa was later pronounced dead at a local hospital, Greer said. Her lungs had filled with water! …
The Oregonian,
January 21, 2016
Chronicles of a whale rescue in Los Cabos.
The Captain on boat "
Ranting and Raving"
found the bigger tunas today!!! …
Gricelda Smokehouse
The
Brain Wave
crew consisting of Bob Brain, Pete Whitehead and Casey Dodge, all members of the Avalon Tuna Club, found plenty of action during their visit this week.
Mr. Bass had an incredible day aboard
"Picante 45"
going two-for-two on striped marlin! Nothing like a great battle on a first-class fishing platform…
It was mostly a sunny and warm week with just a few passing clouds. Air temps varied from 59 nights to 81 daytime highs and a 53% humidity level.
Sea temperatures varied on the Pacific side from 75 to 77 with the warmer water from the Golden Gate Bank down to the Jaime Bank wrapping around Cabo San Lucas and out to the 95 fathom spot, up to the 1150 fathom spot and on to Los Frailes. Surface breezes mostly from the southwesterly direction, ranged from near calm mornings to about 13 mph in the afternoons. Overall, very fishable conditions.
Mike Harvey caught and released this surf-caught roosterfish.
Santos Kadota's snook catch this week startled everybody. Of course everyone is trying to identify the beach where he is standing....
Last edited: