I've posted enough I should edit this section
Mar 17, 2011
1,207
607
Name

Wai Jung
Boat

Seahawk II
Here's the rundown:
Left dock 7/19 around 8:20 pm. Woke up at the tuna pens before sunrise to what appeared to have been the rest of the 1-day and multi-day fleet; it was almost a harbor in mid-ocean. Conditions were very calm compared to the blustery 25-knots of the previous day. Fished several drifts with NO bites for anyone. Left to hunt down kelp paddies. A steady picking of yellowtail and one dodo until about 3 pm; nothing on troll.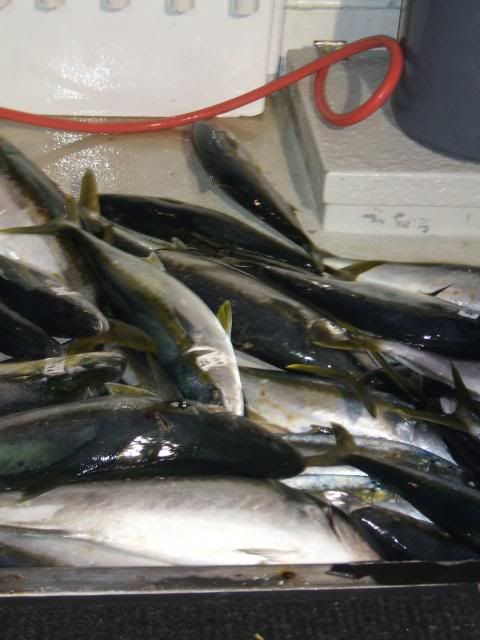 Left paddy hunting to return the pens. I was still wearing the big white stripe at this point.
There were only three other boats around the pens, and drifting yielded a couple of yellowtail, with no sign of blue fin. Around 5:30 pm, hoping for a yellowtail (all that had been caught up to that point), I decided to do a long soak with my lightest setup:
1. 12-30lb Okuma Oceanic rod,
2. a Penn 970
3. 50 lb spectra main
4. 30 yds 30 lb mono top shot,
5. 2' 30 lb fluoro leader, and
6. a 3/0 circle hook.
Drag had been set to 9 lbs by spring scale before leaving home.
Started stern, and tuna shuffled starboard to about mid-ship. The sardine was lively and slowly peeled line away from the boat. 15 mins into it, the pace started to increase slowly like a piece of kelp was snagged. "Great," I thought, "now I have to start all over again." So, as I began the retrieve, the rod slowly bent over, and then the "kelp" starts pulling back. Fish on! Another angler also hooked up about the same time.
After a couple of trips up and down the rail, our lines crossed and tangled. Deckhands took both rods and frantically tried to untangle. Then there was a burst of profanity--one line had gotten cut off. "Get your rod! and keep winding!!!" My fish was still on! By the time I saw color (about twenty minutes in into the fight), I had no idea that fish was gonna take me to school.
With the reel drag set at 9 lbs from top of spool, I had may be 10 lbs drag total with the rod; the rod was completely bent over, so there was also barely enough backbone. On top of that, it became all too apparent that I had missed one of the upper guides when setting up the rod. D'OH!!! Like a complete rookie, I went into a gun fight with knife. I could gain only inches at a time only to lose them back to the fish in its death circle. The next 25 mins became torture.
"Pull up slowly, reel down fast!!!"
"Keep the rod in front of you!!!"
"Back straight!!!"
"Rod against the rail!!!"
By then the other anglers joined in, and I became the proverbial one-man show as, pretty much, the "rodeo clown" with fish being the angry "bull" that looked like it was getting the upper hand by the minute. The deckhand to my left then offered to take the rod and finish it. I had come this far, and I was going to end it myself one way or another. What finally saved my butt (which incidentally, the fish was handing to me in multiple platters) was that I finally got into the rhythm of "Pull up slowly, reel down fast!!!," and mentally fought against tightening the drag. About 45 mins after it had started, the BFT was gaffed and was on the deck: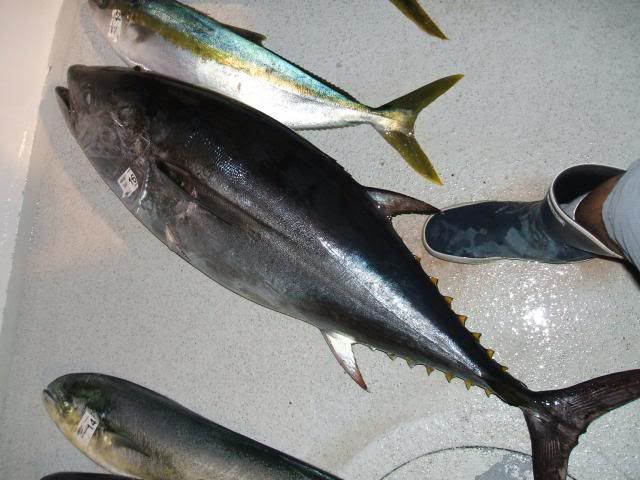 I was done fishing for the day. Deckhands were estimating it was 50-55 lbs. A couple of other BFT were picked up by other guys before the captain called it a day and headed back to the barn.
The rookie mistakes made (when I knew better):
A. Chose a setup that was almost too light for the job.
B. Tricked myself into believing that nothing big was gonna show up.
What probably saved me was:
A. my knots held - a 30-turn braid bimini-twist / 8 wrap Yucatan to mono, 7-turn blood knot from mono to fluoro, and a 8 wrap snell to hook;
B. sheer luck that the Eagle claw circle hook held up since I had previously used ones of the same model out of another package that straighten on me against dodos on previous trip; and
C. leaving the drag alone. Temptation was there to tighten--almost like a drug.
My one-and-only bite was my one-and-only fish, and it was also the jackpot--$220, which I gave to the crew.