I've posted enough I should edit this section
Jul 14, 2007
459
482
Name

Sherm
Boat

INDEPENDENCE
"Remember when you were young? You shone like the sun..."
"THE STEEL BREEZE"
JULY 18-25, 2015
Every year, mid summer at the end of July, we all eagerly anticipate and yearn to explore the Eastern Pacific during our voyage on the...
It's hard to believe this is our 12th year that we've
"Rode On The Steel Breeze."
-INDEPENDENCE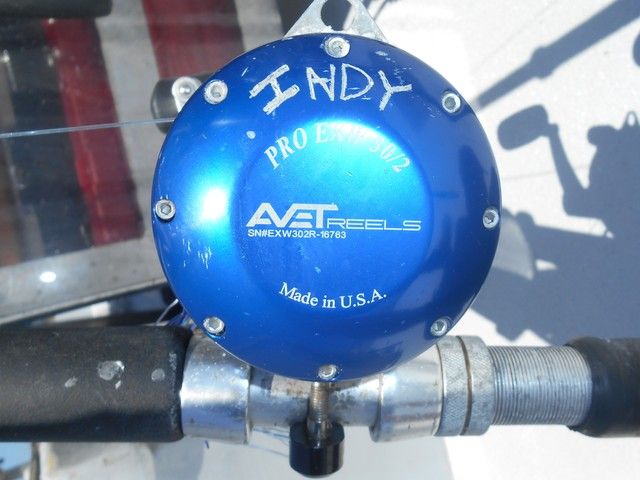 CHAPTER 1
(DEPARTURE)
We wasted little time arriving at the receiver as the crew gently loaded the bait of dines and chovie mix. We could only store half of the usual quantity because the dines were extraordinarily massive.
After a quick and thorough seminar, all the passengers won some goodies in the complimentary raffle. Then we pointed the bow south and awaited dinner. One of our regular passengers, Nancy, is about to savor in the traditional first night of...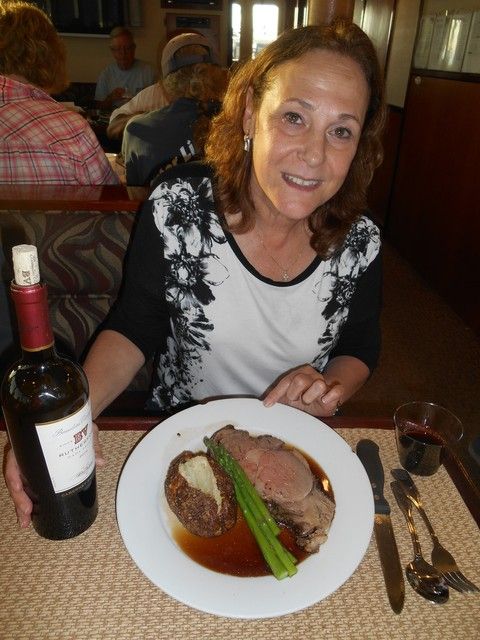 ...juicy, tender prime rib.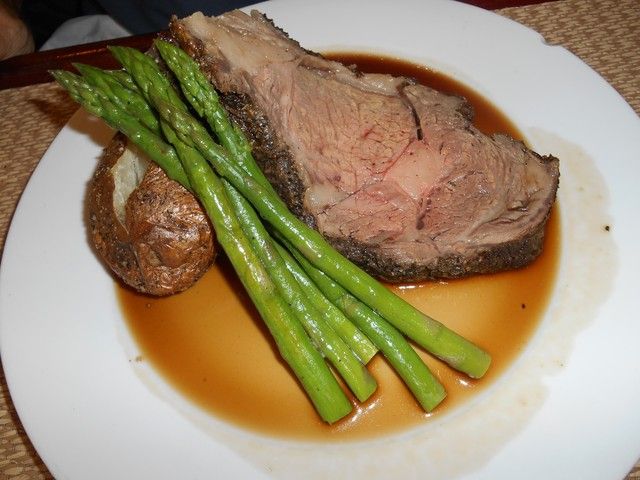 And a little sweet apple pie a la mode for the kicker.
CHAPTER 2
(SOUTHERN REGION)
As soon as the hook was dropped, we immediately got into the jumbo grade forkies as Dwayne displayed his prize.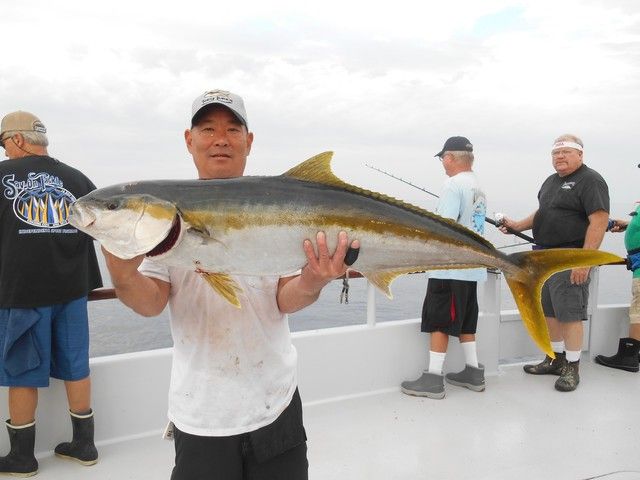 As I sat down for lunch, the action was relentless from the salon window.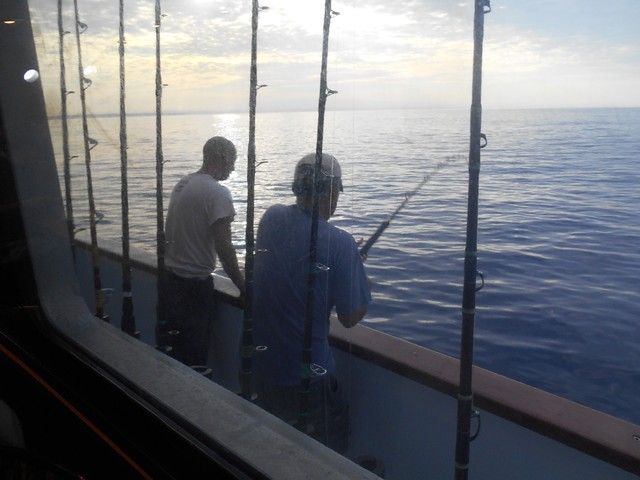 So I had to get out there and hang one.
Mike tested out his new Okuma reel he won in the raffle.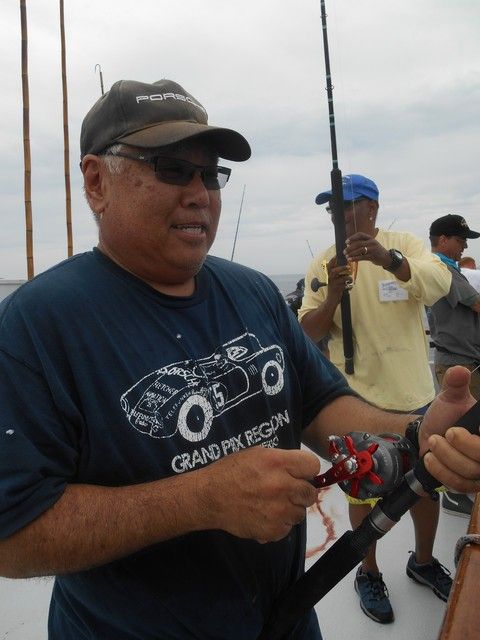 Pete got in on the mossbacks with one of the raffle jigs.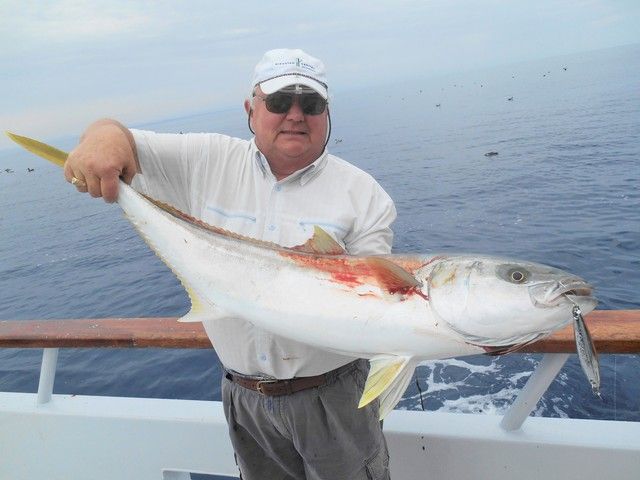 These birds were such a freakin' nuisance. They would constantly dive down and grab our baits and get hooked. BIRD ON!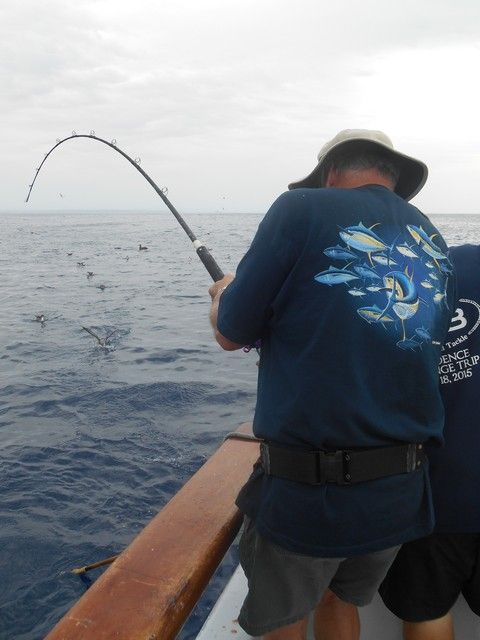 BD's representin' in the wheelhouse.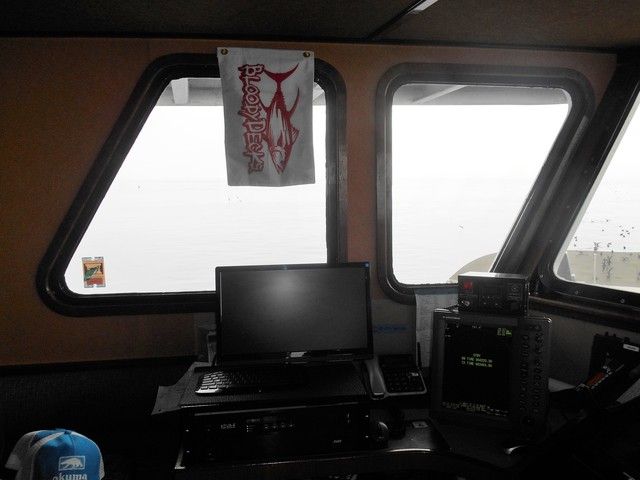 Steve found it difficult to lift this one.
For lunch today we had shrimp pasta with cream sauce.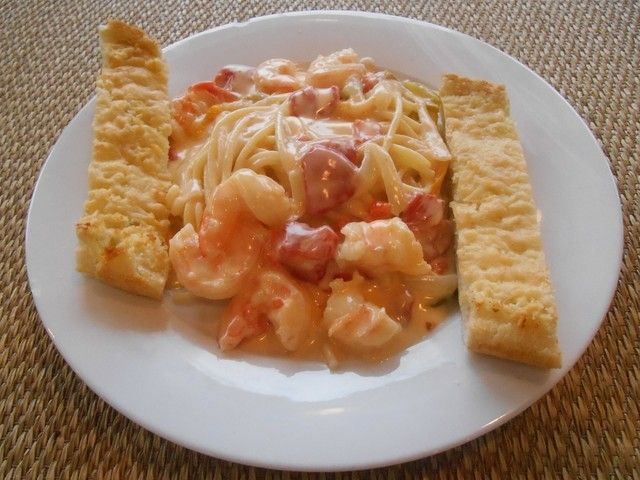 Dig in Neal.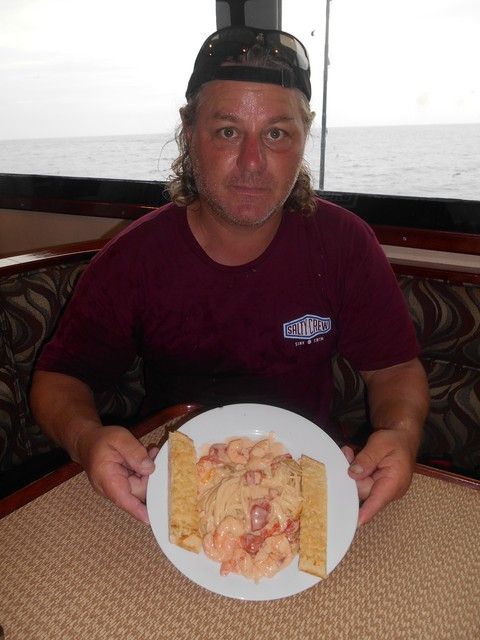 Steve looked excited to taste his baked chicken supper.
CHAPTER 3
(SOUTHERN REGION)
Today's breakfast choice was either fresh fruit or...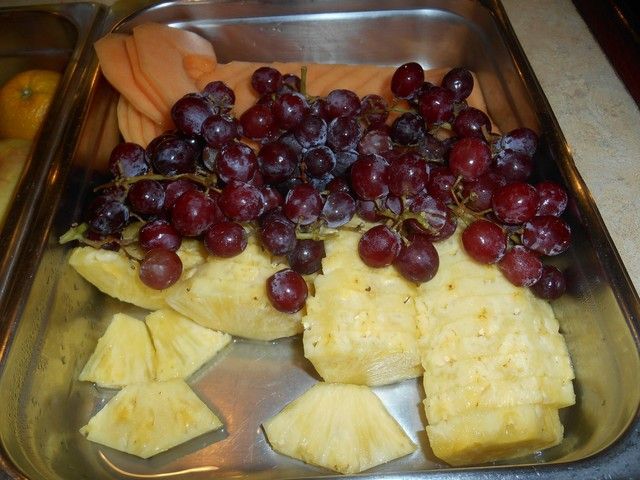 ...grilled pork product and eggs.
Southern open water toads.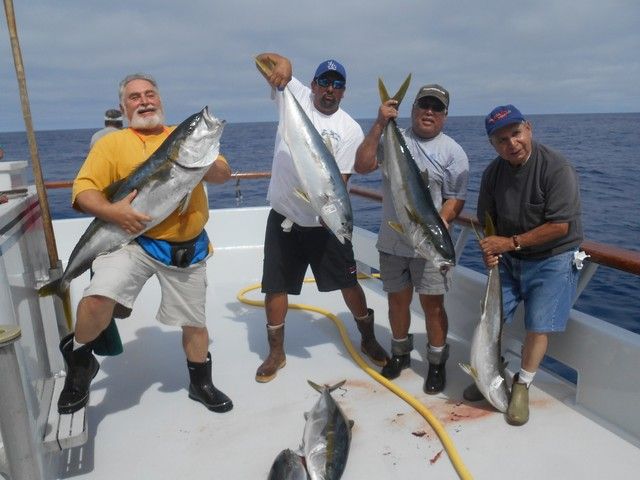 Dwayne managed a taggable. The average grade of tuna wasn't to our liking, so we decided to head back north.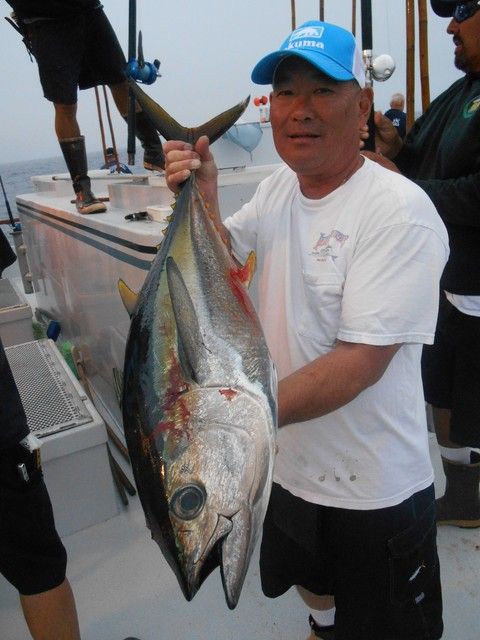 CHAPTER 4
(SOUTHERN REGION)
Pete woke up to a dazzling breakfast of...
...eggs benedict.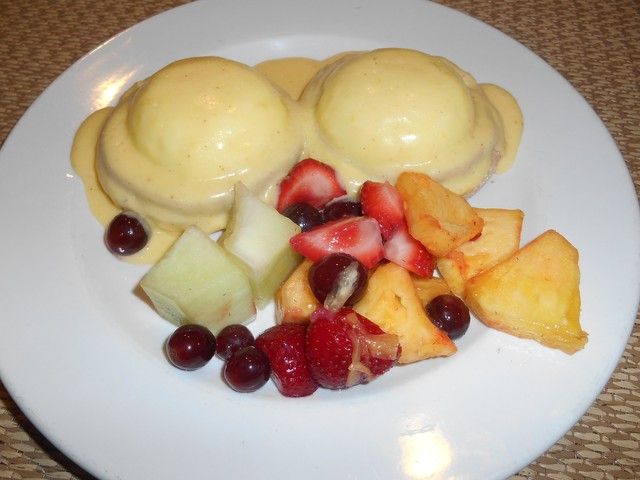 VIDEO:
Feeding the bait:
As we headed north, we bumped into a few smaller grade yellowfin and Pat snared one of these colorful creatures.
Joe was all smiles for the chicken fajitas.
That night, Richard pleasured in his...
...grilled yellowtail on rice with mushroom reduction.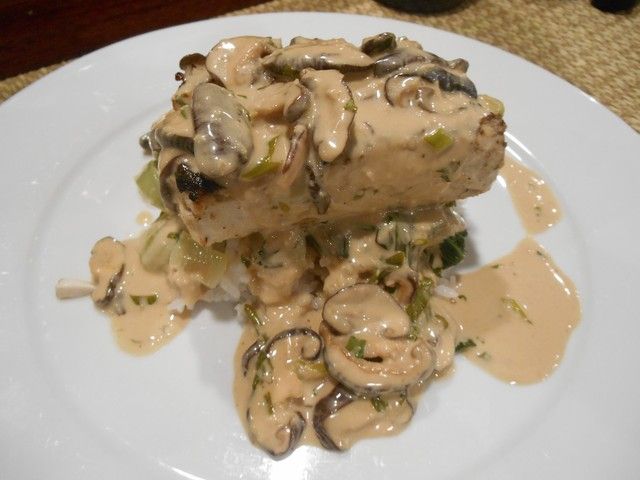 And finished it off with ice cream fudge on fudge brownie? OMG, I'm still thinking about that brownie!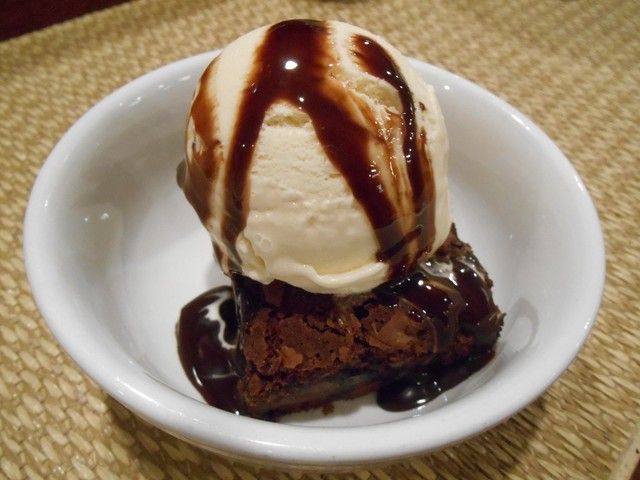 That night we made it to the northern region where there were reports of giant bluefin deep. So Don pulled up a chair and dropped a giant squid 200' down.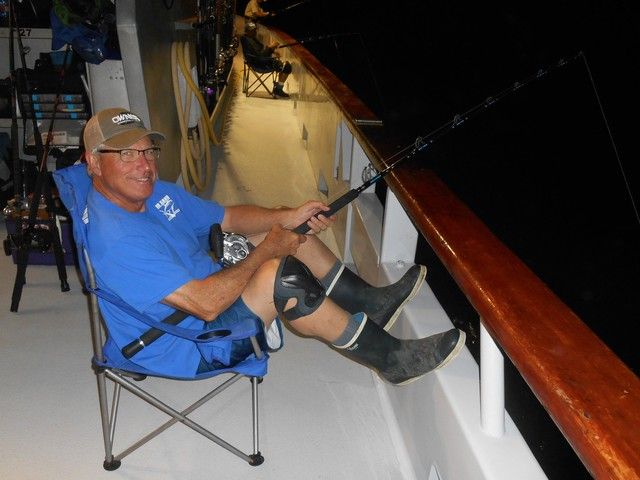 CHAPTER 5
(NORTHERN REGION)
Before the sun even rose, Craig got a biter!
They really started to chew as we saw light. Crew member Ginger courteously lifted Sam's game for a pic.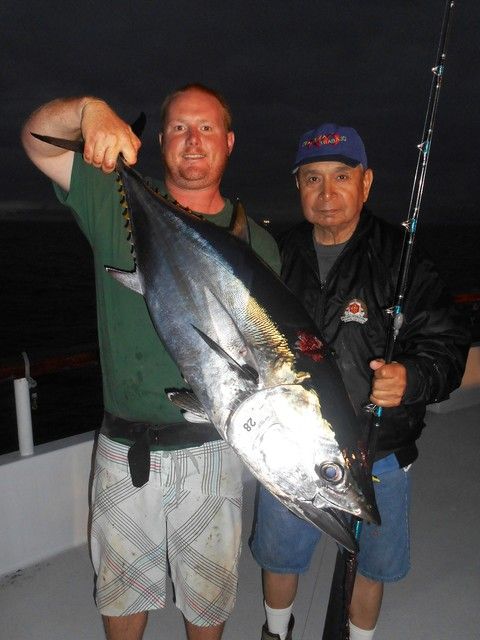 Dwayne said the grade was very nice.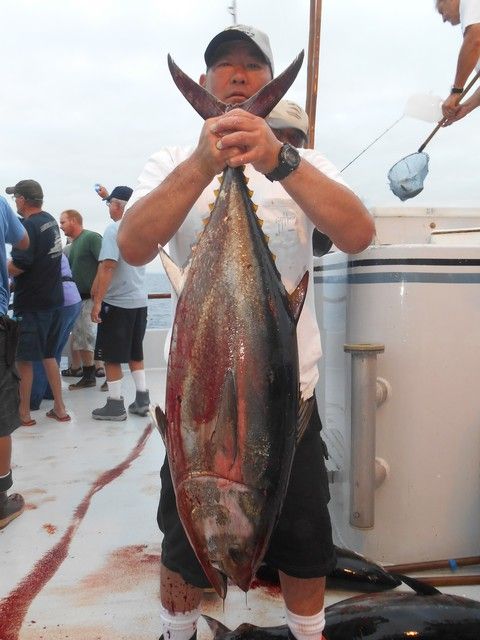 Beauty for Bob. Hook up in the back!
Hey! I got lucky too!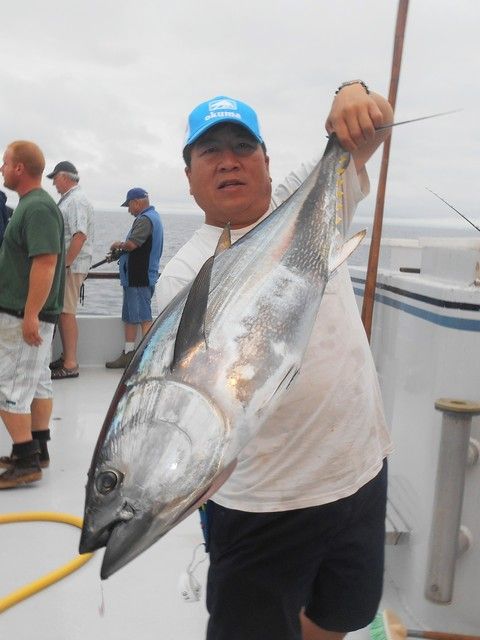 Alfred had a bloody mess.
HOT RAIL and calm seas.
Nancy was very pleased with her catch.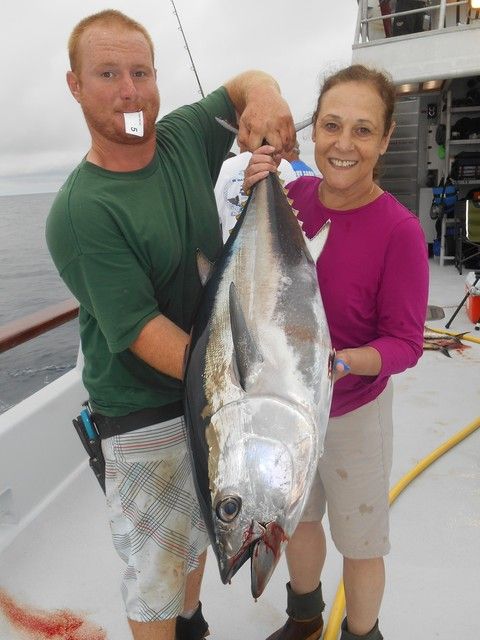 Mike proved to us there was a mix of yellow and blue.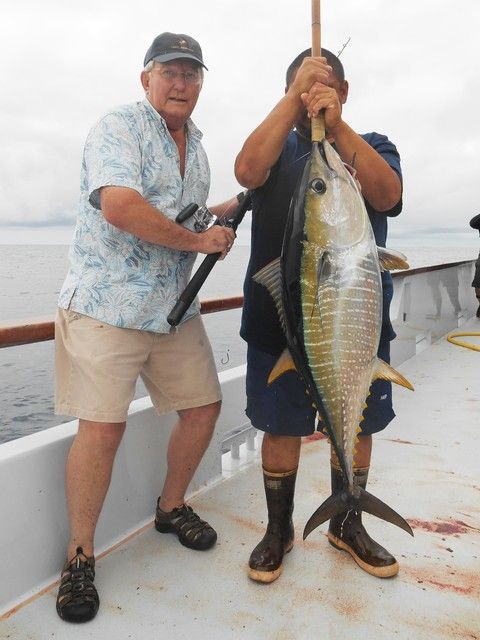 Lunch time. Why does a charbroiled INDY burger always taste soooo good?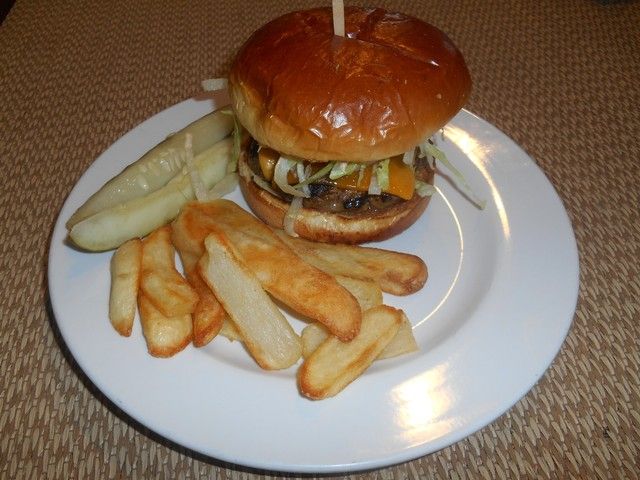 VIDEO:
Avet going over board:
Sam, the pizza thief, finally got caught red handed.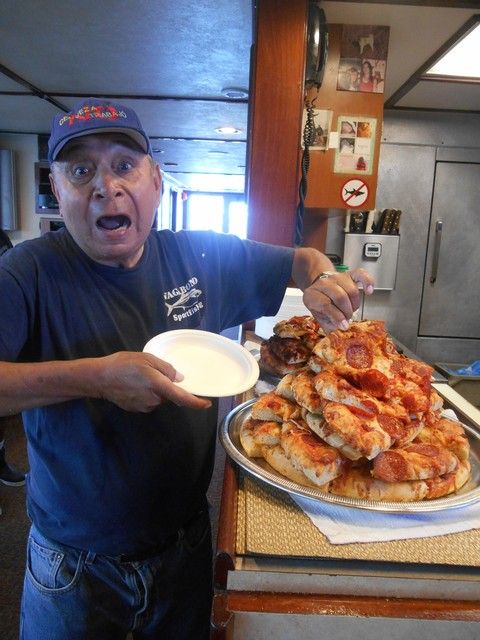 Yellow and...
...blue keep comin over the rail.
Fernando from NoCal put the hurt on this 57 lb. yellowfin on his Andros with 30 lb. fluoro. Great job Franknando!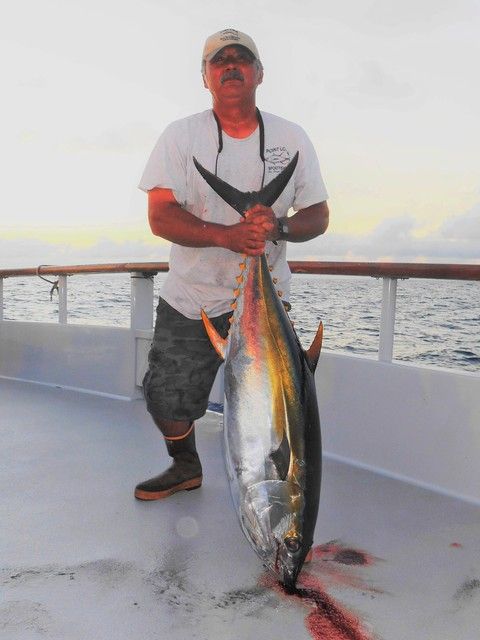 VIDEO:
Fernando's JP yellowfin:
Tonight's meal was succulent lamb chops.
Alfred can't wait.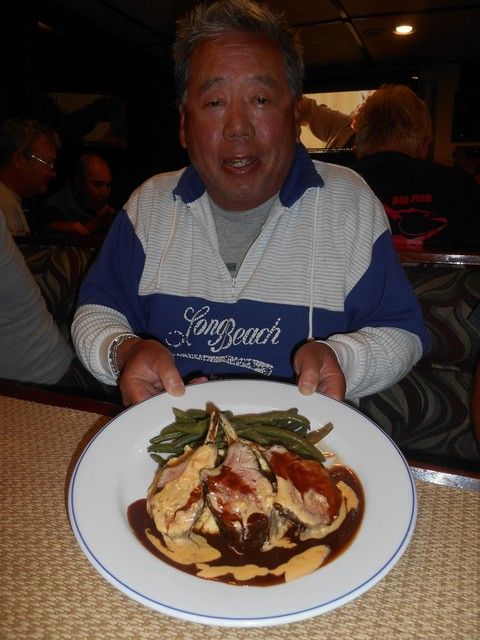 And if you could fit this in, strawberry cheesecake.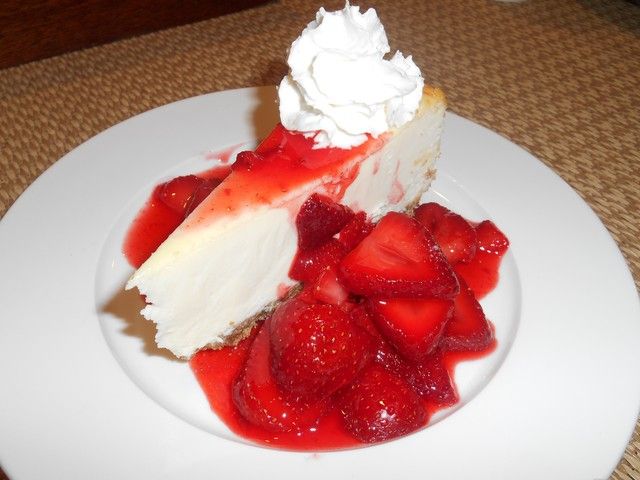 CHAPTER 6
(NORTHERN REGION)
The tag team partners of Steve and Sam.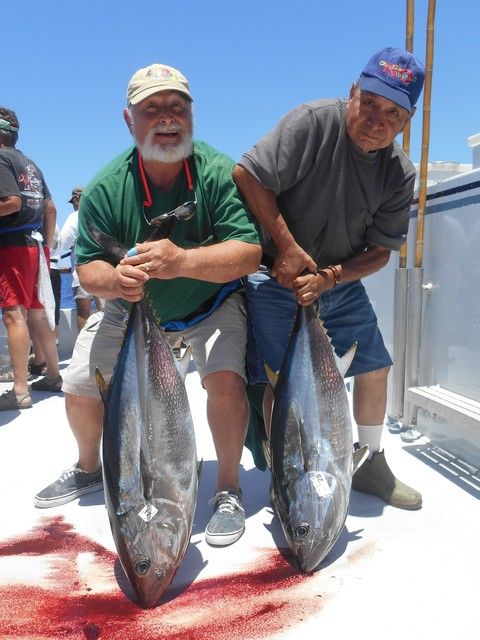 After hours and hours of tending the kite rig, Loraine's patience paid off. The bait got erupted on and the bobber went down.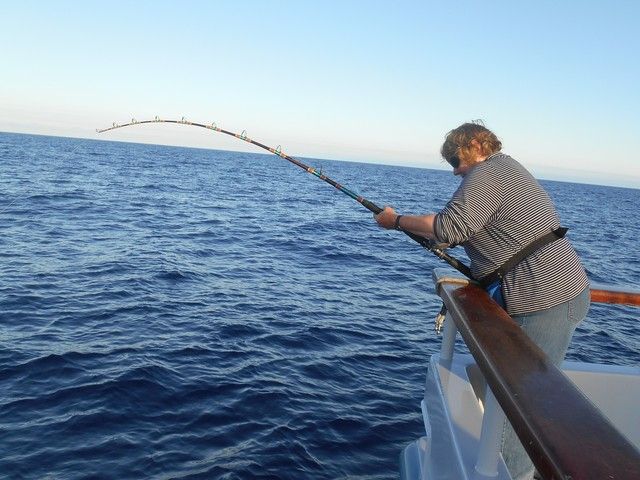 After setting the hook by herself, she managed to land this 71 lb. blue beast unassisted. MAJOR SKILLS Loraine! Fantastic!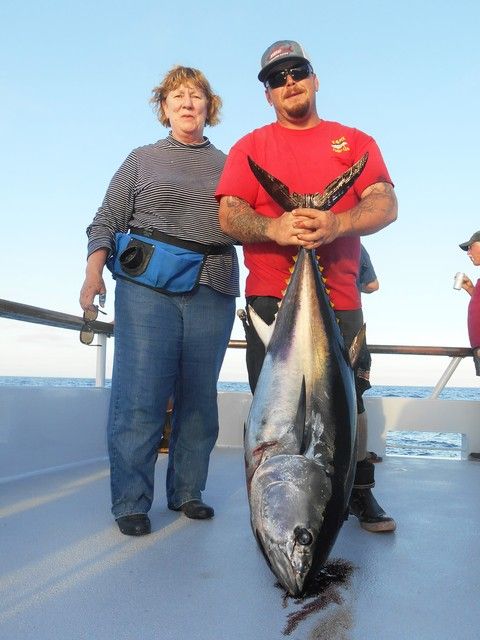 VIDEO:
Loraine's big bluefin:
Richard thinks yellow is a beautiful color.
Ed: "MASH, MASH, MASH..."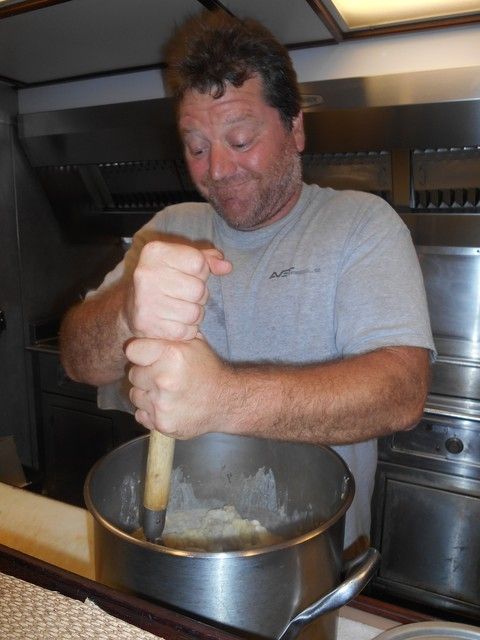 ...for this delicious plate. Can you smell the charbroiled chops through the screen? Oh yum!
Sister and brother Loraine and Jim with watering mouths.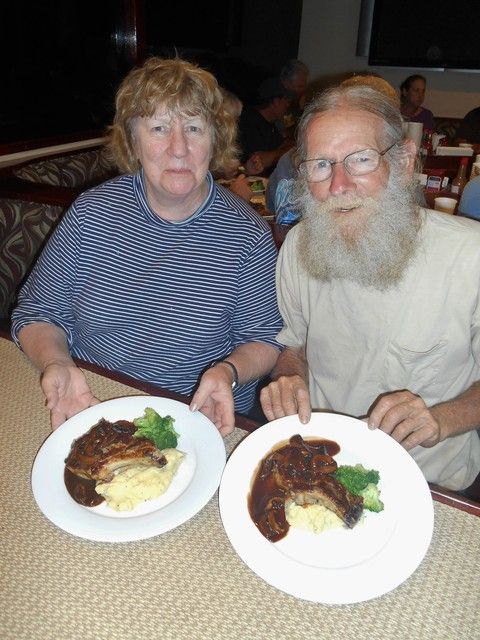 CHAPTER 7
(NORTHERN REGION)
Mike's about to get the day started with a hearty breakfast.
A magnificent beast captured by Randy from OK.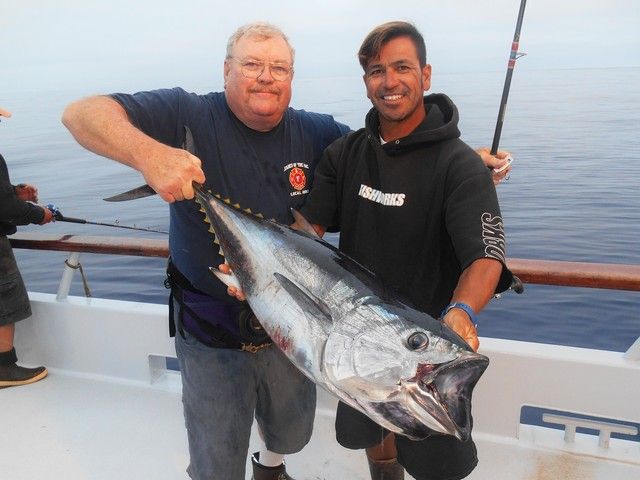 Tommy gets a healthy specimen on the rail for Dwayne.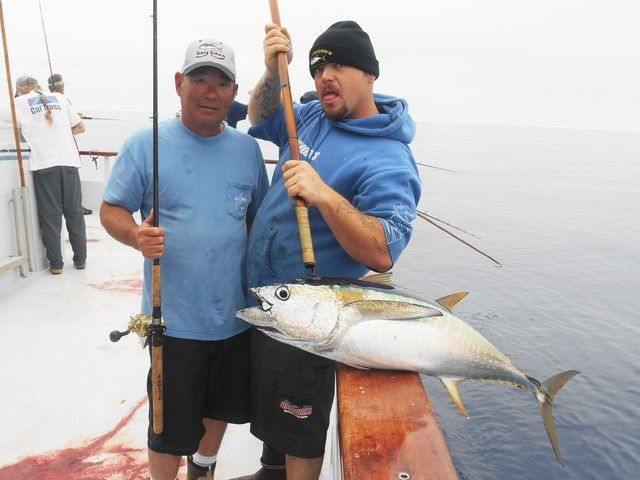 Dave's going for a healthy lunch of grilled chicken cobb salad.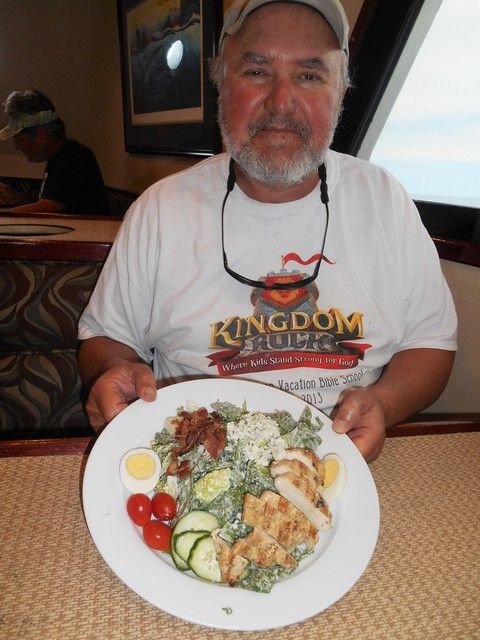 Ray and his last licks on these yellowfin.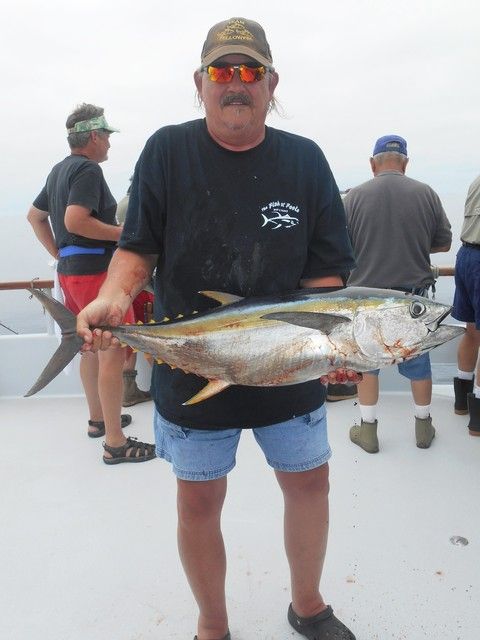 As the trip was coming to a close, I never tire of seeing this just about every trip. It always makes me feel lucky to be alive.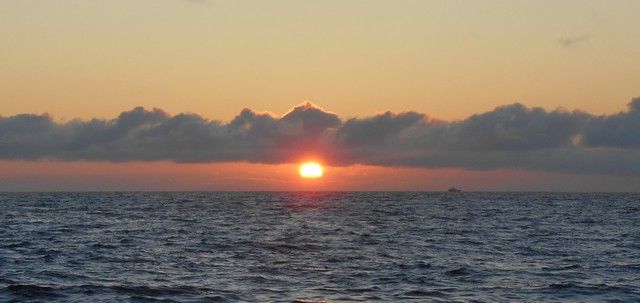 Brother-in-laws enjoying each others company.
Sad to see our last dinner of the trip.
For our last dessert, chocolate cookie ice cream.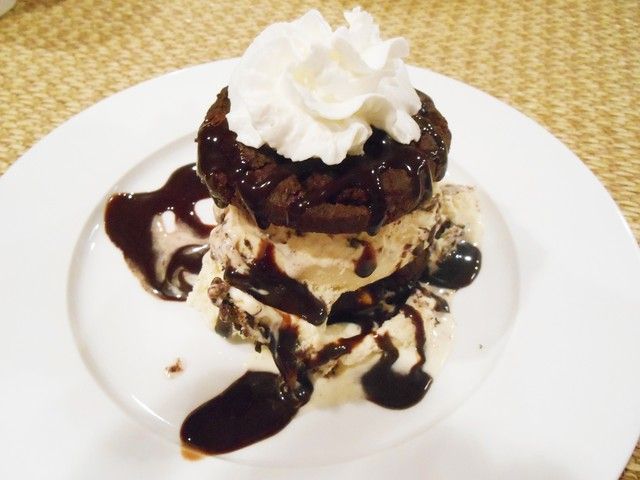 Back at the dock, here's the lucky JP winner Fernando.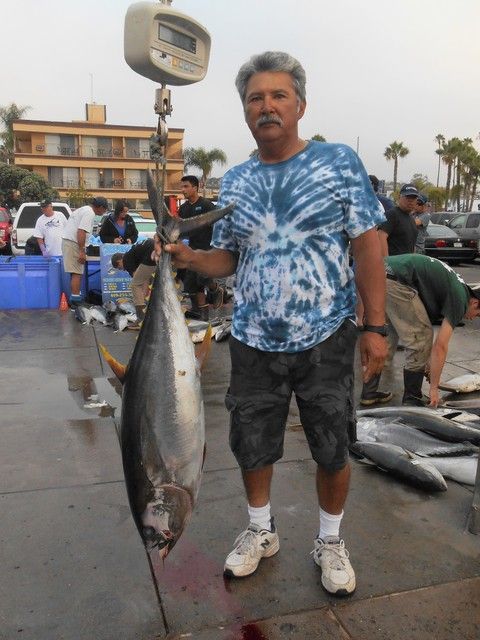 Bye INDY. See ya next year! (photo courtesy Independence Sportfishing/ Facebook)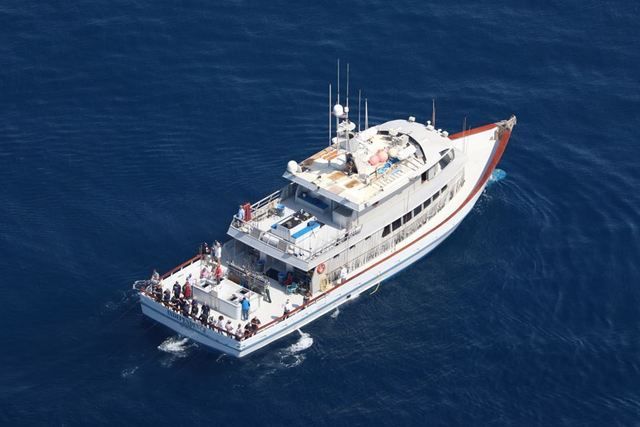 So much fun, so little time. Not just a great time, but a wonderful group of people and extremely talented anglers were on board this year. Sometimes the catching got a little tough, everyone was fishing hard though and put a great score together.
I want to thank the crew and the entire INDEPENDENCE operation for their exhausting efforts to put us on fish. I am also extremely grateful to the following, who contributed to the many giveaways we had this trip:
OKUMA FISHING
CAL STAR RODS
CASTA DESIGNS
BD OUTDOORS
5 STAR FISH PROCESSING
YOUNG'S TACKLE- La Palma
Savon Tackle- Santa Fe Springs
AFTCO
SEEKER RODS
Who wants to fish with us on this badass platform next year? You're all invited our 5 day July 18-23, 2016. Sign up NOW!
*******************
-Sherm (fiSHERMAN)
Bonus pic. (From left to right) Yellowfin, Bluefin, Spicy Tuna, Fried Won Tons & Poke.