Jun 9, 2010
708
788
Name

John
Boat Name

Wilderness Systems T-160...and just sold the boat!!!
Short report --- for those wanting to simply cut to the chase, I'll provide a brief review, leaving out the minutiae, the all-important two days of early arrival activities, the photos, the daily recap of meals and daily snacks, the observations, and my attempt at creating a factual, but primarily entertaining report, that for me allows me to relive the trip while I wait impatiently for next year.
We left on September 28th on the annual Phenix Rods sponsored trip. The normal sign in, and loading went by smoothly, and we were quickly out and on our way. After getting a good load of bait, we began the downhill run south, and caught our first wahoo about 30 miles from home. Wahoo ultimately made the trip, as the yellowtail, yellowfin, and dorado were in short supply throughout the trip.
We fished Geronimo/ Sacramento Reef, Cedros (on the way down, and on the way up), the entire length of the ridge, to include a stop after leaving the Rocks, Alijos for two days, and offshore both on the way down, and the way back up. Bottom line, we gave it hell.
The kelps we looked at on the way down were devoid of life, and on the way up from Cedros were simply nonexistent. We saw two floating plastic fuel cans, and one bail of Mexico's "prime export", also devoid of life. On the way up, we saw one spot of porpoise, though no tuna with them.
The Ridge was scratchy at best, yielding a bit over a 100 yellowtail, 75 mixed yellowfin, and a few grouper.
Alijos was classic wahoo fishing for one and a half days that we fished it, with over 100 wahoo caught. You know the stories of catastrophic losses, and this trip was no different...many times that were lost.
Food was top notch, with Jake and newly hired Robert assisting in the galley on his first trip. Variety was great, presentation was always nicely done, snacks were all good...what's not to like?
Captains Justin Fleck and Mike Ramirez, along with crewmembers Loust, Joel, Travis, and Chowdah all teamed up to make for a fun and entertaining trip. Always quick with assistance, and tips to improve your skills, and overall success; these guys represent the best that is out there in the longrange fleet. There is a reason Excel trips fill quickly! As I write this, the trip is already full, glad we signed up for 2016, before 2015 even left the dock.
The trip if measured purely by numbers was "below average", with the exception of the wahoo fishing that resulted in wahoo being caught literally on the first day all the way through our final travel day 20 hours from home. For me, the trip was a great success, tagging 8 wahoo, 13 yellowtail, and 4 smaller grade tuna, and donated a couple tuna and a yellow to the galley. I caught wahoo on bait, bombs, and the troll; I caught tuna on bait, skip jig, and on the popper. My yellows were on the yoyo, dropper loop, and on the flyline...the only real "disappointment", was that the yellows never bit the surface jigs, with the exception of my buddy Ed catching one on the longrod.
We were truly blessed with great weather throughout the trip, with a little breeze and sea at the rocks, but never really uncomfortable on the big boat. For the first time in five annual trips, we never had any hurricanes, or tropical storms anywhere in our vicinity that forced game plans to change.
And....there was no "That Guy" on the trip. Overall, a very nice group of people, and especially fun was that Bruce Brown was back on the boat, after missing last year, as he fished the RP last year on a shorter trip. Ed and I met Bruce 5 years ago on our first foray into longrange fishing on the Intrepid. The other "laugh a minute" funny guy, was "Bart the Jersey Guy", who can tell a hell of a story...from Jersey roadkill to stories best left unattributed, as somebody might later pay ya a visit...if ya get my drift.
THE REST OF THE STORY --- AKA FCKN WAHOO!
You made it this far, so now you get the "rest of the story", and learn the origins of "FCKN WAHOO"...enjoy the read...I enjoyed the trip!
So 9/26/15 begins the 5th annual longrange trip that longtime friend (quickly approaching 50 years) Ed G and I have taken. For those who have not read one of my fish reports, grab a beer, or other beverage, as these reports go well beyond "we left, caught fish, and came home". This is about the journey, the month's long preparation, and that all serve to extend the excitement and anticipation of this annual pilgrimage. To put this in perspective, as I write about day one, there are only 377 days until next year's trip!
We signed up for this year's Excel 10 day, sponsored by Phenix Rods, not long after returning from last year's Phenix Rods trip, and are already signed up for 2016. I was a lucky winner of an 809XHJ on that trip that. I really put it to the test in my Gulf of Mexico home waters this past winter, with a 115 lb YFT. These rods are the real deal!
So, for the past 12 months, we all built up inventory on new tackle, jigs, bombs, marauders, a couple additions to the reel inventory, and a couple rebuilds on some old school favorite rods...oh, and an Ulua that Ed said I "needed". As I travel for these trips from Texas, the long rods are in foster care with Ed between trips, so his overhead garage rack has 5 or 6 long rods. You can guess that we spend a lot of time in the bow throwing iron!
As I write this, I am flying to Houston, and then catching a connection to San Diego, arriving two days early, and will meet up with the cast of characters from this adventure over the next two days. Ed arrives this afternoon (Friday), as does "New Jersey Bart", and Danny. Bruce who we missed last year arrives on Saturday.
Of course, this travel piece was not without drama though. Night prior, it dawned on me that I had not grabbed my passport...wow good catch! But wait, there's more. The alarm goes off at 0300, I have coffee, get showered, Donata gets ready for work, and we make it out the door about 0400. We have a 45-50 drive to the airport, so I had pre-loaded last night. 20 minutes into the drive, I made a random comment to my wonderful wife, that "I must have forgotten something, but how could that be, as the tackle room was empty". At which point it dawned on me..."crap, reels". Yup, clear vision of blue reel bag sitting out of the way, forlorn and forgotten in the spare bedroom, where I had laid out everything a couple days prior. A quick high speed U-turn, and an equally high speed run with "hands wet on the wheel, I'm almost there" playing in my head, we speed back to the house, grab the reels, and make the normally 45-50 minute drive, shall we say, in record time. Unload, get a hug and a kiss from my bride, check in and board...it's all good!
After an easy flight from Corpus to Houston, I had time for a huge Papasito's breakfast burrito to hold me over until lunch in San Diego.
I arrived in San Diego, and was picked up by Mike Morris, of "Big Fish Transport" at the airport, and taken to the Dolphin Hotel, where I unloaded my gear, including the rods and tackle I preshipped to him two weeks ago. Thinking I may ship more next year to further simplify this part of the trip. If you travel from out of state I highly recommend Mikes' services!
Inventory Time:
Calstar 770 XXH Avet 30/2 100 lb ---used as a troller, catching one wahoo, and one short strike, both on Dorado flavored Marauders.
Calstar 770XH Avet HX Raptor 80/60 ---though hoping at a chance at larger grade tuna, only used as a dropper loop rod, and caught 9 of my yellows on this rig.
Seeker Ulua - Saltist. 50 lb mono --- one small grade yellowfin
Calstar 90J Newell 533 w/ Tiburon narrow frame 50lb mono --- never used
Phenix 809XHJ Avet MXJ Raptor 50 lb straight braid --- one popper yellowfin
Phenix 809H Avet MXJ 50 lb with 40 top shot (raffle win!) --- 4 wahoo on bait,
Phenix (demo) 909XHJ Torium HG 65 long 50 top shot --- 2 bomb wahoo
Calstar 800H Avet JX Raptor 65/40 --- didn't use
Calstar 6480 Avet HX 65/50 --- two yellows on yoyo
Calstar 700H Avet LX Raptor 65/50 --- threw raiders, came tight twice, though didn't convert, one wahoo on a bomb
Calstar 700MH Avet JX 65/40 --- 2 wahoo on bait, 2 yellows on bait.
Calstar 700M Shimano Torium 20 65/50 --- in the rack, though did ultimately use with sabiki rig for bait fishing
Calstar 7460 Avet HXJ Raptor straight 65lb braid --- caught two yoyo yellows
Old Lamiglass -Daiwa Sealine 50 braid --- rigged with 30ld short top shot, never used
Hopefully I have "enough" of the right types and colors of wahoo jigs and bombs.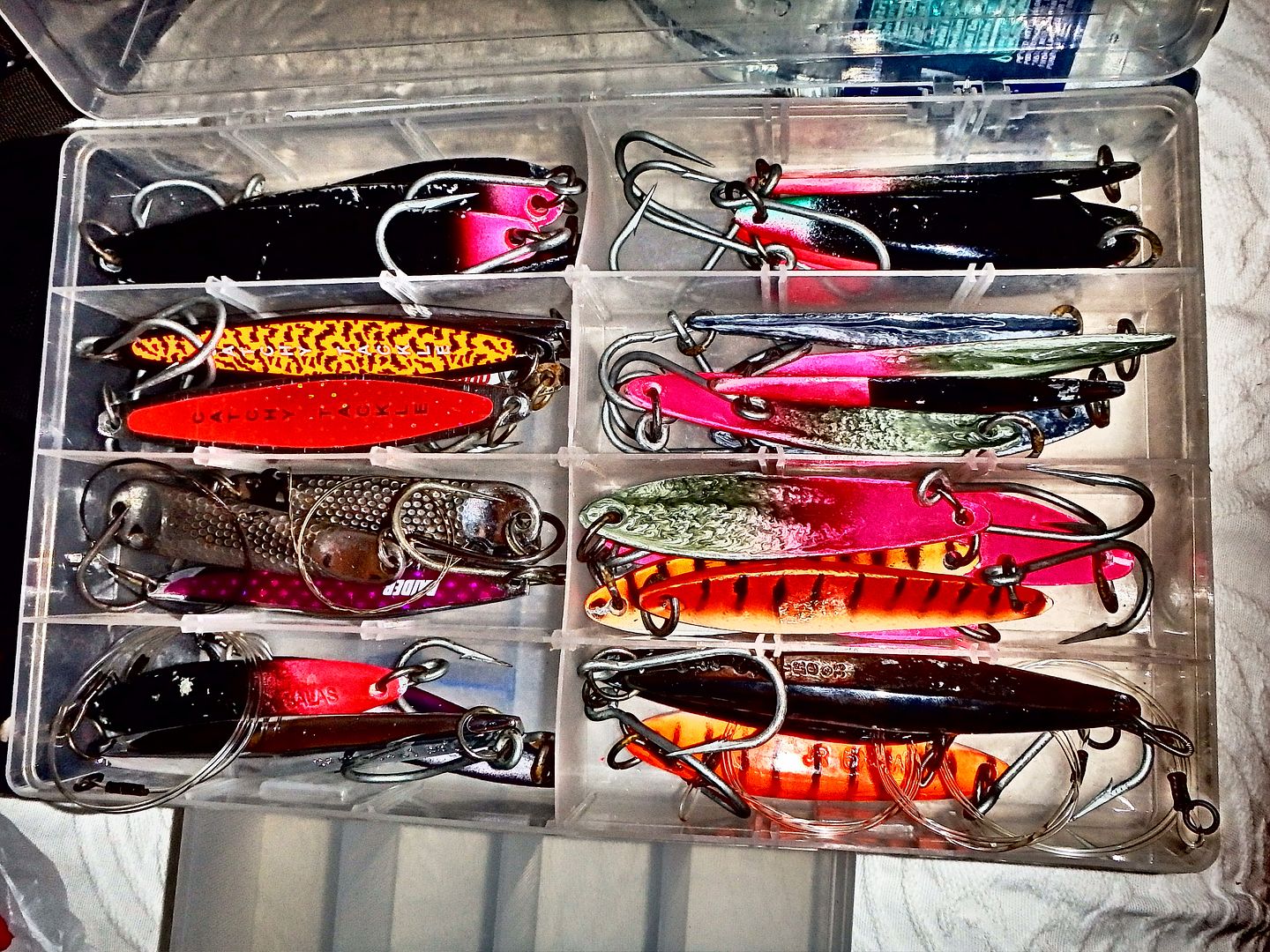 After sorting through everything, and repacking into boat ready, vice shipping and luggage ready, I create the guidance document for forays to Squidco, Charkbait....add others.
1lb spool 50lb, 1lb spool 40lb,
A few more surface jigs...what exactly is a few? I practiced restraint, bought three more 7X's, and got new braid on a few reels.
The real trip begins with lunch, meeting up with Bart, Danny, and Ed. Ate at Point Loma seafood, I did the squid and fish tacos, Ed did soup and a lump crab sandwich. Bart and Danny had Cioppino.
Me and Bart
Walked around, visited a few tackle shops. Came back, chilled for a while, organized gear. Then, it was time to eat again. We ate at Volare's next to Squidco, caprese salad and spaghetti con vongole for me....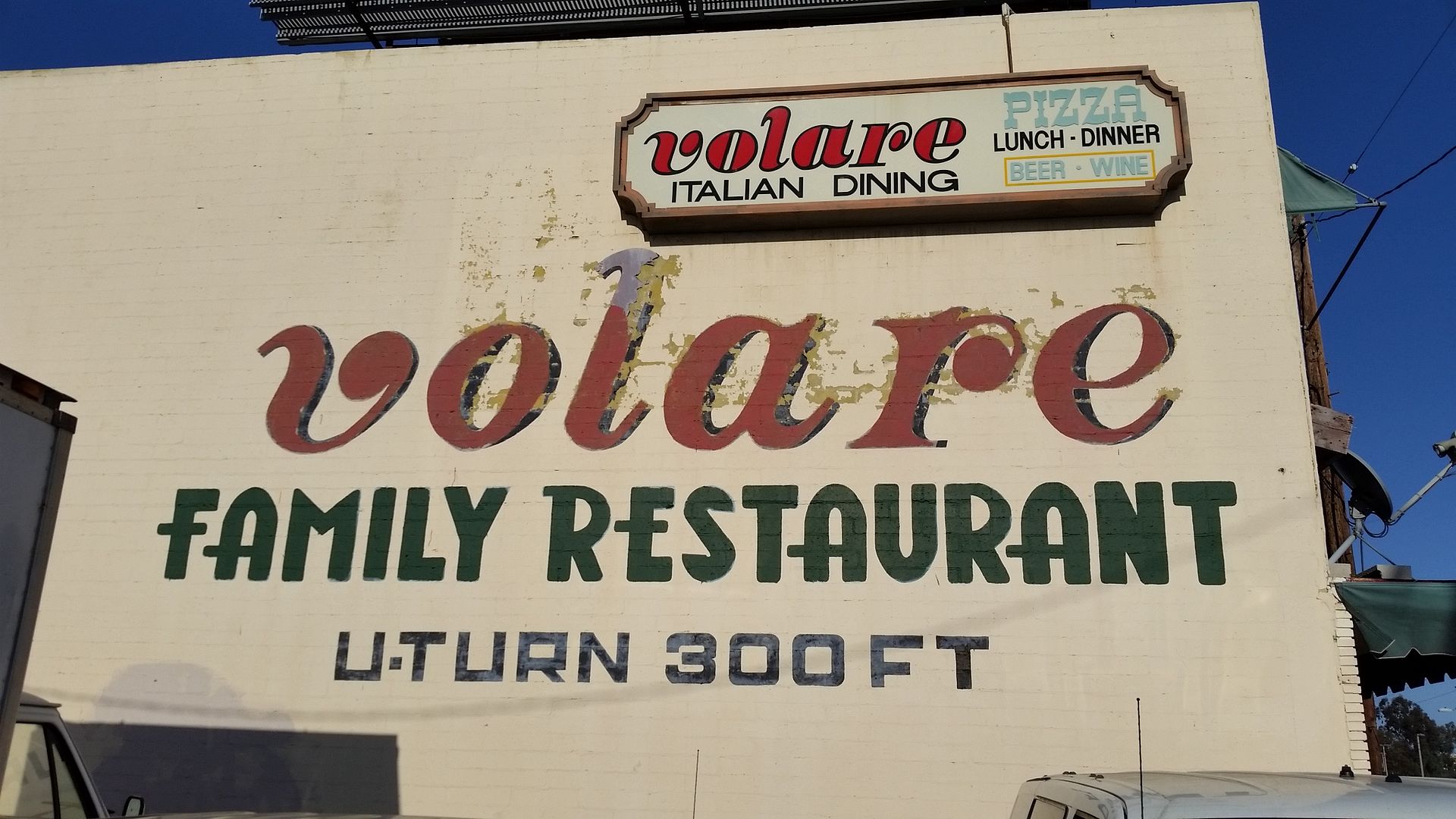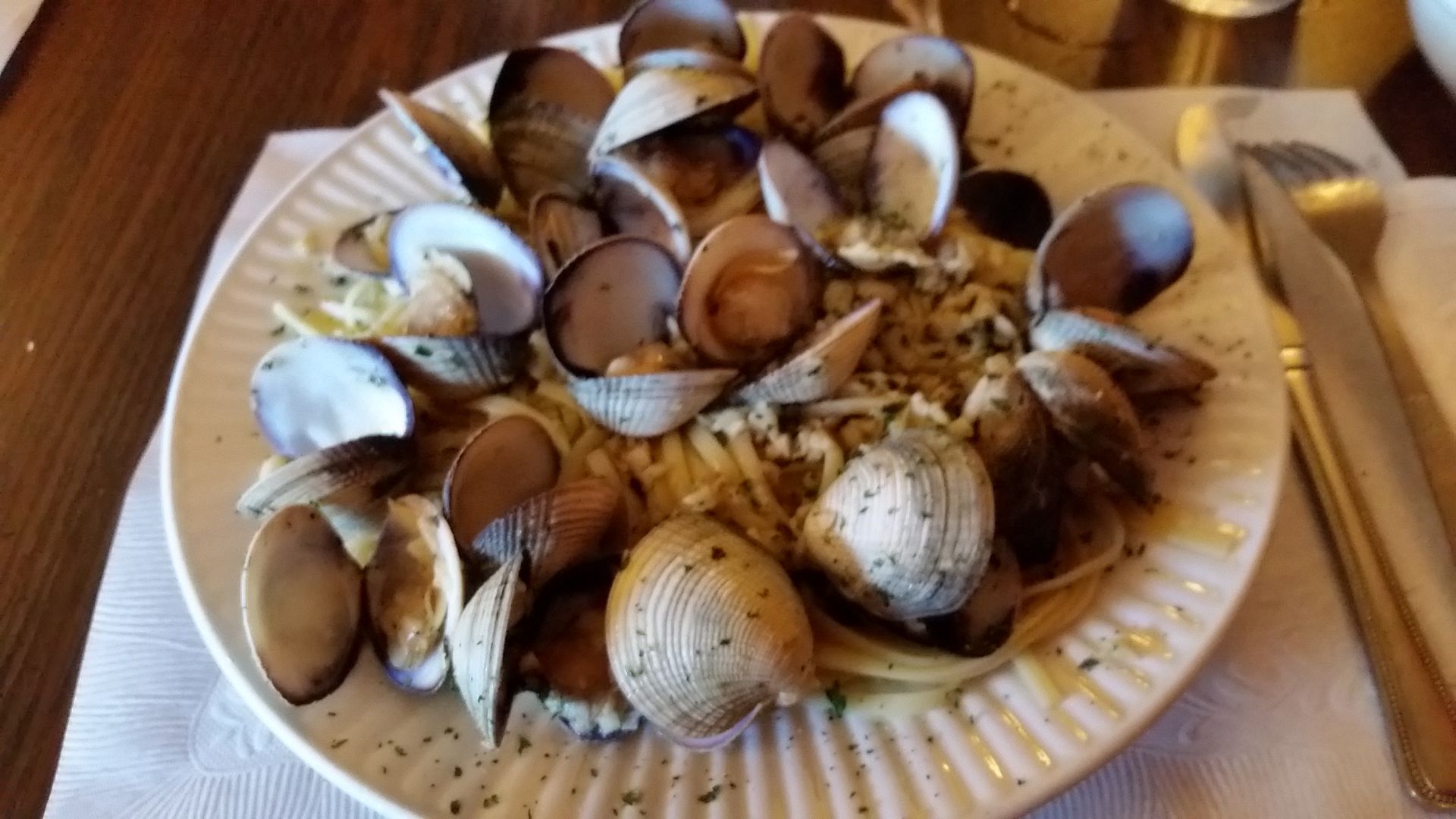 Amazingly, the day boats were all coming in with full loads of passengers, though predominately the catch was smaller grade stuff. Good seeing that level of energy on the docks, though flashbacks to my SD turn around days made me nauseous. I was up at 0300, so wrapping it up early tonight. T-36 hours to launch.
Prep Day 2 - 9/27/15
Well, I was always told that breakfast is the most important meal of the day. Got up, had coffee, and meandered down to the docks, and watched the Royal Star unload from a 7 day. Pretty decent trip, pretty good number of wahoo, yellows and OK grade yellowfin. Met up with Bart and Danny, chatted a while. Ed and I went to Mitches Seafood for breakfast, enjoyed pretty good huevos rancheros and more coffee. We decided to spend most of the day tying wire bait leaders, and wiring jigs, as well as flouro rigging some jigs for the hoped for epic wahoo bite on our horizon. Bruce showed up around 1100, and we got him quickly unloaded, and into his deluxe executive suite also at the Dolphin Hotel. We continued the al fresco rigging session for another hour...until you guessed it, time to eat again. Hit Mitches again, rockcod and swordfish tacos for me thank you! One last run for odds and ends...Bruce determined that a new MXJ Raptor was an "odds and end". Ed and I practiced restraint, with no new rods or reels attributed to the last two days.
Back to work, continuing the rigging games, until about 1900. Holy crap, the three of us have over 100 wahoo jigs, and 9 Marauders...We are all elevated to the status of "Tackle Whore".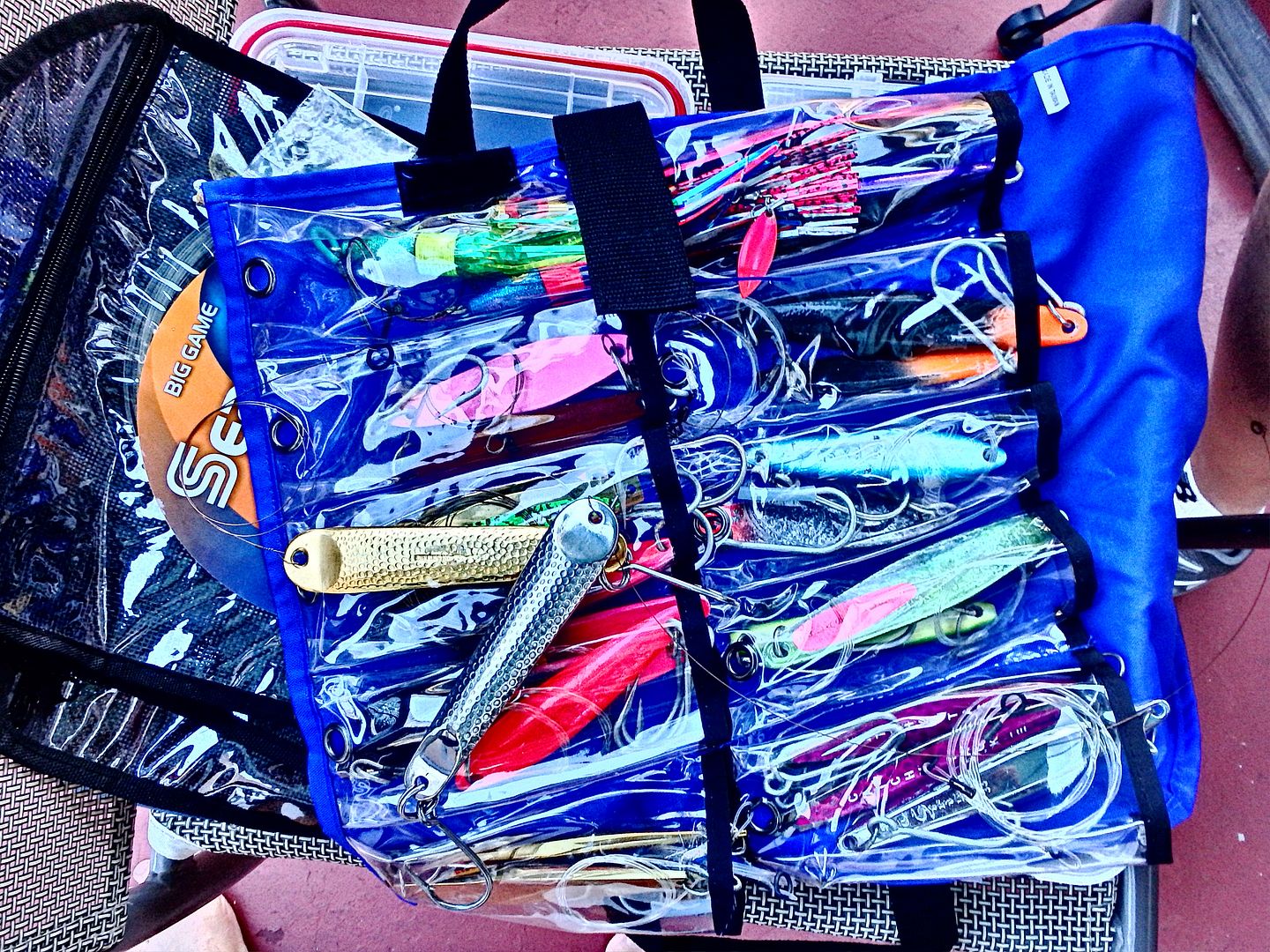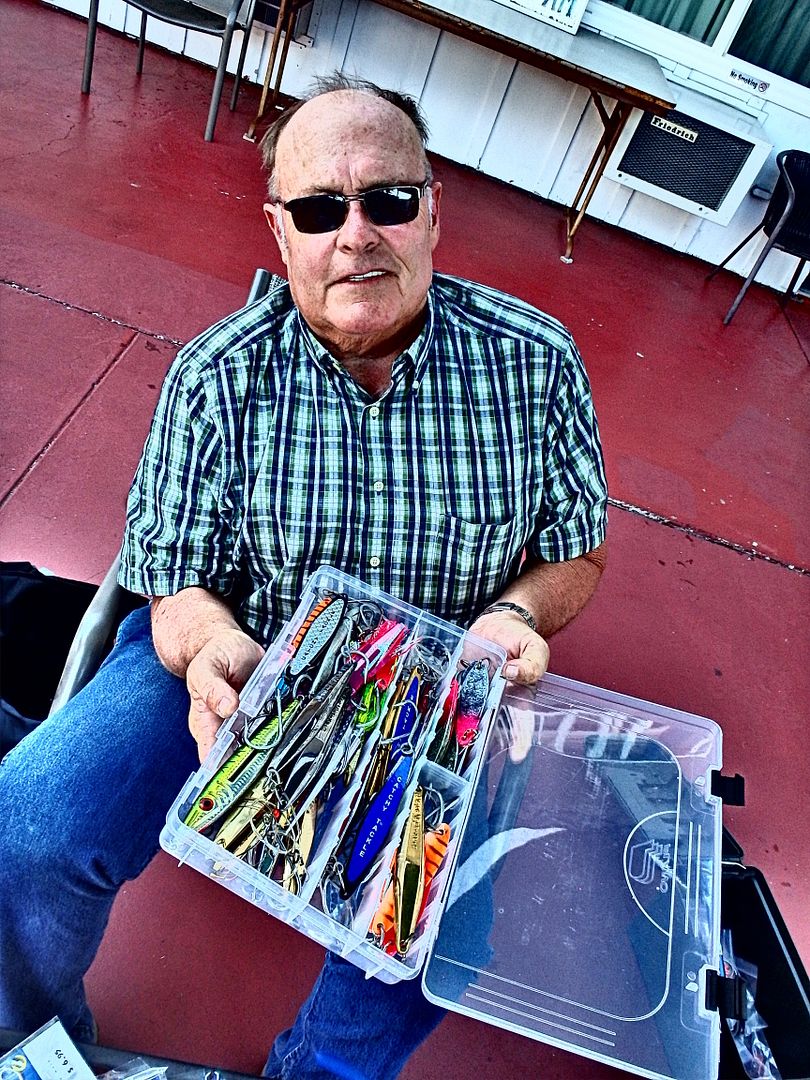 Damn, time eat again. We had the traditional "last supper" at Pizza Nuovo. Pizzas for all; killer roasted tomato, arugula and prosciutto with shaved parmigiana...absolute bomb!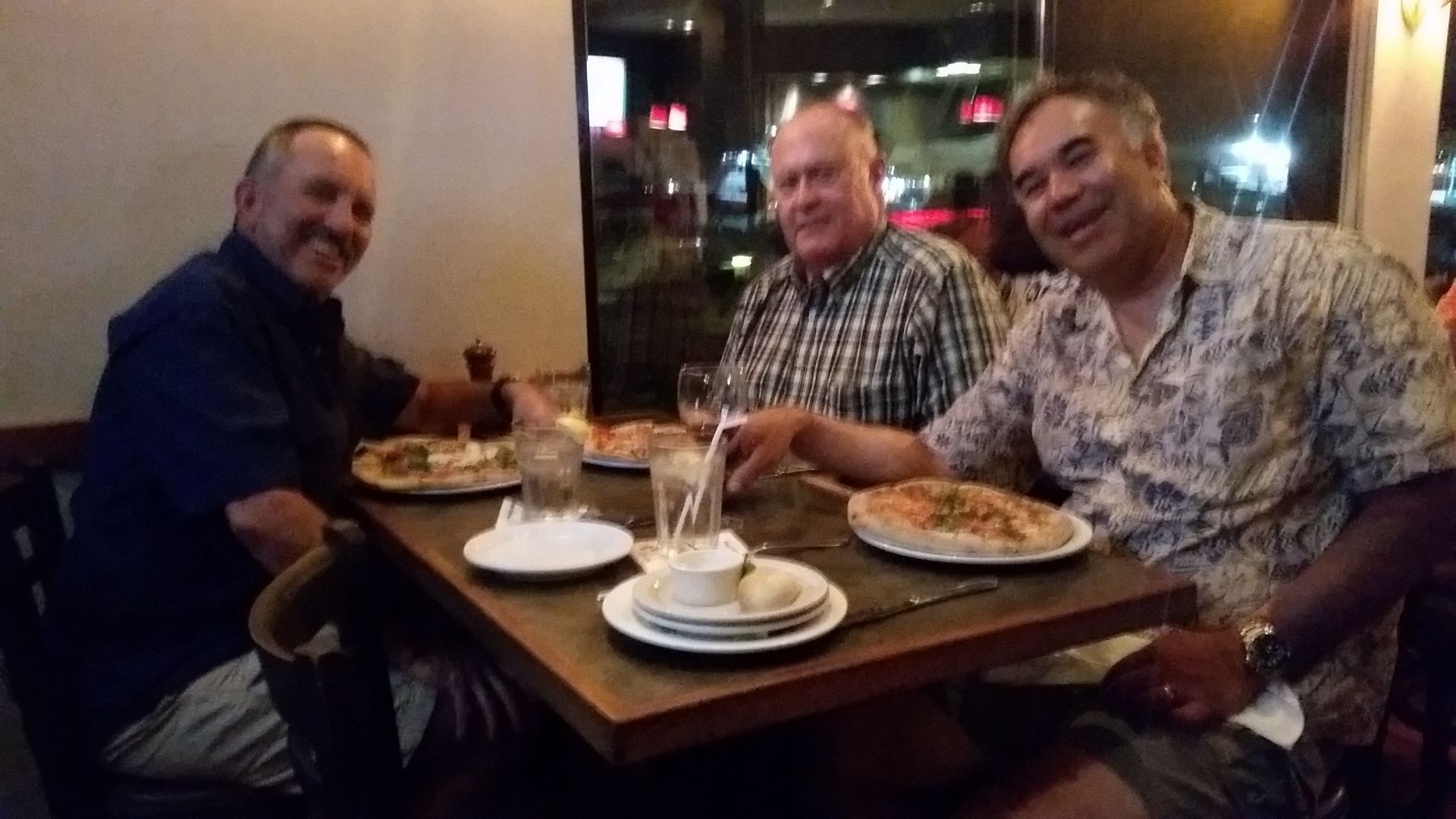 End of preps, gear has been repacked, and awaits a dock cart in the AM. Sleep proves to be elusive, Ed and I both are wide awake by 0330...with 6 hours to go until loading will begin.
Departure Day - 9/28/15 - Traipse over to Winchell's for a donut and coffee about 0400. Take the morning stroll around the docks, and really get the anticipation moved up a few notches, as multiple boats were returning this morning, with nice grade tuna, yellows, and ya baby...WAHOO making up the catch. Catch a final traditional breakfast at Denny's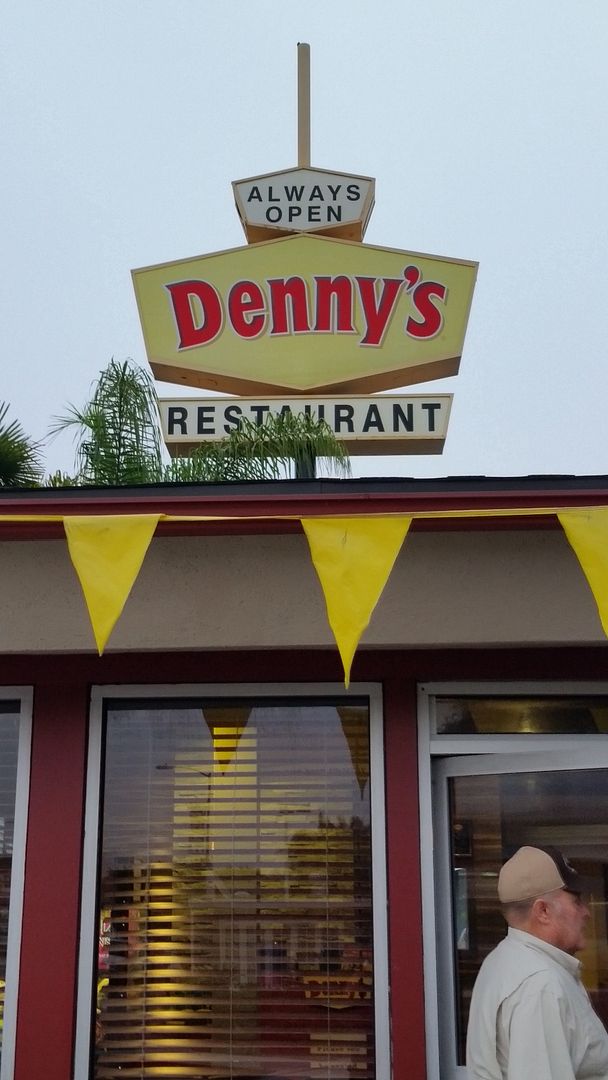 Come back and load our dock cart...yup packed light this year.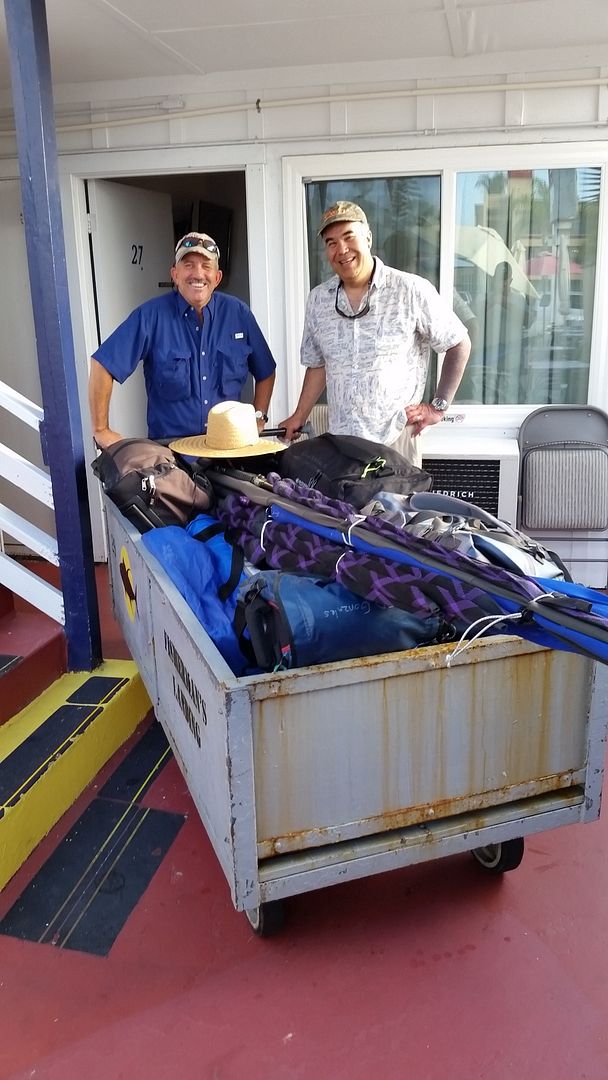 Get checked in with Jason, good news, got stateroom 6, lots more room than our previous stateroom. Chat with many of the group returning from same trip last year, and the new to the trip add-ons. Great group, looks like it will be a fun 10 days...no sign of "that guy"!
A few of the gang...
I wander down to the Point Loma offices and go up to see Steve and Kevin in the Intrepid office, chat and catch up. Kevin tells me they were catching wahoo at 1500 yesterday on their final day travelling up. More sign of the epic El Nino that California is experiencing this summer...Ed texts me we're getting ready to load, so zip back and we are moving in to our home away from home thirty minutes later.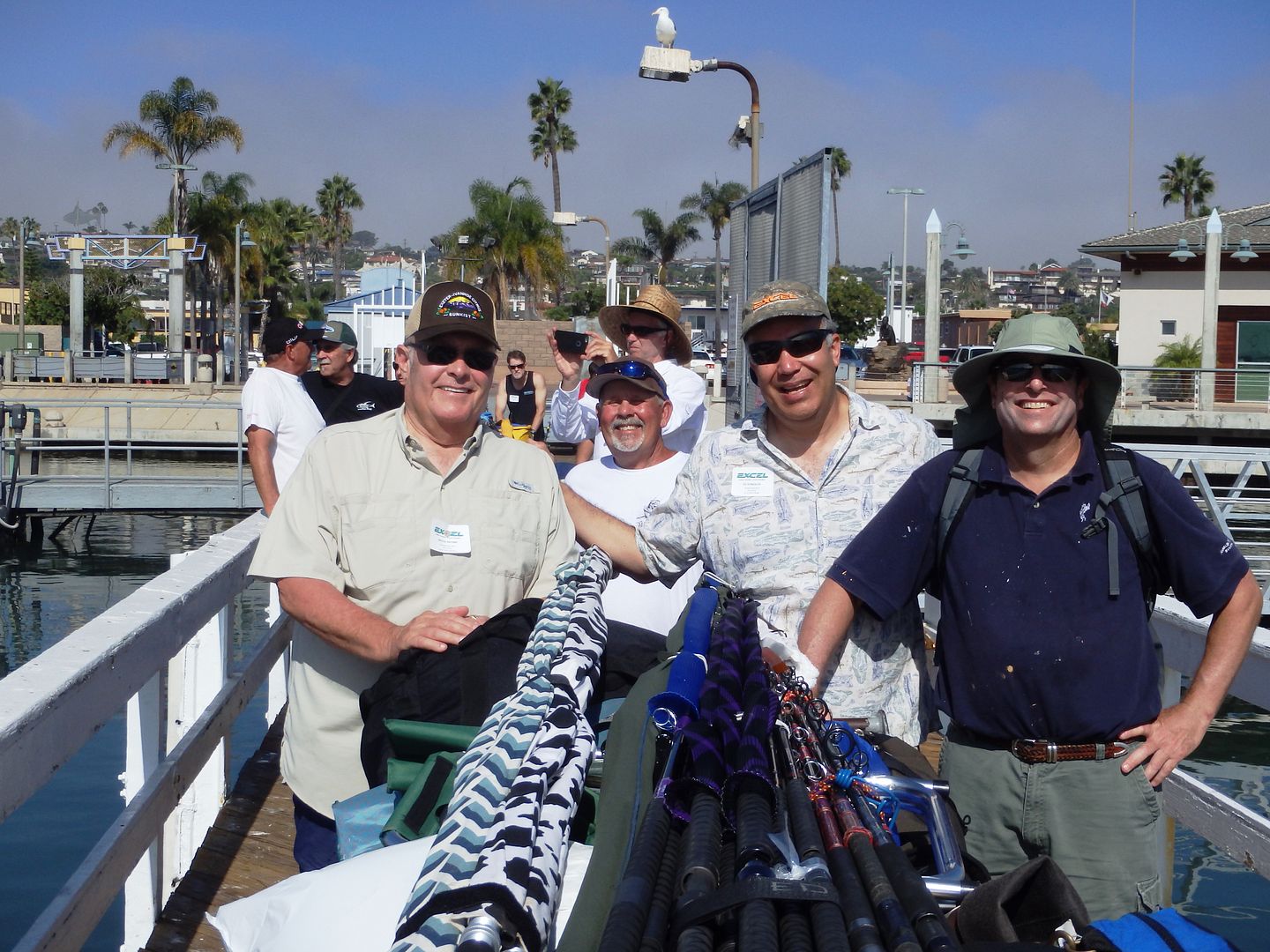 Off to the receiver, and after a 1 and 1/2 hour bait loading session, we are underway.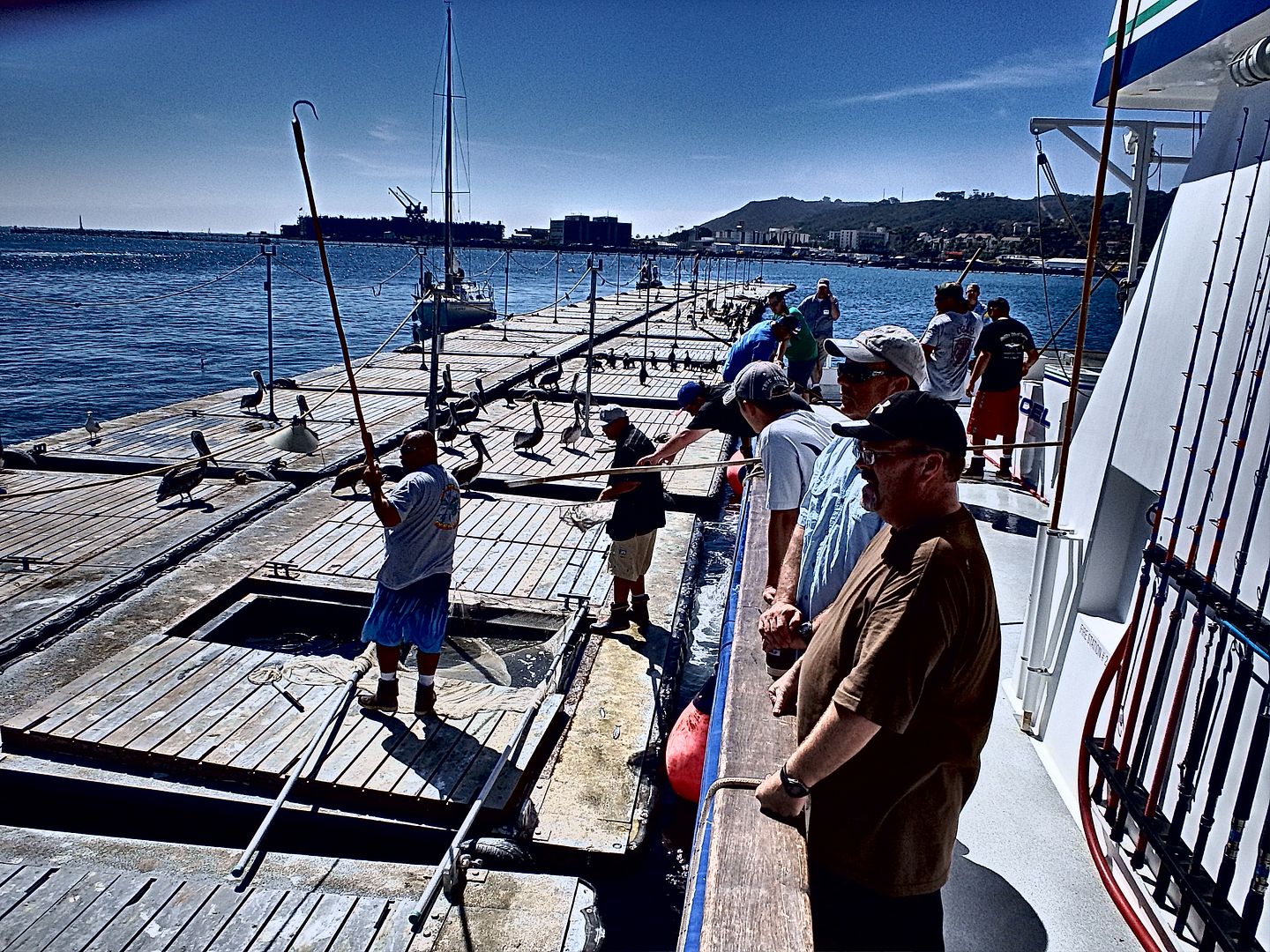 Thanks to the crews on the bait boats. The SOCAL fishery is only possible due to the amazing bait fishery. I can't imagine my home waters with a stop at the receivers...
The Intrepid and the Indy are also loading bait
Real nice first day lunch, beer battered fish and chips. I think Bart was first in line...
Justin gets us together for the family meeting and safety brief. It looks like we'll be saving the Alijos installment for later in the trip, with a couple boats ahead of us, and the Indy, Intrepid, Royal Polaris, and the American Angler also leaving today. The plan is to start on the beach in the morning, to get some of our yellows knocked out.
Running south in near glassy conditions, the afternoon is spent rigging.
Afternoon snack of smoked fish and fish jerky, cheese, and crackers broke things up. As rigging continued, there was a Marauder being trolled, and 35 miles from the point, it goes off; and Tim from Atlanta is on the board with a 40lb wahoo, that is destined for dinner.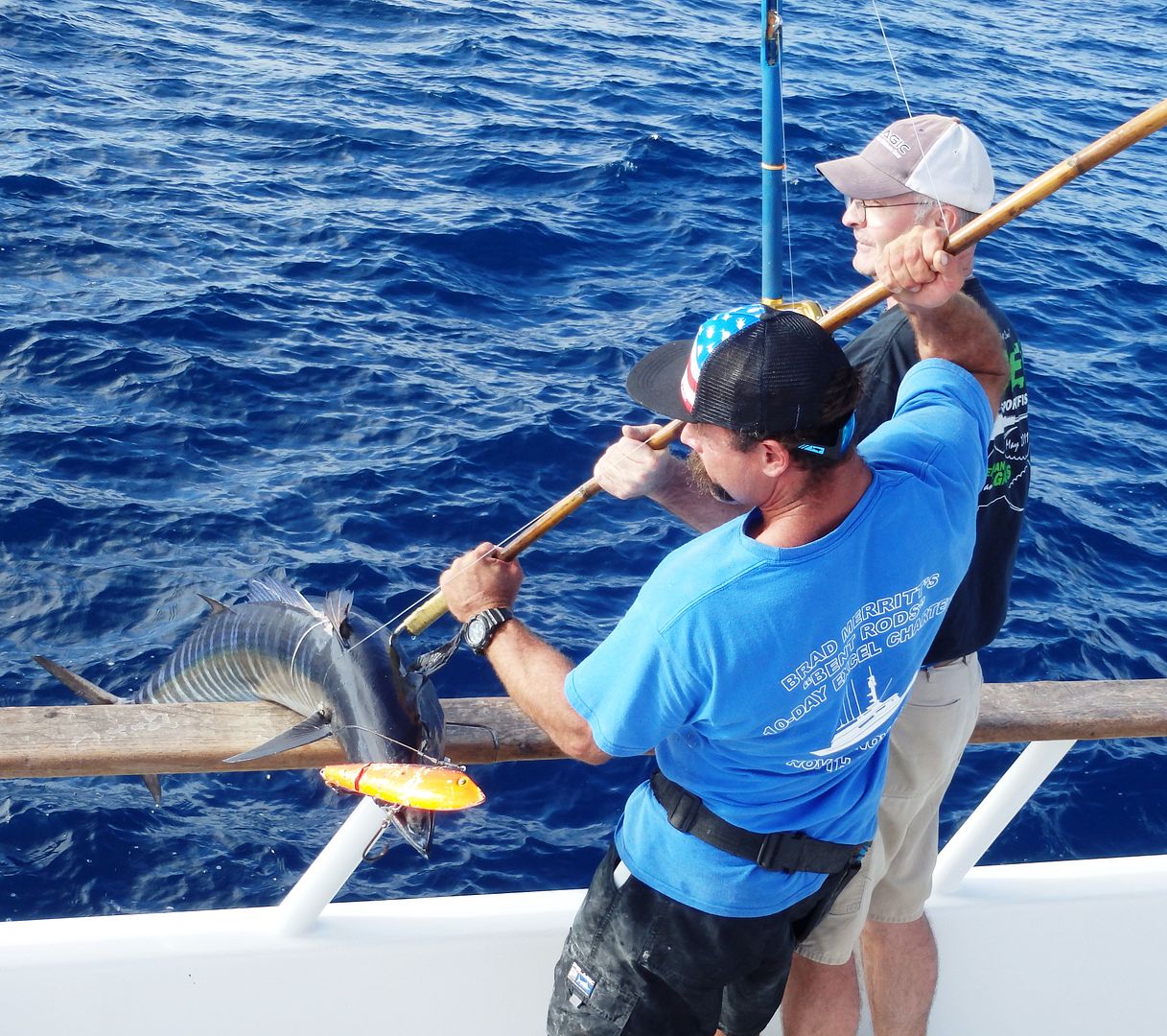 Rigging and BS'ing go hand in hand.
Alex the Phenix rep great guy!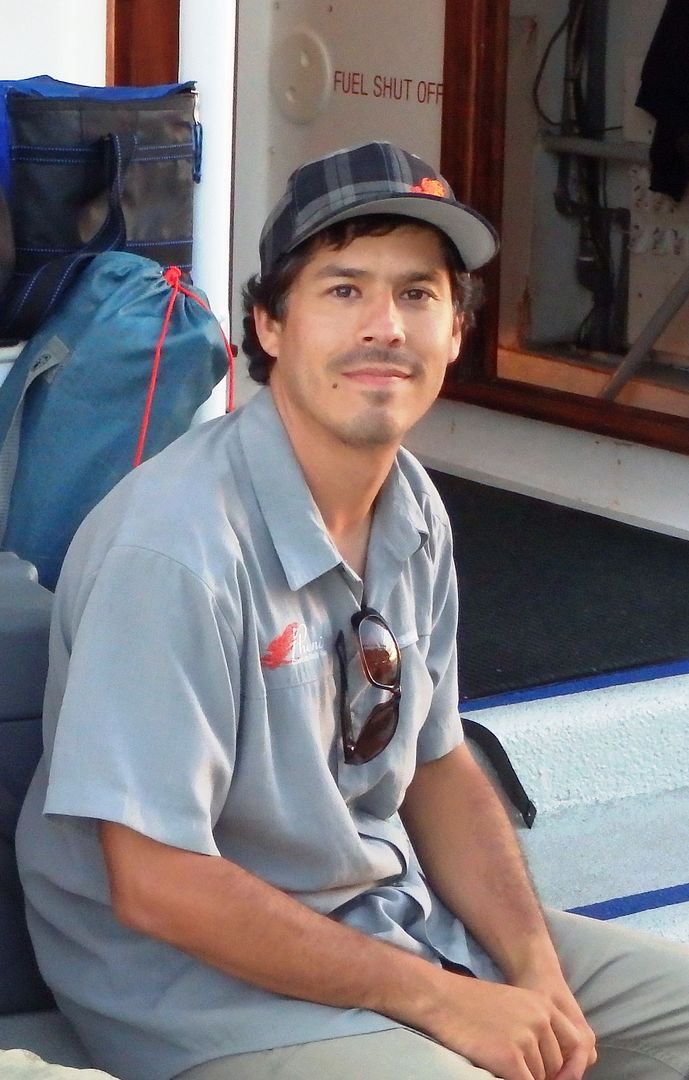 The Ed, Bruce, and John Crew.
Tim and Chowdah
15 combos later, covering from 25 to 100, I finished up, just in time for a killer Baja sunset, and a lunar eclipse. Hopefully the fish gods will continue to smile down on us.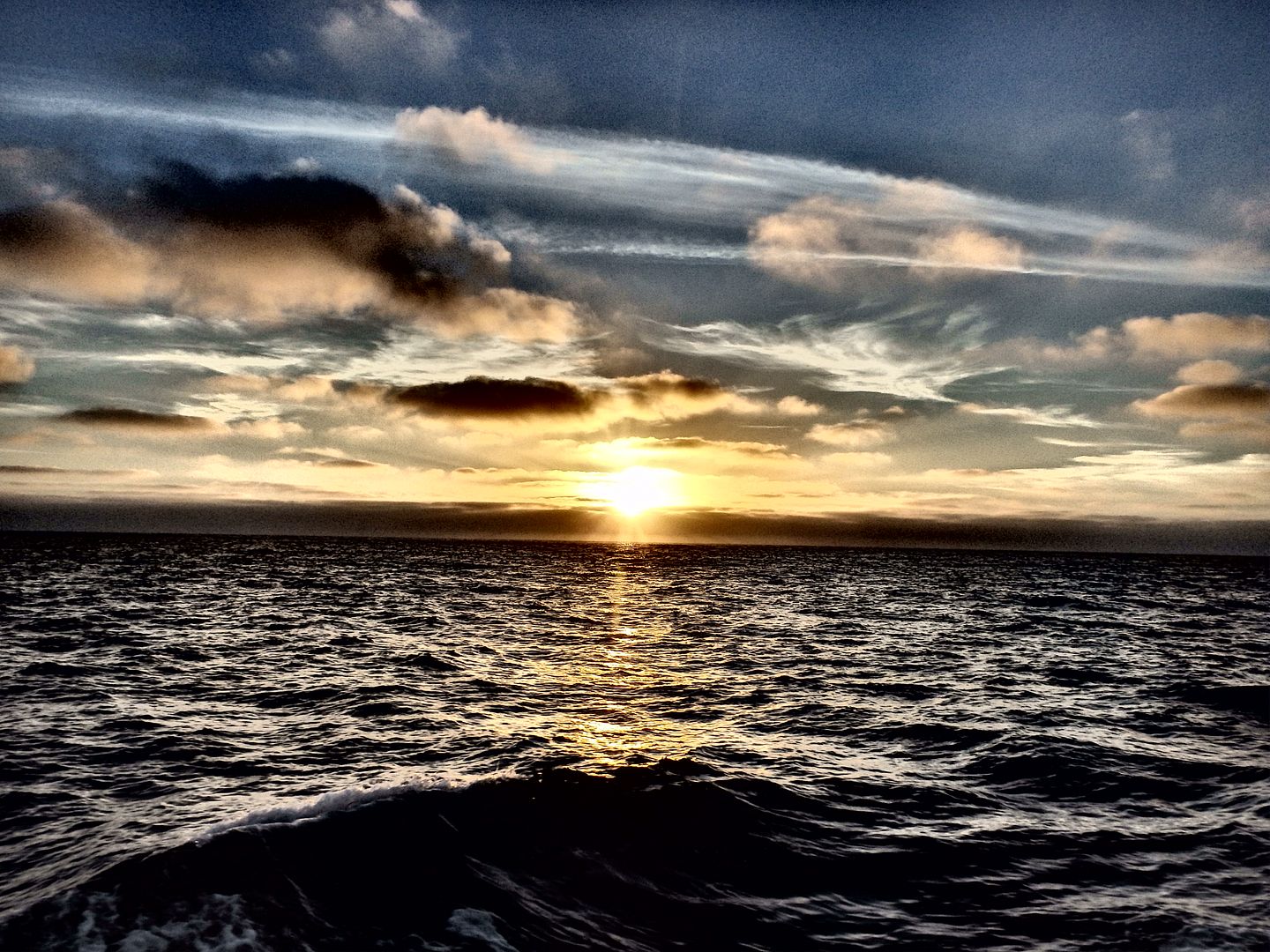 Dinner time! Spinach Salad, fresh baked bread, roasted 1/2 chicken served with rice and brocolli. Carrot cake, topped with kiwi, strawberry, and blue berries for dessert. Day one, do these board shorts make me look fat?
Ed get's the honors first night out
Phenix Rods raffle... Alex raffled off some Phenix clothing and rods and rod blanks. I got lucky again this year, winning a Phenix 809H! Thanks Alex!! Now I "need" another reel. This rod turns out to be a great addition to the quiver, great with both the 30 and 40lb top shot.
Winner winner...chicken dinner!
Day 2 9/29 --Going to fish today!
The morning starts early as we continue to head towards our first destination, around Geronimo / Sacramento Reef.
Hoping for the big hit, to get things started, we fortify with coffee, and eggs benedict and hash browns. Bruce is up for breakfast
Arrived at the first stop around 0700, made one anchor job and one drift...no love, and we're heading farther down. Good excuse for more coffee, and a little more rigging. Mike Ramirez gave a yellowtail seminar, and touched on wahoo with a promise for more when that becomes the focus later on in the trip. Also reconfigured a couple "new" old school rods, freeing up an Avet MXJ single speed, that will be paired to my newly won Phenix 809H. This is going to be my kelp paddy bait rod…see how that goes. Ultimately, this rod was a go to, and performed really well on wahoo and yellows.
Mike Ramirez gives the first tackle seminar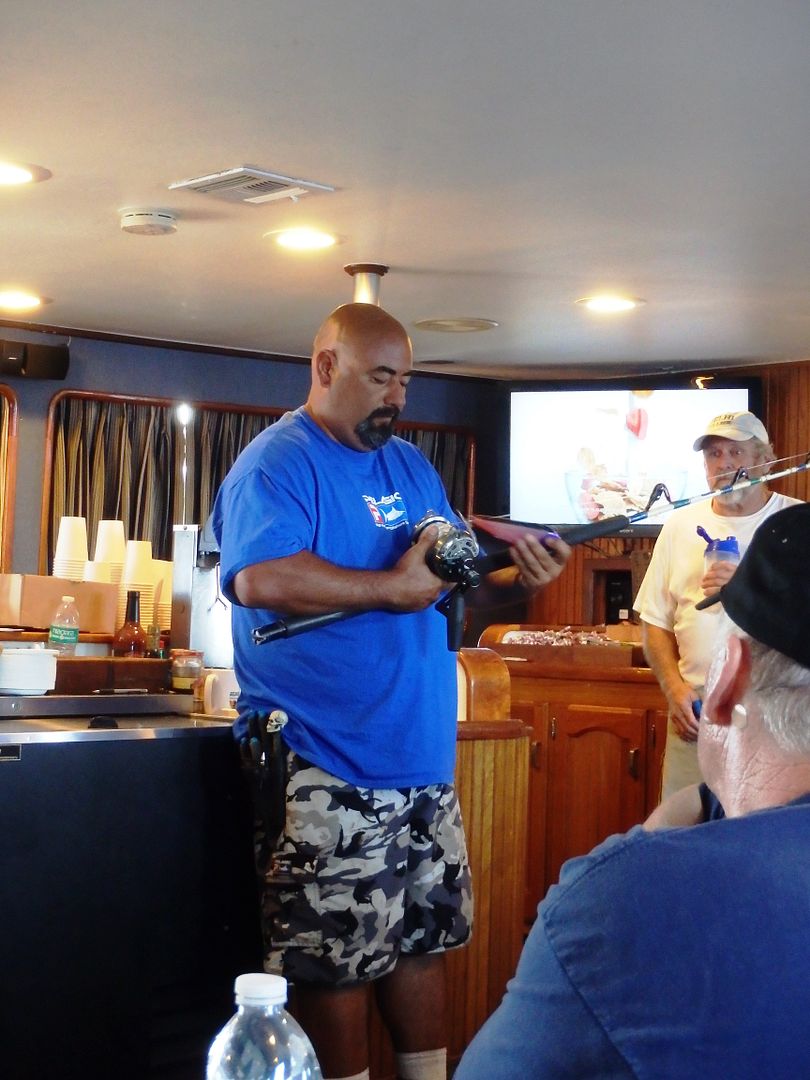 Trollers are now in the water, with Team 1 up, starting around 1000. I' m on Team Four, lucky (hopefully) number 17. Lunch time, beef stew over rice, fresh baked bread...followed by....a nap.
After the short nap, a little re-rigging, and more BS'ing...it was time for a quick stop on Jalapeno Poppers. As the trollers were out throughout the day, our trolling team was spared a stint in the trolling jail, and should be first up tomorrow.
After a long and unproductive afternoon checking out the outside, Justin announces our arrival at Cedros, with a little bit of time remaining in the day to check things out. The area we traveled was full of boat sized kelps, all sadly devoid of life. No doubt an area that will produce, just not today nor as it turns out, nine days later travelling the reciprocal course, which was devoid of life and kelps.
We made a couple drifts, and donated a couple yellows to the seals. I did get the opportunity to fish my new Ulua, and a borrowed Phenix 909XHJ. The Phenix is amazingly light, casts well with a new Torium 20HG. The Ulua is simply the classic muscle car of the long rod genre...what's not to like. I'm looking forward to putting both to the test tomorrow. Bruce got in on the action.
As we traveled to the south end, dinner made for the high point of an otherwise uneventful travel day. Tonight was a good mixed salad, signature fresh baked bread, and real nice Angel Hair pasta with fish, shrimp, and lobster. Moose Track ice cream rounded things out.
It's 2030 hrs and we are still running down towards the south end, where we plan to anchor up for the night. Fished a few baits on the dropper.....no joy. I grabbed a few hours of sleep, and got up bout 0430, grabbed a cup of coffe, and joined a few die-hards soaking baits on the dropper. No yellows to be had. Just before sunrise one smaller YFT was caught on a jig in the bow. Shortly after that, we picked up the anchor and got on the prowl.
Day 3 ---9/30
Breakfast was finished up prior to arriving at the morning's first destination in less than 10 knots of breeze, and no sea. Blueberry pancakes, scrambled eggs, and bacon.
Things started out real scratchy, with around 25 nice grade yellows on the boat at around noon. Fishing began to improve around lunch time.
Ed is on the board with a nice yellow!
Bart said he felt funny, I said he looked fine!
I caught a monster sand bass!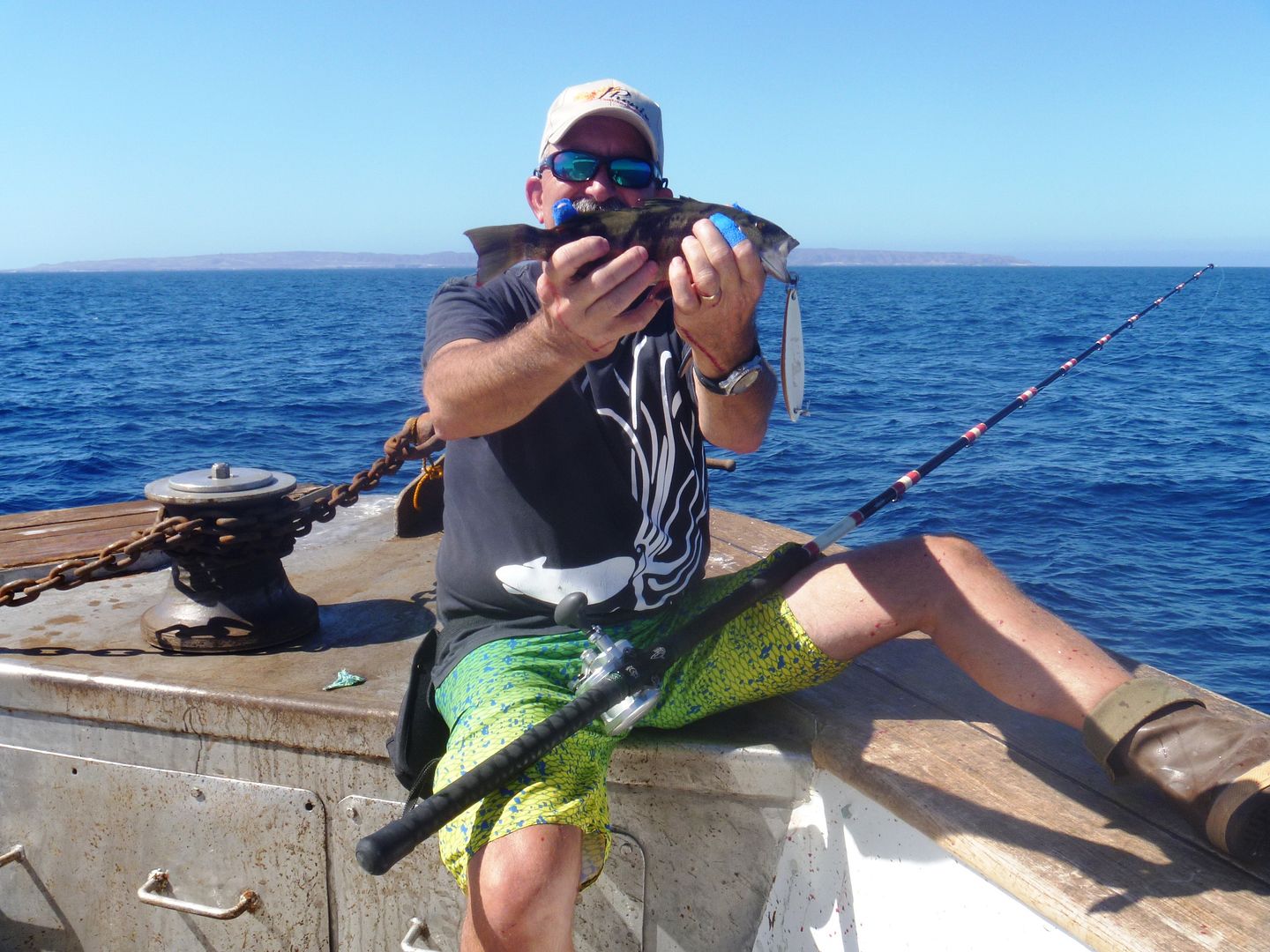 Justin is bent (common throughout the trip)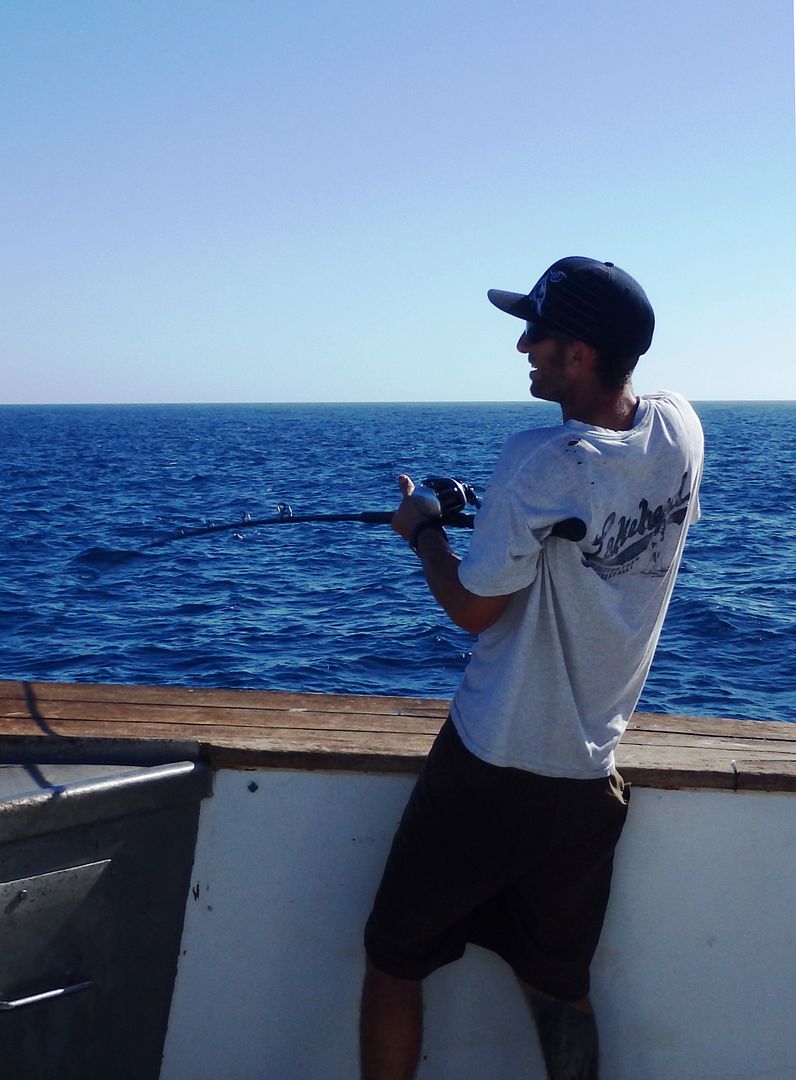 Today's lunch action included an Italian Sub, and pasta salad.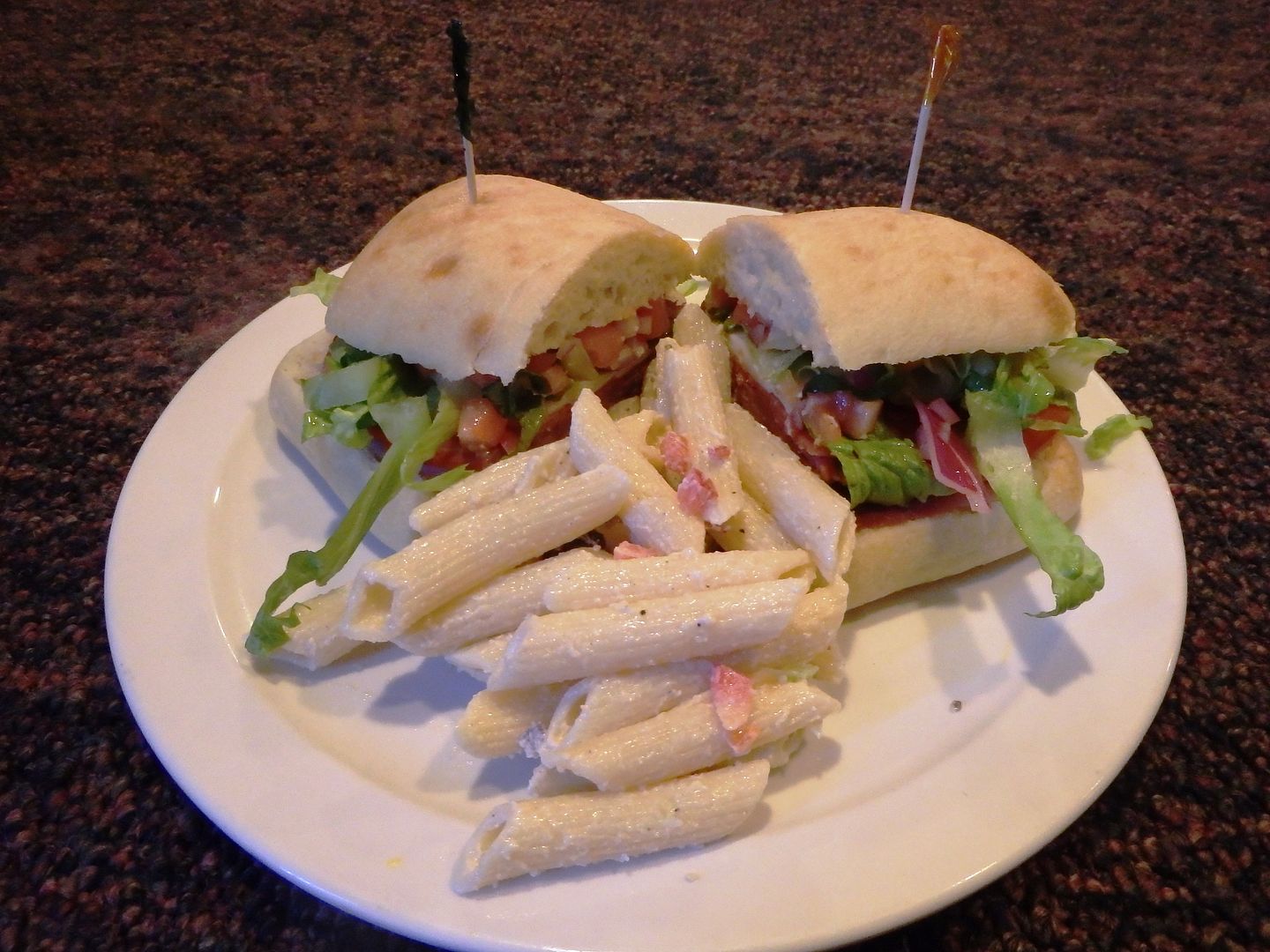 Conditions improved, and by1430, we had 110 yellows, one lonely yellowfin, and a stray halibut caught by Alex. Most fish were caught on flylined baits, and the dropper. No real jig bite, though true to form, Ed nailed one on the Ulua on a mint Salas 7X, and I hooked one on my new Ulua, though it came unglued. I managed 1 on the yoyo, and three on bait, using my new 809H and 30lb.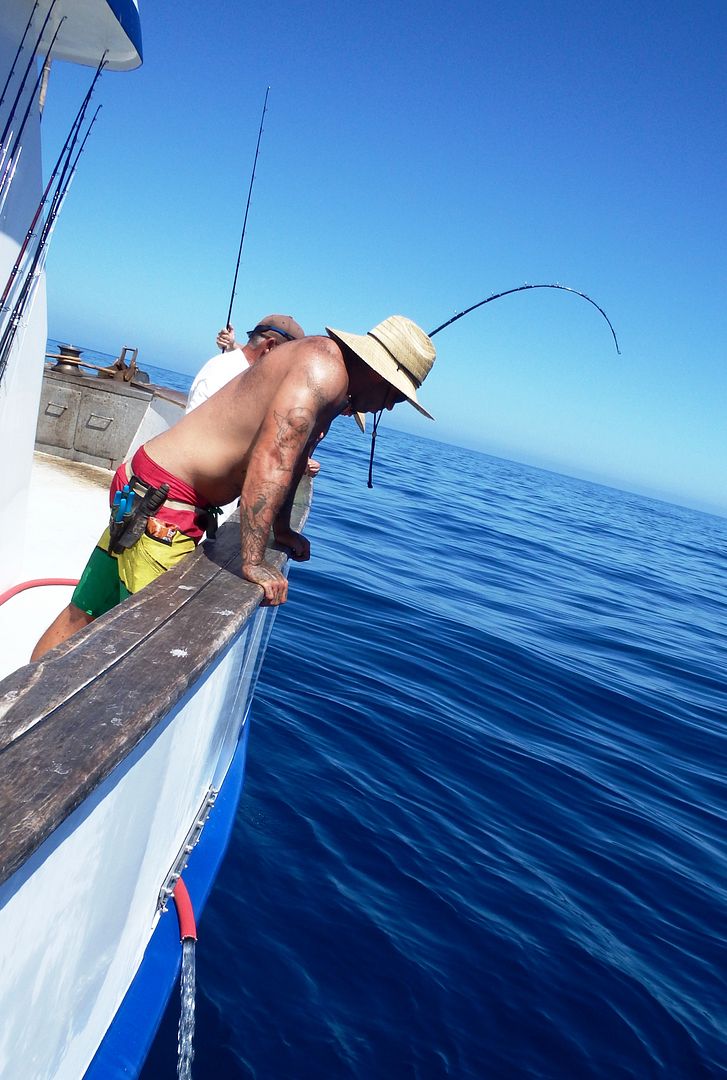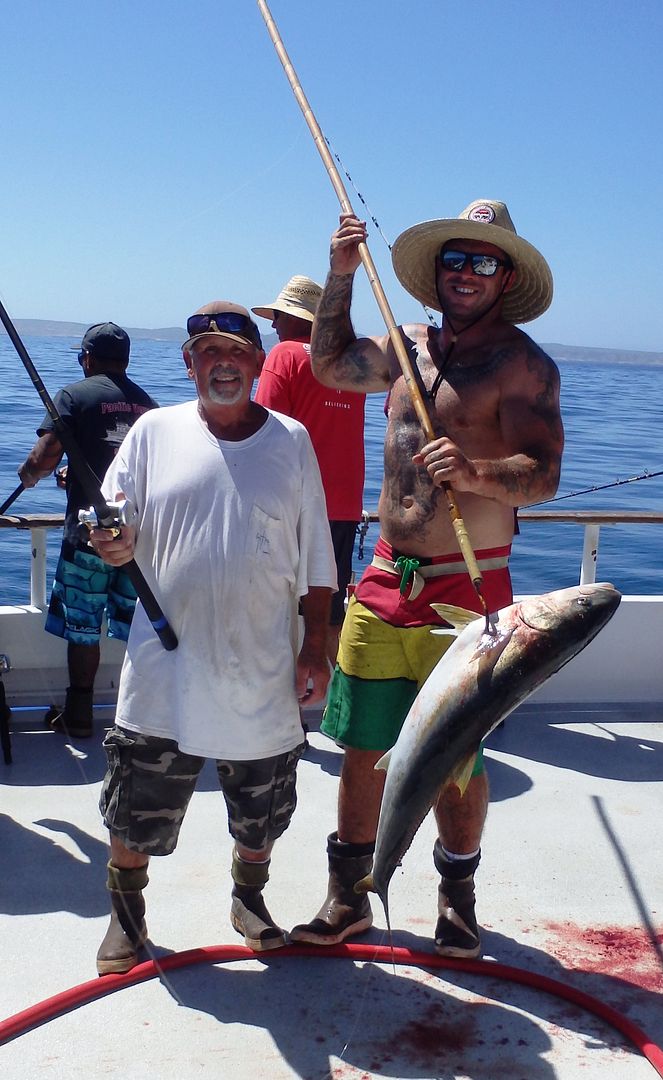 They were thick!
Keith is bent!
We are now sliding south...."destination unknown", and will continue looking as we go. Made a couple drifts in windy conditions, and caught a few yellows. I managed 1 on the yoyo, so I had my daily limit on yellows.
Before dinner, Justin gives us the plan, we're Ridge bound, and should be ready for school sized yellowfin, wahoo, yellowtail, and maybe a few grouper, using the dropper loop.
Dinner tonight brought to you by Tim...
Grilled wahoo over rice, served with a tropical pico de gallo, and brocollini. There is always room for dessert...strawberry poundcake filled that void space.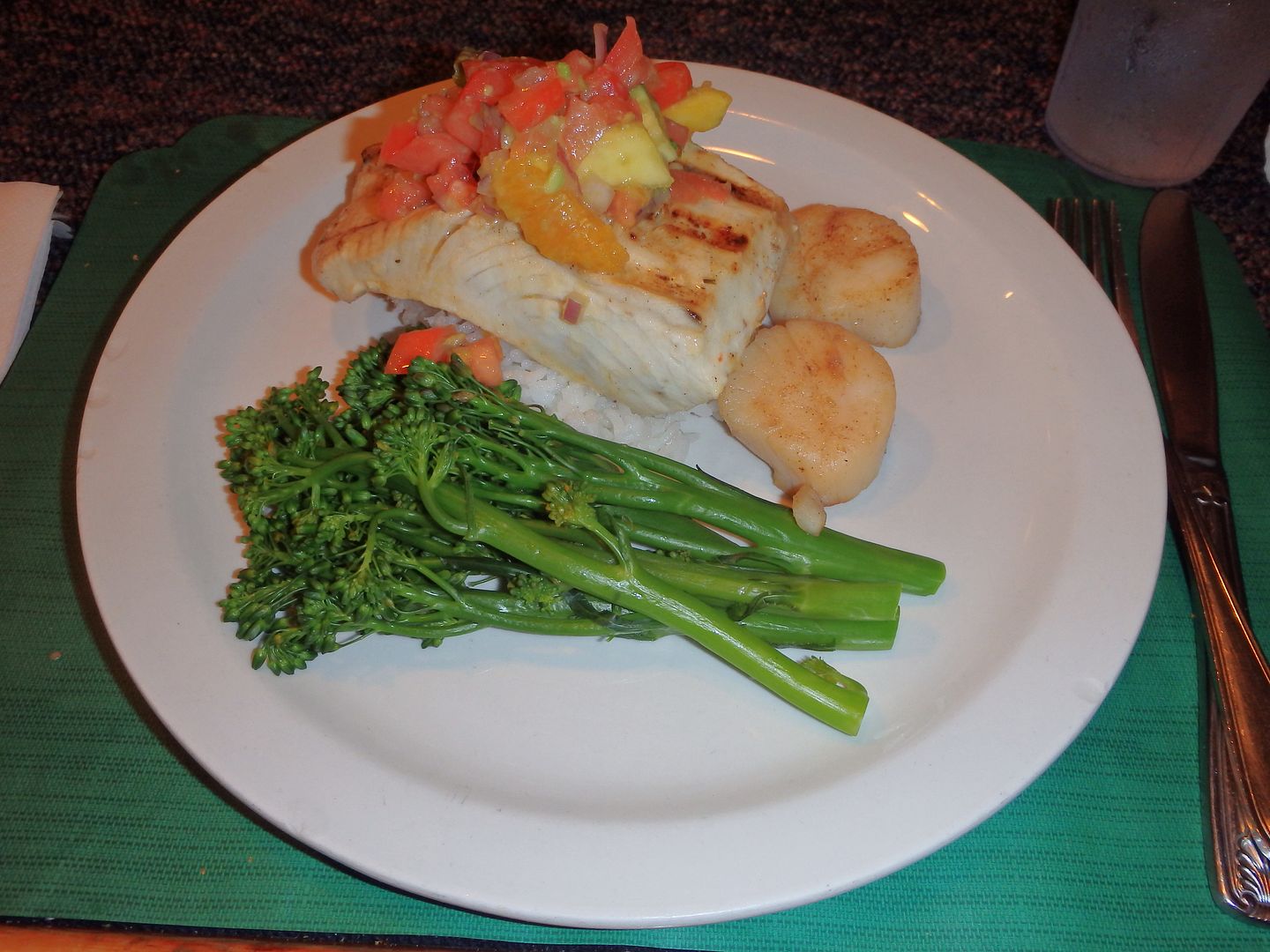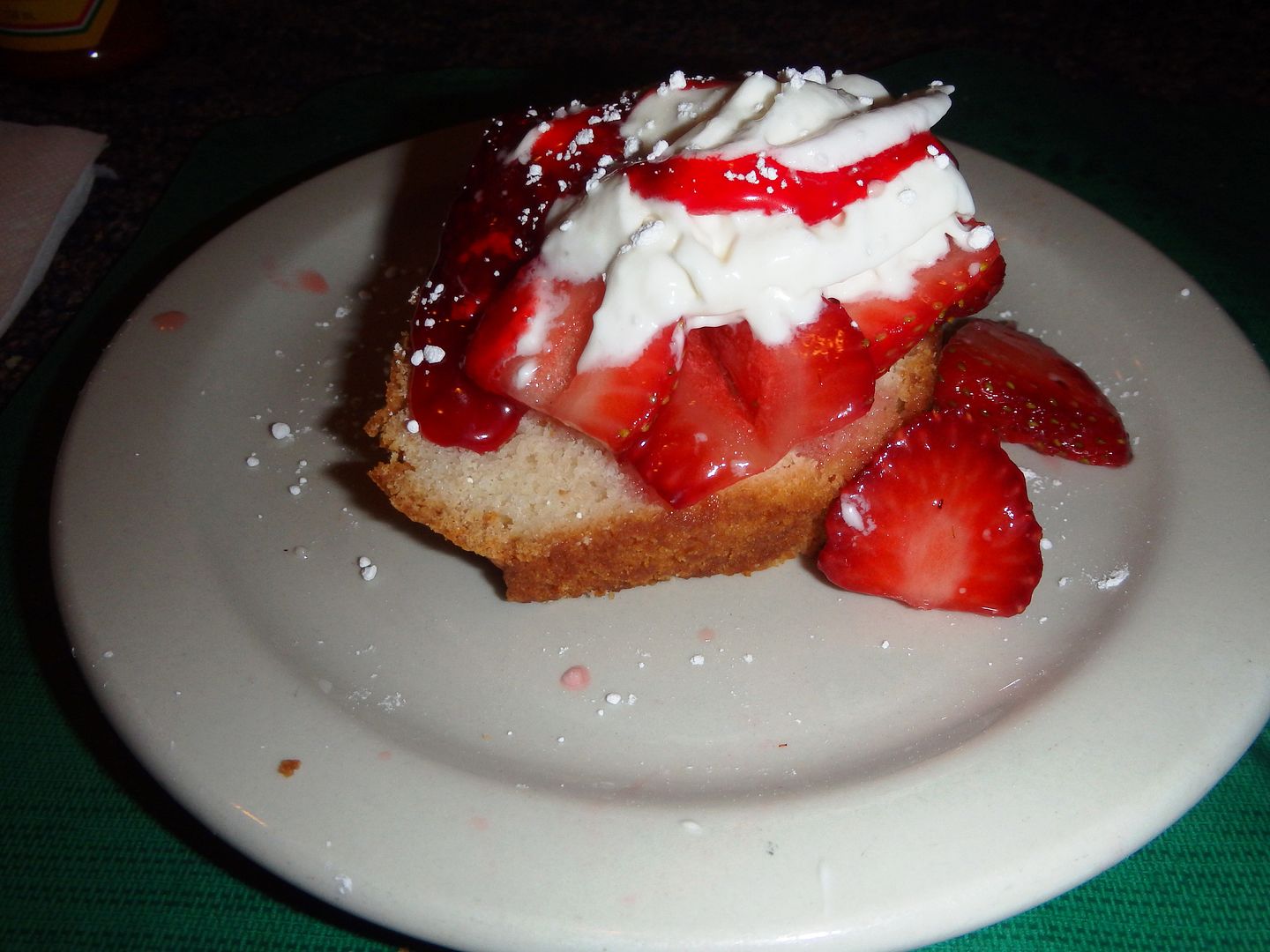 Day 4 ---9/30. We woke up just above the upper end of the ridge, and enjoyed one of my favorite Excel breakfasts---Bacon fried rice and fried eggs.
Got a couple cups of coffee in me, and made some needed rigging adjustments for the intended target....WAHOO! Unfortunately, the wahoo proved elusive, with four hard earned skinnies, including Stan's 74 lb pig on the troll making it into the RSW as we continued southward over various high spots on the Ridge, including the Uncle Sam and the 23. Unfortunately the yellowfin also played hard to get, with only a few footballs being filleted for sashimi.
One of those days of complete and unrelenting monotony as the miles south slid beneath the keel. Lunch was a high point with some jumbo Blue cheese hamburgers served up with caramelized onions, and onion rings filling the bellies.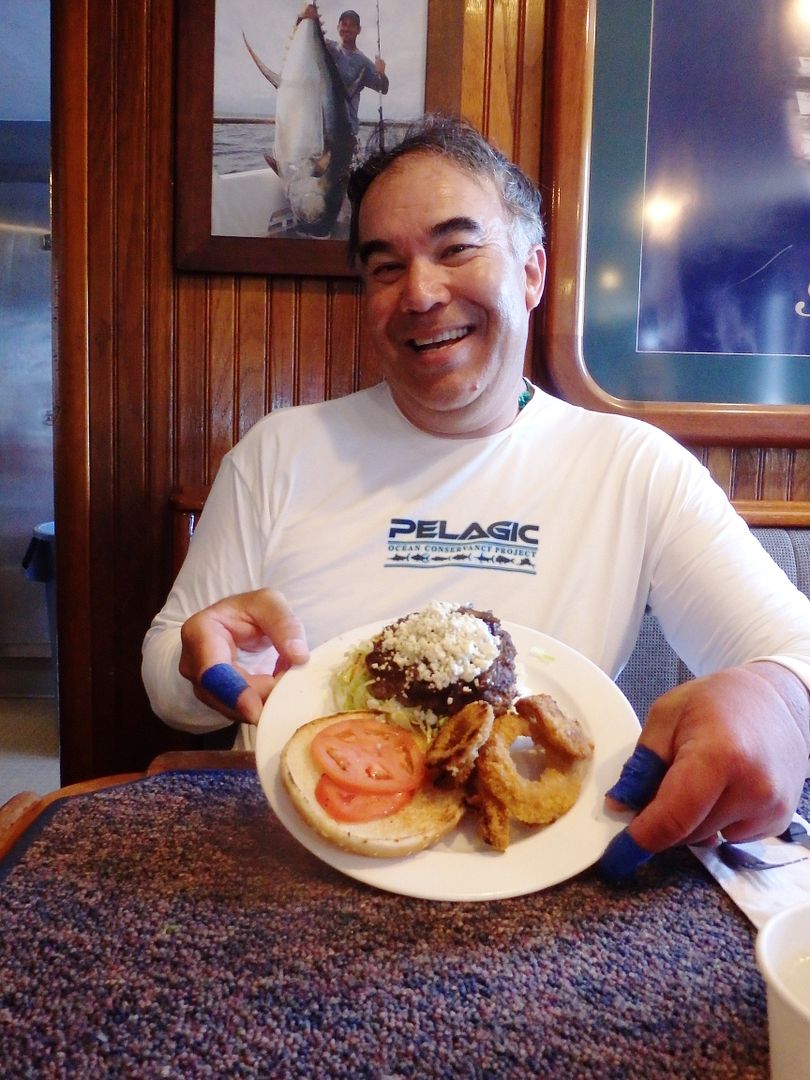 Unfortunately the day ended much like it started, covering 60+ miles of the Ridge for another 2 wahoo, for a total of six for the brutally uneventful day. Bruce got a troll fish.
During the evening we ran up to the 23, where we will anchor for the night, and hope for a hit on yellows and grouper.
Dinner again proved to be a salve for the beating we took by the fish gods today. Salad, fresh baked bread, New York steaks, mashed potatoes, carrots and peas. Again, with just a little room, I topped it off with a "tiny" slab of key lime pie.
I gave it an hour or so after dinner...more of the same; and went to bed hoping for the morning bite. We shall see. The good news is we have plenty of time to put together a good catch...not yet time to panic, especially with the extra two days we have over an eight day trip.
Day 5---10/1 Started the morning at 0430, with very little life. As the sun came up, the yellows began to bite the dropper loop. I'm not big on the dropper, but am trying to adapt to conditions. I'm still hoping for a surface bite on the back half of the trip. Caught a couple, and then hooked two more that I couldn't get past the tax-man. A quick strategy change, bumping up to 20+ pounds of drag, and staying in high gear...hard on my old body, but no further taxes were paid!
With a few fish resting in the RSW, I took a quick break for breakfast, ham and cheese omelets, potatoes, and toast.
After the refuel, it was time to get back at it, and I ultimately managed 8 yellows, and two 10 to 15lb yellowfin, by lunchtime. Thinking back, pretty sure I didn't catch anything after lunch.
Ed is on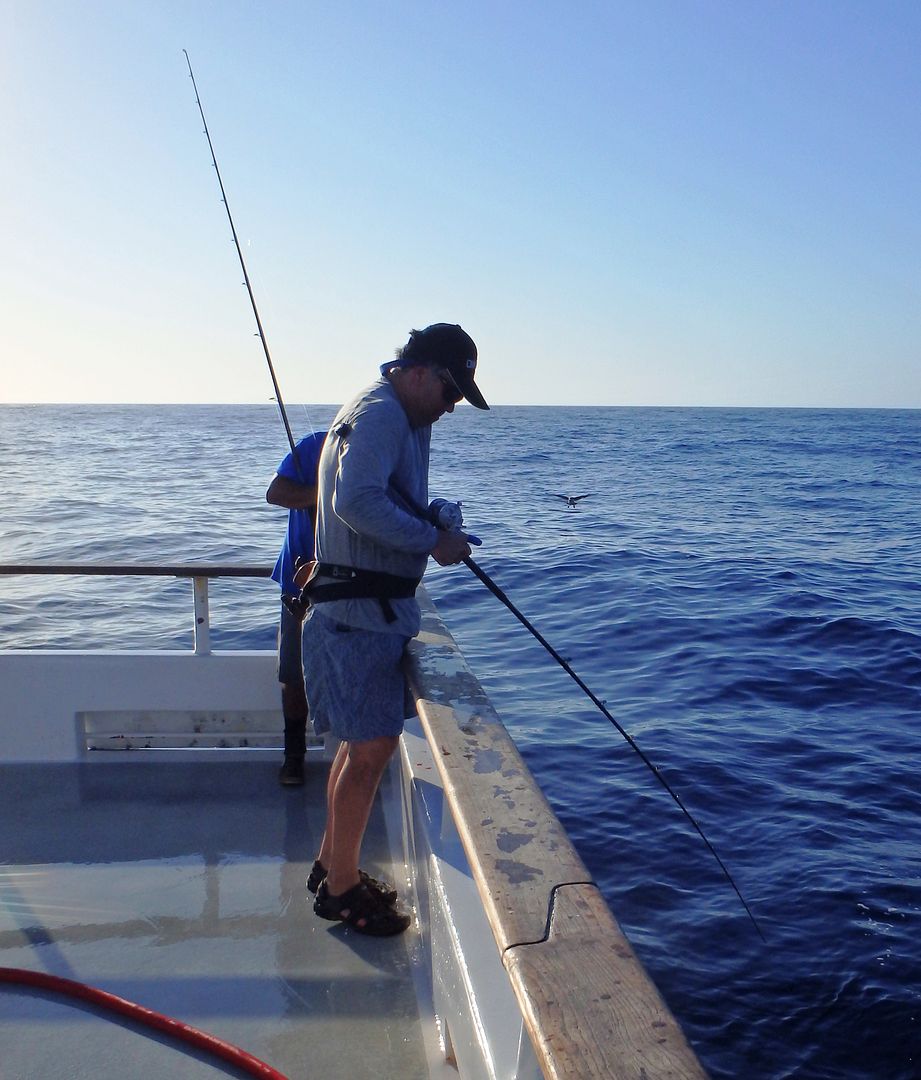 Getting a start on the RSW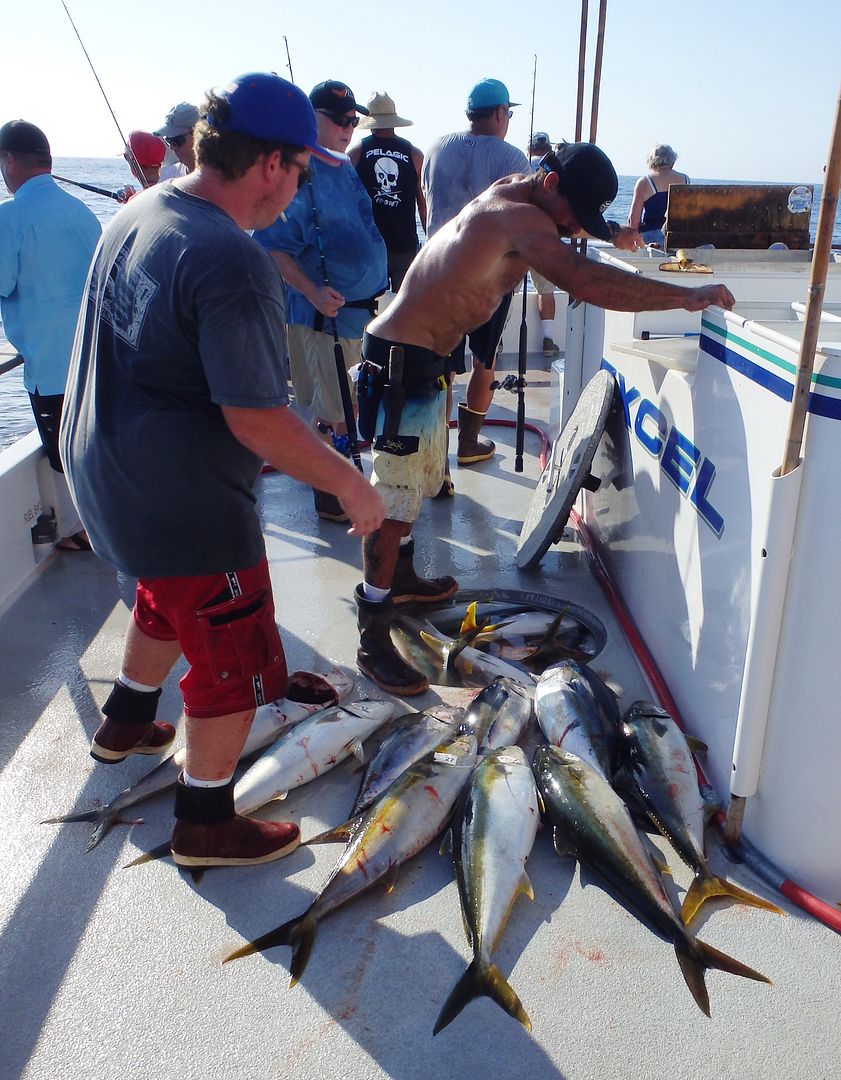 Bruce is getting the yellows
Danny is on!
Mid-morning snack was jumbo fresh baked chocolate chip cookies
Lunch was really good, though maybe not "weather appropriate". Seafood "chowdah" coupled with a killer wheat bread grilled cheese samich! Of note, it didn't seem to slow anyone down. Today's weather was in the high 80's with equal or greater humidity. For me this was home weather for late summer/early fall in South Texas.. Staying hydrated was the key! When the yellows backed off, I threw jigs for the wahoo, though no joy.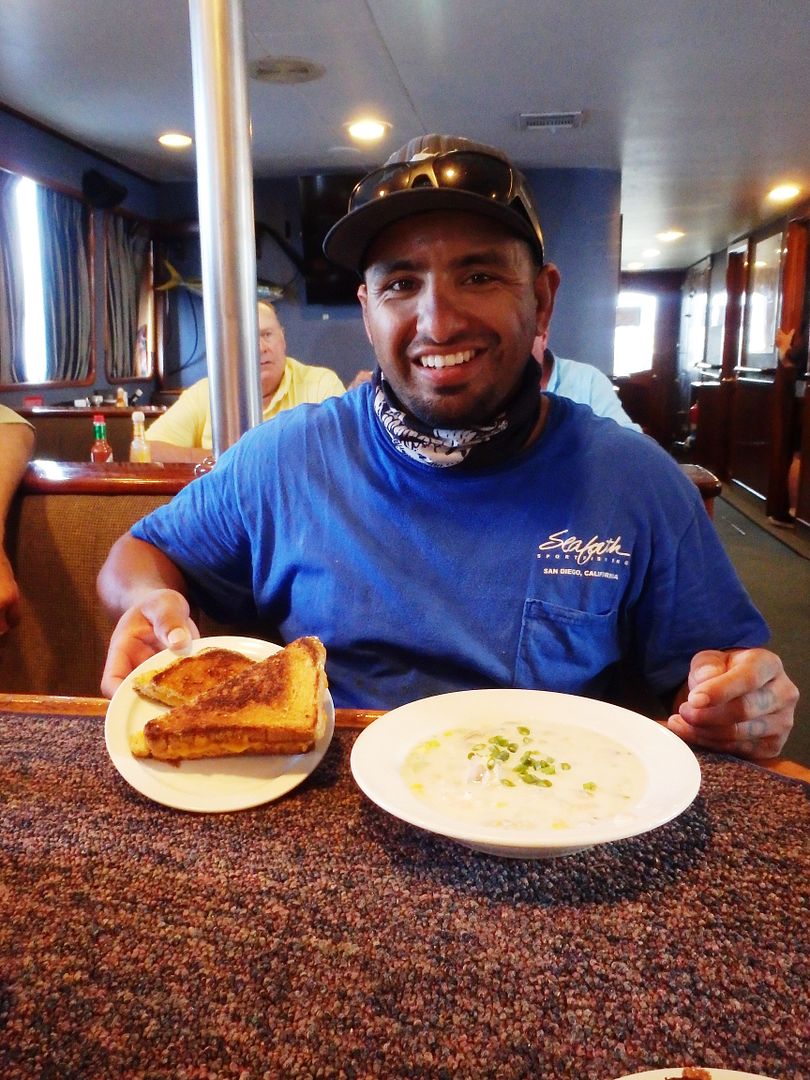 We left for Alijos at around 1300. Trollers were left out, and I thankfully found a stand-in for part of my rotation after completing another three-plus hours in troll jail. We continued to look for kelps...to no avail. Took a gamble and took an early shower...
Feeling like we somewhat earned dinner tonight, we had sliced pork loin, rice, and mixed squash, and chocolate chip ice cream. Justin gave an in-depth wahoo seminar to prepare us for the morning. The entire crew was out assisting passengers rigging for what we hope is good wahoo fishing.
Brought to you by Mike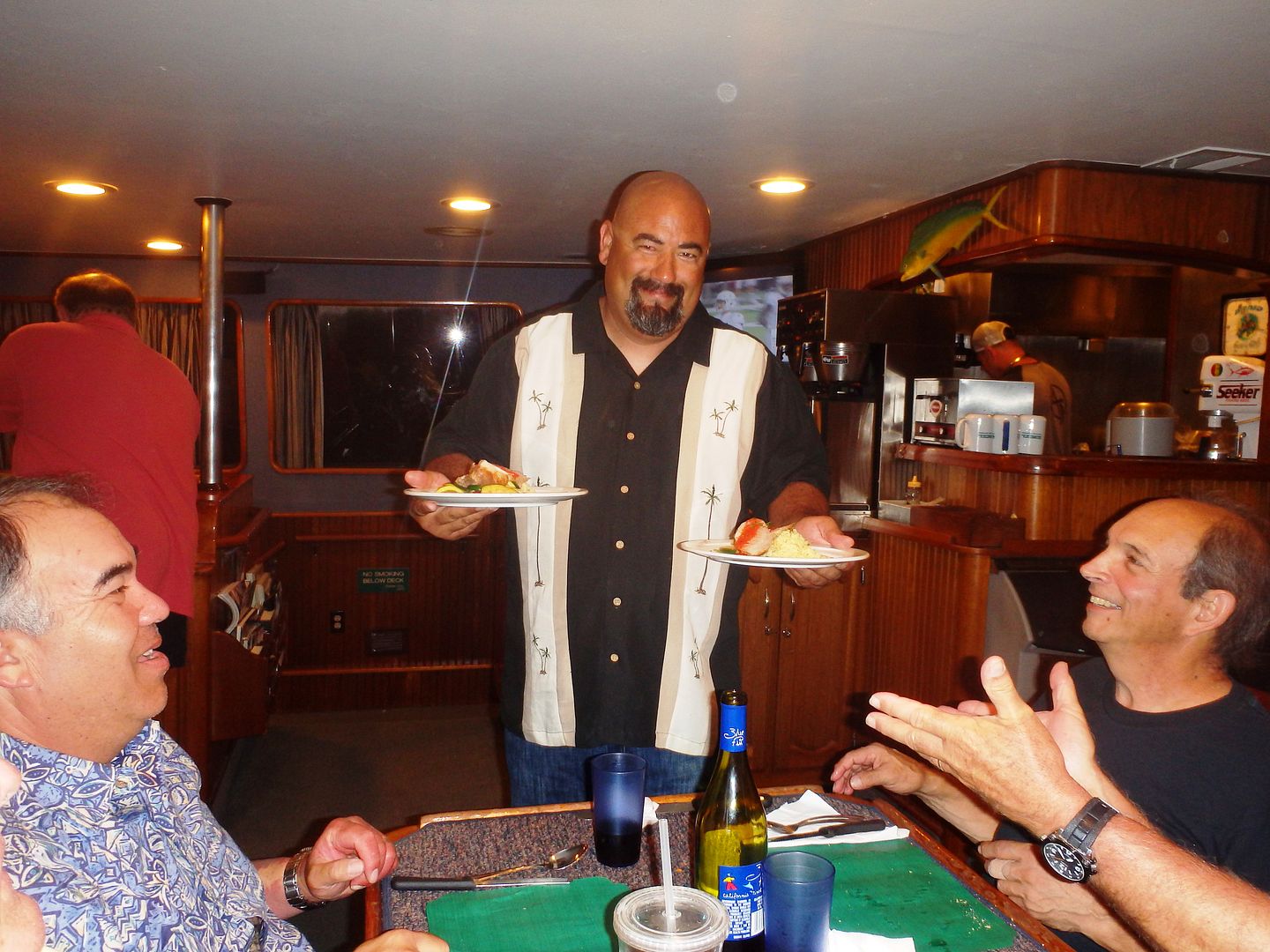 Day 6---10/2 We arrived in the early morning at the Alijos Rocks. The Indy was also there on their second day that they spent at the Rocks. Today was a bit of a blur as I type this after a long day, and evening of steady wahoo fishing, with the last fish caught by George in the dark, good one as he worked hard all day suffering casualties as did most, before he put this hard earned fish in the RS
17, I'm on the board
Sharing the Rocks with the Indy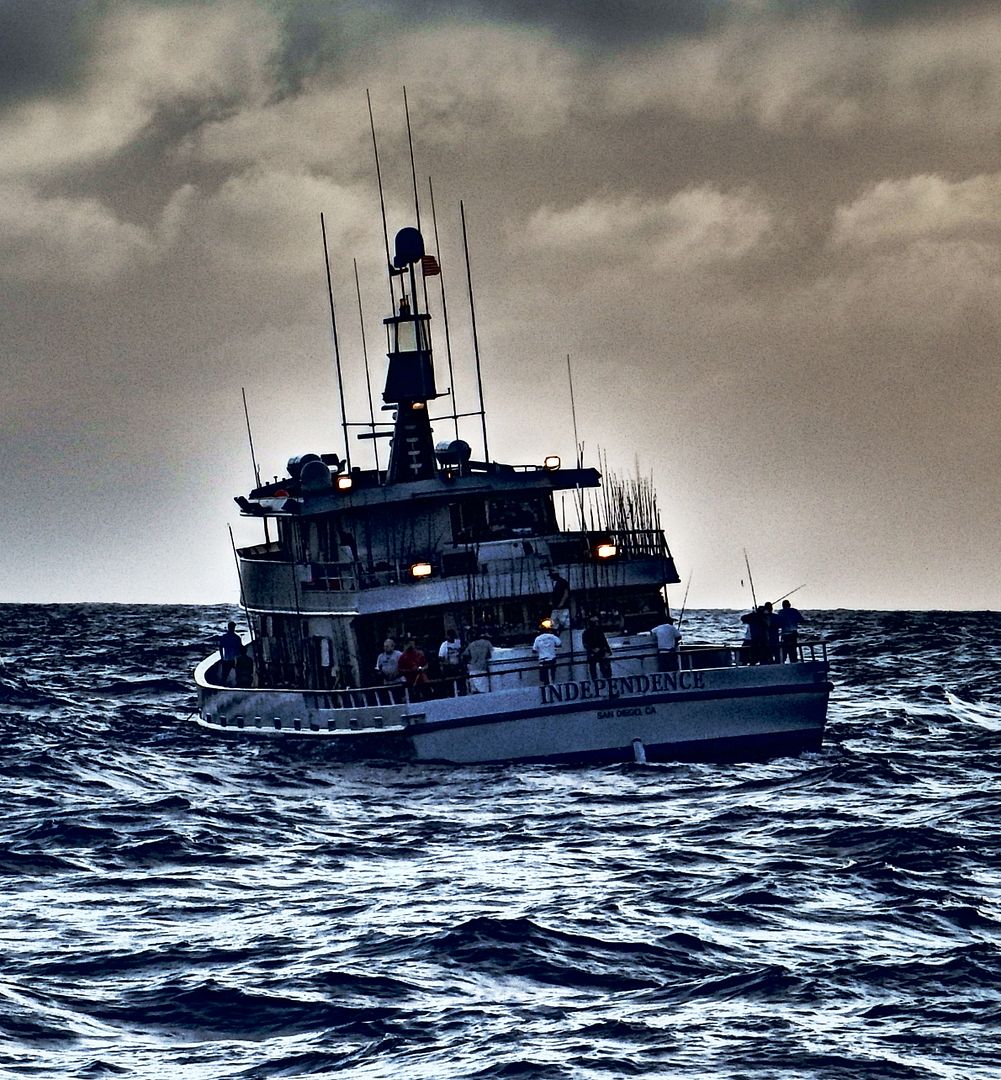 We had a few fish on the boat before breakfast, and I snuck in at 2nd call, and enjoyed Huevos Rancheros. Thanks Robert!
Today's wahoo fishing was pretty typical with severe casualties suffered by pretty much everyone, with the exception of first time wahoo angler Jason, going 4 for 4....amazing!!!
Justin, a kick ass fisherman, nails another "Fckn wahoo"!
I was pretty stoked, managing three; one each bait, trolling, and bomb. One of three bomb strikes, was just that, an explosion as a wahoo ate my bomb as we were pulling the anchor, blowing up 20 feet from the starboard corner...ultimately winning its freedom. The other was early in the day, and just came unbuttoned. I lost at least five bait fish, for the one I caught; pulled hooks, including one stern to bow dash, which ultimately ended in a pulled hook. The other heartbreak was a long fight, ultimately decided by a shark that first spooked my fish pretty close to the boat, and then apparently ingested said wahoo, as wahoo then turned into shark.
Tim the ex-Navy pilot, now commercial pilot, was hot, with 7 or 8, again with the typical casualties. Justin was also hot with 6, I believe all on jigs and bombs. The Excel crew "excelled" under the pressure of high energy wahoo fishing; pulling off some amazing salvage jobs, resulting in many hoo making it into the RSW, that would undoubtedly have been lost without crew assistance.
Somewhere, in all of this we found time for lunch and dinner.
Lunch - Philly cheese steaks with curly fries
It's getting late, and George is still on the hunt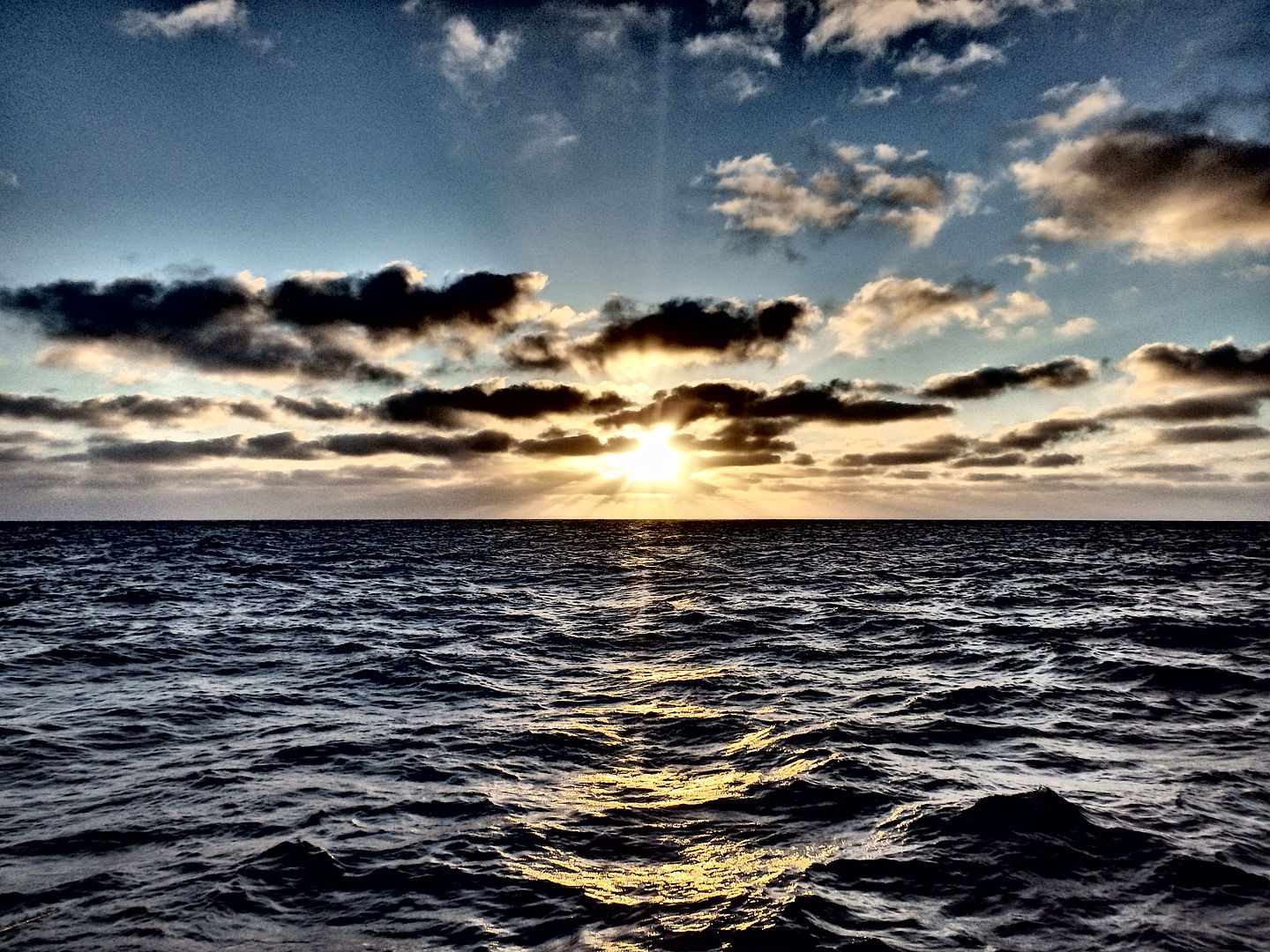 Persistence pays off, George nails one as the sun goes down
Followed by dinner- Chicken parmesan, with pasta, salad, and chocolate cake
After dinner time was spent changing top shots, re-rigging, tying more bait leaders, and otherwise recovering from a fun-filled day.
This day would not have been possible without the constant hustle by the crew, with countless salvage jobs by Mike, Loust, Joel, Travis, and Chowdah. Well oiled machine!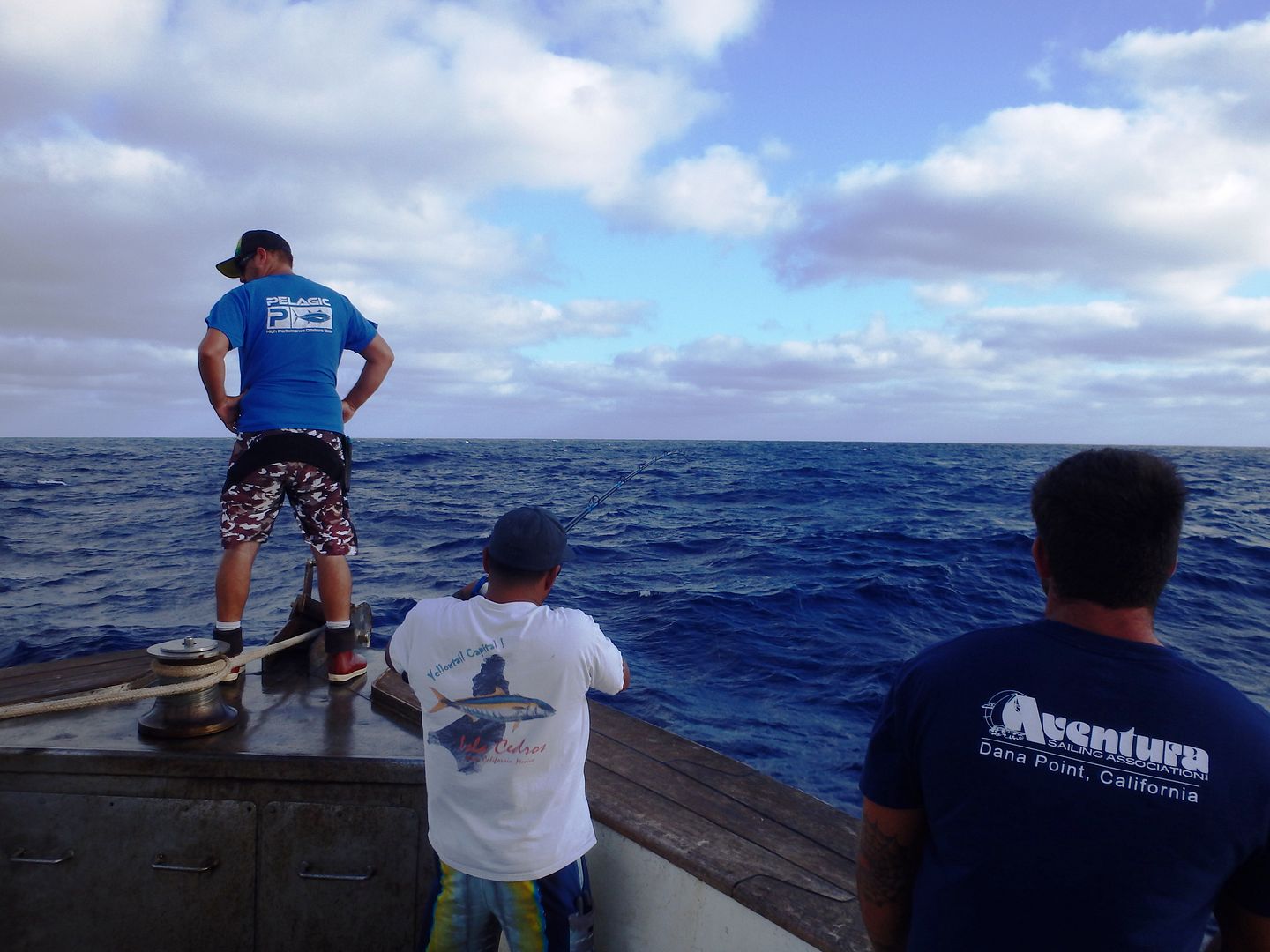 That is all for tonight....I'm beat!!! Hoping for another whooiffic day tomorrow....
Day 7---10/3. We awake to day two at the rocks, and are in the alpha position, with the Indy gone, and the Red Rooster III, scheduled to arrive around 0900. Two main shots of fish, one shot that went from daylight and ended at about 0930 for about 45 wahoo, and a second for about 20.
All of the skin at the Rocks were nice grade fish. Though I am a devout jig slinger, I opted to focus my efforts with bait, as the bait bite was pretty steady, with the normal casualty rate that is part of wahoo fishing. The jig fishing both days was tough, personally I came tight on bombs and jigs 6 or 7 times...though only landed two in the two days, both on bombs. My bait fish production was probably a 1:5 ratio.
Breakfast - Biscuits, sausage gravy, fried eggs, and what else....sausage links. I think I had two of my three wahoo for the morning when they called second call...2 and 2...a certain symmetry.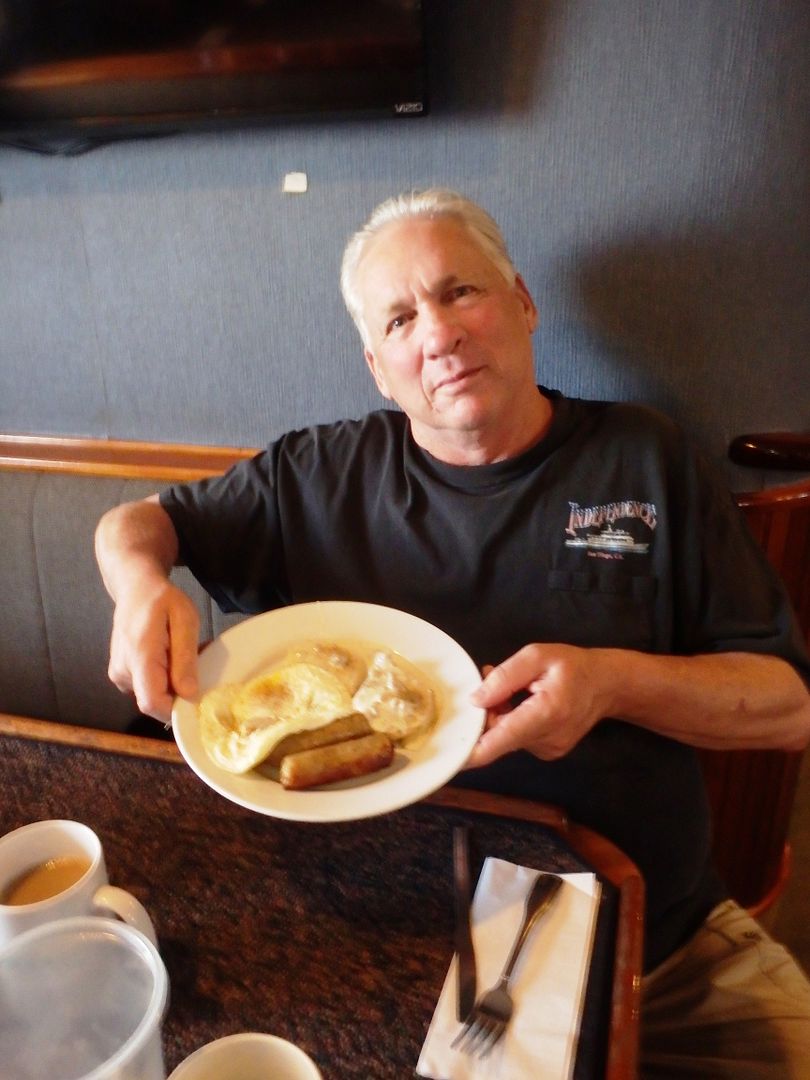 High points of the two days at the rocks: Three totally visual strikes, with a bomb fish blowing up on the bomb in close and personal, two mega-boils on my baits...that turned into fish. Of these exciting visuals I landed one, though well worth the price of admission.
Nice one for Ed, gaff by Chowdah!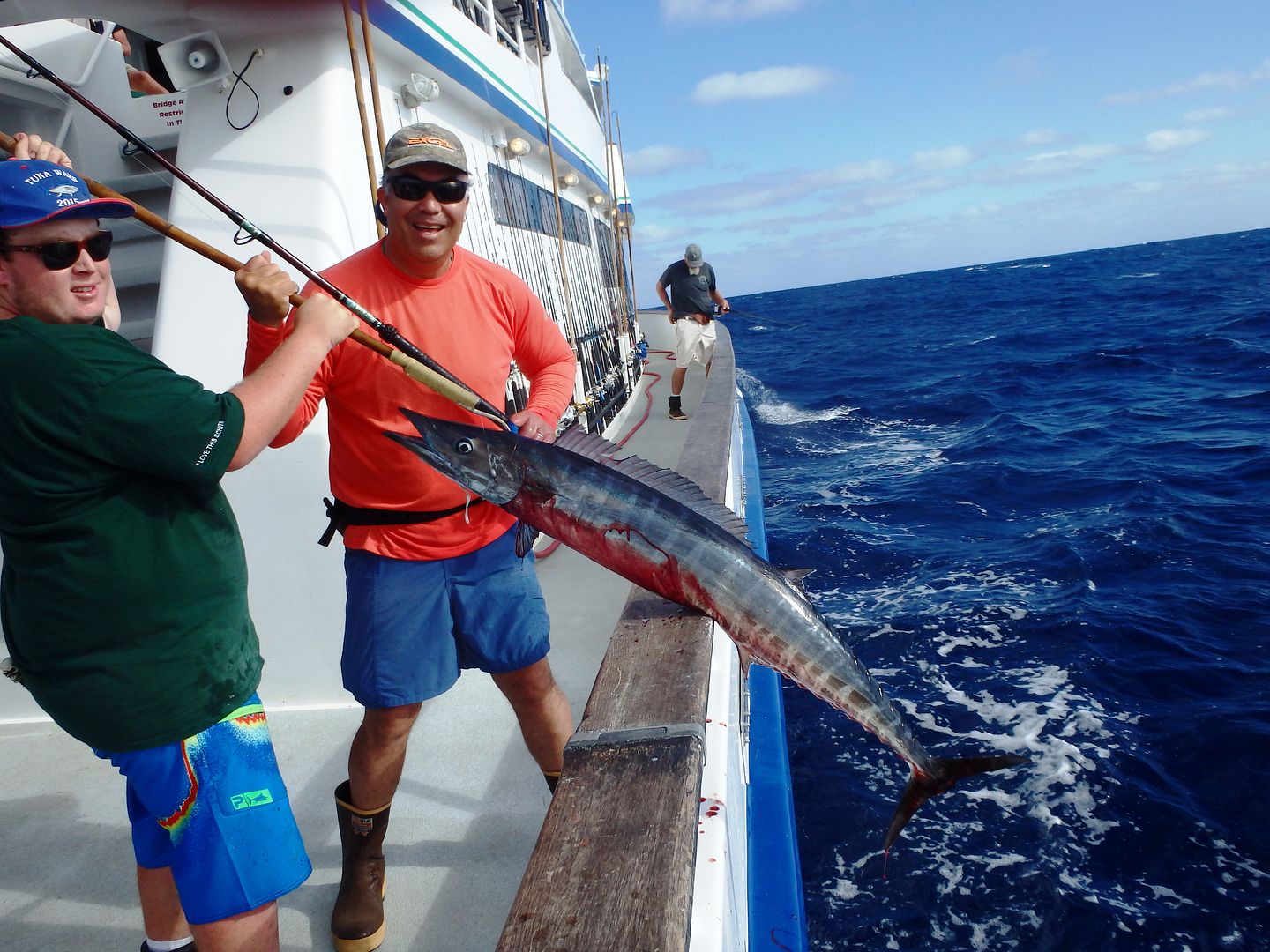 The seemingly undefinable change in a fisherman's fortune plays out day-to-day, and hour-by-hour; as what worked early stops working later, and changes made to match what other are doing go unanswered. Examples, Ed drew a bad hand on day one, though getting bit consistently, he blanked; though on day two, in the first half, nailed three bait fish, despite giving it hell throwing jigs and bombs, getting bit, but unable to get them to stick..
Tim's fortunes reversed, he was hot as hell on day one, cold on day two. Tim's an ex naval aviator, and a very accomplished fisherman, who was more than happy to share knowledge. His day one performance kept him high in the standings, despite a tough day two.
George the ex-sportboat deckhand, now tugboat crewmember managed one late in the game on day one, and nailed three on day two.
Jason a newcomer to wahoo fishing went 4 for 4 on day one, and paid the price on day two, becoming friends with the terrible odds associated with wahoo fishing on day two...blanking...hello little skunk.
Justin was hot both days, attribute it to age. Young man was a solid fisherman, and like Bruce's son Jessie (missed the trip this year), was full of contagious energy. Justin was an absolute machine, making cast after cast, and greatly rewarded through shear perseverance. "
[email protected]
$ing wahoo"
Bottom line when the smoke cleared on day two, we had amassed a nice two-day catch of over 100 wahoo, all passengers will come home with at least 1 wahoo, and many with 3 to 4, and several with 5 or more. I personally tagged 7 at the Rocks....really stoked! God only knows how many were lost....100's
We spent a leisurely travel day, after leaving the rocks around 1100, running back into the Ridge. Lunch was red and green enchiladas by "Jake"! Lunch - Red and green enchiladas, beans and Spanish rice. Lunch was served after we left the Rocks. Went in for second call, and Ed an I were joined by Mike Ramirez, Loust, and Chowdah. Leisurely bull shit session, talking fishing, and life in general with the crew was another highlight of the trip.
Trollers remained out as we ran back in
Somebody was sleepy (Bret)
Dinner- Rack of lamb, orzo, and heirloom carrots. Jake's rack of lamb will change you if you are like me, not a big fan. Most excellent! Dessert was a hot freshly baked cookie, topped with ice cream, and whipped cream. Sleep came quickly after this meal!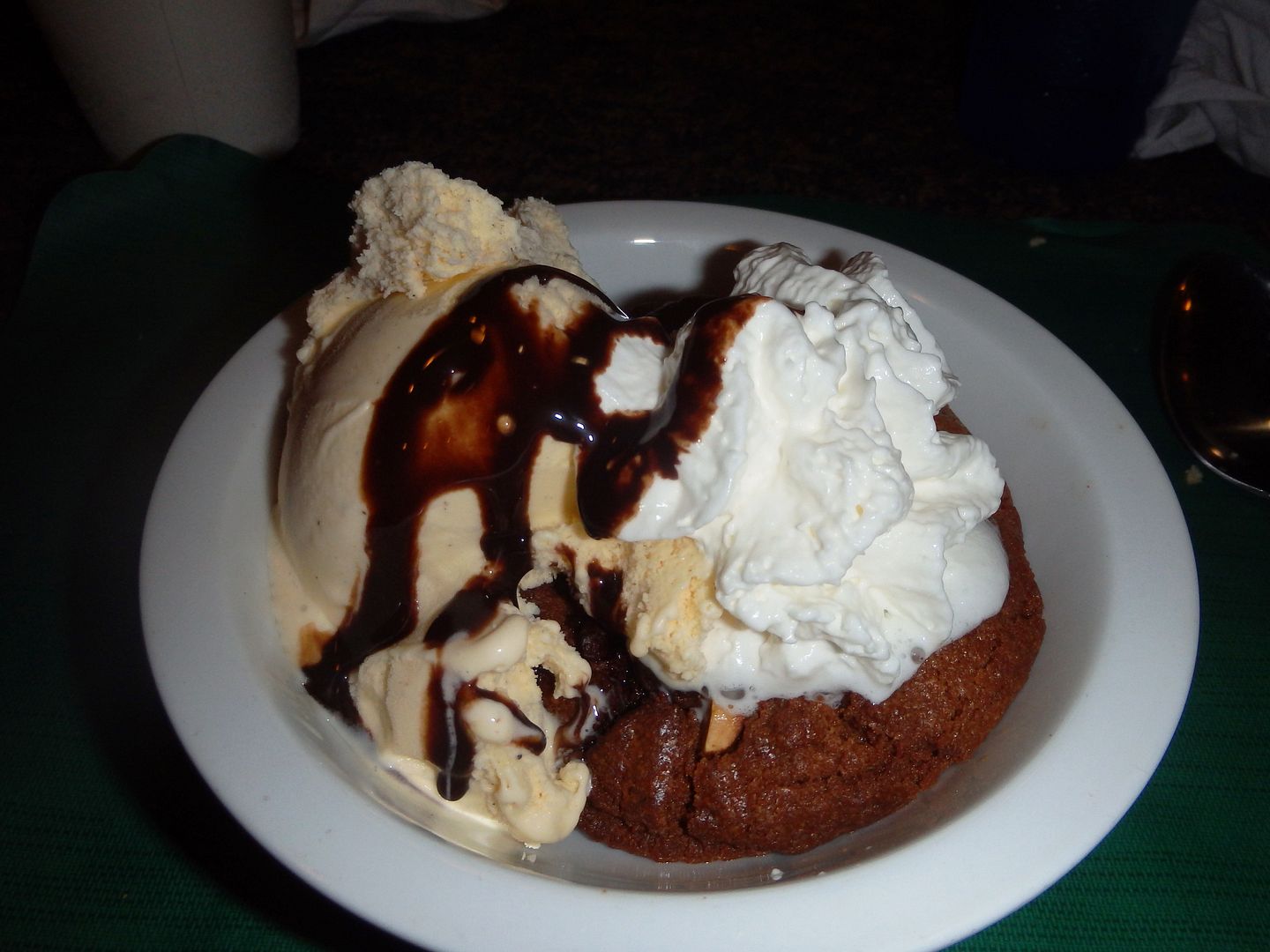 Day 8---10/4 Sometimes you're the windshield....and sometimes....you're the bug. I was feeling pretty "splattered bug" today. Quote of the day attributed to deckhand Travis..."Hey John, you kinda lost your touch".
We arrived back at the Ridge around 0600; and were greeted with no great sign of life on the first anchor job; a couple tuna, a few yellows, and a lone grouper by 0715. We get back on the prowl, with the trollers back in the water.
First call for breakfast for Poco Loco, white rice topped with a hamburger patty, and two over easy eggs, and brown gravy.
So we had a decent scratch bite on nice ridge school grade tuna, with 40+ landing in the RSW, along with a couple yellows, and 2 or 3 grouper this morning. This was just one of those days for me to be humbled by the fish gods. As is normally the case, a majority of the fish are often caught by a minority of the people. Today was simply my day, along with a few others to watch, and ponder what we were doing wrong. I'll be honest; I absolutely hate getting my ass handed to me by the fish, and don't react well when it happens. Throughout the trip, I have been able to apply newly learned tactics, thanks to the generously shared tips provided by crew, and fellow passengers alike on this, and on past trips. Much of this I directly attribute to my success on the wahoo during our two day stint at the Rocks, so thanks out to those that knowingly or unknowingly have helped me!
No doubt, as I reflect on today, while waiting a year for the next trip, I will gain some tiny insight into what went wrong; though I doubt there will be anything akin to an epiphany, or the "ah that's it" moment that will allow me to never again experience a beat down like that again. I vow to simply enjoy the moment, whatever that snapshot in time brings, be it wide open or scratchy fishing, another skunk, or simply being out there, on the water, sharing the incredible experience that makes longrange fishing so cool! Carpe Diem…Seize the Day, or properly translated "pluck the day while it is ripe", or "embrace the day instead of simply believing that it will all work out in the future". Or simply treat every day as a gift, whatever it throws at you.
Now as I write this as we slide up the line, I realize with much disappointment, and a bit of embarrassment, that I did not take a deep breath, when it wasn't going my way, and at least capture the action with the lens. Because of this, I will have blown the first part of the day, with minimal time behind the camera, yielding only two fishing photos; Jan the "Lady Angler in Red" on one of many fish, and my longtime buddy Ed on a surface jig tuna. I can only hope that the second half of the day will give me the opportunity for redemption.
Jan is always on
Ed with a tuna on the skip jig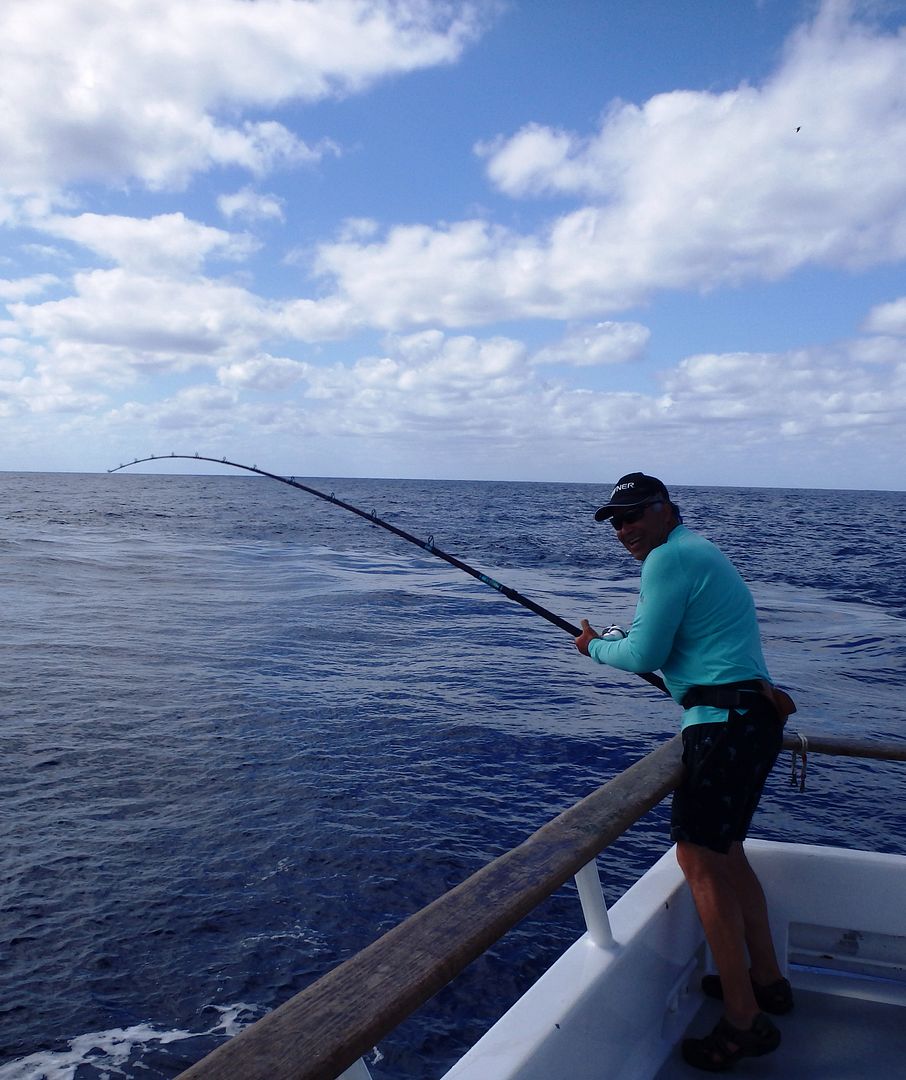 Lunch - Fun lunch, "Tailgate Party...Excel Style". Hot dogs, sausage, sliders, chili...and all fixings. Fun vibe with people eating inside, and out on deck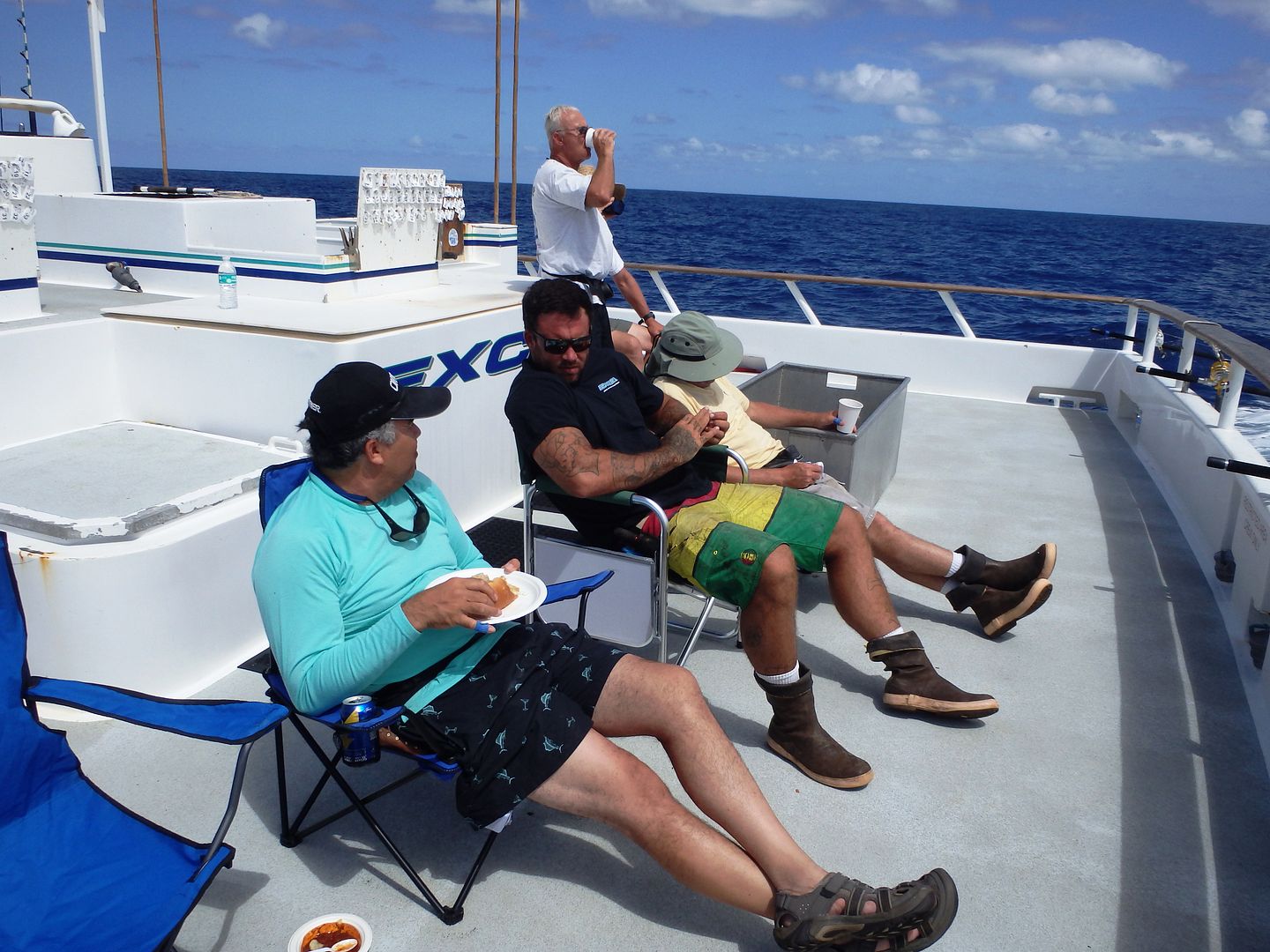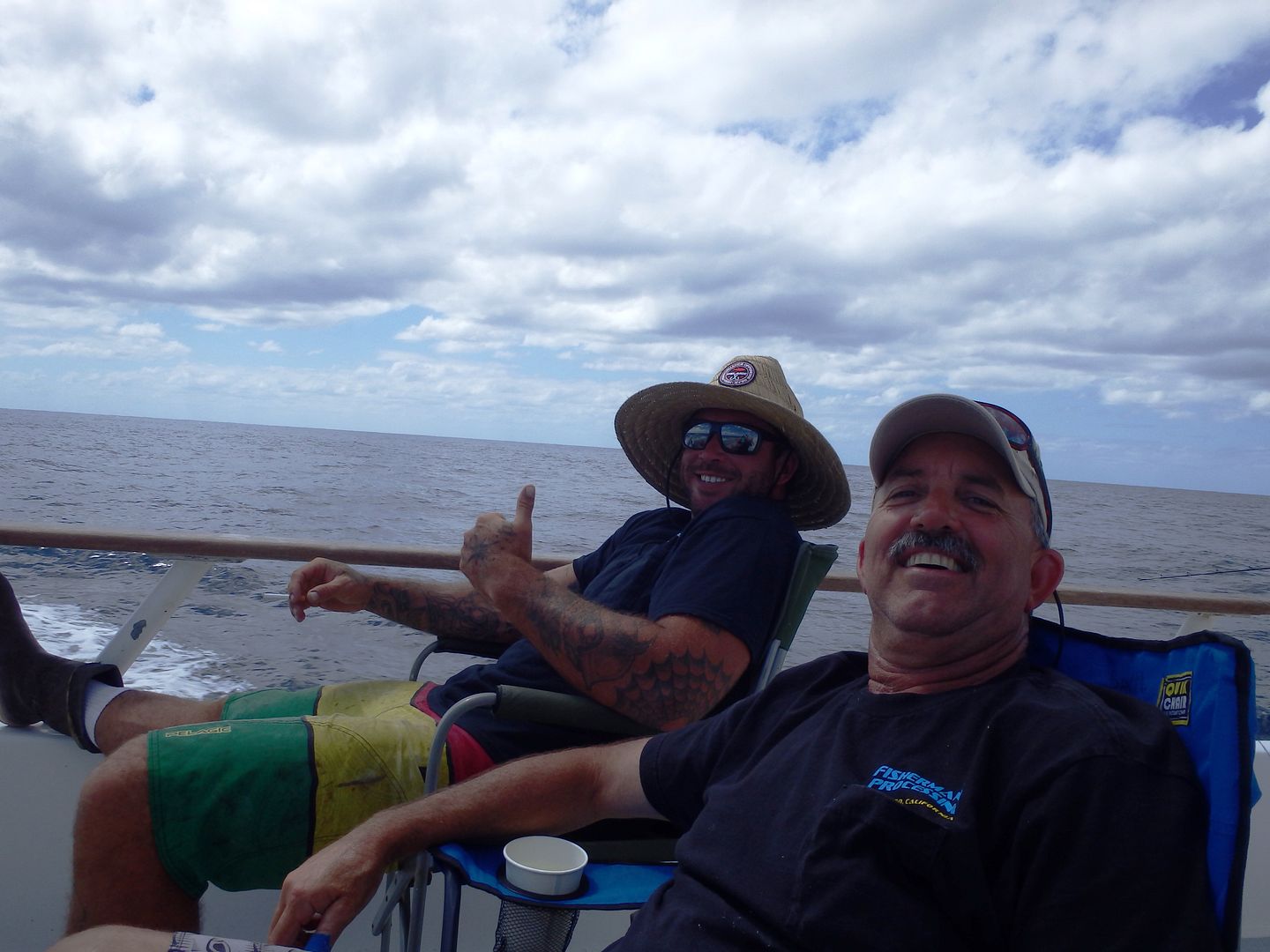 Not long after, we get a wahoo jig strike, though the fish came off for Bruce despite doing all the right things.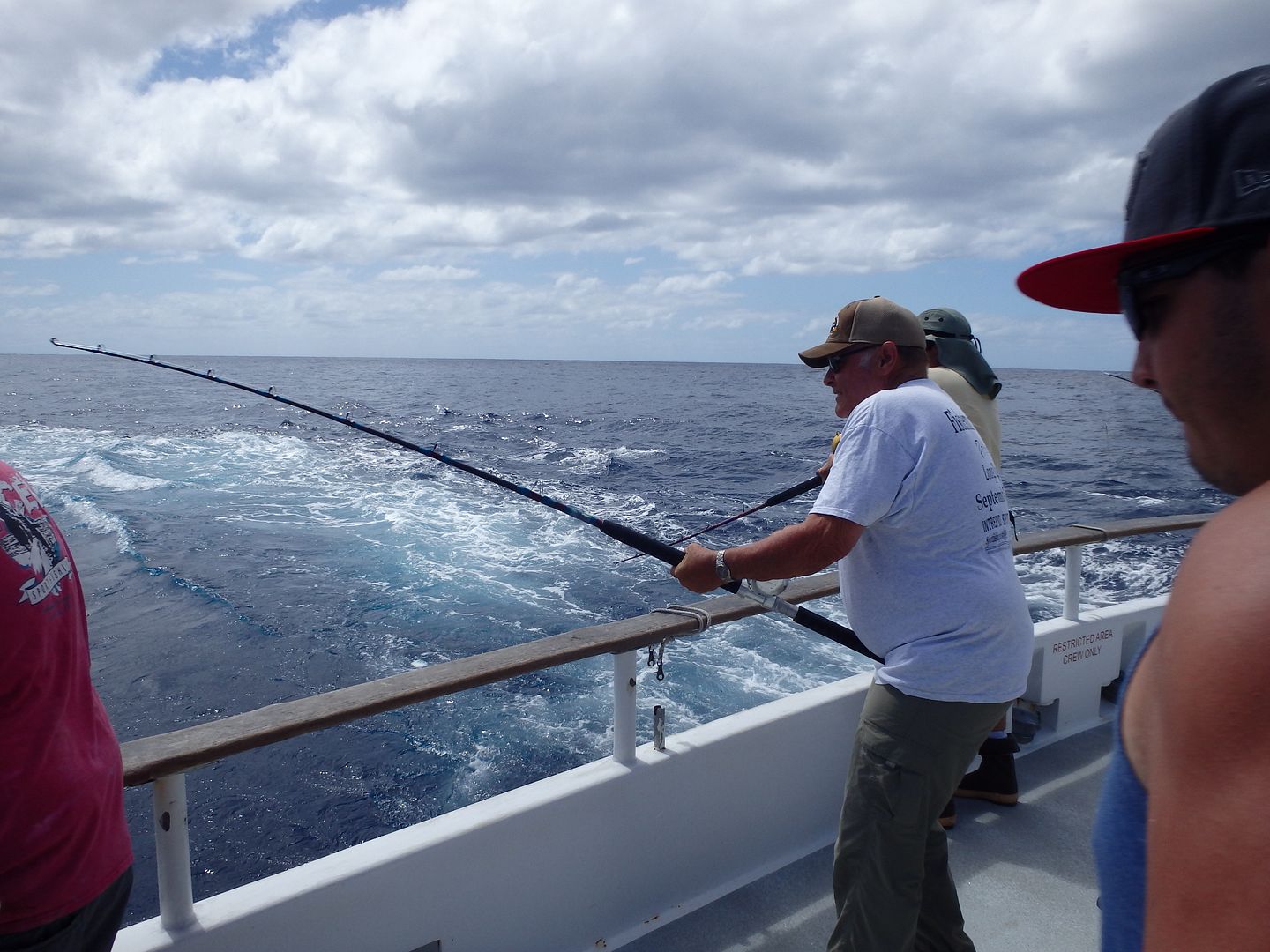 Found some small grade tuna, which bit the poppers, jigs, and bait. I caught two, one on a popper, and one on the new Ulua...both fish, though small, offered a redemptive quality, and served to check two blocks, catch a fish on a popper, and catch a fish on the new Ulua that was wrapped by Eric's Tackle in Ventura.
Total redemption comes later in the afternoon, as we start getting a few troll stops on wahoo, with a few bomb fish. I connected on my 8th wahoo, coincidently about 10 minutes after tying on a bomb....all about timing! As always, the crew is always right there, in this case Loust, was right there making sure I didn't screw up! Seize (the 2nd half) the Day…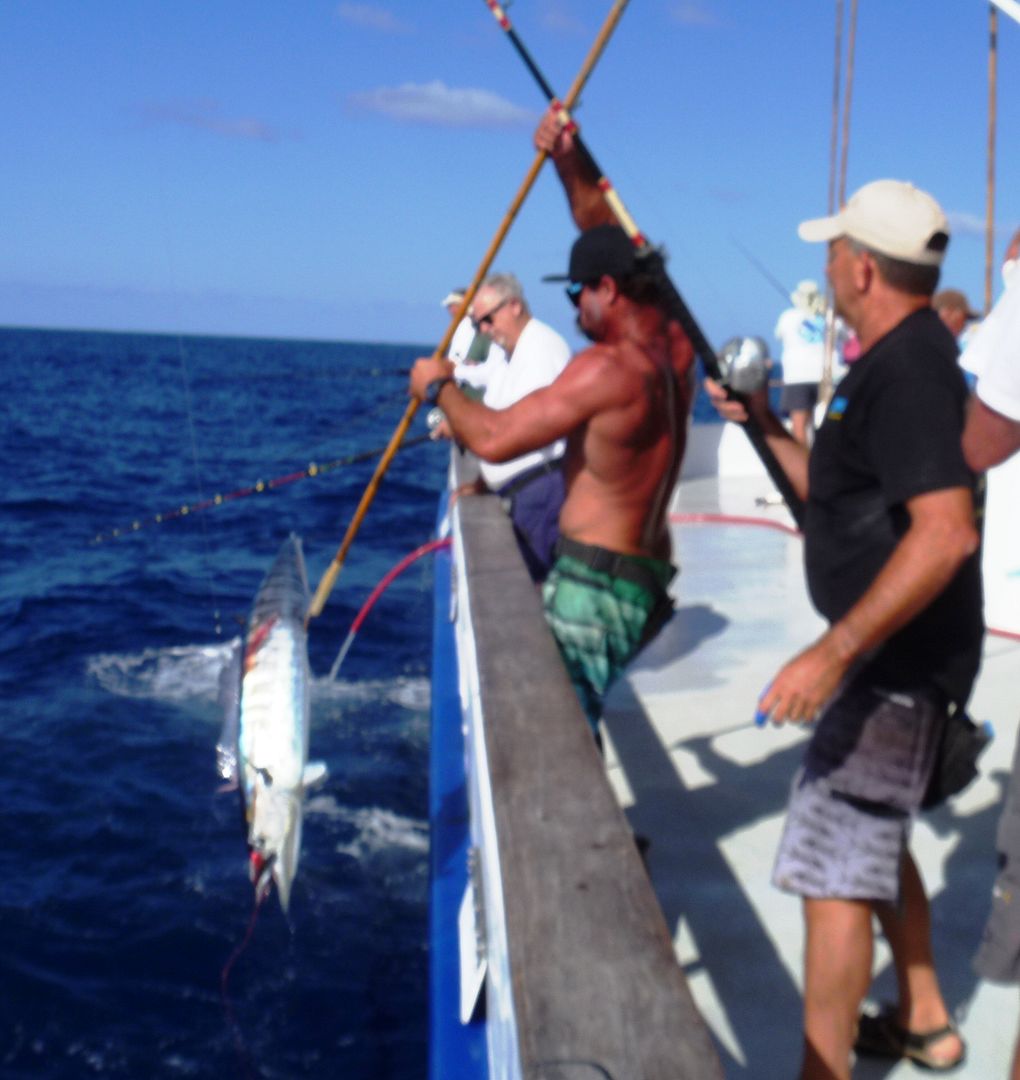 Another "FCKN WAHOO" for Justin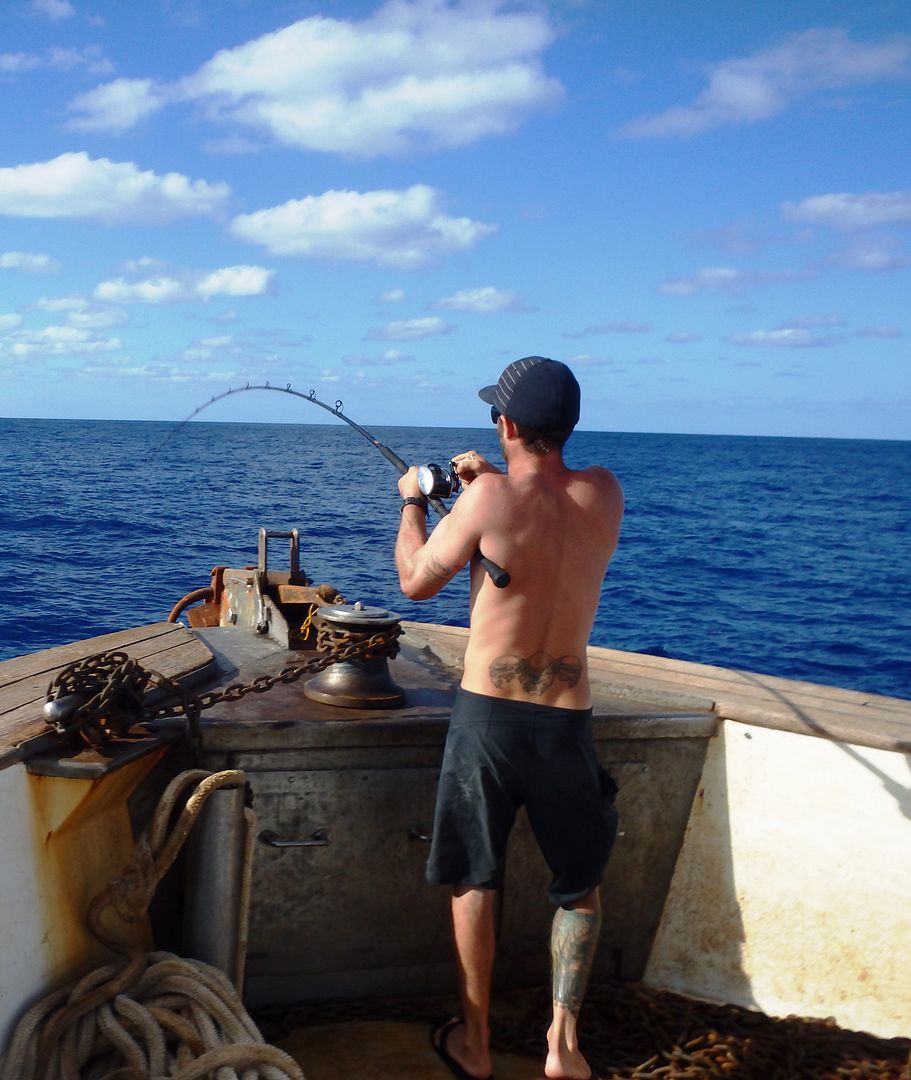 High point was when Port Hueneme Port Pilot Keith, finally managed to knock the wahoo skunk off on the troll. Now everyone has caught at least one wahoo. With three crew members surrounding him, that wahoo was coming aboard!
For the day we had 40+ yellowfin, 2 grouper, a few yellows, and 13 or so wahoo. Great weather all day, no swell, light wind, and the oppressive heat of last week thankfully absent.
The day draws to a close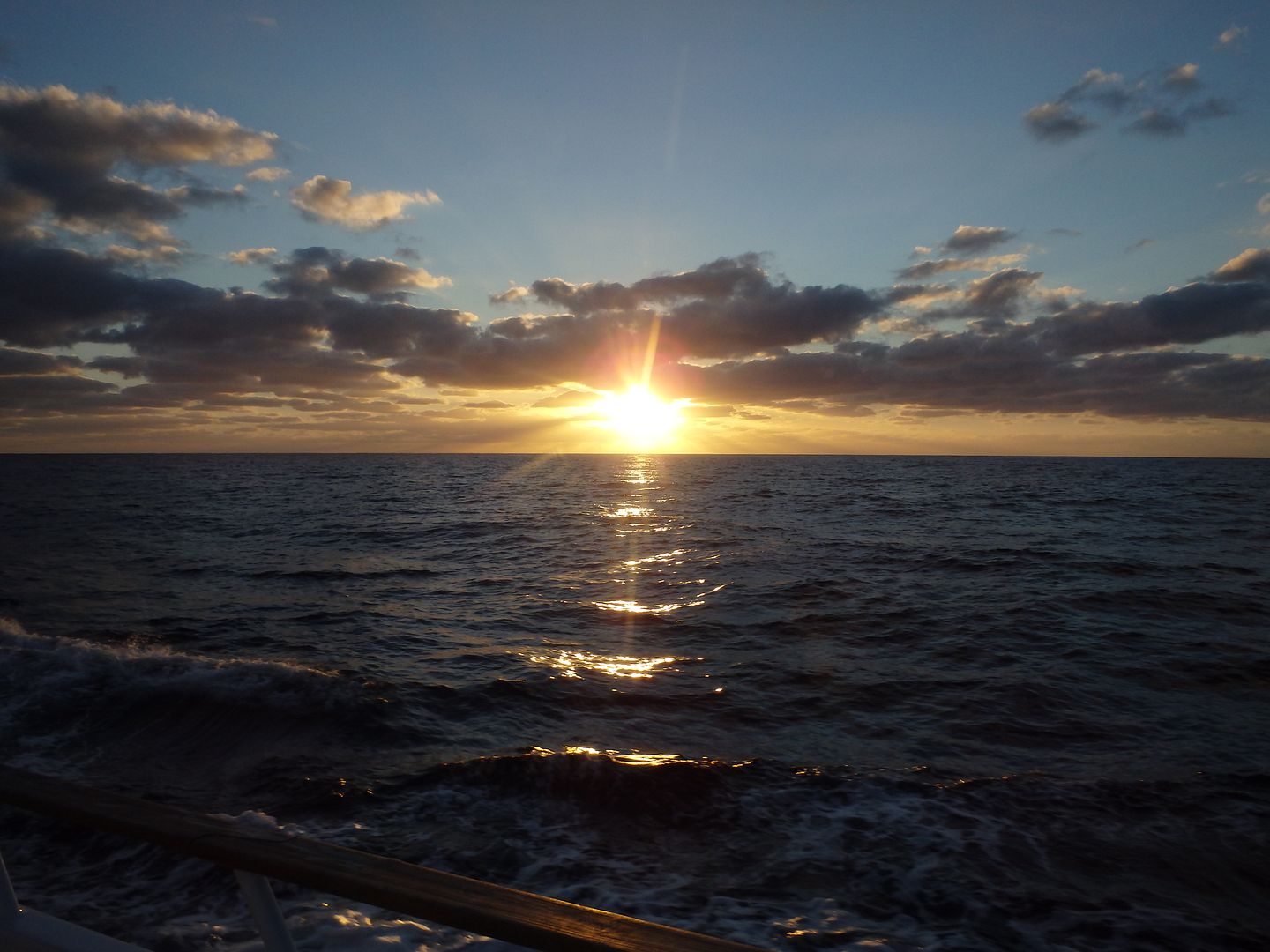 Dinner - Filet Mignon, served with garlic mashed potatoes, and asparagus. Dessert was chocolate cream pie
Justin laid out the remaining two days; we would travel up all night, arriving at Cedros around 1130; where with our remaining bait supply only sufficient for hook bait for dropper loop fishing, we would fish with the dropper loop and the yoyo jigs for yellowtail until around 1730.
We will then make bait, and spend our last day offshore looking for kelps, hopefully with hungry mahi, that remained in hiding thus far. We'll see if the plan translates into reality.
Day 9---10/5. Travelling up the line, in good weather, went up for first call for breakfast, and enjoyed bacon, scrambled eggs, and french toast.
We all spent some time reorganizing tackle for today's fishing, focused on yoyo and dropper loop yellowtail fishing. With the trollers out, we did manage one more wahoo a couple hours south of Cedros. Looked at one kelp, a micro-mahi was caught and released to its mothers custody.
Cedros proved again to be stingy with the yellows, continuing our generally scratchy fishing that we have experienced throughout the trip, with the exception of our time at the Rocks. Alex is on.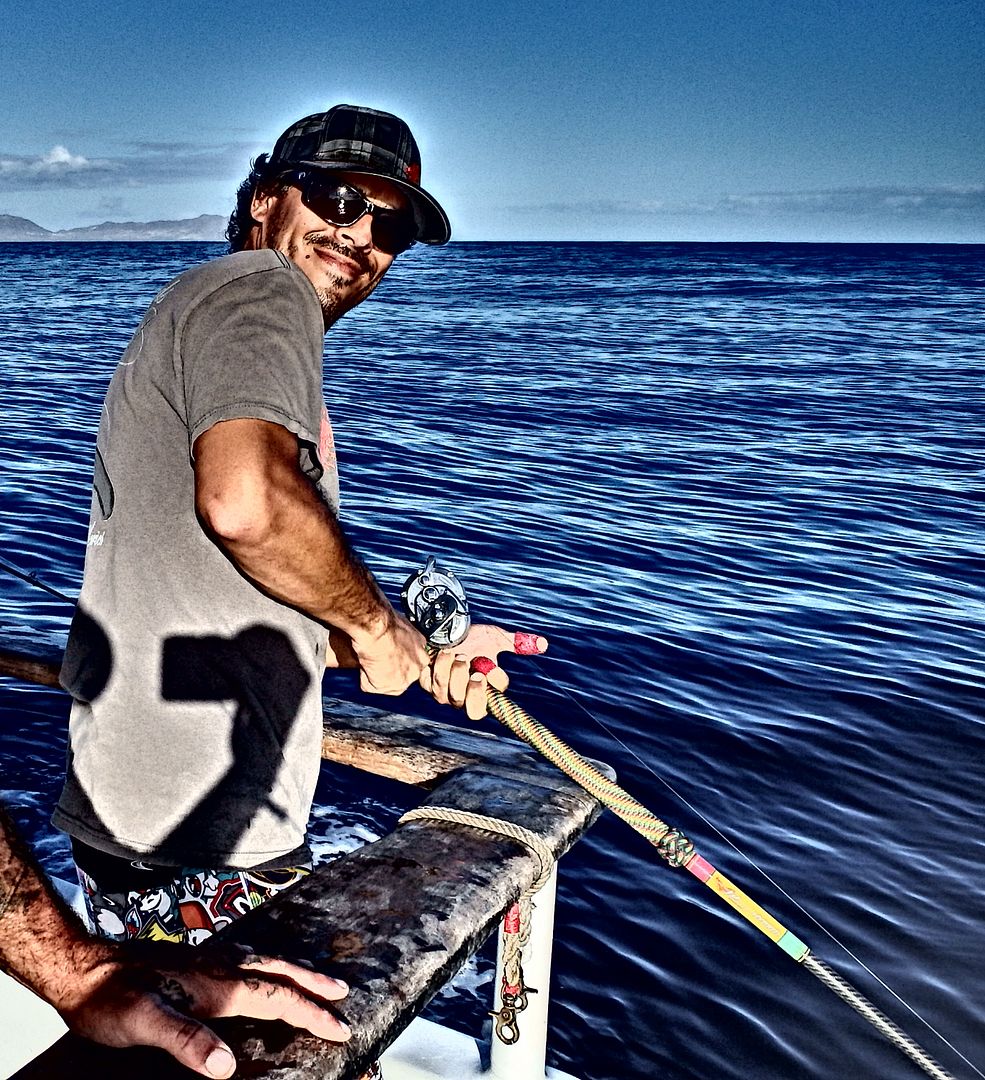 Tim scratched out one, to the amazement of all, and a bit of "gentle" ribbing from the crew.
Lunch was pulled pork sliders, coleslaw, and watermelon.
The afternoon snack was a killer sashimi and sushi spread; with rolls, hand-rolls, and poke in more than ample quantity. To wit, Ed skipped dinner!
George, Justin, and Alex were the three hot sticks today, putting over half of the 32 yellowtail on the boat for the day. A couple had 3, a few more with two, and a good number of blanks on the board...one of them days... I managed two, and that was after a gazillion high speed retrievers, watching George hammer 10 on the yoyo, I could not detect anything different...except, he was using a sardine bait wrap 6Xjr. Again the fickle nature of fishing that my buddy Ed and I discussed on our final evening of travel was again in full display...
We ate a relatively early dinner in the lee of Cedros tonight, to put us in position to make bait, as we had essentially exhausted our load of bait over the course of the last week+. Dinner was a very nice and incredibly tender pork chop, stuffing, and green beans as well as our daily fresh baked bread and salad. Dessert was a real nice bread pudding.
We fished bait for about 1.5 hours, getting enough to fish kelp paddies from daylight until 1500. Tim continued his trifecta of low production on bait, yoyo, and dropper loop fishing...guess it was not pilot proof. It has been reported that there are a few kelps holding dorado as well as wahoo....hope we find the right one. Spoil alert....that didn't happen.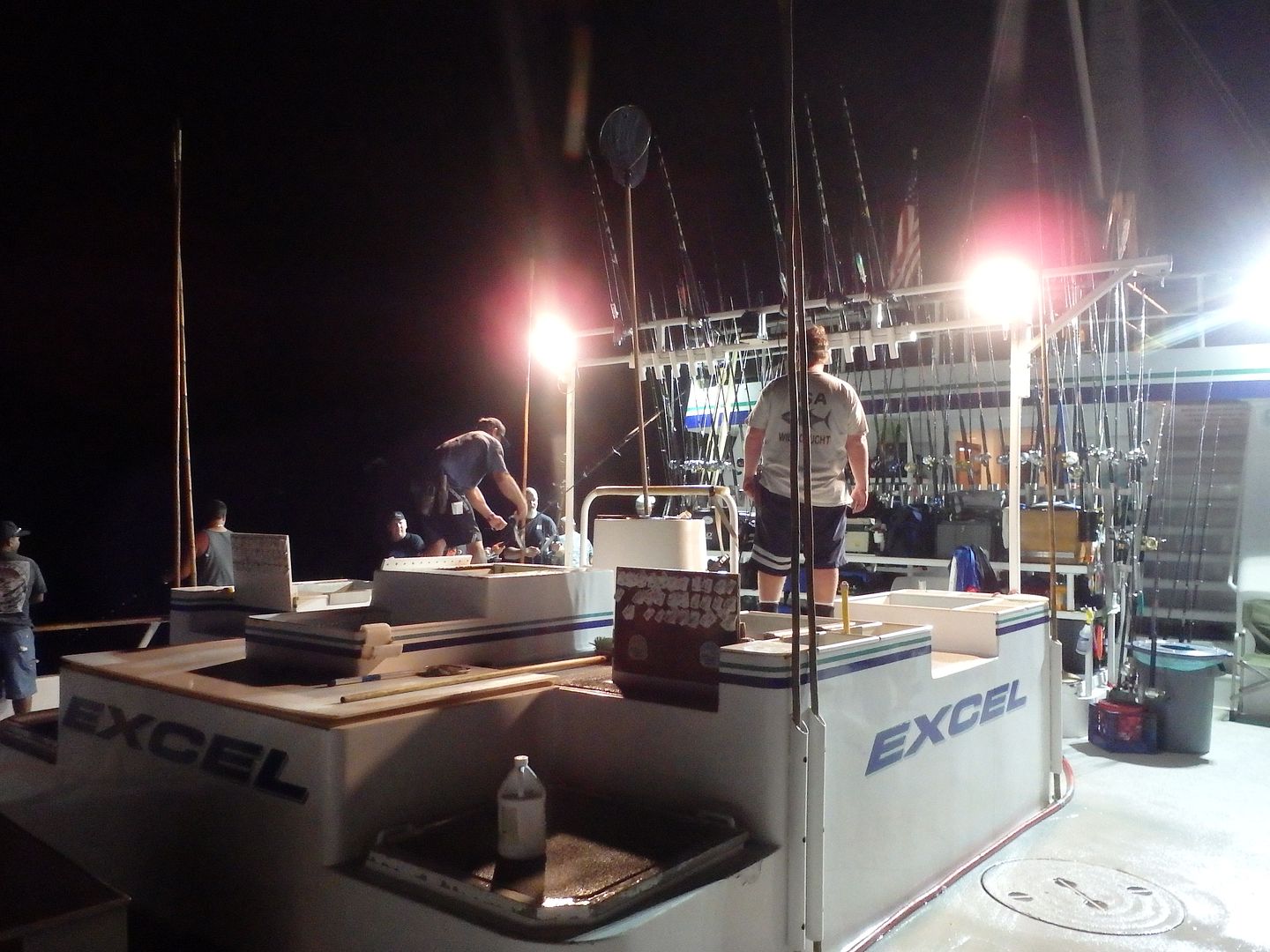 Started some consolidation and breakdown of gear, though the bulk will be completed as we work our way up tomorrow.
Day 10---10/6 After an ultra-smooth ride uphill, awoke to near glassy conditions.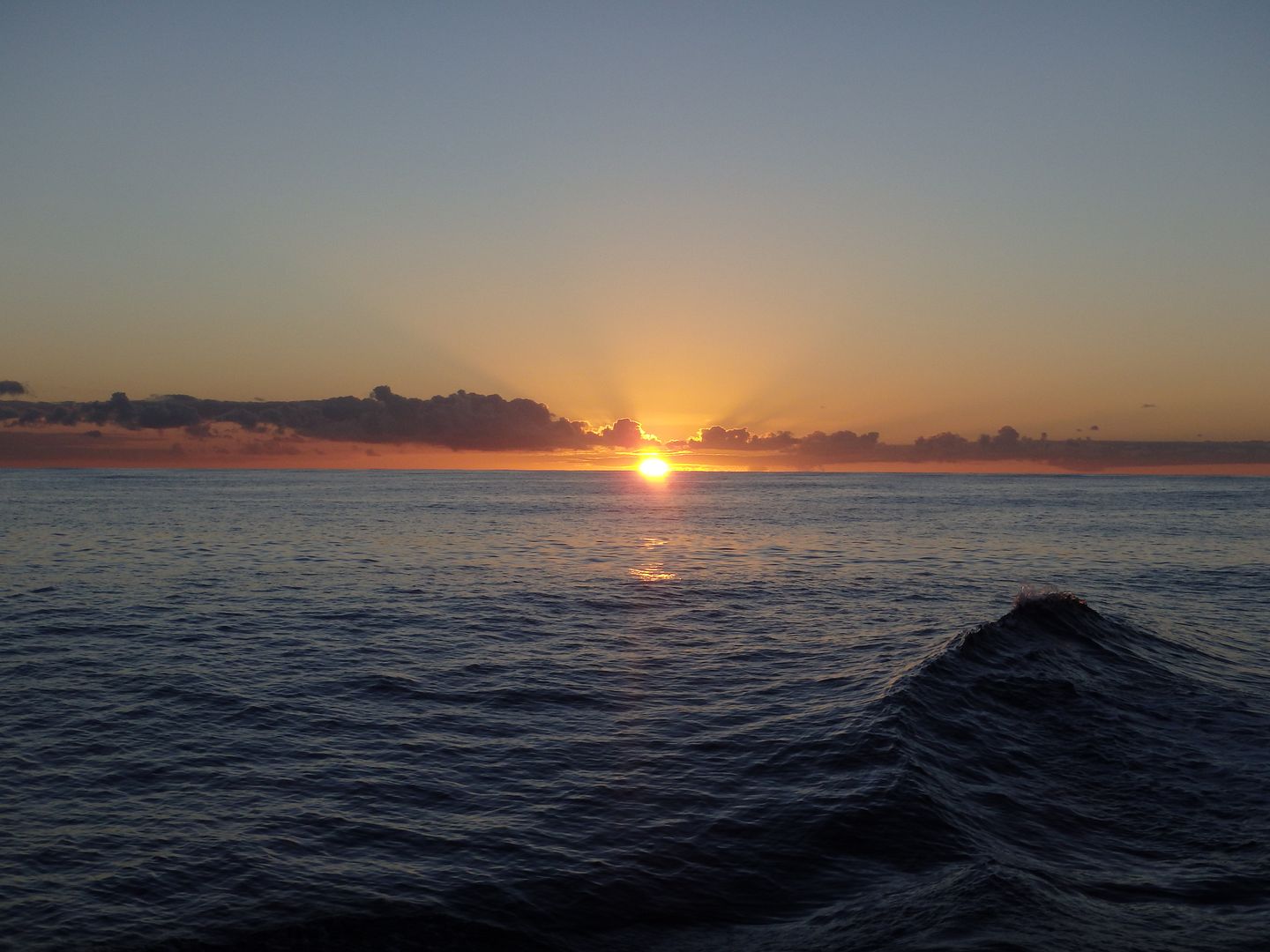 We ate a leisurely breakfast of corned beef hash and over easy eggs, and toast.
After breakfast, many of us began breaking down all but a few setups, with a continued, though diminishing hope for a couple good stops on kelps. We have two tanks of mixed spanish and greenies, so we are locked and loaded if given the opportunity.
In our travels we saw a nicely packaged bundle of no doubt Mexico's number one export...
Saw a big spot of porpoise, hoping to find vast quantities of accompanying tuna, though again, no joy...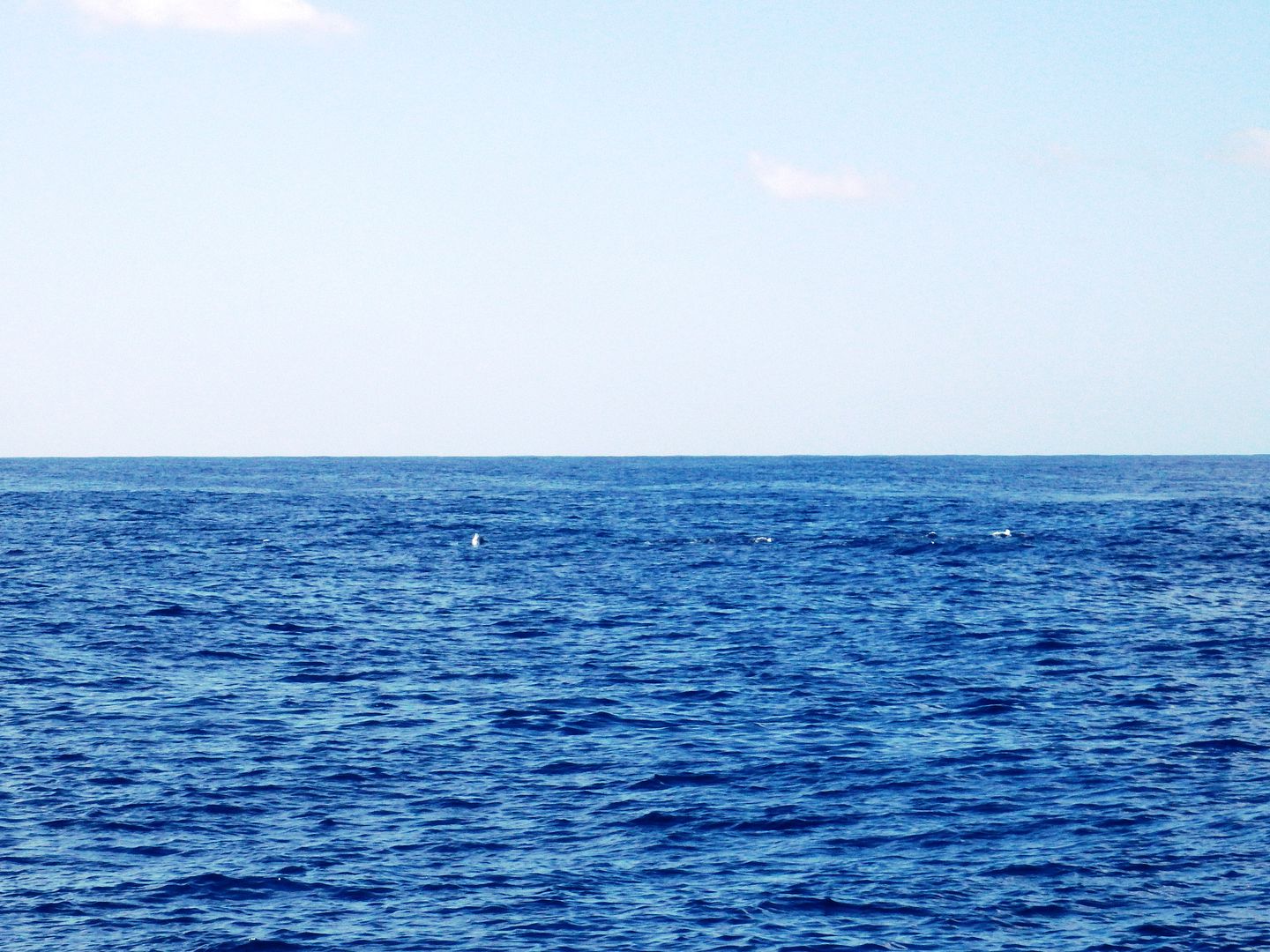 Around 0900 trollers picked up a single wahoo. It seems that this trolling team was really good at really long troll rotations…just saying.
An uneventful day was punctuated only by food, tackle breakdown....and more food.
Lunch --- Croissant sandwich with turkey, bacon, and swiss.
We all continued the tackle breakdown process incrementally until Justin officially ended the search for kelps around 1530. Final breakdown signaled the end to a fun trip. With all gear stowed, clothing and miscellaneous gear repacked for the eventual flight home, it was somehow time to eat yet again.
Tonight's final dinner party at table 5, was out of control....but we laughed long and hard! Dinner was final night signature Excel Prime Rib, asparagus, and au gratin potatoes, started with a spinach salad and fresh baked bread. Beth was a bad influence on all of us alter boys...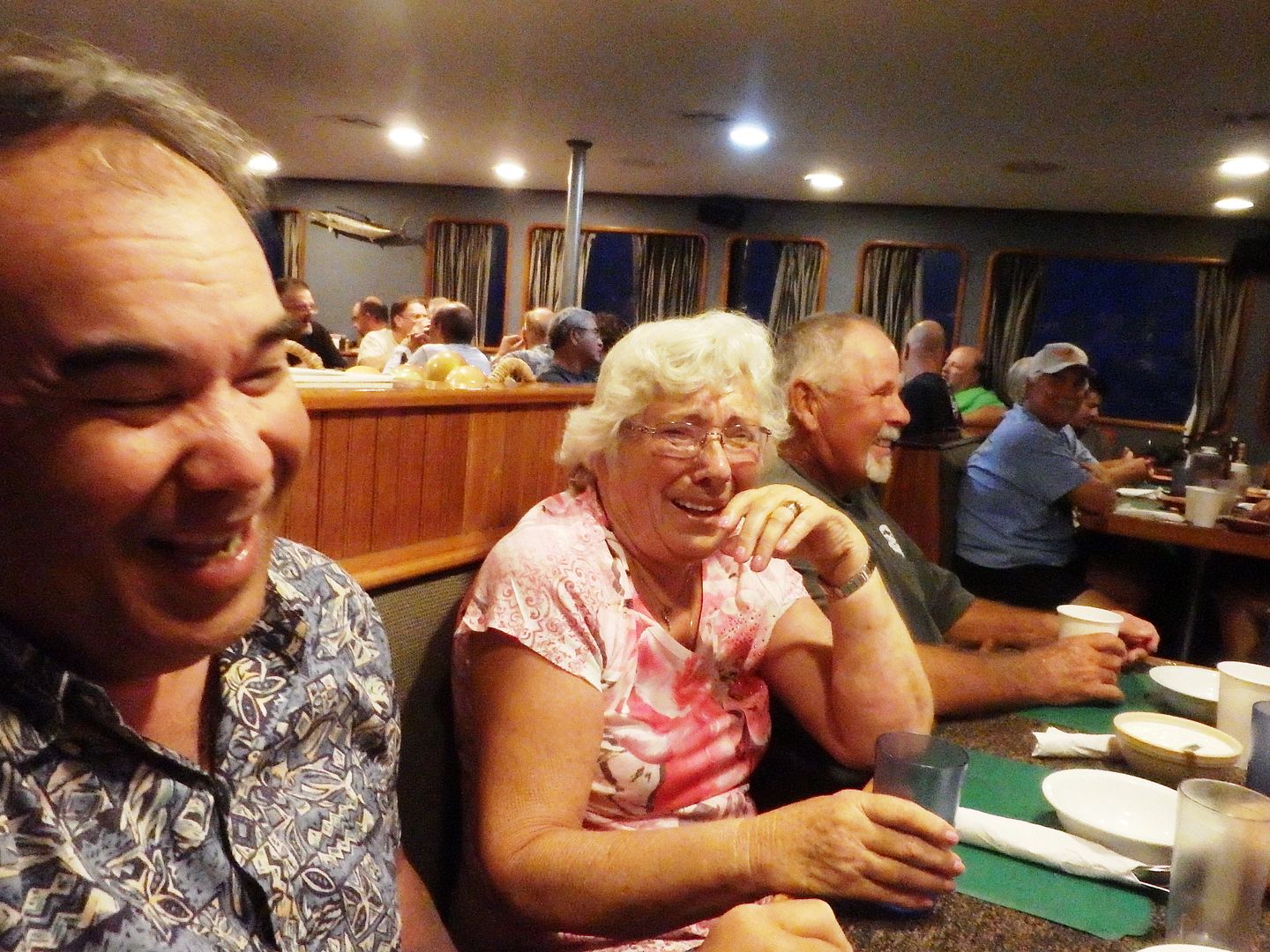 Great ending to the adventure....
Return Day---10/7. We arrived at the dock, and proceeded to unload 10 days' worth of stuff. I hooked up with Mike Morris from Big Fish Transport, and got my gear loaded in his truck. Yup, for a travelling angler, no better way to fly! Thanks again Mike!
30 minutes after tying up, we began the fish offloading process, with Ed and I again opting to push carts with the young guns. For some reason, I really enjoy cart pushing…maybe it's a repressed desire to be a bobsledder.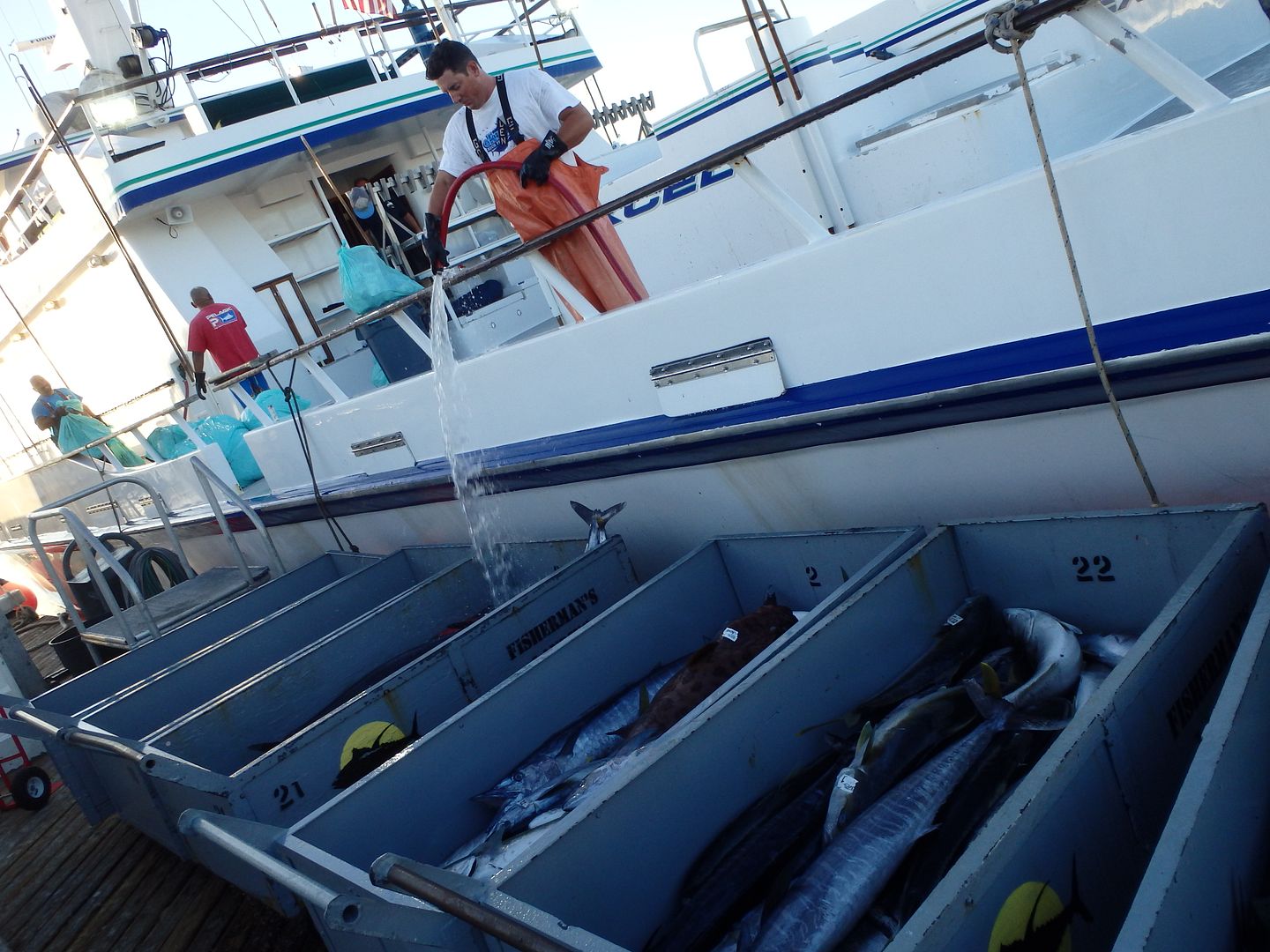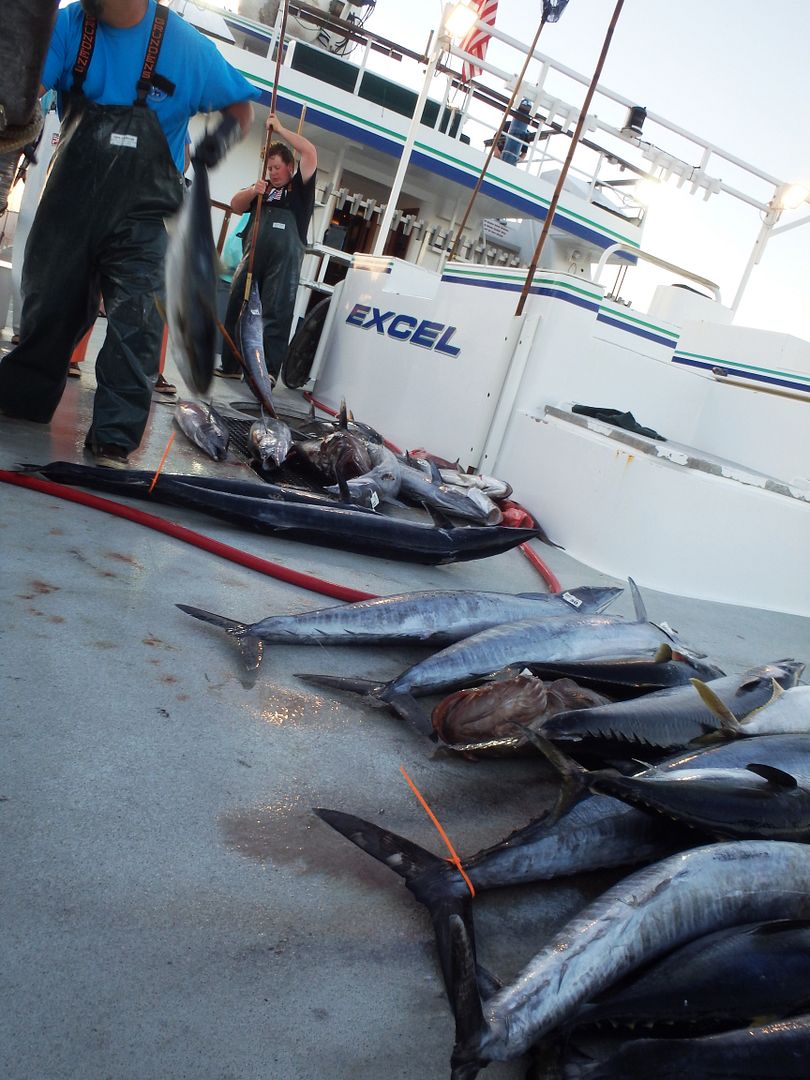 Time to way the jackpot, and wow, continued the streak, picking up second place JP, with a 42 and change wahoo.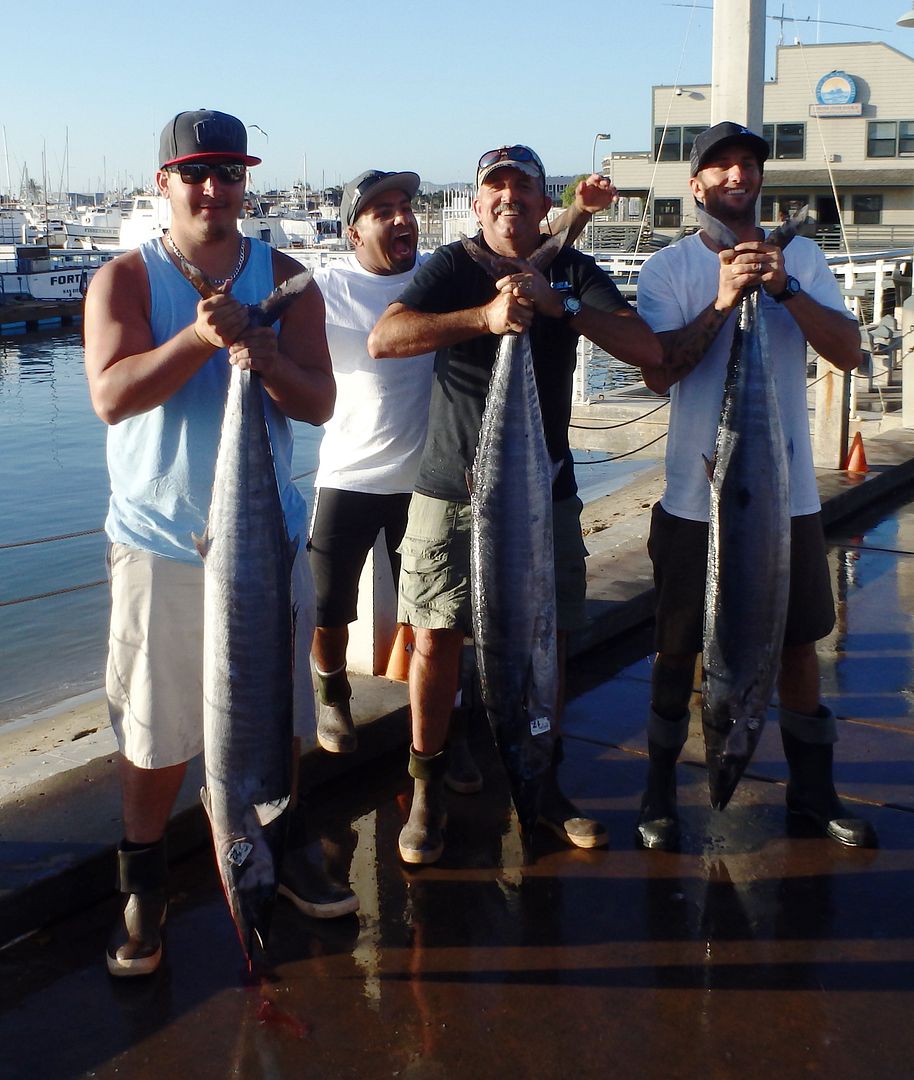 Finish up with the gang at Fisherman's processing
The trip is officially over, and I quickly change gears, as Mike and I make the short drive to the airport to pick up my wife Donata, and hop over to Mission Bay, and the "Dana on Mission Bay" for a couple days of R&R, before returning to reality.
In closing, great trip, despite generally scratchy fishing, thanks out to Justin, Mike, Loust, Joel, Chowda (Sean),and Jake and Robert in the galley.
Until the next longrange chapter. Hope you enjoyed the report as much as I enjoyed both the trip, and writing the report. In a couple weeks I will be fishing my home-waters for yellowfin. After that....it will be mostly skinny water adventures in our pristine grass flats in Port Aransas, Texas.
Last edited: