May 11, 2011
974
563
Name

Gary Graham
Boat

Watercloset
Baja Bytes Weekly Overview
​
Friday, December 26, 2015​
Gary Graham​
Que Pasa
Here we are at the end of 2015. It will remain etched in our memories as a remarkable year . . . not so much for over-the-top catches, but more for the unusual times and places that the different species appeared.
Wahoo, dorado, yellowfin tuna and marlin – black, blue and striped – were caught through November and into early December in Northern Baja, while Southern Baja struggled and groaned with envy.
With fifty-one reports containing something north of 80,000 words, we here at Baja Bytes did our best to keep you up-dated week-by-week as the year evolved with its many surprises. As I type this I can't help smiling as memories of one of the most interesting years in my report-writing history flashes by.
Our thanks goes out to all of you who contributed posts and images that helped make the weekly reviews happen. With your assistance, we will do our best to keep you posted in what I'm sure will be another exciting Baja year.
This is my final fishing report for 2015; watch for the next Baja Bytes report on January 8, 2016.
Happy New Year! Here's hoping 2016 is filled with many more Baja adventures and successful fishing trips for each and every one of you.
Gary
Coronado Island
Small Craft Advisory remains in effect through Saturday
…
Fishdope.com
Ensenada
Seals just won't leave us alone . . . so far it's Us:2 and Seals:6. But I did manage to get one in. …
Louie Prieto
Fished Ensenada on Saturday. Last minute decision to jump on Sergio's re-powered
Cazador;
was a great decision for easy limits for the four anglers -- That's right,
four
people, and we had non-stop, WFO, ground critters and one 20-pound yellowtail, a few lings and you know the rest.
On the way out, a light boat was heading into the bay. Skipper said, "There are tons of squid outside the kelp south of Punta Banda." …
Art
http://www.bdoutdoors.com/forums/threads/ensenada-squid-fwiw-12-19.614490/
San Quintín
Fished three days with Jason Pasto, his daughter, Brennan his longtime friend, and son Ethan. We had all kinds of weather. First day, four yellows for 12 hookups. …Captain Juan
http://www.bdoutdoors.com/forums/threads/3-days-on-the-water-eight-diferent-kinds-of-weather.614402/
Bahía de Los Angeles
No Report.
Gonzaga Bay
Drove down on December 6. Easy drive. Stayed at Papa Fernandez. I was impressed how clean the place was and how attentive the people are there. It was all pretty easy with just enough of a Baja edge to it. Water was flat calm and the fishing was fantastic for the little tin boat and light tackle. …Russell
http://www.bdoutdoors.com/forums/threads/gonzaga-bay-was-fun.614189/#post-3998829
Bahía Ascensión
This week's weather has been great with not too much wind or swell . . . last week we had a massive swell which kept us off the water for a few days; there were a couple wind events, too. The yellowtail are putting on weight but have gone deep this week so it's work to jig those babies up! The Van Gurp family from Pinetop, Ariz., had a great day and scored lots of yellowtail. Those kids can FISH! …
Shari Bondy
http://www.bdoutdoors.com/forums/threads/fishin-kids-score-nice-yellowtail-in-bahia-asuncion.614194/
La Bocana
Fishing today . . . excellent Sunday in a "glory hole," grand slam! Over a hundred fish -- catch and release. The Bocana Lagoon. …Juanchys
Aguilar

Mulege
Sashimi for Christmas Eve . . . life is good in Mulege! …Mike
Reichner
Loreto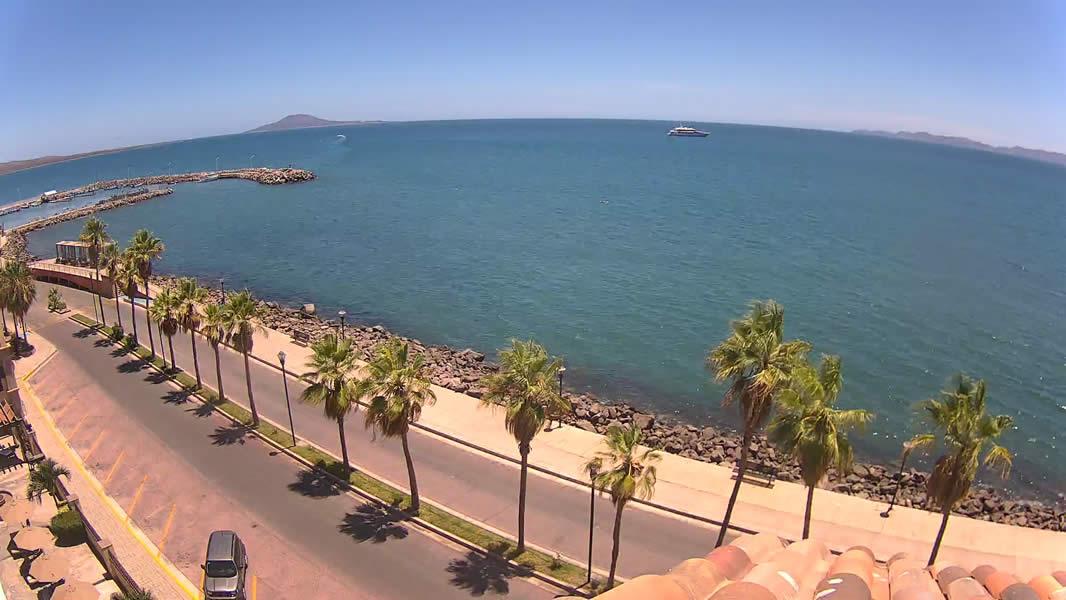 Our winter weather has broken open and given us some fantastic days on the water; the Christmas vacation travelers hit town just in time!
Most of the fishing action has been happening along the underwater ridge that runs from Coronado's south tip to Carmen Island's "La Cholla."
As always in the winter, it is yellowtail with the incidental catch of various snappers and bass types that are the target.
The larger yellowtail must be moving into the area due to the increasing number of break-offs on the rocky bottom that we have been seeing.
The smaller firecrackers have given way to larger yellows in the 15- to 25-pound range.
This year's strange billfish season seems to continue with striped marlin still in the area. What is wacky is that they are still hiding in the depths and hitting live mackerel as they sink to the bottom with 8-ounce sinker rigs!
Catch and release has been easy with half the fish escaping after making their dramatic boat-side appearance. The other half we just snipped off without disturbing the hook -- it's easier than removing an expensive trolling lure on a heavy leader. Just get them close and let them go.
Water temperatures are still varying around 68 degrees which may help explain why the big dancing fish are still here (and thankfully hungry).
The only action reported down south has been happening around Danzante Island. Several large schools of toro have been cornering bait schools off the northeast tip near the old Lighthouse.
Silver Krocodile spoons cast into the half-moon shaped bay have been hooking up more catch and release action for these jacks. They pull like a riding lawn mower but may be the darkest, oiliest fillets in saltwater.
The forecast is that the winds will be back up this weekend which might be the start of our usual high/low cycle -- three or four days of wind followed by three or four days of calm. That would put the first days of 2016 in the fishable column!
Once that cycle starts we will be seeing more trips to the farther out high spots -- maybe wahoo at Catalana and baqueta at the "50 spot!"
Merry Christmas and Happy New Year to all! …
Rick Hill, Pinchy Sportfishing
Magdalena Bay

No Report.

La Paz

Another week of double-digit winds. Only two real days were even remotely fishable. Other days would've been miserable if we tried to go out -- I guess we could've fished if we really had to, but why?
Fortunately, this time of year, we have snow birds who are more inclined to seek sunshine instead of fish. If they want to fish, it's maybe a day or two.
Therefore, we can tell them to postpone trips or wait until the forecast shows the best days with the least wind. But, it's pretty easy to calculate. If there's storms north of the border, chances are there's wind down where we are in La Paz. Overall, it's been cool by our standards with daytime temps in the mid-60s and lows to the low 50s! Where are the blankets?
For the fishing, the inshore stuff is the best deal. Working the rocks and shallow areas, there's some decent cabrilla with barred pargo around. They can provide some good action although for inexperienced anglers, it can be frustrating trying to pull the stubborn fish from the rocks. As well, there's some sierra around and bonito. There had been yellowtail biting at the drop off at Las Arenas but with the winds we weren't able to check out those areas this week.
Offshore, surprisingly, there's some dorado breezing through and commercial guys tell me there's still some wahoo around . . . plus we did hook a marlin that was either late in the season or way ahead of his friends for the year.
…Jonathan Roldan, Tailhunter
East Cape
Typically on the East Cape most of the sportfishing operations close shop for the winter or move boats to Cabo San Lucas. A couple resorts might leave a boat or two in the water for the die-hards with high expectations but for the most part, strong north winds make conditions almost unfishable five or six days of the week. Game fish are here but brutal conditions make the wise take the drive south to wet a line.
…Mark Rayor

http://www.bdoutdoors.com/forums/threads/east-cape-glad-i-dont-wear-a-toup.614315/

San José del Cab0


Ocean temperatures have ranged from 75 degrees from Iman Bank to Los Frailes to as warm as 79 degrees straight outside of Cabo San Lucas. Ideal conditions and if the winds stay moderate, we do expect to enjoy excellent fishing action into the coming new year. With the lack of sardina available, anglers have been relying on caballito, slabs of squid and various artificial lures to entice the variety of gamefish in the area.
San Jose del Cabo fleets were having to travel all the way to the Cabo Arches to find sporadic action for yellowfin tuna in the 10- to 15-pound class; some boats were catching six or seven fish, others none -- lots of pressure by the whole fleet, as well as hungry seas lions on this spot. Chances at a single dorado or wahoo off of the Chileno, Santa Maria and Red Hill areas, though this action was very hit or miss. So we are glad that the wind has diminished for the time being.
This has opened up our normal fishing grounds from the Gordo Banks to the Iman Bank.
Crazy that black marlin and larger grade of yellowfin tuna have been holding around the Gordo Banks; in recent days the tuna action on these ground was very dead in the morning hours, but would come alive in the afternoon, so some locals have been packing 20 (or more) pounds of squid slabs and heading out for this late afternoon action. Tuna to 140 pounds were landed, many other even larger yellowfin were lost -- sea lions were a pesky problem on these grounds as well. This action should last into January. Any day these yellowfin could bite earlier in the day, full moon phase has feeding patterns mixed up as well.
Iman Bank was holding tuna in the 20- to 40-pound range, though insufficient chum and dealing with swifter cooler currents put this bite off to later in the week. Dorado continue to be scattered, but actually in recent days we are seeing more of these fish than during the past week or two.
Same for wahoo -- not many being landed, but they are in the area and with conditions being as favorable as they are, anything could happen; these elusive and highly sought after gamefish are definitely still around and we expect them to become more active in the coming weeks.
This is the time when striped marlin appear on the grounds off of San Jose del Cabo. Straight outside of the Puerto Los Cabos Marina, from two to four miles offshore, fleets are now concentrated and are chasing feeding marlin and drift fishing with baits down deep; this has produced good action on the striped marlin, averaging 80 to 120 pounds with some sailfish around, still hanging late into the season.
Plenty medium-sized roosterfish are now being found closer to shore; anglers have been using live caballito to slow-troll for this action. Not many sierra yet. The lack of sardina will make this a tough season for the sierra.
Bottom action has showed improvement recently for deeper water species around the Gordo Banks and other high spots -- various snappers, cabrilla, grouper, triggerfish, rainbow runner and bonito.
Whales are appearing in greater numbers every day and will soon be peaking for their annual winter migration to Southern Baja California
…Eric Brictson, Gordo Banks Pangas.

Los Cabos




Seven dorado 20-30-pounds for Stacey, Greg, Darci and Josh from Aurora, Colo., aboard Ruthless. All fish took caballito bait at Gaspareño fishing spot.


My girlfriend and I fished yesterday with Captain Jaime on the Yessica. Worked our way up the West Coast until about 8:30 a.m. when Jaime spotted a bird only about two miles to the north with no binos! I have no idea how he could see so far but sure enough when we got closer, there were hundreds of terns diving on porpoise with marlin mixed in
…Corey
http://www.bdoutdoors.com/forums/threads/cabo-panga-marlin-report-12-21-15.614475/
News flash: Marlin fishing good!
Second news flash: Dorado picked up.
Lots of warm water still here.
Tuna fishing: one good day, one bad day.
Few wahoo on Rapalas.
Inshore action slow
…Jerry

http://www.bdoutdoors.com/forums/threads/cabo-san-lucas-fishing-report-and-baja.614434/


A bit late in posting this report, but did our annual trip down to Cabo to fish with Renegade Mike. Fished three days and had excellent fishing again this year
…Jonathan Froelich

http://www.bdoutdoors.com/forums/threads/cabo-fishing-report-renegade-mike.614238/