May 11, 2011
973
562
Name

Gary Graham
Boat

Watercloset
Baja Bytes Weekly Overview
Friday, September 18, 2015
Gary Graham
​
Que Pasa
Update from Mex 1 at Laguna Chapala turnoff on up Mex 5 to Mexicali
photo credit Chris Wheaton
The first 5 to 6 miles, the road is mostly sandy washboard. Many vehicles must use a 'frontage' road next to the main road since there were a number of tire tracks and the 'frontage' was mostly packed sand. Only problem is that ever-so-often the 'frontage' abruptly turns onto the main road; quite a shock if you try to run at speed!!
Thirteen (13) miles from the Laguna Chapala turnoff the washboard shows some very pointed rocks. When the strike was going on, semi's used this road and their tires that are left behind are a testament to the rocks. Very close to this point comes the serious road work. They are cutting through the hills and care is called for due to the heavy machinery. Single lanes are near the bridges that they are building -- you'll see the rebar, the cement hoppers, and the workers.
Once to Coco Corner, the washboard becomes more sandy in composition and is a bit easier to travel, but several more bridges are under construction and construction trucks are coming in from the large cement facility.
Once on the paved road that cuts in at 23.5 miles, the drive is very easy.
Coming out of Gonzaga, if you are lulled into the smoother ride there are rude awakenings when you hit the vados; since I had never come back this way it was a first to see a vado with its own vado. Hit one of these at speed and you could go through the roof.
Mexicali, the wait was an hour on 09.08.2015. Maybe it was due to the extra day taken for the holiday or maybe it was due to only four lanes open. It was not too bad since you get to reflect on the fishing and the stories start to take on a life of their own.
If you follow the signs to the border crossing you will need to circle back to get in line. There is a street (Cristobal Colon) that feeds directly into the border crossing line earlier; I believe the next time we will cut across earlier to Nicholas Bravo to drive straight in:
https://www.google.com/maps/@32.665232,-115.4939798,17.25z
Don Weir
http://www.bdoutdoors.com/forums/threads/la-bay-to-gonzaga-to-mexicali.601939/
Coronado Islands
Poor conditions plus continuing Mexican inspections convince most to seek out the better kelp paddy fishing farther offshore. …
www.fishdope.com
Ensenada
Offshore has had unsettled weather with wind making it hard to find kelp paddies; however when located, they are holding. For whatever reason, the wahoo aren't biting well yet.
Plenty of large 15- to 35-pound dorado currently. This pattern is similar to last year at this same time, except there are many more wahoo than last year. …
www.fishdope.com
San Quintín
Rich Gunther holds his first yellowfin tuna!!! Stoked! …
Captain Kelly Catian
Bahia of Los Angeles
Nailed them at the 7-Mile Bank yesterday (North of Isla Smith)! We had to relocate the kill bag to the center of the boat to make better weight distribution for the ride home -- an absolute indicator of a great fishing day. Still hoping to beat last trip's heavy YT of 50 pounds!
http://www.bdoutdoors.com/forums/threads/3rd-bola-trip-in-2015-day-1-of-catching.601800/
Just returned from a five-day camping and beach launching from La Gringa -- super hot and humid -- fished every day on my 15-foot Bayrunner. Calm seas except for first day which was cut short by heavy wind; we were in by 9:00 am.
We fished up north, caught dorado from 5 to 10 pounds. All day we trolled C&H lures close in tight in about 40- to 50-feet of water. Water was 84-5 degrees and we had a great time.
http://www.bdoutdoors.com/forums/threads/bahia-de-los-angeles.601752/
Cedros Island


Yep, wahoo.....the first ever at Cedros that I know. This is one of the exotics brought by El Nino, so now the count of species you can catch here is around 10. Jose Angel, Cedros Adventures
I had the chance to go to Cedros Island with my very good friend Jeff Mariani and my son Tyler.
http://www.bdoutdoors.com/forums/th...-cedros-island-and-two-personal-bests.602189/
Bahia Ascension
Paul Boe caught a couple of nice wahoo and a whack of tuna ... and Neil, the new kid on our block out here at the point, landed a huge wahoo over 70 pounds ... a bit over 5-feet long and a fatty! The area is thick with wahoo out there as well as tuna. My neighbor and resident artist, Beth, made some fish prints to immortalize that brute...it was pretty cool! …
Shari Bondy
http://www.bdoutdoors.com/forums/threads/bahia-asuncion.600791/#post-3910669
Loreto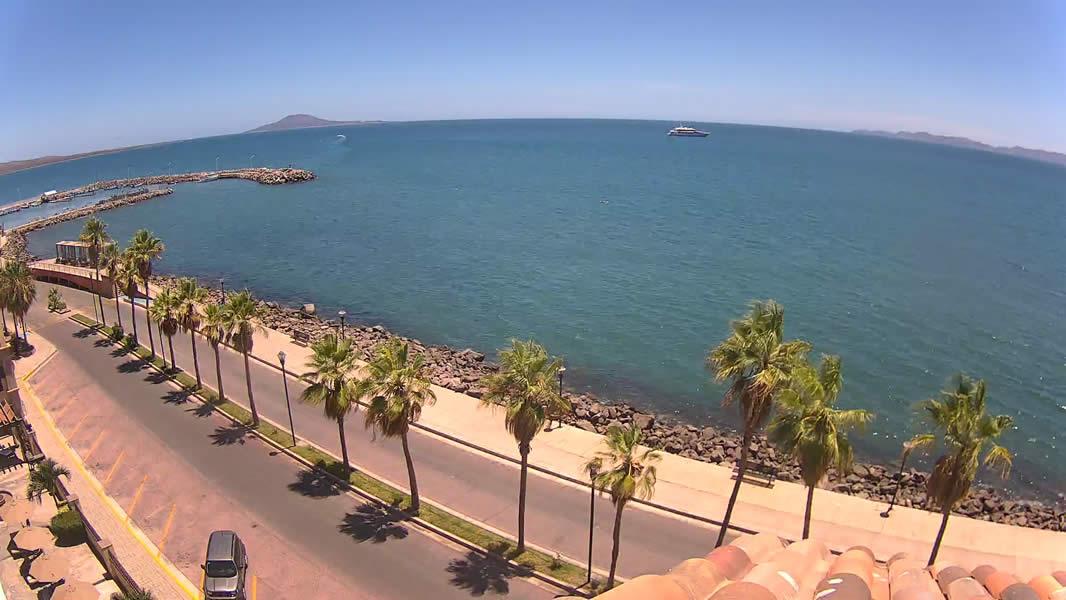 Bait fishing will be changing on our next time out at the fishing grounds. It's been a mystery but I have actually witnessed dorado and sharks stealing hooked bait off the bait rigs.
Down south outside Puerto Escondido it is the same scenario.
Captain Alejandro took us to a spot he has known for years and sure enough it was loaded with huge sardina.
While pulling loaded rigs up, what felt like yellowtail hit the rigs and shredded both sardina and the rigs. After loading the bait-well, we set a course for Catalana Island and shoved off. If we have yellowtail ripping bait off of the hooks and the hooks off the lines, why do we stop and leave the spot?
With the bait tank happy with live sardina, why didn't we drop a hooked bait down on the port side and an iron off the starboard side?
Will we remember the next time out and will we be able to shift into a different gear at the bait spot? If something big is eating the rewards on your Sabikis, why not offer him a circle hook or a Salas to chew on?
We could have had fish to fry and a tenth of the bill for gasoline if we had just stayed on the bait spot and worked it for big fish, too!
This past week -- no dorado; the wahoo bite at Catalana has moved on and spotty yellowfin action is halfway to Mazatlan.
Shallow water rockfish is where the action is for the boats fishing close to Loreto. With mackerel and sardina available, it's only a matter of time before the aim turns to 'tails! …
Rick Hill, Pinchy Sportfishing

La Paz
Just another weird catch! Normally pargo liso are caught in the springtime! Danny Kadota of San Pedro got this big one and enough pargo to fill 14 bags of fillets! Today lots of variety for both fleets -- dorado...sailfish...pargo (4 varieties)...cabrilla...jack crevalle...bonito...cabrilla...sierra... It's like springtime fishing! Except the water is 90 degrees! …
Jonathan Roldan, Tailhunter International
.
A few blustery days captured by Gary Bulla recently.
East Cape




Dorado were mostly picked up on the troll this week. Not a lot of the schoolies as were around last week. …Rancho Leonero.

http://www.bdoutdoors.com/forums/threads/variety-matches-quantity-for-anglers-this-week.601900/




It is odd that fleet boats are catching yellowfin, snapper, yellowtail, amberjack, marlin and sailfish in the same area! …Team Jen Wren

http://www.bdoutdoors.com/forums/threads/east-cape-what-are-the-odds.601973/




And the beat goes on ... wahoo, tuna and sea donkeys (aka amberjack). It couldn't have happened with better people on board. Thanks to the Ecks and friends for their continued support of El Regalo.




Just back from a week at Los Barriles -- slow fishing, water temp 85 to 90, very little live bait. Most boats are fishing the small 4 to 8 pound YF caught off La Ribera, then they are running offshore for a chance of a sail or marlin. …Jim

http://www.bdoutdoors.com/forums/threads/los-barrilles-9-5-9-12.602039/

San José del Cabo


Supplies of sardina remained plentiful near the marina entrance and are now being found along beach stretches close to Cabo San Lucas, where they had not had these schooling baitfish available until recently. Most consistent action now has been for various sized yellowfin tuna, action was centered from Santa Maria to the Iman Bank and most of the yellowfin being accounted for are fish in the 10 to 20 lb. class, though other areas produced decent numbers of tuna 50 to 70 lb., with several fish up to 150 lb. landed. On the Gordo Banks a variety of sizes of yellowfin tuna were seen breezing on the surface, some of these were cow sized fish, though these fish proved finicky, with all of the natural food source and strong currents sweeping through, the fish are not always in the feeding mood. Best action for numbers of fish recently has been either near shipwreck of the Santa Maria area or around the Iman Bank, though the Gordo Banks also produced some quality action mid-week, before slower days later in the week.
Dorado and wahoo action slowed back down, though there were some of these fish being found, just not a consistent bite. Strong current also limited bottom action to sporadic numbers dogtooth snapper, various pargo and snapper species. The warm water continues to attract rainbow runners into the fish counts.
Several black marlin were also landed this week, largest weighed in was a 335 lb. specimen, all of these were hooked into near the Gordo Banks, while trolling with chihuil, caballito or skipjack. This is the time when billfish grand slams are possible, as striped, blue marlin and sailfish are also now being found on local fishing grounds.
Not much inshore action this time of year, though local beach and dock anglers have hooked into a few snook recently, though these fish have proved very elusive this season, a handful of nice corvina to 10 lb. were also taken from the shore, as well as quite a few sierra off the San Jose Estuary, a bit early in the season for these fish, which do normally prefer cooler water.
…
Eric Brictson, Gordo Banks Pangas
.
Los Cabos
Today we had a day to remember! Not only did we get a triple billfish slam, getting two striped marlin, and a sailfish. But also we got a 158-pound tuna -- a real good day on the water. The triple slam was our third this year! …
Renegade Mike
We have been catching pretty much everything this week as the tuna have shown up; there are still blue, black and striped marlin as well as sailfish offshore (and sometimes close to the beach) ! The dorado have been on and off but when on, the action has been great -- and there are still a few wahoo being caught! No hype, just what has been going on! Overall, it was a good action week for the anglers and it was scattered on both sides of the peninsula…
George Landrum


Well got back on the 13th from a long vacation & yesterday I just had to get back out on the Cabo Water, ok nothing big "11 tuna between 15-25 lb and 2 nice snapper & back by 12
m love cabo" & the fishings getting better every day, went with Javier de Uranga, Jim Holmes, capt Miguel, next fishing picture will be the big cow tuna, they are around now & with some luck i will nab one of those bad boys ...Brian Solomon
Cabo Climate: Temperatures varied from 65 degrees nights to 92 degrees daytime highs with an 81% humidity level; a few partly cloudy days and an equal number of sunny and warm days that lead right into a terrific weekend for the area.
Sea Conditions: Sea temps are unusually stable and equal on both sides of the peninsula and reflecting 88 degrees from the Finger Bank on the Pacific side to Los Frailes on the Sea of Cortez side…
Larry Edwards, Cortez Charters
Last edited: