May 11, 2011
975
567
Name

Gary Graham
Boat Name

Watercloset
Baja Bytes Weekly Overview
​
Friday, March 18, 2016​
Gary Graham​
Que Pasa
T-Mobile has been my carrier for several years. With an unlimited plan used in conjunction with my Windows Smartphone, iPad and an individual "Hot Spot," the system allows me to be untethered throughout most of Baja Sur. In Northern Baja, the system works fine in most places except the stretch from south of El Rosario to Guerrero Negro -- below there, service is spotty until Santa Rosalia. Then I run into occasional dead spots between towns until I arrive in La Paz at which point, service becomes reasonably consistent. The "Hot Spot" allows an unlimited number of devices to be connected simultaneously.
http://www.bdoutdoors.com/forums/threads/t-mobile-service-in-baja.620585/
Coronado Island
Water is cold and dirty at the Islands. It's the Finger Bank, 40 miles from Point Loma, you want to look at.
There you will find 15-pound class yellows, with about 50% coming on the yoyo iron and the rest on the dropper loop Sardine. Also you might want to try dropping down for some rockfish. …
Fishdope.com
Ensenada
photo Sammy Susarrey Amador
Guys are looking at some yellowtail on the sonars from the NW corner of Todos Santo's Island up to San Miguel Reef. It's very tough to get one to jump on a yoyo iron or eat a live mackerel.
The fish are plugged full of red crab and are they are fat and lazy. Even the rockfish at the reef are tough right now for the same reason. …
www.fishdope.com
Colonet
Most boats cancelled out last weekend but one boat ran in spite of the weather and scored big on the yellowtail and rockfish . . . same deal -- heavy yoyo iron like the salas 7X and the Bait Wraps Kraken XXL.
The weather did little to change the conditions and it appears there will be more of the same this coming weekend. …
Fishdope.com
San Quintín
Dom Castagnola: barred pargo -- fun as heck to capture very strong on 60-pound with double bimini twist.
El Rosario
"Vaya con Dios"
to our friend Mama Espinosa, a charming lady, founder of the Flying Samaritans, who lived a full life, spanning over ten decades; she will be missed by many.
http://www.bdoutdoors.com/forums/threads/rip-mama.620188/
Bahia de Los Angeles
No Report.
Laguna Ojo de Liebre
Check out the drone video. Tours continue into March. …
Shari Bondy
Bahía Ascensión
No Report. …
Shari Bondy
La Bocana
No Report. …
Juanchys Aguilar
San Lucas Cove
The Viking Score's "Big" San Lucas Cove- Sea of Cortez - Baja California Sur Mexico
Loreto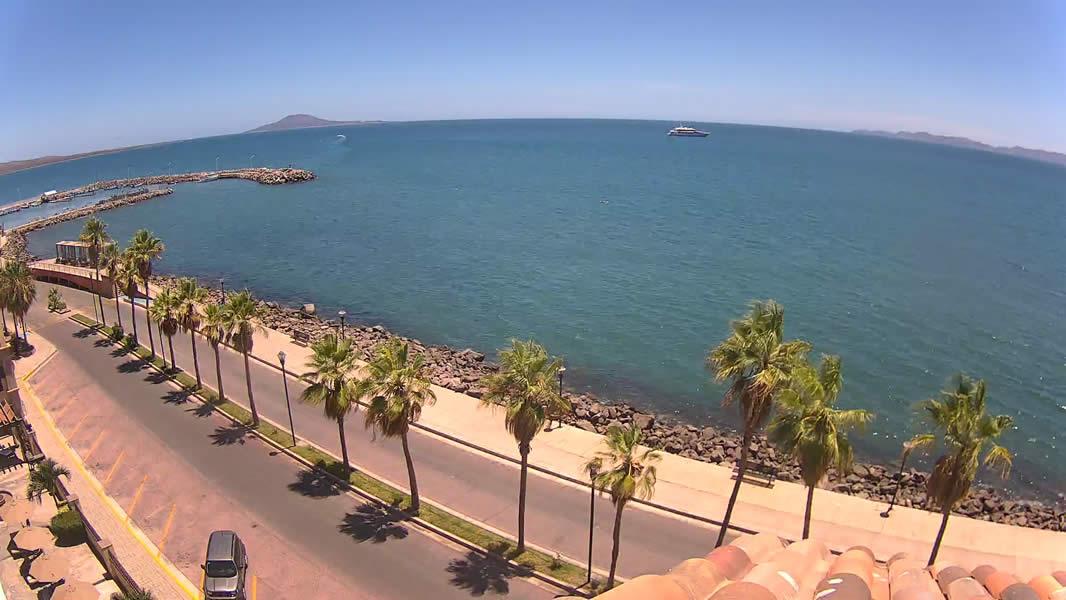 The yellowtail continue to be the fish of focus but more of the incidental catches are making it to the fillet table.
Another good spring week with minimal time lost due to winds.
The bait situation has also been good with both jurelito and mackerel in the bait tanks.
What is going on in the water can be gauged this time of year by the number of cabrilla being caught. When the water starts to change we see more cabrilla and the yellows start moving to shallower water and even into the coastline's rock piles.
Let's not jump the gun just yet. The whales are still in the area and we actually are doing much more whale watching than fishing. That means the water is still cool and cloudy with red and green clouds!
All the long ride spots are being checked and everything seems to bite one day or the next. Pargo and cabrilla, along with the yellowtail, with most being mediums -- mediums for yellows = 16 pounds, cabrilla=8 pounds and pargo (the ones that make it to the boat) run around 10 pounds each.
Pulpito and south at the Six Mile Reef topped the far-out spots with the best catches. Most catches were on live bait with cool action on the iron. …
Rick Hill, Pinchy Sportfishing
Magdalena Bay
No Report.
La Paz
- Only in La Paz with the Cortez Club! -
Brian O'Neil and Leif Dover from Atlanta, Georgia, pose with Captain Pancho earlier in the week with a solid rack of fish -- wahoo…amberjack…bonito and jack crevalle.
Not many fishermen in town this week, but it's kind of the little lull before Spring Break and Easter when fishermen come in and the season kicks into gear. The big story this week was the weather . . . again! But not for the usual windy days we've had this winter. The big weather story was the fact that it SNOWED!
That's right. Historically, no one can
ever
remember that happening! We've been having 85-degree weather for several weeks but then earlier this week, some cells came down from the north. There was rain. Then some areas like Los Planes near Muertos Bay got pelted with hail; I think I've only seen that happen once in 20 years! Some areas of La Paz also got hit.
But up in the higher areas like San Antonio, they actually got a good dusting of snow! An incredible first! It even stuck for awhile. Not enough to go sledding or anything like that or even make margaritas out've it, but more like someone took powdered sugar to everything!
Just another El Nino bit of craziness.
But, back to normalcy -- there were some fish things happening, too! Some fat yellowtail were taken at the south end of Cerralvo on Rapalas. Fish ran up to about 25 pounds. A few smaller amberjack were also taken with one estimated at close to 80 pounds which was picked up and lost at gaff. Supposedly, the northern end of Cerralvo is holding some really big amberjack according to the commercial guys.
Inshore…yup…inshore, there are still wahoo up to about 40 pounds that are again falling to the dark Rapalas/Yo-zuri type lures. Gotta' be honest, there's a real lack of live or dead bait right now. Hope that changes. But we're able to scrape up some sardines and some mackerel here and there or use frozen stuff.
Smaller lures and cut bait are working on cabrilla and sierra and some big pargo up to about 20 pounds are in the spawn mode in the usual rocky areas, but especially off Punta Perico and Los Pilis near the east side of the Island. …
Jonathan Roldan, Tailhunter
East Cape
Unsettled weather and cooler temperatures throughout the week.
The Bottom Line:
Things are pretty slow. However, experience tells us that this can turn around in the howling scream of a reel. Conditions are excellent, with flat seas, mild days and water temps still in the mid-70s. The bait boat has been providing good green mackerel and caballito. We expect it to go off any day!
Around the Ranch:
Anglers who targeted billfish were seeing both sails and stripers, but could not get many of them interested. Fish would appear among the lures and then quickly lose interest. Frustrating! Yes, fish are around, but don't seem hungry.
Anglers who decided to work inshore and along the bottom were rewarded with roosters in the 20- to 30-pound range, as well as jacks and some rod-bending big amberjacks ranging to 40-pounds. Sierra are here, but this is a sunup bite and doesn't last long. …
Gary Barnes Webb
http://www.bdoutdoors.com/forums/threads/lets-get-this-party-started.620210/
The wind finally laid down and the sun came out so we took the panga out last Saturday. Got bait right in front of the hotel and ran out 3- to 5-miles towards La Ribera and started bottom fishing. Nothing doing on four different stops but on the next one we nailed a nice striped marlin about 125 pounds. Easy release. Next up, I was lucky enough to hook my first amberjack and about 40 minutes later, this beauty hit the deck. Captain said 50 pounds. Sure felt like it to me! Another fantastic memory for my family. …
Steve
http://www.bdoutdoors.com/forums/threads/lovin-it-in-los-barriles.620432/
I've been trying to feed one of these for quite some time now. I was beginning to think it was an exercise in futility.
Bumphead parrotfish. The blue beak and spoke-like lines radiating from the eyes are characteristic of this particular variety. I was sight casting to this fish and I'm confident I watched it eat the fly . . . so I reacted. …
Lance Peterson
From Rancho Leonero yellowtail
From the Banks of La Ribera.....amberjack, cabrilla, yellowtail & marlin
From the shore....ladyfish, triggerfish , snook, pompano and pargo…
Cindy East Cape Tackle
San José del Cab0
Pretty darn good day on the Cortez Cowboy!!! Out with Chris from Alberta for eight 20-pound class yellowfin (Capt. Juan might describe some of them as 20-pound "lites"), two 20-pound Bonito (again), and a bonus wahoo! Had five wahoo strikes today, 3 cut off, 1 spit the hook and we landed 1. After filleting, bagging, and freezing, Chris and Jess will be heading home with approximately 50 meals of fresh fish for four. …
Kevin
http://www.bdoutdoors.com/forums/threads/karma-comes-around.620347/
No Report. …
Eric Brictson, Gordo Banks Pangas
Los Cabos
Five jack crevalle for Jonathan, Scott, Blake and Tyler from Houston, Texas. They went fishing aboard 31-foot
La Brisa
, and caught fish on a dead caballito bait at the Golden Gate spot…Pisces Sportfishing
It's been another interesting fishing week from Cabo San Lucas and the billfish bite has slid into a near stop. While there are still plenty of billfish being seen, trying to get them to bite is more than a full-time job. Starting to see more and more of the annual water temperature changes as the Pacific side has started to cool down and is being slowly followed by the Sea of Cortez side.
Cabo Climate: A few days of partly cloudy and a few days of sunny and warm weather. Air temps varied from 62 nights to 82 daytime highs and a 49% average humidity level.
Sea Conditions: Varied from the Pacific side to the Sea of Cortez side. Starting at the Finger Bank and southerly across the Golden Gate Bank and down to the Jaime Bank and in to San Cristobal, the temps were 70 to 72 degrees. San Cristobal out to the 1000 Fathom Curve and up to Las Frailes, temps varied from 73 to 74 degrees except for a small slot around the 95 Fathom Spot that fell back to 72 degrees. ...
Larry Edwards, Cortez Charters
Donald Anderson With his son Don Jr catch 15 Roosterfish and 6 jack crevalle Great days fish for two great guys. Fishing is good right now!
Grant Hartman, Baja Anglers