I Post A Lot But I Can't Edit This
Apr 25, 2003
20,925
7,165
74
Name

Cory Visser
Boat

N/A
This was my first time fishing in 2017, not because I didn't want to go out sooner, yet the weather played a major factor, as rain and wind post phoned trip after trip. I was definitely having withdrawals not getting on the water in nearly three weeks' time.
So I finally hooked up fishing on Tuesday 01-17-17 on Lal's 18' boat the "Rubber Ducky" out at Izor's Reef. We launched out of Davies in Los Alamitos at 6:00 am. The temp in Lal's truck read 48 degrees, yikes!
The wind in the harbor was very calm, as was the open ocean heading out to our destination. We arrived at the reef in short time and found some excellent marks to begin fishing. Lal and I were both using 4 inch Red Flake plastics and a 1 oz. lead head. There was little current and a uphill drift, that was fairly rapid. Conditions were not ideal however the Bass were on the chew.
We both experienced bites on the drop and immediately hooked fish. Lal landed a 1.5 pound Calico Bass and I landed a ¾ pound sand bass. All Bass on this trip were released. Our next casts resulted in short bites or instant hookups. Our first dozen fish were less than two pounds, and then Lal got hammered and brought up a 4+ pound Sand Bass:
We caught and released a number of Bass in the 2 to 2.5 pound range, fishing the numerous stones on the reef. I switched to a Calico Hunter plastic as we reached another of the big rock piles on the reef. I hit bottom and made two cranks on the reel, when it completely stopped. I pulled hard and thought I might have bottom when the big Bass was pulled out of its lair. I managed to lift the fish and gain line and eventually brought it to the surface on 15 pound test. Another four pounder hits the deck: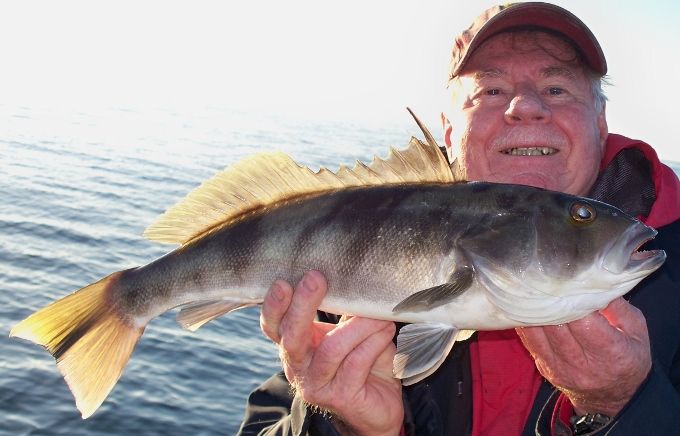 We caught and released some 30 plus Bass by 8:30 am. 80% were Sand Bass. Lal has at least 30 stones marked on his fish finder and I think we hit almost all of them today. The bite became a very slow pick after 8:30 am. You had to work hard to get a bite despite unreal meter marks.
We both picked up quality fish during the next few hours: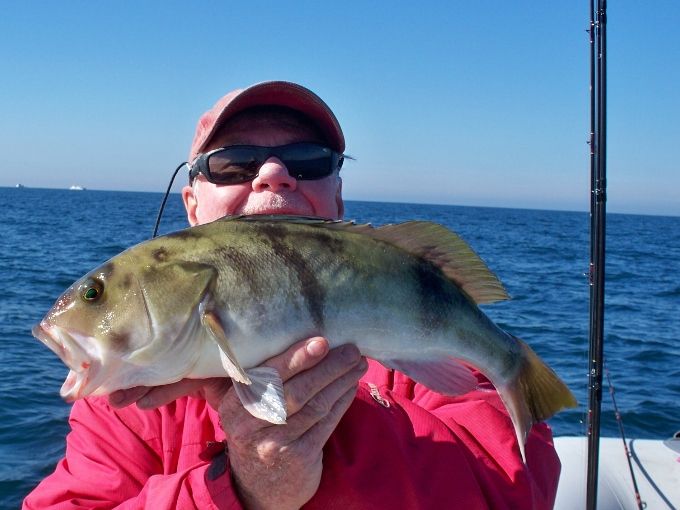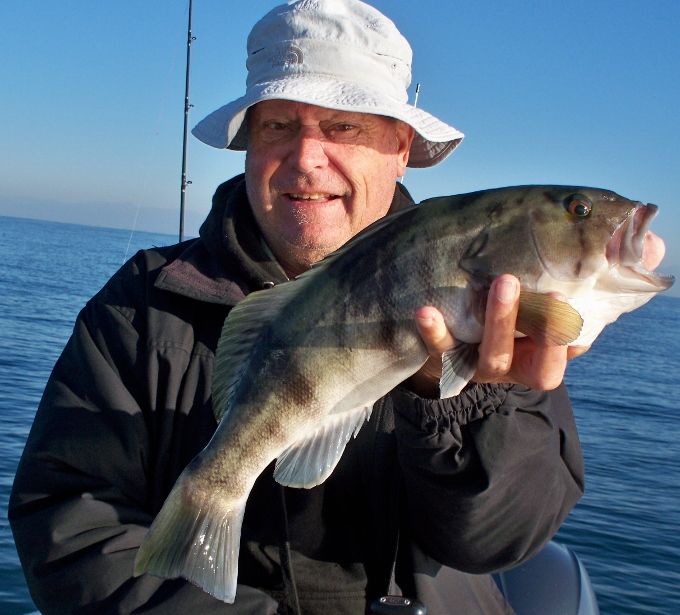 Lal made a move to the middle of the reef where a collection of big stones existed. A few minutes into the drift I got hammered and was Bitch slapped, as the big fish took out drag on my 20 pound outfit and ping, it was gone! Almost simultaneously Lal also got hammered and fought a nice fish to the surface. Oh yeah a nice brown flat big fish, commonly known as a Halibut was brought to the surface. I found the gaff and I made an instant head gaff on a 10 pound Halibut:
We ended the day at 1pm with 48 Bass, a couple of good sized Sculpin and the Butt! It was a great winter day of fishing. All the fish were released except the Halibut.
Incredible weather and outstanding fishing wow! We were on the trailer at 1:35 pm, with still little wind on the horizon.
Thanks Lal, what a way to start off 2017!
Hook up! Cory