I Post A Lot But I Can't Edit This
Apr 25, 2003
20,925
7,168
74
Name

Cory Visser
Boat

N/A
Looking to get in a "last call" for 2016 Rockcod, Dave texted me Monday morning and invited me to go fishing with him Wednesday-12-28-16, on his 28' Farallon "Hooked", with friends Ron, Kevin and Bob. We left Dave's slip in Newport Harbor at 5:02 am. Our destination was San Clemente Island, starting at the West End.
As we exited the harbor, there was no moon and no wind, very dark. We found the seas to be very calm, with a slight residual bump from the previous day's windy conditions. For a change the weatherman was on his game? I think he has been wrong at least 66% of the time this year!
Although there was little wind, the bumpy swell kept us under 15 knots most of the way out to Catalina. When we reached the lee of the island, we were able to punch it up to 20 knots and then conditions turned to complete glass and our speed increased to 23+ knots.
We reached the west end of San Clemente Island just before 8am. Dave began our first drift in deeper water where they had caught five Lingcod to 19 pounds the week before. There was a fast drift and no current, strange? We all caught mostly nursery fish, with a few decent sized Coppers and Whitefish. Bob caught our only Red in this area. The Whitefish seemed to be everywhere today, no matter the depth. 300+ feet is not normally a Whitefish hangout area?
We tried numerous spots in the deeper water for much the same. Dave moved us to the edge of the backside of the island in 250 feet depth. The Coppers were very active and kind of saved the day for the lack of Reds. I did finally get on the board with a decent sized Red: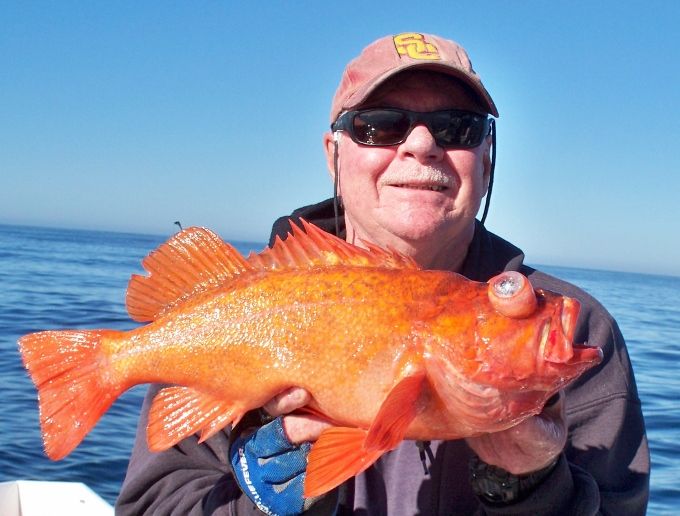 My usual outfit utilizing an 8 oz. Jax Jig and a shrimp fly were not producing so I caught almost all of my fish today on a Knockoff Lucanus jig and a shrimp fly. Later in the drift I caught a nice combo with a Copper and a 3 Spot Rockfish.
Dave targeted more areas along the backside of the island in 220 to 250 feet of water. The fish were on the chew and Coppers were thick:
Here is Kevin with a nice Copper with camera shy Bob in the background bleeding out a smaller Copper: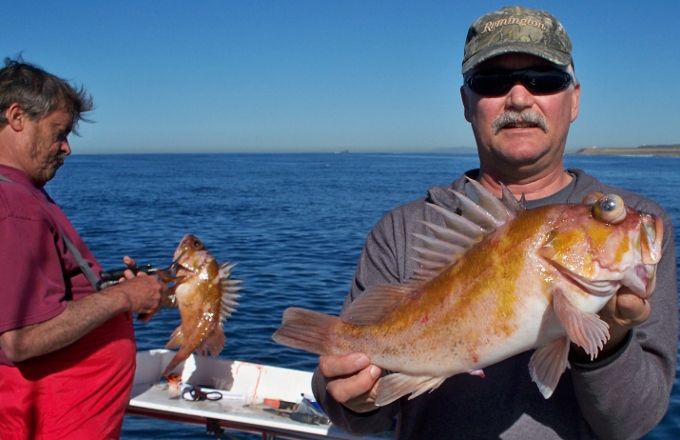 I came up with numerous doubles with this Copper combo being one of my best: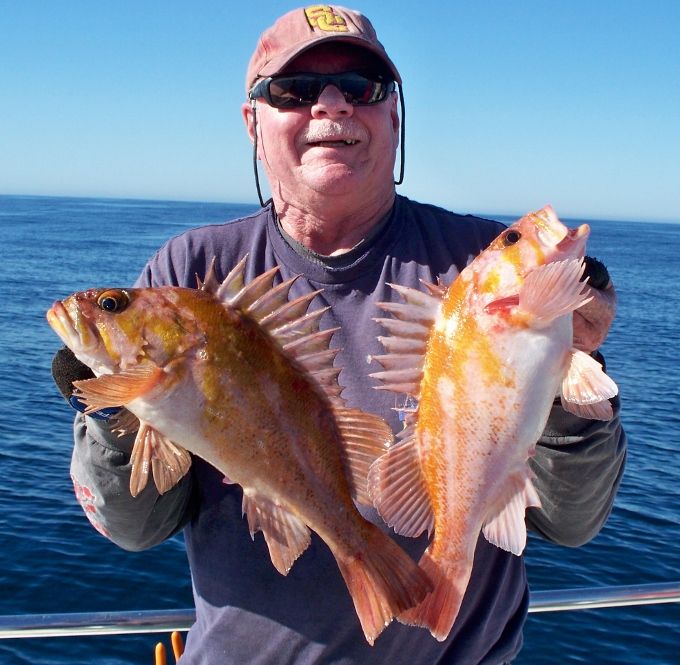 It was drop dead gorgeous out and everyone quickly shed their jackets and sweatshirts. 75+ degrees, 50 miles offshore in late December, does it get any better? Eat your hearts out Chicago and New York!
We picked away at the fish adding some nice Johnny Bass, Santa Marias and Starries to our count. It was getting late and Dave moved us back to his favorite shallow water spot nearer the front side of the island. The Whitefish were as thick as flies and we all caught and released many. Most of the time I could not even reach the bottom before being stopped on the drop.
Having plenty of fish on board we called it a day at 2:40 pm. The ride home to Newport was sensational and we were outside the harbor to clean fish within 2 hours, running at 25+ knots all the way with barely a bump.
Thanks Dave, you always put us on the fish. It was a pleasure fishing with you again Ron, Bob and Kevin.
Happy New Year everyone!
Hook up! Cory