I Post A Lot But I Can't Edit This
Apr 25, 2003
20,847
6,882
74
Name

Cory Visser
Boat

N/A
So disappointed in striking out last week while targeting the big Bluefin, I just couldn't stand it anymore, when I heard the Fortune had scored 20 Bluefin today, Tuesday. So I booked another trip on the Oceanside 95, which departed on Tuesday night at 8pm, fishing Wednesday 12-07-16 and returning Thursday morning at 8am.
My relationship with Mother Wind this year has been on the worse of terms, and nothing changed for this trip, in fact she was more of a Bitch than usual on this trip! As Tuna Ron keeps saying, I am a wind magnet!
Departure Tuesday 12-06-16.
I left my home in Diamond Bar at 4:45 pm and headed south to Oceanside; first stopping at the Longfin Tackle store to pick up some Glow in the Dark sliding sinkers in the 3oz. and 2oz. range having only 1.5 oz. in my tackle box. I arrived in Oceanside at 6:30 pm.
I was second in line; with Hot stick Steve ahead of me and then Jackpot winner Patrick was soon to join us in line. The boat began boarding at 7:30 pm. There were 18 anglers booked for the trip. We shoved off right at 8:00 pm, facing a 90 mile drive to the Tanner Bank.
Captain Rick gathered everyone in the galley to cover the game plan. We would arrive at the bank at around 4:30 am, if all went well, although the windy forecast was an obvious obstacle? We will be fishing with live or fresh frozen Squid, as they had a 8 to 10 scoops of live squid on board. Captain Rick suggested that no one use anything less than 60 pound test, as the fish were not line shy and very mean! Glow in the dark Flat Falls, Glow in the dark sliding sinkers in the 2 to 3 oz. range were the keys to success. Although some anglers have been successful using 8 oz. torpedo sinkers.
Fishing Wednesday-12-07-16.
The ride out started very calm until we reached an area about 30 miles from the bank, at 1am, when the seas and wind became very nasty. It was a long and bumpy ride for the next 30 miles and then got worse.
Captain Rick said we would be arriving at the bank around 6am. With the wind blowing around 20 to 25 knots, and with 7 to 8 foot seas very close together, the conditions were again ugly.
We started a drift just after grey light and I hooked a Bluefin on my 100 pound dropper loop outfit with an 8 oz. torpedo sinker just minutes into the drift. I heard shouts of several other hook ups, as my fish took a good first run. Gad these fish are mean in this cold water? I was fortunate as my fish was content in staying in the same general area during the entire fight.
I used the rail as much as possible, as this heavy outfit was not to my liking in stand up fishing. I put a lot of pressure on the fish, and declined to increase the drag beyond strike position, set at about 60 pound line pressure and would only go to more drag if necessary. After about a 15 minute battle, I worked the fish from deep color quickly to the surface, where Murecio and another crew member stuck the fish inches apart in the head.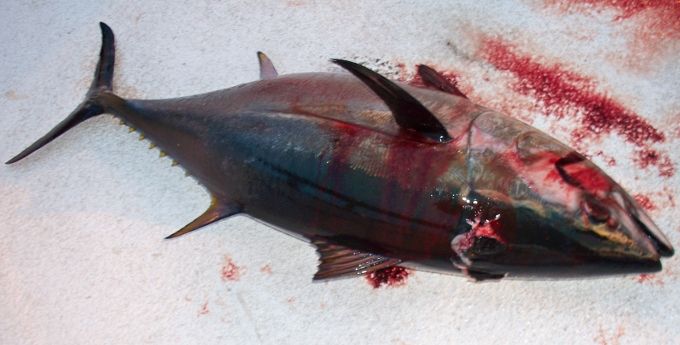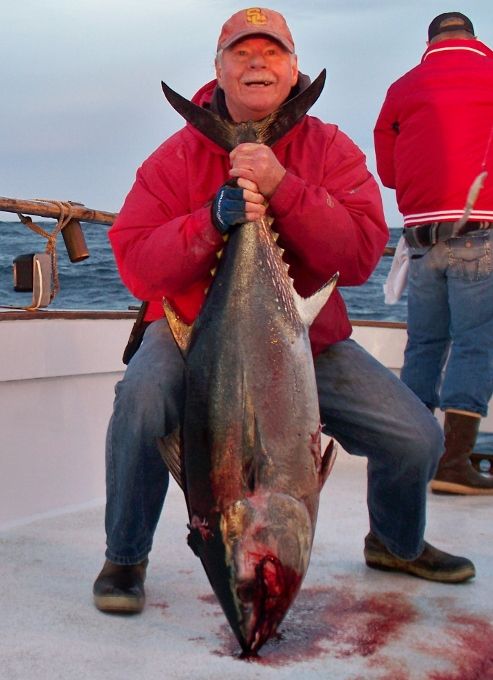 I think big Bluefin was in the 50 pound range. We lost our other three hookups. I had the honor of first fish on deck. Later in the same drift several more fish were hooked and landed. One was caught on a Flat Fall that was seal bit, and here Tyrone caught his on a 3 oz. sliding sinker.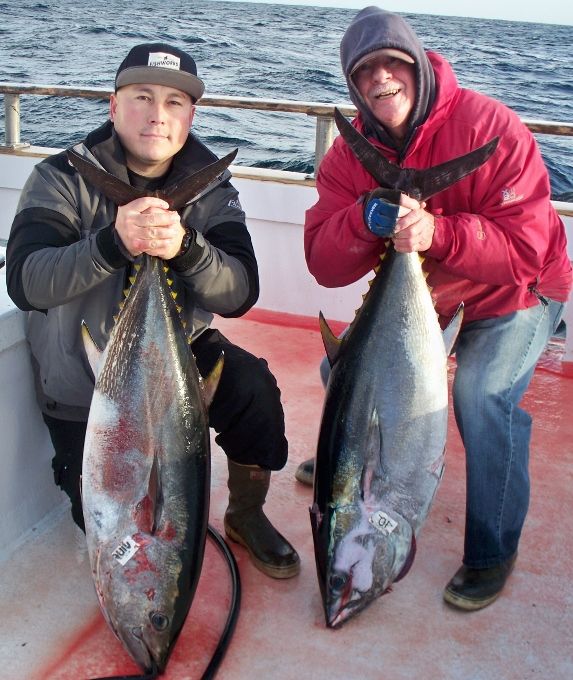 I tried a Flat Fall, more Dropper loop, and sliding sinkers and could not buy a bite on anything the rest of the day. I dropped down to 50 pound and still didn't get a sniff. This is the toughest fishing I have ever experienced, there seems to be no rhyme or reason to how to get bit. Lady Luck plays a big role, and just being in the right place at the right time.
Hot stick Steve had four hookups and landed three Bluefin, he caught two on Torpedo sinkers and rubber bands, with one caught on the slider. Patrick hooked three Bluefin, one on the Flat Fall, one on a slider and one on a Torpedo sinker. Eddie caught two on the slider.
Here is Patrick with one of his two Bluefin, he won the jackpot with about a 55 pounder: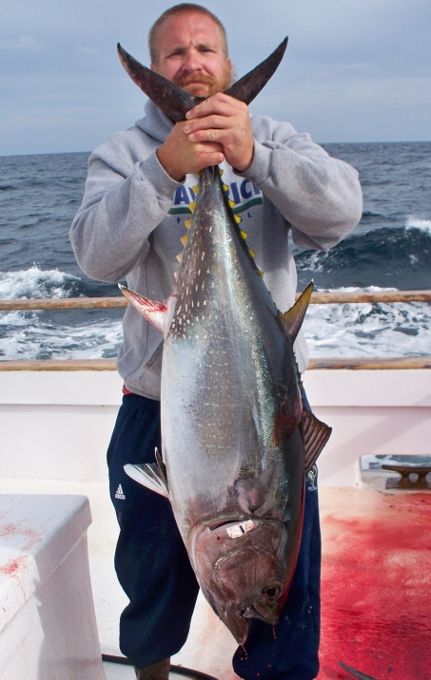 Our best drift was I think four fish, out of the eventual 12 landed, a bloody mess: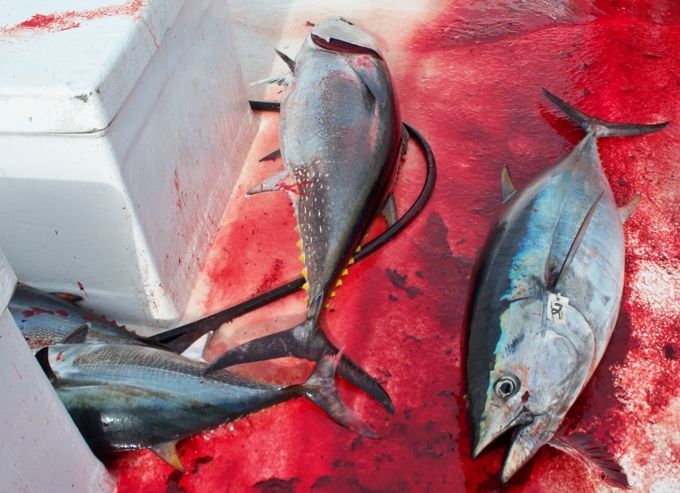 We probably had 25+ hookups to land 12 Bluefin. Late in the day Blanca, Tyrone's girlfriend who had lost her first hook up to a pulled hook, landed this beauty: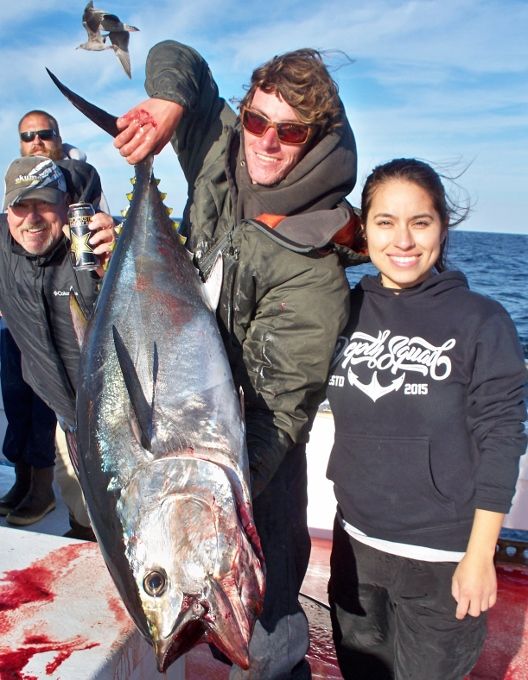 We made drift after drift where most of the hookups were on 3 oz. sliding sinkers. The scope out was ridiculous, as I dropped down with a 12 oz. sinker a number of times could not hold bottom for ½ a minute. The weather never improved. The seas had numerous 10 to 12 footers, as we rocked and rolled all day and into the night.
The sunset was very nice: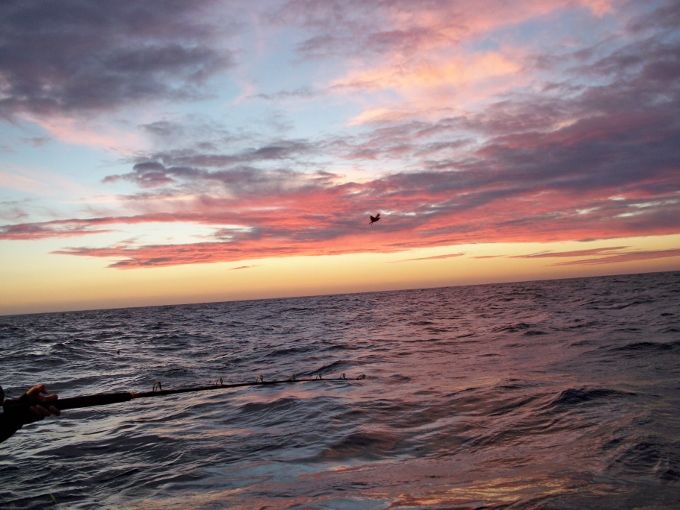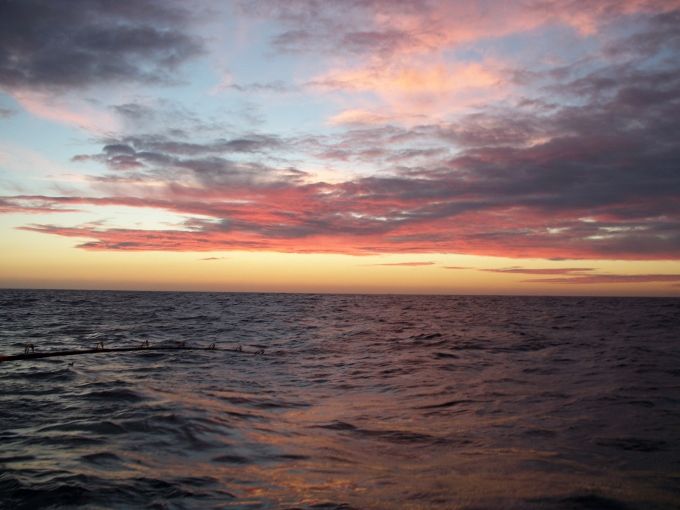 We hooked no fish between 11:30 am and 2:30 pm, when on back to back drift's we hooked two on each drift. That was it. Two of our Bluefin were in the 15 to 25 pound class. We also lost about four Tuna to the seals and several others were badly bitten.
We made several ½ hour drifts in the dark, with very few fish metered. Captain Rick called it at 7pm. The night bite has not reappeared for several weeks now. All during the day the meter contained fish, with Captain Rick calling out the depths which varied from 70 feet to 270 feet. We were the only Sport boat out there today.
We arrived at the dock at 6:00 am Thursday morning.
The crew and Captain worked their tails off and considering such lousy weather, we did well. Cook Doug continued to serve tasty food, with dinner consisting of Pork Tenderloin, mashed potatoes, creamed corn and for desert Vanilla Ice cream and homemade brownies.
This is most likely my last trip this year for Bluefin, just too much work. This old body of 69 years does not like standing at the rail for 12 hours without a single hook up! Sore back, sore legs and aching arms! I need an occasional adrenalin rush to sustain such effort! Darn it sucks getting old. Certainly I was not alone as other anglers on the boat faced the same scenario, and those that lost a fish hard earned; what a bummer.
Yep tough fishing, but the thrill of catching these magnificent fish is beyond words and keeps us coming back for more abuse! Hat's off to those with the skill and endurance to hook multiple fish and land them.
Good luck to all and a very Merry Christmas and Happy New Year.
Hook up! Cory
Last edited: