I Post A Lot But I Can't Edit This
Apr 25, 2003
20,847
6,882
74
Name

Cory Visser
Boat

N/A
Fishing with Dave Robinson, on his 28' Farallon "Hooked", with friends Jim, Stan and Jeff.. We left Dave's slip in Newport Harbor at 5:15 am Wednesday morning. Our destination being San Clemente Island, past the East End, and Pyramid Point, around the Navy Destroyer, Warship 104 and on to the backside.
The air was ice cold, the skies were crystal clear, and the wind was out of the North at about 6-8 knots, with the seas having only a minimal bump, allowing us to cruise at 23 knots. Passing the East end of Catalina the seas increased and so did the winds, reaching 10+ knots, reducing our speed somewhat. Arriving at Pyramid Point we hailed Warship 104 and received permission to pass outside of them, some eight miles out of our way, oh well beats the alternative, not fishing?
Finally Dave reached a waypoint that had promising marks, let em go! My first drop with a 8 oz Jax Jig with a shrimp fly resulted in being hammered as I reached the bottom. Up comes the first Red of the day. An immediate drop back down with my duel Lusanus knockoff outfit, hit bottom, a couple of cranks and wham, another good hit. A second Red hits the deck.
My first two Reds of the day: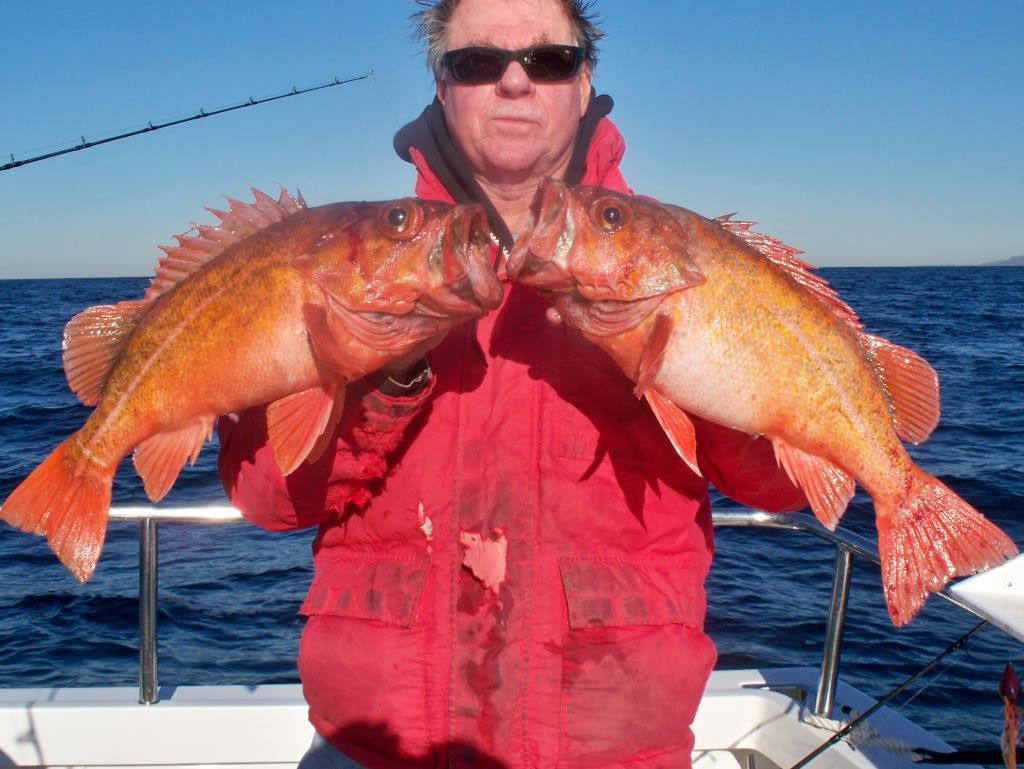 Dave, Jeff and Stan caught Bocaccio, while Jim added a Red to the Mix. On their second drops a few Santa Marias and a Bank Perch were caught. Dave set us back up and the bite slowed down, with only a few more bait size Green stripes came aboard. Moving up the line another set of good marks came on the screen and we all dropped down. Stan was first to reach bottom and got absolutely smoked. Drag screamed and the rod was bent over double. Some big head shakes, and a slow crank to the surface with several more runs. Has got to be a Lingcod? Yep, a nice ten pounder:
We all caught a mix of fish, with more Reds, Starries, Santa Marias, Bank Perch, Chili Peppers, and the ever extinct Bocaccio.
Captain Dave had a good couple of drops with these two Reds, alongside Stan's Lingcod: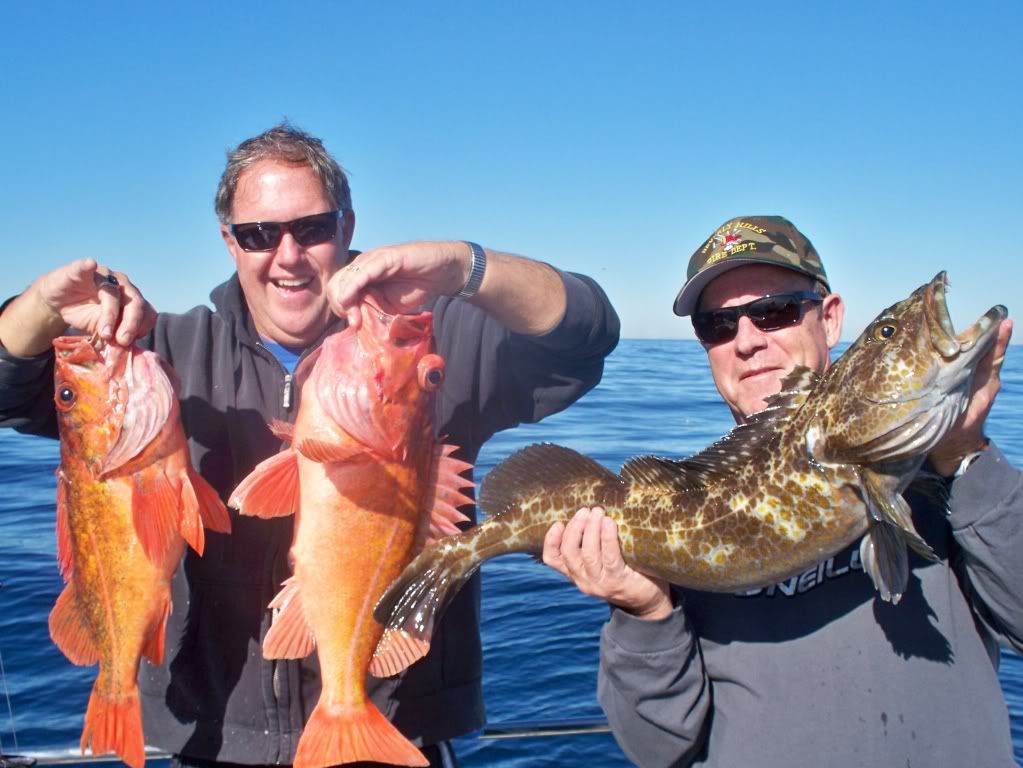 By10am it was T-shirt weather, the winds had backed off to nil, and it was balmy out. The fishing was far from wide open, although we always managed to catch a few fish on every drop. We hit a good sized rock and the Reds were on the chew. I got hammered on the crank and pulled up a double, while everyone else came up with Reds, except Stan. He once again got belted as soon as he reached bottom and thought he had the bottom, however, the major head shakes indicated he once again had hooked a Lingcod. As he brought the big Ling to the surface Dave made a great Head shot. This Ling was a bit bigger at 12 pounds: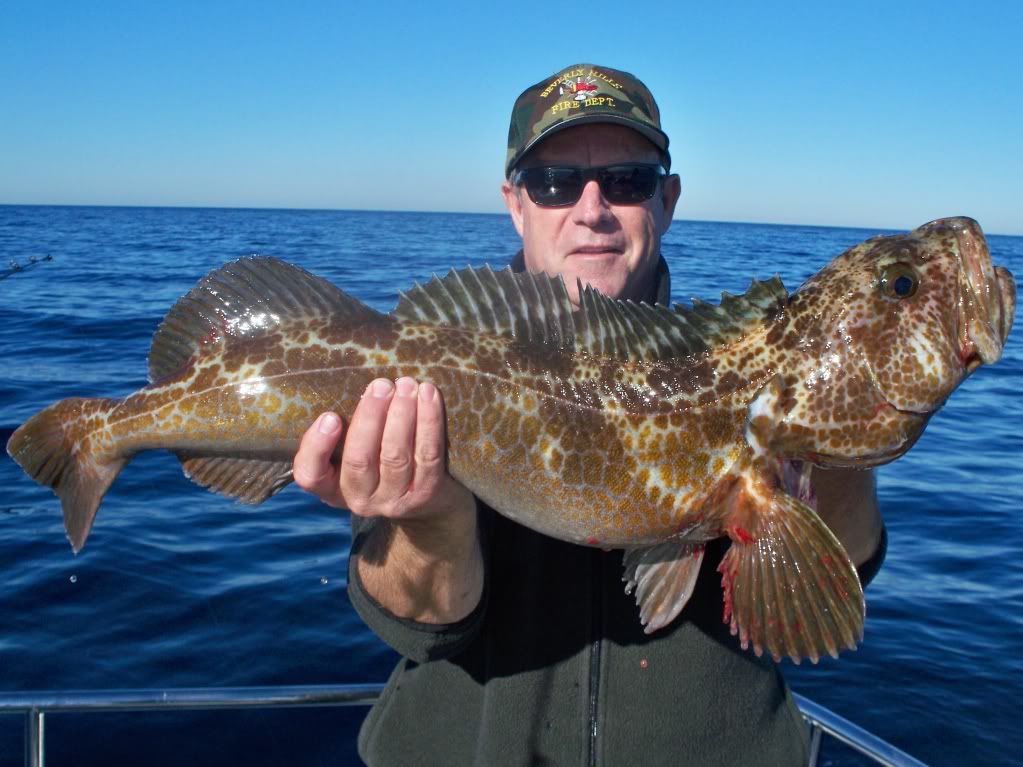 At 1pm the white caps made their appearance, and the hookups became few and far between. Holding bottom was difficult at best. Dave moved us into shallower water, hoping for better results. Not much to write home about. Although I managed to catch one last big Bocaccio: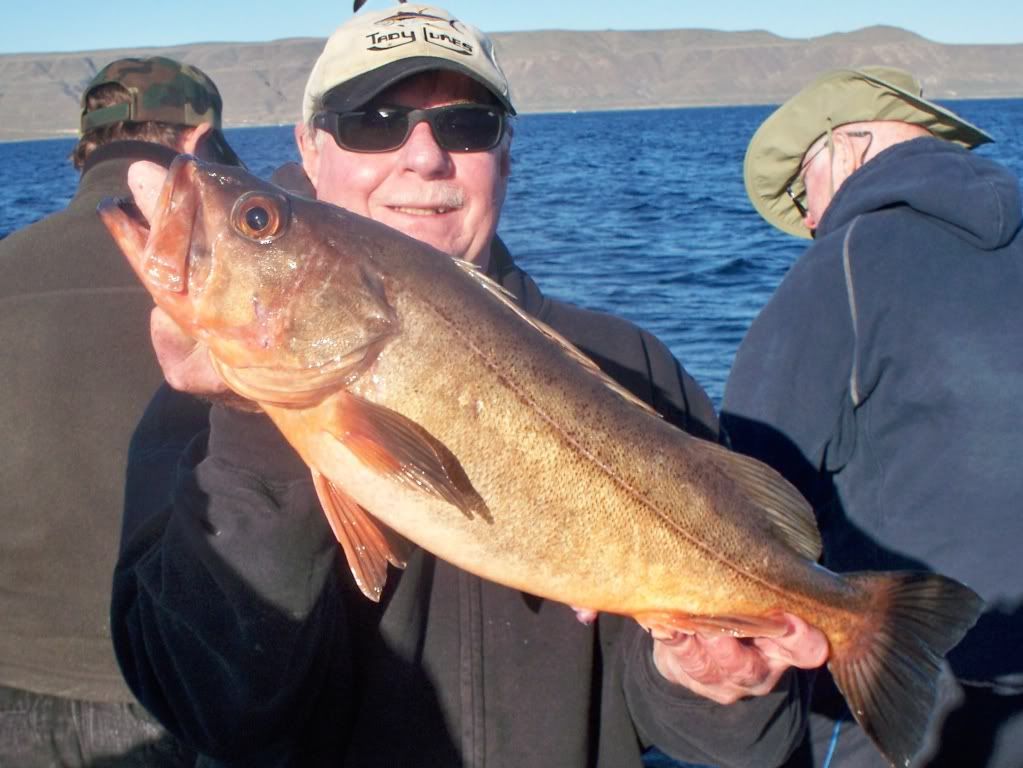 We moved from big rock to big rock in under 200 feet, but the results remained the same, very few biters. It was now blowing over 15 knots and time to call it a day at 3:10pm, we headed home. We finished the day with 26 Reds, the two Lings, and enough miscellaneous Rockfish to fill our limits.
Thanks Dave, for another fun adventure. Hook up! Cory