I Post A Lot But I Can't Edit This
Apr 25, 2003
20,847
6,882
74
Name

Cory Visser
Boat

N/A
Still hoping for a shot at the big Bluefin Tuna being caught at the Tanner Bank, I took a look at the offshore weather report and decided that 11 to 12 foot seas with Gale Force winds from 30 to 40 knots would not be a smart decision? Actually I hope all Captains exercised good judgement in not running offshore today.
So I went fishing Wednesday 11-16-16, with Lal on his 18' boat the "Rubber Ducky". We launched out of Davies in Long Beach at 5:30 am, and headed north along the Palos Verdes Coast.
Our first thought was to head out to the 150 spot and/or the rigs. However, Lal did a solid search of the rigs and the 150 area on Saturday. It was slow fishing and despite Lal catching an 18 pound Yellowtail on his 20 pound bass gear and a 4 inch Red Flake plastic, he decided returning was not in our best interest. A picture of his Yellowtail: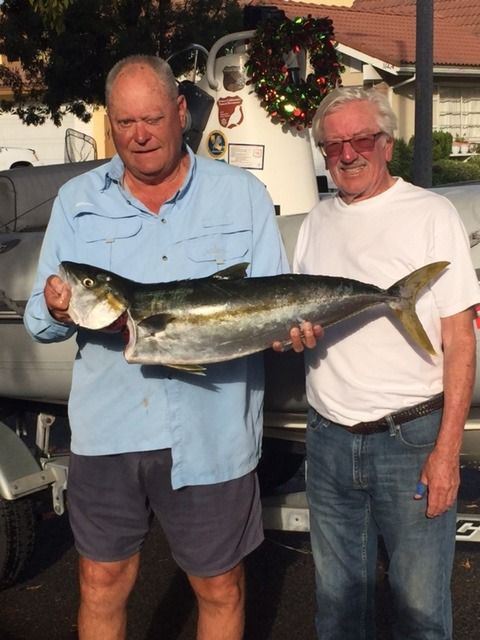 The local weather forecast of 4-6 knots of winds in the morning and 14 to 18 knots for the afternoon had an impact on the decision. Water temps at our first drift was 64.1 degrees. The meter was lit up with fish and bait. We saw lots of Mackerel boils near us and we both caught some. Then a few Bass climbed on our plastics. We both released some 1 to 2 pound Sand Bass and similar sized Calico Bass.
After an hour it was almost dead, as the little current we had shifted directions and became a wind against current situation, killing the bite. We moved on up the line and around to Rocky Point. The first few stops on rocks and hard bottom yielded nothing. We moved on to deeper water in the 145 foot range. We both got short bit on our first drops, then I caught a mini Johnny Bass and a small Red on my second drop. Lal caught a small Calico Bass.
We moved up to some Rocks in the 125 foot range and things improved a little. Lal caught a decent sized Sand Bass in the 2.5 pound range and I caught this 3+ pound Calico Bass: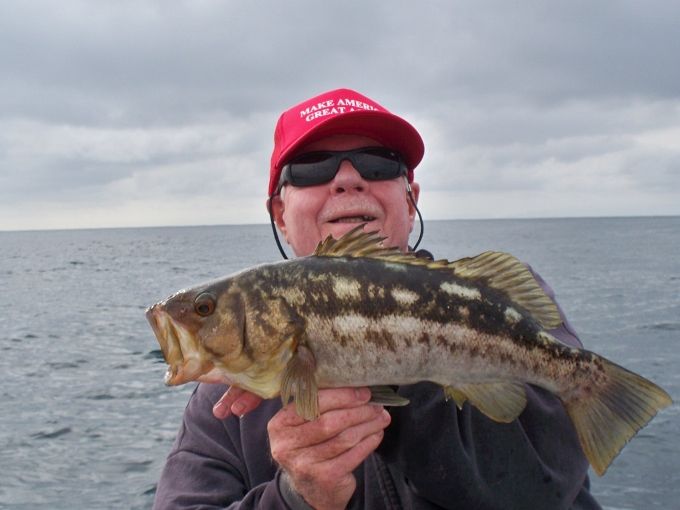 Lal followed with a nice Calico Bass shortly thereafter: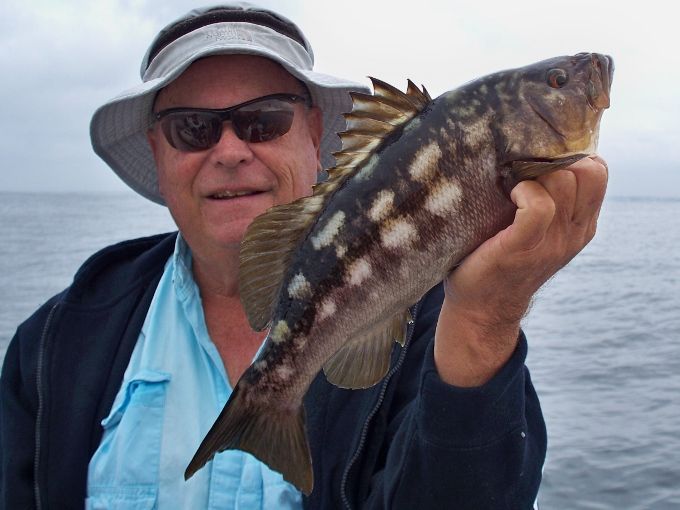 We each caught a number of Calico and Sand Bass within the next hour. A few more pictures: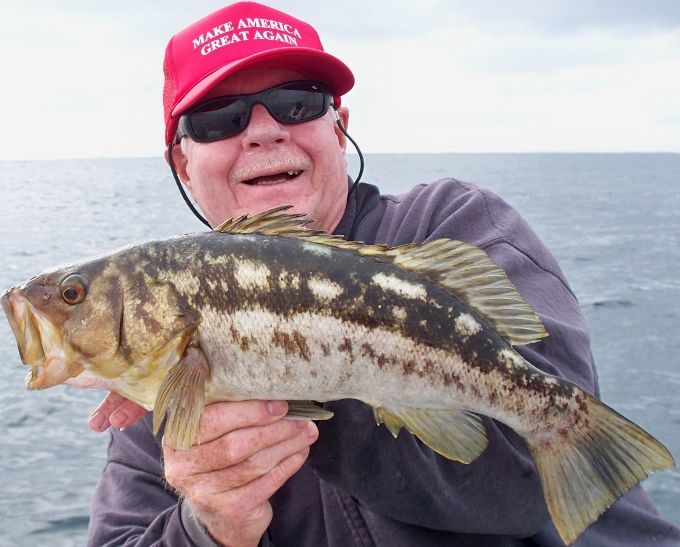 At 10:30 am Mother wind came up and chased us off of Rocky Point. As we rounded the corner everything went calm. This was a pleasant surprise and so we stopped on a number of stones along the coast. Today was one of our better Bass fishing days in the last several months. The quality of fish, although not big, was better than previous trips, as the Bass were mostly in the 2+ pound range,
One of my later caught Sand Bass: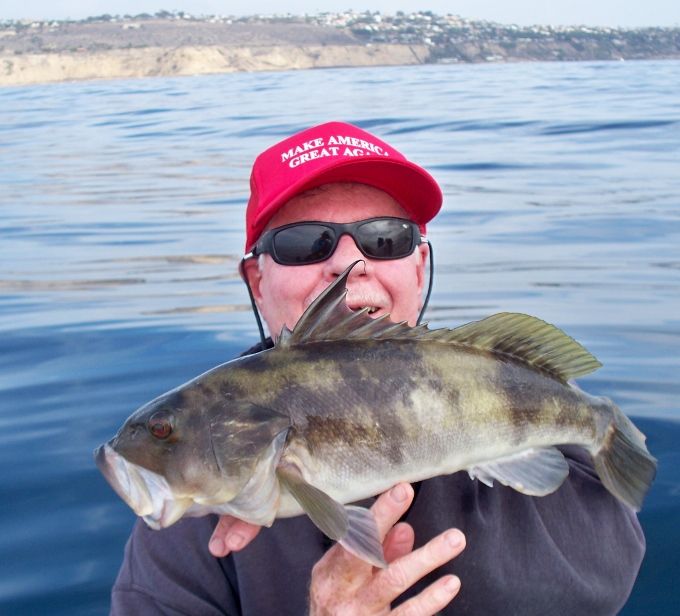 At a little after high noon I made a drop with old reliable 4 inch Red Flake with a 1 oz. lead head that had seen better days, being chewed up by previous hook ups. At first I thought I had hooked a rock, then a few head shakes later and a strong pull on my 20 pound outfit, I was convinced it was a grand daddy Sand Bass, as it hugged the bottom and did not want to move. The rod was bent good and I pulled up with a quite a bend and gained a little line. I short pumped the fish to the surface. Lal leaned over and saw deep color and then hollered it's a Halibut.
Lal went to find the gaff as I brought the flatty to the surface being careful to not bring the head out of the water, as Halibut go ballistic when that happens. It seemed like forever for Lal to get the gaff in place but he finally made a sensational head gaff. It weighed 7.5 pounds and was 28 inches in length.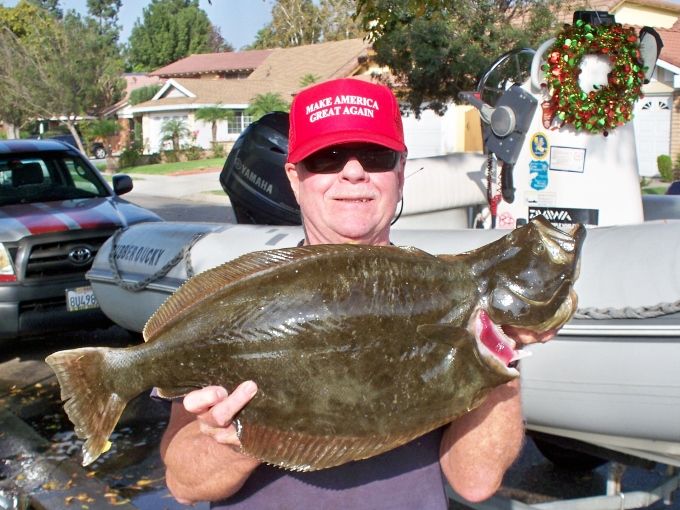 We picked away at the Bass and ended the day with 40+ on the Bass, a 35/ 65 ratio Calico Bass/ Sand Bass. We also caught a dozen assorted rockfish. Everything was released except the Halibut to fight another day. We were on the trailer at 1:30 and there was still not too much wind, although we were sure it was coming on strong!
Thanks Lal, it was another special day on the Ducky. Too cool and let's do it again soon.
Hook up.
Cory