I Post A Lot But I Can't Edit This
Apr 25, 2003
20,868
6,918
74
Name

Cory Visser
Boat

N/A
I went fishing Wednesday, 07-18-12, with my good friend Bill Fisher, on the Sport Boat Pride out of Seaforth Landing in Mission Bay. I left my home in Diamond Bar at 6:20pm Tuesday evening; and picked Bill up on the way to San Diego.
We boarded the Pride at around 9pm with a scheduled departure time of 10pm. The boat was full, with 20 anxious anglers aboard. The Pride was out on Tuesday and the Yellowtail bit well at the Rockpile, so Captain Greg informed us that the game plan was to run down that way and anchor up on Alpha Spot. Captain Greg stated that the Yellowtail were running in the 20 to 30 pound class and suggested starting with at least 30 pound test line.
We woke up to a stiff breeze, despite the forecast being calm seas for most of the day? Darn Mother Wind just won't play nice anymore! Just past grey light, Captain Greg fired up the engines and re-set the anchor, which became a test of wills as gusts of wind reaching over 20 knots played havoc with setting up correctly. The skies were a little eerie looking, with a dazzling sunrise: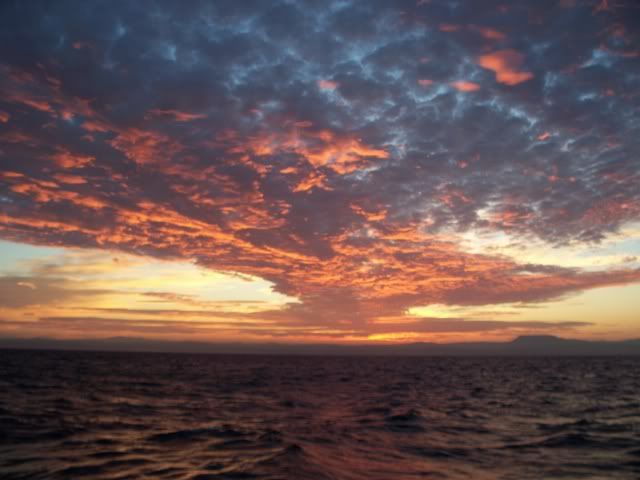 At a little after 6 am the barracuda began to chew and some spots of Yellowtail were being seen. Our first Yellowtail hookup occurred around 6:30am and a few more hook ups occurred at 6:45 am and then we generally had 4 to 5 going for nearly an hour. These fish were all big, most over 25 pounds. Some folks got rocked, others had drags set too tight, etc. and then more and more Tails hit the deck.
At first both Bill and I were snake bit, short bites, Barracuda shredding our line, thus re-tying hooks and Flouro Leaders. I brought 2 thirty pound outfits and went through both leaders in minutes. I didn't want to go higher or lower in test strength yet. Gave up on putting on Flouro leaders, as there was no time now, with fish all around the boat.
Finally I've got a solid hookup and this fish has a serious attitude. A straight run out for 100 yards, then a rush to the bow where several others were fighting their fish. We all did the two step tangle, and all managed to stay untangled. My Tail sounded and it was back and forth at the bow, over and under the anchor line, back under the anchor line, oh yeah deep color! The crew were busy guarding us, making sure everyone moved quickly to avoid trouble. My Yellowtail was in his death circle, yet every time I got him close to the boat, down he went. Finally Mike stuck him; a nice 25 pound beast: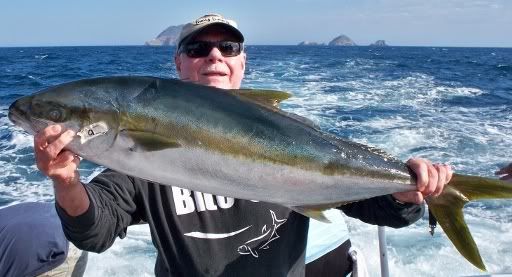 Re-tied my hook, just to be sure of no nicks, before casting out another sardine. About five seconds later I'm slammed and holler "Fresh One"! Yee ha! We probably have 8 fish going right now, and no one is putting these fish on the boat in a hurry. My second yellowtail fought well, however, never ran far from the boat and immediately sounded. Back to the bow, that was sweet, away from the mad house in the stern. Some steady short pumps on the rod, and I see color soon. This fish also wanted no part of the boat, and kept taking drag every time he got close. Ryan then sticks him and number 2 is on the deck, a solid 20 pound Yellowtail.
I walk by Bill, and he states he's still virgin, shrugs and says he can't buy a bite, yikes! Ten seconds later Bill is hammered and the right kind takes him for a good ride. I toss another few baits before getting bit for the third time. Oh no, this big boy is headed for the low country, after a straight out dash for well over 200 yards, then sounding. I'm deep into my Spectra backing when the inevitable happens, the big Tail finds a pinnacle and he's gone. The bad boy never even slowed down on my 30 pound with a fairly tight drag. Oh well that's why they got big? I often wonder whether I should have tightened down the drag further, going to lose him anyway, right, no he might stop, I'm not going to tighten the drag. Also I could put the reel in free spool to fool him, yet can you think that fast and will you have enough line left when you put the reel back in gear? Guess we'll never know the correct answer?
Bill was getting worked and obviously had hooked a bigger model. He pulled and pumped the fish for all he was worth. Yep, she's at deep color and definitely a big'n! A bit more effort and a final circle to the surface as Mike looks for a good shot with the gaff, and Bill is on the board. Close to 30 pounds and darn was second for the jackpot.
During Bill's epic fight the anchor had pulled for the second time, and Captain Greg had to run uphill a considerable distance to re-set, during which time we lost the school of Yellowtail. The fish hung around, although remained quite a distance from the boat and never wanted to really chew again; perhaps we hooked several more fish in the next two hours? The ¾ day boats arrived at a bit past 9am and I don't think they ever found any biters, the San Diego ended the day with 2 Yellowtail and the Malahini 1. More pictures of big Tails:
Jackpot Fish, picture does not do it justice: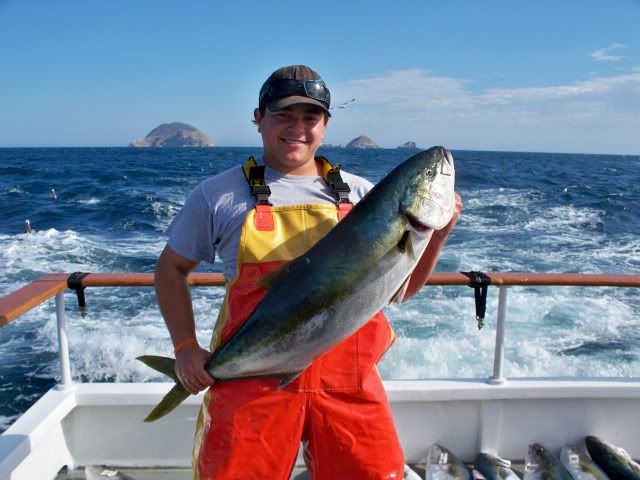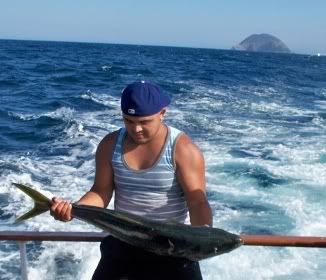 We made a few moves around the Rockpile to different high spots for mostly bottom fish and few more Barracuda. At 11:30 am the ¾ day boats had bailed and so did we. Losing that anchor set really hurt? We fished South Kelp Reef, and a couple other spots, for a few Calico Bass and more bottom critters. We spent late afternoon at the middle grounds and caught a variety of fish on stripped squid, including lots of Calico Bass, Whitefish, Sheephead and some Trigger fish. One angler hooked and landed a 15 pound Yellowtail on the strip bait, go figure? Some more pictures: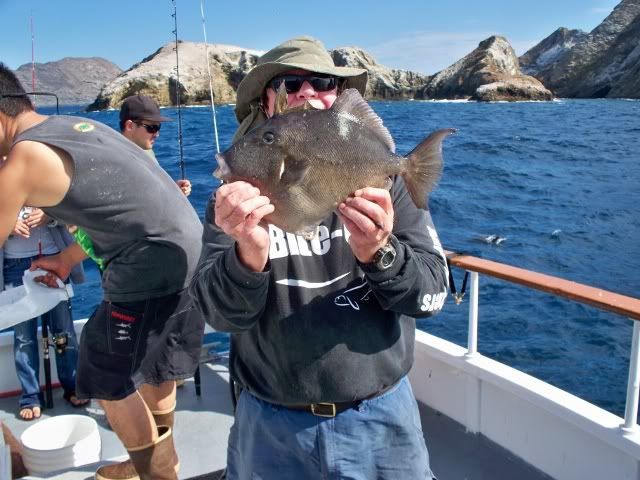 Captain Greg and another happy angler with Trigger Fish"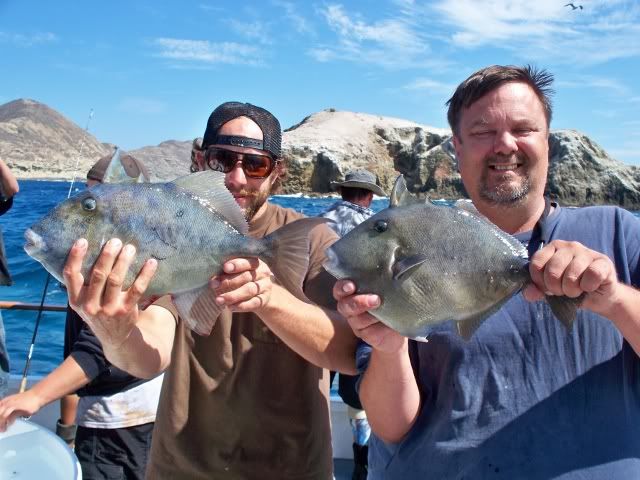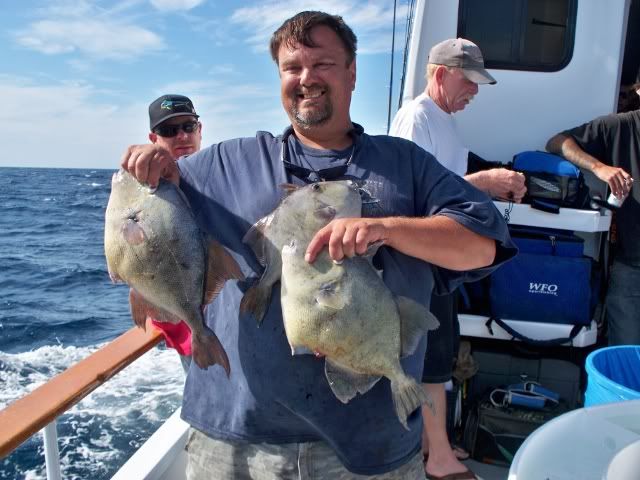 Captain Greg called it a day at 4:30 pm, and we slowly cruised back to the dock arriving near 8pm. The final Yellowtail count was 28, with lots of Barracuda and Bass. I finished the day with the 2 Tails, limits of Barracuda, a double limit on Calico Bass, all released, a Triggerfish, a Whitefish, Rockfish and several Sculpin, most released.
A bunch of happy anglers:
The hard working crew: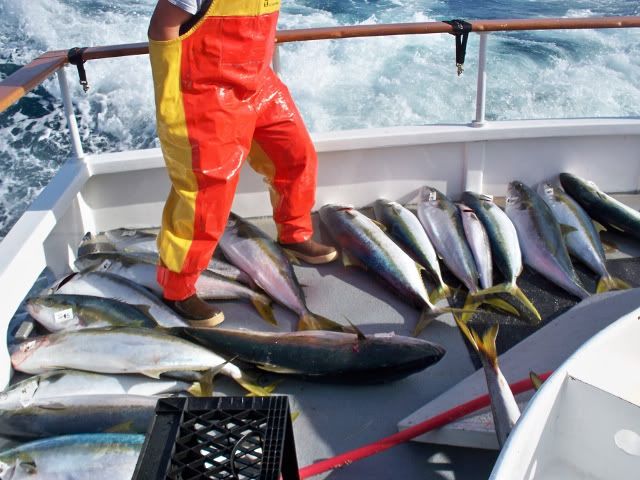 What a fun day on the big pond! Hope to fish with the wonderful crew on the Pride again soon.
Hook up!
Cory