I Post A Lot But I Can't Edit This
Apr 25, 2003
20,852
6,886
74
Name

Cory Visser
Boat

N/A
Another fantastic fishing trip on Wednesday, 03-18-15, with Bill Fisher, on his 18' Trophy, "Toad Hall". I arrived Tuesday evening at 6:15 pm, having left work in San Bernardino at 3pm. Bill fished today and went 1 for 2 on the Yellowtail, and his cousin concentrated on the Rockfish, fishing with bait. It was good to know the fish had not yet left the area? This has been by far the best fishing ever, winter, summer or whatever in this area!
Enjoying a glass of wine I reveled in the beautiful sunset, as so often occurs here: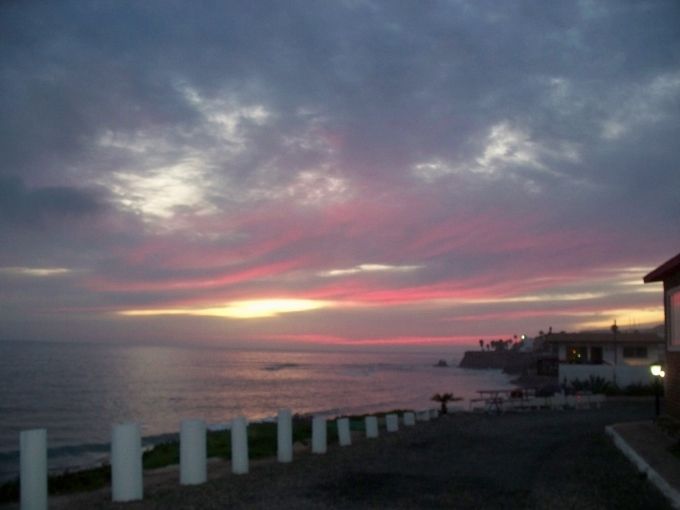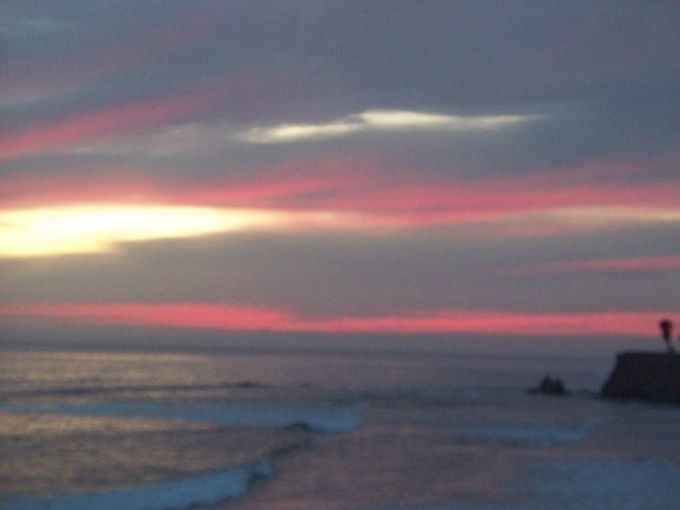 The desire to have dinner at Charley's was cancelled due to their 4th anniversary and Grand Opening of their upper level dining room. The place was packed beyond balance, good for them! We had not eaten at Splash in a while and so we headed south down to there. The place was also jumping on Saint Paddy's day, yet we found some parking as several folks were leaving. After I ordered a couple of Shrimp Tacos to go with my glass of red wine, I heard they had a special on Corned Beef and Cabbage, darn I love that meal!
Dinner was excellent and the alarm was set for 5:30 am. Off to Las Salinas and its treacherous harbor we went. We arrived too early, as it was barely grey light. So we waited until 6:45 am with enough light to exit the harbor, as we dodged the bigger swells. We had a short window of fishing, until a little after 10am, when we had to be back in the harbor before low tide.
All the Tails we have caught over the last two months were on the iron. Bill was using a Mega Bait lure, while I started off with a Dolphin Colored 6X Jr. We were metering a lot of bait in the area, yet no predators were obviously present. We moved around until we came upon some good marks about 40 to 50 feet off the bottom. Most of our marks to this point were just off the bottom. I hit bottom with my lure and began to Yo Yo and wind the lure some 20 to 25 cranks off the bottom and got slammed. None of these Yellowtail, regardless of size, wanted to yield easily. We played tug of war for about five minutes before the Tail tired somewhat. The big fish didn't take too much line, yet it did not want to budge, and when I wound up a few times, the fish took drag right back. Finally I hollered deep color and Bill was there to stick the fish just below the gill plates. Another solid Yellowtail in the 20 pound range: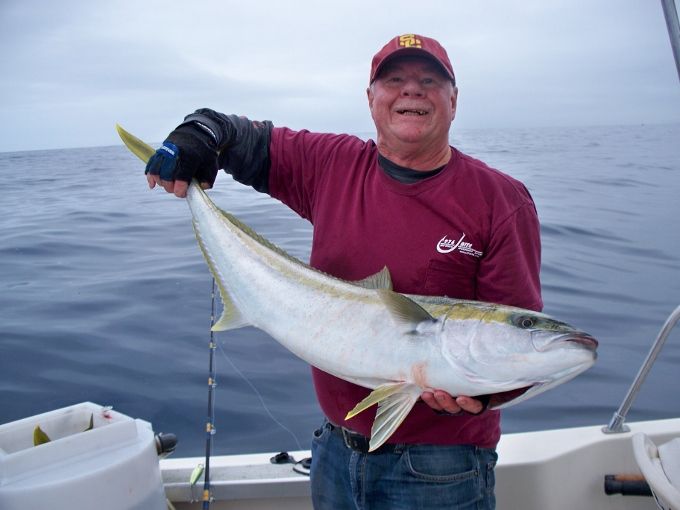 There were still some marks on the meter and I dropped back down. Gad, three cranks off the bottom and I am bit again. Still sweating from the first fish, this one feels even bigger and tougher? I gain a little line and back down the fish goes. I started to get a little worried about the Tail reaching a rocky bottom and tighten the drag somewhat. Gosh this was another stubborn fish? I would gain a little and lose a little. After at least 7 to 8 minutes of pulling hard, the Tail gave up a bit. It still played run and gun for another couple of minutes. Bill asked if I was close and I said not yet, so he dropped back down and got bit on the fall! So I had to gaff my own fish, always a thrill! This boy was a bit bigger than my first, maybe 23 pounds: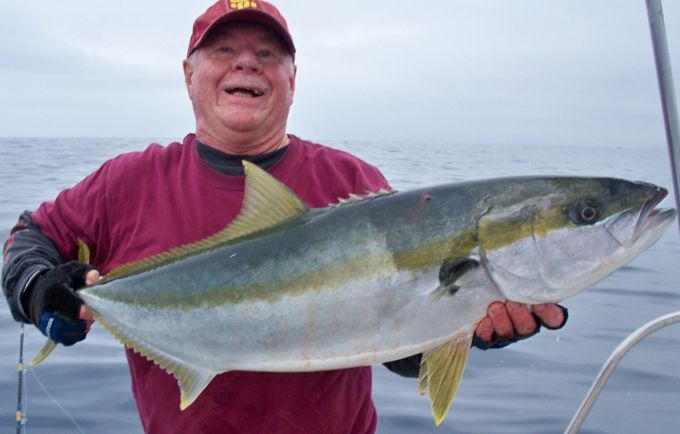 After bleeding the fish and cleaning the deck of blood, Bill was ready and I stuck his first fish, also in the 20 pond range. The screen was empty and the bottom sandy, so we moved back to find some more marks.
I felt my line above the jig and noticed it had a few chips from the rocks. So I grabbed my other outfit with my favorite lure, the CP105 Scrambled Egg. It wasn't long before we had a few nice worms on the meter, again about 40 feet off the bottom. I dropped down, hit bottom, reeled in the slack, Yo Yoed the iron twice and took three cranks and bam, I am on again. It was another pig, and took a lot of line. I couldn't believe it was taking line with a tight drag, 50 pound test, and so close to the bottom. Somehow it did not find a rock and gradually I gained some line. I wasn't sure who was tired, me or the fish? My arms were already feeling the strain of three big fish in less than a half hour. I did not yield and this Yellowtail was not going to defeat me. Bill stuck him and number three hit the deck for me: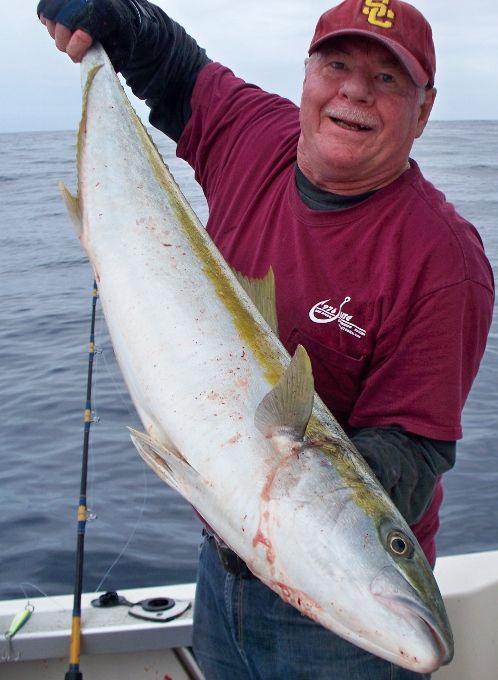 We looked at the screen and some more great marks appeared. I was bushed, but after bleeding the fish, dropped down again. Bill beat me to the bottom and it was game on instantly. I hit bottom and was on my fifth crank and got hammered. We had a double going. Bill's fish was at deep color and did the usual circle. All of a sudden my fish dove under the boat and I didn't react quickly enough and Bill's fish had caught the line and drug it into the engine prop. That was all my fish needed to gain its freedom, a slight release in pressure on the line. So it unbuttoned. I stuck Bill's fish and we both looked at the meter. They were still there. I dropped back my lure and it was again an instant bite. Oh gad another pig, and I was tired. This big Tail just wanted to hang. I could not gain line and this fish was not going to yield easily. I held on, with a huge bend in my rod. I pumped hard to gain 10 feet, and back down it went. Must have happened at least ten times before he tired and before I gave up?
Bill also got bit, and darn I had to gaff my own fish again with our third double of the day. This was the biggest of the day, about 24 pounds: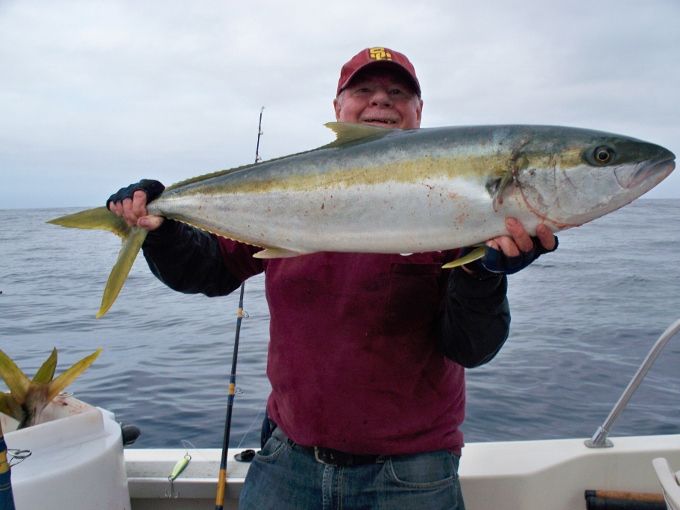 Bill was ready shortly and I stuck him. A four fish flurry: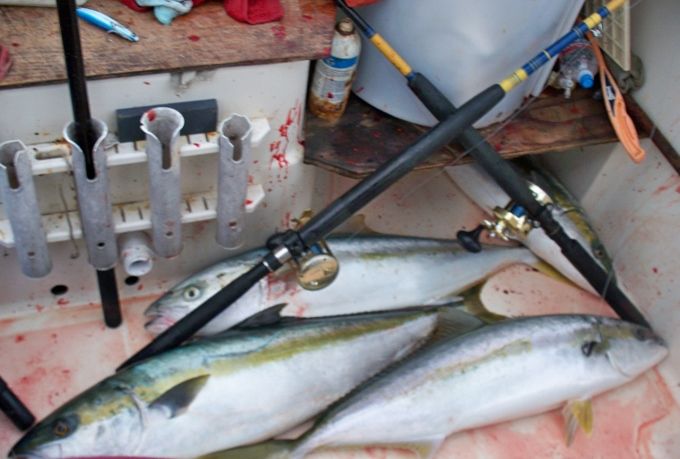 Bill looked around and found them again. No waiting for me, as I got bit this time way up in the water column. I was straight grinding the fish to the boat, and then it woke up. It didn't take much line, but it was going nuts, moving back and forth, and ducking and dodging up and down! I reached color quickly, but I told Bill it was coming in green and squirrely. The Tail would not settle down and I couldn't keep its head under the water and Bill took a couple swipes at it and missed. Back and forth it ran until I finally gave Bill a decent gaff shot and he stuck it in mid body. No worries, it was the best we could do with this kind of rapid fish. The fish was hooked in the gills, deep down, having nearly swallowed the lure, accounting for the unusual behavior.
This picture never gets old: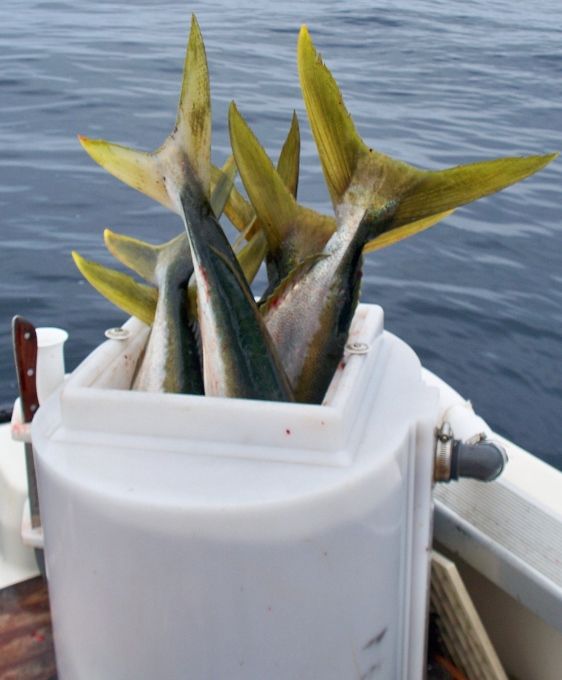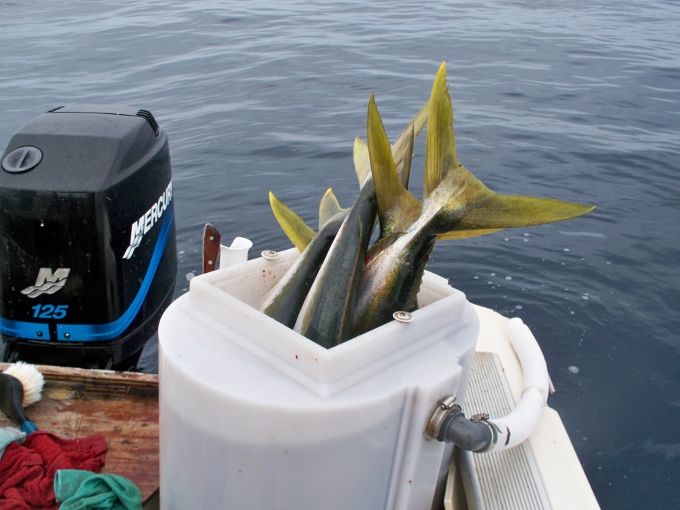 I was limited out before 9am at exactly 8:50 am. Beating Bill's record by ten minutes, wow, not easy to beat out Captain Bill? Maybe we need to call him Captain Yellowtail?
There was about 1.25 hours left in the morning to fish before heading back to the harbor. Although we could stretch it to 10:20 am Bill said we are done at 10am. So we went looking to try and get Bill a limit while I went to my Rockcod mode using a Mega Bait and stripped squid. Bill had switched back to a mint green 6X Jr. for his last two fish.
We spent 45 minutes looking for fish, marking some, with no luck on the Tails, although I caught a steady mix of Rockfish, with Starries, Johnny Bass, Bocaccio, Coppers, Three Spots and a decent size Whitefish. It was a quarter to ten and there they were, those great looking worms, some 40 feet off the bottom. Yep Bill was bit and after a great battle Bill's number four was on the deck. Marks were still there and right back down he went. With five minutes left on his time zone Bill gets the job done. Five minutes later, number five is on the deck, and its boat limits for two!
Bill with his last two fish at the dock: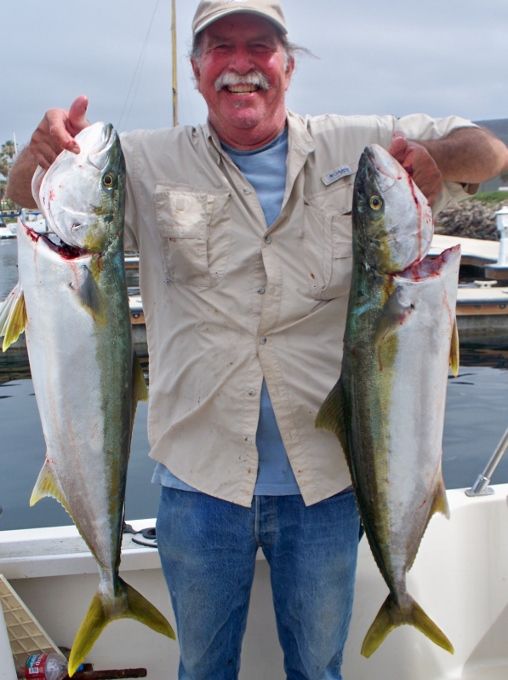 The ride into the harbor was smooth. Our limits on the deck: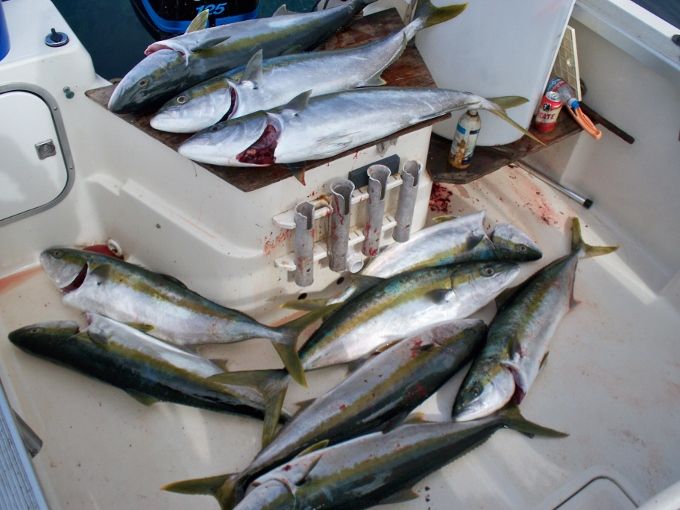 We were both beat, and it took us a bit more time to clean fish than usual, despite the early return. Bill gave away a few fish at the dock to friends. I took turns with him cleaning fish and cleaning up the boat. At around noon we were on our way to The Paradise Cove Inn to deliver the Yellowtail Cabezas they loved for making soup. I have yet to try some though. We also provided them with a whole cleaned Yellowtail for their pleasure.
We enjoyed a Hamburger for Bill and a Cheese Burger for me with wedged home fries. Wow, they were delicious and huge. Of course they were served with a few libations. We left and told them we would return for dinner, with some choice filets for Hamachi and deep fried fish and chips. Oh yeah that was special.
Bill and I both took naps and happy hour was at hand. Relaxing on the cliff with a beer was certainly a treat: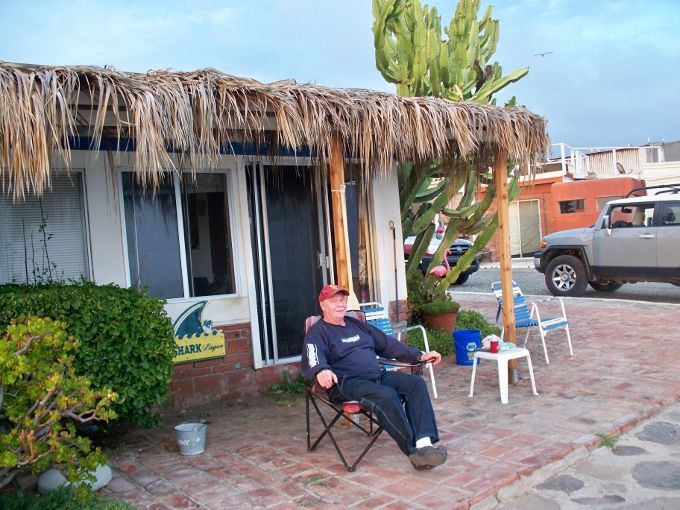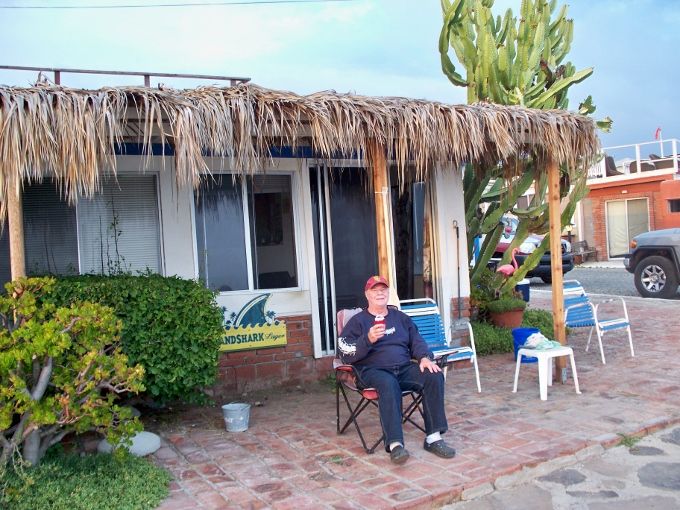 Not as good a sunset, but still relaxing and enjoyable: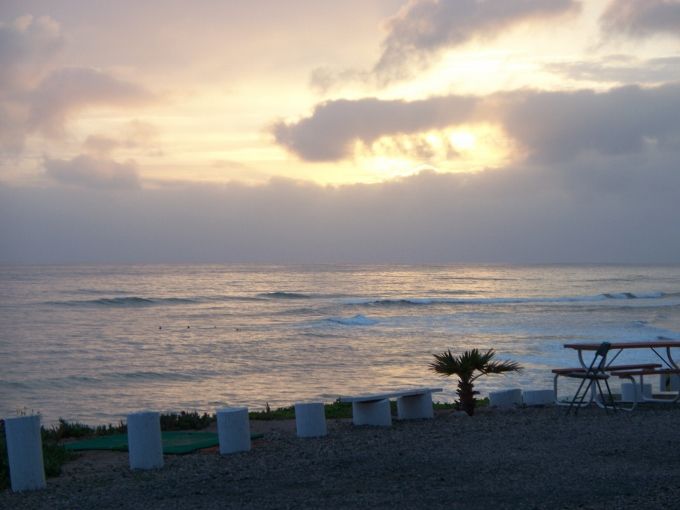 It was time for dinner and gosh it was oh so good! Bill reviewed the weather forecast and declared that the swells were going to be brutal on Thursday, with some wind to boot, and close together at less than eight seconds. We had already decided that we didn't want to kill anymore Yellowtail and now it was not even going to be a straight Rockfish trip. Unsafe conditions and we cancelled. We slept in and went out to breakfast at Charley's on Thursday morning. Bill had Huevos Rancheros, and I had a shrimp Omelet. Myself enjoying the moment: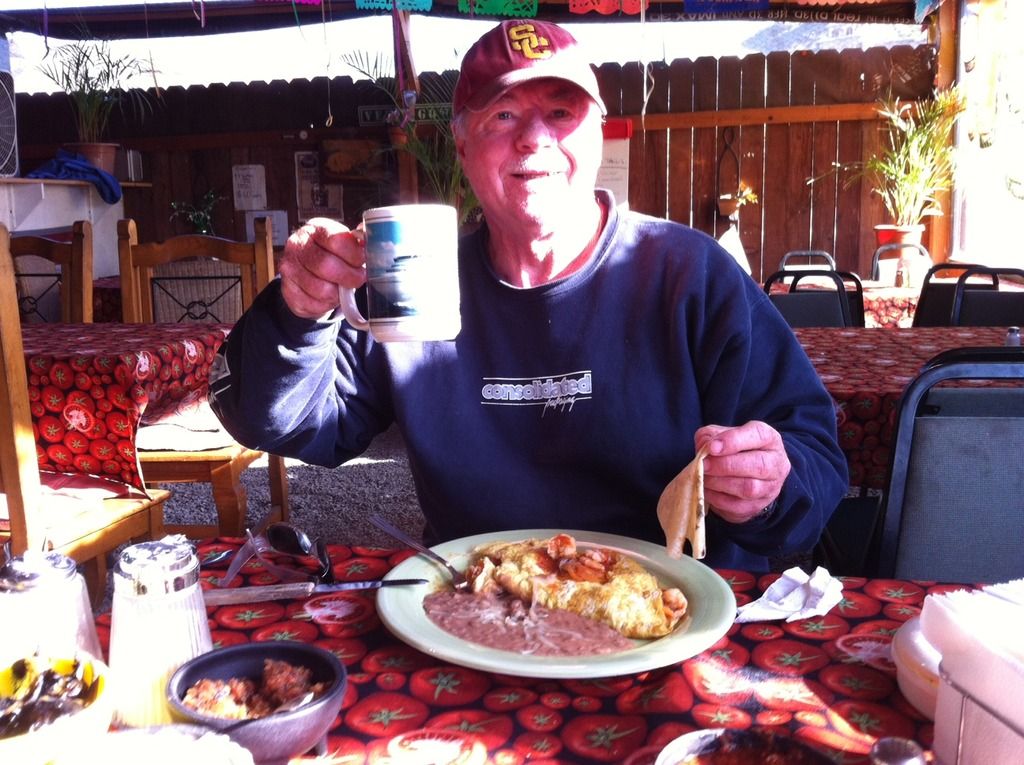 One of my quickest returns to Diamond Bar, right at 2 hours and 40 minutes, with only five minutes at the border at Otay Mesa.
Captain Bill, I mean Captain Yellowtail, thanks a bunch, you can sure find the fish on the chew, fine job again! Can't wait until our next adventure!
Hook up!
Cory
P.S. Could not believe the water temp was 66 degrees in March????????????
Another P.S. The Yellowtail's stomachs were filled with Lizard Fish, weird?
Last edited: