I Post A Lot But I Can't Edit This
Apr 25, 2003
20,868
6,918
74
Name

Cory Visser
Boat

N/A
I went fishing Wed. 2-11-15, with Lal on Lal's 18' boat the "Rubber Ducky". We launched out of Davies in Long Beach at 5:30 am, our beginning destination being Izor's Reef. The harbor water looked like a mirror, just plain flat calm. The skies were clear and the morning Sunrise consisted of a light red hue.
We stopped at Izor's for a quick Sand Bass frenzy, and then planned to move on to the Horseshoe to look for Yellowtail. When I fished on Sat. with John on his 25' Parker "Horndog", we listened to numerous reports of Yellowtail being caught at the Horseshoe and had wished we had given it a try?
The forecast called for little wind in the morning, with the majority of the day being in the 8 to 10 knot range. We ran out to the Reef at a good pace, with maybe 6 knots of wind and little swell.
We arrived in the beginning of grey light just after 6am. The seas carried a small wind ripple, and drift was rapid. The meter lit up with plenty of bait and fish, no matter where we went. Every Stone was loaded, and the bait on the meter was obviously red crabs, as every Sand Bass we caught puked up tons of them! With a fast drift we covered a good portion of the reef in no time ad had to reset several times.
In a about an hour we caught a dozen Sand Bass and three Calico Bass. It was quality over quantity, as most of the Sand Bass exceeded three pounds.
Lal had the big boys dialed in with some 3+, 4+ and 5 lb. brutes: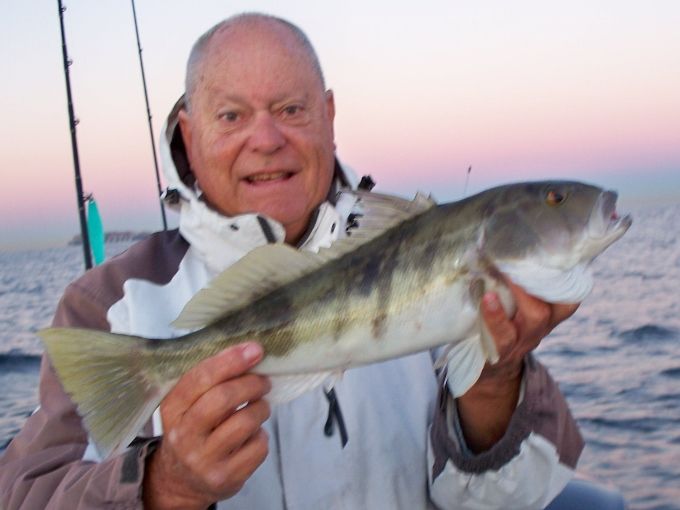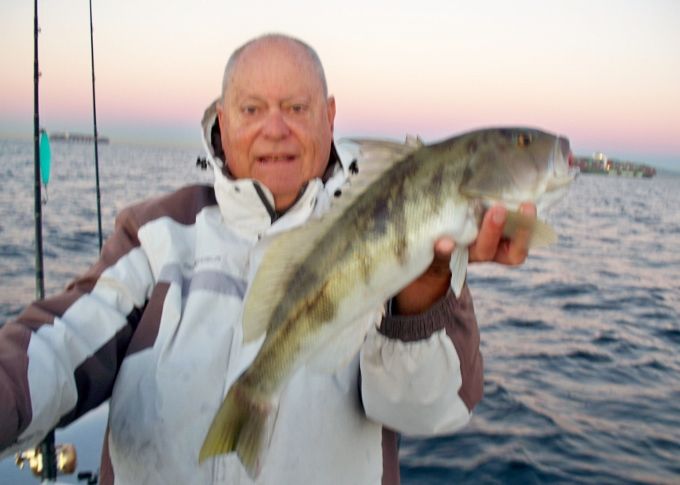 My first Sand Bass of the day, over 3 lbs.: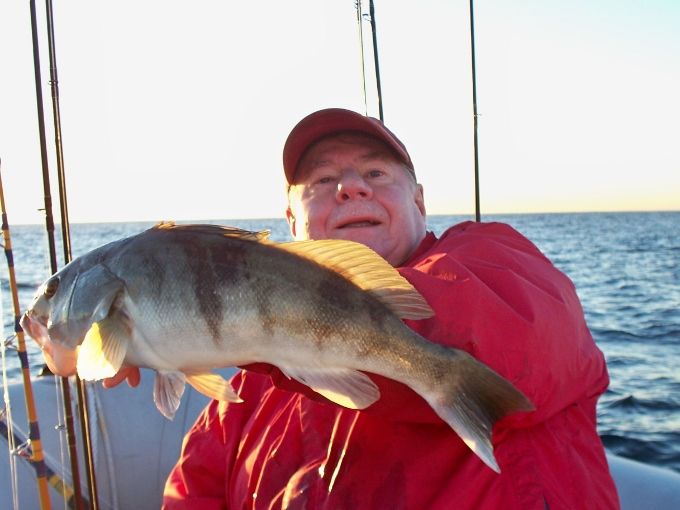 How about a 4 pounder: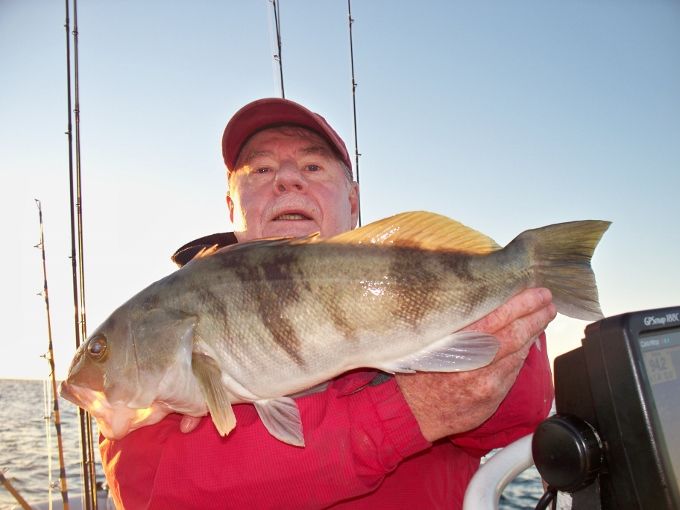 At 7:15 we headed over to the Shoe. There were very few boaters on the water. We spent about an hour looking around. The birds were out in force, I mean Thousands of birds, where do they all come from? Off in the distance we watched a Humpback Whale do several complete breaches! Not often you see them in our waters? We metered lots of bait, yet no predators that we could see? Yes we circled both the outer Green and Red Buoy's. There was absolutely nothing to write home about. None of the birds were really working, lots of movement everywhere, and huge colonies of Cormorants sitting on the water with nothing under them?
Well maybe later in the day, so we moved on up to Palos Verde. The wind was picking up, and it was capping good. By the time we reached the Golf Course, it was blowing 20+ with gusts over 30? It was 9am and we stuck it out until 10 am when the wind backed off. We caught a few Calico Bass and a few Sand Bass on crazy fast drifts.
When the wind subsided, we managed a decent bite on the Bass on the bigger stones. We caught a mixed bag of Calico and Sand Bass from 1 to 2.5 pounds. As the conditions improved Lal headed back to the Shoe. We fished a number of stones in the area and picked away at the Bass. We continued to find birds everywhere and none working!
It was so nice out, Lal decided to head out to the 150 spot. Once again we metered a lot of bait and nothing else wanted to play, as our jigs were not hit. We even surrounded the Rigs and found nothing. So back to Izor's we went on our way home.
The conditions remained fishable with a ripping current. The many stones at Izor's remained loaded with what we believe were Red Crabs? The fishing was slow, but the quality was excellent!
My biggest Sand Bass of the day: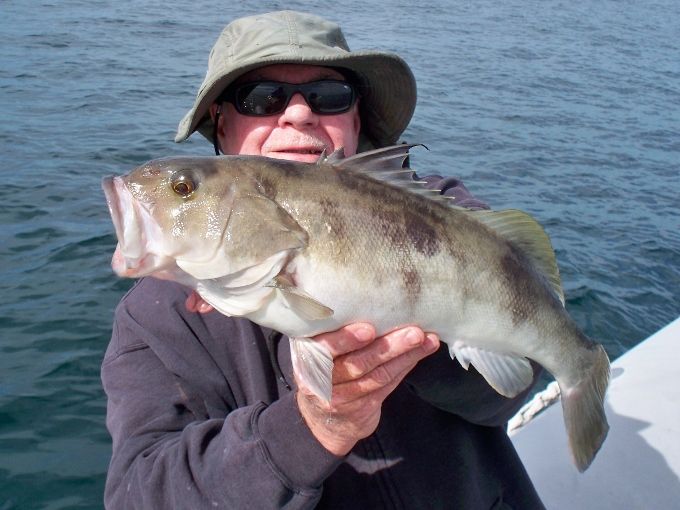 Lal with a 5+ pound Sand Bass: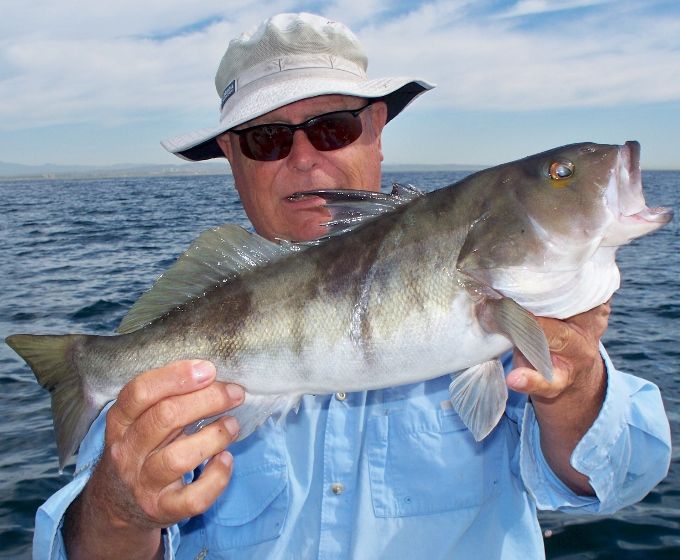 We had a number of doubles going and here are a couple of pic's: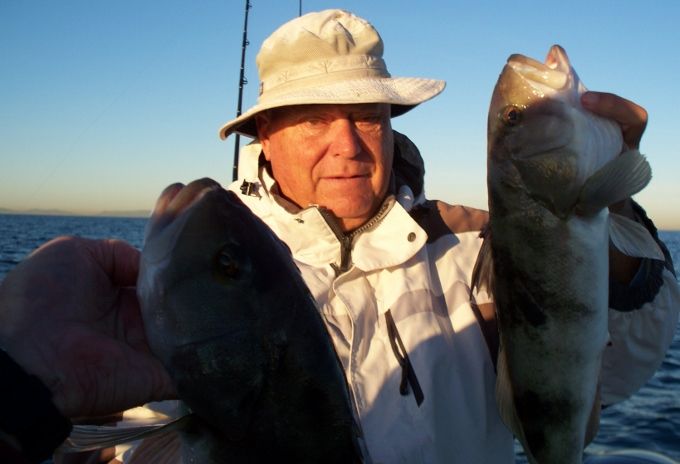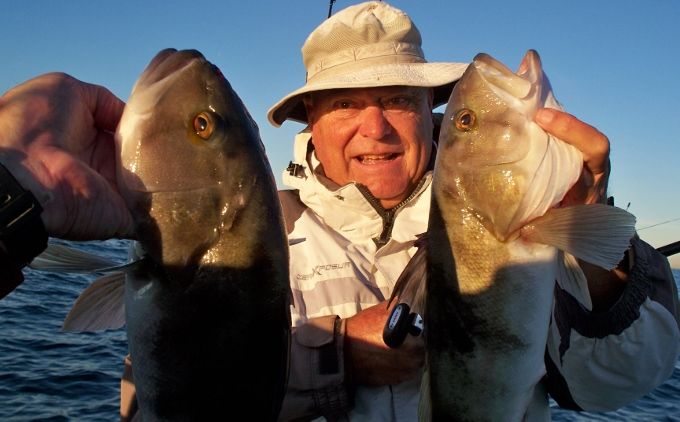 As we took a picture of our latest double, Lal's rod holder went off: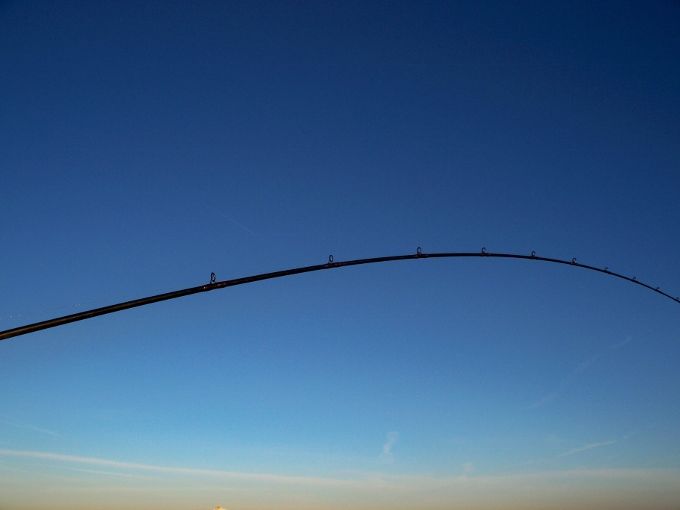 A few more Pic's: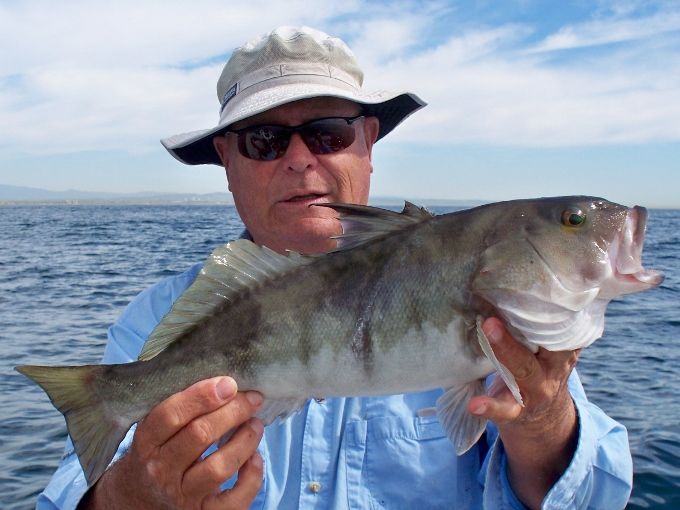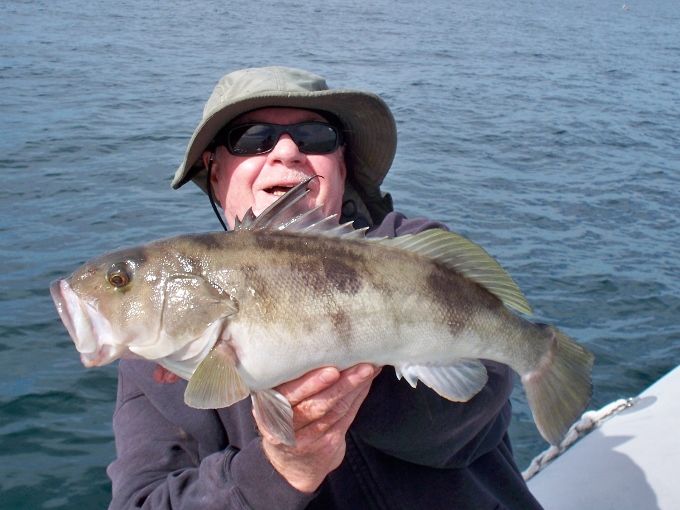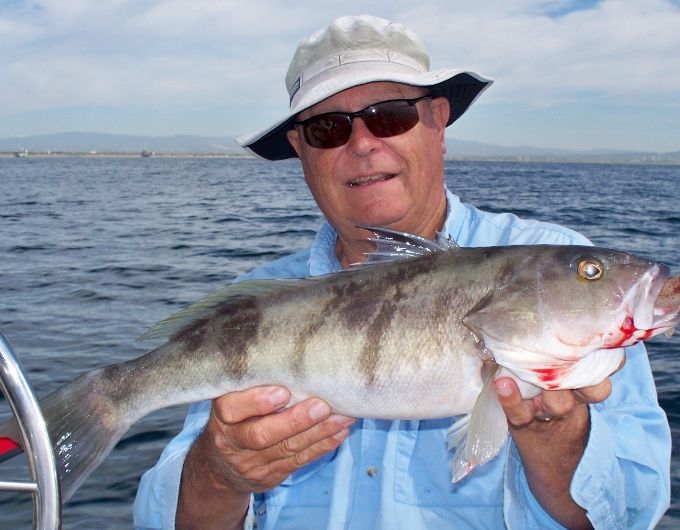 Water temps were between 60.4 to 62.5 degrees, still awesome for this time of year. We called it a day at 3pm, having released 30+ Sand Bass and 10+ Calico Bass. All fish caught on plastics.
Thanks Lal, we missed again on the local Yellowtail, yet caught some quality Sand Bass!
A fun day on the water.
Hook up! Cory