I Post A Lot But I Can't Edit This
Apr 25, 2003
20,927
7,169
74
Name

Cory Visser
Boat

N/A
I went fishing Wednesday 02-04-15, with Bill Fisher, on his 18' Trophy, "Toad Hall". I have been drooling over all the Yellowtail being caught along the coast and Bill said I have a fix for you, as he had just caught 5 Yellowtail on Monday and we might find some willing biters if I came down.
The run to the fish was not too far, and they were holding in a depth of 160 to 200 feet. The water temp was 62.5, wow, is it really February?
All Bill's fish caught Monday were on the iron, 10 to 20 cranks off the bottom. Bill was using a 6X Jr. Blue and White, while I just can't get off my favorite lure, the CP105 Scrambled Egg. We metered tons of bait on the spot, most likely Red Crabs, they seem to be everywhere!
We cranked and cranked iron and only caught a few Rockfish, some of which the seals stole. They were on us thick, so we made a move about a mile away.
It was a little deeper here. Same deal, lots of marks and we guess, mostly bait of some kind. We again had a seal steal a Rockfish off the jig? Normally seals don't like certain Rockfish, like Bocaccio, but not today, they were on their menu? After an hour of moving and cranking, we went back to our starting spot.
This time the marks looked like the right kind with little bait amongst them. Sure enough Bill got bit just off the bottom. I wasn't bit and dropped my lure back down to the bottom. About 7 cranks up, game on, we have a double going. Bill gets his Yellowtail to the boat and gaff's it. I had deep color, and he slid over to stick mine. We are both on the board, hoorah!
My first Yellowtail of 2015 was 16 to 17 lbs.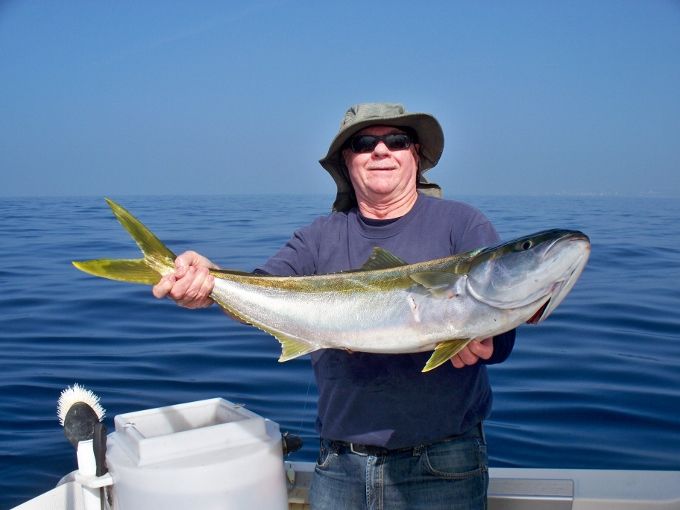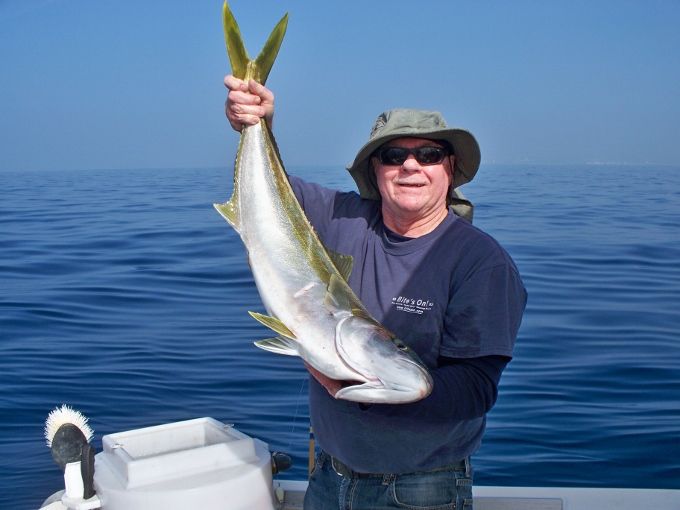 Being that Bill is camera shy, I held up his too!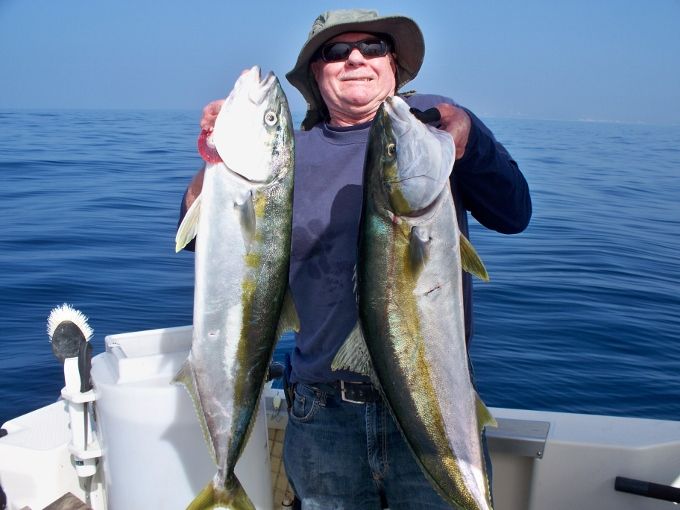 We spent another couple of hours of looking for fish, marking some, with no luck until I finally got bit again. This fish was a bigger variety, and unfortunately while transferring my rod from my arm to my belly as the big Tail was trying to pull the rod out of my hand, something weird happened and somehow the line seemed to get stuck somewhere on the guides or reel or somewhere, and whack the 50 pound Spectra snapped right at the reel? Darn!
That was it for the day, as all the bait and most of the fish marks went south. I can tell you my arm will need some rest for a while with all the cranking causing cramps and aching! That two month lay off from fishing took its toll?
Bill, thanks a bunch, you can sure find the fish on the chew, fine job again! Can't wait until our next adventure!
Hook up!
Cory