I've posted enough I should edit this section
Apr 25, 2003
20,472
5,786
113
72
Name

Cory Visser
Boat

N/A
Having waited too long to make a reservation several weeks in a row to target the big Bluefin, and finding all the boats sold out, I gambled on booking a trip a week in advance, not knowing if this late in the year, with stormy conditions, the Big Bluefin would still be around. So I booked a trip on the Oceanside 95 a week in advance, which was scheduled to depart on Tuesday night at 8pm, fishing Wednesday 11-30-16 and returning Thursday morning at 8am.
Due to the crazy weather pattern, they changed the day of departure to Wednesday evening. Turned out to be a bad choice weather wise, however, it allowed them to get out Monday night with a full load, where their Sunday departure would have been cancelled due to the horrible weather.
So we left Wednesday at 8:20 pm with a weather forecast of 10-14 knots in the morning dropping below 10 knots in the afternoon, fat chance of that happening? The weather at the Tanner on Wednesday, our original day to fish was extraordinary and most boats did extremely well on the Bluefin. Sometimes Lady Luck just gives you the finger?
My relationship with Mother Wind this year has been on the worse of terms, and remains on a very steady course of adversity!
Departure Wednesday 11-30-16.
I left my home in Diamond Bar at 4:45 pm and headed south to Oceanside; arriving at 6:30 pm. The 5 freeway was very busy, as expected in prime time, as I normally can beat that time by 30 minutes.
The boat was scheduled to leave at 8pm and I joined about 20 other anglers in line to board the boat, which I was told would begin boarding at 7:30 pm? There were 33 anglers booked for the trip. We shoved off at 8:25 pm, facing a 90 mile drive to the Tanner Bank.
Captain Rick gathered everyone in the galley to cover the game plan. We would arrive at the bank at around 5:15 am and will be fishing with fresh frozen Squid, as they had no live on board. They made arrangements with the El Dorado to purchase live squid at the bank, with all of us contributing $8 each. However, they would not be making the transfer until mid-morning. Captain Rick suggested that no one use anything less than 60 pound test, as the fish were not line shy and very mean! Glow in the dark Flat Falls, Glow in the dark sliding sinkers in the 2 to 3 oz. range were the keys to success. Although some anglers have been successful using 8 oz. torpedo sinkers.
Fishing Thursday-12-01-16.
The ride out started very calm until we reached about 60 miles, when the seas and wind became unfriendly. It was a wild ride for the next 25 miles and then got worse. Captain Rick said they have to reduce the speed and it would be at least 30 minutes later arriving at the bank than expected. Hang on, as it was rougher than shit! It was blowing around 25 to 30 knots, with 10 to 12 foot seas. Sure great to know the weather man blew it again, on the wrong side of course? I would to like drag them along on some of their ridiculous forecasts and see what they think of their results?
We started a drift still before grey light and hooked a few fish. I think we lost our first four hookups. I saw one angler bring back a bent hook, it was of considerable size, must have been very cheap metal? I heard that two broke off and the other one was a pulled hook.
I tried a Flat Fall, a Dropper loop, and sliding sinkers and could not buy a bite on anything. We probably had 20+ hookups to land 8 Bluefin. To show you what luck has to do with catching big Bluefin, this angler from Hong Kong on vacation who had never fished before dropped down a Flat Fall and got bit right next to me on the fall. He pulled on the fish for about a minute and handed it off to the crew, knowing he was no match for the big fish. Talk about beginners luck?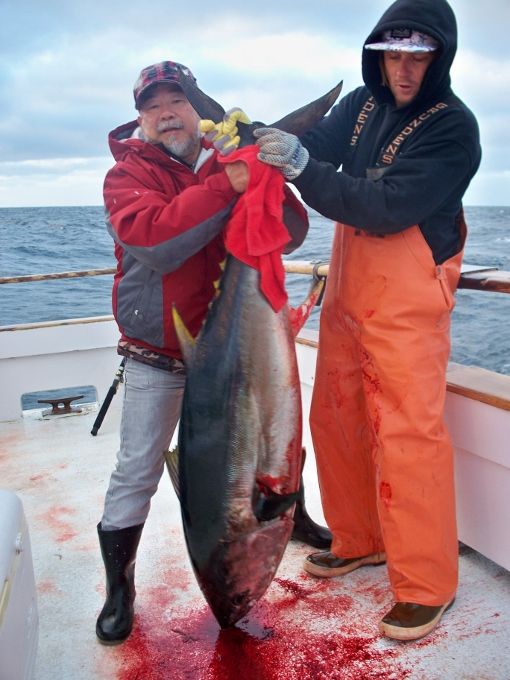 The size of these fish takes your breath away, as this angler who caught this big Bluefin did not want any part of a picture, being totally exhausted: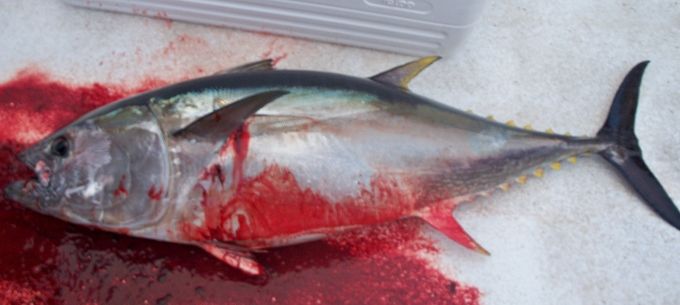 We made drift after drift where most of the hookups were on 3 oz. sliding sinkers. The scope out was ridiculous, as I dropped down with a one pound sinker a number of times to watch the scope out go to at least a 100 yards after 5 minutes. The weather did improve somewhat, with winds backing off to 10 to 12 knots. The seas declined also, with maybe an occasional 6 to 8 footer appearing.
A couple pictures of 100 pound Bluefin caught later in the day: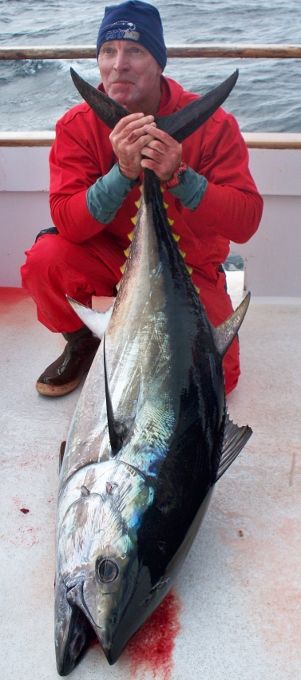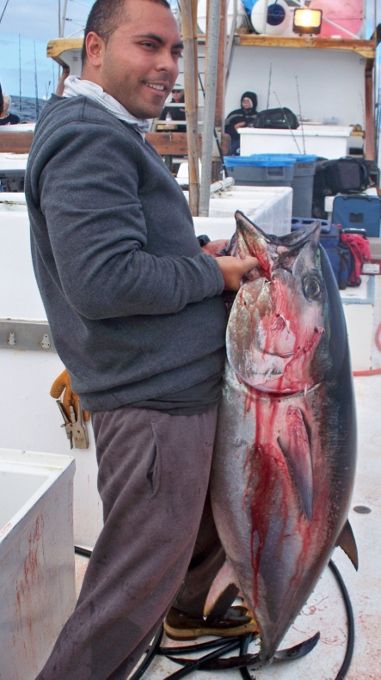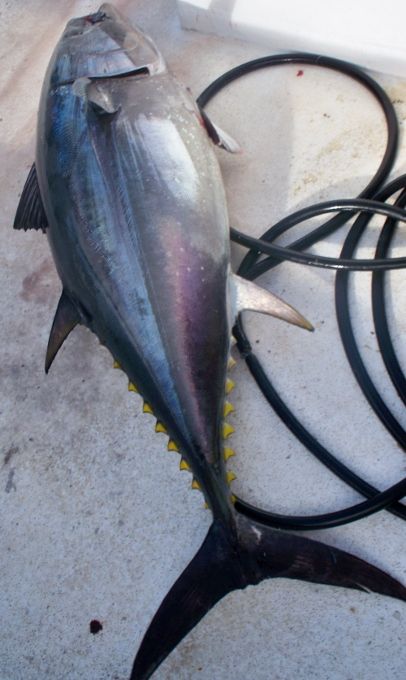 We were all hoping for the big sundown bite that had been a common occurrence on the bank. We didn't get a single hookup after 2pm. Captain Rick stayed until 8pm continuing to meter fish, but nothing wanted to bite. Time to bail. We enjoyed some Bluefin sashimi served up by Cook Doug and dinner consisted of pulled pork, green beans and Coleslaw.
The ride home was down swell and pleasant. We arrived at the dock at 6:30 am Friday morning. I was very disappointed and my Mojo was MIA. It happens, as it did for 25 other anglers. Many were very talented. Per usual a number of losses were due to poor or undersized tackle. Yeah it's great to get bit on light line, then kiss the big fish goodbye as you get spooled. Only a few survive fishing undersized tackle on big fish?
The crew and Captain were spot on and the trip was as expected in lousy weather. Cook Doug was good, as all the food was tasty. I enjoyed the trip and met some fine new folks. It has just not been my year of picking the right day and right boat to catch these marvelous Bluefin Tuna. Oh well I never say die! Good luck to all and a very Merry Christmas and Happy New Year.
May 2017 be as good as 2015, one of the best years ever locally! 2016 was not one for me to remember, except assisting in the catch of a 162 pound Bluefin and catching my biggest local Yellowfin Tuna of 65 pounds. Fight on!
Hook up! Cory