I've posted enough I should edit this section
Apr 25, 2003
20,640
6,414
113
73
Name

Cory Visser
Boat

N/A
I went fishing Thursday 5-18-17, with Lal on his 18' boat the "Rubber Ducky". We launched out of Davies in Long Beach at 5:30 am, our beginning destination being Izor's Reef.
Having waited patiently for ten days to get Mother wind under control, we finally found a window of opportunity. Catalina was out with some wind forecasted early and much more in the afternoon. Didn't want to risk it, plus who knew what conditions existed over there with all the wind, sure bet water temps were down and dirty too?
The coastal forecast called for 5 to 7 knots of wind in the morning, with a 3 foot swell at 12 seconds, while the afternoon forecast called for 11 to 14 knots of wind and 5 feet swells at 9 seconds. At 5:30am, when we cleared the harbor, there were okay conditions with a residual bump. The water temps were not too bad at 62.4 degrees, and decreased only slightly to 61.8 as we reached Izor's Reef.
We began fishing around 6:15 am, with some current and calmer conditions. Lal set us up on a drift that didn't go the direction he anticipated and so we reset. This was a small stone that was very promising a few weeks ago, however neither of us got a bite. Lal put us on the upper part of the reef and the drift direction placed in line to go over several high structure spots. It was a slow pick for an hour and a half, as we covered about 15 to 20 stones.
Lal was out fishing me 2 to 1 and continued to do so throughout the day. I had one of those days where I got bit plenty and could not get a good hook set and in other cases I got the fish half way up and it unbuttoned.
Lal captured the first picture fish, a nice Sand Bass in the 3.5 to 4 pound range: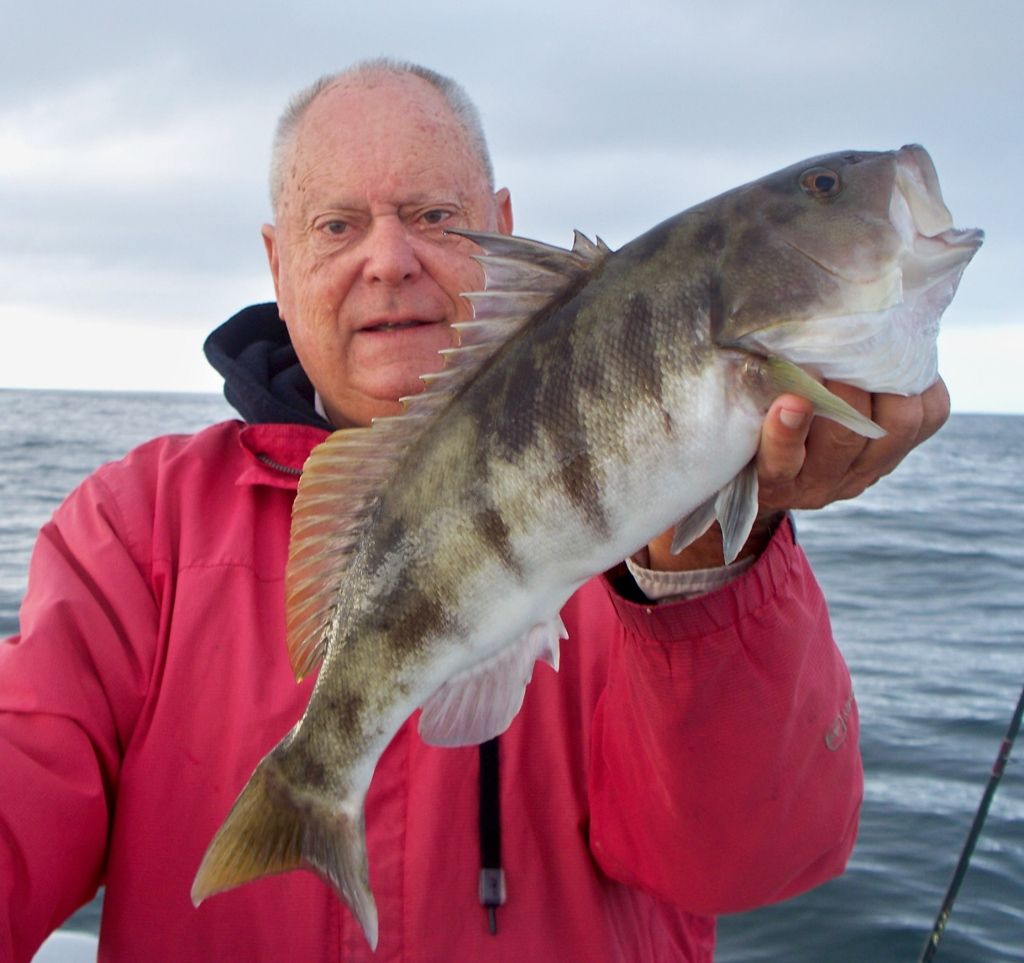 We left Izor's at about 9am. Weather was looking really good and the thought to move to the Pipe came up. I suggested the Shoe, as the last several times we have fished there the bite was very good. So off to the Shoe we went. Water clarity at Izor's was not bad, an off color grey blue, with good visibility. Water temps had risen to 63.1.
We arrived at the Shoe where the water clarity was a Pukey brown green. Temps were similar to Izor's at 63.4 improving to 64.5 by noon. The meter was ablaze in fish and we thought it would be a ravenous bite. Well for Lal it wasn't bad, yet he had to work for it. I just landed one here and there.
My first and only picture fish: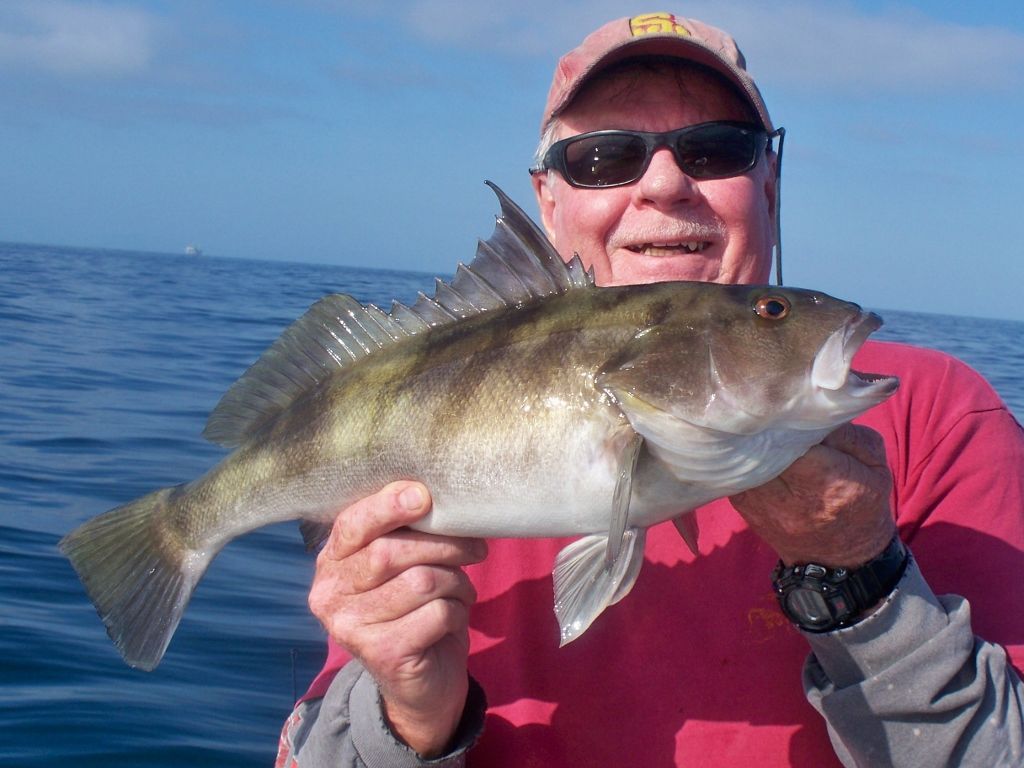 Lal got hammered on the fall, always a fun experience and managed to reel in time to set the hook.
Yep a three+ pound Calico Bass: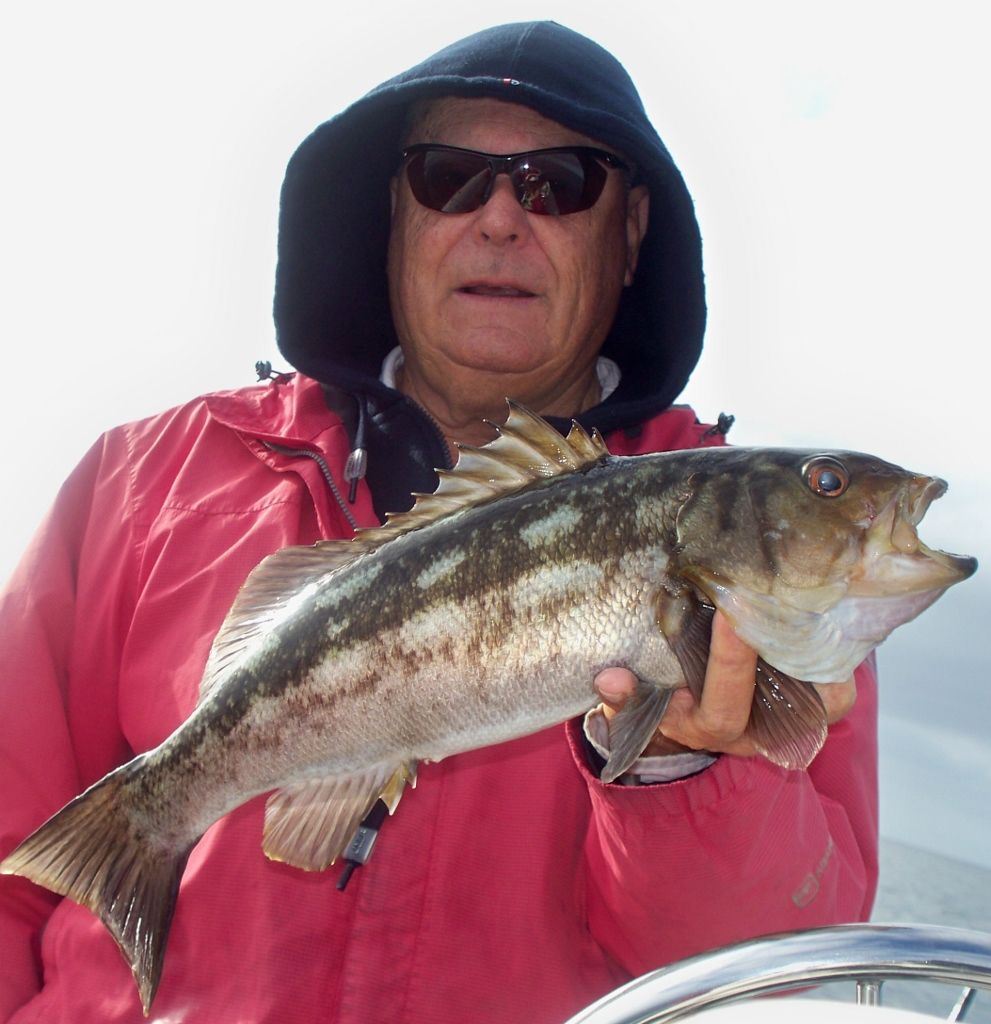 Low tide was at 10:35am and we expected a drop off on the bite, well it did slow down for about 20 minutes, however the fish finder screen was so full of fish, that we knew the bite had to continue eventually.
The amazing part of our morning was the constant change of directions we drifted and as we did so we ran over pods of fish on hard bottom between the bigger stones or reefs. When you looked at the tracking, we were literally all over the map.
I caught and released some 20 mixed calico and sand bass while Lal easily doubled that count. I also went through far more plastics than he did, I kept reeling in tail less plastics and/or ripped up ones. Fortunately I only lost one lead head on the bottom, similar to Lal.
Things did slow down and before we were set to move to another area, the DFG showed up. Lal knew the supervisor and although he didn't ask we both showed our licenses. They knew we did strictly catch and release and did not board the boat. It was an enjoyable experience and they were very friendly. They were also impressed with our gear and we told them about releasing some 60+ mixed Bass and several Rockfish. Lal showed them the clear Red Flake plastics and they stated they would get some as they both fished on their off days.
Lal moved us to some deeper water and to some larger stones that we hoped held some big dogs! Then Mother Wind came on quickly with a slight capping and too much scope out, even on 2 oz. lead heads, which became onerous and the fish had no interest in chasing a speeding plastic. A half hour later, at high noon the snow cones were prevalent and wind was 15+. Adios amigos. On the trailer at 1:30 pm.
Thanks Lal, another fantastic day on the Ducky. You humbled me today Lal. Yet I still had a blast and 20 Bass isn't all that bad?
Hook up! Cory