I've posted enough I should edit this section
Apr 25, 2003
20,491
5,957
113
72
Name

Cory Visser
Boat

N/A
While reading reports of WFO Yellowtail fishing off the Finger Bank, and big Bluefin Tuna within targeting range, I booked a full day trip on the Eclipse out of Seaforth landing in Mission Bay. It was to be a Cinco De Mayo blast!
Departure Wednesday 05-04-16.
The departure time was scheduled for 10 pm, so I left my house in Diamond Bar at 6:20 pm and headed south to San Diego; arriving at 8:10 pm. The traffic was not as heavy as expected Always enjoy the parking lot at Seaforth, convenient and free, at least this time of year there is plenty of parking. As I parked my Truck the San Diego had just unloaded and I met Katharina approaching her vehicle next to mine.
Katharina is a friend on Facebook, however, this is the first time we have met in person. She was hot stick on the boat, with four Yellowtail on a combo of bait and iron. He indicated it was tough fishing and catching today, and jackpot was a 42 pound Bluefin Tuna caught on bait by someone. It was the only Tuna landed. She wished me luck and checked in at the office.
They had asked us to be at the dock by 8pm, 2 hours before departure, I signed in as the lucky number 13 on the sign in sheet. Thought about it and then shook my head and said simply superstition, just ignore it? It was a long wait and we didn't begin boarding until 9:45. Not happy about that, considering they had not been out fishing that day, why wasn't the boat ready to load earlier?
We left the dock around 10:20, they had already baited up. The Captain said he would be down in a half hour to introduce the crew, give safety info, provide tackle guidelines, and discuss the game plan for the following day. It was getting late and most of us were anxious to hit the bunk room. After the Captain gave his spill, a representative of Bait Wrap lures handed out a lure for everyone. I received a surface iron, which fit the needs for tomorrow's fishing agenda.
They said they would soon collect for jackpot. I headed for my bunk. I heard last call for jackpot about 20 minutes later. I stumbled up the stairs and plopped down my $10. Meals were $10 for Breakfast Burritos, or other sandwich, $10 for a Hamburger, and $14 for a Yellowtail dinner. There was no combo meal plan.
I asked about a breakfast plate and got a reply of what is it you want, I said simply, Bacon, or other meat, eggs, potatoes and toast. The cook Greg gave me a strange look as if he had never heard of such a thing for breakfast, but said he would fix whatever I asked for. Very strange?
They also had a drink bar, which included sodas, water and coffee for $10.
Thursday-05-05-16,
The boat shut down around 4am and drifted until daylight. I woke up at 5:30 am to the sound of the engines firing up. I enjoyed a cup of coffee, which was excellent and there was a slight breeze, with very calm seas.
I elected to order a Breakfast Burrito, and not mess with a "special" order of a breakfast plate, still weird in my book? The burrito was very good, but on the smaller side. Someone sitting next to me said he could easily eat two.
The forecast called for winds under 10 knots all day and it held true. We expected a few showers, however, they never came and we did have occasional sun throughout the day. I heard conditions were much worse out of the Long Beach area, as my good buddy Lal was chased off the water at 9:30 am, in 20 knot winds and rain!
The Captain looked around for an hour before finding a decent school of Yellowtail at about 7am. We were on the southern side of the Finger Bank, surprisingly not far off land, about six miles, close to Las Salinas where I often fish with good friend Bill on his 18' Trophy, "Toad Hall".
There were about ten of us in the bow throwing surface iron. A few others used the Yo Yo iron technique and there were some bait fisherman. No action and the school sunk out. We continued to search this area for another hour before turning north. Captain Adam explained that several other boats in the area were having similar results. A no show on the Tails so far. A few boats were catching some Bluefin Tuna, although they were also difficult to hook up.
We worked our way to the northern most end of the Finger Bank. At 10:30 am we came up on a huge bird school, and underneath them were boiling fish. The Yellowtail were crashing everywhere. All the jigs went out and no one got bit, a few got bumped. How could we miss? There were no bait hookups either. We repeated this process for the next couple hours, crossing the Rockpile and ending a few miles south of South Island. We found school after school of crashing Yellowtail under the birds, all with lockjaw.
Finally there was a hookup on the surface iron, just one. Turned out it was snagged, not eaten, that's how thick they were. We also hooked a bait fish, however, the angler was using light line, and was fighting the fish quite a while, and eventually lost it to a seal.
Angler Casper with his 18 pound Yellowtail, the only one caught today:
I wound jig after jig right through the boiling fish without a single kiss, as did all others throwing iron. I tried Yo Yo as well for nothing. I also tried bait using 25 pound, and a Flouro carbon leader, a small sliding sinker, a #2 hook, and also fly line 20 pound for no bites.
Captain Adam decided it was time to abandon the endless pursuit of Tails that would not eat. We are heading west to try for some Tuna. I believe most of us were happy he made that decision, including me?
Greg served up Hamburgers for lunch, I usually order a Bacon Double Cheeseburger for lunch, but at $10 for a single, I passed on that thought. I washed down the Cheeseburger with an ice cold Corona beer.
We didn't have to run far from our last Yellowtail spot to find the Bluefin. They were in the 425 area or perhaps a bit north of it, maybe 7 miles southwest of South Coronado Island? We pulled up on some huge boils and began to drift. About ten minutes later with big Tuna crashing some 150 to 200 yards away from the boat, Captain Adam hooked a big boy on the Flat Fall lure. There was no doubt it was a sizable fish, and I believe it took him around the boat several times before they stuck the gaff in him.
I'm guessing 50+ lbs.: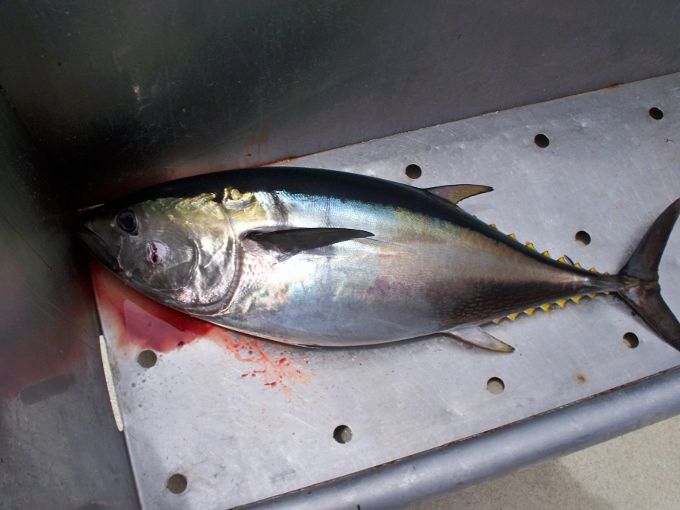 The meter showed no more fish under us and the fish were hanging out up swell. So we idled into them. The size of the boils is something to see. Don't know what they were feeding on, but these Tuna put on quite a show!
Several more Tuna were hooked on Flat Fall lures. I long ago had switched from my Colt Sniper to a Flat Fall. No bites for me. We also hooked a few fish on bait, however, the light line used was like bringing a knife to a gun fight, and soon it was Goodbye. One angler using 25 pound test was on his fish for about 45 minutes before being chewed through. Did get it to color several times, however, that Bluefin wanted no part of the boat and had the strength to say so!
Didn't get the fisherman's name, but he was jackpot winner, Tuna was most likely 65+, he was a big dude, 6'5" or something holding the fish: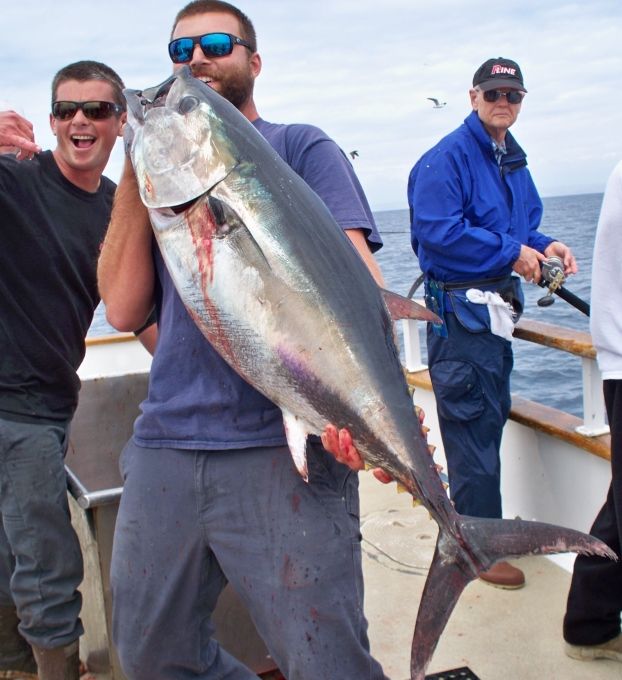 That is Captain Adam standing to his left, with the thumbs up.
We did land one bait fish on the smaller side. This was the last hook up landed, also on the Flat Fall. The Bluefin weighed 56 lbs. at the dock, the other fish had been cut. The other few fish we landed went in the mid-forties. We ended the day with Six Bluefin Tuna and one Yellowtail for the day.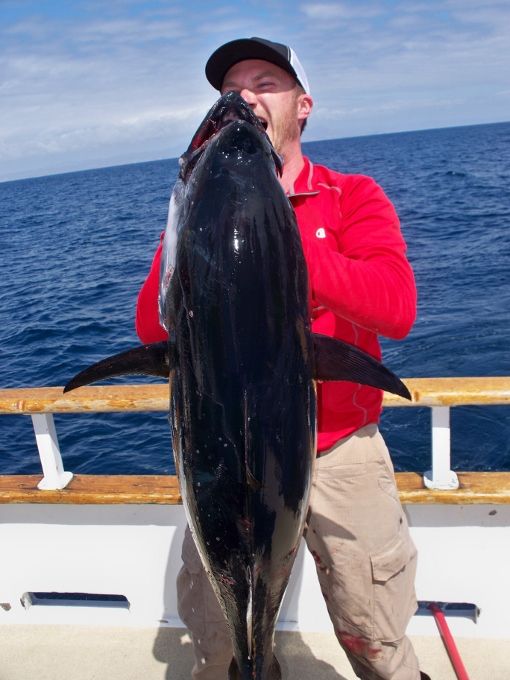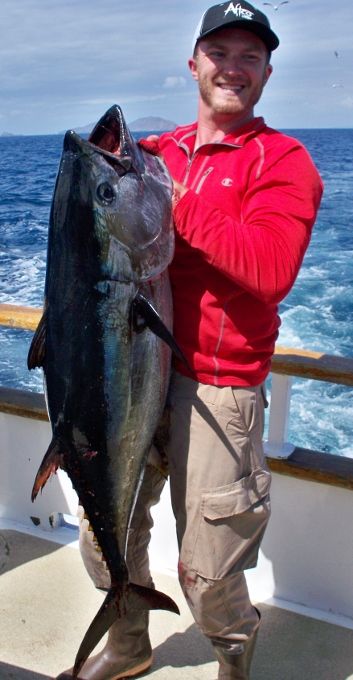 It was getting late and we continued to work our way home to Mission Bay. We made another stop some three miles west of the Middle Grounds. One bait fish was hooked on 30 pound and it broke the line on a sizzling nonstop run ending in 15 seconds, right next to me! I was using 50 pound and a 2 oz. sliding sinker for my bait outfit, these fish were simply too big to fish light line. I've caught fish to 80 pounds on 20 lb. but it is a miracle to do so.
I dropped down to 30 pound fly line, being it was so late in the day, but no luck for me. Too little too late. I know I tossed the Flat Fall 40 to 50 times, then again there were 14 other anglers who had no luck either. Did number "13" jinx me, who knows, although I would rather not tempt fate again? Hard to believe how many fish we saw today and only have a few biters.
Dinner was served at about 5pm until 6:30 pm. I passed, although the presentation was good, it was again a small serving, and probably priced right, as other boats charge $20 to $30 for dinner. Not often a one day boat offers a dinner. Not often you have calm seas at this time of day: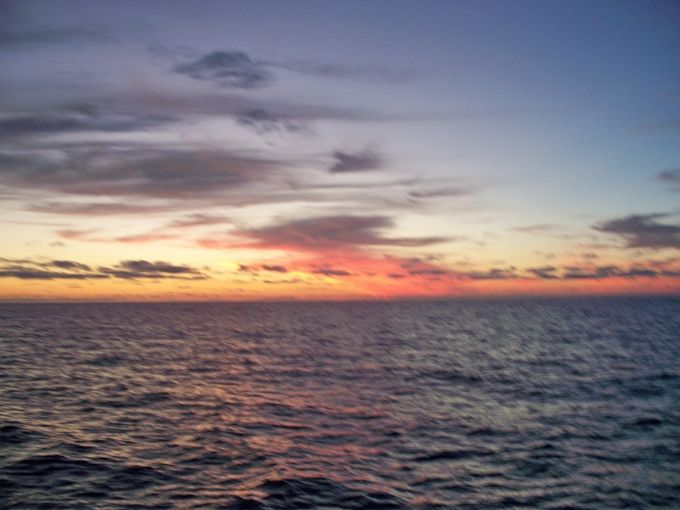 Getting skunked is never any fun, however, it is part of the game, and I was surely not alone, being skunked. Overall, it was a great group to fish with and the Captain and crew gave it their all! Certainly the Eclipse is a comfortable boat, and I had fished on it last summer on a 2.5 day charter trip and we destroyed the Tuna.
Hook up! Cory
Last edited: