I Post A Lot But I Can't Edit This
Apr 25, 2003
20,852
6,886
74
Name

Cory Visser
Boat

N/A
I went fishing Thursday 04-23-15, with Lal on his 18' boat the "Rubber Ducky". We launched out of Davies in Los Alamitos at 5:00 am, our beginning destination being the West End of Catalina, targeting Yellowtail.
We stopped at Nachos for a good mix of Mackerel and Sardines. We were able to average 20 knots across the channel. The forecast called for 4 to 6 knots of wind in the morning and 9 to 12 knots in the afternoon. A 3 foot swell was right on. As we reached the Isthmus at Catalina, the seas were grease calm. We found lots of bait and some great meter marks, yet nothing wanted to bite?
We headed up towards Johnson Rock passing Starlight and Black Rock when the seas turned Gnarly. Where did this come from? We had planned to slow troll Sardines up the line, yet the conditions forced us to reduce speeds anyhow to six knots. The five to six foot swells and washing machine conditions did not allow us an opportunity to troll bait. Then it started to rain to make matters worse.
We rounded the west end and passed Eagle Rock, then took a look at West Cove in about 95 feet of water. The conditions were slightly better than on the front side. We slow trolled Sardines and Mac's. We ran over some great marks and I got bit. So did Lal, but his did not stick. I reeled in a four pound Yellowtail. Not much, yet the skunk was off and we had some sweet Sashimi. Had this been our last Yellowtail, we would have released it!
We continued our quest to catch Tails on the slow troll in this area for about 20 more minutes before deciding to head over to the Farnsworth Bank. We never encountered anymore good marks in the area.
The ride out to the Bank was onerous, with big swells and 15 knots of wind; fortunately we were headed down hill! We arrived at Farnsworth Bank at 9:15 am with one other private boater on the bank. We set up a drift at the beginning of the bank, and drifted down hill towards the east end. The amount of bait on the reef is extraordinary. The fish marks beyond explanation.
We were shortly joined by the Pursuit and the six pack boat Options. This suggested we were in the right place, as both of these boats had caught lots of Yellowtail recently. The Pursuit experienced difficulty in anchoring, as we saw them change positions several times. Off in the distance the DFG boat was spotted. They boarded the Pursuit and then headed over to the Options and then us.
We are always happy to see them, as we know they are doing their job and we have all our paper work together. We were surprised to see both the Options and Pursuit to leave the area in such a short time. I guess they did not like the conditions? It was lumpy out here.
Just then Lal gets bit on his Sardine, and the Yellowtail puts up a great fight on his 25 pound line. The nice sized Yellowtail does not want to give up when brought to color, and takes one last dive. Lal works it back to the surface and I stick him. Nice fish, at 18 pounds.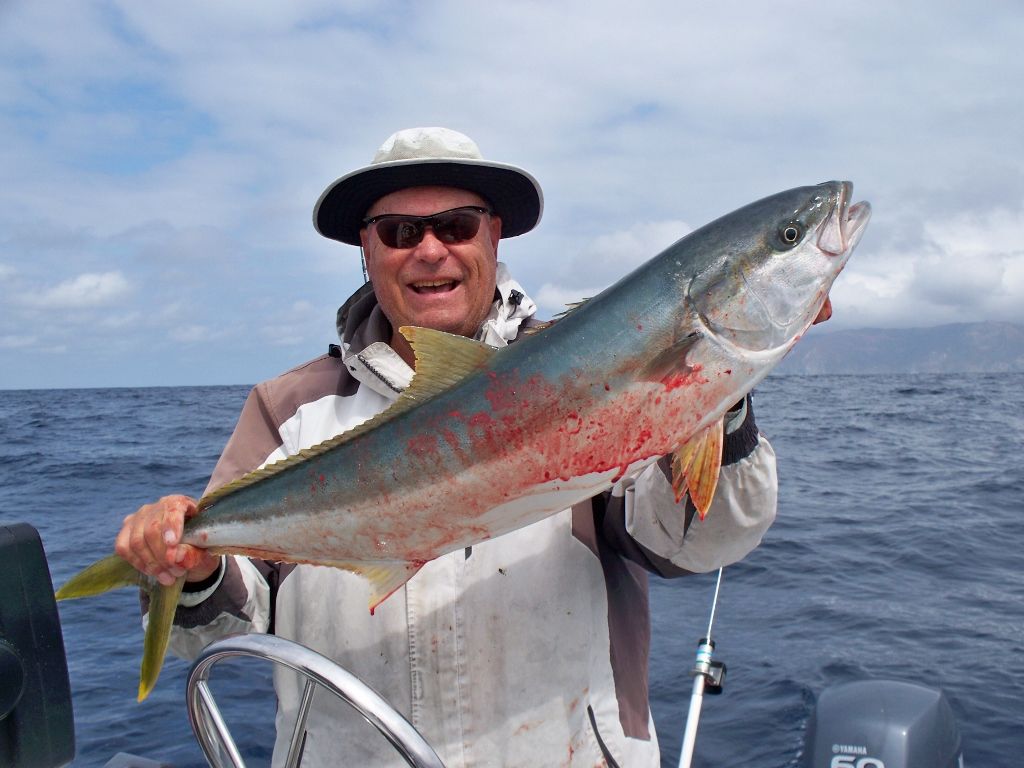 We got mobbed by seals. Every bait thrown was eaten by the seals, even the belly hooked baits. So I elected to fish the Yo Yo Iron. About 20 casts later, I get bit on the iron. The fish did not put up a great fight, but was obviously a Yellowtail. Of course I was using 50 pound test line and it was not going win the battle. It barely took some line, and then did the short dogging routine before Lal stuck him. It was a decent Tail at 11 pounds.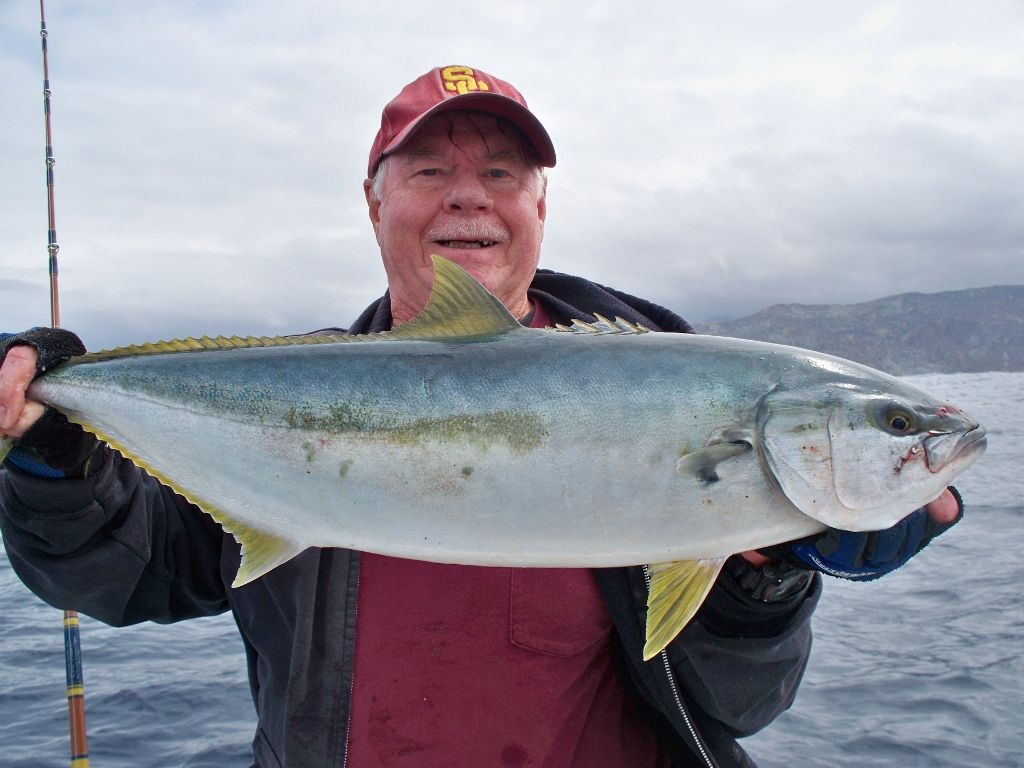 We both got bit later by Calico Bass, increasing our adrenalin rush?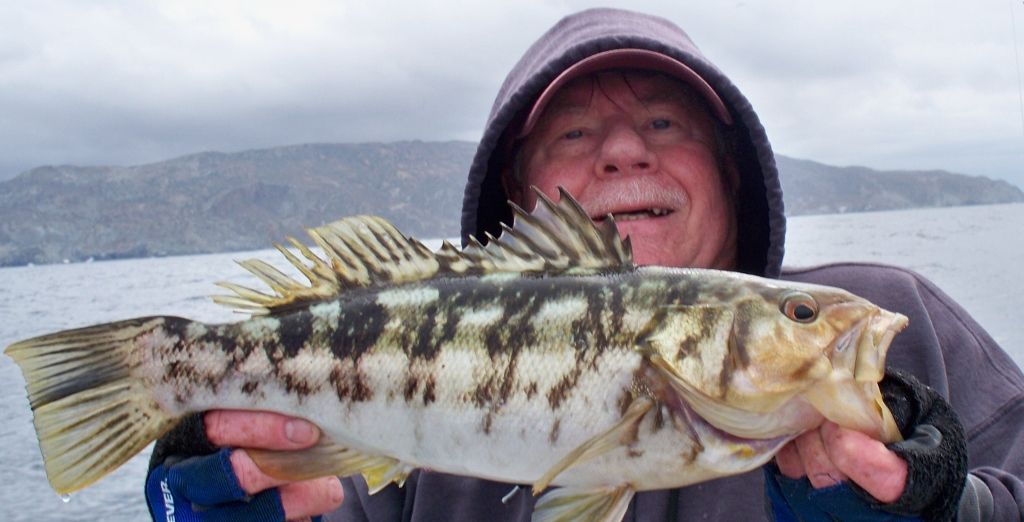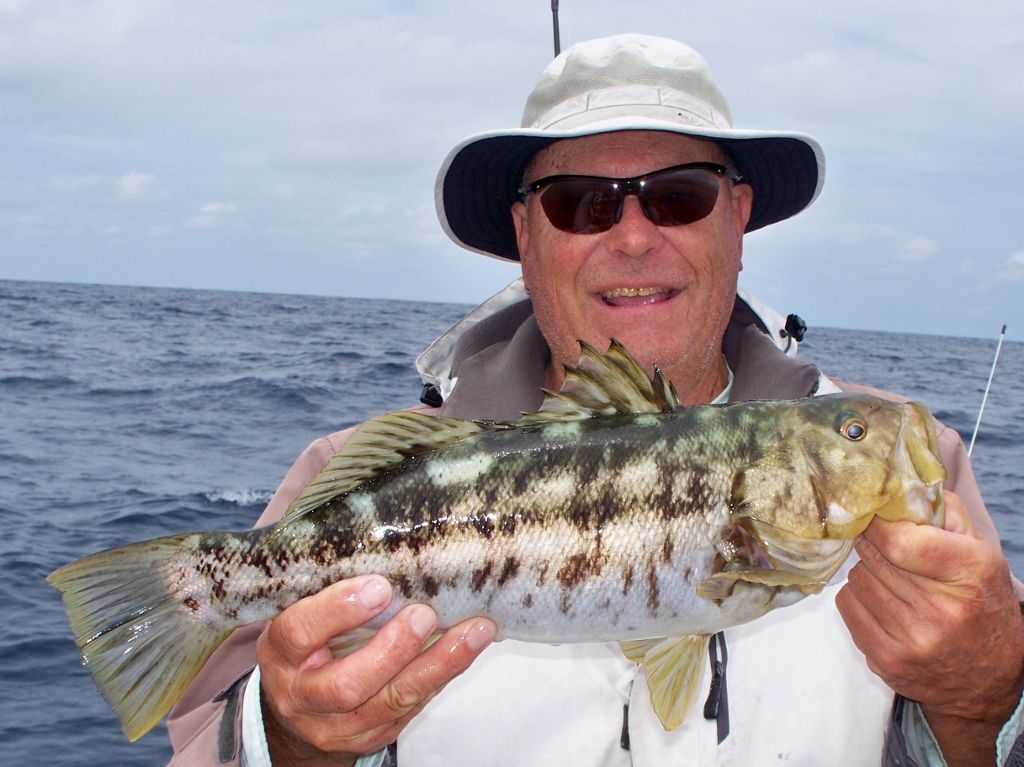 An hour and a half later with no further bites we elected to call it a day at 12:30 pm. It was a no fun ride to the east end. We left the Island at 1:20 pm and were pleasantly surprised by flat seas. For the first 12 miles we made 25 knots and as the winds increased we reduced speed to 20, then 18, then 16 knots. As we continued our drive home, the wind easily reached 15 to 20 knots, with a forecast of 9 to 12? So often they get it wrong.
We docked and were on the trailer 3pm. Here is a picture at Lal's place.
Baby, Big Brother and Mama: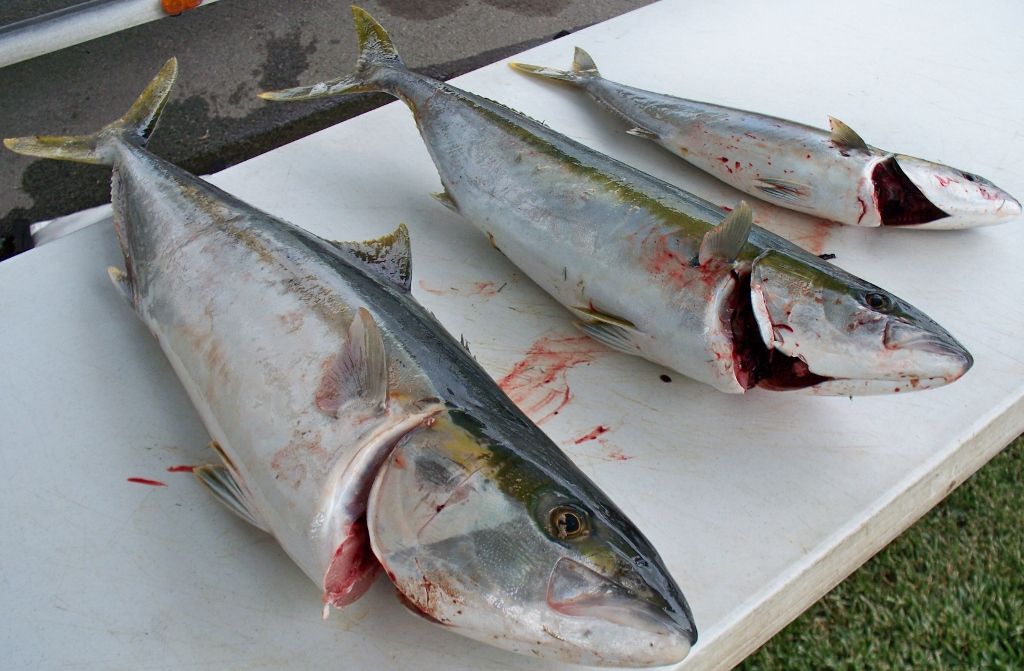 Thanks Lal, we found and caught the targeted species, although not in size and quantity we had hoped? It was still a fun day on the big pond!
Hook up! Cory