I Post A Lot But I Can't Edit This
Apr 25, 2003
20,925
7,169
74
Name

Cory Visser
Boat

N/A
Departure:
Fishing on the
Condor
for the first time, out of Fishermen's landing on a 2.5-Day trip that left Thursday night on 07-03-14. I left my work in San Bernardino at 2pm and arrived at the dock at 4:15 pm. The parking lot was already full? I found a cart to unload my gear and fortunately Frank from Fishermen's Tackle assisted me in getting my numerous gear to the boat. Even so I was tasked to walk so far in my braced knee.
As I exited the parking lot from Fishermen's landing the guy asked if I needed a parking spot. I told him I could not walk very far and suggested I look into the Hotel Dolphin across the street. They fixed me up at $35 for the three days I would be gone. I signed up and was given Tag #18 for my fish and recording my extra charges on the boat for Beer, Soda, water, Etc. My bunk #28, a double, was already reserved. It was comfortable.
Our scheduled departure time was 6pm, however, all passengers were signed in by 5:15 pm and off we went. This was a limited load trip of 24 and for 90' of comfort on this boat, this works! We stopped at EB for some healthy Anchovies and exited the harbor at 6:00pm. Captain Scott asked everyone to rig up with Sabicki Gangions to catch Mackerel, for big bait, for any anticipated huge Tuna offshore?
Our first stop was off the Point Loma Kelp Beds. We caught a few, however the bait kept moving on. Captain Scott elected to run to the Coronado Islands to try for bait there. We made it to North Island at 7pm and had just about as much luck as Point Loma, very little Mackerel caught? Enough of this and down south we headed, some 82 miles from the point.
The ride down the coast was extremely pleasant, as the weather forecast for the next couple of days was awesome! At 8pm, Bill the cook, set out some tasty Tacos for dinner. I had bought a hamburger for dinner, as most boats don't serve dinner the night you leave, still had room for two Tacos, yum yum!
Captain Scott came down and gave us the trip plan for tomorrow. There were good signs of Yellowfin Tuna at 82 miles and that was where we would start.
Day 1
I had a restless sleep and was up at 5am for coffee. I sure was not alone? The seas were grease calm and the air temps were a bit humid. The early morning trollers had no luck and the regular rotation was called out at 5:45 am. At about 7am we came across our first kelp paddy and it was game on for the small Yellowtail. We put 24 on the boat and I landed 3 to ten pounds.
The call for breakfast came and cook Bill served up Bacon, seasoned scrambled eggs with asparagus, and home fried potatoes.
We continued to stop on paddy after paddy for a few here and a few there. Then we hit the mother lode for about 50 Yellowtail. I had already caught my limit and proceeded to release 13 and gave another four to some of the less fortunate anglers.
Lunch at 1pm was pulled pork sandwiches with baked beans, Cole slaw and potato chips, wow did that hit the spot.
I think we caught our first Yellowfin Tuna at high noon, then a second and third an hour later. At 2 pm the Yellowfin Tuna wanted to play a little. We had a few doubles and triples. I caught my first Yellowfin Tuna at 3pm on my Black and Purple daisy train cedar plug.
My first tuna for 2014: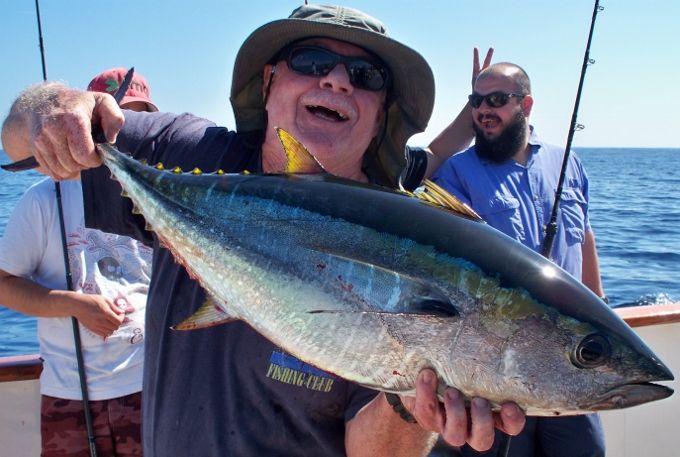 For whatever reason, the Tuna were very boat shy? It was almost troll fish or nothing. As the day progressed a few more bait fish were being caught. If you were on the right trolling rotation you were part of a four or five fish capture.
Joe and friend with their Tuna: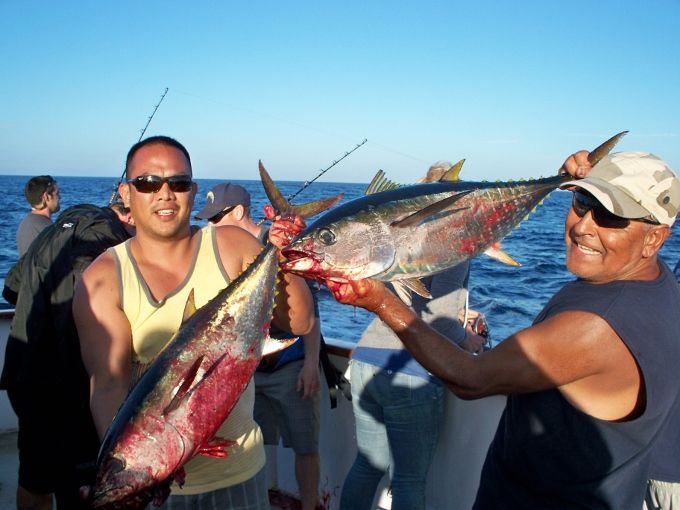 This was our rotation with a five fish climax: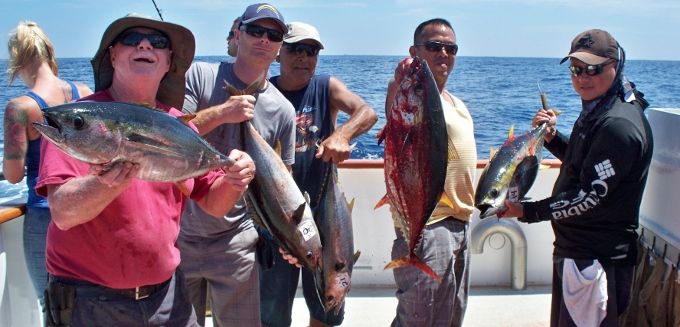 The jackpot for the day was a bait fish and was the biggest Tuna, troll fish or not, about 25 pounds: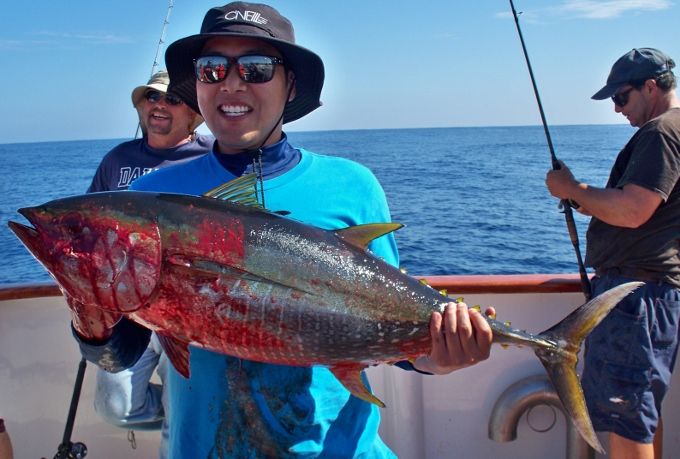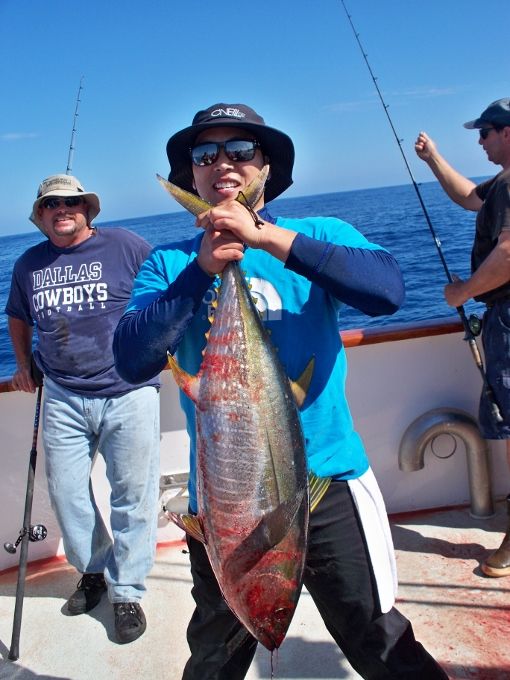 Another nice Yellowfin Tuna: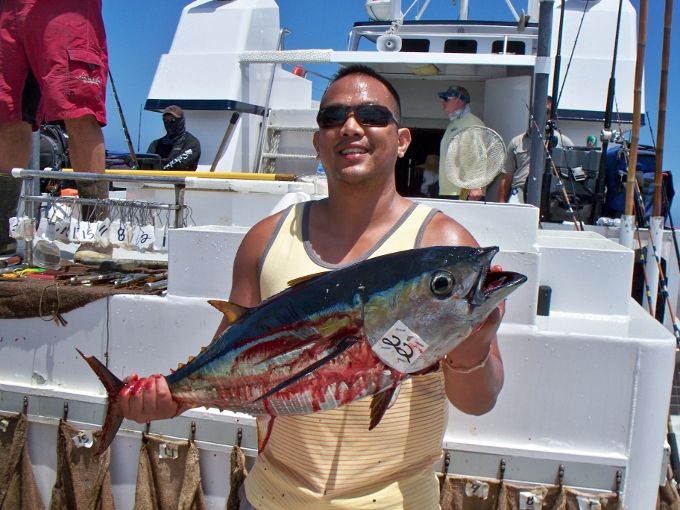 Out of 57 Yellowfin Tuna caught on Friday, eight were bait fish. I hooked a good one and after ten minutes of battle, the Tuna spit the hook, darn! We ended the day with 150 Yellowtail and 57 Tuna. No sign of Bluefin Tuna for us. Captain Scott announced we would be spending the night in this area.
At 8:15 pm, the call for dinner was made and all trollers were told to reel them in. We were all exhausted and hungry. Salads were served and then the main course of Filet Mignon, baked red potatoes, mixed vegetables, and dinner rolls. For desert a sweet and moist Chocolate Cake! Oh yeah a great way to end the evening!
Day 2
I woke up at 2am and took a shower, still had to wait, surprisingly with one ahead of me, and then had someone behind me. Oh well they only have one shower and you needed to wait for the heater for warm water? Gad that felt great!
Back up at 5:20 am.
A nice sunrise: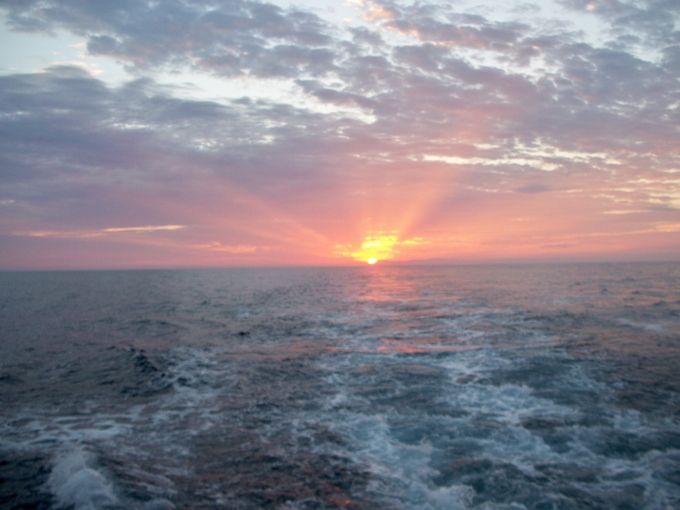 The coffee was outstanding, and the morning seas were again exceptional. With no fish under the boat we began trolling rotations at 6am. It was one very boring morning, as we stopped on several kelp paddies for nothing. The call for breakfast came at 7:30 am and the breakfast burritos were excellent!
At 10 am we found a kelp paddy holding Yellowtail. It was wide open for about ten minutes. Every bait in the water was bit. I caught three fish to ten pounds, kept one and released the other two. About 20 minutes later we again hit the mother lode for Yellowtail. We put 72 Yellowtail on the boat on this stop. I caught 10, kept 2, donated four to others and released 4.
Cook Bill put out Taquitos for mid-morning snacks. I was still full from my breakfast burrito, all else attacked them with a vengeance!
The Yellowfin Tuna began biting at high noon. We had a few jig stops for one's and two's and then four's and five's. I caught one on the troll, and then on our next two trolls we struck out on one and caught one on the other.
It was Philly Cheese Steaks for lunch!, Very tasty! We had a 3 hour dry spell until we came across a couple of Kelp Paddies yielding Yellowtail. The last one had some big Tails on them. I hooked one and it Blitz Krigged me to the kelp! Darn that was a big guy! An estimated 18 pound and 22 pound Yellowtail were landed, with a few 15 pounders, our biggest of the trip. The biggest Yellowtail won the Jackpot as we caught zero bait fish on the Tuna today? We found one more producing Kelp Paddy for trip limits on the Yellowtail.
Angler Brian with a decent Yellowfin Tuna: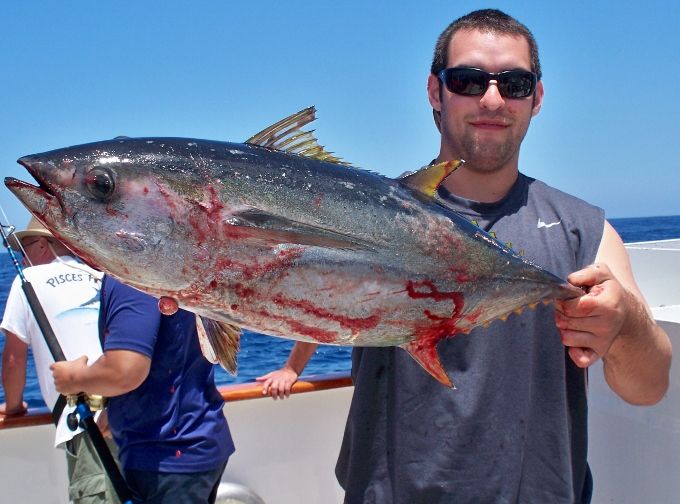 The expected afternoon Yellowfin Tuna bite that occurred yesterday did not happen. We finally got some decent troll fish at about 6pm. If you want to talk about luck, the two troll fish rotations before us caught five fish each; our trolling rotation, for almost an hour caught one. The next two trolling rotations after us each caught five Tuna within five minutes? Go figure? At 7:58 pm our trolling rotation got the last chance and another five fish!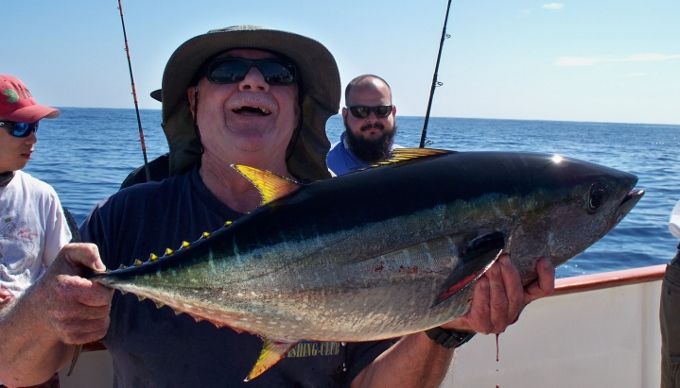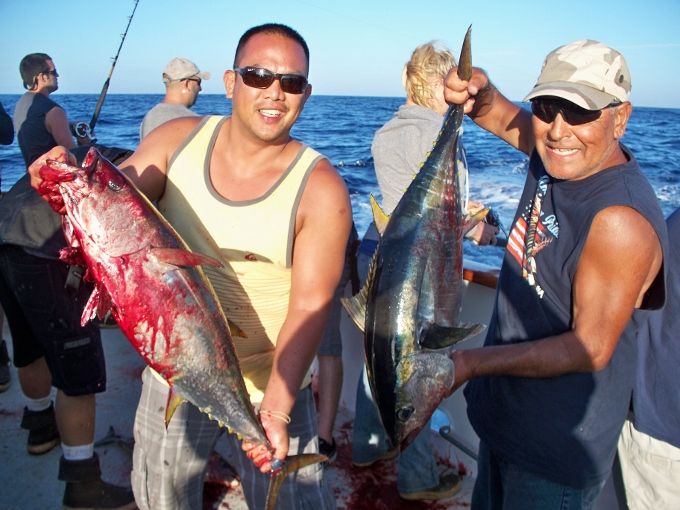 Lines were called in at 8:20 pm and dinner was served. After salads the pasta was up next. The shrimp was very tasty, however, without an evident sauce, the pasta was bland? Well I guess you can't win them all, as the meals were excellent up to this point. Carrot cake for desert topped off the day!
We arrived in the harbor at 4:45 am. Being very tired and very sore I made it! Thank goodness for some special help from others to help in loading my gear and getting it to the dock.
It was my first trip on the Condor and I considerate it a great experience. I give special thanks to second ticket Mike and crew Miguel, who gaffed so many of my fish and was Johnny on the spot. They made the trip a special experience. Oh yeah, then there is Ron, who always keeps everyone entertained with his extraordinary fishing experience discussions and tails of ultra-adventures!
Thanks so much Captain Scott for a great trip. Hope I can share a rail with everyone again sometime soon.
Hook up!
Cory