I've posted enough I should edit this section
Apr 25, 2003
20,472
5,786
113
72
Name

Cory Visser
Boat

N/A
Grand Mayan Resort, Puerto Penesco, Mexico May 20, 2017
Day 1 Departure-Saturday 05-20-17.
My wife Sheryl and I left our home in Diamond Bar, California on Saturday, May 20, 2017 at 7:30 am. Our destination today was the Grand Mayan Resort in Puerto Penesco, Mexico, which is located some 200 miles below Yuma, Arizona.
The distance to Mexicali where we mistakenly crossed the border is about 200 miles from our home. Total distance to the hotel ended up being 425 miles. Our experience in Mexicali was at best frustrating. The Google Map instructions errored in many ways, especially on street names, slight right or left hand turns at turnabouts etc.
After stopping at Rally's for a quick burger and fries for lunch we continued on. It took about 30 minutes to cross the border, with lots of traffic going into Mexico, although far less than at Tijuana. Only two lanes are provided for the crossing, and then it opens up into about six as you enter Mexico. We stopped at the Tourist department and purchased our FMM tourist visas for 180 days. They charged 1000 pesos, 500 each, or $60, $30 each. I think the guy collecting the fee pocketed a couple bucks on the conversion. Normally you have to go next door to a bank to pay? Oh well we hope the documents were legit.
Already confused as to where we were I asked the officer how to proceed through town to find the road to Puerto Penesco. You have to first head to San Felipe, before heading east some 40 miles later, while San Felipe continues south. Our experience in getting out of town and finding highway 5 to San Felipe was like the keystone cops. We missed the signs numerous times, the street names were non-existent, and after about 30 minutes of U-turns, back tracking, stops and starts we found highway 5. The traffic was fierce and the lights painfully very long.
Never again will I go this direction, as San Luis is a much preferred crossing, despite being some 30 miles further, however all in the US which is best. We found the left turn exit off of the five which was labeled BC 4. However, there were no signs indicating we were heading the correct direction to Puerto Penesco.
30 miles later we ran into road construction and had to traverse for some ten miles on a one lane dirt road, where all the cars ahead of us spewed up enough dust to destroy our vision. During this charade, we were supposed to find another turn left to highway 40, which we never found, as once again there were no signs and all cross streets unlabeled or in a total state of dis-repair.
We came to a dead end, oh boy that is fun knowing we don't speak the language and are totally lost. Well the good lord stayed with us, as I made a calculated turn some one mile later after retracing our steps. I guessed right fortunately, however, I didn't know it at the time and we soon came to a T-crossing and again the signs directed you to town names which we knew nothing about?
I guessed again and turned right and came to another T, gad. I saw someone coming out of a feed store and stopped to ask "Donde esta the Carrill (road) to Puerto Penesco. My Spanish is extremely limited. I was thrilled to learn that we were on the right track as he pointed to turning left. Still again there were no road signs and we traveled another 30 miles before coming to the intersection where we joined up with the traffic coming from San Luis and I now knew where we were now.
We arrived at the Grand Mayan at 4:15pm: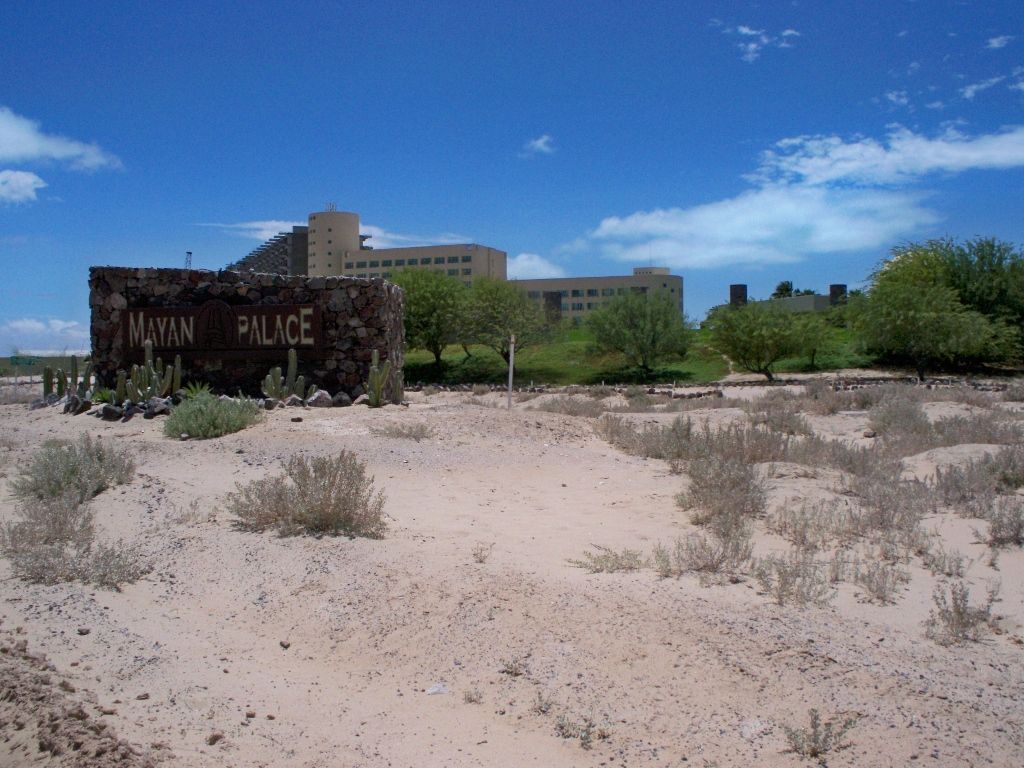 The entrance: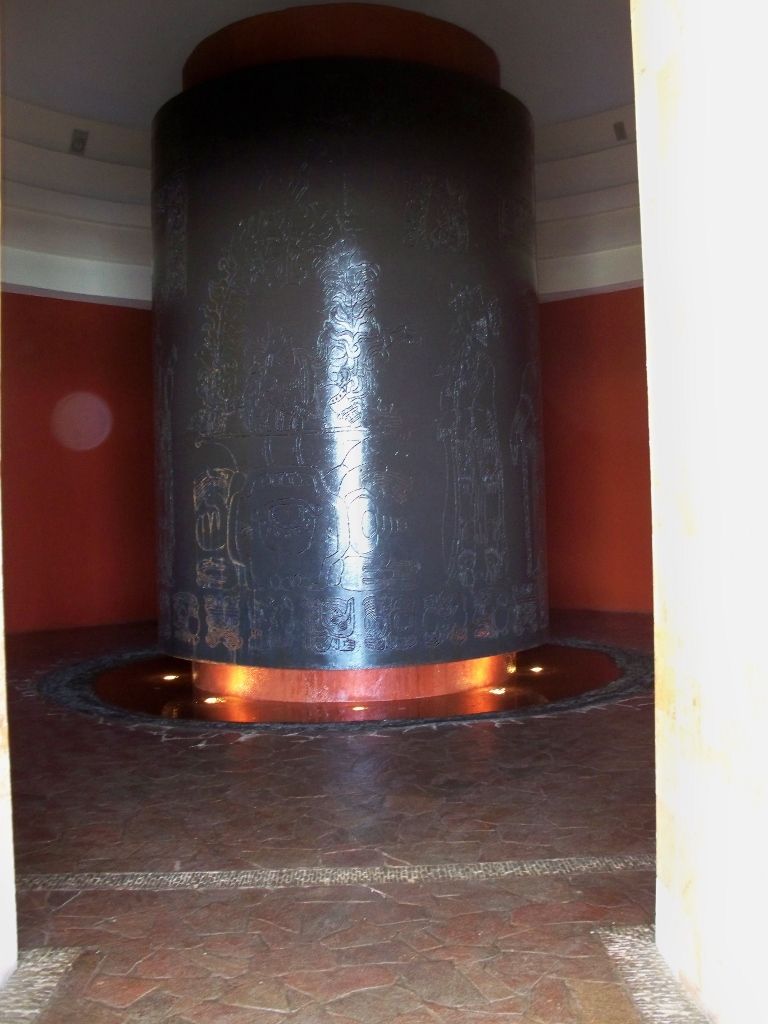 The lobby: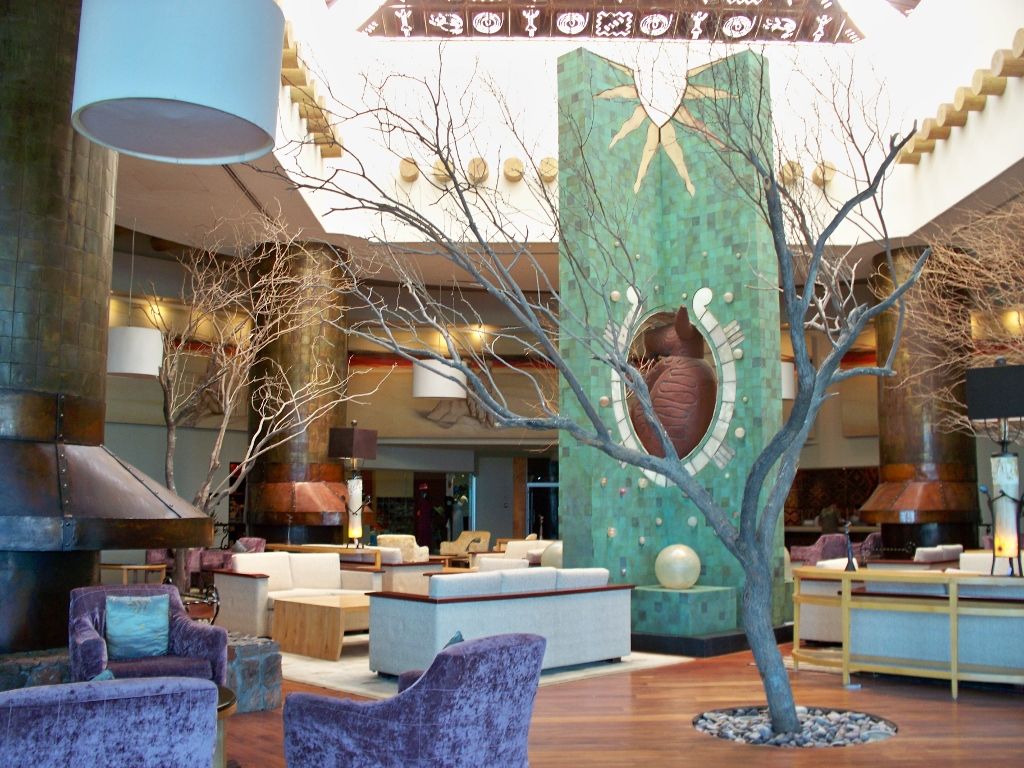 We were offered welcoming Margaritas, and then met with our hostess, Lisa. We reluctantly accepted invitations for Sunday Brunch and resort's sales presentation, although we adamantly told them we owned enough timeshare units and weeks and did not want to have any sales solicitations.
Unfortunately we were not given an ocean front view, as they were all occupied. Bummer! This is the view from our room patio, not that bad and we could still see the ocean (Sea of Cortez).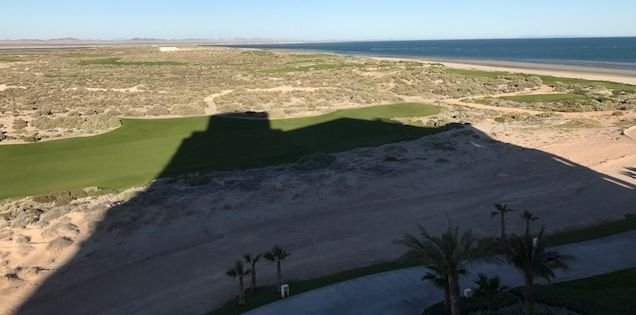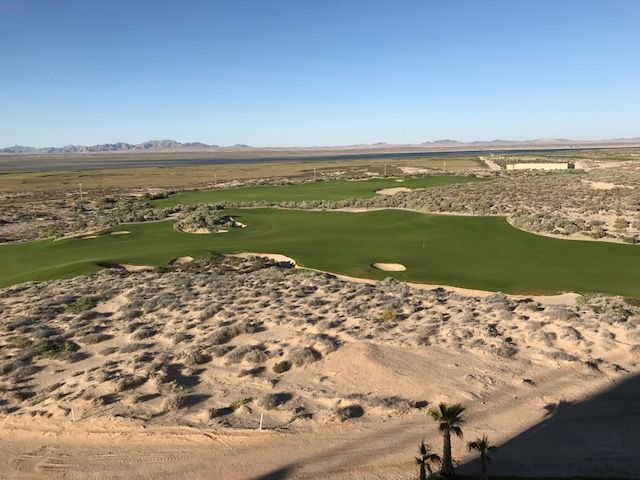 Here is the view from our room from two years ago: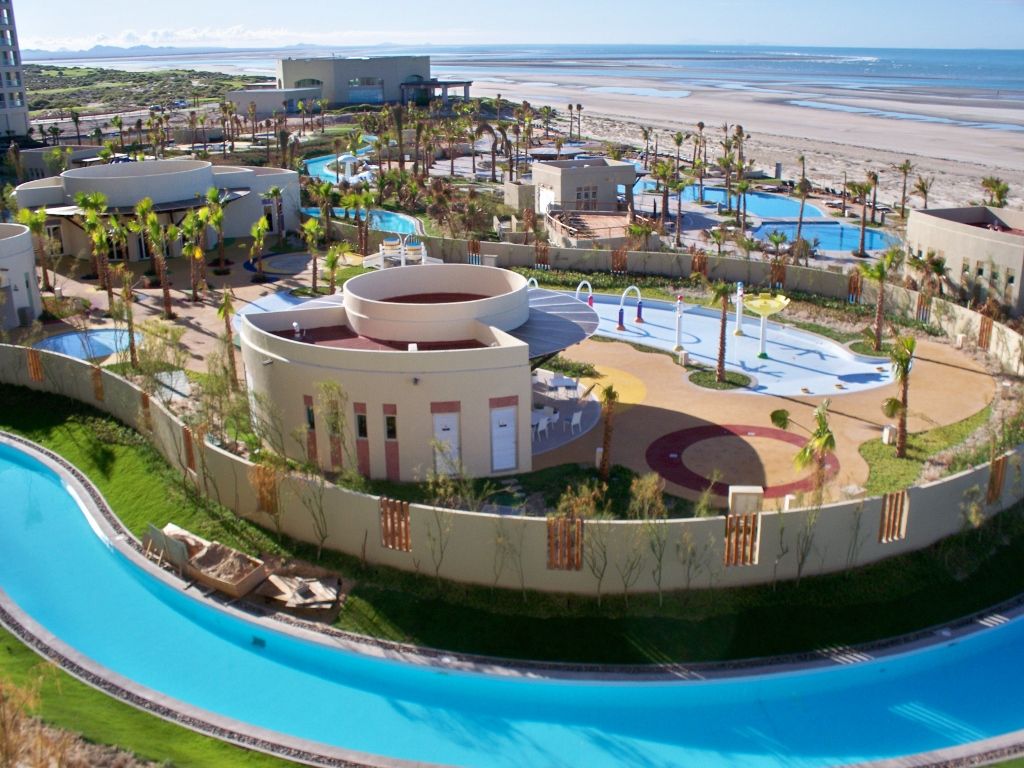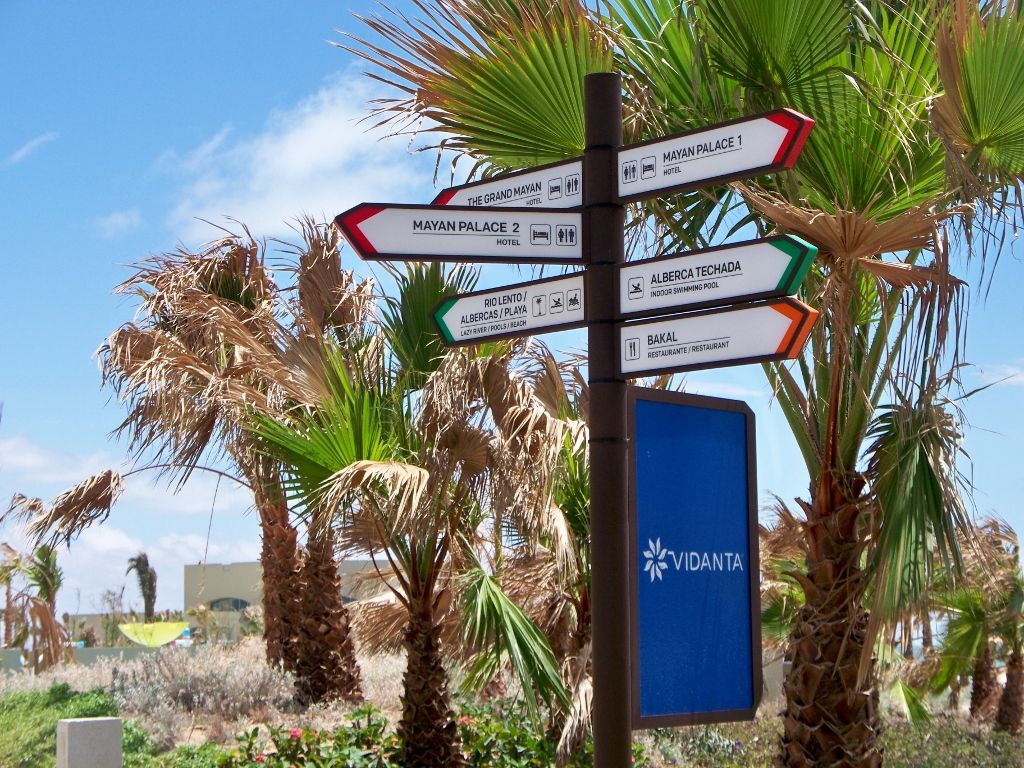 Some more pictures of the resort: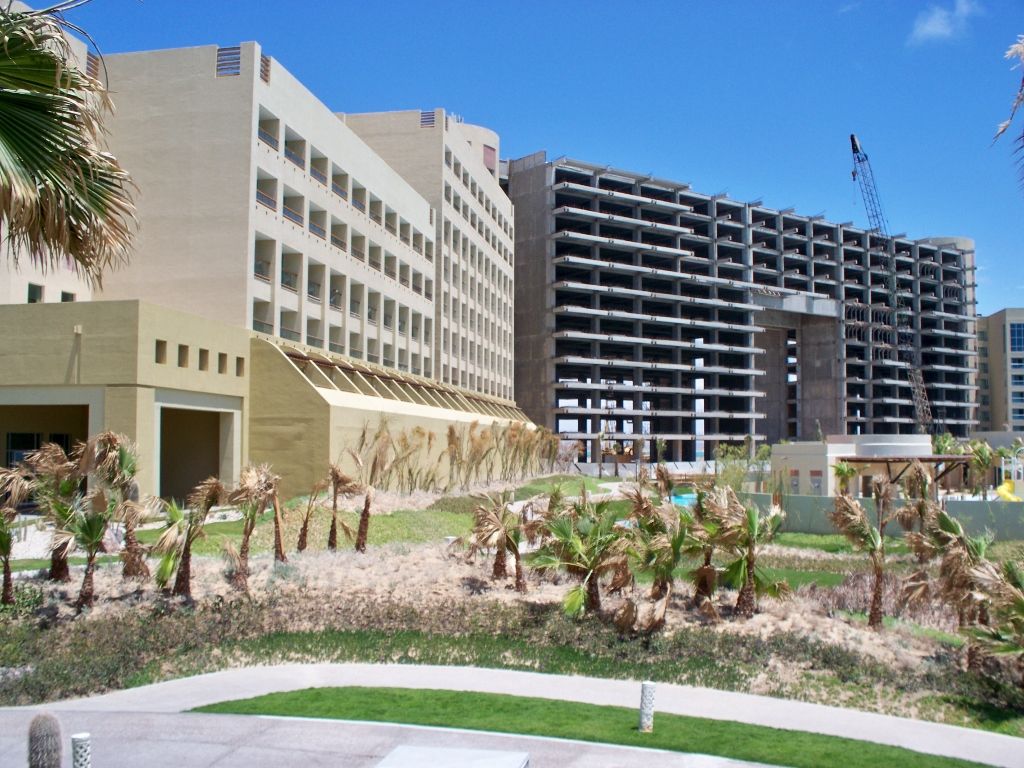 Nice landscaping: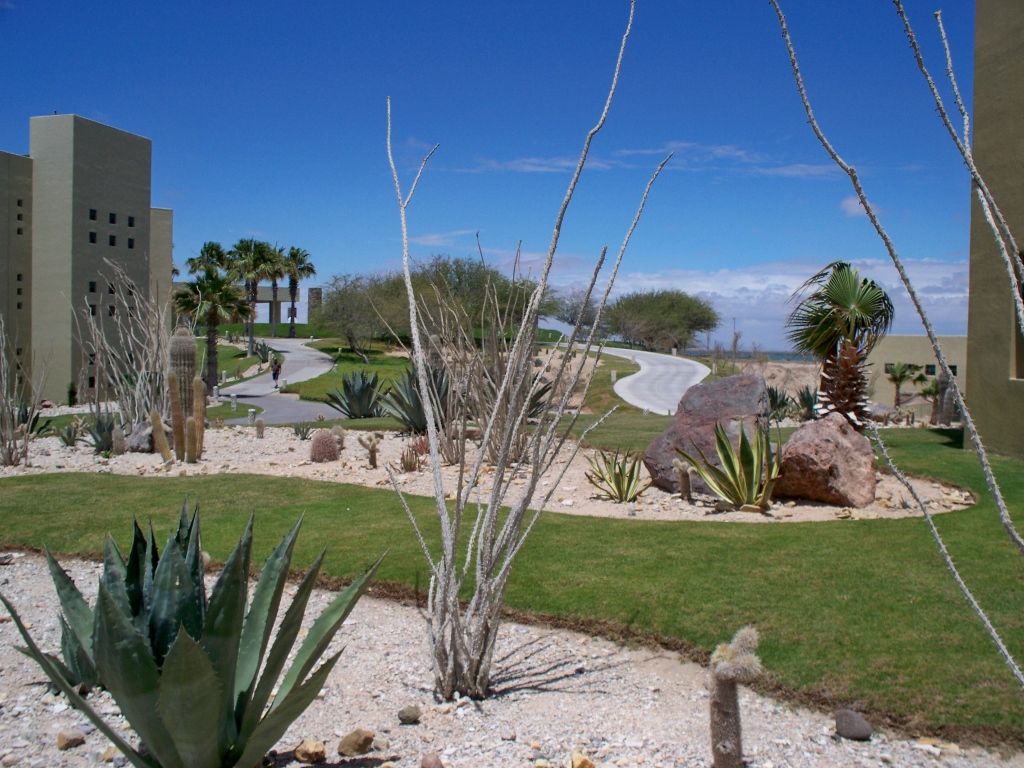 Extreme low tides: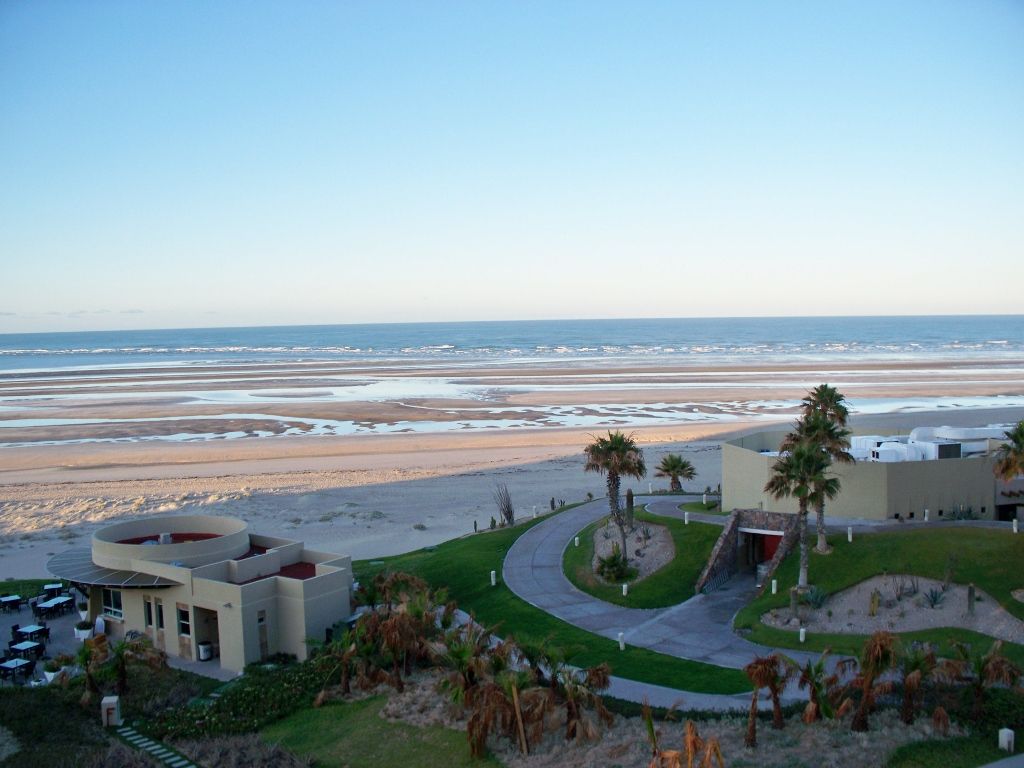 The other half of the huge resort, the Mayan Palace 1 side: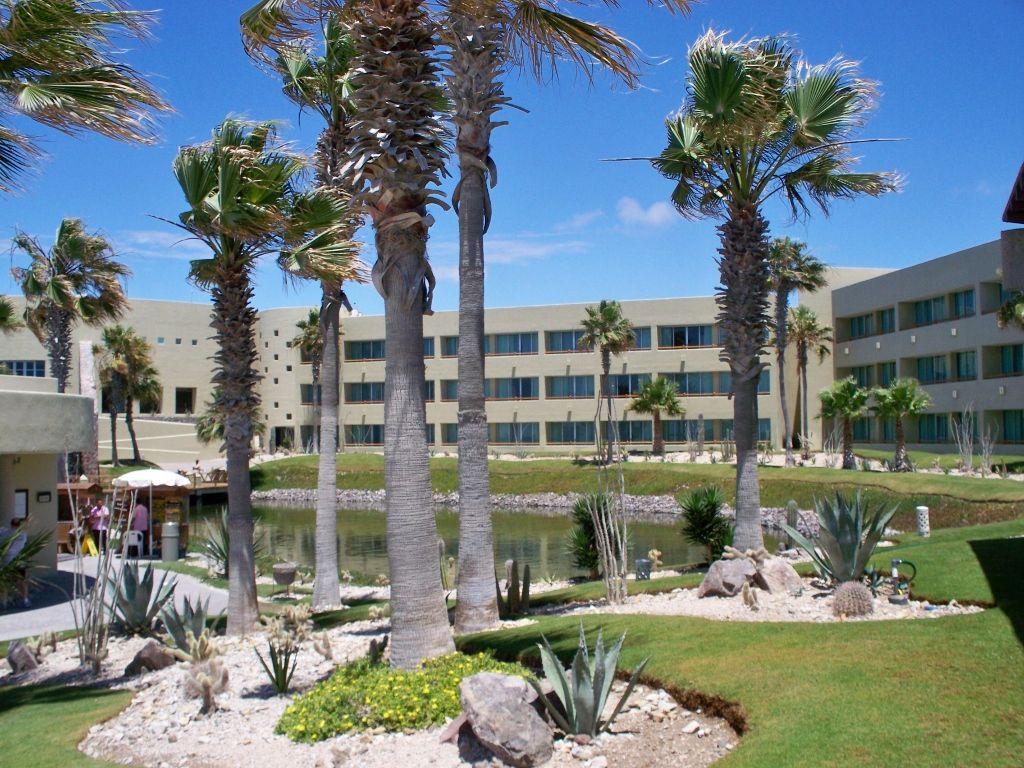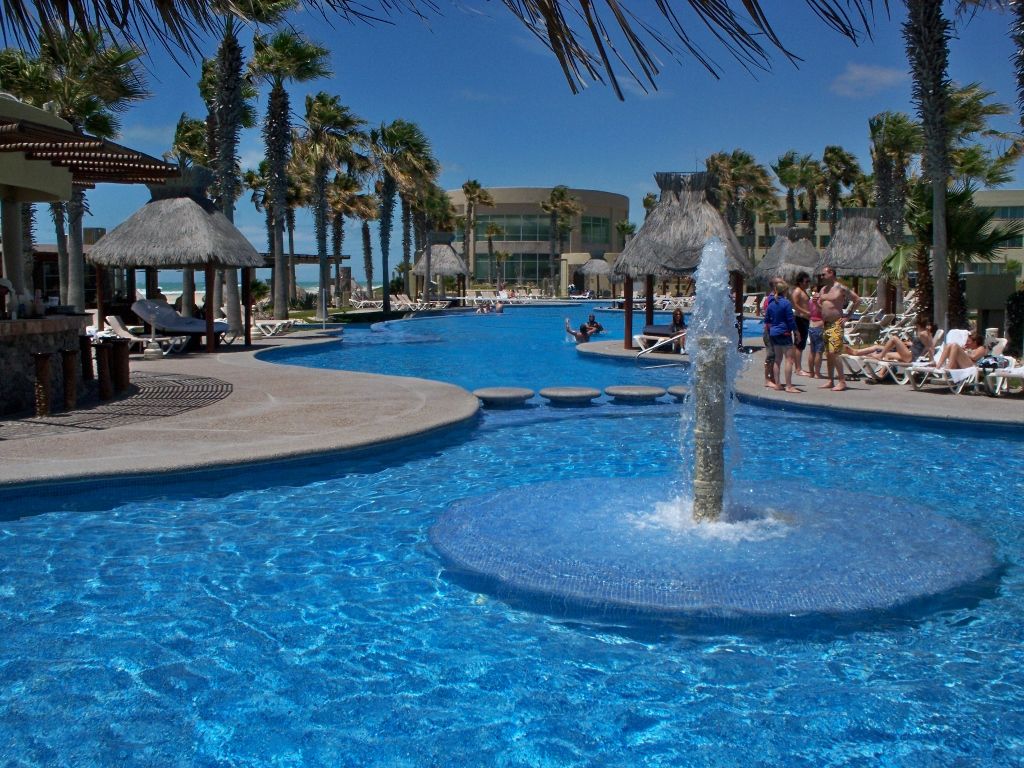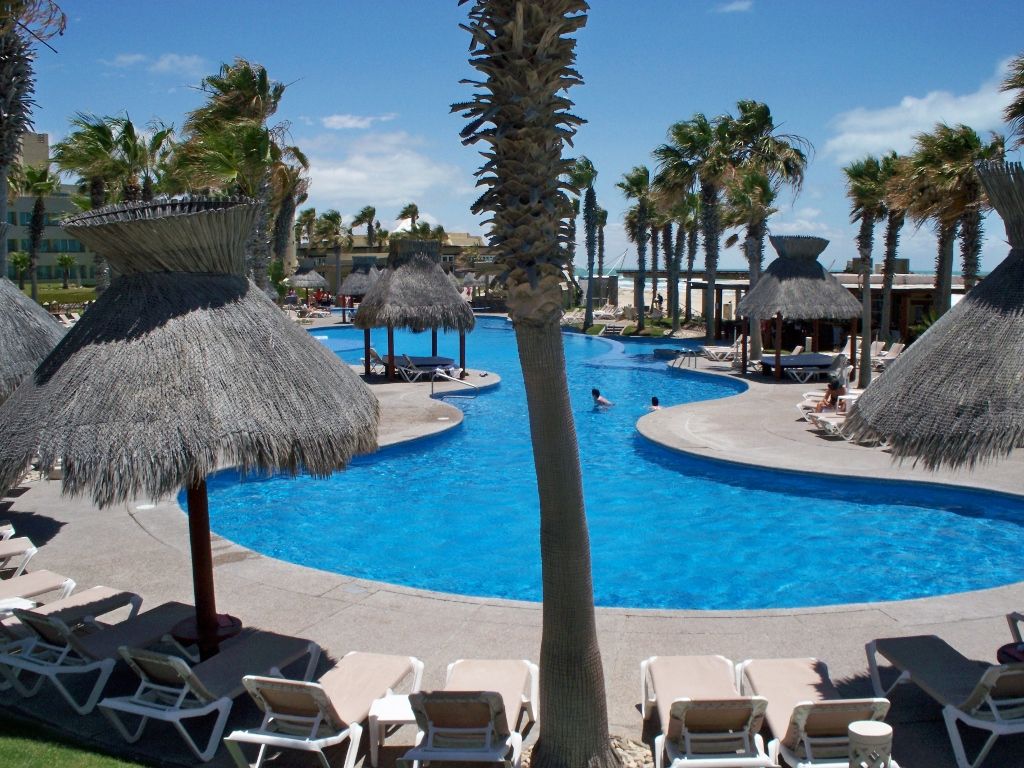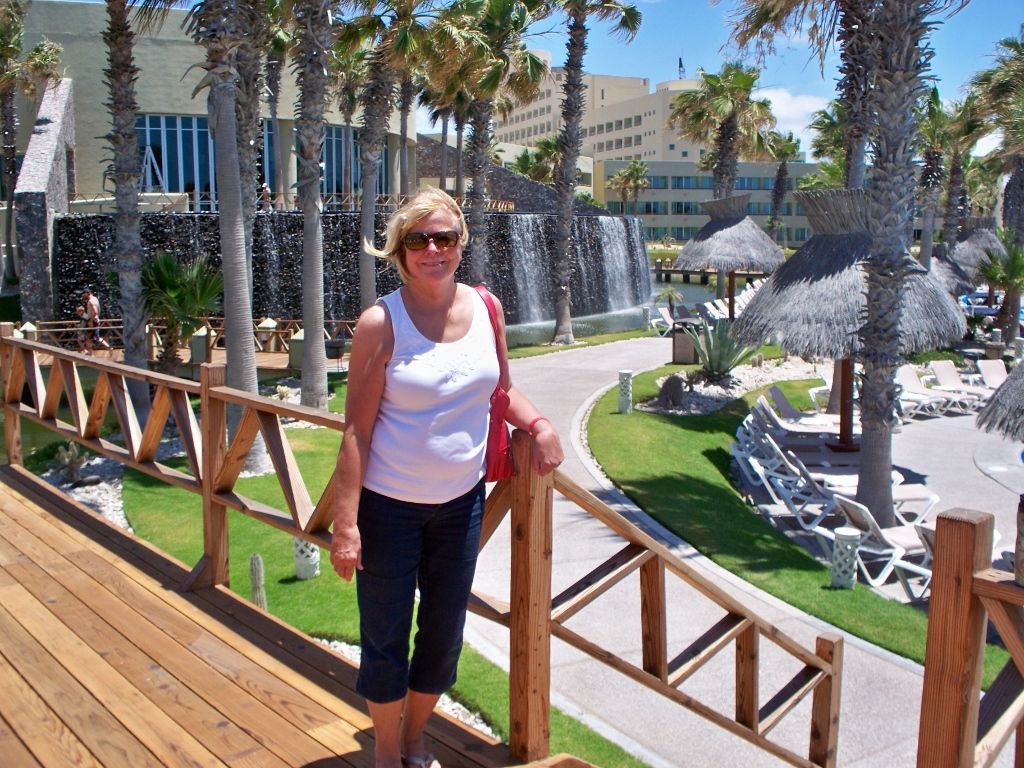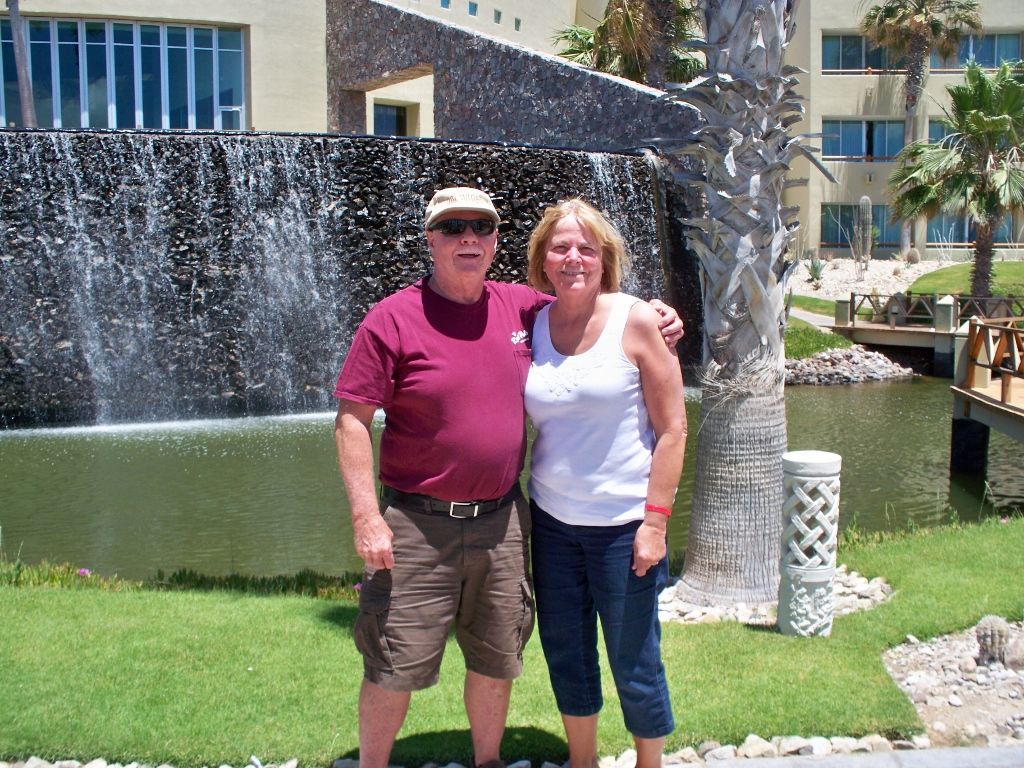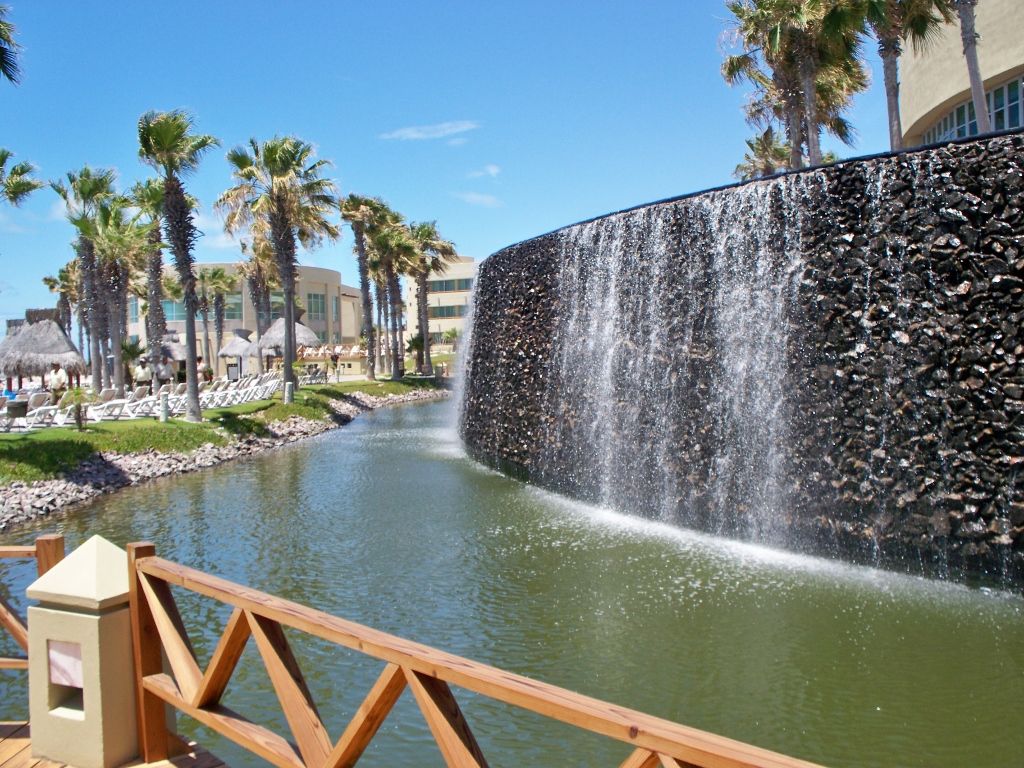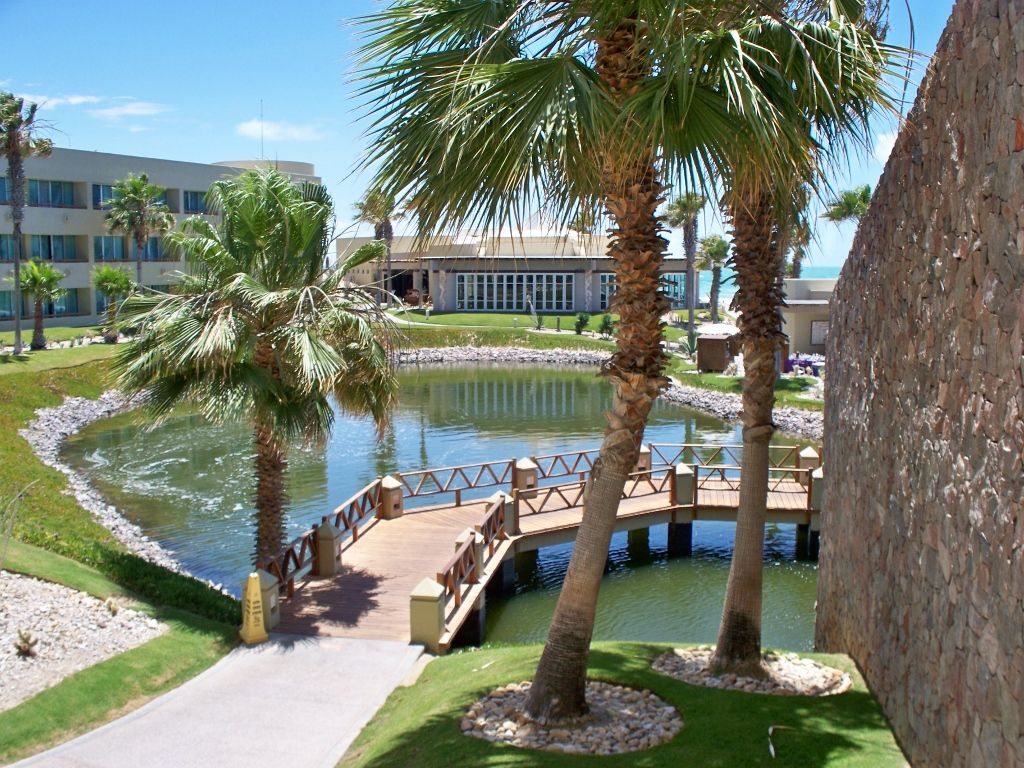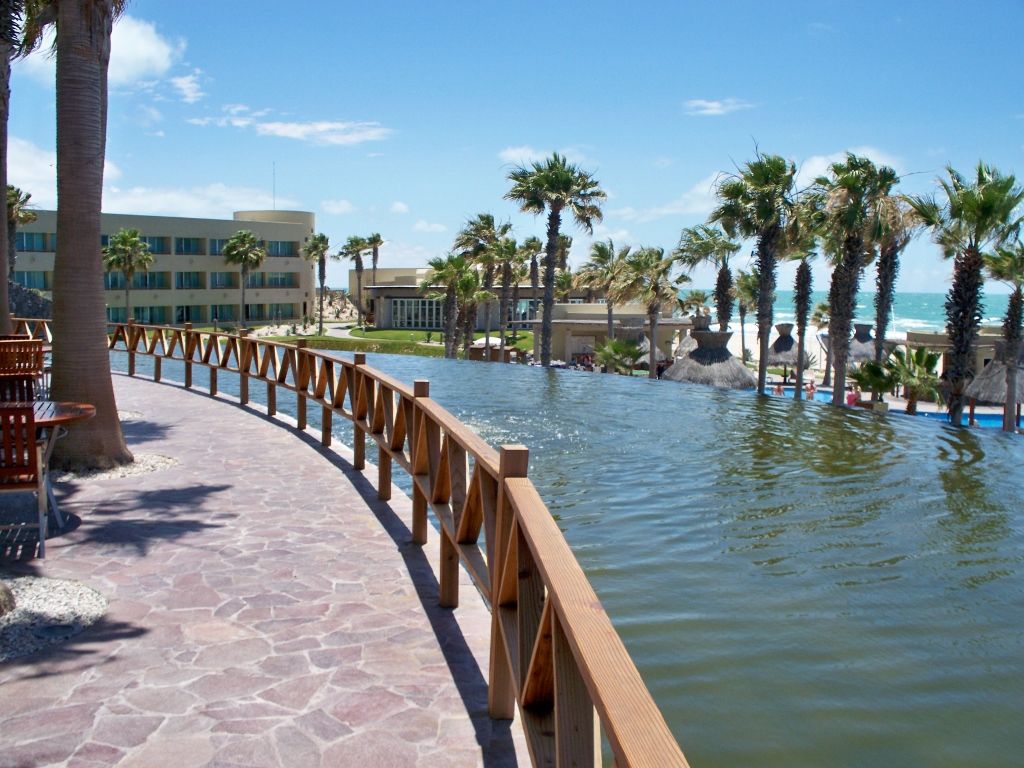 The Beach:
The indoor pool area and behind it the spa and the Gym: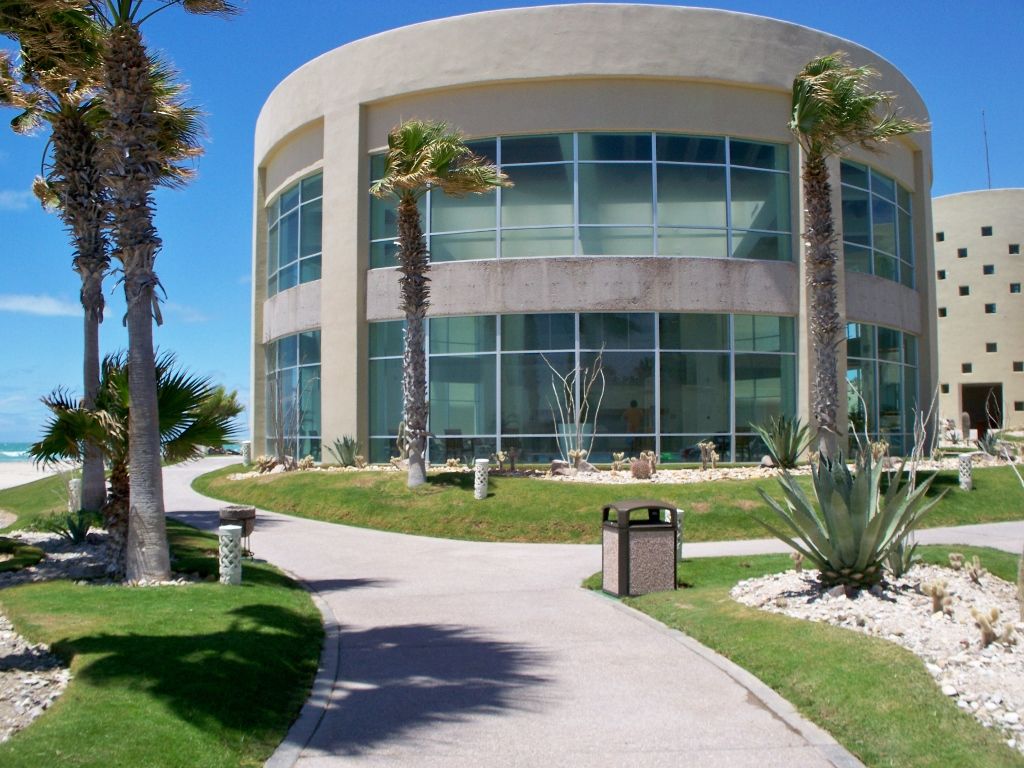 An outdoor dining area on the beach: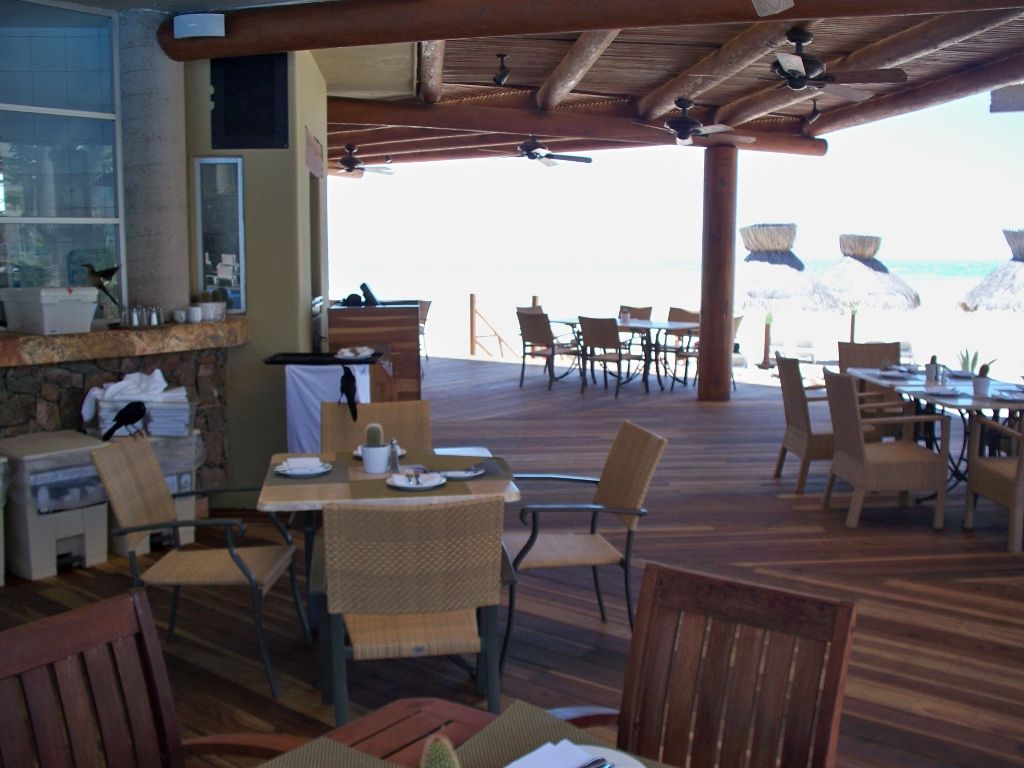 Tonight was Prime Rib night and so we decided to go to the buffet for dinner. The Prime Rib was very good, properly cooked, perhaps not as tender as a in the states, but good enough. There were lots of other selections, with ceviche being one really tasty one. We both skipped deserts including New York Cheesecake that hurts!
Day 2 -Sunday 05-21-17.
We awoke the next morning, and I made coffee and enjoyed the surreal view from our room. The air temps were about 80 and it was drop dead gorgeous. We were scheduled for our sales presentation at 9:30 am and I received a reminder call at 9am. We met Victor in the lobby. Off to the buffet breakfast champagne brunch. It was very good and so far so good.
After two+ hours of pleasantry we were told Victor's prime responsibility was to evaluate member contracts. Victor proceed to advise us of how poorly constructed our contract was and stated we should strongly consider fixing the Swiss cheese loop wholes that existed, of course for an exorbitant price! This sucked, I told him no sales solicitations and we were not interested in investing more money with a company that as he pointed out cheated us on the last contract! I got up and walked out.
I later got a call that the price was being severely reduced, no way Jose!
We went into town and I visited the launch area where I would be fishing the next day with Jose (Francisco) Peinado on his 28+ foot Panga La Princesa:
As we walked around I was approached by Miguel to determine if I wanted to go fishing. I said I was scheduled to fishing with Jose manana. I asked if he knew him. He said no at first, then I added the last name, which he didn't recognize, then I added FCO as the middle name and he said oh yeah that is me amigo Francisco! How FCO translates to Francisco beats me. Anyhow Miguel called Francisco and we set a time of 7am for departure. You just never know as I did not have any way to call Francisco and arrange a time, as we met on Facebook and he does not regularly participate and I had not confirmed the time, just the date to fish.
We then went shopping at Sam's club and another grocery store for essentials needed to make it through the week. Being we were in a timeshare, we had a kitchen to cook and a large refrigerator to store food. I had brought down some necessary stuff like eggs, water, deli meat, breakfast sausage, mayo, etc. Since you are only allowed 1 liter each of liqueur or wine, we purchased some Tequila and Rum to go with the Mai Tai and Margarita mixes I had brought down, also some red and white wine. I had pre made Bloody Mary's for brunch!
The distance from our resort to the harbor in town was 25 miles. Most of the good restaurants were right in or near the harbor. We had previously eaten at the Blue Marlin for dinner and hoped we could again go there during our stay:
Some pictures of town: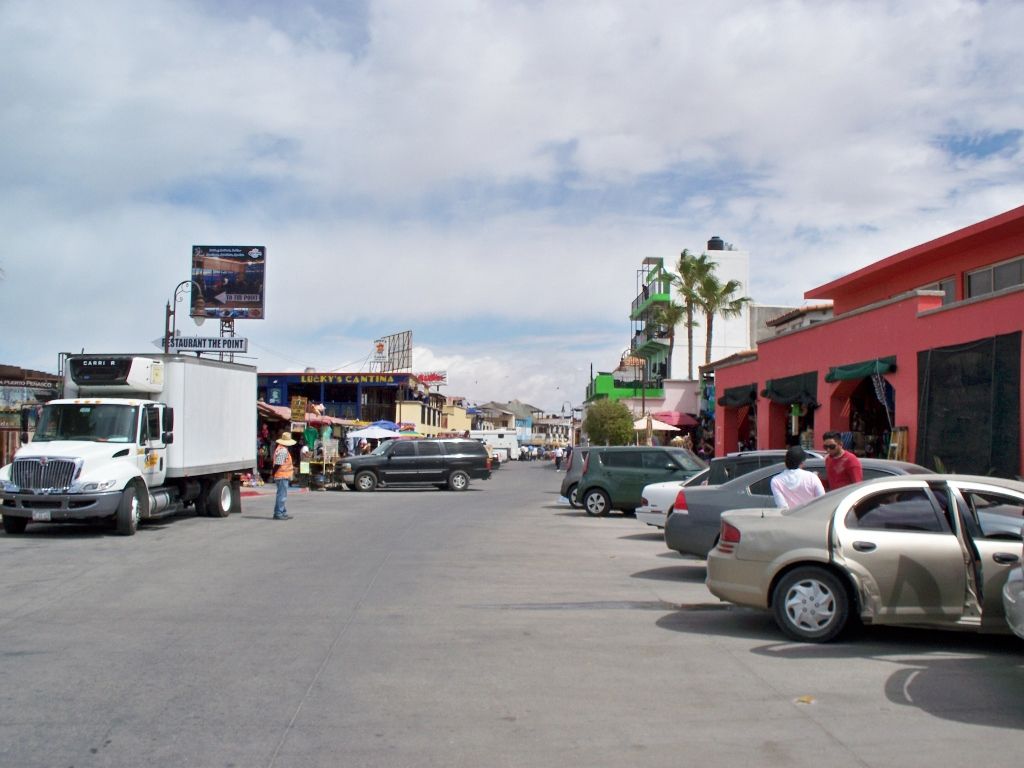 This is one of the Shrimp Capitals of Mexico and since Sheryl works for Meridian Products, a huge Shrimp importer she excited about seeing this picture of a fisherman riding a Giant Shrimp: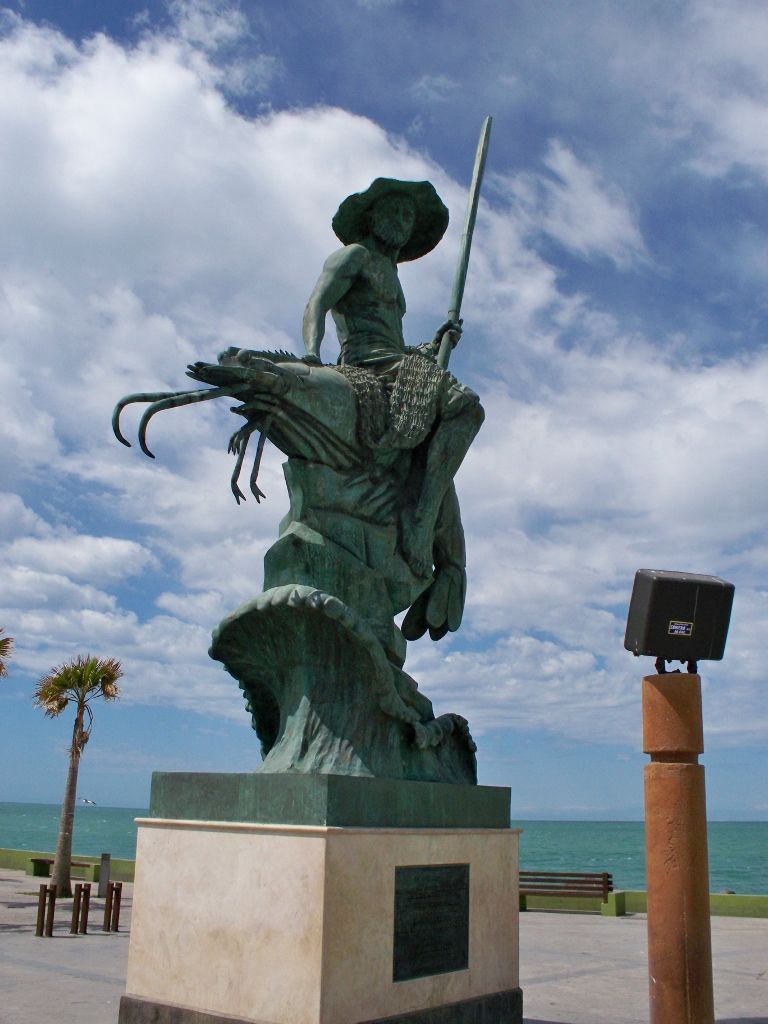 A view of the Sandy Beach: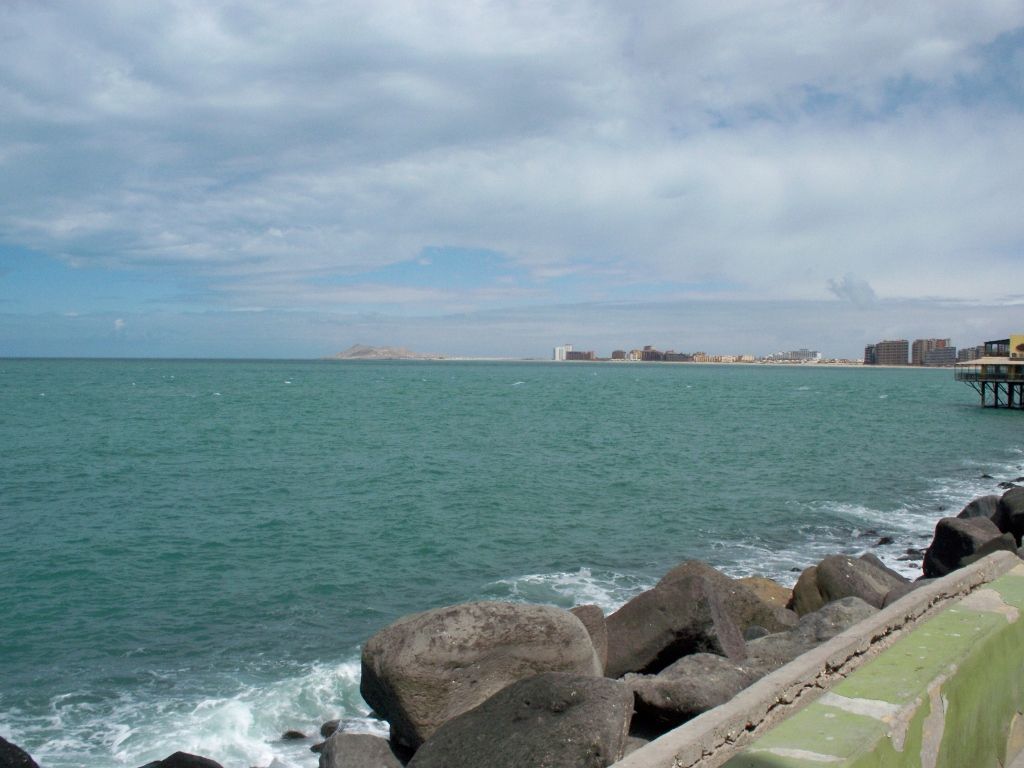 We winged it for dinner tonight.
Day 3 -Monday 05-22-17.
Fishing was on the menu today, although my wife slept in and does not fish. I had ordered a wakeup call at 5:45 am, however, I was up at 5:30am. I packed a lunch with several bottle of water and drove to the Marina and arrived right at 7am. Both Miguel and Francisco were there to meet me. Miguel is Captain and runs his own charters. They help each other launch their boats. The plan was to fish for Grouper or White Seabass in the morning at a hard bottom reef some 13 miles straight out to sea. I had brought three rods and reels, not trusting the tackle usually provided on the Panga's. I was right; the gear available, although plentiful (he carries as much as 8 anglers) was very old and not well maintained, with half the spools of line filled and brittle. I was the only angler today and we agreed on a price of $220. More than I wanted to spend, however, it is what it is. I know fees on less desirable boats in the area were as low as $120.
Francisco stated that the grouper generally bit during slack tide, which was several hours away, so we drifted the area before ultimately anchoring up. We caught small Barracuda, small Sierra Mackerel, Trigger fish, a Flounder and I caught numerous small Cabria.
Here is a picture of Captain Francisco with the Flounder and Trigger fish he caught: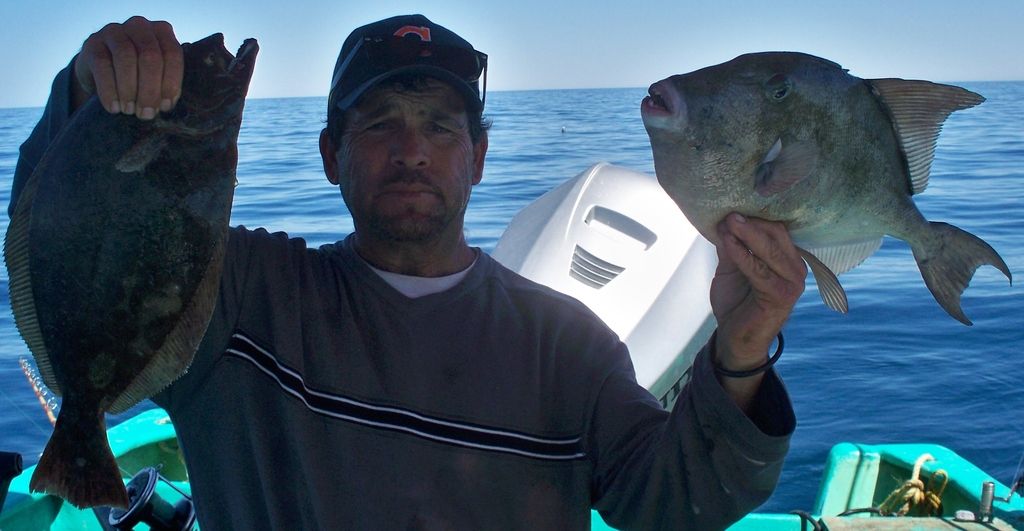 Myself with a Trigger Fish: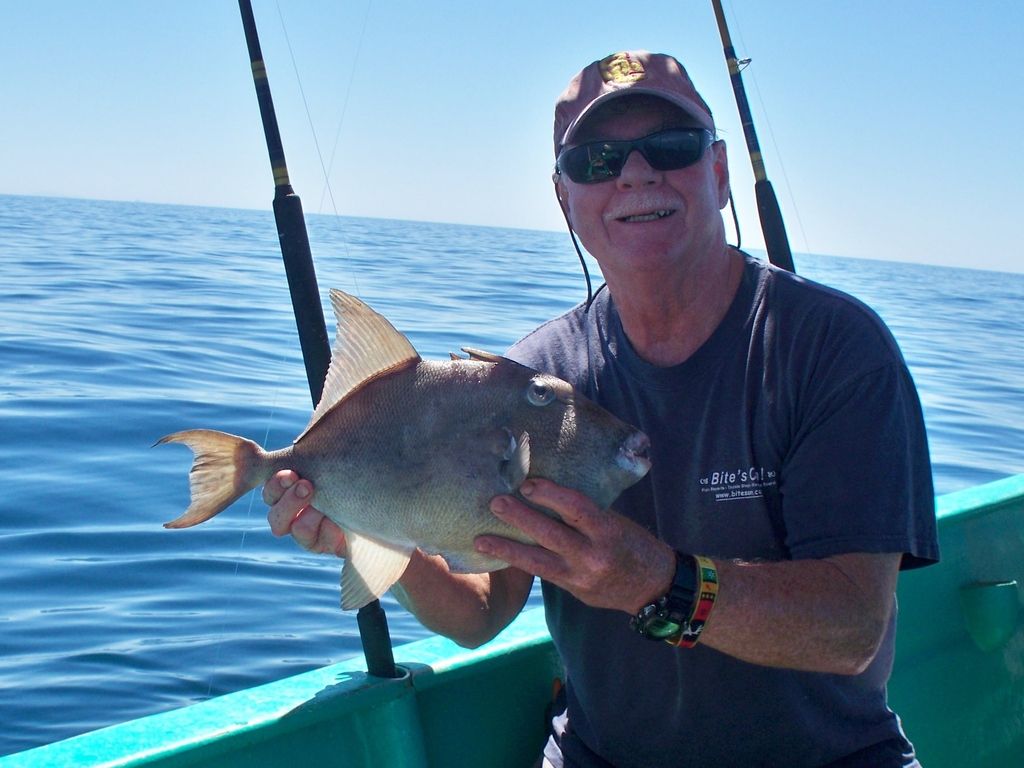 After three hours of very slow fishing, we pulled anchor and went to a reef closer to shore that held more fish. It was funny when after an hour of nothing being caught Francisco stated the common term that it's called fishing not catching. He now said we go catching! Ha! Ha!
When we reached the area we used dropper loops with 5 oz. sinkers in about 120 feet of water. It was instant bite on Trigger Fish, sometimes doubles. They ranged from 1.5 to 2.5 pounds in size. We both caught 2 each Pinto Bass in the four to five pound range: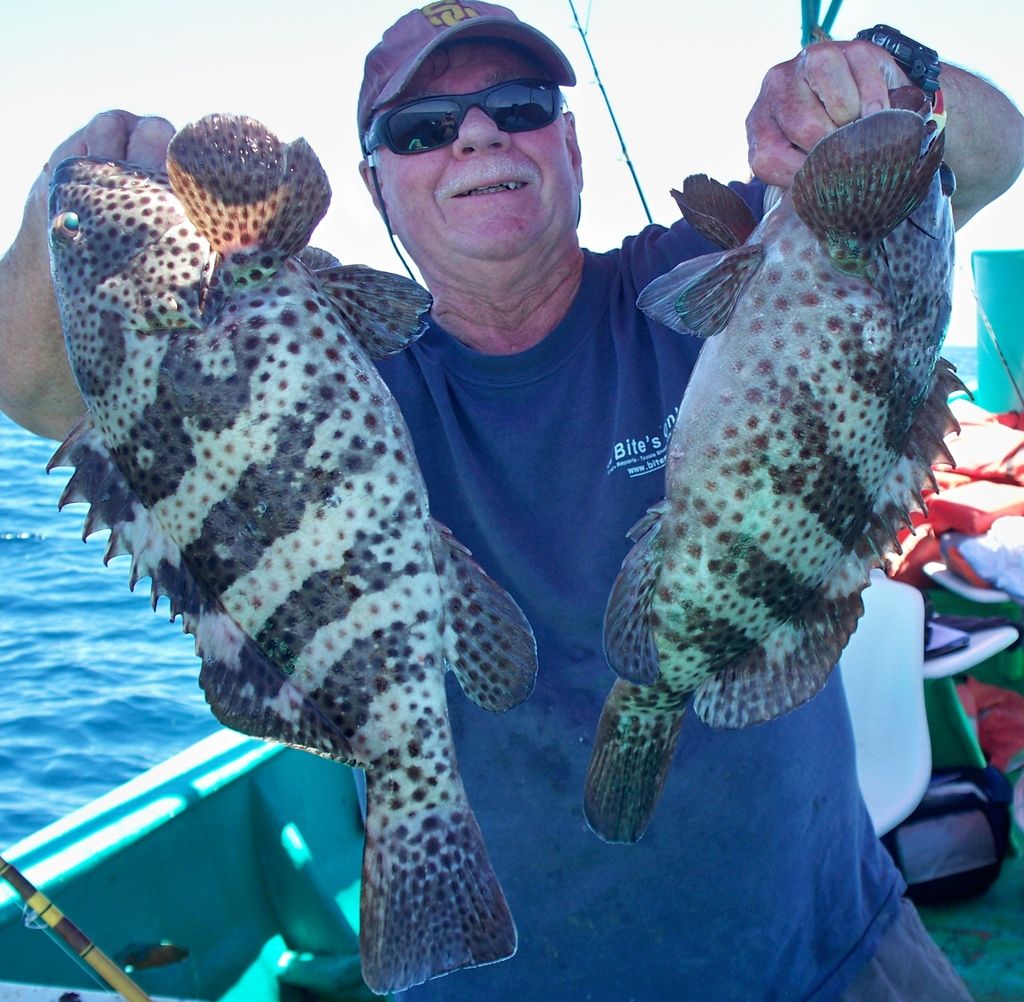 A flurry of action and these results: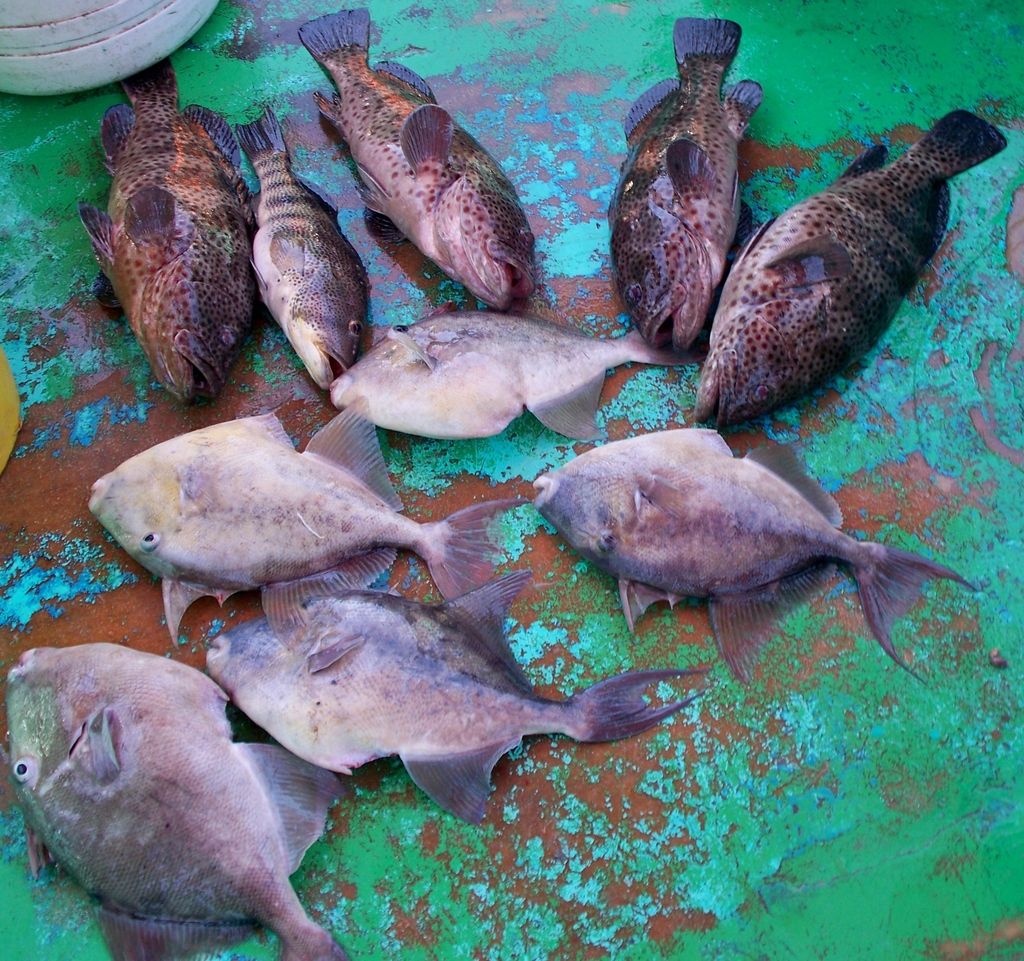 After an hour of non-stop fishing which also included catching some small Cabria, the Captain asked if I wanted to catch some Corbina, of course and so we moved closer to shore. It again was instant bite, yet the fish were only about a pound in size. We caught about eight and called it a day at 2pm.
At the dock they began fileting the fish and I took back to the hotel a smorgasbord of fish for dinner. I added a nice salad to go with the fish, and of course a couple glasses of white wine from Spain. Yum Yum!
Day 4 -Tuesday 05-23-17.
Today I turned 70 and we celebrated by going to town for breakfast. I ordered a shrimp Omelet which was delicious and Sheryl had Heuvos Rancheros, also good. We later purchased some Gigantic Shrimp, both White and Brown, 5 to a pound, two pounds total, one pound of each for tonight's dinner.
Back at the Hotel we chilled and enjoyed the Lazy river and read books out by the pool.
Day 5 -Wednesday 05-24-17.
Today we had booked the Bird Island Tour. Panga's picked us up out on the beach and took us out to the Catamaran anchored offshore which came down from the harbor at 9:30 am. The Island was about ten miles offshore. It was all you could drink Mai Tais, Margaritas, Rum Punch, Tequila Sunrises, etc.
For lunch we enjoyed beef or bean burritos with chips. The ride out at about 6 knots took 1.5 hours, allowing everyone to chill out. The weather was outstanding. The wind did pick up at noon, but no worries.
Upon reaching the Island the boat anchored up and you could elect to snorkel, kayak, or go with the Panga for a tour around the actually five islands. Instead of bird island, it is really Seal island and a sanctuary for seal pups, although there are plenty of species of birds there too.
Some pictures: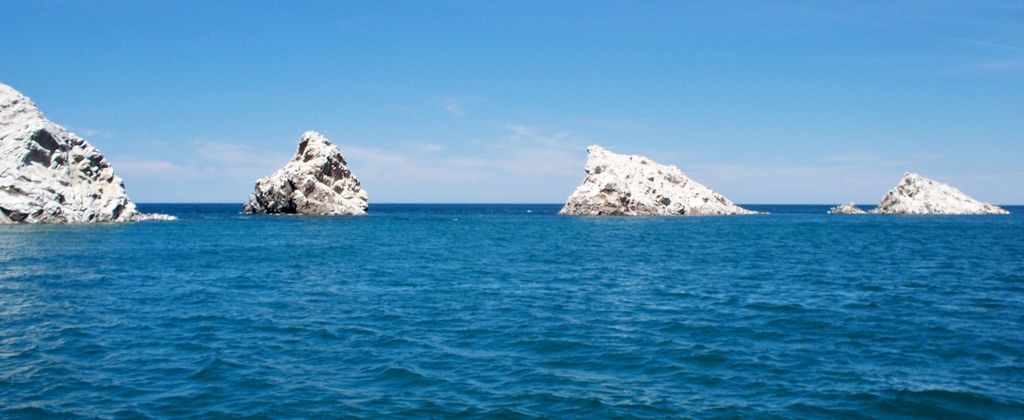 My lovely wife of 47 years Sheryl: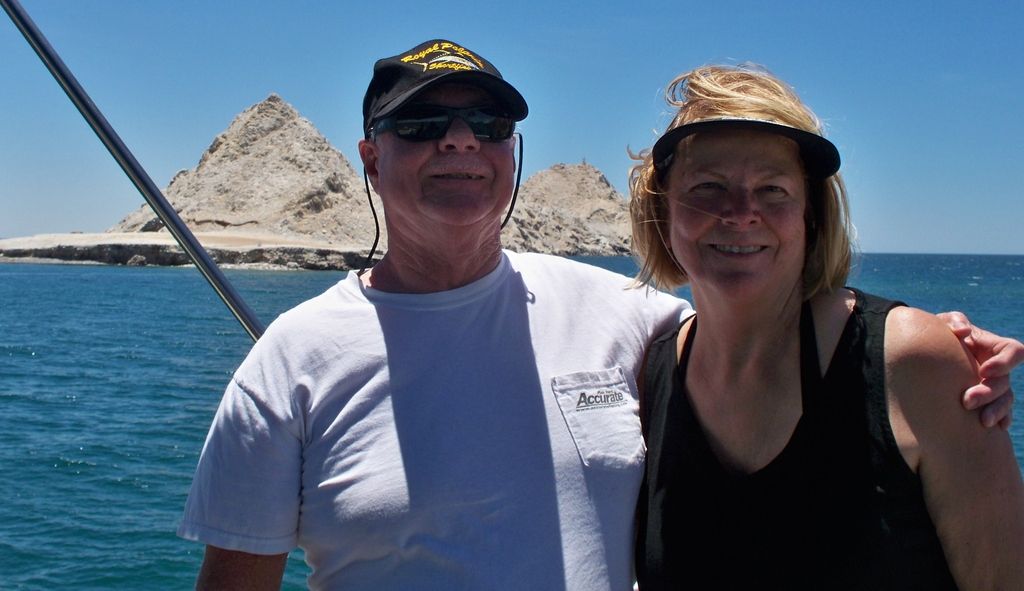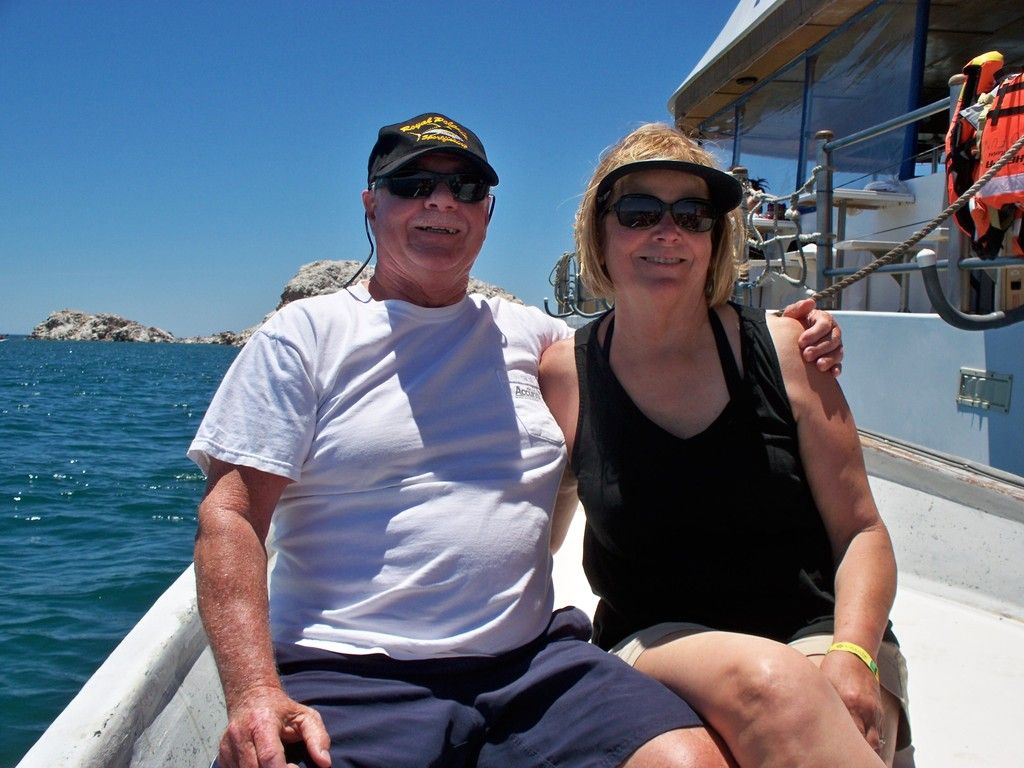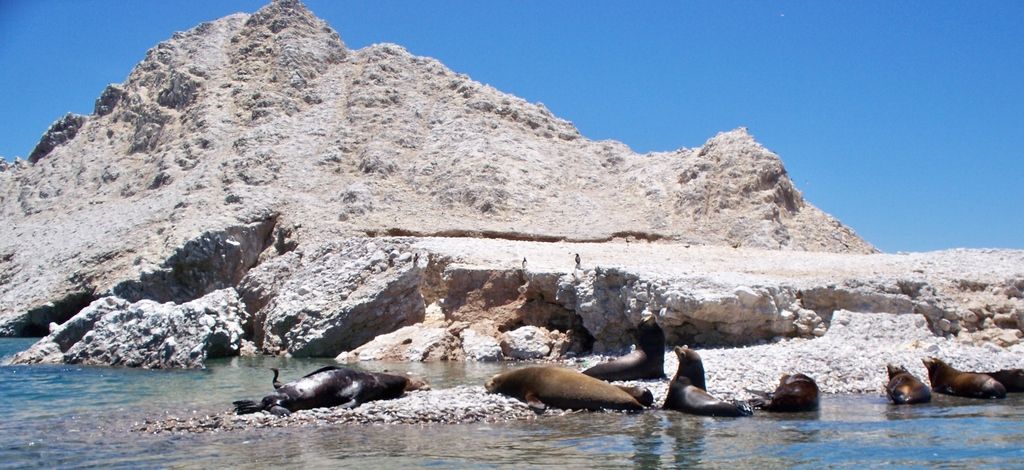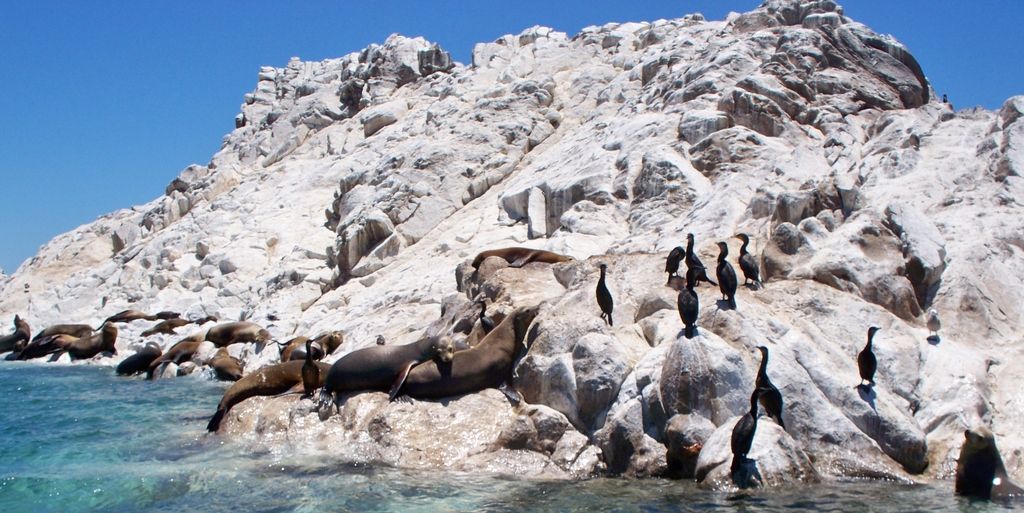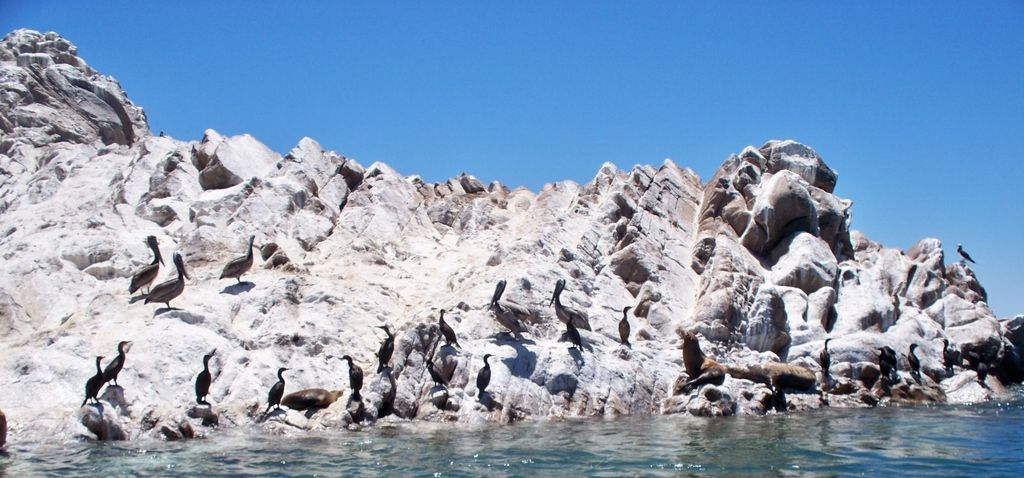 Back at 3:30 pm and very happy, the young ones on the trip danced their way back, as all aboard had a good time.
Leftovers were on the menu for dinner.
Day 6 -Thursday 05-25-17.
Lots of wind today and went into town for Breakfast, Eggs Machaca for me and Chiliquilies for Sheryl. We chilled around the pool the rest of the day.
Day 7 -Friday 05-26-17.
Leftovers for Breakfast and again chilled at the pool, our last day here. We went to town for dinner and had a spectacular Italian meal at Pane Vino on top of a hill overlooking the harbor near the lighthouse. I enjoyed Spaghetti with Italian sausage and meat sauce which was to die for. Sheryl ordered Ciapino consisting of Shrimp, Clams, Calamari, and Seabass over linguine, which was also outstanding. With the meal we savored a tasty Chilean Cabernet Sauvignon.
It was a great way to end the week.
The resort is spectacular, and we will return soon.
Day 8 -Saturday 05-27-17.
My wife Sheryl and I reached our home in Diamond Bar, California safely Saturday afternoon, 05-27-17. We left the Mayan Palace at 7:45am and arrived at 4:00 pm. The distance we traveled by car being some 445 miles. The border crossing at San Luis took us 27 minutes in the Ready Lane. The roads were in excellent shape, a far cry from the Mexicali route.