I Post A Lot But I Can't Edit This
Apr 25, 2003
21,086
7,558
75
Name

Cory Visser
Boat Name

N/A
Having been skunked on my last two private boater outings, I was due for a change of results. Although Lal has not been skunked this year his last few trips were also disappointing. It was time to get the job done and we did!
So I went fishing Thursday, 9-03-15, with Lal on his 18' boat the "Rubber Ducky". We launched out of Oceanside at 4:30 am, meaning we left Lal's house in Cerritos at 3am, and I was up at 2am in order to get to Lal's house at that early hour.
We picked up one of best scoops of bait all year, 4 to 5" slimy green Sardines and a bunch of Mini-Macs in the 6 to 8 inch size, too cool!
Our beginning destination was the 182 Bank looking for Tuna and Dorado. Since it was so early, and grey light wasn't expected until after 6am, we could coast out at about 15 knots. The weather was ideal, not quite grease conditions, however, very close. At 7am we were 21 miles out and Lal spotted a Garage size Kelp Paddy off our Starboard side.
The Paddy held three birds and we could see small boils, as we slowly approached within 50 feet. Both of our baits were instantly bit and we both reeled in 3 to 4 pound Yellowtail, which were released. We repeated this once more before Lal hooked up to a bigger model and I was absolutely hammered, watching my line fly across the stern at almost Wahoo speed. Lal claimed it had to be a Do Do, I had no idea? No matter what it was, it was pulling hard, as was Lal's hooked fish.
Shortly thereafter Lal landed about a 20 pound Yellowfin Tuna, while I was bent good on my fish. Looking at deep color, it was definitely another Yellowfin Tuna. A couple minutes later, after it finally decided to go into the Tuna death circle, and pulled hard until I pumped him to the surface, then Lal stuck another nice 20 pound Yellowfin Tuna.
Game on, as we chunked bait and had boils everywhere. I was using 30 pound and Lal 25 and after our third Tuna each we both upped the ante. Lal threw out 40 pound and I used 50 pound and we both continued to get hammered. Always fun gaffing your own fish!
We had drifted off the Paddy some three hundred yards before experiencing a slowdown in bites. No matter, we slowed trolled back to the paddy and both got bit before reaching 100 yards inside of it. We lost count of how many we had landed, however Lal Hollered the kill bag is full and you need to release your next fish! How cool?
We got on the radio and called out the numbers, as we were done, not soon after a couple of boats appeared, unfortunately the bite had died, although Lal and I both released a couple more Tuna and plenty of small Yellowtail before calling it. A few of the boats that arrived caught some Tuna, so we were glad we called them in.
Some pictures on the water: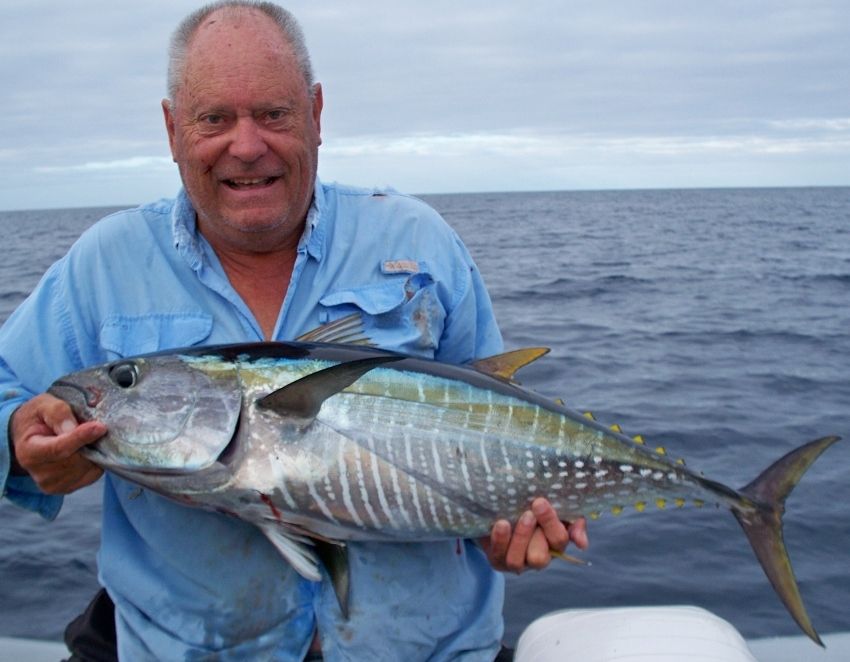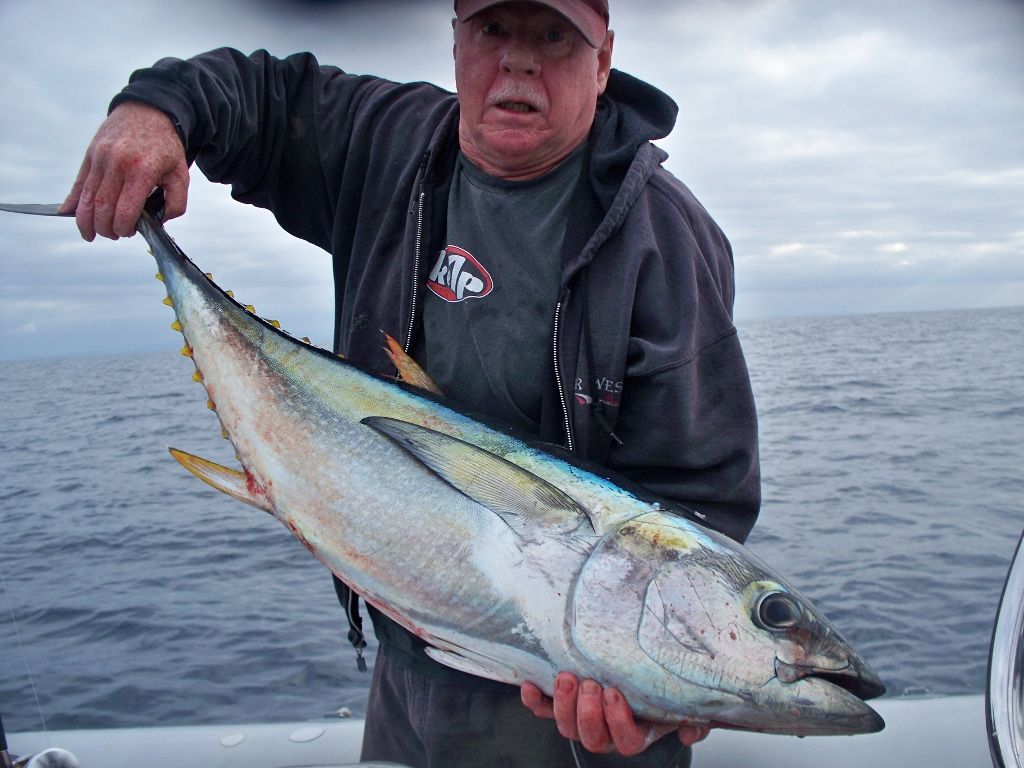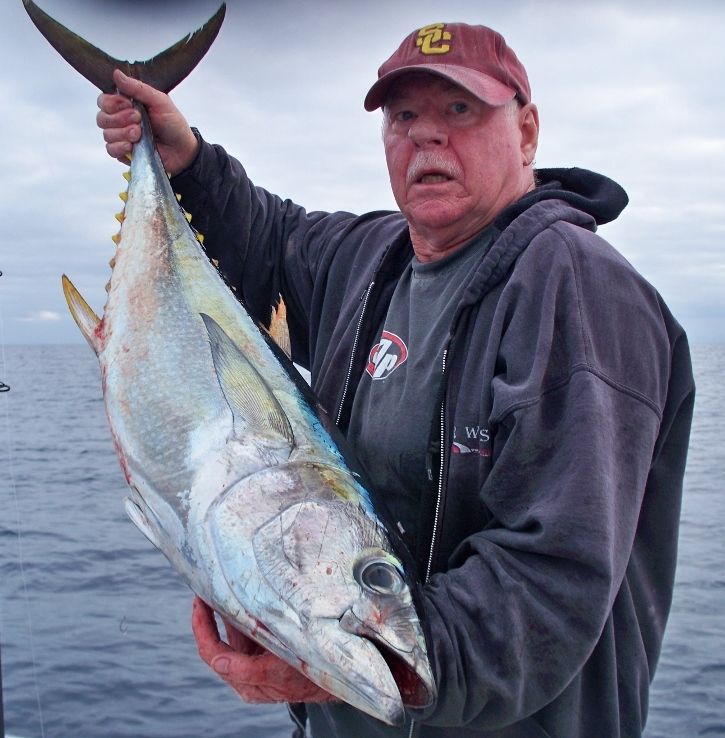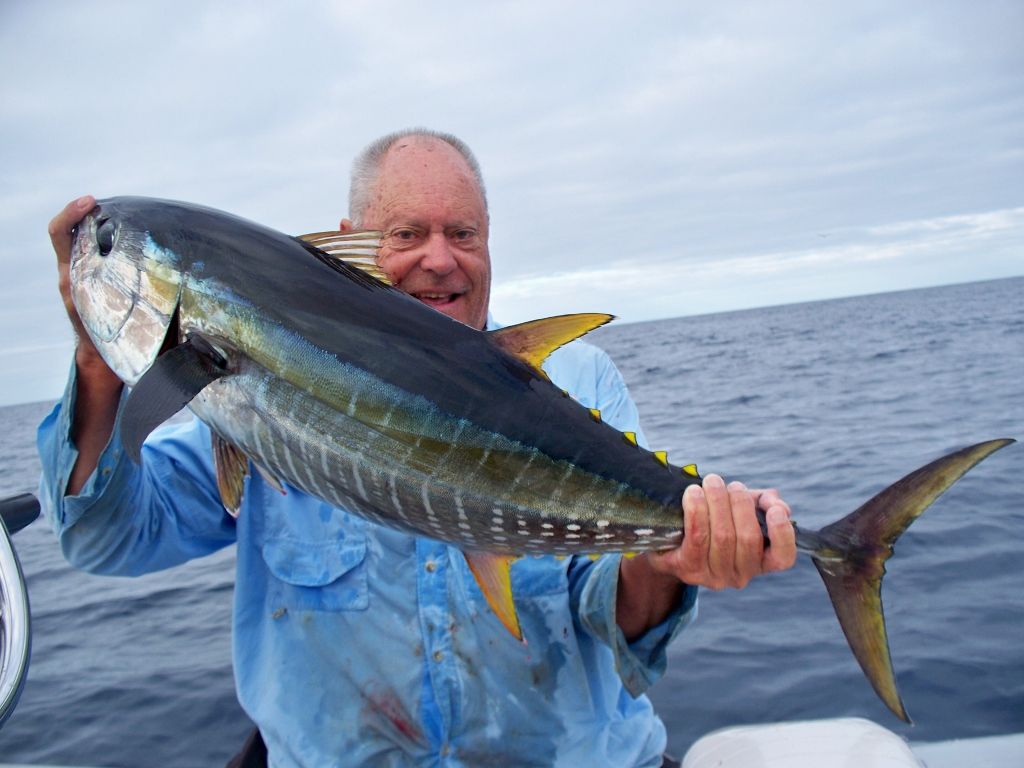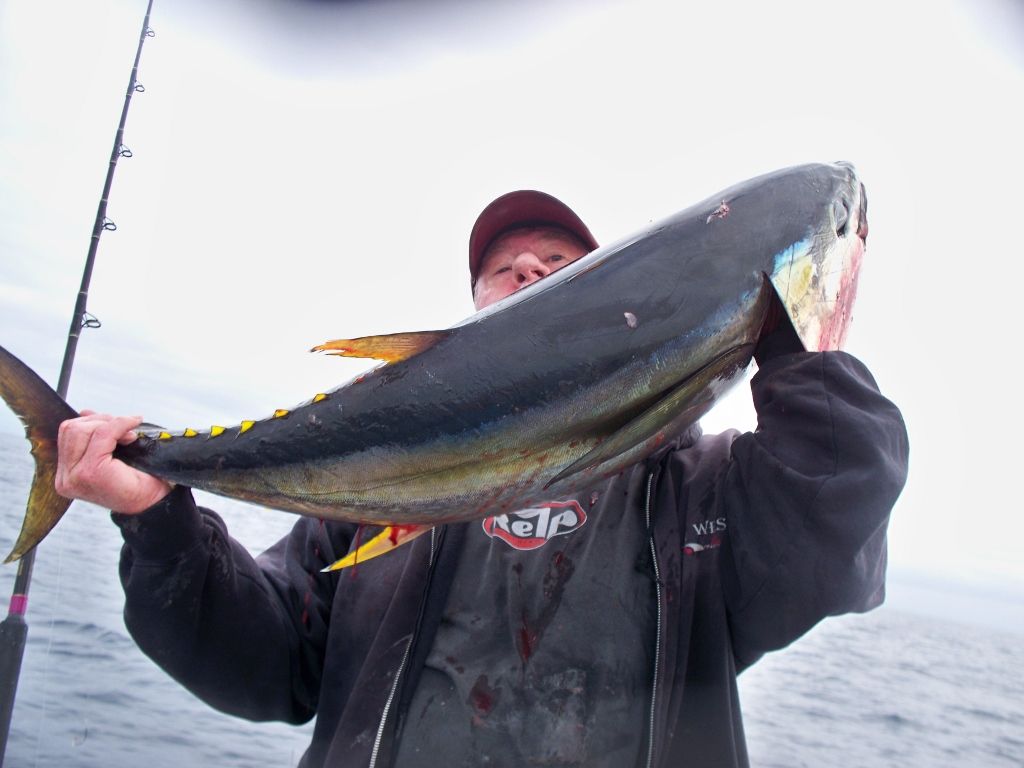 We were hoping to find a Paddy holding Do Do's on our way back to Oceanside Harbor. It was not to be, so not quite the perfect day, however, extremely close!
Water temps were 71.3, where the Paddy was found, and the water was a clean purple blue. We zig zagged back to the harbor finding only a few empty Kelp Paddies. The wind was at about ten knots and the seas were relatively flat, providing a very pleasant ride back to the harbor by 10:30 am. Never been on a Tuna trip that ended this early unless we were blown off the water!
At the dock, the DFG helpers weighed our largest Tuna, bled out at 32 pounds, and one other average Tuna weighed 23 pounds.
With a full Kill bag we needed more ice to keep the Tuna in pristine condition until we returned to Lal's house. So we stopped at the Mobil Gas station. The traffic home was as expected, light and we arrived in Cerritos after high noon. 2.5 hours later, after cleaning a very bloody boat and slabbing the Tuna, we were exhausted.
Some more pictures of the thirteen Tuna we kept, of which neither one of us knew how many were in the kill bag?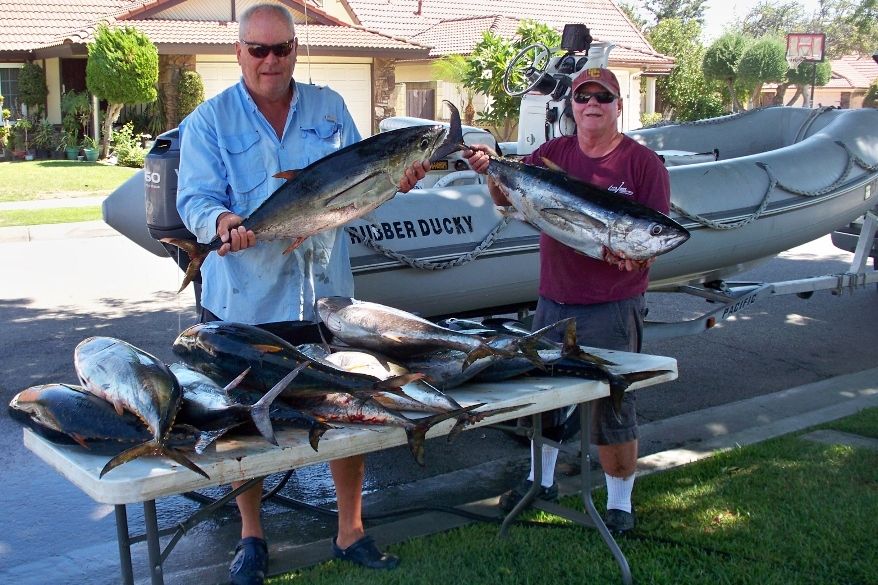 Thanks Lal, we got the job done this time, wow, what a day! Can't wait until our next adventure together.
BTW I just returned from Cancun and if you would like to read a long vacation story with lots of pictures see below:
Grand Palladium Kantenah Resort & Spa, Riviera Maya, Mexico (Cancun)
08-15-15 to 08-22-15
Departure-7:30 am Saturday-08-15-15 via American Airlines from LAX.
We arrived at Lax at 5:30 am, holy smokes; there were a whole bunch of folks checking in, you could not even move after entering the baggage area. Fortunately, we were asked what airlines we were on, and were ushered outside to check our luggage easily with baggage handlers. We stood in line to get through the security entry point, what a pain. Darn Terrorists have upset our lives forever, when flying!
We proceeded to Board the airplane at 7:10am. We departed the gate on time at 7:30am. Having only a 1 hour layover in Dallas, it was important to arrive on time. The flight was listed at 2 hours and 39 minutes to Dallas. Arrived 10 minutes early and proceeded in Dallas on their Skyline transfer shuttle to another gate area to catch our plane to Cancun airport. After a 1 hour delay due to a malfunction of some kind, that was quickly covered by maintenance crews we were on our way to Cancun.
With a flight time scheduled for 2 hours and 19 minutes, the Captain made up about 25 minutes of time, so we arrived in Cancun only 35 minutes late. A short trip through customs and we picked up our luggage in a timely fashion, and then proceeded through the maze of Timeshare and other hustlers in the Cancun airport. We somehow missed our host waiting to take us to our resort, However, everyone in the shuttle area were very attentive and we found someone that knew who was handling the Palladium Resort we were staying in. We were shown to our shuttle and off to the resort we went, some 1 hour and 20 minutes south.
We arrived at the resort at 6:30 pm their time, which was surprisingly only two hours ahead of California time. Exhausted, thirsty and hungry, we were sent to a special welcoming reception area, as a guest of their Travel Club promotions committee. Our first impressions of the resort were awesome, it was simply gorgeous! The welcome hostess immediately asked us if we wanted something to drink, we ordered Margaritas, and wow they were refreshing. The weather was cooler than expected, about 88 degrees with a nominal amount of humidity as expected. I thought it would be much hotter and considering we left Diamond Bar in triple digits, not bad?
We got our keys to our room, and met Alex who loaded our baggage in his tram, and proceeded to take us to our room.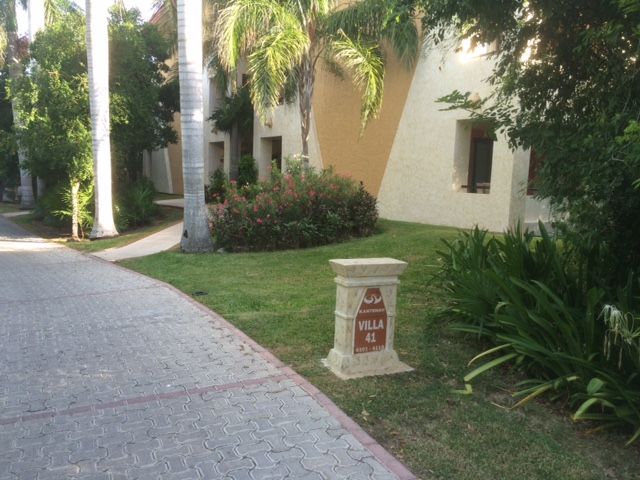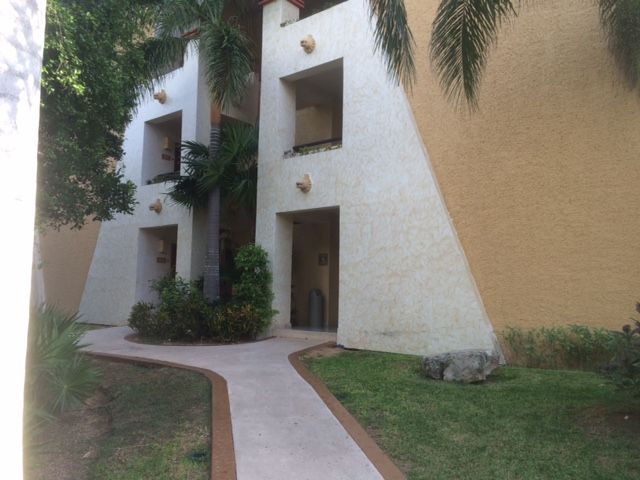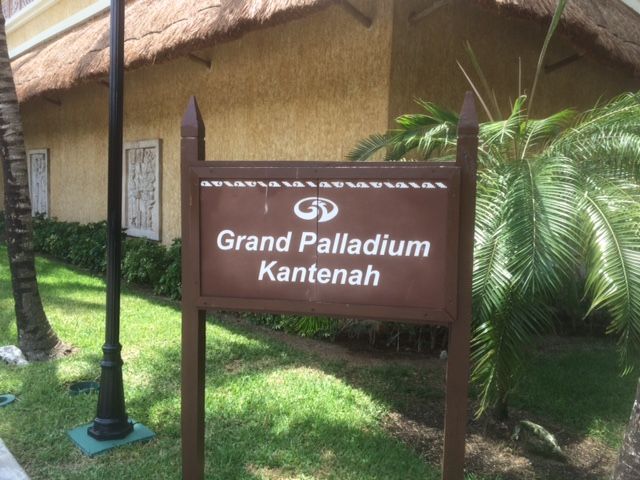 The maids were talented towel creators: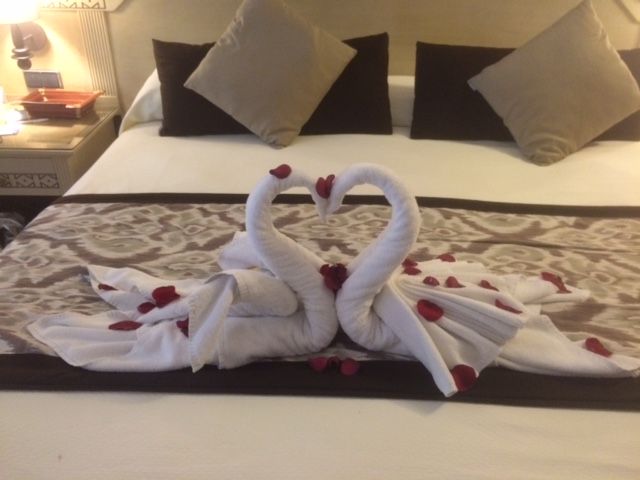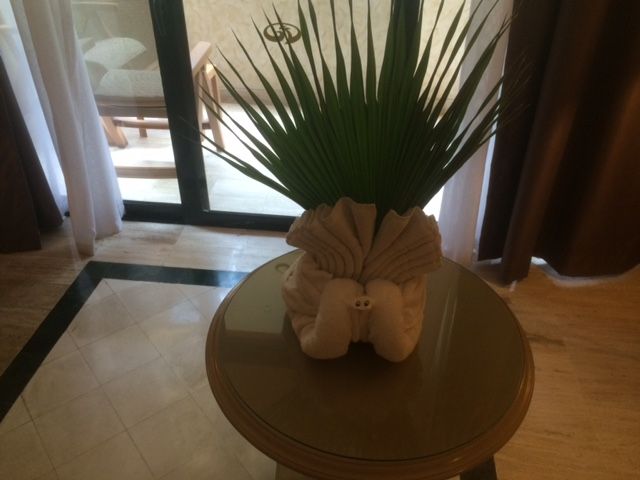 Everyone used the train to move from resort to resort in the large complex, which contained five resorts in one: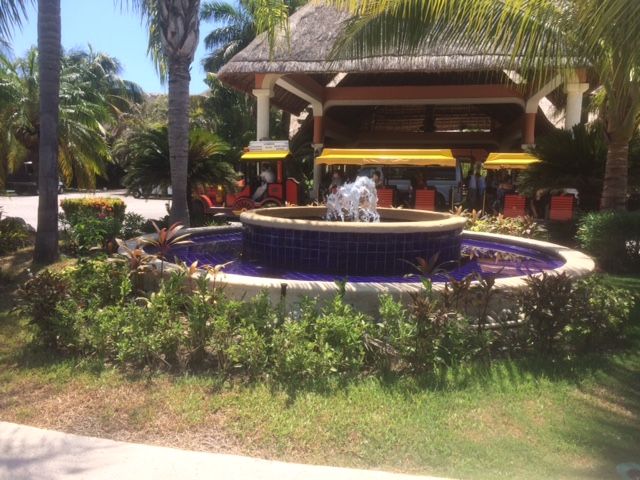 We commented on how good the Margaritas were and he said would you like another? Since the resort has a bar located probably no more than several hundred yards from anywhere, we said why not? Then Alex asked we would like a quick tour of the resort facilities and the beach. Why not? Although we were extremely hungry, having only eaten snacks all day, it was a fun tour, as we were shown the beach, where the Turtles eggs were harvested and allowed to hatch in a protected area, then led to the ocean without fear of ambush by Seagulls or other predators.
We were shown one of the two adult only pools, as well as the two gigantic main pools and a number of restaurants. We thanked Alex for his special treatment and entered our room #4105. Very nice!
This was an all-inclusive resort, our favorite, all the food and all the alcoholic and other drinks you wanted. Now it was time for dinner. The nearest restaurant was only a short walk away, and we chose the Tikal Buffet. What a beautiful setting: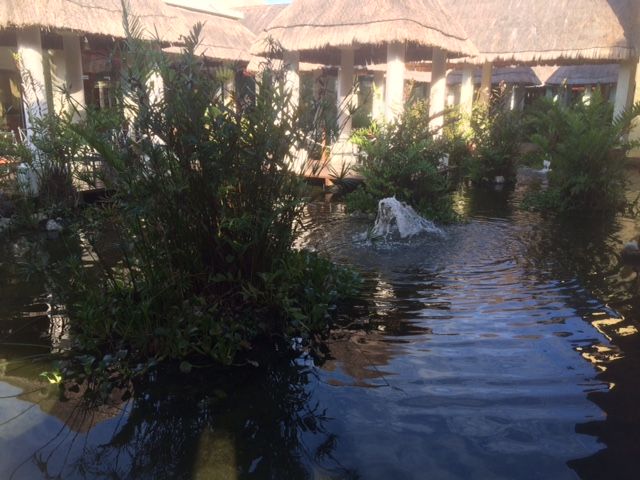 All of the buffets were outstanding, the highest quality food for a buffet we have ever experienced outside of the top Las Vegas Buffets. We enjoyed a great salad bar, incredible selection of meats, potatoes, vegetables, fruits and deserts. They had Prime Rib, roast Turkey and Ham as primary meats, with fried chicken, seafood and pork entrees and many more. With dinner we ordered white wine from Spain. I tipped the waiter to keep the glasses full and he was game on with the task, keeping our glasses full all during our dining pleasure.
The Friendliness of everyone at the resort was beyond incredible! The service was phenomenal. It was a balmy night and we took a long walk around the pool area and to the beach, before returning to our room. Both my wife Sheryl, of nearly 46 years and I are avid readers, so we did a little reading before crashing, as I was almost through my first book out of four that I read during our 8 day adventure. Lights out at about 11pm, after a very long long day, only 9pm California time, oops?
Our favorite staff member was Tatiana, hostess in the Tikal, Alex and Ceasar were extra helpful on the trams. Everyone on the bartender staff were efficient and friendly. Our whole experience was extra special. We would come again in a heartbeat. We also have been to the Palladium in Punta Cana, which we would rate only a notch below the Riviera Maya resorts.
Day-1 Sunday-08-16-15 Grand Palladium Resort-Riviera Maya.
I woke up at 7am, (5am California time) and not wanting to wake up the wife, grabbed my book and headed to the lobby. They had coffee in the lounge area, primarily for those going on tours. After an hour, I headed back to the room to shower and get ready for breakfast. The TV in the room had maybe 5 stations that were in English, none exciting, and about 30 stations in Spanish. So we almost never watched any TV during our stay. No biggie!
The wife was up and after taking her shower we headed to the Breakfast buffet, a different restaurant sitting next to the Tikal, called the Hacienda. I quickly noticed they had Vodka and Clamato juice near an ice bucket with salted glasses. I made us each a Bloody Mary. Oh boy, they had our favorite breakfast item, Lox and Bagel. There was an excellent selection in all the buffets, whether for breakfast, lunch or dinner in fruits, salads, and entrees. Fresh made omelet's and eggs cooked anyway you liked to go with numerous varieties of crepes, seafood, ham and cheese, vegetable, etc. Machaca with scrambled eggs was one of my favorite dishes, as well as veal with onions and bell peppers and of course their black refried beans. There were too many items to list.
After finishing off our Bloody Mary's; I poured us a couple of Mimosas, orange juice and Champagne! Wow, what a great way to start our day. We had an appointment with the concierge at 11am, so we caught the train to see more of the resort. There were five lobbies, one for each resort on the premises. The train went to four of them, and skipped the luxurious Royal suites for the elite members. Each lobby led to the pools and other restaurants on the facilities. There were seven specialty restaurants that were exclusively open for dinner, some requiring reservations.
We met our concierge and were immediately asked if we needed any refreshments, we declined, having just finished breakfast, still impressive first class service. We were advised of our ability to make preferred reservations for three specialty restaurants. We chose Ribs and More, Japanese and Mediterranean. We made our mandatory appointment for the Timeshare presentation on Tuesday, although they would not call it a timeshare, only a club membership travel opportunity. No difference to us? BTW, we already own a Timeshare.
The resort layout, very large: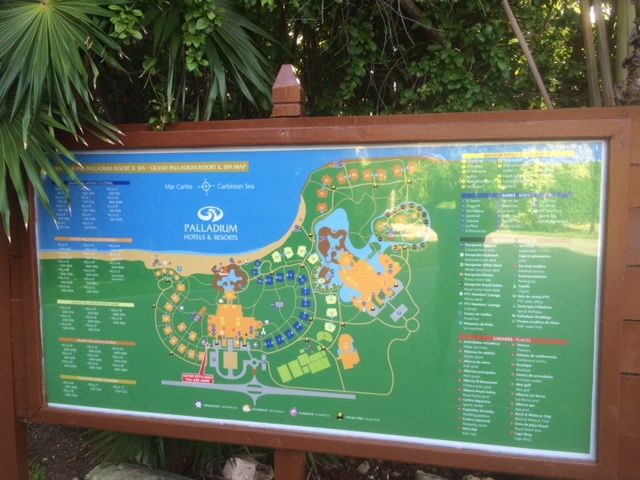 We discussed other features of the resort and were excused. Back to our room to change into swim suits and o
ff to the pool area we went, wow was it ever busy!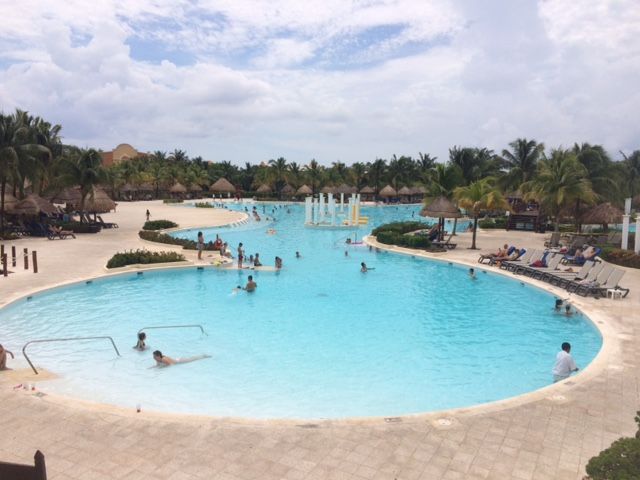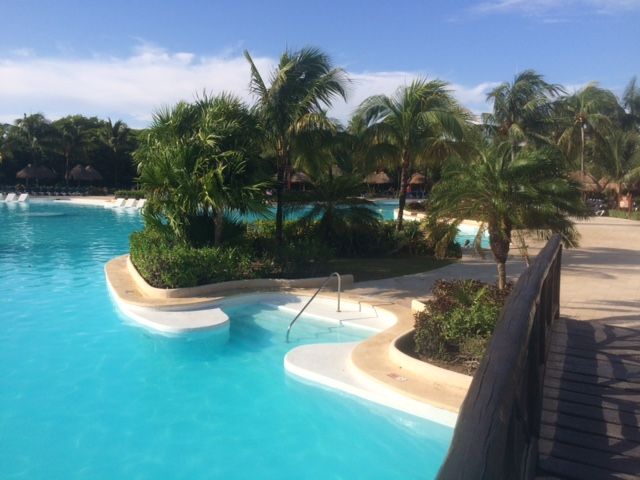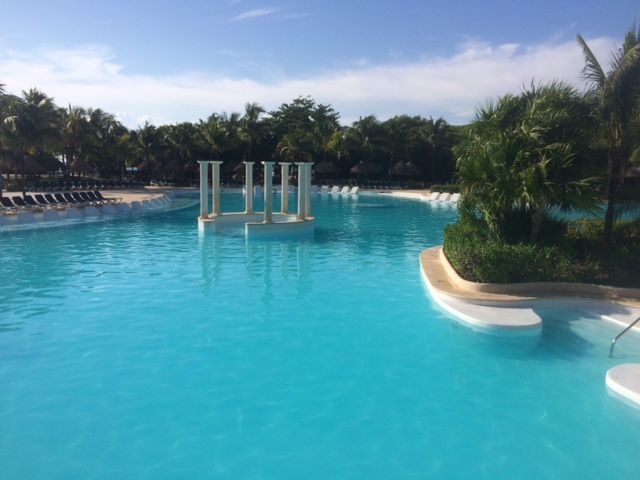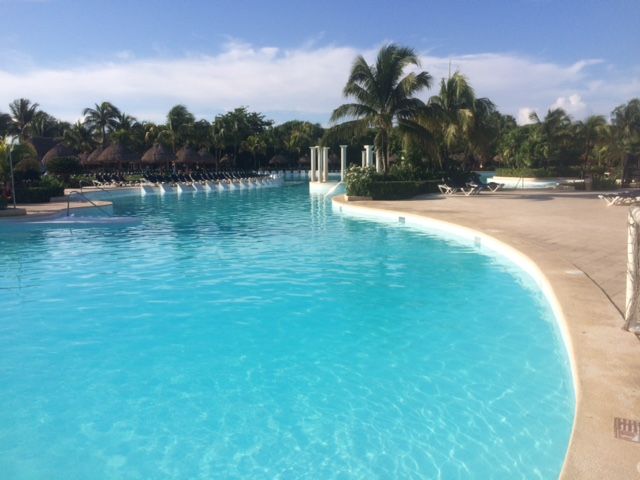 It was time to try a Mai Tai, one of our favorite tropical drinks. The weather was ideal considering the time of year and being in this area of the east coast. Perhaps the mid-day temps were 88 to 90 with enough humidity to make you sweat, yet not so much as to drench you in it.
Being good on our first full day, we elected to skip lunch and/or snacks and left the pool area at around 5pm. Of course the libations flowed freely, as we tried Pina Coladas and more Margaritas to go with our original Mai Tai's, which I found a little sweet for my taste, although very tasty to enjoy one.
While walking back to our room, we passed this beautiful area holding Flamingos: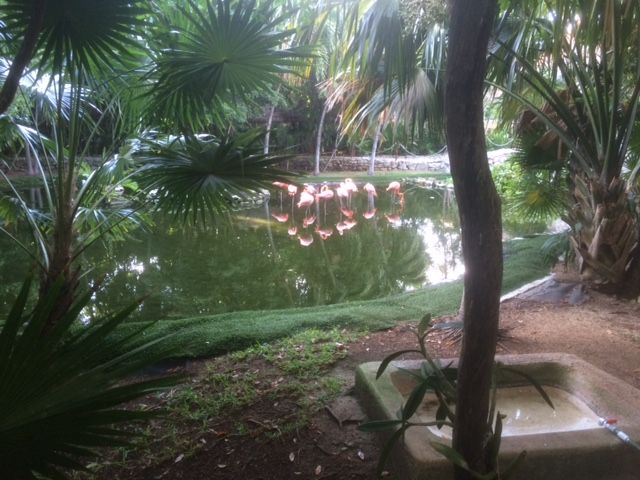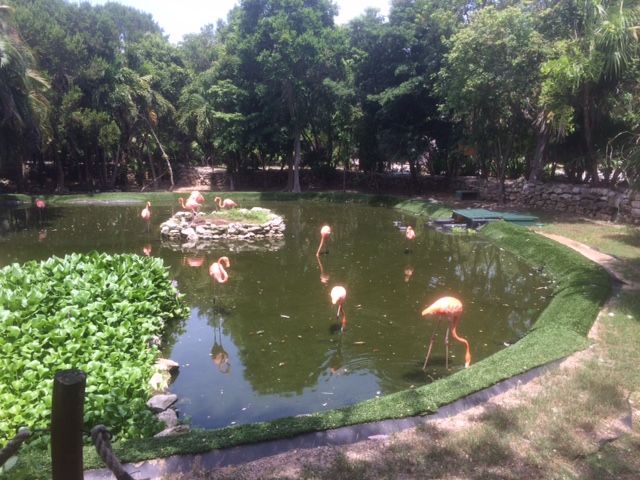 We dressed for dinner; men were required to wear long pants and a sport Shirt for all the specialty restaurants. We chose the Steak House for tonight's dinner.
The areas surrounding the various restaurants were extremely well thought out and seemed very tranquil: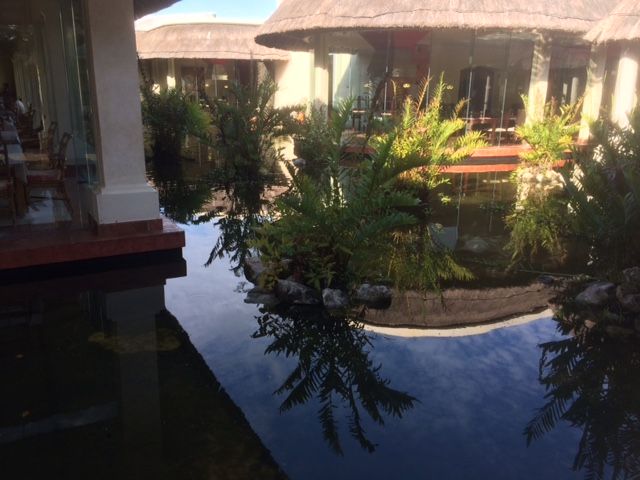 I ordered a glass of the house Cabernet from Spain before ordering. Each specialty restaurant included a medium sized salad bar, with unique items, like Marlin ceviche, marinated Calamari, shrimp cocktail, etc. along with the usual salad dressings, and both regular and Romaine lettuce. I enjoyed the Caesar salad the most. I was a bit disappointed that none offered Ranch dressing?
My starter was cream of asparagus soup, yummy! Sheryl enjoyed a creamy tomato and carrot soup. Great restaurants always serve the best soups, and lousy restaurants tend to have awful soups as well!
Sheryl ordered an 8oz Filet Mignon, medium rare, smothered in sautéed mushrooms, while I ordered the 12 oz. Rib Eye Steak, with a Blue Cheese sauce. The Filets were extraordinary, the Rib Eye steak was too thin to cook properly, "Medium Rare" yet was still tasty. Baked Potatoes and vegetable of the day were included. Desert was New York Cheese Cake, we shared.
Our favorite restaurant ended up being the Steak House; Jose the Manager was the very best host.
After another short walk on the beach, in balmy conditions, it was time to crash. It had been another very long day, yet what a great start to our vacation.
Day-2 Monday, 08-17-15 Off to the Xenotes (Cenotes)!
We both slept in to 8:15am, wow that felt good, I am definitely not a late sleeper and total relaxation is setting in. Breakfast hours were 7am to 10am only, so we hustled to get dressed and off to the breakfast buffet. We went to the Tikal this time, as their dinner was so good. It was very similar to the Hacienda, with maybe a few different items?
The many choices were off the charts, lots of fruits, rolls, bagels and pastries and plenty of entrée choices, whole ham, French toast, Pancakes, Home fried potatoes, a variety of Sausage and Bacon, more crepes and other great selections, like Fried Chicken, pulled pork, stew, etc. You could order up an omelet or fresh fried eggs. The coffee was simply delicious. And of course our favorite was Lox and Bagel, although I didn't have this every day, it is so filling.
We did enjoy our morning libation, Bloody Marys' and a taste of champagne to top things off for breakfast. What a joy!
Back to the room to change into bathing suits and a lengthy walk to the entrance of the resort to catch a shuttle on the main highway. It is quite nice as this is their primary form of local transportation between the hotels and Playa Del Carmen, a big city nearby, some 30 minutes to the north of us. The cost varies based on distance, 25 to 35 Pesos, about $2 to $3 each. Taxies were a lot more expensive, like $25 one way?
Our destination was the Xenote Azul (Cenote Blue) which also had several others within walking distance. Xenotes or Cenotes are underground fresh water springs that often originates from caves. The location of this favorite site was only some five miles from our resort. The entrance cost was only $6.00 each.
For safety purposes, we didn't bring our cell phones, and stupid me I forgot my camera all together? So I have no pictures of these beautiful water pools.
The best feature, besides the beauty, was the refreshing temperature of the water, about 75 degrees, unlike the ocean and resort pools topping 90 degrees! Between the heat and humidity this was the way to soak up the sun rays in a pleasant setting. Freshwater fish were everywhere, and they nibbled at your feet and legs. It was a sort of a tickling sensation. I'm sure those that were snorkeling enjoyed the views of all the colorful freshwater fish and algae colored rock formations, reefs, etc.?
We spent several hours in this most comfortable environment, and reluctantly left to return to the resort for other refreshments like the Mai Tai's, Pena Coladas, Margaritas, and Tequila Sunrises, which flowed freely all afternoon. Our wait for the shuttles never exceeded five minutes with so many running the routes.
An alternative for buffet sit down lunch was grabbing a bite at the snack shop on the beach or near the pool, which provided hot dogs and hamburgers, Buffalo wings, deep fried fish, nachos with cheese and salsa, and a plentiful salad bar. Too hungry to make it to 7:30 pm dinner, we shared a delicious hamburger, with some Guacamole and chips.
At 5:30 pm we headed back to our room for showers and dressing for dinner at the Ribs and More restaurant. On our way back to the room, these guys were ever present: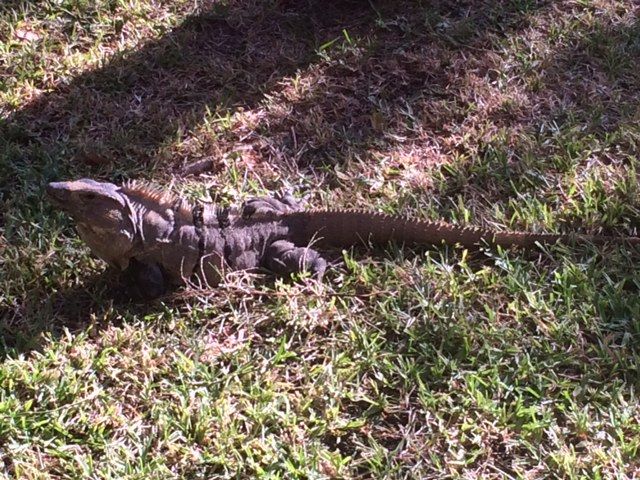 Near the restaurant was a Crocodile reserve: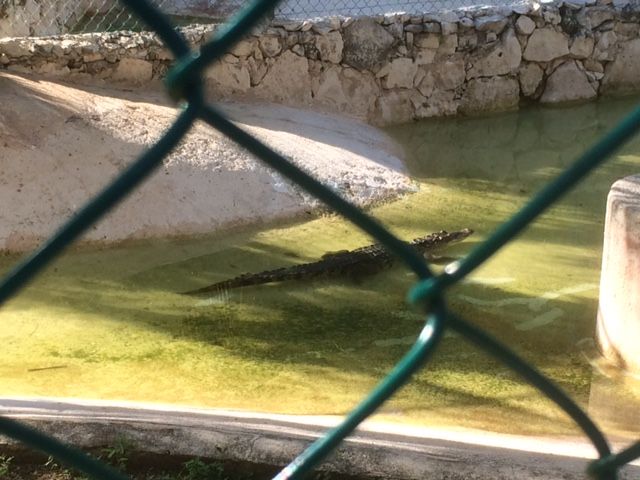 We enjoyed another fantastic dinner, as Sheryl ordered Barbecued Pork Spare Ribs, and I ordered Rack of Lamb, with some Beef Ribs on the side. It was simple awesome. We passed on desert, took another walk around the pool area and other areas of the resort and stopped in the exclusive adults only bar, that served aperitifs and other after dinner drinks, like our favorite "Grand Marnier" a French Liquor.
Although there were was entertainment almost every night, stage shows, singing and dancing, we could not stay awake for the starting show times of 10:30 pm.
Day-3 Tuesday, 08-18-15 Timeshare Presentation!
I was up early at 6am, now working on my third book. I made coffee in the room and went out to the lobby to not disturb the wife, while catching a few extra ZZZZ. Full relaxation has kicked in and this was my best time of taking in the early splendor of our weather, resort and location. The skies were crystal clear again, and air temps delightful.
Woke the wife up at 8:30 am and off to Breakfast we went. We took the Train over to the area where we would be meeting our concierge for introduction to the first salesman for their resort sales pitch. Although we briefly had reviewed this area earlier, we had not yet fully walked the various trails, pools and resort accommodations.
This was obviously the more ritzy part of the resort, although not part of the Royal Suites were at the top, they were not part of our repertoire, later in the week Alex gave us a quick look see, sweet! These are the resorts White Sands and Riviera:
Some pictures of this area, rooms over the water, nice: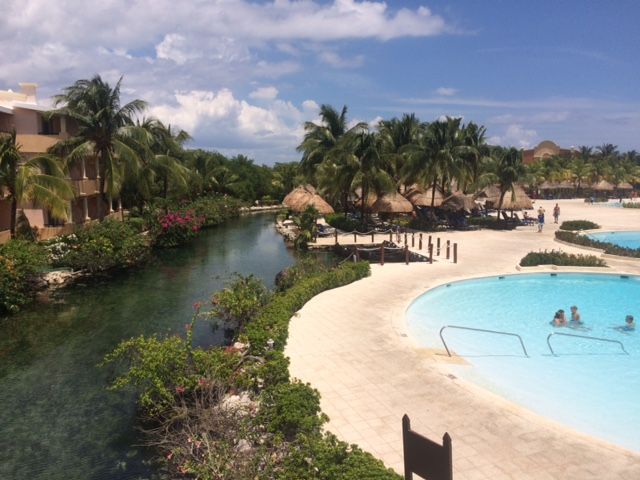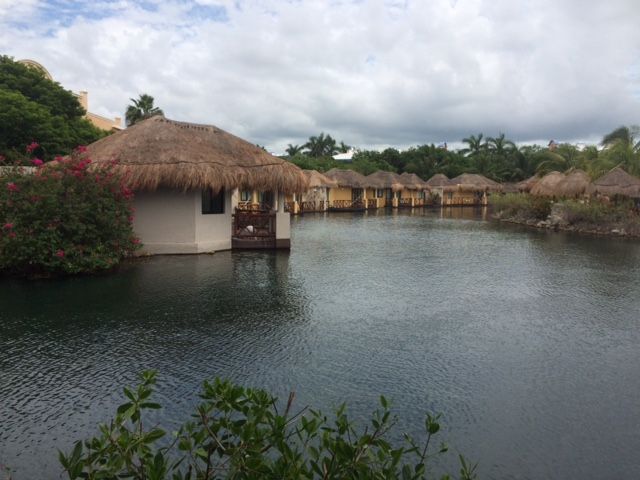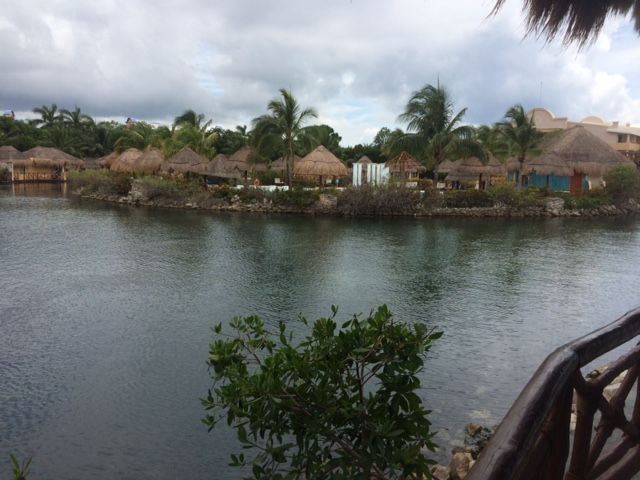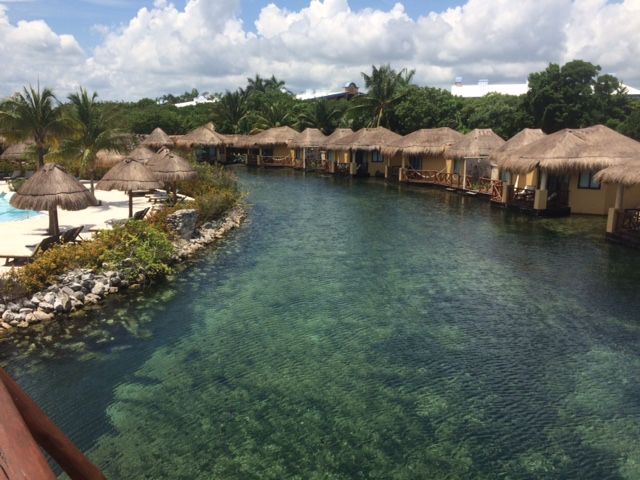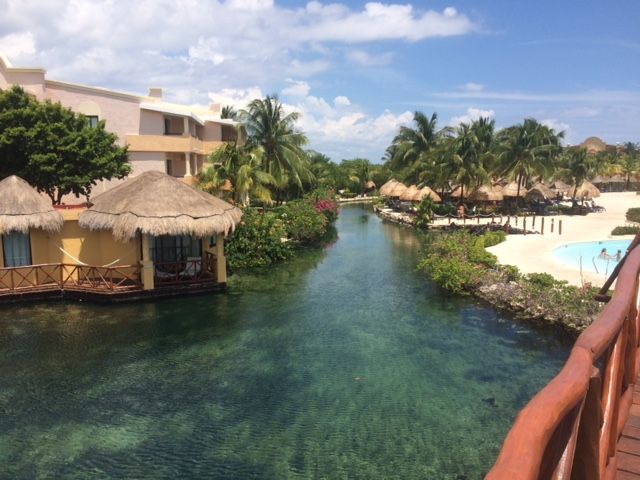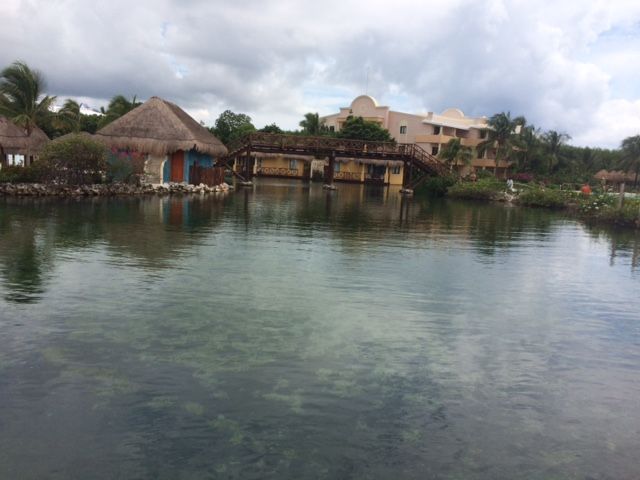 We met our concierge at the designated time of high noon, and were escorted to a waiting tram with Salesman Mike. We started at the beach areas: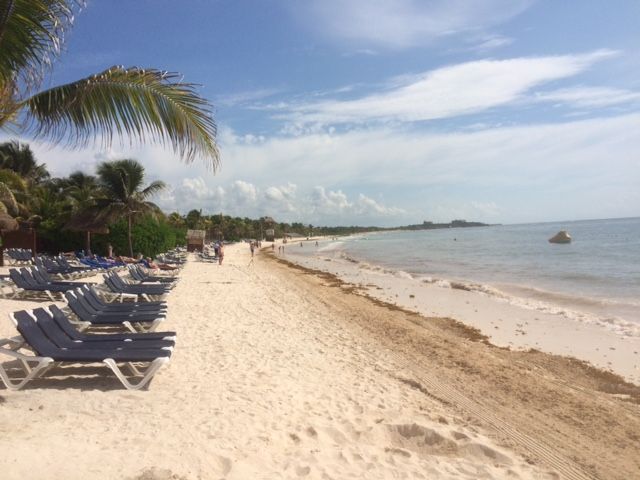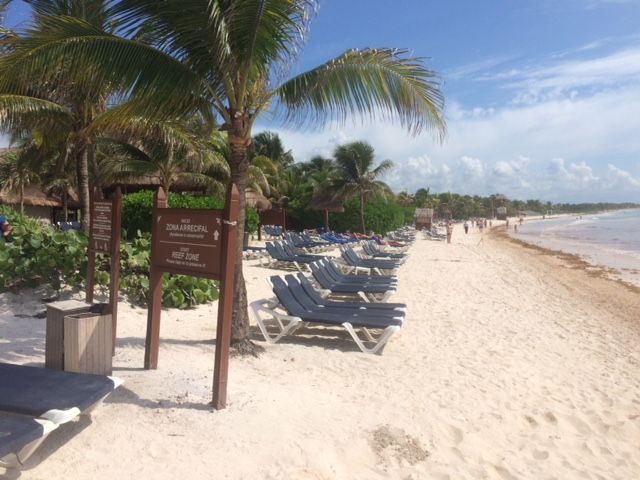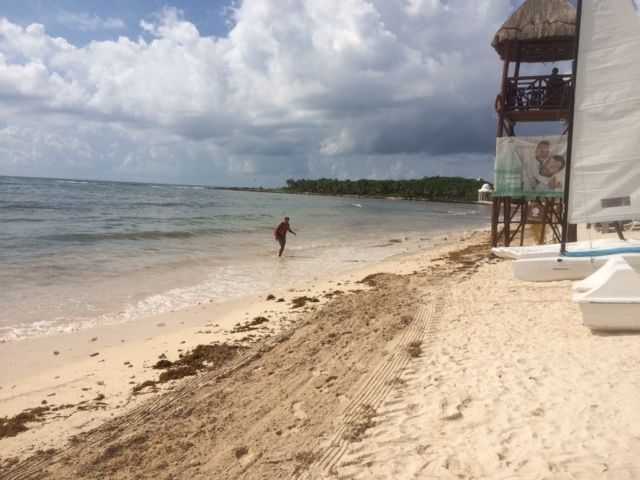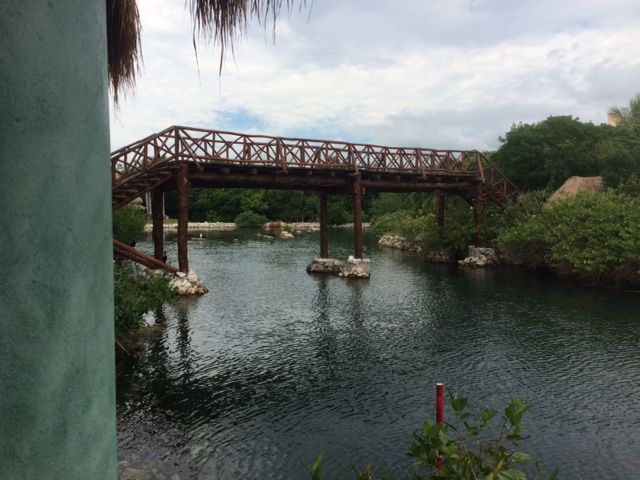 Did I mention the resort is huge? We were then ushered to the sales room and given the big pitch. All they were selling were weeks to the six resorts they owned and you could exchange the weeks for 8 thousand other non-associated resorts. Already owning a Timeshare at one of the most Luxurious resort complexes, Grand Mayan, we declined.
We felt the timeshare presentation was tolerable, only had an issue with our last sales manager, who was downright cold, expressing extreme disappointment with our desire not to purchase anything. Our first three, Mike and two other salesmen were professional. And as promised only lasted 90 minutes, as compared t others we attended lasting as long as over three hours.
Now that that was over, thank goodness, we took a look at their Adult Pool on this side, much more conveniently located for our interest, as compared to the one located near our room: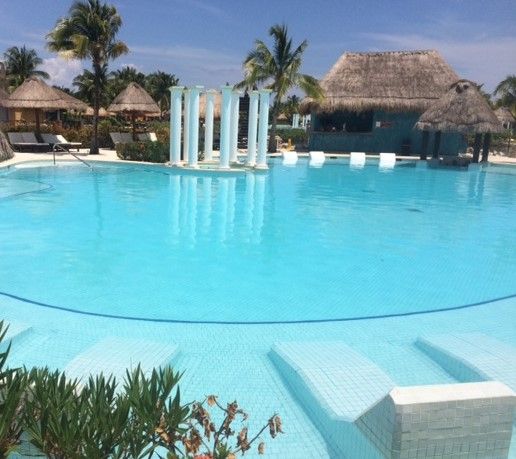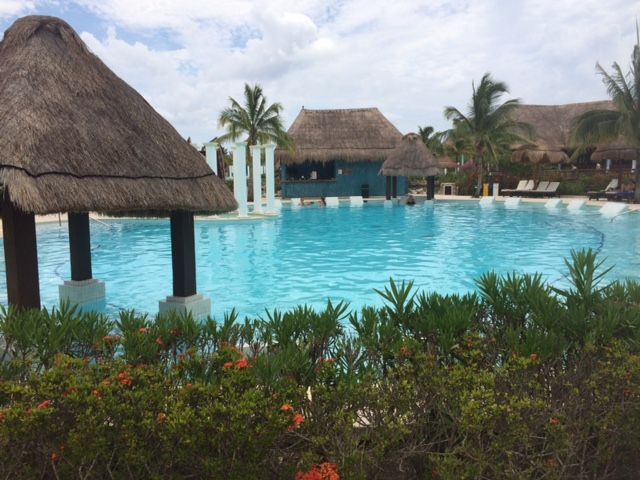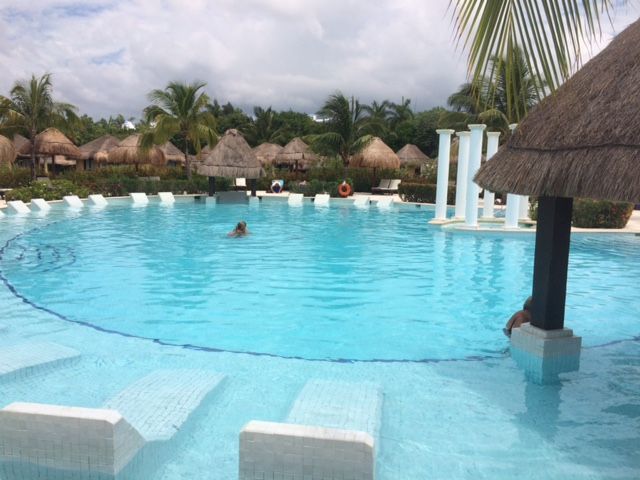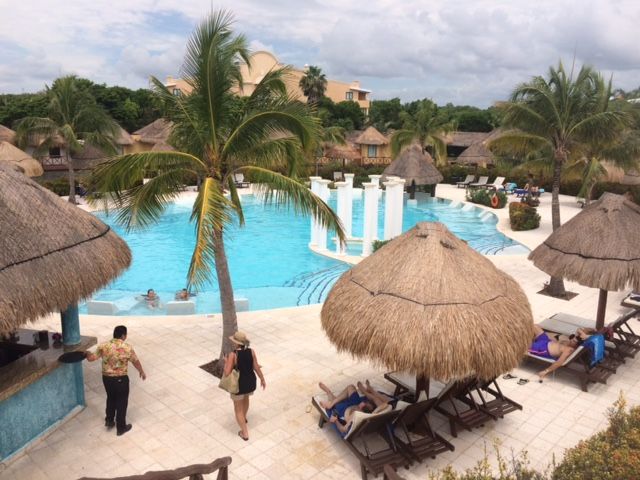 What was special about this area, well let's see, your own bar and restroom area within a 100 feet, comfortable lounge chairs and abundantly available. No screaming and running kids were an extra benefit! Quiet and peaceful! Oh yeah, and you had waiter service at your lounge chair for the bar, wow! This was our place of preference the rest of our stay.
Our fourth night for dinner was in the Italian Restaurant. Sheryl enjoyed the Salmon Richetto, while I ordered the Prawns served on Angel Hair pasta. Yum, Yum! We passed on desert; however they offered us Grand Marnier for an after dinner drink.
We walked in very balmy conditions to the beach about three hundred yards away. Taking our shoes off and dipping our feet in the warm tropical ocean was delightful! It was an outstanding way to end the evening.
Day-4 Wednesday, 08-19-15 A Free Day!
After breakfast we elected to catch a shuttle to Playa Del Carmen. We were dropped off near a Walmart. We picked up a few items and passed on some souvenir's we had hoped to buy for the Grand Kids. There was nothing special to purchase. We could not find an easy way back to the shuttles and elected to take a Taxi.
Our driver was named Martinez, and he spoke good English. I asked him what local tours were ideal to enjoy. We told him we had already visited ChiziItsa Ruins and Tulum, and had been to Cozumel and the Island Majeres in Cancun. He suggested the Coba Ruins. Ok why not, they were located some 1.5 hours from our resort. I asked if he was interested in being our guide, knowing that the expensive tour rates at the resort would be most likely higher.
We reached an acceptable deal and he agreed to meet us the next day at 8am.
We enjoyed another relaxing afternoon at the Adult Pool.
Our fifth night for dinner was in the Japanese Restaurant, served Shogun and Bene Hanna style. The entrees included chicken, beef, shrimp, Mahi Mahi, fried rice and miso soup.
Our only complaint for our entire stay was with the Japanese restaurant where the chef was so busy playing with his utensils; he burnt the rice and vegetables and over cooked everything else.
Day-5 Thursday, 08-20-15 Coba Ruins!
Ordered a wakeup call for 6:30 am to make sure we were at the breakfast buffet at 7am and out to the shuttle area to meet Martinez for our guided tour to the Coba Ruins.
Martinez was waiting and off we went. I asked Martinez to give me a few lessons in Espanol throughout our day. I know very little and wish to improve my vocabulary. It was a fun drive to the ruins, which took about 1.5 hours.
We paid the entrance fee of about $4.50 each, 128 Pesos. We were solicited by several guides, and elected to choose one for $25 dollars. I thought this was a bit much, however, the wife wanted to take advantage of the experience, being it was our first time here.
The guide named Martin did a good job of explaining all the events comprising the building and abandonment of the ruins. It was first occupied by the Mayans and then the Toltec's. Some pictures: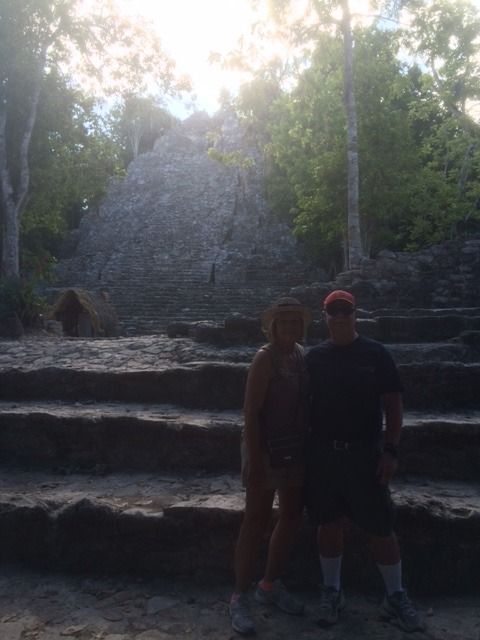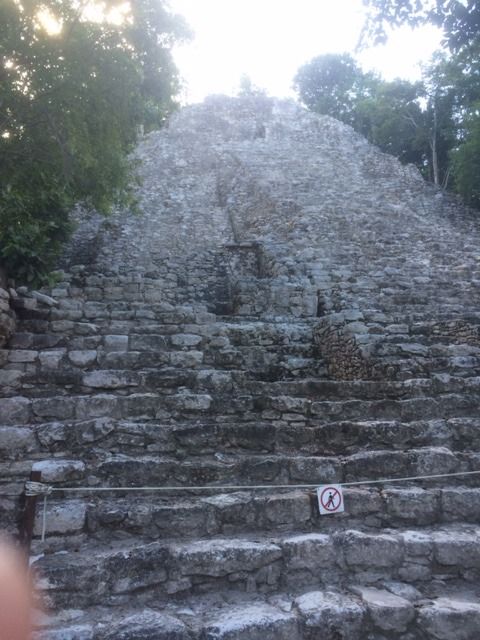 This was the primary game area where reportedly the winner was beheaded, considered a honor?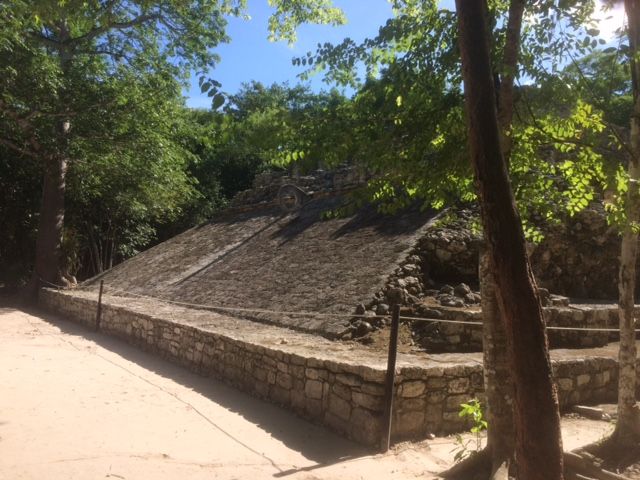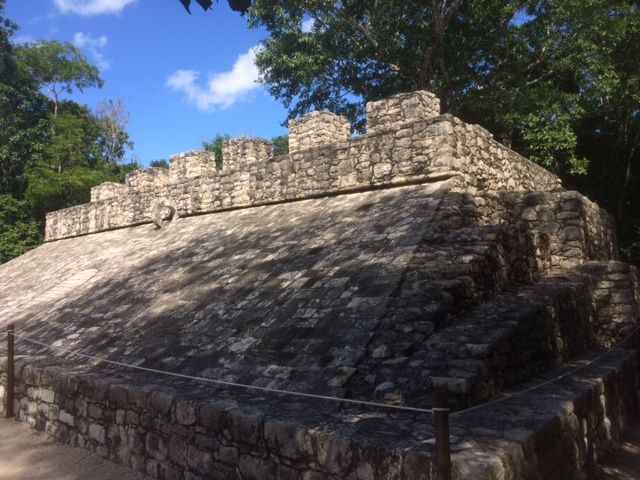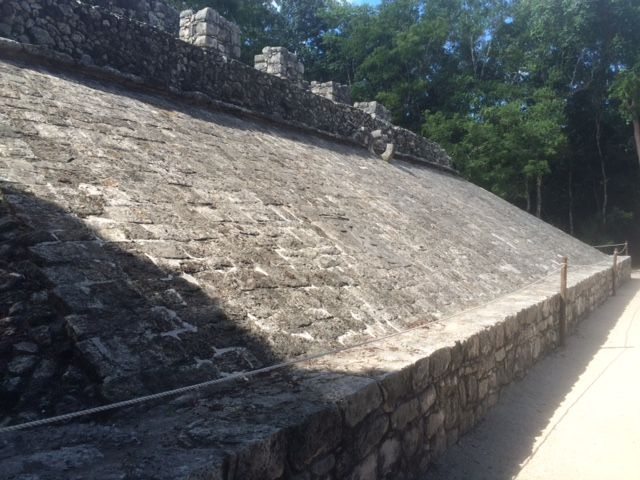 The eulogized head of a winner: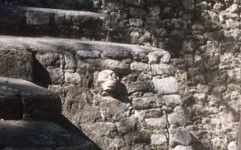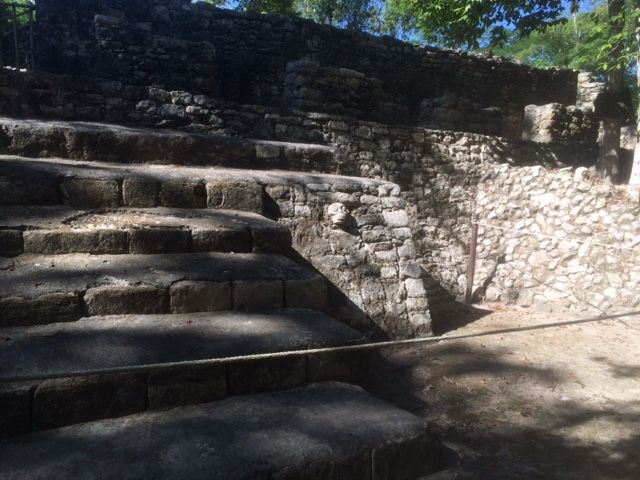 The watch tower: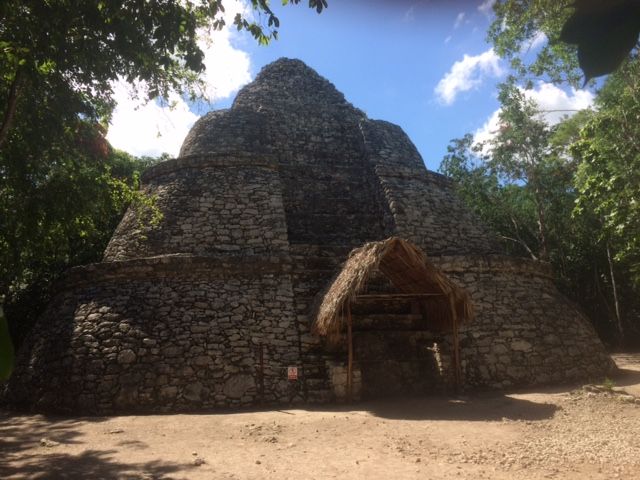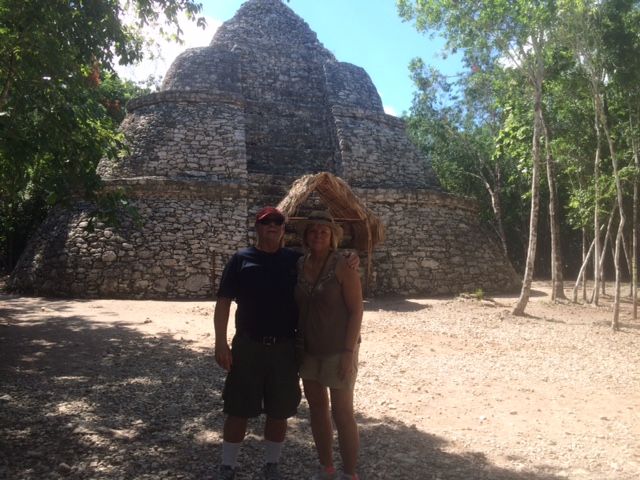 The main Pyramid:
I climbed this wonder, 125 feet high and 122 steps, a view from the top, which I made in a about six minutes!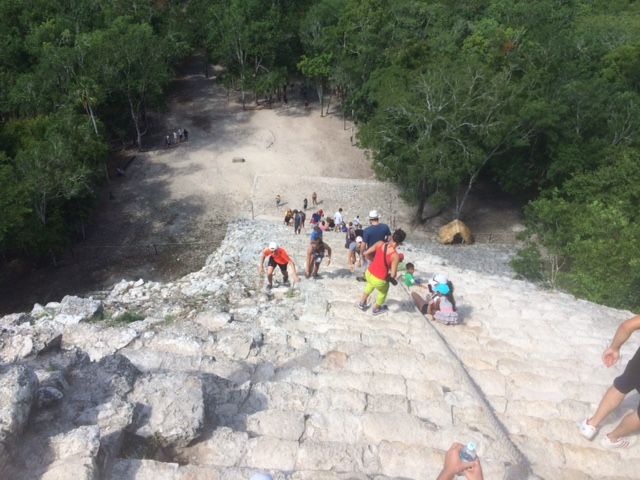 Nothing but foliage as far as you can see from the top: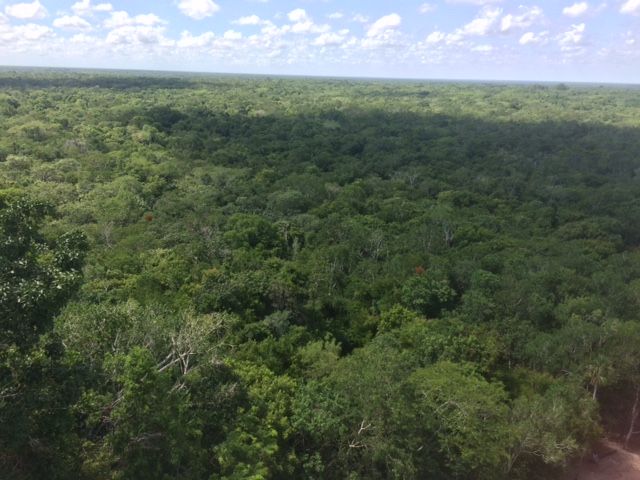 It was a fun experience, so much history in this world we know little about. We met up with our guide and headed home. We stopped in the city of Tulum on the beach and had lunch. The whole coast was infested with seaweed, Sargasso that was out of control, forcing a huge cleanup effort and undoing the beauty of the beach, leaving dark brown stains and dirty water.
We enjoyed both carne asada and fish tacos, with some Sol Cervesas for lunch! Back to the resort we went. I thanked Martinez for a fun time and wished him good luck in his future endeavors, as he seemed like he was very proactive in his career pursuits.
Back to the adult pool for an afternoon session and more great libations and some rest.
Dinner tonight was back at the Steakhouse, and we both ordered Filet Mignon. We enjoyed another incredible dinner.
Day-6 Friday, 08-21-15 More Relaxation!
It was our last day on vacation, how quickly it goes. We both slept in and didn't make it to Breakfast until after 9am. We savored the environment, the early morning libations and fantastic food.
We had planned on re-visiting the Xenotes, however, we decided to just spend the final day relaxing at the adult pool and walking around any areas of the resort we had not yet visited, like the saltwater pool at the extreme end of the resort. The pool was infested with seaweed, and definitely not inviting to swim in. A shame and no one has a reason for the sudden explosion of this phenomenon.
Nevertheless, the area was beautiful, and the trails leading back to the resort were loaded with all kinds of colorful vegetation. We took another quick dip in the pool and enjoyed a final afternoon snack before calling it a day in late afternoon. So pleasant and neither of us wanted it to end, full well knowing this kind of life would lead to a condition of being overweight and to alcoholism!
Our final dinner was in the Mediterranean restaurant. Sheryl ordered Lamb Chops and I ordered Roast Duckling, with a side of smoked salmon. Wow, that was incredible. For desert the Cream Brule was extraordinary, definitely our best desert all week. Although most evenings we passed on desert, this was a special way to end our dining pleasure.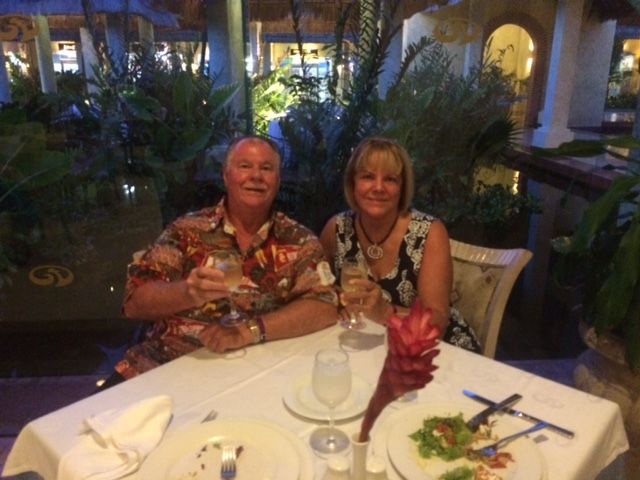 One last long walk around the premises and off to pack our bags and get ready for the trip home.
We agreed the service was beyond expectations everywhere and with a very friendly staff in all facets of service!
We honestly felt it was one our best vacations ever.
Hook up!
Cory
Last edited: