I Post A Lot But I Can't Edit This
Apr 25, 2003
21,267
7,874
76
Name

Cory Visser
Boat Name

N/A
I was absolutely thrilled when I returned from our vacation in Panama Saturday, that Jeff W. invited me to go Tuna fishing on Thursday on his 26' Shamrock, "Longfin". I drove down from my house in Diamond Bar, Thursday morning at 4:15 am, 8-25-16 and met Jeff at his slip in Mission Bay at 5:50 am.
We purchased 1.5 scoops of medium sized healthy Sardines and set a course for the 43. Winds were blowing a little less than 10 knots, with some 4 foot swells about 10 seconds apart, closing to 6 seconds 20 miles out.
We stopped on one decent Kelp Paddy for nothing and continued on. On the radio we heard one private boater state his radar displayed 38 boats at the 43. I guess the weekend arrived early? We worked our way through the armada of boats heading to the northwest corner of the high spot where many of the Sport Boats were hanging out. It was now 9:30 am.
I tied on an Orca to a trolling outfit and let it back about 75 feet. Jeff put out a kite with a Yummy skipping the surface. We trolled by the New LoAnn who was drifting about 500 yards off their Starboard side. The meter lit up and we were a wishing and a hoping. It was a good school of fish some 80 feet deep.
The Orca got bit, the line was screaming out on the 60 pound outfit, and wow the Marlin took a couple of big jumps and POW, the line broke. Darn, when we reeled it in there was a foot of shredded line. You need a couple hundred pound leader to with stand their bill and hard mouth.
About ten minutes later Jeff yelled boil, and it happens to be on the Yummy. Jeff then screams were bit, I leaned on the throttle to set the hook, with a kite there is a lot of slack line. Jeff is reeling as fast as he can as the big Tuna is pulling a kamikaze heading straight at the boat. It comes tight and the battle is on.
This is a true team effort. As the fish sounded and when Jeff got it to about 50 feet of the boat, it took 50 yards of line on a locked down drag on a Shimano Tiagra 50W with 130 pound mono connected to 130 pound Spectra. You could barely pull any line off the reel unless you wore a glove, which was how tight the drag was?
Each time the fish came close to the boat, with no color showing, it went nuts. Jeff hollered Port, hard to Port, then Starboard, more Starboard, no straight ahead, back to Port. This went on for an hour. I was just as exhausted as Jeff was reeling on the fish.
Conditions were very sloppy and around 15 knots of wind and 4 to 6 foot swells with an occasional 8 footer. The bobbing and weaving in the trough made standing up an effort. I must have grabbed the gaff ten times and each time ran back to the wheelhouse to steer the boat out of harm's way. Three other times Jeff hollered for the gaff as he brought it to color, only to scream put it in gear. It's going under the boat, put the boat in gear, hard to port, no hard to Starboard, yikes will this Bluefin ever give up. They are absolutely brutal fighters! This Bluefin gave it all to survive. Can't imagine fighting it on lighter line, just too mean.
Several times Jeff tried to lift the rod out of the rod holder and it nearly pulled him into the water and pinned him to the rail. Jeff was looking tired although he was like a dog with his favorite bone, no giving it up.
Finally he hollered neutral and grabbed the gaff and stuck it. I ran out of the wheelhouse and found the flying gaff and stuck him good. The rope was connected to the rail clamp, he wasn't getting away. Holy Mackerel, it took two men and a boy to lift that big boy over the rail. I collapsed to the deck feeling like I broke my back!
Wow it taped out as a 162 pounder, 64 inches long by 45 inch girth. We didn't weigh it. I'll let you be the judge: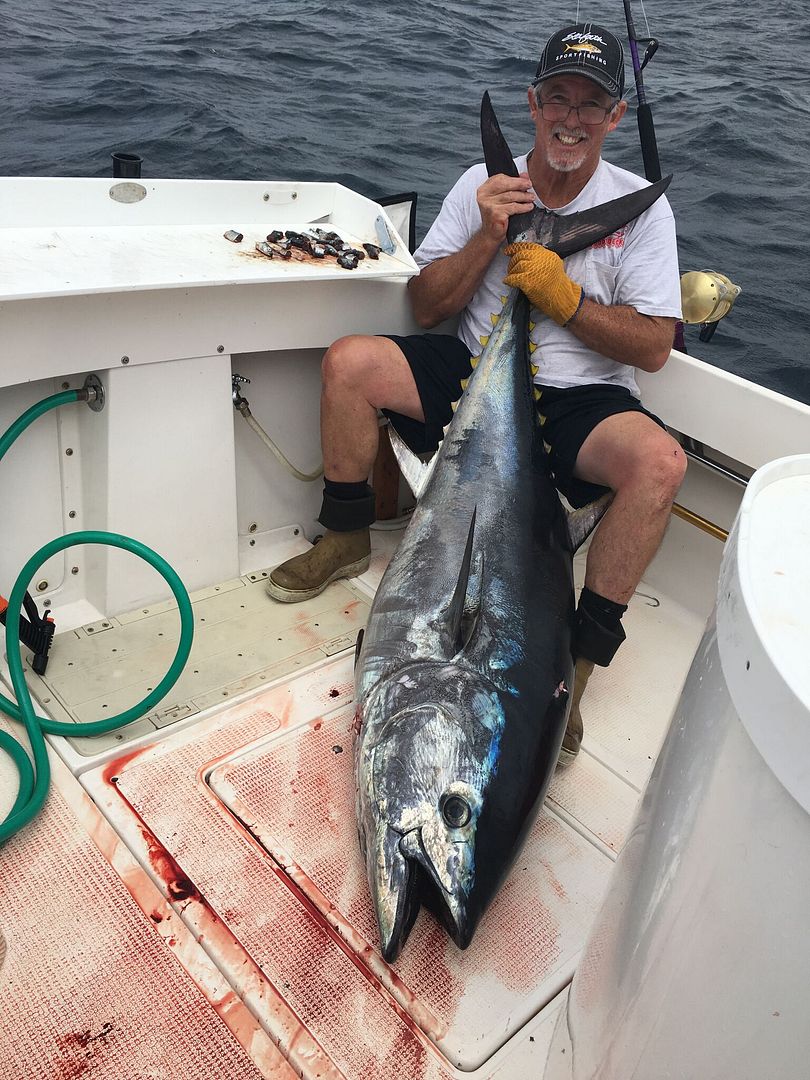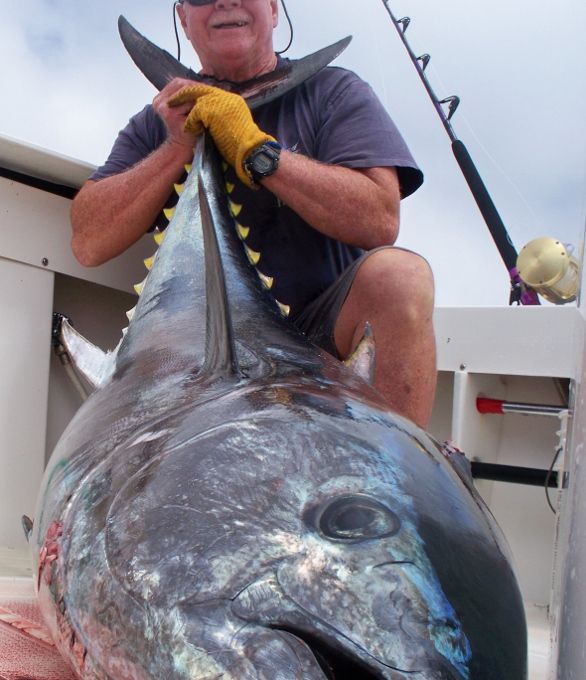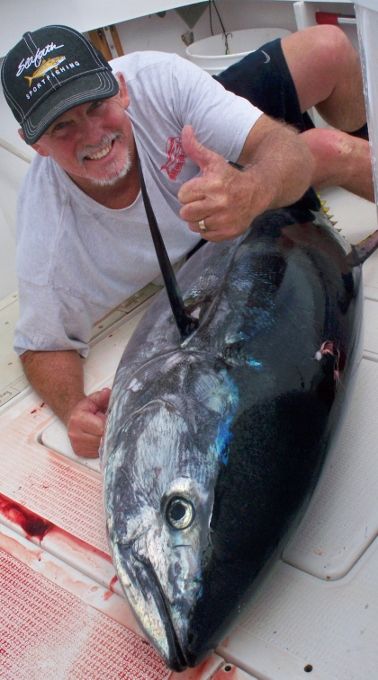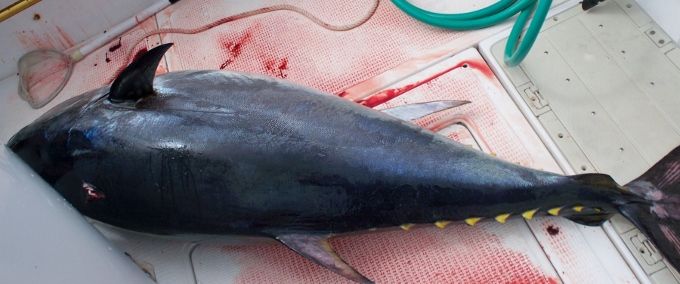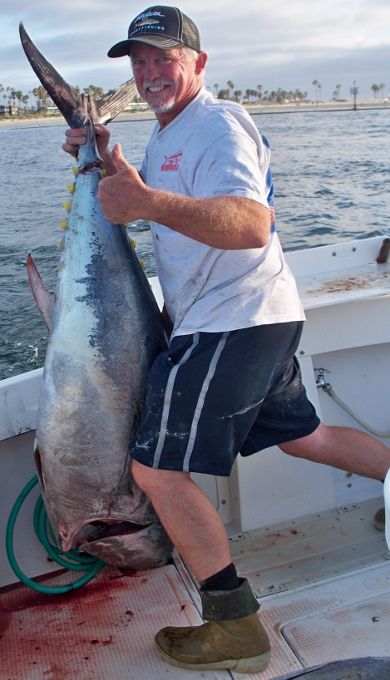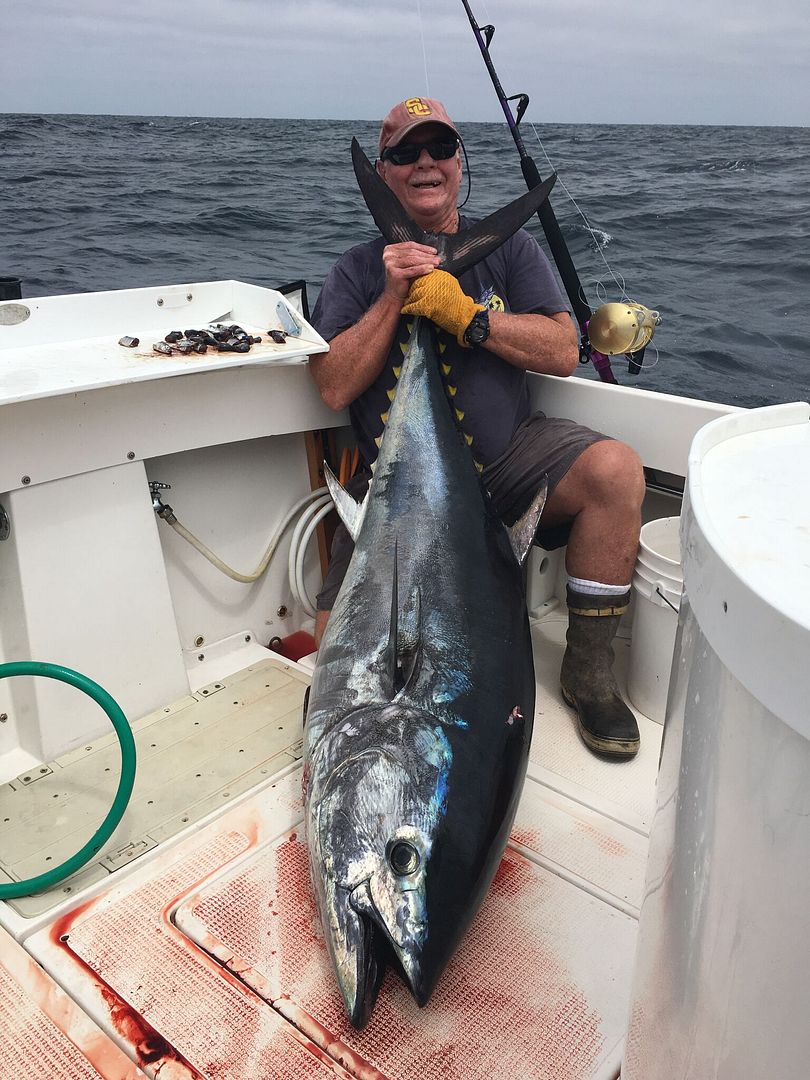 After bleeding the Tuna and struggling to lift it into the kill bag, it took us about 20 minutes to recover, then we set out the kite again, not five minutes later we were bit again. Jeff asked me if I wanted to fight it, does a bear shit in the woods. I grabbed the rig
And wound like hell. I literally straight grinded the fish to the boat. That 130 pound outfit was lethal. I got the Tuna to color, and worked it up for Jeff to gaff it, he stuck it right in the head but it ripped out as he attempted to lift it over the rail. Then I was pinned to the rail as this Tuna was pissed! Still it could not battle much as it was over matched. Another head gaff and we were blessed with a 60+ pound Yellowfin Tuna.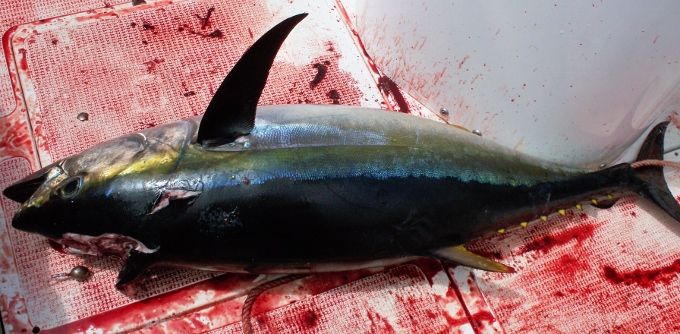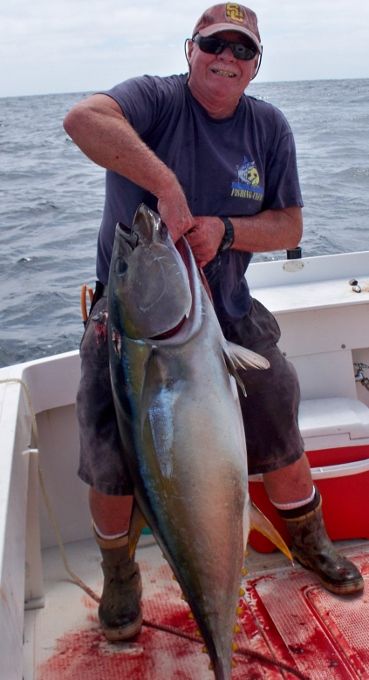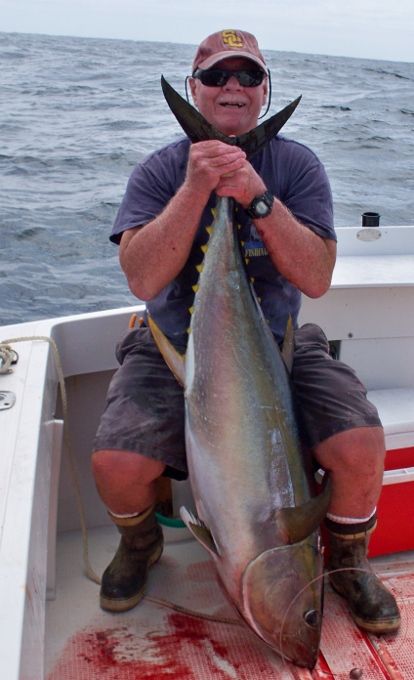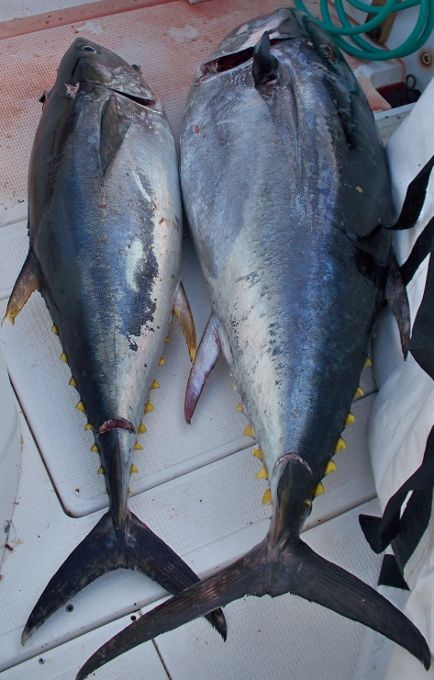 Winds continued to increase and the washing machine conditions made it very difficult to even stand up. We trolled for another hour having extreme difficulty in keeping the kite in control and the Yummy skipping the water.
Given the fact that the kill bag could not hold both fish completely and our ice was completely melted, we headed to the barn at 3:15pm. At least it was downhill. The ride back was not bad at 15 to 17 knots arriving in Mission bay at 6:30 pm. Cleaned the Tuna, gad that was an effort with such big fish. Washed down the boat and docked at 7pm. I headed home to Diamond Bar at 7:25 and arrived at 9:30 totally spent!
What a thrill to be part of this experience of capturing such a large Tuna. So much fun to fish with you again Jeff. More memories to tell the grand kids! I can't wait for next adventure together.
Hook up! Cory
Although I didn't go fishing in Panama, I often write a blow by blow report on my vacations, this time to Panama. You can exit out now if you have no interest. Very pic heavy.
Riu, Playa Blanca, Panama August 20, 2016
Day 1-Travel day, a very long day.
The alarm was set for 4:00 Am.My wife Sheryl and I left our home in Diamond Bar, California on Saturday, August 13, 2016 at 5:30 am to head to LAX Airport. Our ultimate destination today was Panama, although our flight path called for a stop in Miami. We parked in lot C at 6:30 am. And we then caught the shuttle to American Airlines. We checked our bags through the bell hops, so much faster, as there were long lines to check baggage. The lines were short for security and we were through in less than 10 minutes.
Our flight was scheduled for 9am. takeoff and 8:30 am., boarding. All went smoothly and on time. We arrived in Miami at 5pm., a 5 hour flight plus a loss of 3 hours. Our flight to Panama was also on time and left at 6:20 pm. It was a 3 hour flight, but we picked up one of the lost three hours, a 2 hour difference from California in Panama, arriving at 8:10 pm.
It took almost an hour to pick up our luggage and clear customs. As we exited the airport our driver Luis was holding a sign with my name on it. This is always a concern when in a strange country and arriving late at night? I was told by our travel consultant that our hotel was 40 miles from the airport. I had wondered, if true, why it cost $80 per person each way for roundtrip pickup. Turned out it was 90 miles to the hotel. Now I understand the high cost.
Murphy finally arrived after everything going fairly smoothly to this point. A fatal accident just outside the airport resulted in virtual closing of the road for nearly an hour. It is now 10 pm. And we still have 90 miles to go. Naturally there was another less severe accident and a lane closure crossing the major bridge over the Canal, which caused additional delays. Fortunately Luis spoke excellent English, unlike most of those folks we encountered during our stay. He provided us with some great info on the progress of Panama since the USA turned over the Canal operation in 1999.
We arrived to the hotel at midnight. Hey what do you know, there were no lines! Check in was quick and we headed to our room # 4016, closest to the beach with an ocean view. Obviously there no restaurants open at this time, however, the Sports Bar was humming and they had Nachos, Fries, Hamburgers and Hot Dogs available for our extreme hunger.
This is an all-inclusive resort (All food and drinks included), so of course we needed badly to quench our thirst. Two Mai Tais please! Yeah, all is well in the world again. Lights out at 2 Am., whew! No reason to get up early, so we slept in all the way until about 8:30 am.
Day 2-Sunday 8-14-16.
We woke up to partially cloudy skies which reverted to mostly cloudy skies and a few rain showers off and on. Air temperature was around 80 to 84. A picture of our room: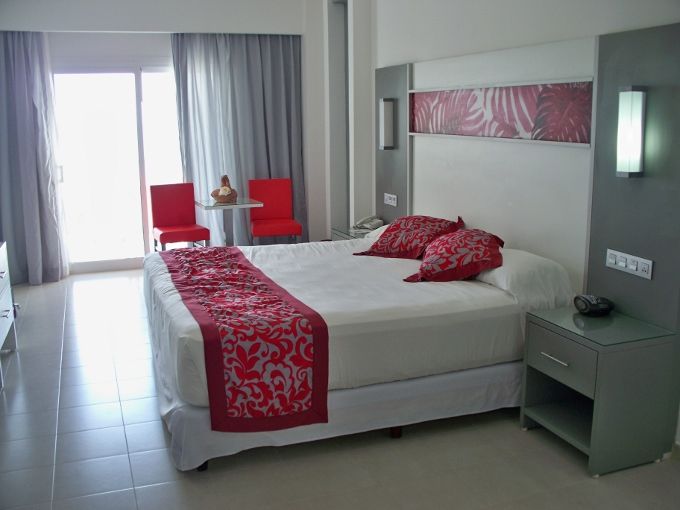 A view from our balcony: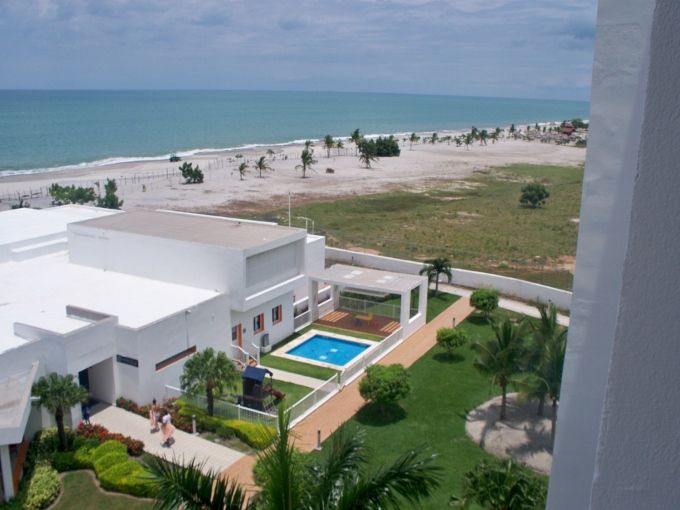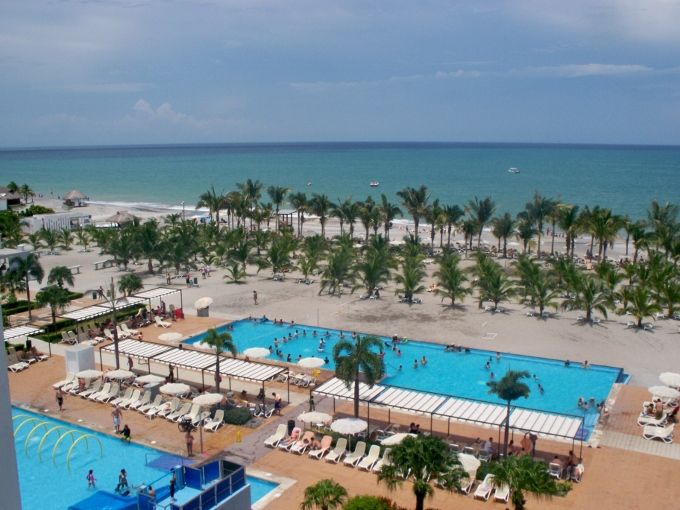 Off to the buffet brunch. We were curious to see if they had a bar inside, or anything available to make our own Bloody Mary's similar to our last all-inclusive resort. No, not even champagne for Sunday was present? The Sports Bar opens at 7am, so you need to stop there first and bring the drinks with you, no problem.
There were excellent selections of fruits, cereal, hot and cold, Pancakes, Waffles, eggs cooked anyway you wanted them, pre maid omelets, scrambled eggs, but no omelet bar. Sausage was Chorizo everyday but one where they served skinless links. They only provided bacon twice and cut ham once? They did provide lots of cold cut meats and cheese every day and in every buffet. No matter what time. Also served were fajitas and a few other casseroles. See my suggestions at the end of this report for further review of breakfast, lunch and dinner. The Panamanian coffee was also excellent.
You needed to make reservations for dinner, unless you were happy with the buffet. There was an early seating and late seating similar to a cruise ship. We elected to choose attending the Steakhouse for an 8:45 pm. Seating.
Now it was time to book our tours for the week. Number one on our list was the Panama Canal, booked for Monday. Then we chose the Anton Valley Rain Forest, booked for Wednesday. We left Thursday and Friday open for a third if we felt the need. I looked into fishing, but that had little opportunity in our location, even when booking on line in advance.
We both selected books to read and relaxed on our balcony, taking in the surrounding beauty of the swimming pools, ocean and beach. At 11:30 we headed down to the pool area. There were lots of comfortable lounges under a covered see through roof available, although the pool was very busy. Of course there four pools to choose from, yet the swim up bar was the most popular.
Neither of us wanted to test the severity of the sun on our first day, besides it was very overcast. Nevertheless it was warm enough to take a dip to cool off. We swam over to the swim up bar and ordered some Pina Coladas. There were not any cocktail waitresses to order drinks. Every man (women) for themselves, I guess?
Several hours later, the hunger bug kicked in and we went to the Steakhouse restaurant that doubled for a poolside buffet for lunch. Swim suits accepted here, not anywhere else, except the snack bar near the pool where there was no seating, order and eat at your lounge.
Once again the selections were numerous, utilizing all kinds of meats, chicken, beef, pork and seafood. Nice salad bar, soups and cold cuts and plenty of deserts.
Enjoyed another hour at the pool and off to shower and take a nap. More time spent on the balcony until it became cocktail hour at 7:30 pm. I read three and a half books during the trip, my wife two. So much time on a plane or waiting in an airport consumes our desire to pass the time by reading.
Our cocktails of choice tonight were Mojitos. Of course we mostly enjoy wine with dinner.
The
Steakhouse
was top notch, the only restaurant where you ordered exclusively from the menu, which included two appetizers, Shrimp Cocktail and Mozzarella Cheese Sticks. Although there were other choices, we went to the Steakhouse to eat a steak. On the menu was Rib Eye Steak, while the two nights we dined there they offered a surf and turf combo of Filet Mignon and Shrimp, Fish and Vegetable skewers, plus Corn on the Cob. The Cheesecake for desert was awesome, so was the Mango Sherbet. Thus was a fine dining experience, as both the Filet Mignon and Ribeye steaks were excellent, a slight nod to the Filet Mignon?
Enjoying dinner together: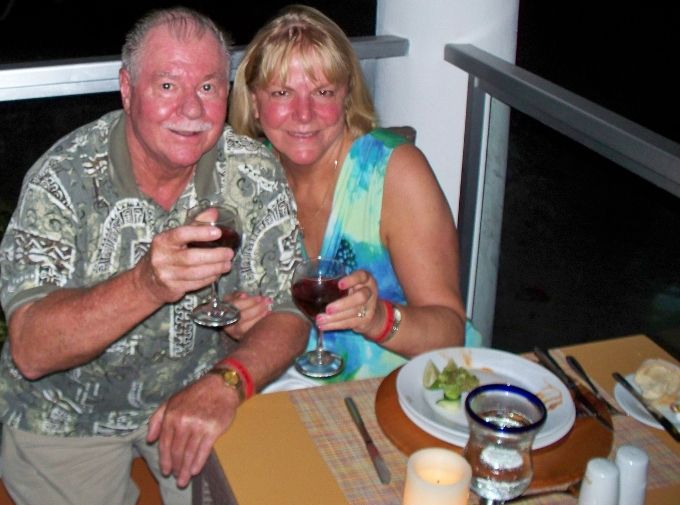 We fished dinner a little after 10 pm and the nightly entertainment (show) was well in process and no seating was available. This was our biggest disappointment of our stay in this hotel. We did not want to eat early and there simply was not enough seating for even half the guests staying at the hotel. So to get seats you had to arrive at least a half hour before show time at 9:30 pm.
Lights out at 11pm, still exhausted from our ordeal the previous day and a 6am wake up call for taking the tour to the Panama Canal.
Day 3- Monday 8-15-16.
The phone rang at 6am sharp, dressed and off to get a quick bite before meeting our tour driver at 7:30 am.. We did stop to pick up a Bloody Mary to go!
Driver was a few minutes late and off we went. No English, not a good working relationship. I tried my limited Espanol, and Jugo the driver used his limited English plus a translator on his phone to communicate. A 2 hour drive that became boring due to the silence and our inability to ask many questions that he couldn't understand. Difficult to use the translator while driving. It began raining off and on all day.
We arrived at the Canal at 10 am. The driver dropped us off and stated he would wait for us at the entrance, expecting 1 to 1.5 hours for us to return. Entrance fees were $15 each. One ship was exiting the second lock, while another ship was just entering the first lock. This provided us with an excellent ability to see the rising water levels with the ship in place and then the move into the second lock for second rising.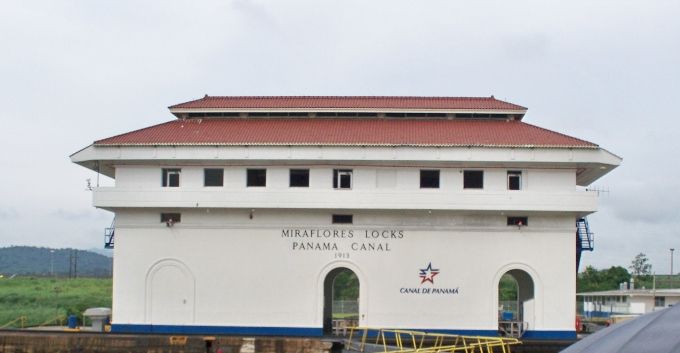 This ship is situated in the second lock waiting for water level to rise to allow it to exit into Lake Gatun.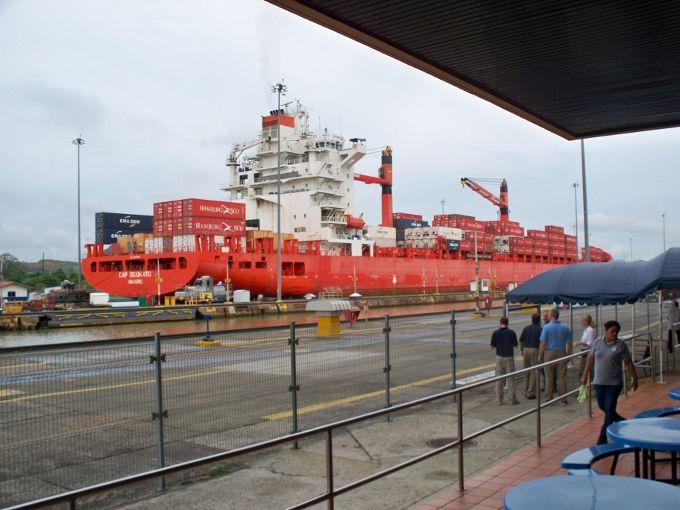 Gates are locked with ship approaching and water is leveling out: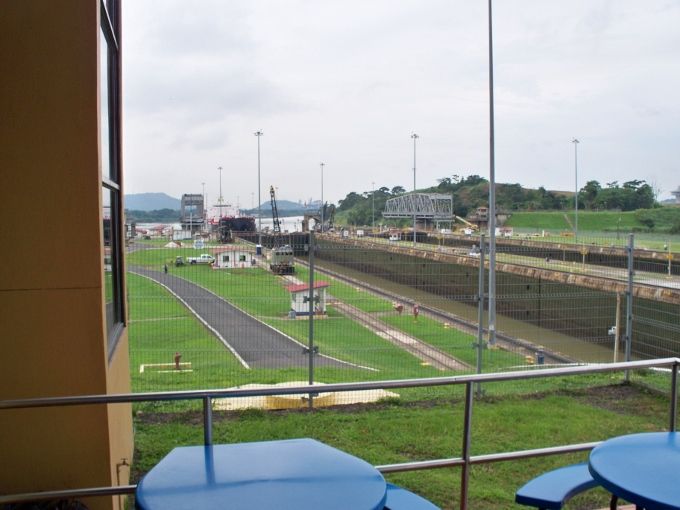 Gates open and ship is entering first lock: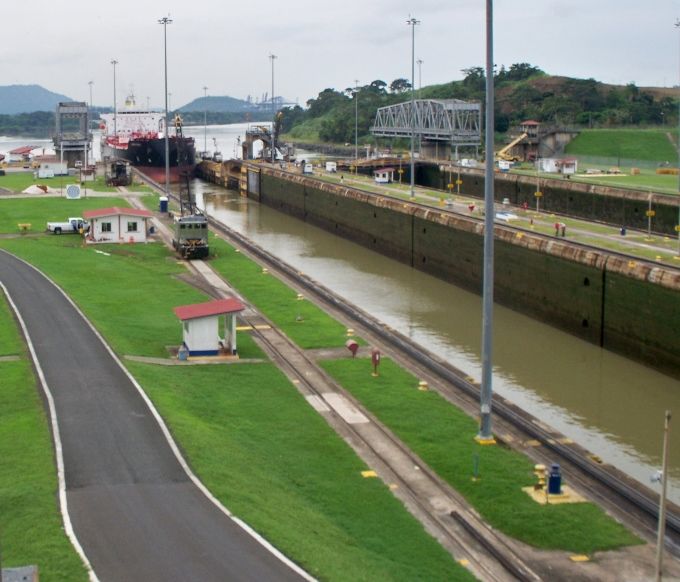 First ship has now risen to level of lake and exiting: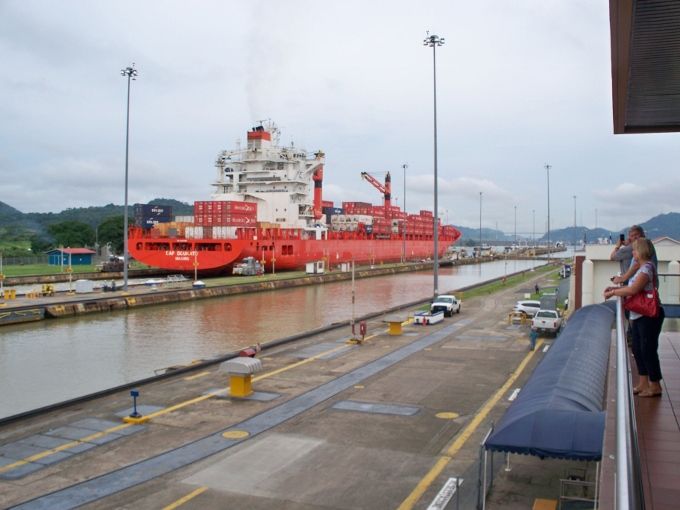 Second ship almost completely in the lock: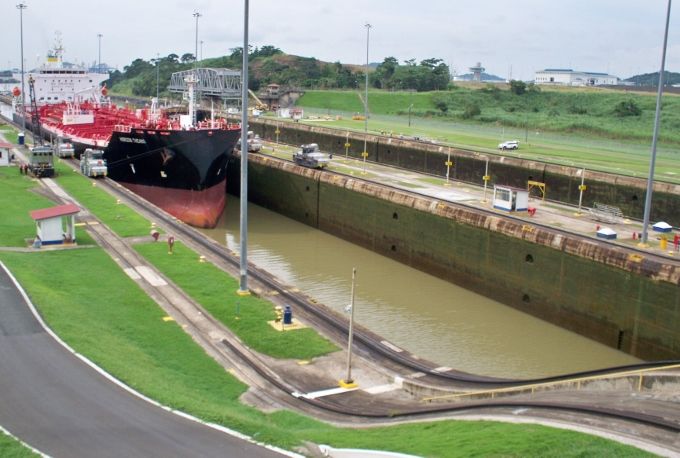 Watch the ship rising: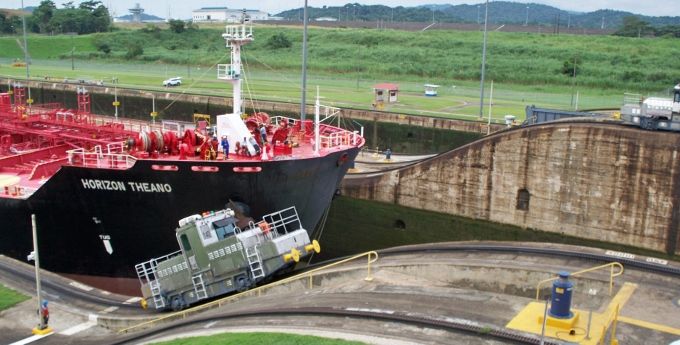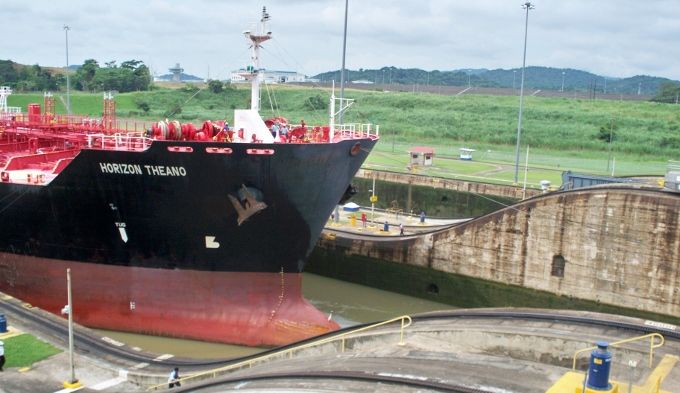 In the back of the lock you see the gates are closed behind the ship. The trains on both sides of the ship prevent the ship from hitting the sides.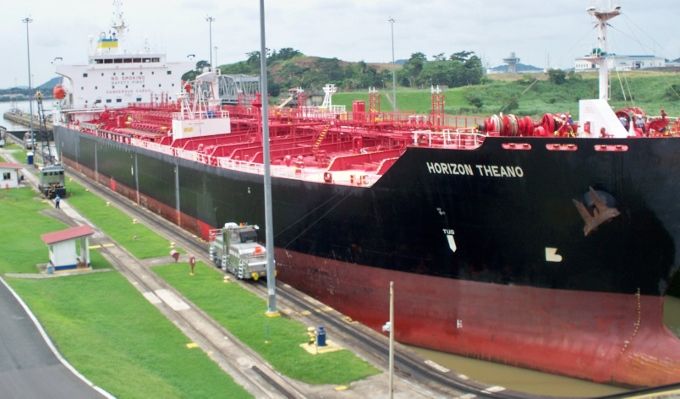 Gone!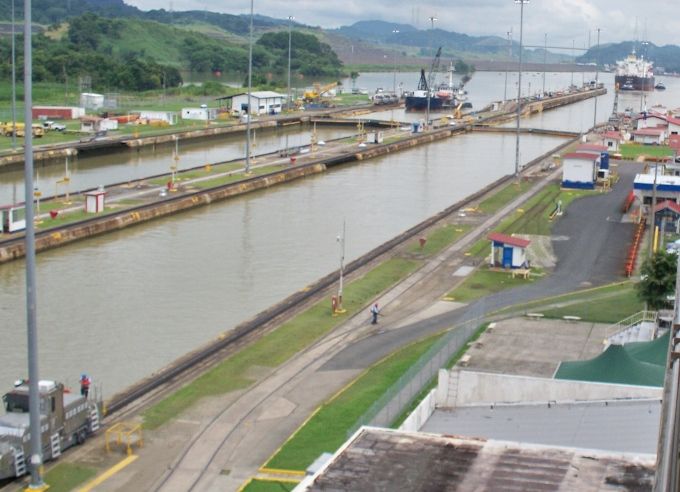 We attended a ten minute video presentation, which was way too short and left many unanswered questions. Fortunately the museum provided a clearer understanding of how they accomplished an engineering miracle so long ago.
Here we are inside the museum that displays the various obstacles that faced the engineers while building the Canal.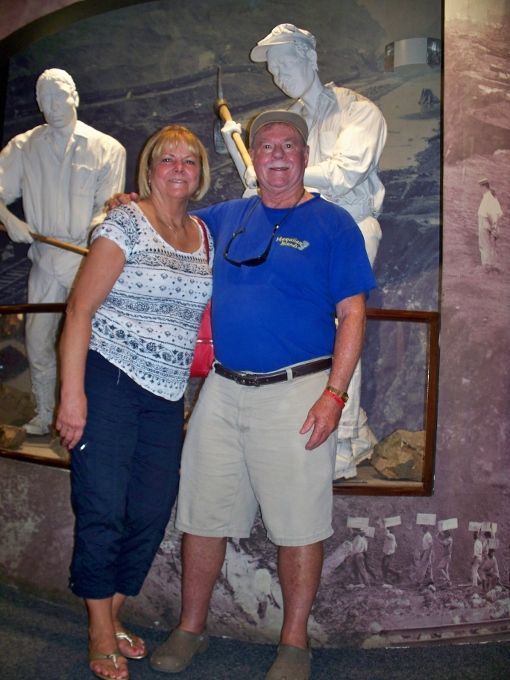 The French began the project, however, after ten years ran out of funds and turned the completion over to the US. Tragically some 10,000 workers that were brought in from China and the surrounding countries and islands like Jamaica, perished from Malaria and Yellow Fever.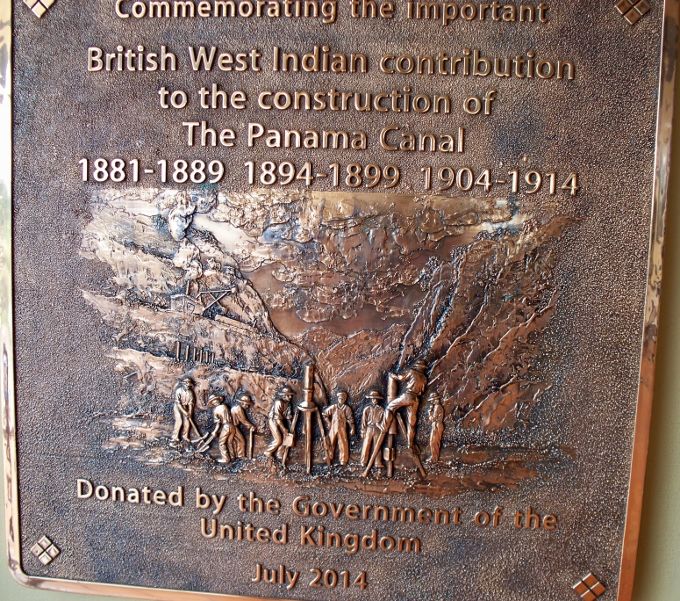 We then proceeded to both the old and new Panama City, visited a flea market for shopping and then the duty free store. Nothing but junk in the flea market, however the wife bought a hummingbird Christmas tree ornament and a Macaw colored magnet souvenir. I wanted a T-shirt, but did not want the design to appear on the front instead of the back. No such thing exists in Panama apparently after visiting a bunch of shops that sold T-shirts?
We were asked if we wanted to stop for lunch at 1pm, and we declined and so we headed back to the hotel.
We went straight to the bar to quench our thirst after the long ride and on to the buffet lunch. Rum Punch was the drink of the day. We changed into our swimming suits and took a nice cool dip.
Showered, watched some Olympics on TV, ESPN, however all in Spanish. US were doing very well. Cocktails for the evening were Tequila Sunrise. Dinner reservations were made in the Italian Restaurant.
The
Italian
restaurant was primarily buffet, providing a nice salad bar, desert bar, with other hot entrees like pasta, chicken, fish, lasagna etc. You ordered off the menu for only your main entrée if needed? My choice off the menu was Shrimp and Linguini in a white wine sauce that was simply delicious. The wife enjoyed the Salmon served on sautéed vegetables.
Stopped at the theatre, of course it was full, so we went to the sports bar to watch some more Olympics and ordered after dinner drinks of Baileys and Brandy. Somehow we lasted until midnight, before lights out.
Day 4- Tuesday 8-16-16.
We slept in until 9am. Today was a day to chill, nothing planned and total R&R. Spent 4 hours at the pool. It was a bit warmer today and less overcast conditions. Dinner reservations were for the Xian (Asian) restaurant tonight at 8:30 pm.
The
Xian
(Asian) restaurant was an anomaly. It was just a specialty buffet starting with a salad bar, some excellent Sushi Rolls, Tuna and Salmon Sashimi, cold seared Ahi (Tuna) and some other cold items. Hot foods included their specialty Peking Duck,
minus
Hoisin Sauce, Tempura Shrimp and Vegetables,
minus
Tempura sauce, what? Also the tempura dough was way too heavy? They also had a desert bar with Cherry Ice Cream and chocolate sauce, too good! Other than the great Sushi and Sashimi, which brought us back a second time, this was a disappointment. Why do you need dinner reservations for another buffet?
Day 5- Wednesday 8-17-16.
We received our wakeup call at 6:30 am. Today was booked for Tour #2, Anton Valley Rain Forest. Met our driver Jugo again and our hired English speaking tour guide Rafael. Off we went at 8am. Our drive was a little over an hour. Rafael kept us entertained with lots of current events and political observations about Panama. He also explained options for other tours in key tourist areas and what to expect if we elected to travel to the Caribbean side of Panama.
At 9:15 am we paid our entrance fees of $5 to enter the national park. The fee included a park guide. Later we found out why, as the trails were clearly marked to begin our hike, then we reached a few splits in the trails, and no signs to indicate where to proceed. The park guide spoke only Spanish, so Rafael was able to communicate with him.
Some pictures along the way:
This first one is a scenic view just before arriving to the park. The overcast skies prevented seeing the ocean off in the distance.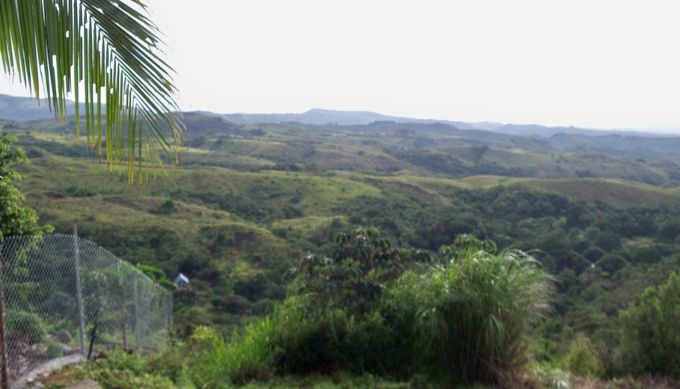 Here we are crossing the small stream at the entrance that leads to above and below the falls trails.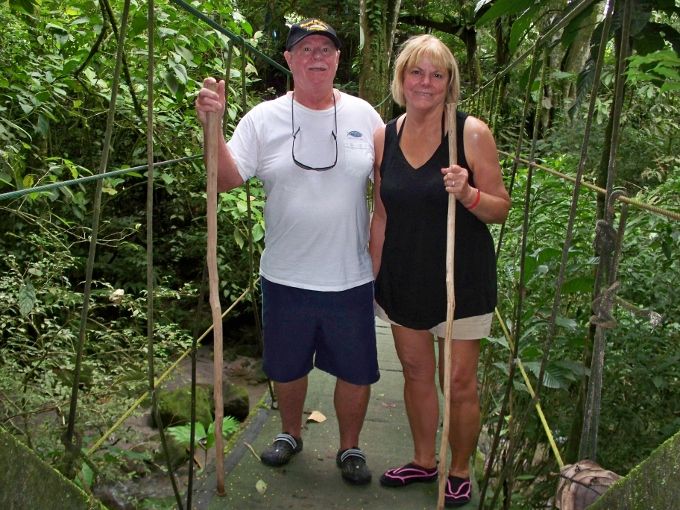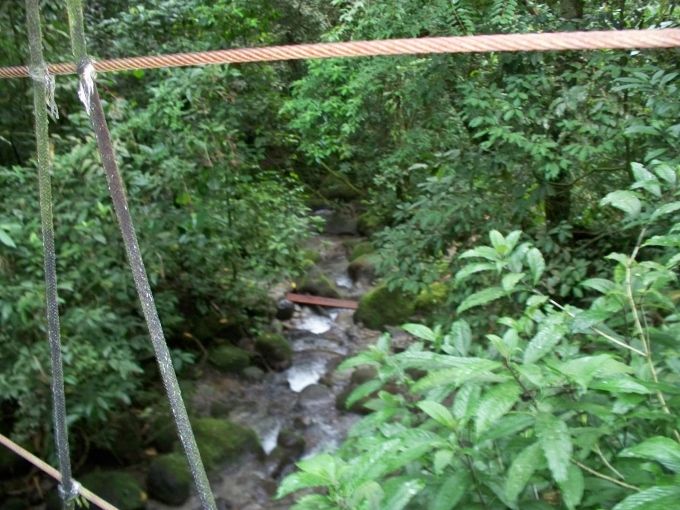 There was lots of tropical foliage and plants along our path.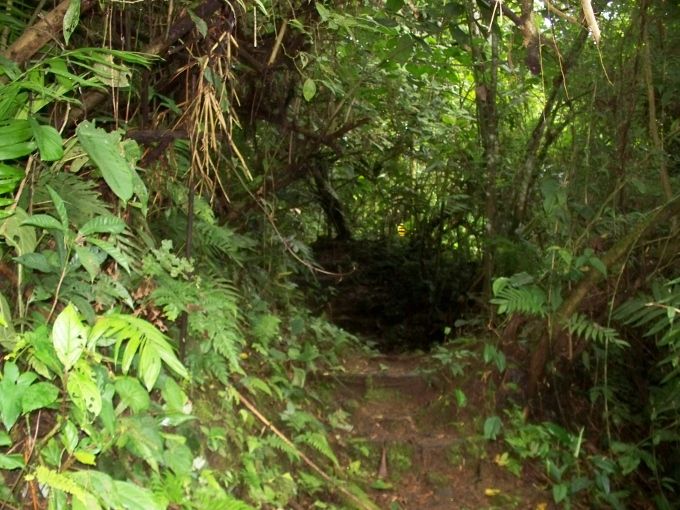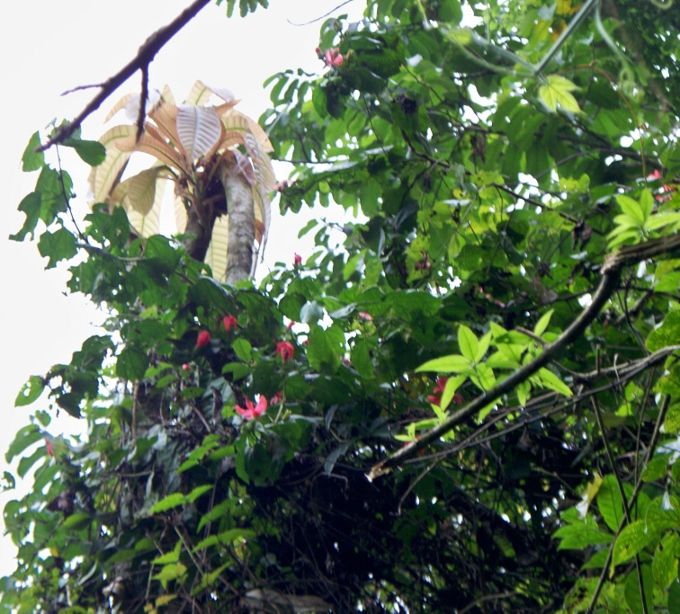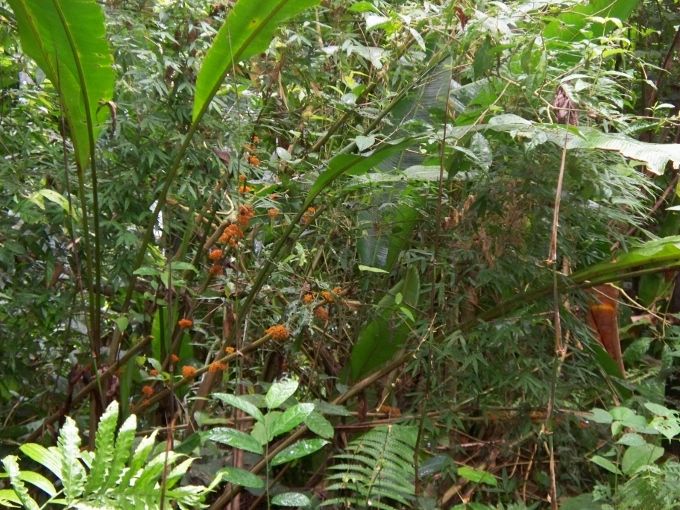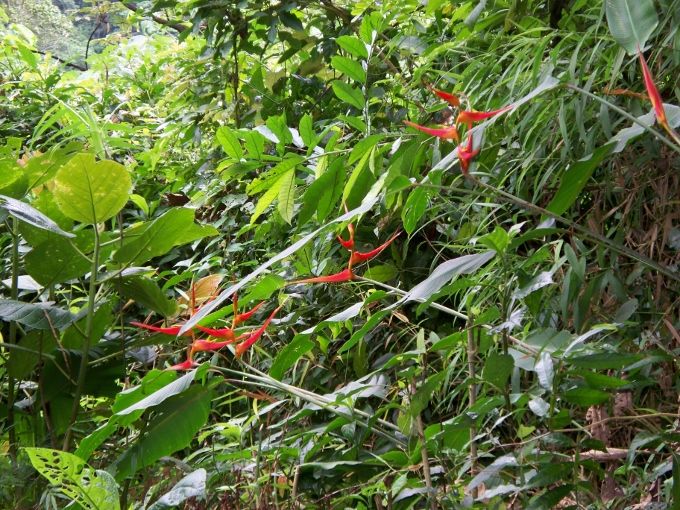 A picture of us and our guide Rafael: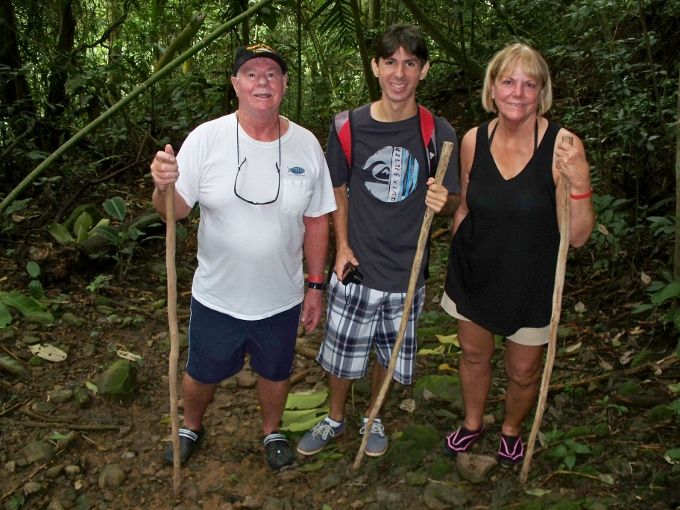 A picture of our park guide explaining these were rubber trees and showing us the sap"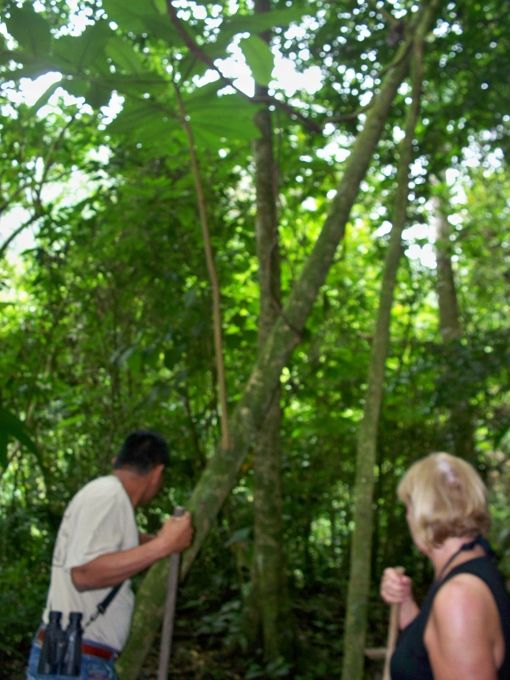 Oh boy some wildlife, a Toad: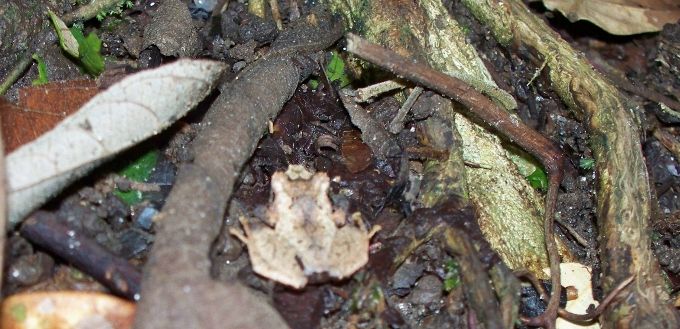 A termite nest: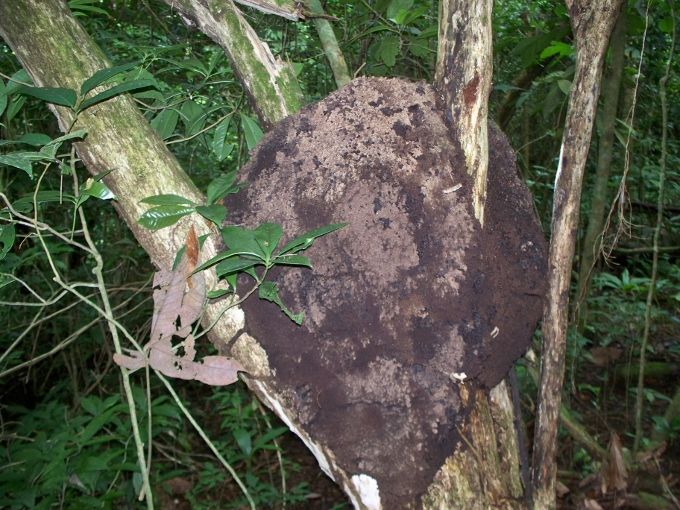 A zip line, no interest for us: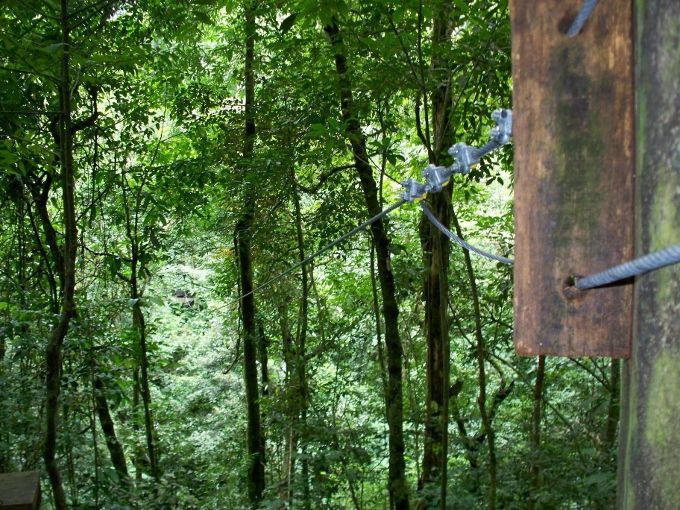 Top of the Falls: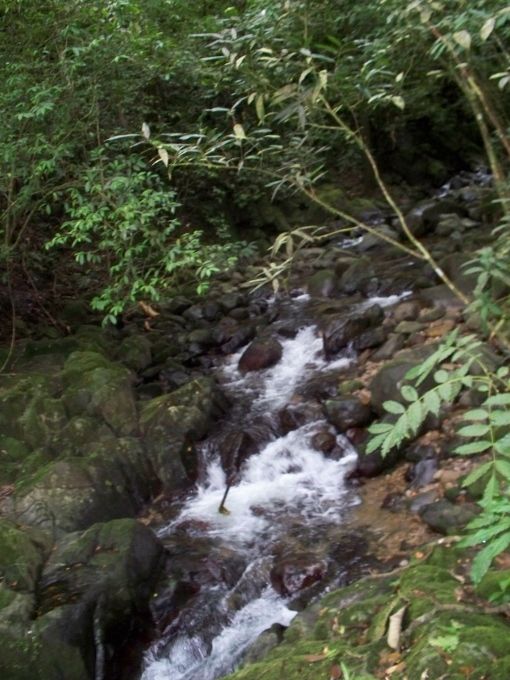 Believe it or not we crossed the falls at this spot; fortunately we were both wearing water shoes. It was extremely treacherous and a slip could have resulted in death, as it was at least a 100 foot drop.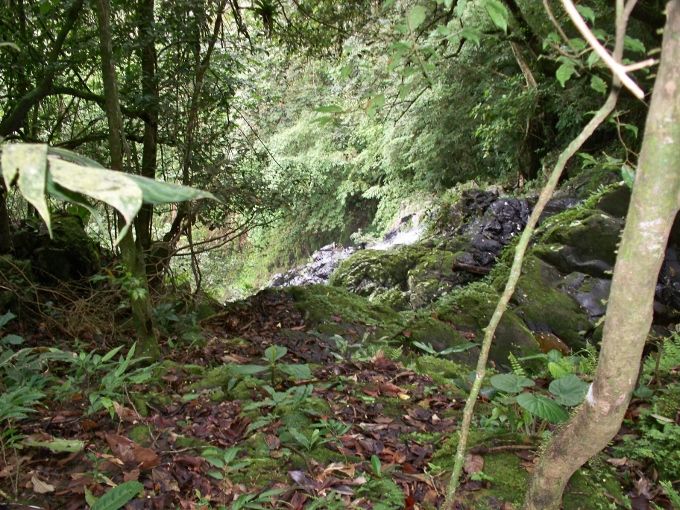 Whew we made it to the bottom of the Falls, see where we crossed at the top?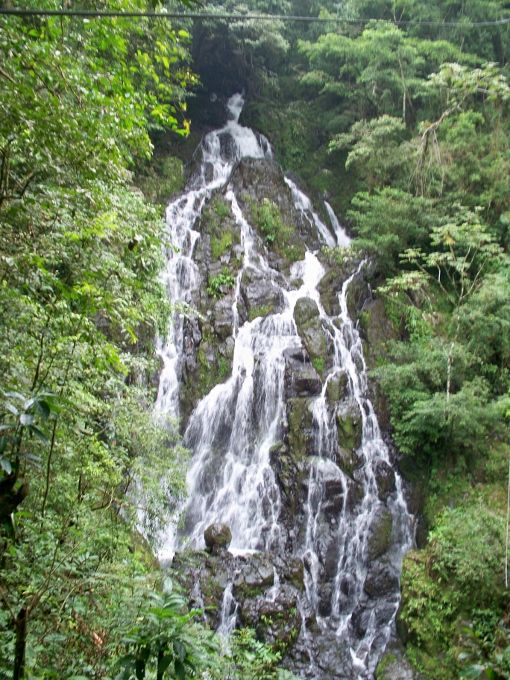 My wife was sweating up a storm after the ordeal: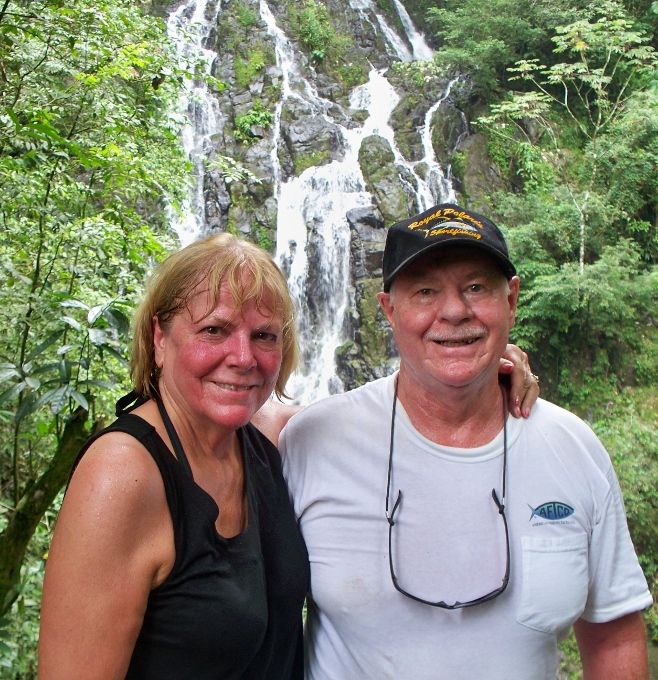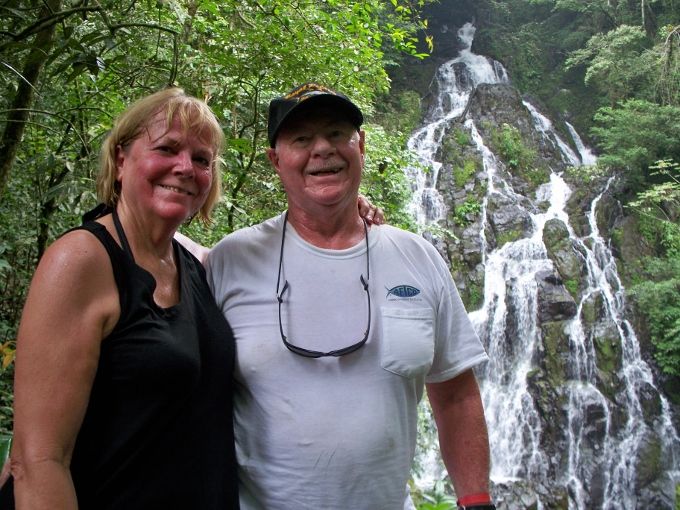 The falls empty into this man made swimming hole: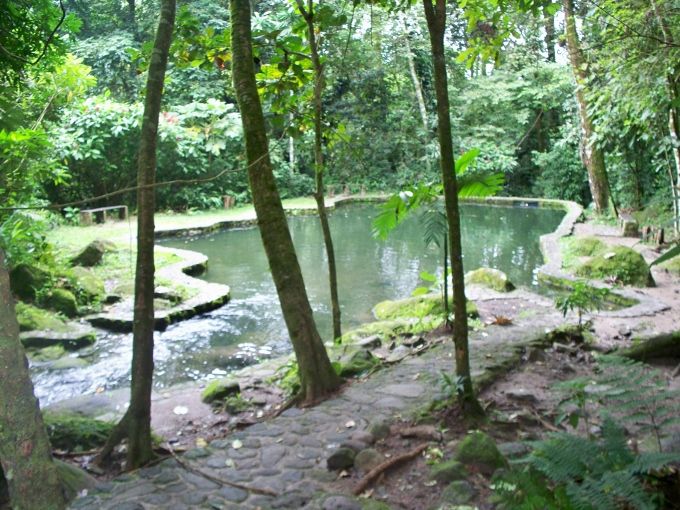 We then headed to the Hot Mineral Springs nearby, with a $3 entry fee:
The mineral spirits are supposed to be good for your skin and any muscle aches?
This configuration with a twin placed 100 feet away, facing each other, provided an unusual travel of sound. Whenever you entered and spoke the person standing in the twin could hear you talk, just like there was a speaker inside. We were told it works up to ¼ mile: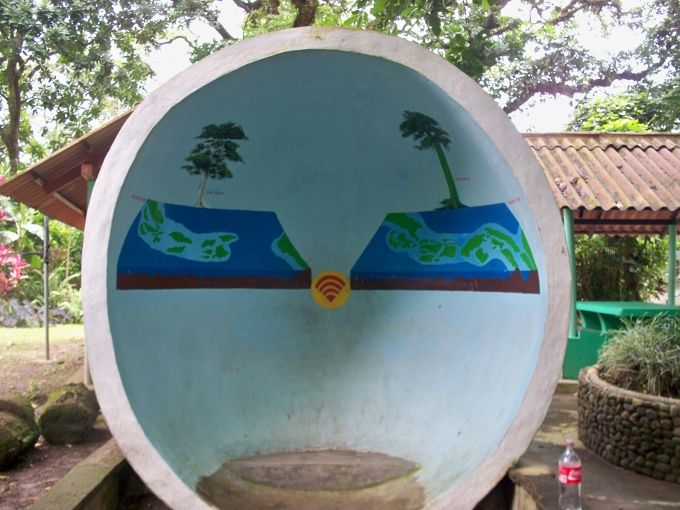 The springs were surrounded by beautiful landscaping.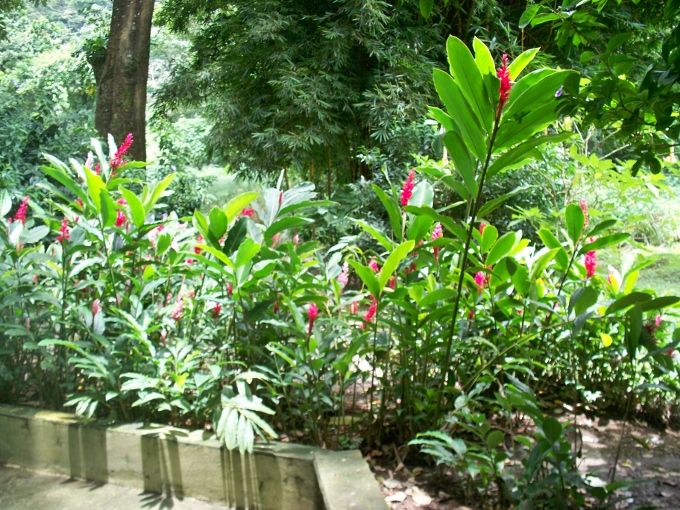 Smaller pools were available for couples or families to share: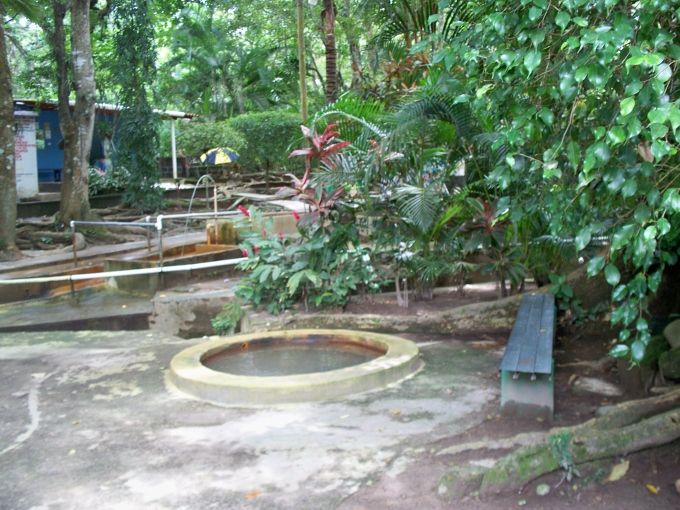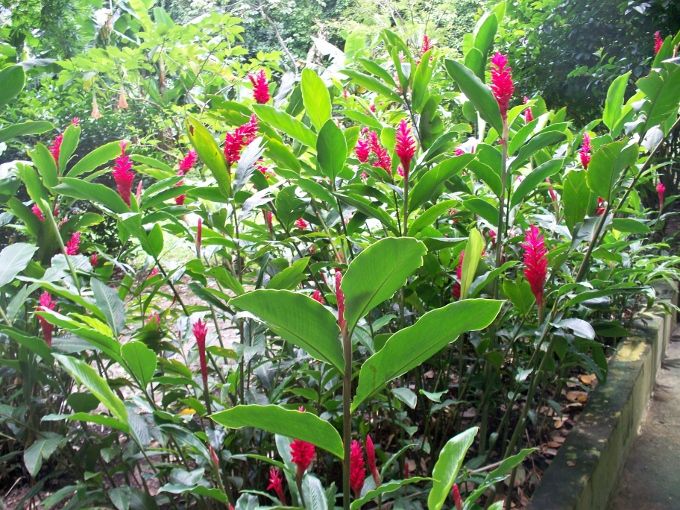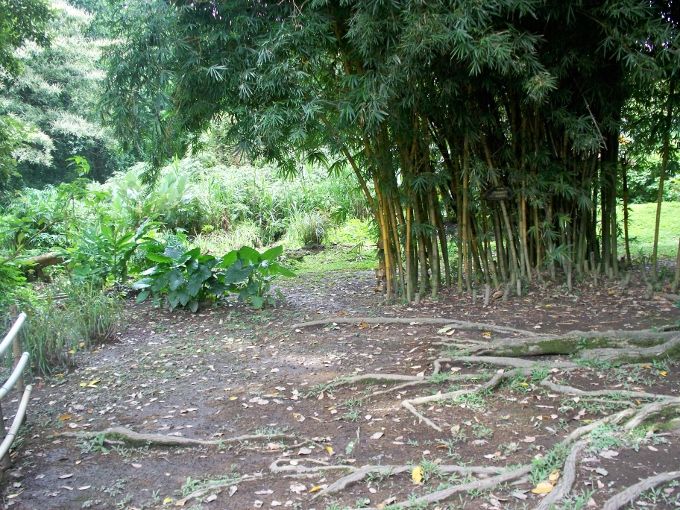 A red palm tree: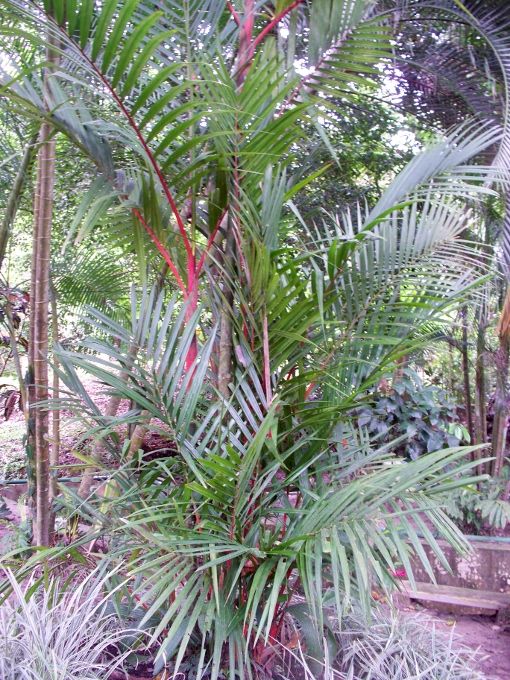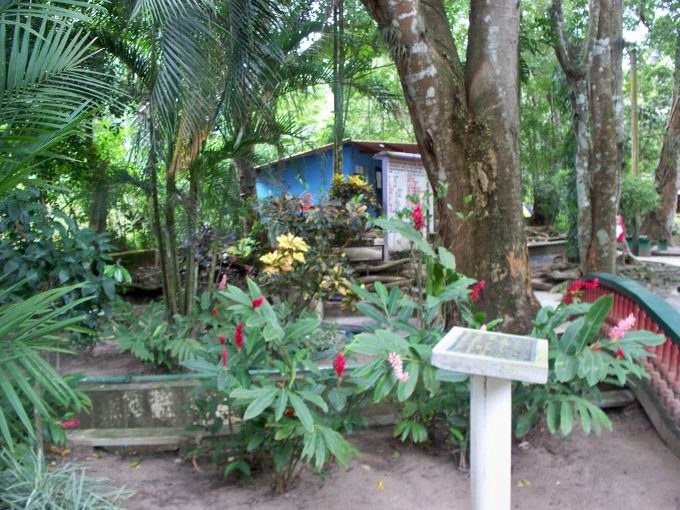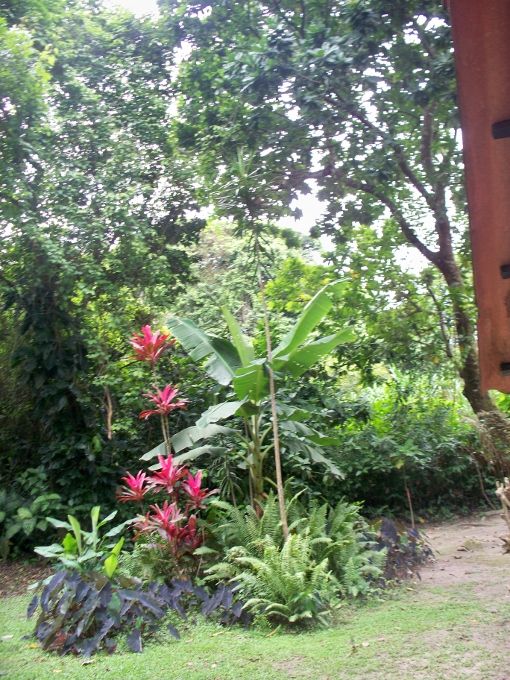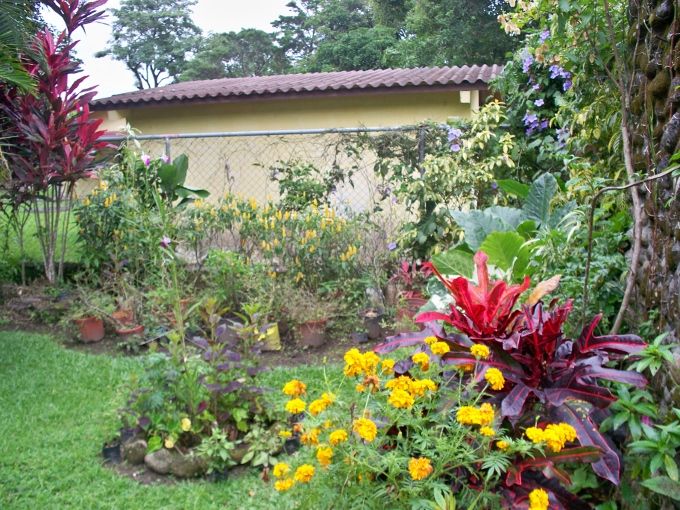 Then we headed over to the butterfly farm, a $5 entry fee. This Butterfly called the owl displays a wing pattern that looks like the face of a snake, another wing pattern looks like an owl: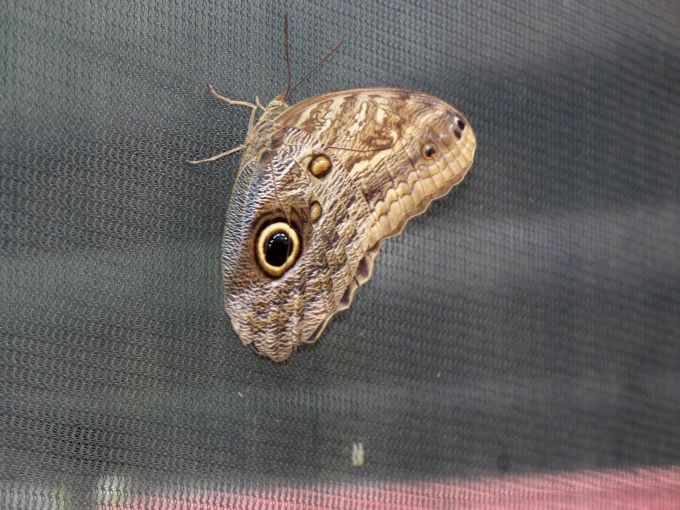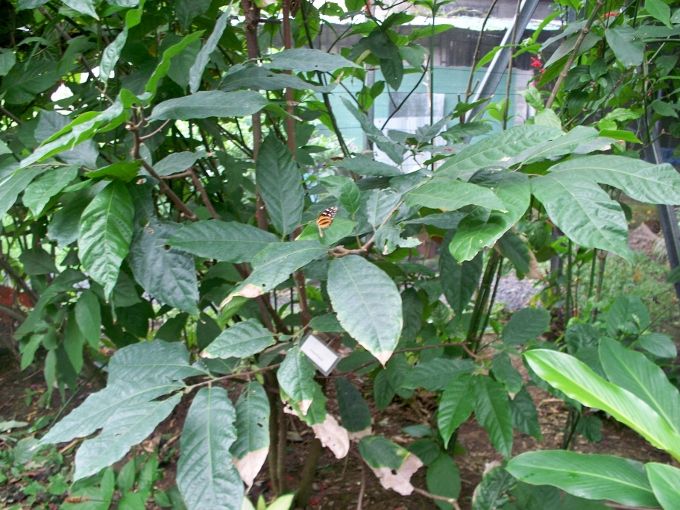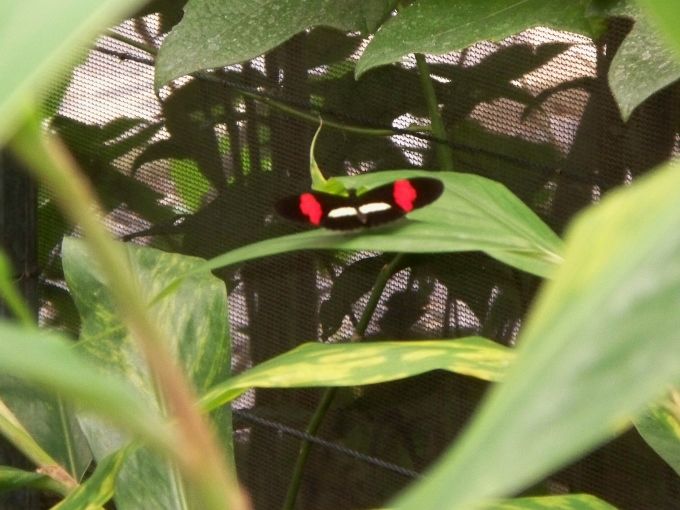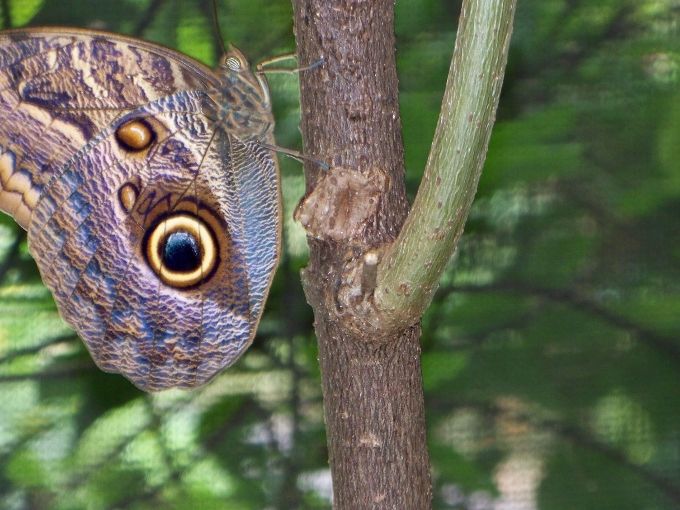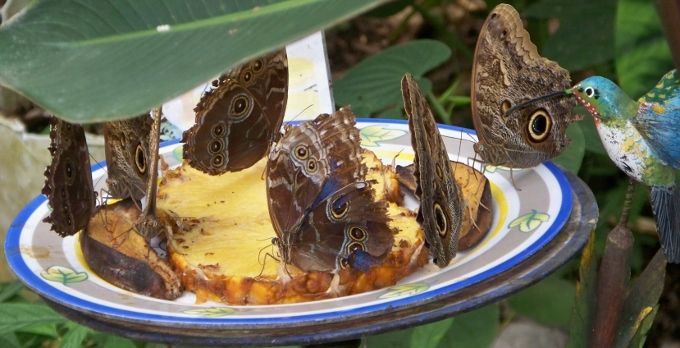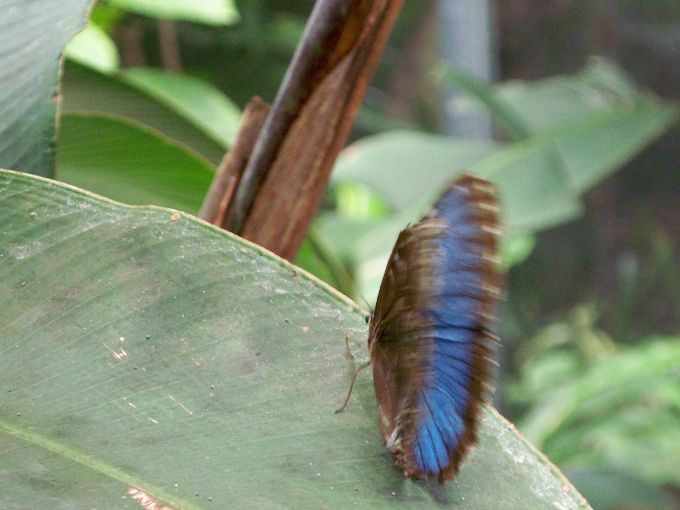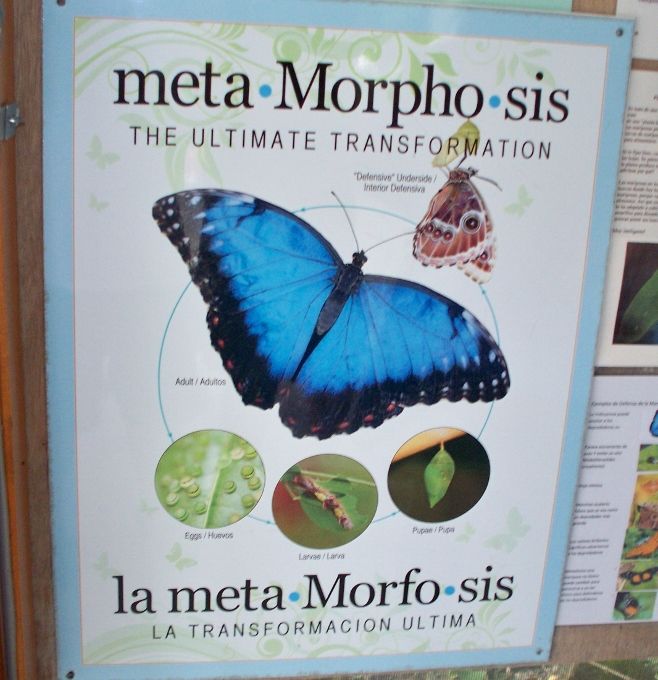 Caterpillars on the leaves: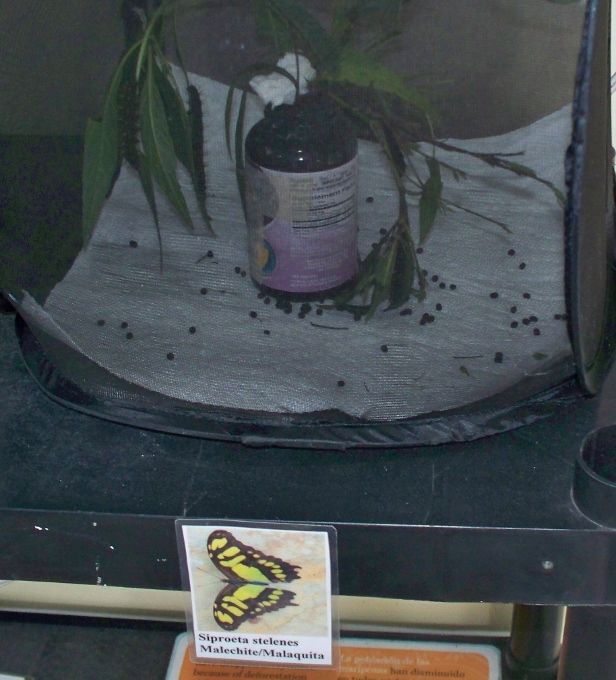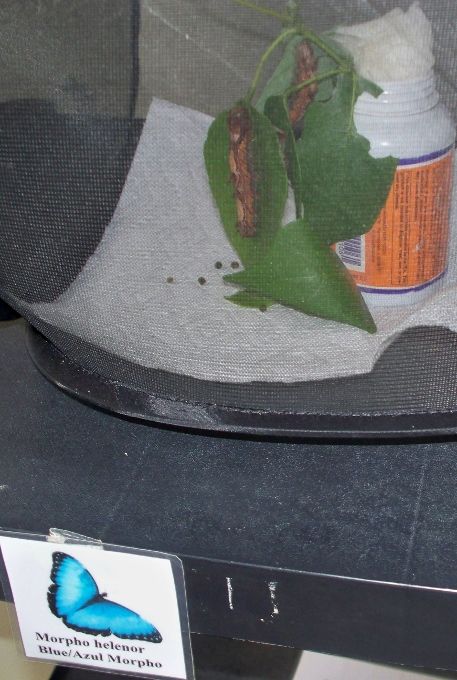 On the way back to our hotel, if you look hard you can see our hotel, the overcast skies sure ruined picture taking: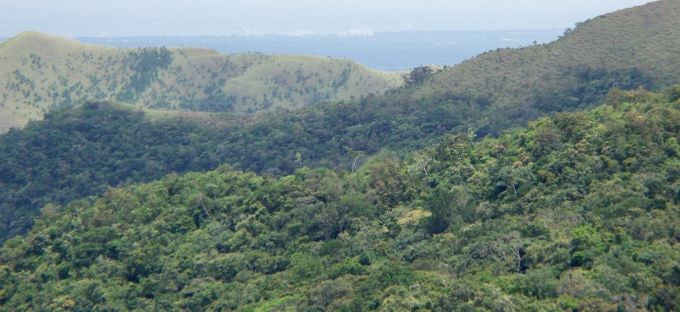 Day 6- Thursday 8-18-16.
Woke up to pouring down rain, sure glad we didn't have a tour scheduled and it sealed the deal that we weren't going on one Friday. So we chilled all day, reading books, watching the Olympics, and eating, drinking and being merry.
Day 7- Friday 8-19-16.
More of the same as Thursday, although we did see some sun and spent a good portion of the day at the pool. Our last evening was again spent at the Italian restaurant and it was again excellent.
Day 8- Saturday 8-20-16.
Wake up call at 6am and off to breakfast before checking out. Our transportation arrived at 7:45 am. And off to the airport we went. Flight was at 12:56, so plenty of time despite a 2+ hour journey. Flight was on time.
Went through customs in Miami, and had a 3 hour layover. Flight was on time. Arrived to LAX ahead of schedule only to find no gates available for 1.5 hours, as we sat on the airport tarmac.
Collected our luggage at 1am and caught the shuttle to our car in long term parking. Home at 2am totally spent. At least tomorrow is Sunday, we could sleep in.
Overall Experience at the resort:
A very important start was the fact that the service was excellent in all phases, Hotel Reception, Food, Bar, Cleanliness, and Room Service.
Our room was located on the 4th floor and was closest to the beach and pools. We paid extra for that, very happy with that. The rooms were certainly plain style Hispanic with tile floors, a king sized bed, which was comfortable, a regular bathroom, spacious shower, with good water spray and temperature control. We had a balcony and spent an hour or more on it almost every day.
The wife was upset about the hotel not providing shampoo and conditioner. They claimed the body wash in the shower was all purpose, yeah right? So bring your own!
Because it was rainy season, the rivers nearby flooded the ocean with mud each day. Few went swimming and we had no interest. The waters beyond the mud were a medium blue. It was overcast almost every day, with little sunshine, however, that kept the air temperature down in the low 80's, with not much humidity.
They had four swimming pools, one for kids with water slides, although meant for kids under ten in difficulty? A net was in one of the bigger pools and a swim up bar in the other big pools. Pools were also plain Jane, square with no fancy designs or patterns.
The bars all served a similar variety of cocktails; pretty much anything you wanted except very high end liquors. Our favorites were Rum punch, Pina Coladas, Mojitos, Margaritas, Tequila Sunrise, Mai Tais and strawberry Daiquiris. Service was almost instant depending on how busy they were.
Grounds were conservatively landscaped, big lawns, with few tropical plants. They had a sports bar, with six TV's. It was usually the busiest bar, other than the pool bar.
Although the selection of places to eat was plenty, and most of the food tasted good and was fresh, the problem became SOS, (Same Old Stuff) which was a negative in our opinion! Especially Buffets for Breakfast and somewhat for Lunch, simply too much redundant tastes! (See suggestions for further details.)
There were three Specialty restaurants which required dinner reservations, Steakhouse, Xian (Asian), and Italian. Only the Steakhouse was open for lunch, and it was buffet style and served the pool crowd. There was also a poolside mini BBQ that served food, I think Hamburgers, Hotdogs, etc.
Both my wife and I enjoy wine, the table red and white wine served was passable at best, and the buffet taps often added a fizz, which was not appreciated. Cocktails were not served with dinner; you had to go to a bar, although I believe if you asked someone, they would make a run for you, as occasionally a cocktail was brought to their table. No bars in the restaurants, however all served wine and beer; the buffets had them on tap.
Suggestions:
For
Breakfast Buffet
please change it up some, replace some dishes with Eggs Benedict, Corn Beef Hash, Carved Ham, Larger variety of Sausages, Chicken Fried Steak. With biscuits in a white gravy, Lox and Bagel (our favorite) would be wonderful at least on Sunday Brunch.
For
Lunch Buffet
reduce the number of dishes and specialize more, daily changes, similar to dinner, like Mexican food, Seafood, Italian, Mediterranean, etc. Too many choices and they tend to blend together ad taste the same.
For
Dinner Buffet
we did not attend, although we were disappointed we missed the one night they served a variety of Ceviche dishes and the carving station served Leg of Lamb, yum yum! We also saw some delicious looking soups that were not available for lunch or in the specialty restaurants, such as cream of Broccoli. Didn't see a Clam Chowder or Seafood chowder which I love. Maybe missed them.
Specialty Restaurants
Ok a salad and desert bar are acceptable, then switch to menu items only. Way too many buffet items lacking quality flavor!
Our single biggest
complaint
was the lack of seating for the evening entertainment. So frustrated that after attending late dinner, the show was in progress and there was absolutely no seating? The only show we attended was
Grease
, missed the first half and as it appeared was not popular with the Latin crowd, so there were several seats available. We liked it very much. Since it looks to be impossible to expand the seating in the theatre area, an early and late show would sure be a nice addition?
Tours!
For gosh sakes the local tours should be an important factor in getting guests to return to Panama. In the hotel lobby there was a tour desk, no brochures, they spoke little English, and offered a basic taxi service, without a tour guide, just a driver. We paid extra for an English speaking tour guide on our trip to the Anton Valley rain forest, as our trip to the Canal and the old/new city, flea market was very boring with no conversation possible? Since there is a two hour drive to the Canal and the same for the return trip, we learned nothing about Panama as we drove.
We later found out they had another tour desk, (Nexus) hidden in the hotel bar area that offered real guide service in both languages. They also provided brochures and offered many other tours that were more attractive, like
Monkey Island
, or an actual
boat ride
through the
Canal
and into
Gatun Lake
. Sad!
Conclusion:
Highly unlikely we will return. There are simply too many better hotels at comparable prices available in the world. I believe it is rated 4+ stars, 3 to 3+ maybe at best?
We spoke to another guest who had visited several other Riu Hotels elsewhere. He said this one was below the standards of other Riu Hotels he had visited.
As far as Panama is concerned, we didn't see as much as we would of liked, the distance to other activities from the hotel were too far away, consequently taking too much time and thus raising the costs of the tour.
Certainly our two trips to Northern and Central Costa Rica were far more enjoyable, although they also had long distances to travel to scenic areas.