I Post A Lot But I Can't Edit This
Apr 25, 2003
20,847
6,882
74
Name

Cory Visser
Boat

N/A
Although we would both want to be chasing Tuna offshore, the practical choice was fishing for local Bass and Barracuda, because the odds of catching Tuna were less than stellar on a weekend no less? We know a Bass and Cuda report is not what you are looking forward to this time of year, however, I'm betting lots of folks would of enjoyed our day on the water?
So we went fishing Saturday 07-09-16 on Lal's 18' boat the "Rubber Ducky" out to the Shoe. We launched out of Davies in Los Alamitos at 5:15 am. The temp in Lal's truck read 68 degrees, very nice!
The wind in the harbor was about 8 knots. However, it backed off to flat calm; and the outside ocean contained only a small bump. We continued on toward the Horseshoe Kelp area and started a drift on a nice stone, with a loaded meter. There were huge bait balls all around us, however no predators were present. It's always great to see such plentiful bait in the area.
The water temp was a disappointing 64.9 degrees, down at least 5 degrees from the previous week. We both tossed out our usual assortment of Plastics, 4 inch Red Flake and Calico Hunter on ¾ or 1 oz. lead heads.
On my first cast I was bit on the drop, and reeled in a 1.5 pound Sand Bass. On my second cast I caught his twin brother. Lal caught a Tree fish and a Copper rockfish. It was a bit slow, but steady fishing for the first two hours, enabling us to catch and release some 40 mixed Bass. Lal caught both of the picture worthy Bass, a 3.5 and 4 pounder: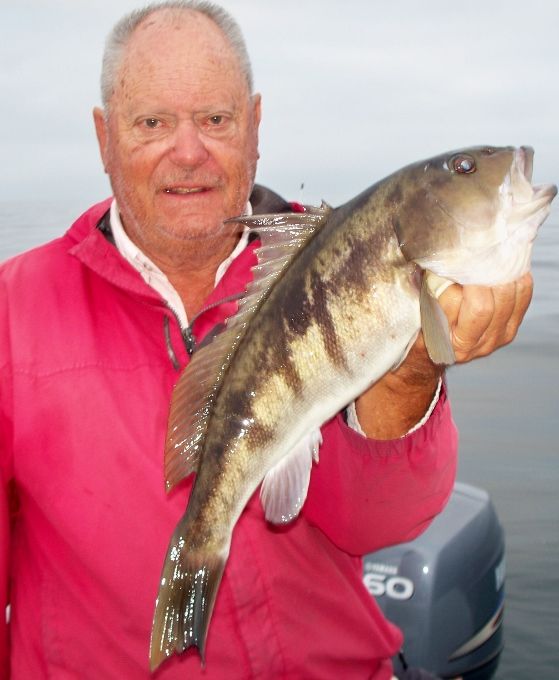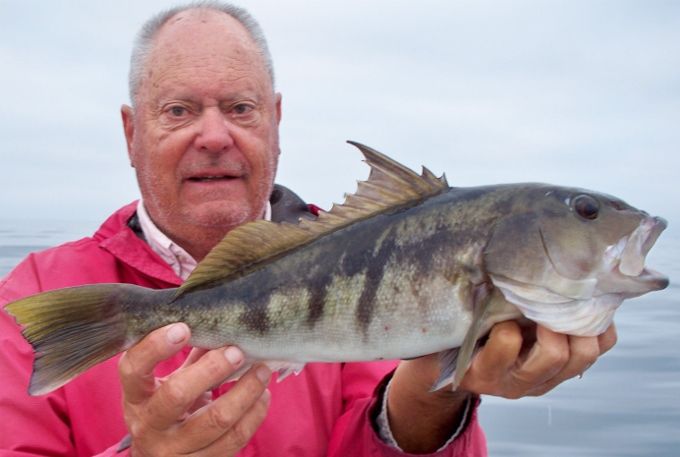 Being surrounded by bait schools, the Barracuda began to show up, although they were not in any kind of volume. We saw a number of boils of very small fish. The sportfish fleet was concentrating about a mile away from and so we moved into the area. There were huge bait balls and terns working just in front of us. So we both tossed surface lures towards them.
Lal was bit first and it unbuttoned, I got short bit several times before getting a solid hookup, only for it to unbutton ten feet from the boat, oh well I would have released it anyway.
We moved a hundred yards towards more boiling fish and huge bait schools. I got bit and this Barracuda stuck, a nice 8 pound fish: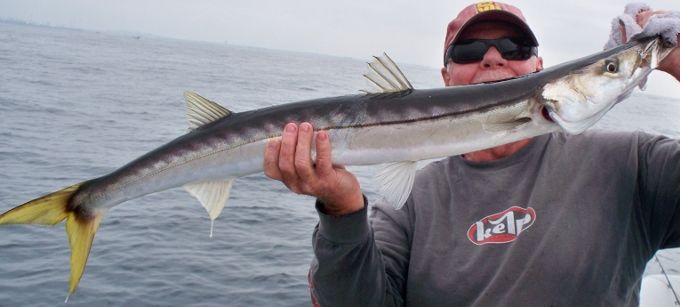 Lal was on a few minutes later with a nice 6+ pound Barracuda: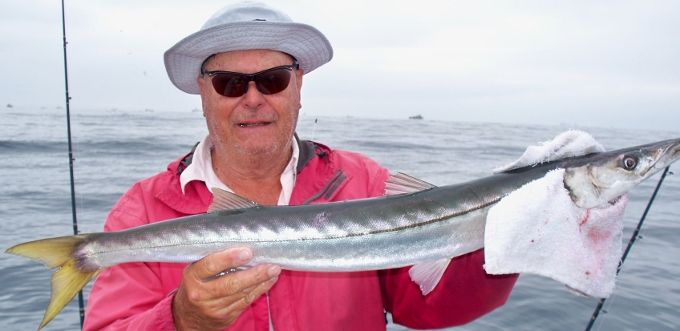 We each caught a few more Barracuda in between some more mixed Bass, moving from stone to stone or towards splashing schools of bait and diving birds.
Another Barracuda picture: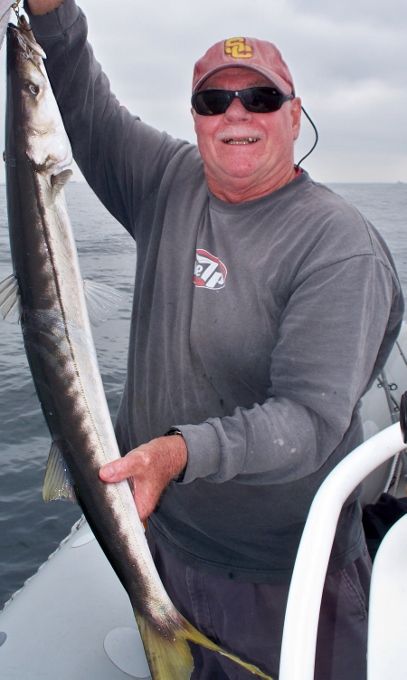 The bite slowed to a crawl and we bailed at 1pm, ending the day with 50 mixed Bass and a half dozen Barracuda, all fish released to fight another day. We were on the trailer at 1:30 pm. Mother wind behaved herself all day!
Thanks Lal, another fun day on the Ducky!
Hook up! Cory