I Post A Lot But I Can't Edit This
Apr 25, 2003
21,290
7,943
76
Name

Cory Visser
Boat Name

N/A
Got an invite to join a Charter group needing a few extra spots fishing on the Relentless on a 2 day trip to Colonet!
Departure Friday 02-24-17.
I left my office in San Bernardino at 3:15 pm and headed south to Point Loma in San Diego; arriving at 5:55 pm. There was a bunch of Heavy traffic along the way; a normal 2 hour drive was well over that time frame. The good thing this time of year is adequate parking available in the H&M Landing parking area.
The boat was scheduled to leave at 7pm and I grabbed a cart to haul my sticks, tackle boxes, extra clothes and camera case to the boat. The Relentless was off getting fuel and bait and returned at 6:15 pm. There were plenty of anglers waiting to board. I said hello to Captain Mikey, cook Kyle, second ticket Kevin, crew Sean and Nick, all top notch.
Most of the bunks were reserved and I was ushered by charter master Brenda to the forward Starboard side stateroom. Only the bottom bunk was available and I do not prefer a starboard side bunk, as normally that is where the swells crash into the boat while traveling. Such is life?
It was a great group of anglers, with Brenda being the only lady fishermen.
Cook Kyle put out a set of apples and oranges, various pastries and cookies. Then as we departed the dock, Kyle put out some deli sandwiches. Meals were included for the trip. All the food was delicious. The galley seats 16 comfortably. The number of anglers on this trip totaled 20.
We got a slightly late start at 7:30 pm, caused by delays in paperwork processing at the landing. We enjoyed a pleasant ride south; with little wind and small swells. It was lights out at 9 pm for me.
Saturday-02-25-17
I woke up at 5:00 am and had to wait a few minutes for a fresh pot of coffee to be made. It was worth the wait, and I helped myself to some fresh pastries, chocolate muffins being my choice, out of numerous others available. The seas were no longer calm, with building swells and a 10+ knot breeze. I later ordered an excellent Breakfast Burrito.
Captain Mikey announced that we were 90 miles south of the landing, with another 25+ miles to go to the high spot, although he intended to make a few drops for Rockcod just after daylight at approximately 6:45 am some dozen miles short of Colonet.
At 6:00 am rise and shine was called and breakfast was being served. He made another announcement when we were 15 minutes away from our first drop 6:45am.
There were nine other boats already ahead of us on the hunt for Yellowtail and no word yet. Captain Mikey wanted to get in a few licks at the Reds before chasing Tails while the weather was doable.
We made our first drop in about 380 feet. I dropped down a four hook gangion with a sardine on the bottom two hooks and strips of squid on the top two. O also had my favorite rig ready for action, an 8 oz. burnt orange Jax Jig with a shrimp fly 2 feet above the jig. I got a few nibbles when I first hit the bottom with my two pound sinker. A few minutes later I got rattled again and brought up a feisty Bank Perch on the top hook with both sardines being mangled.
I threw out my jig stick and upon reaching bottom was bit instantly, although it turned out to be a small Starry on the shrimp fly. Wind them up and looking around I saw some good sized Bocaccio were caught along with 3 Spots, Starries and more Bank Perch, with one small Red.
I cut up one of the small Starries for bait, using one side with tail on, for my bottom hook and one for my Jax Jig. We made a move further south about two miles and dropped in 360 feet. I was again bit quickly on my gangion and one was of decent size. I left it down for another two minutes without a bite and pulled in another good sized Bank Perch and a 3 pound Bocaccio that went for the cut bait on the bottom hook.
I threw out the Jax jig again and scope out was already beginning to rise. After several drops and short wind ups, I began to come in with my jig way too far from the boat. I was slammed about 8 cranks off the bottom. It was pretty heavy and did some strong head shakes most of the way up. Wow it was about an 8 pound Red on the jig and a large 3 Spot on the shrimp fly. Everyone else came in with a few fish and a couple smaller Reds in the 2 to 3 pound size.
We continued south and made another drop several miles later, with only spotty results. The call came at 7:30 that the Yellowtail bite was happening and it was time to boogie on down to the area, and according to the GPS they were 12 miles south of our position. Which would put us about 118 miles south of Point Loma.
We arrived a little before 9am and found a large school of Yellowtail almost immediately. I threw out a Dorado colored 6X heavy iron and began to Yo Yo after hitting bottom in about 200 feet. I was half way to the surface when I got slammed and it was game on. The angler to my left also got bit and there was a sliding sinker hookup on a live sardine. Both of the other fish were lost before I landed a nice 17 to 18 pounder, my first Yellowtail of 2017: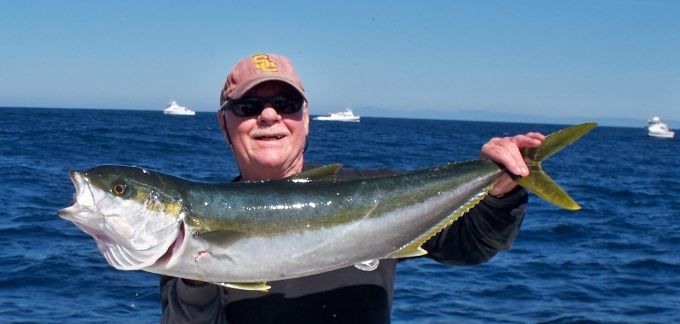 Another jig fish was hooked and landed, which was similar in size. The wind was now blowing about 15 and the swells were easily 5+ feet with occasional large rollers, forcing everyone to use their sea legs to the utmost.
We had drifted perhaps a mile when we headed back up swell to reset. Oh boy it was rock and roll time. Captain Mikey quickly found another school of Tails. On my second cast I was only about 6 cranks off the bottom when I got stopped in motion, unable to crank another turn. The big fish took off for about 30 feet, I was using 50 pound test line with a fairly strong drag. It became a standoff and I gained a few feet and promptly lost them back, as everyone around watched the huge tail shakes.
I began to gain a little when the line went slack, what the heck happened? I wound in only the ring from the jig, where apparently the metal hole had broken? Darn, that was a big fish! There were no other hook ups and we played musical chairs with the rest of the fleet.
I tied another heavy 6X, this time Blue and White. Despite brailing bait the Yellowtail did not stay with the boat and if we didn't hook a fish or lost a hookup they quickly moved on. We got on a school that put on a little show with boils in the stern and several bait fish were hooked. I got my third hook up not 30 feet from the surface on my new jig. This fish felt similar to my first Tail and took some decent runs before settling down and since I did not have several 100 feet of line out when bit I landed it short order. This Yellowtail was 19 to 20 pounds: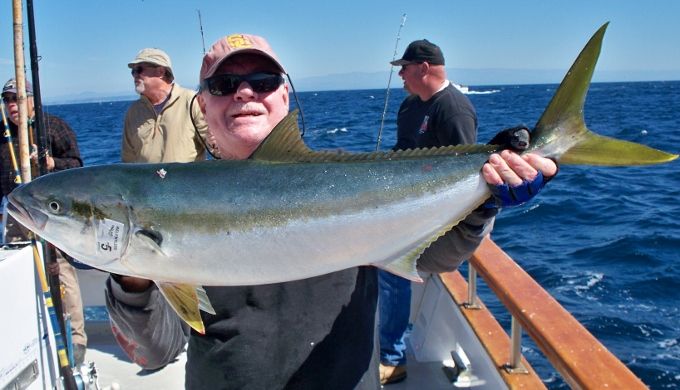 I was two for three and had two of the first three Tails landed, feeling pretty good, but still upset about losing a big one due to tackle failure? Worst of all was that my second jig also broke in the same place, albeit just after the Tail was gaffed and slammed the jig on the deck, breaking it.
We then landed several more jig fish and a bait fish with now six fish on board. I believe this was the jackpot fish, about 21 to 22 pounds: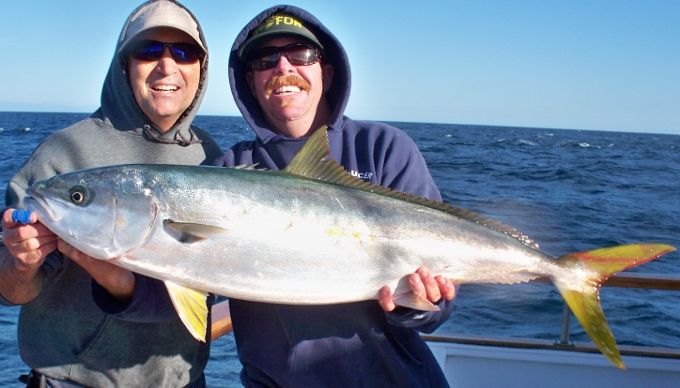 Several hours passed with a few more hook ups and lost fish.
Lunch was a choice of Sandwiches, a Hamburger or Cheeseburger, Quesadias, etc. I chose a double Cheeseburger and it was outstanding, thanks Kyle, fine job.
It was early afternoon and condition continued to worsen. Each uphill run got rougher and rougher, with lots of gear falling and the cook fighting a losing battle of maintaining order, as occasionally a pot, pan or dish hit the floor.
We picked a fish here and there, and I no longer had a heavy 6X and resorted to using a 6X Jr. to no avail and later switched to a CP105, one of my all-time favorite Yo Yo Irons. Also to no avail. Finally my winding arm yelled uncle and I took to fishing a sliding 1 oz. sinker with a 1/0 circle hook on 30 pound line, with a 30 pound three foot leader. Most of the schools of Tails were real skittish as they got run over and over by the fleet. Every now and then a few boils could be seen. One angler was 1 for 4 on hooking bait fish.
At about three in the afternoon, finally I was bit on bait. Gad another big fish as it easily took out a 100 yards of line. This became a lengthy fight as I worked the big Tail back to deep color after about ten minutes. Oh no, something is not right, as the line heads to the surface. Crap, a seal got me and despite my efforts and crew Nick pulling the Tail out of the seal's grasp, the line finally broke. Gosh another bigger Tail lost to the mongrels? I hate seals!
We hooked about five fish on jigs, as most everyone kept trying, despite the hard effort. I went back to jigging as no more bait fish were hooked. My small jigs weren't up to the task. I should have asked to borrow someone's bigger iron. I believe that the fast drift just wouldn't let the smaller jigs get deep enough?
Here is a picture of Jeff who worked his heart out on the iron and it paid off: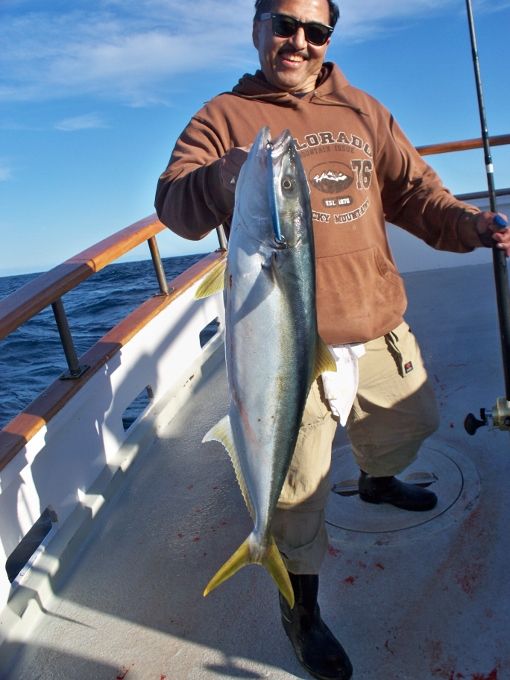 Another iron fish is landed: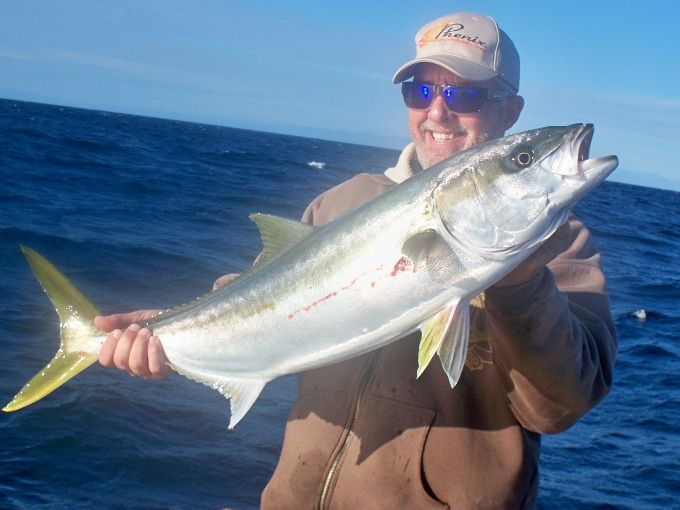 Afternoon snacks were set out, Tostitos, guacamole, salsa and chips. Most of us were exhausted and took a break, and I also enjoyed a cold Bud. We now had a baker's dozen in the fish hold.
At 5:30 pm we came across another large school of Yellowtail, and hooked a bunch of fish to land four, with two of them being seal bit. Fortunately the seal only ruined the tails, and no other part of the body. Generally they chew out all the guts? That made 17 Yellowtail on deck. Some folks used dropper loop outfits to pick away at the Rockfish, with several nice Lingcod caught.
Captain Mikey called it at 6pm, not finding any more schools within the setting sun and extremely gnarly conditions. We began a slow trek uphill and it was batten down the hatches and hold on!
Most of us changed into dry clothes, while several bottles of wine were brought to the table. I enjoyed a couple of glasses of Cherry Blossom Pinot Noir. Yum Yum.
Dinner was served at 6:30 pm and consisted of Pork Tenderloin, which was served with a salad, mashed Potatoes, green beans, carrots and for Desert was a chocolate glazed cake.
It was lights out for me at 8:00 pm, right after dinner, being totally exhausted with totally spent arms, legs and shoulders. It was a difficult night of sleeping until perhaps after midnight when we had passed the worse of the wind and swells.
Sunday-02-26-17
I was up at 5am, a bit rested with better sleep after midnight. A fresh pot of coffee had just finished and wow, that gets the day started off right. Kyle spoiled me with a super-sized special order of a BLT with egg, cheese and sausage, on sour dough bread, my favorite breakfast sandwich. Good to the last bite and I wondered if I could get up from the table?
Captain Mikey pulled back on the throttles at about 6am, and put down the anchor in the shallows off Las Salinas. I told him he was fishing in Bill's and my secret spot off the Towers in 90 feet of water. The seas were at least calm with virtually no swell. Skies were overcast and the hint of rain was not far off. Fishing was poor at best with a few keeper Johnny Bass and Bocaccio caught. Mostly it was nursery fish.
We moved around and anchored in deeper water, around 200 feet. It was also very slow. Around 8am we headed out to the Finger Bank and fished 350 to 400 feet of water. By 9am Mother Wind made her appearance and by 10 am it was off and on raining. By noon we had caught only a smattering of decent size fish, with lots of smaller Starries, Bank Perch and 3 Spots. Some Reds were caught and the bigger fish were the few Bocaccio we caught.
My gangion just wasn't getting the job done and I turned to strictly fishing the Jax Jig and Shrimp fly rig. I managed some nice 3 Spots, Bank Perch and Starries to go with the Jackpot Red, about five pounds.
Lunch was excellent pulled pork sandwiches with Cole slaw and potato chips.
I didn't fish much after 2pm, as we made move after move and anchored up in 400 feet for almost nothing but small rockfish. At 3pm we made a move up the line and anchored in 200 feet for much the same. Even on anchor the wind made the scope out ridiculous, not being able to hold bottom with 16 oz. of lead. It was wet, windy and cold and I changed to dry clothes and poured myself some more wine, while I read my book.
Everyone still fishing looked miserable. Captain Mikey called it at 4pm, and our ETA was after 8pm. Now that's a full 2 day trip. The crew and Captain gave it their all, you just can't fight Mother Nature.
I enjoyed the trip immensely, despite my continued wind curse, and met some fine new folks. Captain Mikey thank you so much for your attention to detail, great crew, comfortable boat, and dedication to finding biting fish!
Hook up! Cory