Jun 9, 2010
696
758
Name

John
Boat

Wilderness Systems T-160...and just sold the boat!!!
I write my annual trip reports, this being my 7th edition, from a somewhat different perspective than some. I write from both an old and new long range fisherman's point of view, and this year as a newly minted retiree having completed a 30 year career in the fire service this past December. As a youngster, I began working on sport boats in Ventura on the Monte Carlo in Ventura in 1974, on my 12th birthday. I paid my dues as a pinhead, 2nd deck, 1st deck, earned my 100 ton license at age 19, and was 2nd license on the China Clipper and the Pacific Dawn where I did eventually run a few trips, until going to what was considered the "big leagues", when I took a cooks assistant job on the Qualifier 105 in the 83-85 timeframe.
As many are aware the cook's life expectancy on long-range boats seems to be on par with that of a 1st Lieutenant in Vietnam. I quickly was thrown into the role of being "The Cook"…the industry had not really evolved to the point where the cook was referred to as a Chef. I was thankful when an opening became available on the deck, and I got back out from behind the proverbial counter. I was on the boat long enough to experience the broad range of fishing, from 4 day albacore trips to 16 day cow trips.
But I also realized that I wasn't cut out to be one of the industry greats that make the long range fishery so amazing. I exited the sport fishing world, and leased a small hook and line commercial rockcod boat, the Tursiops, spending the next two years running the boat with some level of success, before having an epiphany that the fishing industry, whether sport or commercial was not where I was meant to be, and exited stage left in 1987. I would have never, even in private, considered myself to be a fishy guy…just wasn't me. I probably lacked the specific gene necessary to rise above mediocrity in the fishing industry. Regardless, this experience gives me some small degree of credibility only possible from having now spent time on both sides of the rail.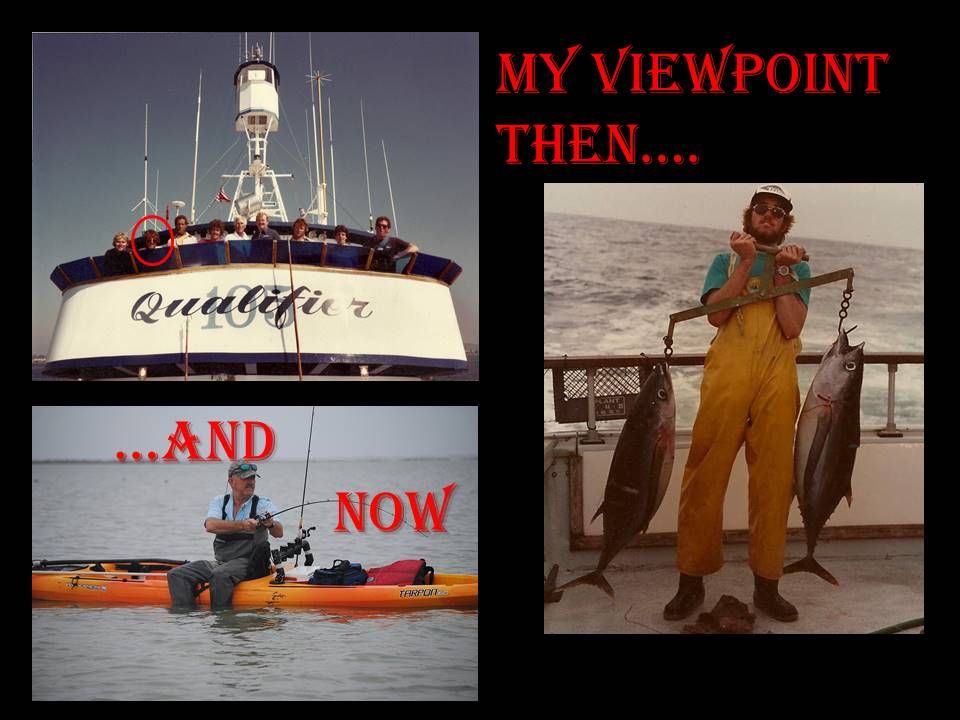 Fast forward to early 2011, 5 years after my return to the United States after almost 9 years living in Italy, and a conversation with long time friend Ed Gonzales. Though Ed and I took very different paths in life, we have remained friends for 50 years, which I guess makes us "old guys". Prior to that conversation it had been 32 years since our last fishing related interaction, and that was spent drinking a few beers, eating goldfish crackers, and building commercial rockcod gear. Ed is still a great rigger, and is an accomplIshed student of the art, constantly refining his skills. Anyway, we decided to take a long range trip, though Ed had taken a break from fishing spanning the two decades from 1990-2010 prior to that first trip, and I hadn't fished the west coast since leaving in 1990. So we picked a 7 day on the Intrepid to give it a try, and had a blast. We met Bruce Brown, and over the years have met some great guys on each year's trip, who we consider friends, to include Brett Goldberg who also made this trip after we met on an Excel 10 dayer. We have done the three trips on the Intrepid, three on the Excel, and due to timing opted for this year's 7 dayer on the Royal Polaris.
My take away from the last 7 years combined with my previous experience confirms what has been described on Bloody Decks over the years, and that is that the fleet offers something for every angler, despite their level of experience; their individual financial situation, for some of us we have to save a bit to get a trip or two in each year, while others, the trips may come easier, but once on board the field is leveled; as well as what their personal expectations are from their selected trip. Every boat provides a great experience, good to great food, generally engaged and enthusiastic Captains and crews, some more so than others, and of course some great fishing opportunities.
When a guy asks about which boat they should ride for their first trip, or what time of year is best, there is no right or simple answer. Any trip on any of the boats in the fleet have a solid group of devotees; in some cases a cult like following that will defend "their" boat to the ends of the earth. How can that be you might ask when that very same boat is just as enthusiastically bashed? The devotees have found a home that best fits their personal needs, a dynamic among the crew and the passengers that is inexplicably right for them; a fishing philosophy in alignment with their own, that might range from near bloodlust to a more conservative take on sustainability and responsibility; a schedule that fits their schedule; and when distilled down to three words…a good fit. In this year's example, we picked a boat that has a great reputation, had a schedule that met my personal needs this year, that caused me to change both from my preferred boats, as well as trip duration. I would not hesitate to fish the RP again; though I feel the fit for me is better on the Excel, and I am already booked for our traditional Fall 10 day.
OK, with the backstory complete, grab a beer or other beverage, sit back and hopefully enjoy both the narrative as well as the photos. By the way, I have always enjoyed the installment or mini-series style reports that a couple of the great contributors on Bloody Decks deliver, though you won't get that from me, go big, or go home…I write epics that hopefully inspire others to join our shared sport and our passion. Maybe along the line, I will also strike a chord that leads to some back and forth on some point or another.
So 2017 brings us to our 7th long range adventure, as well as the 50th anniversary of a friendship, dating back to kindergarten. Our only regret is that we should have started this annual tradition many years ago! Maybe its time for a two-a-year to catch up!
As always the annual trip began months in advance, as we began the planning process. Normally we would have simply rebooked for year four on the Phenix sponsored 10 day in late September that has become a favorite, though this year a July date was necessary due to my late in life decision to get a Masters degree in Emergency Management. So I'm fishing during my Summer Vacation. Maybe there is symmetry in this, in light of the 50th anniversary coinciding with the beginning and ending of school, which will finally culminate in Spring 2018. Hmmm…maybe a Cedros Adventure's trip is in order to celebrate graduation. By the way, we are already booked on the 2018 Phenix Rods trip! Just over 1 year and two months to go!
Pre-Trip Day 1 (7/5/17) After a too short stay with my parents, Ed and I made the easy drive down to San Diego, with a quick stop in Camarillo for lunch, and a stop at Mike Morris' (Big Fish Transport) house in Oceanside to pick up my rods that I shipped, and of course talk fishing for a while before the short trip to the Dolphin Motel.
We got unloaded, and took a walk around the docks, though with tough local fishing were eerily devoid of life considering it is July.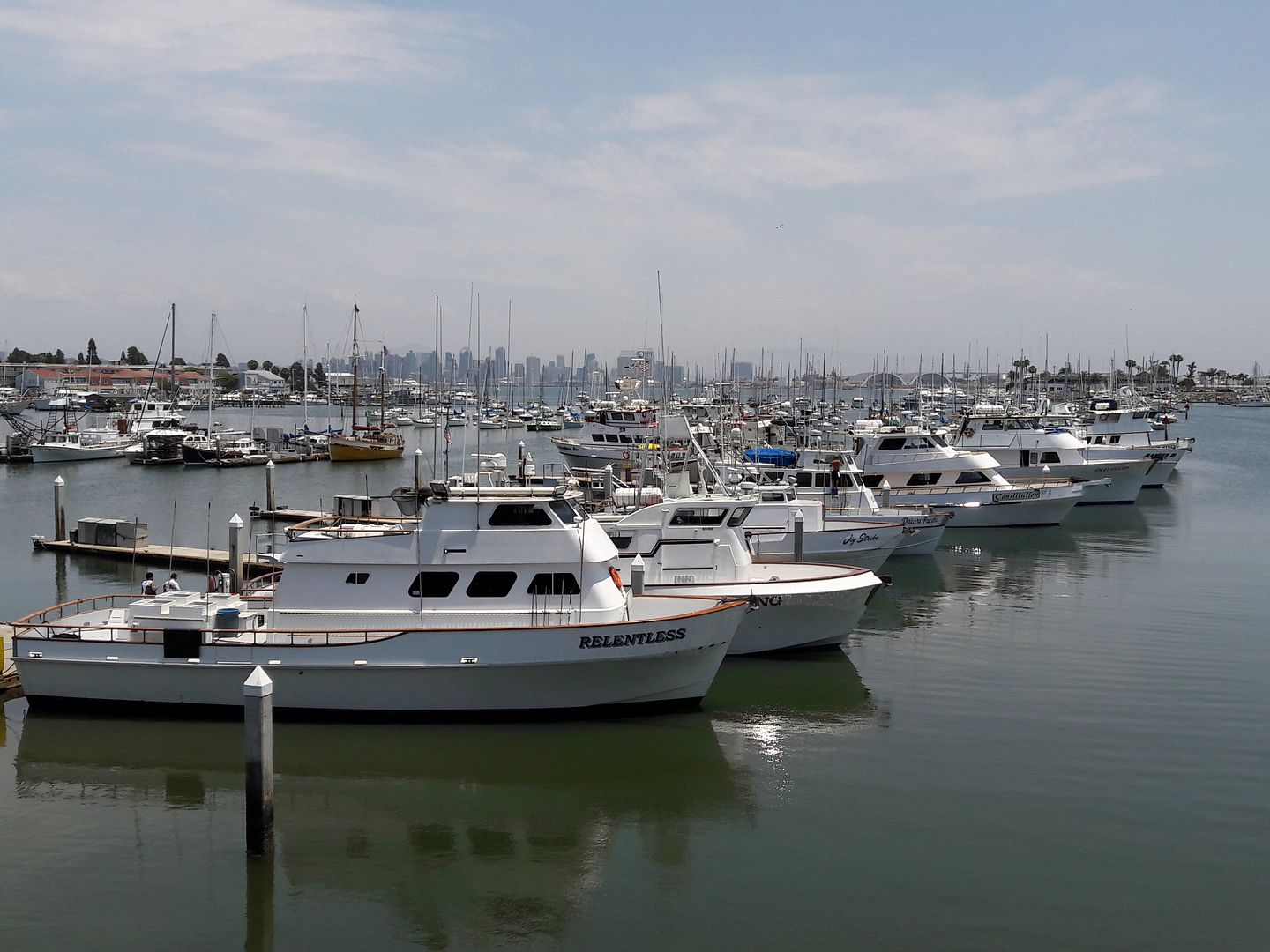 The trip always officially begins two days early as we ease into things with a seemingly scripted regularity of eating, tackle shopping and BS'ing from our base camp in the "luxurious" Dolphin Motel!
Packing actually began 3 weeks prior, as I shipped my rods to Mike Morris of Big Fish Transport well in advance. The upstairs man cave remained a disaster scene as stuff was sorted and resorted multiple times, with final packing completed the night before departure.
Reels were prepped with new topshots, and a few odds and ends added to an obligatory shopping list to be filled upon arrival in San Diego.
We then made the obligatory trip to Anglers Choice and M&M and picked up a few "essentials". From there, it was back to the room for a bit before dinner at Pizza Nova with a great dinner of a caprese salad and a pizza. We are easing slowly into the routine, of eating and resting, so as to prepare for the travel days that lay ahead.
Pre-Trip Day 2 (7/6/17) Waking up stupid early, we contemplated the "busy" day ahead, and after a cup of coffee and a shower we wandered across the street to a dock scene, again strangely quiet, with no long range boats offloading to give us an indication of what to expect over the next week on our trip. After breakfast at Mitch's Seafood we wandered over and saw old friend Frank Ursitti at H&M, and Steve at the Intrepid office. It is always fun catching up between these all too infrequent trips.
With morning rituals completed, the morning becomes simply the wait for lunch, with a little bit of tackle organization. With plenty of excess wahoo gear left over from last year's epic wahoo fishing, it's not likely that we'll burn through nearly 30 remaining bait leaders, and a jag of jigs and bombs. It is early in the year, with the water just beginning to warm up, so we are not really anticipating another year approaching a boat total of 277 wahoo as we had on our fall 10 day in 2016. Hoping to be proved wrong though!
So lunch time comes, and with Bruce Brown still several hours north of San Diego, we meander down to Point Loma Seafood, both opting for a lighter style lunch. I go with the seared tuna Caesar salad, and Ed opting for a green salad topped with a generous pile of perfectly smoked albacore and wahoo. No doubt, the salad option is great choice, and allowed us to really enjoy dinner a few hours later!
With two meals checked off, it was again time to tackle shop, though we both went pretty light, especially after I talked myself down from a Makira SEAII 20 purchase…it was close though! Stops included Squidco and Clark bait, but again are part of a now well established tradition that clearly should not be altered, as it might throw off the cosmic karmic energy!
Make it back to the motel, fiddle around with tackle for a while until Bruce arrives, and chat a while, until it was time to leave for dinner.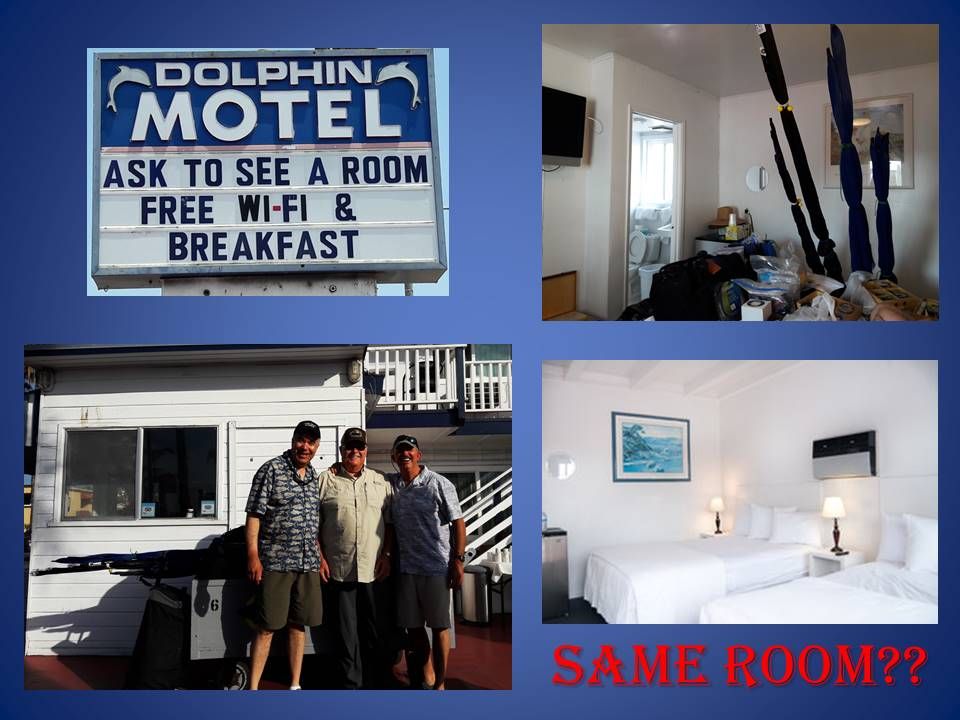 In honor of tradition, we go for Volare, a great Italian restaurant, conveniently adjacent to Squidco. Bruce and Ed both picked up a couple more necessities, and we then ambled to Volare. Never disappointed, they delivered, with me sticking with my golden choice of Spaghetti con Vongole, a salad, and of course an order of bruschetta that we shared. Ed went with the spaghetti with a ginormous meatball; while Bruce ordered a pasta dish, served with three grilled Italian sausage. We all walked away comfortably full…OK…stuffed. Back to the Dolphin….I was asleep before 2100. I knew I would awake early…and no surprise I did.
Day 1 Departure (7/7/17) With the energy reminiscent of a child's anticipation of Christmas morning, we were awake not long after 0400, and after coffee and a shower, it was again time for the morning dock walk. At least this morning there were a couple boats returning, though the RP was the only boat coming off a trip of sufficient duration which allowed much of a catch. With the recent closures of Cedros and Benitos, limited access to the Lupe, and super slow offshore fishing the short early summer trips are especially tough. 5 and 6 day trips are bombing to the upper end of the Ridge to make any real catch, and the 3 and 4 dayers are really struggling, mostly watching non-biting bluefin putting on a show. Hopefully this closers stuff will finally turn on, or it will be a tough year for the local fleet and the shorter trips...only time will tell.
One last land-based meal, again a sacrosanct stop at Denny's officially marks the transition between pre-trip and trip. On the way back we grab a dock cart, and head back to load up and checkout of the hotel.
We make the final trek across the street with a heavily loaded cart, and get the OK from the Red Shirts to leave it loaded. We meet up with Brett and Eric who we have fished with before, and then get checked in with Monica in the office. The boat returned from the fuel dock, and we loaded with the precision that is the hallmark of the long range fleet. Hard to believe there was a time of nearly free-for-all loading before the Red Shirts.
We head off to the receivers, and top off the bait supply with a good load of bait and we are on the way, clearing the point by around 1300.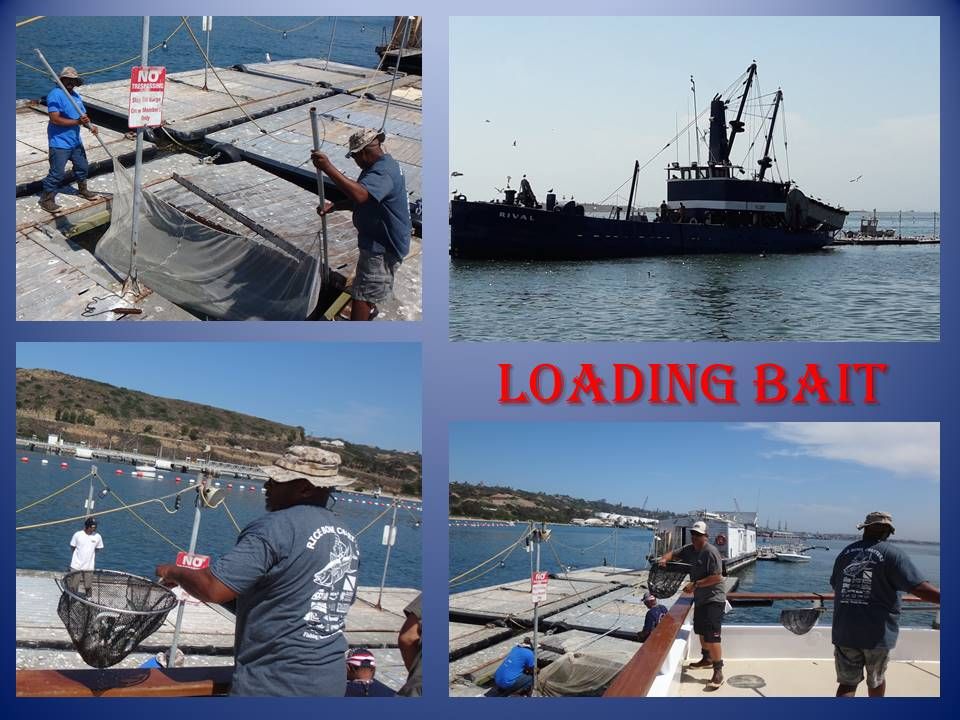 Captain Roy Rose calls us in for the first family meeting, where he covers the general safety issues, and general game plan (spoiler alert--- we are going to the Ridge). As this is me and Ed's first trip on the RP, we are quickly aware that Roy is going to make this a really fun trip…the boat has a great vibe, with a solid crew that is focused on a common goal based on having a fun time.
Next up is distribution of swag, which included a pair of Pline pliers, a jig, finger tape, chapstick, and some snacks. This was followed up by a raffle, that included shirts, hats, tackle, and a custom wrapped 60-100 class Rainshadow rod. Bruce was the lucky guy, winning the rod, though for him, that was just a start. Thanks to Hi's Tackle for the great give aways to start the trip off!
With that out of the way, it was time for lunch. Steak sandwiches and panco encrusted deep fried leeks. The rest of the afternoon was spent BS'ing with many beginning rigging. With a full day of travel ahead tomorrow some have opted for rigging tomorrow. Mid day snack, two hours after lunch was chili rellenos and shredded chicken taquitos. The first day turned into evening, signaling a dinner call: Garden Salad, fresh bread, and deep fried chicken quarters, nicely coupled over mashed potatoes with a mushroom sauce. Dessert was chocolate cake with a butter cream frosting.
Day 2 (7/8/17) What else can be said…it's a travel day, traveling down in great weather throughout the night, and waking to overcast skies, pleasant temperatures, and gentle sea conditions. A relatively late first call for breakfast resulted in there being no real rush for breakfast. Today's first feeding was a sausage and egg breakfast sandwich on an English muffin, and rosemary and red potato home fries. As always fresh fruit and hot and cold cereal was also available, along with coffee….life is good.
As today is a pretty slow day, traveling, rigging and eating, the food pictures follow as a compilation of feed the face throughout the trip.
Trip Breakfast
Trip Lunch
Trip Snacks
Trip Dinners
Following breakfast, Roy called another family meeting, and covered the normal tackle seminar, jackpot rules, and a more in-depth plan for the trip. Great seminar covered the boats bait management strategies to maximize our ample bait supply, as well as our fishing time on the Ridge, as well as the specifics for bait, jig, and dropper loop fishing for yellowtail, bait fishing for tuna, as well as wahoo if they decide to materialize on the Ridge.
Tackle rigging began in earnest, for those of us who opted out on the day of departure rigging opportunity. Before lunch I had put reels and rods together to cover all bases, though planned on rigging after lunch.
Lunch was Kung Pao Chicken over rice. After lunch, I finished the initial rigging, though the list below is a starting point, though changes are likely throughout the trip.
770XH / Avet HX Raptor 100# braid w/100# topshot—dropper loop
Seeker Ulua/ Daiwa Saltiga w/ 65# braid / 50# mono – surface jig
Calstar 90J/ Okuma Cedros 12S w/ 65# braid / 50# mono—surface jig
Phenix 809XHJ w/ Shimano Tranx 500 PG w/ 65# braid—popper
Calstar 6470 w/ Avet HX Raptor w/ 65# braid w/ short 50# topshot –yoyo
Calstar 6480H / Avet HX w/ 65# braid w/ 50# mono—flatfall
Calstar 800H / Avet JX Raptor w/ 65# braid w/ short 50# flouro bait
Calstar 700H / Avet LX Raptor w/ 65# braid w/ short 50# topshot bait
Cal star 700MH / Avet LX w/ 65# braid w/ long #50 mono topshot—slider bait
Calstar 700M / Shimano 20HG w/50# braid w/ long 40# topshot wahoo bait
Phenix 809H / Avet MXJ Raptor w/ 50# braid w/ short 40# flouro Bait
Lamiglass vintage unknown / Avet MXJ w/ 50# braid w/ long 30# mono
Lamiglass vintage unknown/ Daiwa Saline w/ 50# braid and short 30# flouro
Throughout the day travelling on down, we saw lots life, with birds and porpoise in great abundance in good looking water. Though trollers were in, there were no strikes to be had. The only excitement to be had was a large model swordfish up high and dry, begging to be stuck before sinking out as we passed it by…leaving the crew thankful for avoiding the hell that it would have raised if they had taken the shot.
The highlight of our travels was an incongruous pairing of hot wings and caprese salad, which was made with real deal mozzarella di bufala as the midday snack.
Another tasty meal for dinner started with a salad and fresh baked bread, brisket, potatoes au gratin, and cauliflower. We finished off the meal with a fresh fruit pie topped with vanilla ice cream. Does all this eating make me look fat? We are now all ready for what will hopefully begin around mid morning tomorrow. Hopefully sleep is not too elusive as travel continues on a southerly heading in nearly glassy conditions.
Trip Day 3 (7/9/17) Fishing Day 1 - After a relatively good night's sleep with the exception of a thankfully successful 0130 attempt to log in and register software that I write this report on, I got back to sleep, and awoke to flat calm conditions. First call for breakfast, and I enjoy a tasty huevos rancheros, with shredded brisket and a verde sauce with Dave and Mike.
Captain Roy advises that we'll start on the 23, unless we stumble on some tuna on the way. The games will begin around 0930, and after the better part of two days travelling, the 28 anglers on this 7 day Hi's Tackle sponsored trip are ready and eager to pull on some fish!
We got set up on the 23, with a bit of yellowtail. We had a steady bait bite; though after getting on the board early with a fish on the longrod, I true to fashion stuck to it despite no production, though finally get back in the game with three bait fish, another jig fish, and a couple mini yellows (released) by days end. My frustration was captured as Ed set up for and action shot as the fish came unbuttoned as he snapped the picture.
The highlight of our travels was an incongruous pairing of hot wings and caprese salad, which was made with real deal mozzarella di bufala as the midday snack.
Another tasty meal for dinner started with a salad and fresh baked bread, brisket, potatoes au gratin, and cauliflower. We finished off the meal with a fresh fruit pie topped with vanilla ice cream. Does all this eating make me look fat? We are now all ready for what will hopefully begin around mid morning tomorrow. Hopefully sleep is not too elusive as travel continues on a southerly heading in nearly glassy conditions.
As always a few stand out guys today, with Brett, Matt, Dale, and several others in double digits, mostly on bait. Ed stayed true to his passion for fishing the jigs on a long rod ending up with three quality yellows residing in the RSW, along with a couple rats that were released.
Bruce was the super stand out for quality today with an absolute slob of a yellow over 60# on the dropper loop, which resulted in the traditional RP "personal best shower".
All would agree that Bruce was a very deserving guy to catch this epic yellow. He happily announced that he was not in the JP, and noted that he always caught bigger fish when he opted out…obviously true this trip! Think we ended the day with around 175 yellows, and a couple grouper. We also saw a couple spots of tuna, though they sunk out quick, never giving us a chance to get anything going.
Somewhere along the line we also found time for lunch, enjoying ginormous cheese burgers. Though the topper for the day was a really killer seafood linguine with scallops, clams, mussels, and shrimp that would have been at home served in Italy or a high end restaurant on land. Two had opted for a different entrée, and were treated equally well, with Ty from New Jersey getting a very nice chicken dish, and Brett going with a salad that featured yellowtail collars, and shrimp.
We finished up dinner, and fished bait, putting some jumbo scad in a tank for grouper bait. Laying on the anchor, a few remained fishing, though nothing came of that effort. Red crabs that had been visible throughout the day over the past two days on the Ridge were thick at night under the lights.
Along the way, when not focused on the fishing, there was the absolutely awesome scenery that can be witnessed on these trips.
Day 4 (7/10/17) Fishing Day 2 – Ground Hog Day….though it started out not in a good way for me. Woke at 0430 after a solid nights sleep, nothing caught throughout the night. Ate a quick cereal breakfast hoping for the early hit, though that did not materialize. Topped of with a solid chorizo and egg plate...just like being back home in South Texas.
I pulled hooks on 3 or fish, and found other creative ways to blow a few more. I went from desperation to start the day, though by 1500, I was officially done, with 15 resting comfortably in the RSW, 10 caught today, with all but 2 on the long rod. Ed was on fire, with 10 or 12 on the long rod today after a slow day one, he showed no mercy.. Again we looked at a few schools of tuna, though no biters.
I took a break during a lull in the action, and grabbed lunch with Bruce. Chicken Curry with Udon noodles. Once fortified, we went back out to exact revenge on fish that at one time were winning the game.
As of 1530 we were about 40 fish short of boat limits, which should allow us to change up the game, and hopefully find some additional variety. Good visuals throughout the day, punctuated by Roy's crazy laughter. Also fun was watching him hand off fish hanging on a long rod to unsuspecting victims…including his daughter Rosalie…if looks could kill!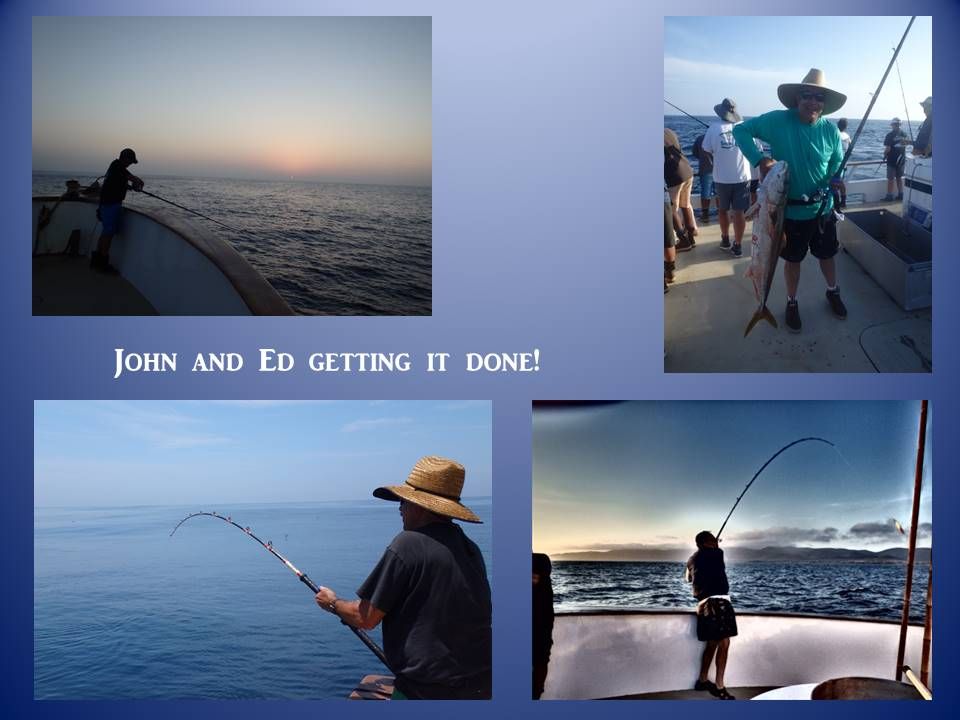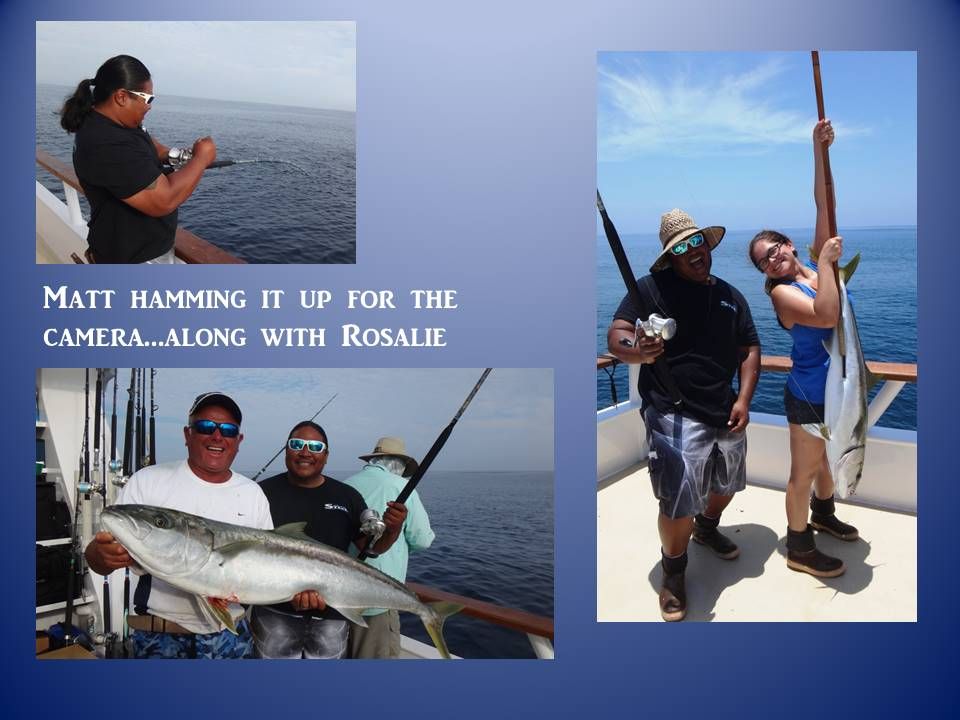 We began gaining altitude to get positioned for tuna fishing the next day, and will shut down and drift about midnight. Dinner was a bone in pork chop, grilled to perfection, served atop polenta and topped with tricolor cherry tomatoes, and asparagus.
Day 5 (7/11/17) Fishing Day 3 – Woke up to epic offshore conditions, enjoyed an early morning sunrise, and a cup of coffee with Bruce…Ed had a slow start this morning, missing the sunrise and that first cup of coffee, though it didn't hurt is game once things got cranked up.
Had a leisurely French toast and bacon breakfast before getting on the prowl.
With the trollers out, and the hunt began, albeit slowly…at first. We started finding some schools, mostly that smaller stuff, with the occasional 12-18 pounder in the mix. Though bait out produced the jigs and poppers, Ed and I both stayed true, with satisfaction gained in how we caught them, vice pure production, donating a few to the galley, and tagging a few.
I happily caught fish on the popper, a chome Tady TLC, and a mint JRI skip jigging it…love the visuals! As good as it is coming tight, the seemingly countless explosive misses keeps me coming back to the visuals that are only possible with an "up on top" presentation. In my home waters, I will almost always be found throwing "topwaters" in waist deep or shallower water, though for some the "tug is the dug", for me, the shear rush of the blow up is my drug of choice! We finished up the day with about 300 mostly smaller grade yellowfin by around 1430. Best news was that we were now running into the beach to fish calico bass and other beach dwellers, such as white seabass and halibut, and would be able to spend time fishing on the 12th and 13th on a 7 day trip returning on the 14th. Really looking forward to the opportunity as I have not fished checkerboards since 1990 when I exited California. Word has it that the Shogun fished this area on their last skiff trip and had great bass fishing.
Caught up in the moment, I forgot that we made time for lunch, during a brief break in the action and enjoyed a really nice crab cake atop a mixed green salad. The great lunch was followed up by crab nachos and jalapeño poppers for the mid-day snack.
After a leisurely run up the line this afternoon, it was again time to eat. And again we were not disappointed, as the Chefs outdid themselves on an absolutely amazing yellowtail dish, with the fish cooked to perfection, served atop a lightly accented rice and vegetables.
A little more of the scenery as we cruised along between fishing opportunities.
Day 6 (7/12/17) Continued perfect weather set the stage for a smooth passage up the line as we worked our way up to spend the day on the beach targeting calico bass. I'm bummed as I foolishly left a Tranx 400 and a Okuma Cedros bass rod at home, and my second go to, a Phenix 809H lost the insert on the tip. Going old school with a couple vintage glass rods that were recently resurrected, along with a couple jig sticks, and my Phenix 809XHJ with a stick bait. The remaining gear was broke down during yesterday's travels up the line.
I started the morning with a walk outside to see the sun just lightening the sky on the now visible Baja coastline, and the stock cup of coffee with Bruce and a few other early risers.
Breakfast was homemade biscuits, sausage gravy, and eggs. Don't ell your cardiologist what you eat on these trips!
Sooo…have you have you ever layed in your bunk, trying to chill, and been annoyed by a banging sinker? Hold that thought, on the way up on deck to eliminate the distraction to my report writing! Problem solved. Taking a break, hoping tails of epic bass fishing is the way today's report will read.
After a brief intermission, Ed, Bruce and I got our group photo for the year. Hopefully we can get Bruce back on our annual Phenix Rods sponsored 10 day on the Excel in 2018. Always fun fishing with our super laid back farmer buddy, and this trip has been no exception.
Roy made an announcement that the Royal Polaris swag store would be opening it's doors in the wheelhouse, and I can say that the selection was pretty good. Held my self to a hat, sweatshirt, and a t-shirt, though the Aftco shorts were cool, unfortunately the only sizes were for larger models, leaving us smaller sized guys to live without…for you 38-48" waist guys, plenty of selection is available.
Happy with a new hoodie, hat and shirt...
The next bit of activity prior to our 1300 arrival in "Calico Country" was a morning snack of strawberry and whipped cream biscuits, and a peach cobbler. Rather than make a difficult decision, just went with both. Now for nap…
We arrived in the land of the bass. To add to the significance of this day of fishing, Ed and I have been threatening a Cedros Adventures trip, and the bass fishing today sealed the deal! This bass fishing was off the hook, whether measured by quantity or quality.
A solid majority of these were 3 to 5 pounds, though plenty were above that range. Many started out throwing plastics, which was as easy as it gets, as was the production for those bothering to fish bait. I burnt through 3 or 4 tails, to catch and release 20 or 25 bass, before switching to the jigs on my 90J after seeing Ed and a couple other long rod guys starting to produce. The jig bite was absolutely insane for a while, with wolf packs of big aggressive bass chasing down a mint 7X or similar offering, if they came unglued, a rebite was often instantaneous.
Again Ed was a standout, with a 10 pound bass , though there were numerous fish in the 6 to 8 pound range.
In recounting the day, we figured we probably caught and released close to 50 bass…each. Ed also got the only yellowtail for the day, and just like the vast majority of the bass caught today, it too was released, though some anglers opted to keep a responsible number of bass as they are great eating. I hadn't fished bass in over 30 years, though first fished bass in the mid 70's. Nothing in my failing memory compared to this bite, both in numbers and size, and for me this action was more enjoyable than the previous days tuna fishing, and was one of the overall highlights of the trip. Not everyone may have felt the same, but we had limit style yellowtail fishing, a good day on the tuna, and with no good grade Dorado around this was a great topper for an early summer 7 day trip in my personal opinion.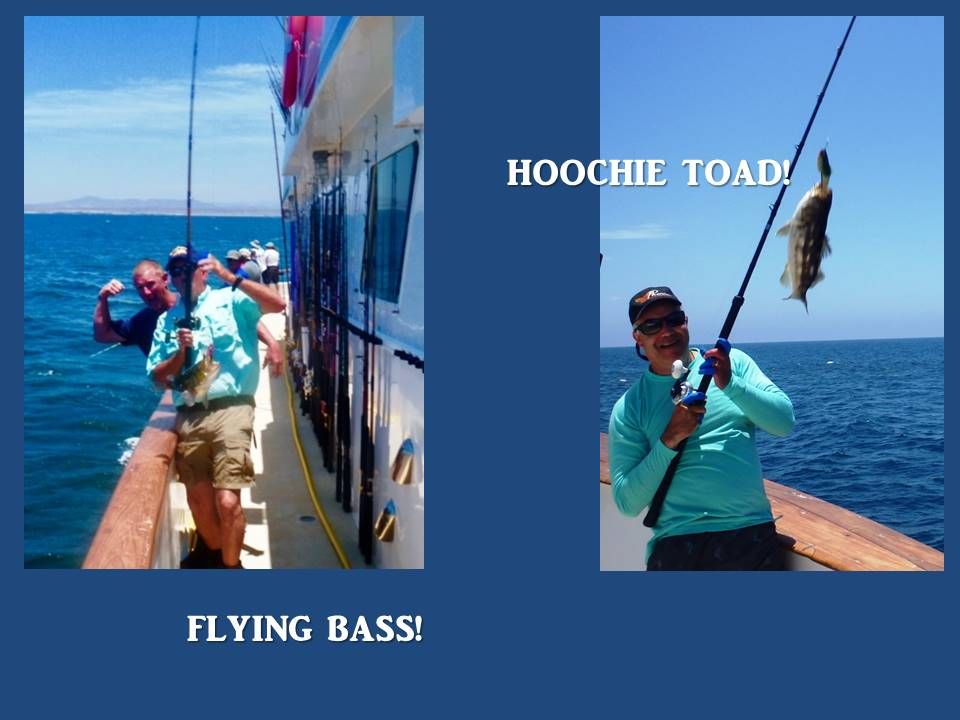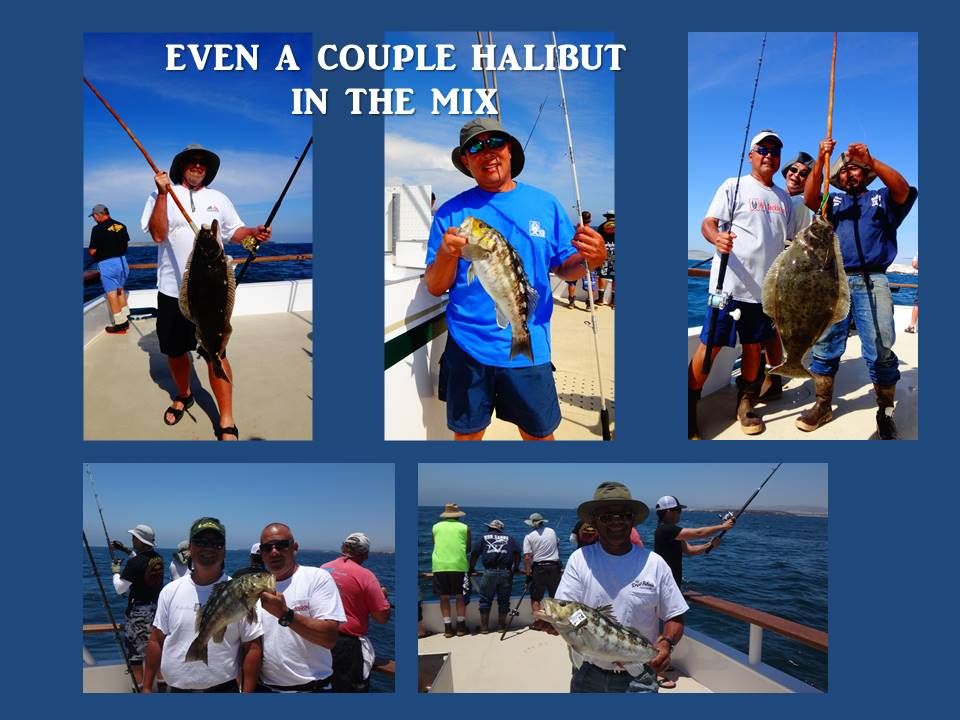 So with the fishing part of the day dispensed with, we again found time to eat a few more times. Lunch was a nice beef broth based Ramen, nothing super fancy, but really tasty. During our WFO bass fishing, a sushi and sashimi spread was released, and was quickly the scene of utter devastation. Dinner was a really good roasted chicken quarters with garlic mashed potatoes.
Day 7 (7/13/17) We had no high expectations for today as we swung outside during the night's travels northward to put us in position to look for kelps as we travel towards home. The morning started like all the rest, like a broken record, with amazing weather and a cup of coffee. Life is good! Two lonesome jig strikes before Roy called it a trip, netting another yellowtail and a small bluefin.
Today ended as it started, with three meals marking the hours headed north in continued Lake Pacific sea state. Avocado toast and eggs with sausage; BBQ'd pork ribs, coleslaw, and beans; and a New York steak (prepared like prime rib), salad, baked potato, and corn, provided 6 hour timestamps on the day. The hours between meals were filled with movies, naps, final tackle breakdown, and the final reckoning to settle up tabs and tips.
Trip Return (7/14/17) We made good time going up the line throughout the night, and put us at the dock at 0515. The normal offload activities were complete, fish picked up directly by the crew at Fisherman's Processing for those choosing that service option, with the remainder of the catch going topside for traditional sorting. Mike Morris was at the dock, and guard dogged our gear until we were ready to depart for home. We went to the Fig Tree Café for breakfast, and then a trip to the airport and the long travel home. My fish are at Fisherman's Processing and will be at the house sometime next week.
Thank you to the Captain and Crew of the Royal Polaris.
Captain Roy Rose
Second Captain Dhayrl
Deckhand Eddie
Deckhand Deron
Deckhand Doug
Deckhand Tommy
Chef Dave
Chef's Assistant Joseph
Last edited: