I've posted enough I should edit this section
Mar 18, 2012
1,136
842
Name

Harbison
Boat

Florida Fisherman
Return to Two Guys And A Hog
To many of us who call Florida home fishing and hunting is much more than just a past time; it's a way of life.
As a Florida native I have been enjoying the woods'n waters of our great state for over seventy years.
For over forty years I fished the fabulous Florida Middle Grounds:
For those who have never fished the Grounds, you have absolutely no idea what you are missing.
Fishing & Hunting... This Is Our Florida:
Many decades ago I hunted the woods that are now home to:
Before working as a counselor for the Department of Juvenile Justice I was a salesman for Tarnow Meat Company. I watched true artist make the very best whole hog sausage:
What an inspiration. I dreamed of someday, some how, making my own whole hog sausage. Tarnow, move over!
As a life-time hunter I wanted to try wild hog 'WHOLE HOG SAUSAGE.'
First up! With so many choices, what weapon should I choose?
Easy choice!
As a Western fan I watched in amazement, 'Death Valley Days.' Often the gun of choice was the 1888 .45-70 "Trapdoor" Springfield.
The .45-70 Originally known as the .45-70-405 fired a 405 grain .45 caliber bullet propelled by a powder charge of 70 grains of black powder.
My choice... The 'GO BIG' Marlin Stainless Guide Gun chambered in the ever so powerful .45-70, and 405 grain ULTRAMAX bullet:
My first serious attempt at wild boar hunting was the huge Aucilla Wildlife Management Area.
Aucilla, just outside of Perry, Florida, offered excellent hunting opportunities for those willing to do their homework.
There is much more to Northern Florida than hunting. Perry's 'Old-Florida' tradition is everywhere:
Time to take hog hunting to the next level.
Enter Madison County's Buck & Boar Hunting Club.
Hunting and fishing are often social events enjoyed by good friends. None better than one of Tampa's finest, officer Tony Cangelosi. Officer Cangelosi protected the people of Tampa for 35 years.
Together we hunted Buck & Boar for twenty years. The deer and turkey hunting was very good; the hog hunting was, still is, outstanding:
A major problem was bears; they were everywhere.
Talk about destructive:
All of a sudden we are getting older. No longer can we do the things we once did.
Enter Perry, Florida's Two Guys And A Hog:
We have all the fun; someone else does all the work.
Francisco, you are the best:
No better place to celebrate BIG Birthday # 78:
How about celebrating the beginning of the new decade:
What a trophy. Look at those cutters.
I have successfully hunted, on my own, deer in the extremely cold high mountains of Maine, and elk in the tall-timber of New Mexico.
Before my, '
Return to Two Guys And A Hog'
let's consider one last 'extreme' hunt.
My den already looks like a zoo...
A Musk Ox mount would fit in perfectly.
Seeing this in a friends home was all the motivation needed:
His advice:
"Find a good guide (Hunter and trappers association) Get a bonifide arctic survival suit. Don't fool with the stuff from Cabelas or Bass pro Shop. Not that they are bad you need to be able to survive at 60 to 80F below zero. Get your guide to have you a pair of Wolf skin gloves made. Be very careful on riding dog sled or on the snow machines as you can get frostbite in a second.. Also be very careful to not drink anything hot, you can crack your teeth real easy. Keep a muffler (scarf) around your face so you don't frost bite your lungs."
Not sure how this Florida native who freezes at +60 would take 60 to 80 below. In addition, that "crack your teeth" could possibly be a 'small' problem.
On second thought, Tony, let's '
Return to Two Guys And A Hog!'
Monday, February 3, 2020:
Hunting out of Hudson, Florida, Mr. Gary Ray.
Ralph (orange shirt), owner of Two Guys, is so proud of Gary; we all are. That's a hog to be proud of. No corn over a feeder for Gary. He is an expert at stalking the wild hog:
I'll take hunting from a hut over a corn feeder:
That BIG boy is on maximum alert; so am I.
BAM! I release the awesome power of my Marlin .45-70 Stainless Guide Gun.
That 45-70-405 works as well now as it did in the Spanish/American War. Hog down, hog down and out.
Not to be left out, Officer Cangelosi does his thing.
Thank you Francisco, that title 'Best Guide Around' is well earned:
What a man; what a gun:
Ralph can't believe his eyes:
Ralph, Linda, what an honor meeting you at Two Guys. Hope to see you again soon, soon and often:
Return to Two Guys And A Hog
You had better believe it!
The finest of people, and: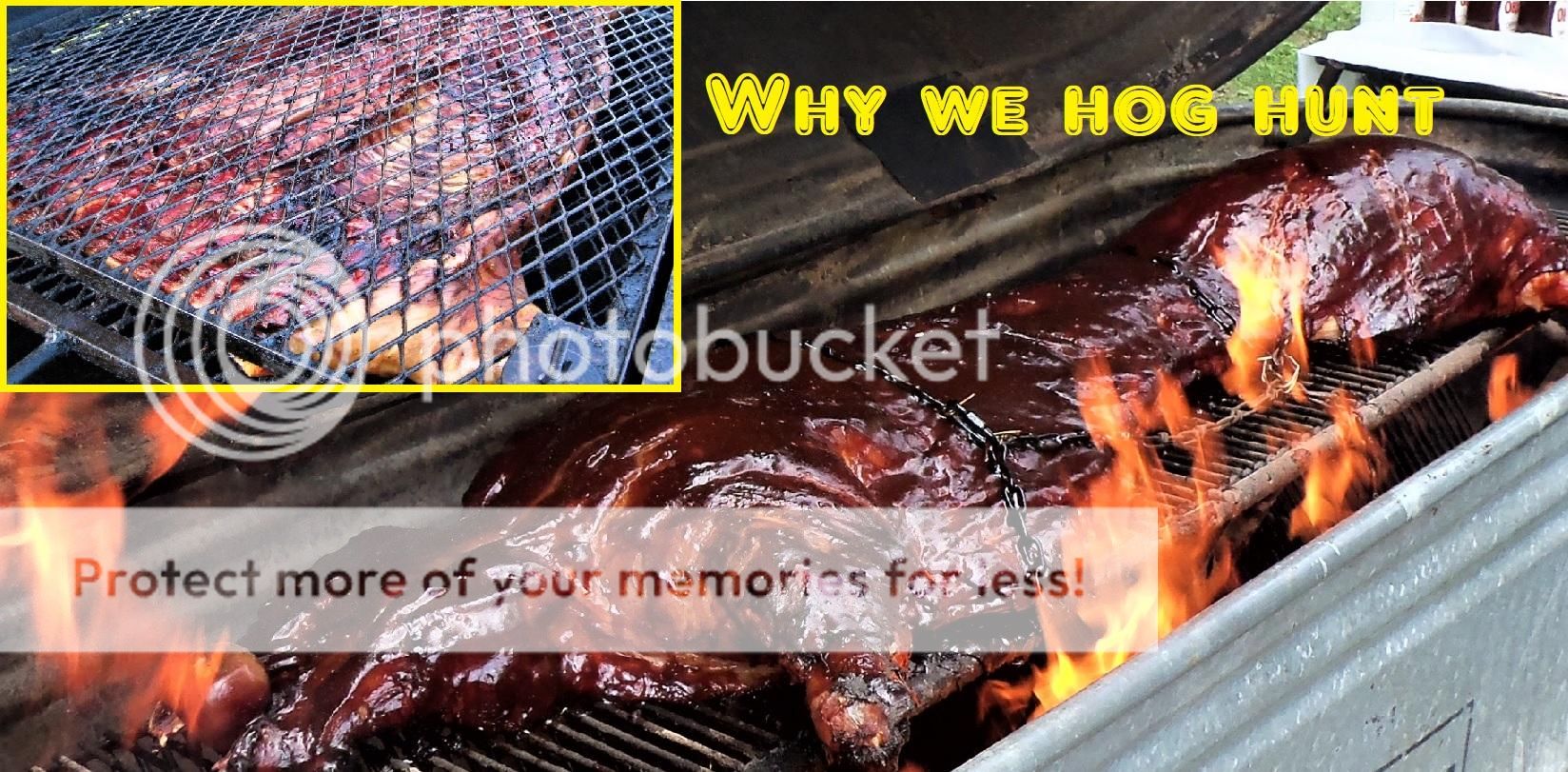 Think the action is over? Not yet...
The video: