Jul 28, 2015
39
62
Name

DonM
Boat

none
So, it was time for our annual family vacation trip for the summer and we elected on going back to Maui since we got a deal on the accommodations. We had a week starting on the 4th of July. I knew I couldn't bail on the family right out of the gate, but once they got acclimated to the time change, it would free up a couple hours of the morning to go make some casts.
The first day was spent shopping and at the pool, but on Day 2, we got to the beach early to beat the crowds and I did a little fishing with the kids. I tried for a bit with the heavier gear but had to switch up to get the kids into the act. A little shrimp and a bobber on the ultralight and we were into some reef dwellers pretty quick.
Ethan with the first victim...humuhumunukunukuapuaa.
Erin with her first humuhumu
Erin with a hinalea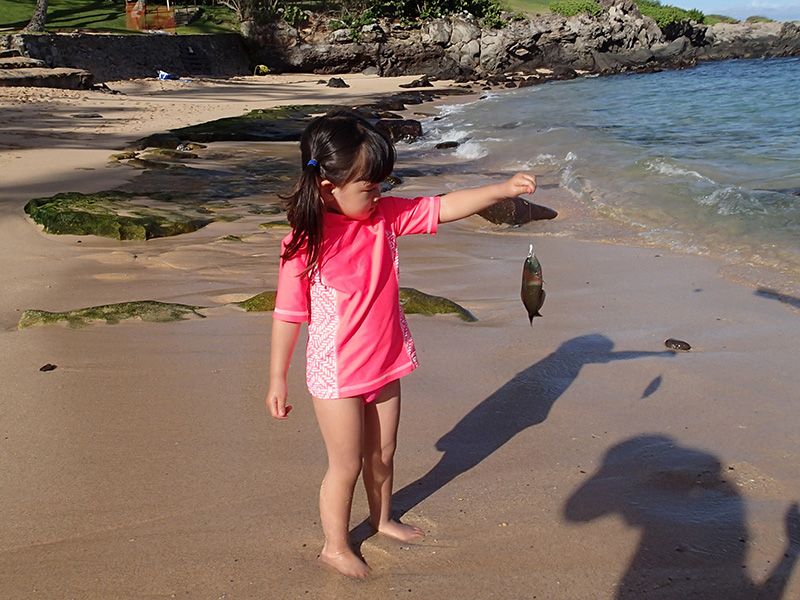 Then, with the last cast for the morning, before we opted to snorkel, Ethan gets into the right kind. I was pretty proud cuz he actually cast (assisted), hooked this fish and fought it on his own. I could tell when it took some drag that it was a papio. Not huge, but awesome fight on 6lb.!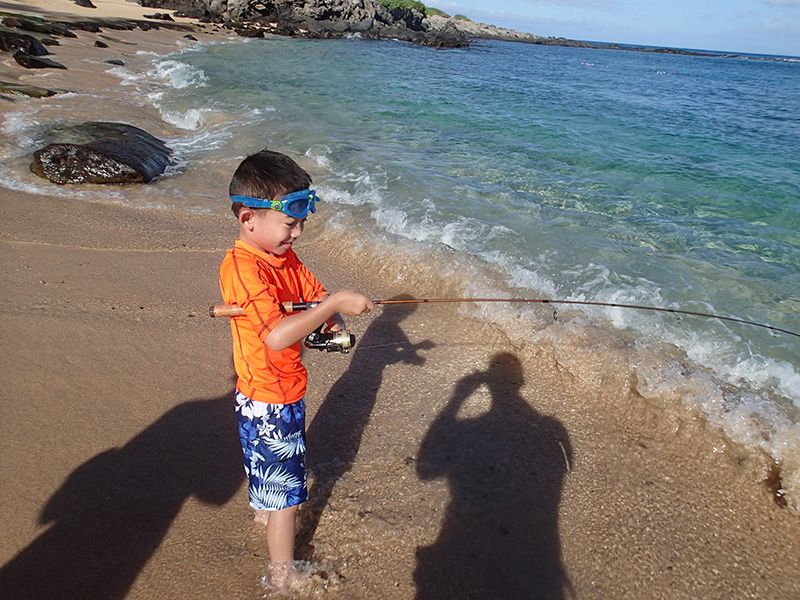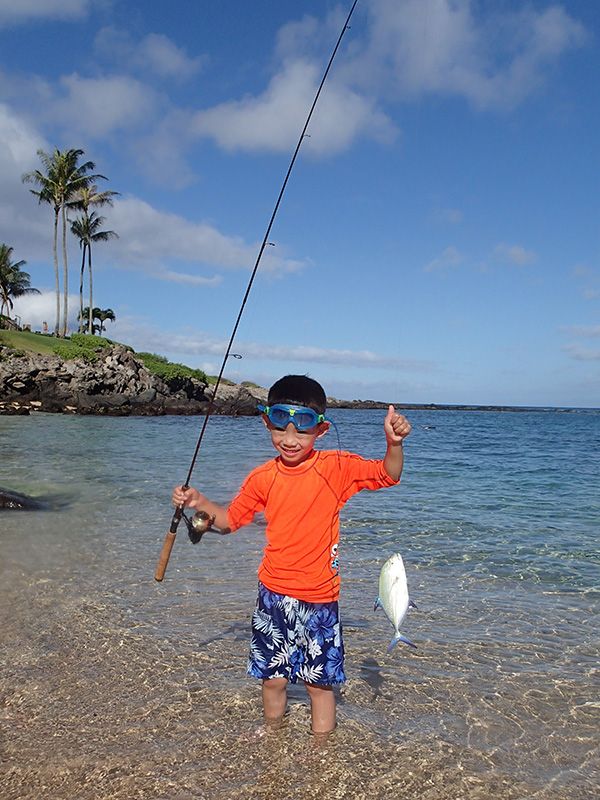 Before we left, I went out on some rocks nearby with Ethan that a valet had tipped me off about. I tried for a couple of casts with the bigger gear but didn't get any takers. Switched over to bait and let Ethan have some fun. He got a couple more hinelea and a nice hage.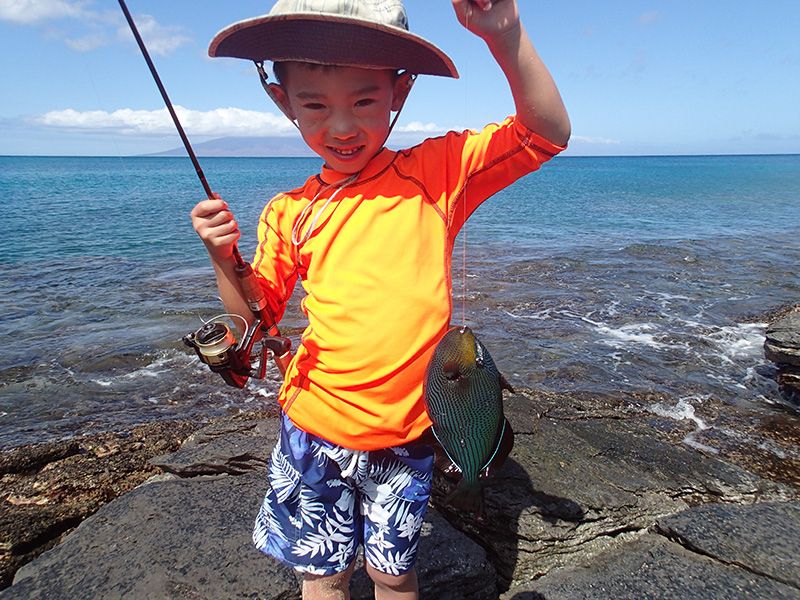 Ethan hooked into another decent fish but it took him to the rocks quick. Not sure what it was but guessing it might have been another papio. We weren't gonna stop this one with 6lb. from the rocks we were standing on.
Once I got the kids snorkeling, they had a great time. It was my 3 year old daughter's first time out and she took to it pretty quick. So, on day 3, I took them to a cove I knew of where they could swim with the turtles. My 6 year old son had done it two years ago, and had fun again this time around, but it was Erin's first encounter and she was in awe.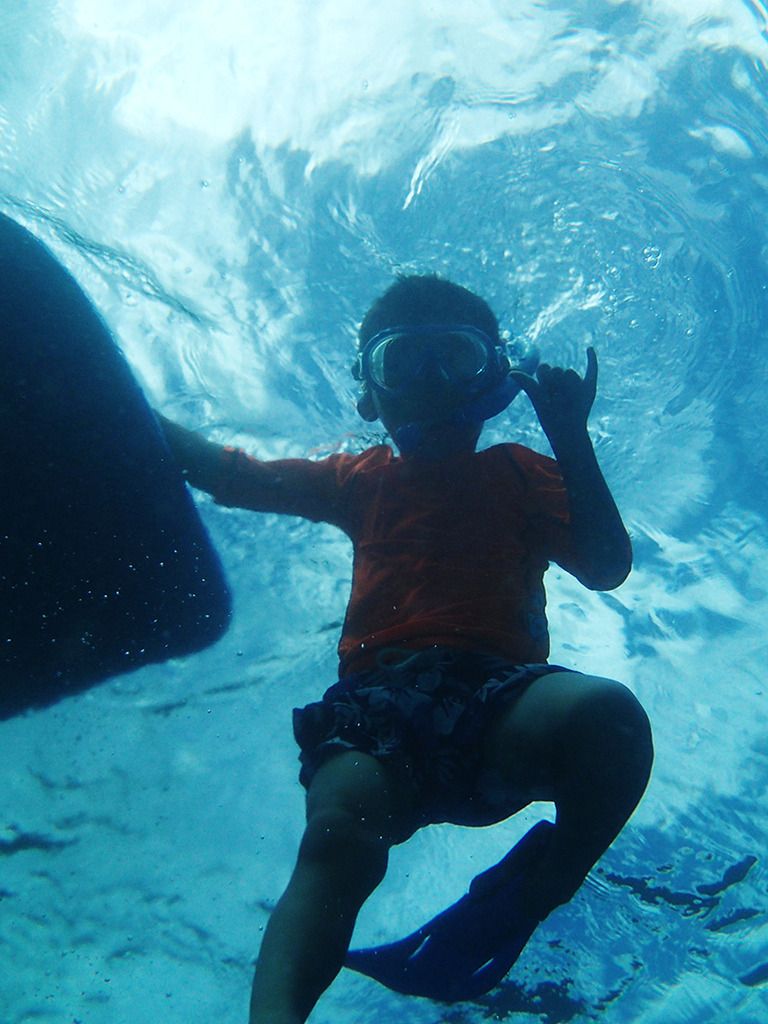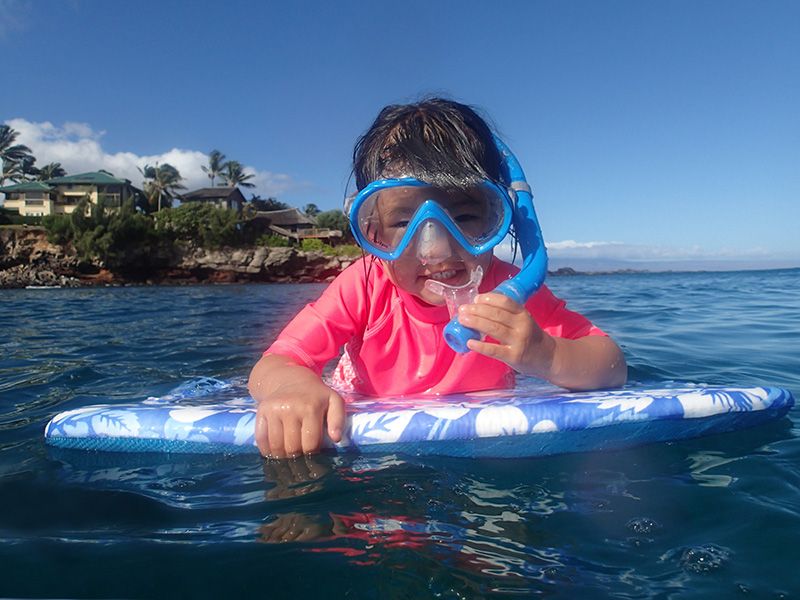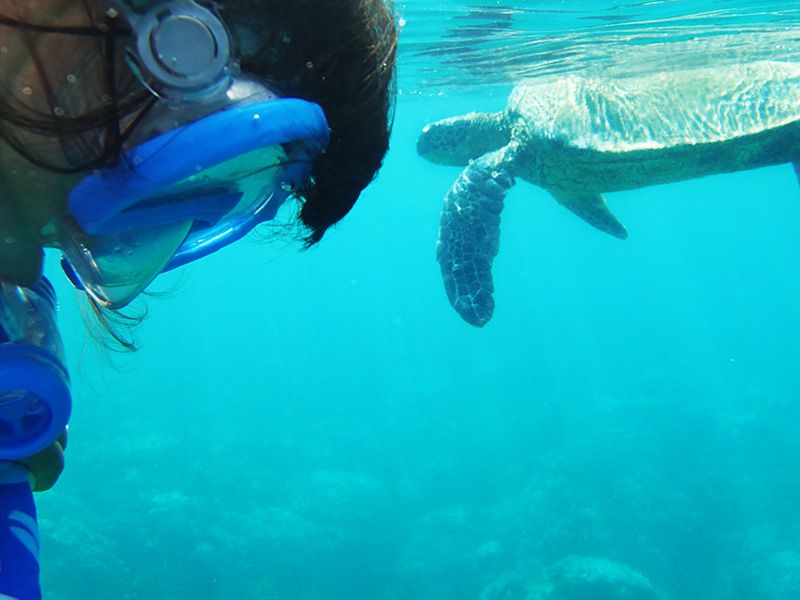 By day 4, they were ready to sleep in so I got the hall pass from the wife to go on a greylight solo session. I opted to go back to the rocks that I had got the tip from the valet that about around the corner from our first snorkeling spot. Since it had some deeper water, I figured I might be able to find some takers.
I was using a splasher and little pink/orange worm type lure I picked up on my last trip to the islands. This set up makes it pretty fun cuz you get to see the fish blow up on the lure. I was using 10lb. so I was anticipating a little trouble if I hooked into anything too big, especially with all the structure around. Well, I was right on that prediction. I got into some action pretty quick and got my first papio a couple casts in. I ended up with three decent papio around a 9", 12", and the biggest for the trip about 16". I had quite a few more hits throughout the session that didn't stick. I also got a lai (similar to a sierra mackerel), which I haven't hooked in over 30 years.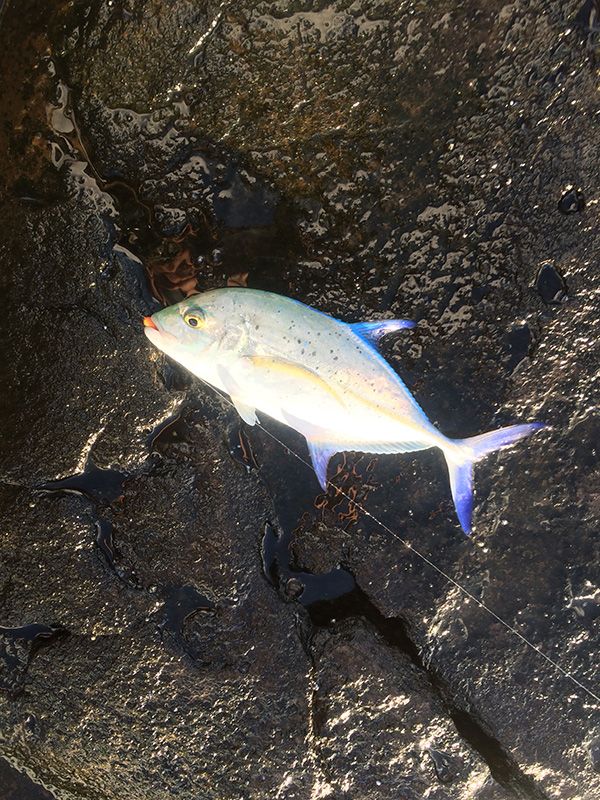 So, as I was about to wrap it up, I cast out and on about the third pop, I see a big explosion behind the bobber. The line starts screaming and I knew I was into a better fish. He takes a 50 yard run and I can feel the line starting to rub on the reef outside. I finally get him to stop and start working him in, boosting high and hard to get him out. I can feel the line still rubbing the rocks, but I'm still making progress. Finally I feel a hard pull as he dove for some rocks and I can feel the violent head thumps as he finally makes it to the rocks. POW!!! The 15lb. fluoro leader popped and as I reeled in, there was a good 20-30 feet above the bobber that was frayed as well. Would've loved to at least seen how big he was, but it's one of the common heartbreaks when you fish for these things in this type of structure...light line or not. I once watched my brother on a camping trip on the big island go 0 for 13 in one day with a long rod on GTs.
Day 5 was a bit of a let down cuz I got the "first cast" curse. I got the smallest papio of the trip and went on to cast for the next two hours with only one other good hit. Again, a nice fish with some decent drag pulls. Not quite the same class as the first biggun I lost but it woulda probably been top fish for the trip. The picture below shows the structure I was standing on and casting from. Not exactly the safest place to be standing with the slick rocks and water rushing over but it drops off at the edge with some deeper water. The fish took a dive at the last minute and cut me off on the rock edge as I tried to lift him over. The water got stained a bit so I figure that attributed to the lack of action for the morning. I tried switching to a kastmaster but only managed a trumpetfish for my effort.
First cast curse papio
Trumpetfish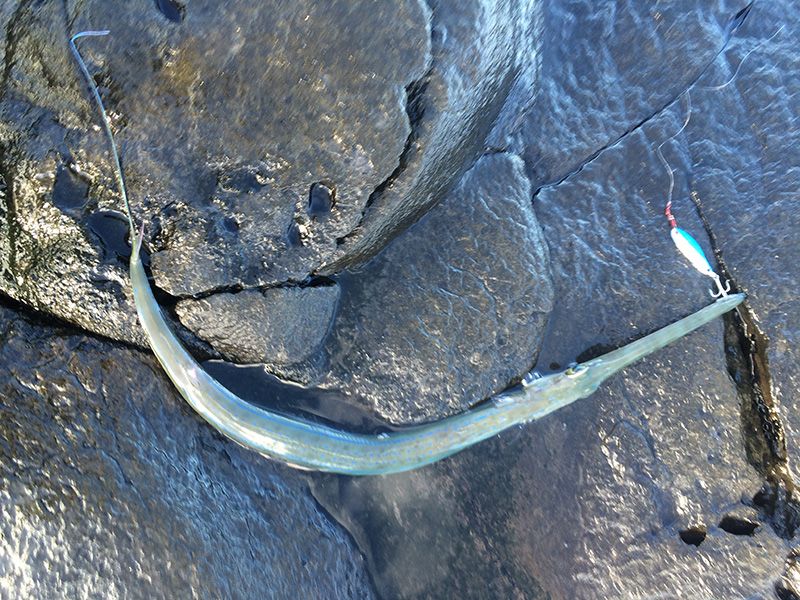 Rocks I was fishing from...yes, I ended up on my arse a couple times.
Day 6 was my best day out numbers wise. The water had cleaned up and I started with a couple of nice papio around 12" each. Then I got into a nice lai bite, hooking 6 and landing 5. All were around 12+" with the biggest going about 18". Each day, once about 7:30am hits, the winds start to pick up a bit and the bites died. So, I packed it in and headed back to the hotel. I tried to buy a morning hall pass before our 11:45am flight out the next day, but the boss wasn't having any of it since we had a couple errands to run before we took off.
Last papio for the trip
Another lai
Biggest lai of the trip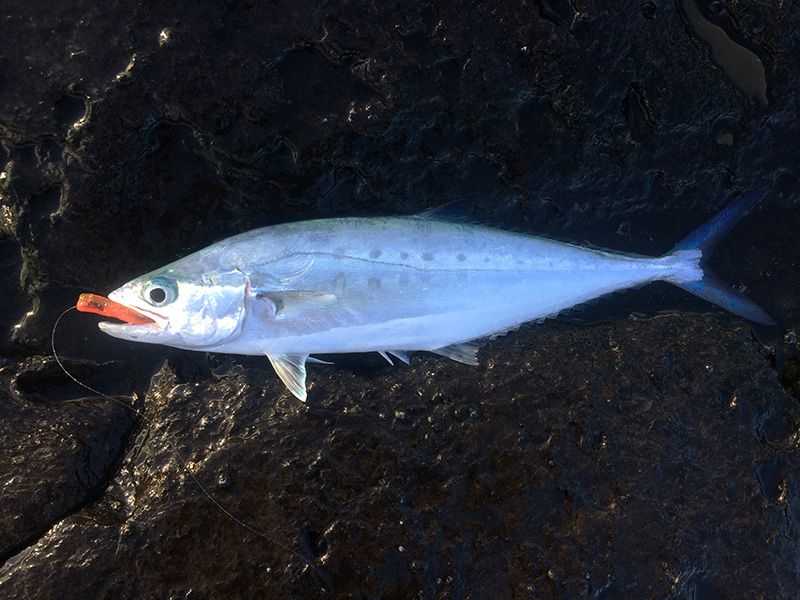 Token needlefish that got snagged. Kept seeing these guys chasing on the last day.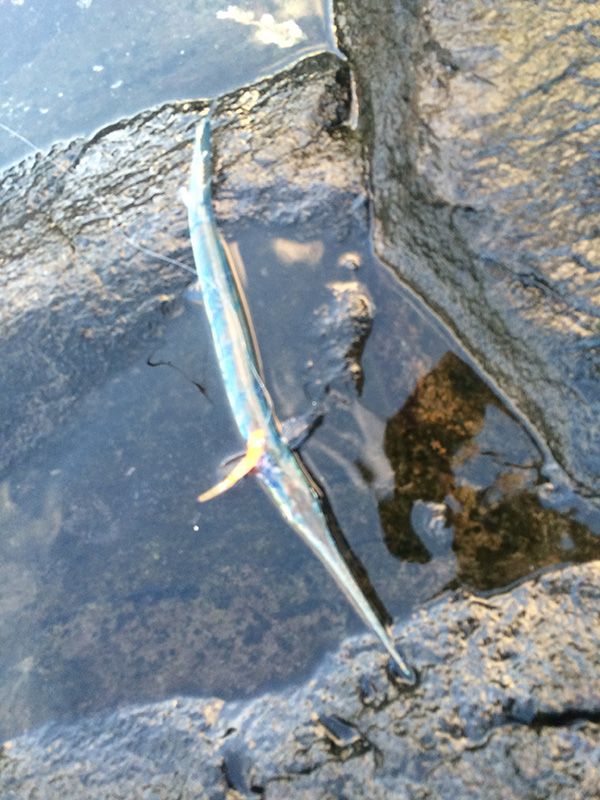 All in all, it was a really fun trip and we had a lot of fun spending time together. Here are some misc. shots of the trip. Hope you enjoyed the read!
Don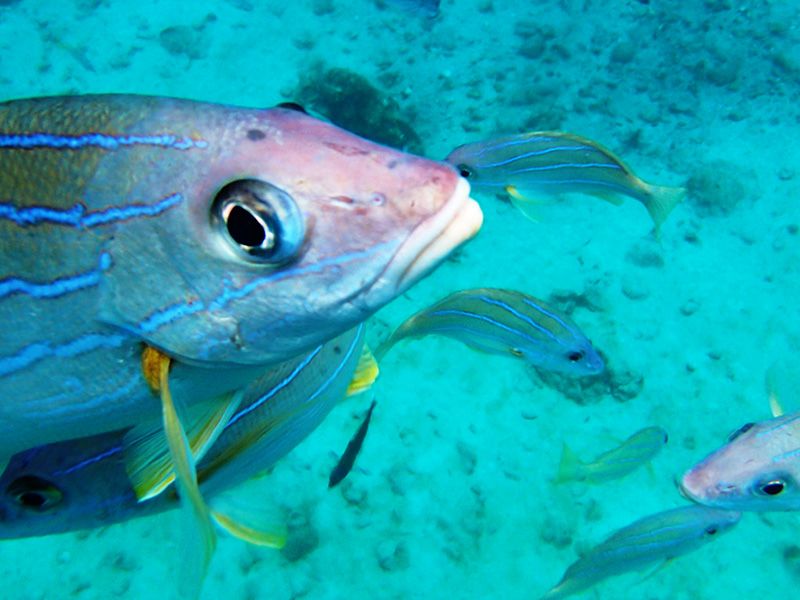 Ethan's first surfing lesson