Jul 26, 2022
6
17
28
Name

Connor Bos
Boat Name

The Lil' Lisa Ann
Pulling an Offshore Trolling Spread​
ONE THING THAT WE TRULY BELIEVE IN HERE AT SORD FISHING PRODUCTS IS THAT THE DETAILS MATTER.
WHENEVER WE HAVE LISTED A KEY DETAIL, WE HAVE UNDERLINE AND BOLDED IT.
WE ARE HYPER-FOCUSED ON MAKING SURE EVERY SINGLE DETAIL HAS BEEN COVERED AND WE FEEL THAT WHEN YOU FOCUS ON THE DETAILS, IT CAUSES YOU TO CATCH MORE FISH. THERE IS NOTHING WORSE FOR US THAN LOSING FISH DUE TO A HUMAN ERROR, SO WHEREVER POSSIBLE, WE HAVE INCLUDED SMALL DETAILS THAT HAVE BEEN LEARNED OVER TIME. THESE SMALL DETAILS WILL MAKE A HUGE DIFFERENCE BETWEEN A GOOD DAY ON THE WATER AND A GREAT DAY ON THE WATER.
WE UNDERSTAND THAT THERE ARE THOUSANDS OF DIFFERENT WAYS OF DOING THINGS, BUT THIS IS WHAT HAS WORKED FOR US.
WE WELCOME ANY COMMENTS AND DISCUSSION INTO MAKING IT BETTER.
THIS ARTICLE BUILDS ON TOP OF TWO ARTICLES THAT WE POSTED ABOUT IN AN EARLIER BLOG POSTS. YOU HAVE BOUGHT ALL YOUR GEAR, THE WEATHER LOOKS GREAT, YOU CHECKED OUT YOUR
HILTON'S REALTIME NAVIGATOR
SUBSCRIPTION AND YOU HAVE A GENERAL IDEA OF THE AREA THAT YOU WANT TO TROLL. IF YOU HAVE QUESTIONS ABOUT THOSE THINGS, CHECK OUT THE BELOW ARTICLES.
PULLING A SPREAD​
YOU BLASTED OFF LIKE A ROCKET AT 6:00AM AND NOW YOU PULL THE THROTTLES BACK SLOWLY TO IDLE AND YOUR CREW WAKES UP OUT OF THE BEAN BAGS AND EVERYONE TAKES A LEAK OFF THE SIDE OF THE BOAT. IT IS TIME TO PULL YOUR TROLLING SPREAD AND PUT A BOX OF PELAGIC FISH TOGETHER. THERE ARE TWO MAIN THINGS THAT GO INTO PUTTING THE PERFECT SPREAD IN THE WATER AND PUTTING SOME PELAGIC FISH IN THE BOX.
PRE-TRIP TO-DO AND CHECKLIST
PLANNING OUT YOUR SPREAD
DEPLOYING AND PULLING YOUR SPREAD
Pre-Trip To-Do and Checklists​
BELOW ARE THE FOUR THINGS THAT WE GO THROUGH WHILE WE ARE ON LAND BEFORE EVERY SINGLE TRIP. THEY HELP US GET OUR MIND RIGHT AND ENSURE THAT WE HAVE EVERYTHING THAT WE NEED FOR A SUCCESSFUL DAY OFFSHORE.
SETTING THE DRAGS ON YOUR TROLLING RODS
HOW MANY RODS WILL I RUN AND WHAT BAITS WILL I PULL?
PRE-TROLLING TRIP GEAR CHECKLIST
SETTING THE DRAGS ON YOUR TROLLING RODS​
WE HAVE LEARNED THROUGH LOSING MANY FISH THAT
THE DRAG SETTINGS ON YOUR REELS CAN MAKE OR BREAK YOUR DAY
. IF YOU HAVE TOO MUCH DRAG WHILE TROLLING, THEN THE FISH WILL GET THE HOOK RIPPED RIGHT OUT OF THEIR MOUTHS. IF YOU HAVE TOO LIGHT OF DRAG, THEN THE HOOK WILL NOT SET PROPERLY, AND YOU WILL HAVE THE FEELING THAT YOU ARE FISHING WITH RUBBER HOOKS. WE HAD A DAY OUT THERE WHERE WE WERE GETTING BITES EVERY 20 MINUTES ON A NICE RIP, ONLY TO HAVE THE LINE ZZZZZ OFF THE REEL FOR 5-10 SECONDS THEN COME BACK IN WITH AN EMPTY HOOK. IT WAS A TELL-TALE SIGN THAT OUR DRAGS WERE NOT SET RIGHT AND ONE OF THE MOST FRUSTRATING THINGS ON EARTH. WE TAKE 30 MINUTES OR SO TO MEASURE OUT OUR DRAGS BEFORE EACH TROLLING TRIP BY PULLING THE LINE OFF THE ROD TIP WITH A DIGITAL SCALE ATTACHED TO THE END OF THE LINE. WE WILL NOT COVER HOW TO DO THIS IN DEPTH, SINCE IT HAS BEEN COVERED IN
MANY ARTICLES
.
WE MAKE SURE TO MARK OUT 12, 15, AND 20 POUNDS OF DRAG WITH A SHARPIE ON A PIECE OF PAINTER'S TAPE THAT HAS BEEN STUCK NEAR THE DRAG KNOB. WHEN WE DEPLOY OUR BAITS, THE STRIKE IS SET BETWEEN 12-15 POUNDS OF DRAG.
IF YOU DO NOT HAVE ACCESS TO A DIGITAL SCALE OF SOME SORT, OUR RULE OF THUMB IS THAT AT 'STRIKE' YOU SHOULD BE ABLE TO WRAP THE LINE AROUND YOUR HAND AND IT SHOULD BE DIFFICULT, BUT NOT IMPOSSIBLE TO PULL OUT SOME LINE FROM THE REEL.
TROLLING ROD QUANTITY AND BAITS​
IT DOES NOT MATTER HOW MANY RODS THAT YOU PUT OUT IN YOUR SPREAD IF YOU CANNOT MANAGE EVERY LINE WHENEVER A FISH HITS A BAIT.
EVEN SOME OF THE MOST PRESTIGIOUS SPORT FISHING CREWS WILL KEEP THE NUMBER OF LINES DOWN TO HOW MANY THEY KNOW THEY CAN ACTIVELY MANAGE. WE RECOMMEND FOR BEGINNERS TO START OUT WITH 4 LINES PULLING A VARIETY OF BAITS AND THEN WORK YOUR WAY UP AS YOU AND YOUR CREW BECOME MORE EXPERIENCED.
THE FOUR BAITS THAT WE RECOMMEND FOR THESE FOUR LINES ARE:
BIG AZZ LURE
DEEP DIVING PLUG
SMALL BULLET LURE
SMALL SLANT-FACED LURE
WE HAVE OUTLINED THESE LURES IN OUR TROLLING GEAR TO-BUY ARTICLE AND TO PLAY IT SAFE, IT IS GOOD TO GO OFFSHORE WITH AT THE VERY LEAST ONE SPARE OF EACH KIND OF LURE. ONE TRIP WE WERE OUT THERE, THE MAHI WERE ABSOLUTELY HOMED IN ON A SMALL CUP-FACED LURE THAT WE RAN OFF OF OUR LEFT OUTRIGGER… WELL MR. WAHOO DECIDED THAT WAS HIS FAVORITE ONE TOO AND TOOK IT WITH HIM. WE DID NOT HAVE ANOTHER SPARE OF THAT LURE AND THE BITE DIED DOWN.
PRE-TROLLING TRIP GEAR CHECKLIST​
(4) TROLLING SETUPS
(8) BALL-BEARING SNAP SWIVELS TO ATTACH YOUR LURES
(8) LURES (4 MAIN LURES WITH A BACKUP OF EACH READY TO GO)
(2) GAFFS
(2) SPINNING RODS RIGGED WITH A JIG AND SOFT PLASTIC IN CASE YOU FIND FLOATING DEBRIS WITH FISH
(1) STANDUP FISHING HARNESS (IN THE EVENT YOU HOOK A BIG ENOUGH FISH THAT YOU ARE IN FOR A FIGHT WITH)
COORDINATES TO WHERE YOU ARE GOING TO FISH
Planning Out Your Spread​
WHEN WE FIRST GOT STARTED WITH BLUE WATER TROLLING, WE WOULD DRAW OUT WHAT OUR SPREAD WOULD LOOK LIKE BEFORE WE TOOK OFF FOR THE TRIP.
IT HELPS TO VISUALIZE THIS OUT
AND ALLOW YOUR CREW TO VISUALIZE IT AS WELL, SO THAT WHEN YOU GET ON THE WATER EVERYONE HAS A GOOD IDEA OF WHERE THE BAITS SHOULD BE AS THEY ARE PUTTING THEM IN THE WATER. HERE IS OUR OUTLINE OF WHERE BAITS WILL GO IN THIS 4-ROD SPREAD.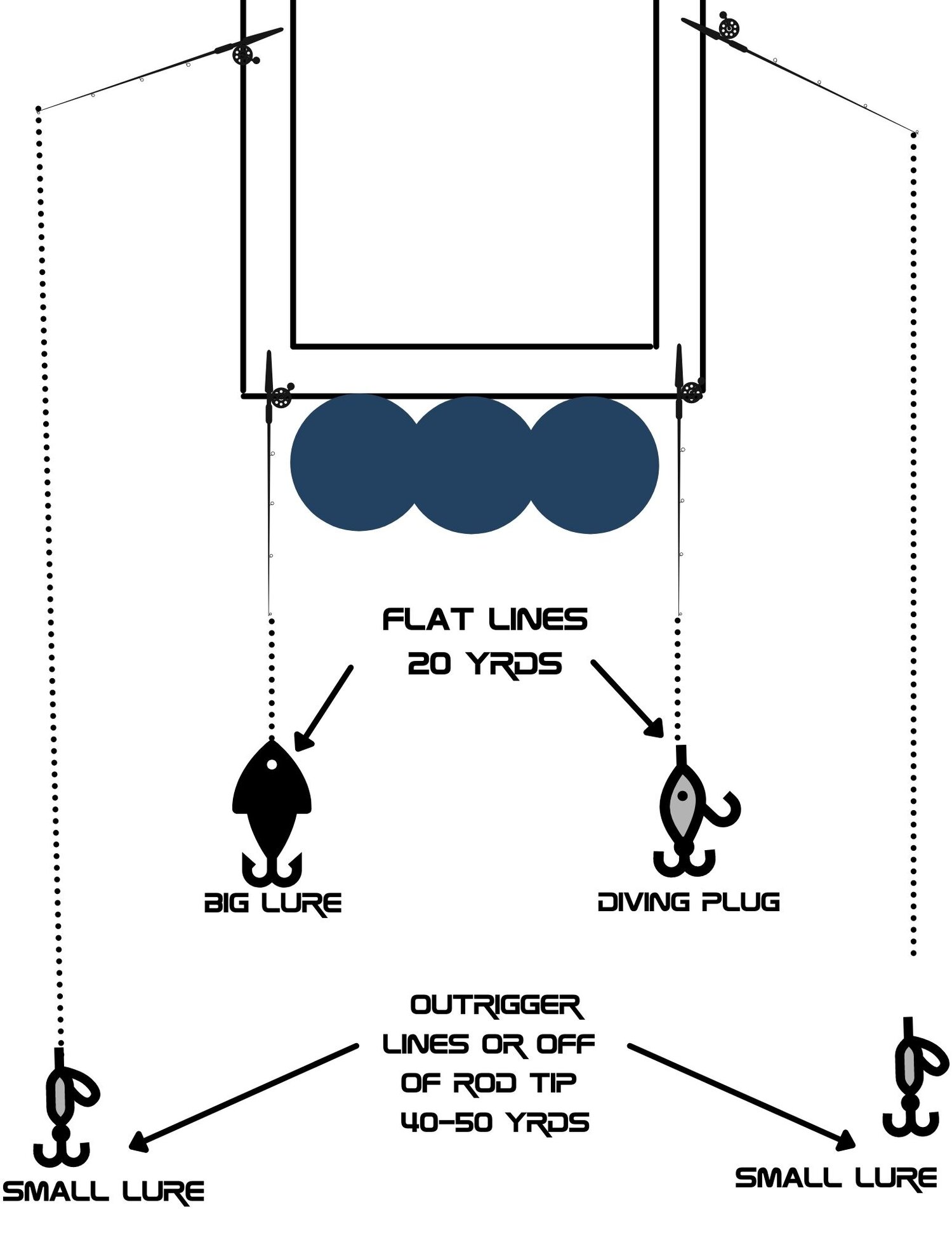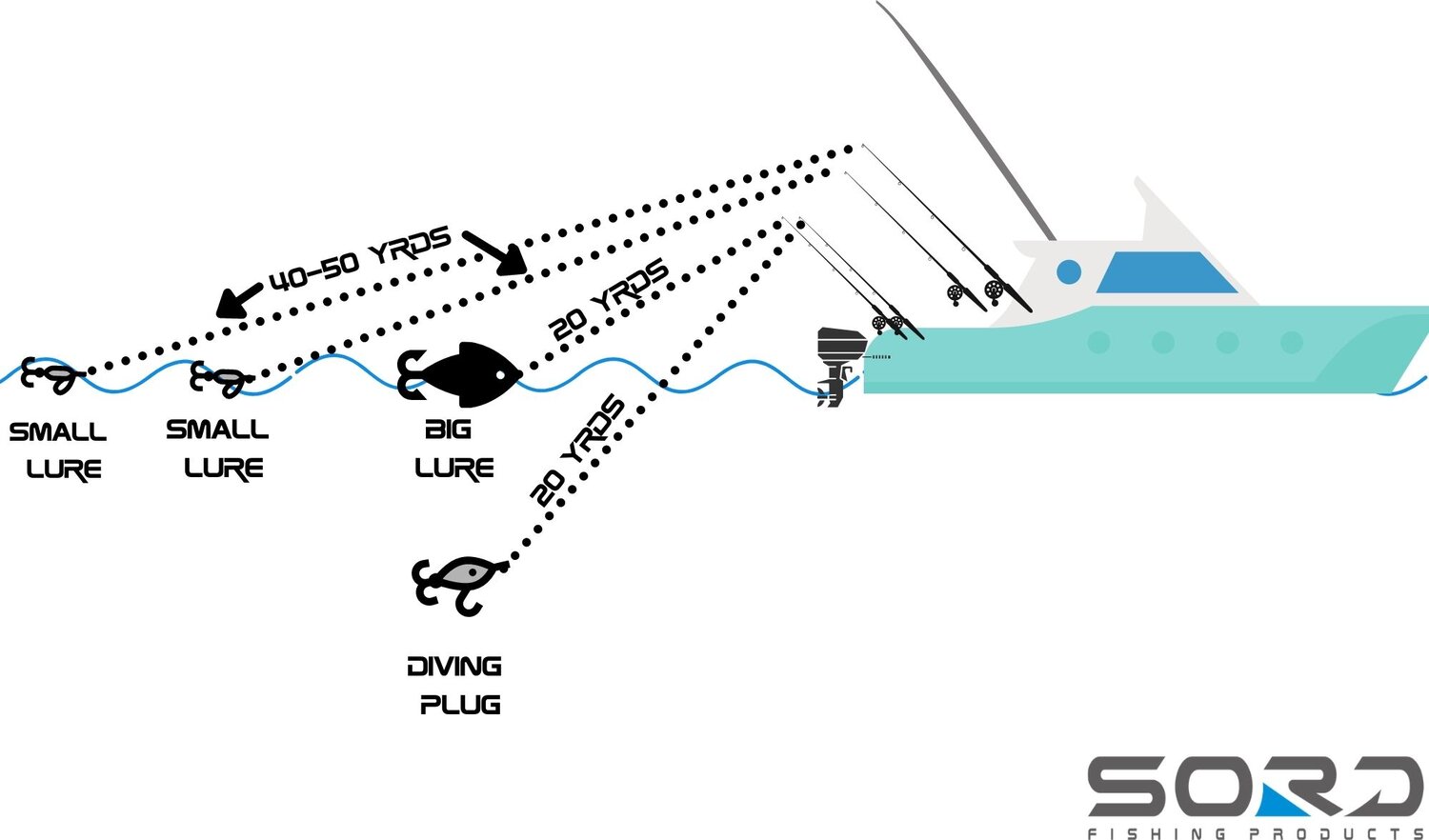 Pulling the Spread​
PUT THE BOAT INTO GEAR AROUND
6-7 KNOTS OR 7-8 MPH
AND START LETTING THE LONGEST LINES OUT FIRST, THEN THE SHORT LINES. ONCE THE LINES ARE OUT, MAKE SURE TO MONITOR YOUR SPEED BASED ON CURRENT, WIND, AND OTHER FACTORS AND ADJUST THE SPEED NECESSARY TO KEEP THE BOAT IN THE RANGES ABOVE. ONCE ALL LOOKS GOOD, MAKE SURE TO SET YOUR DRAG KNOBS IN THE 12-15LB RANGE, AND
THAT ALL THE CLICKERS FOR THE REELS HAVE BEEN TURNED ON
. THE LAST THING YOU WANT IS FOR A BIG FISH TO HIT A LURE AND NO ONE NOTICE IT UNTIL IT IS TOO LATE.
TAKE A LOOK BACK AND MAKE SURE THAT THE LURES ARE NOT SKIPPING, SPINNING, OR OTHERWISE ACTING IN A MANNER THAT DOES NOT LOOK NATURAL.
IF THE LURE LOOKS LIKE IT IS DOING SOMETHING WEIRD, LET IT BACK A LITTLE FURTHER IN THE SPREAD AND SEE IF IT HELPS. IT IS IMPORTANT TO NOTE THAT A FEW DIFFERENT LURES WILL "POP" AND SURFACE ON TOP OF THE WATER AND THEN HEAD BACK DOWN A FEW INCHES UNDER THE SURFACE. THIS IS COMPLETELY NORMAL AND NOTHING TO WORRY ABOUT.
IF YOU ARE TROLLING ALONG A NICE BLUE/GREEN RIP WITH LOTS OF SARGASSUM GRASS, IT IS GREAT TO STAY ON THE CLEAN SIDE OF THE RIP AND MAKE IT SO THAT YOUR OUTER-MOST BAITS ARE BEING PULLED ANYWHERE FROM 5-10 FEET FROM THE FLOATING GRASS. YOU SHOULD WORK YOUR WAY UP THE GRASS LINE AS FAR AS YOU CAN TRAVEL WHERE THE GRASS IS STILL PUSHED TOGETHER WELL AND FORMS A DISTINCT LINE.
IF THE GRASS IS THICKER FOR A HALF MILE OF THE LINE AND A LOT OF BAIT IS HOLDING THERE, WE WILL CONTINUALLY DO LAPS UP AND DOWN THAT PART OF THE LINE.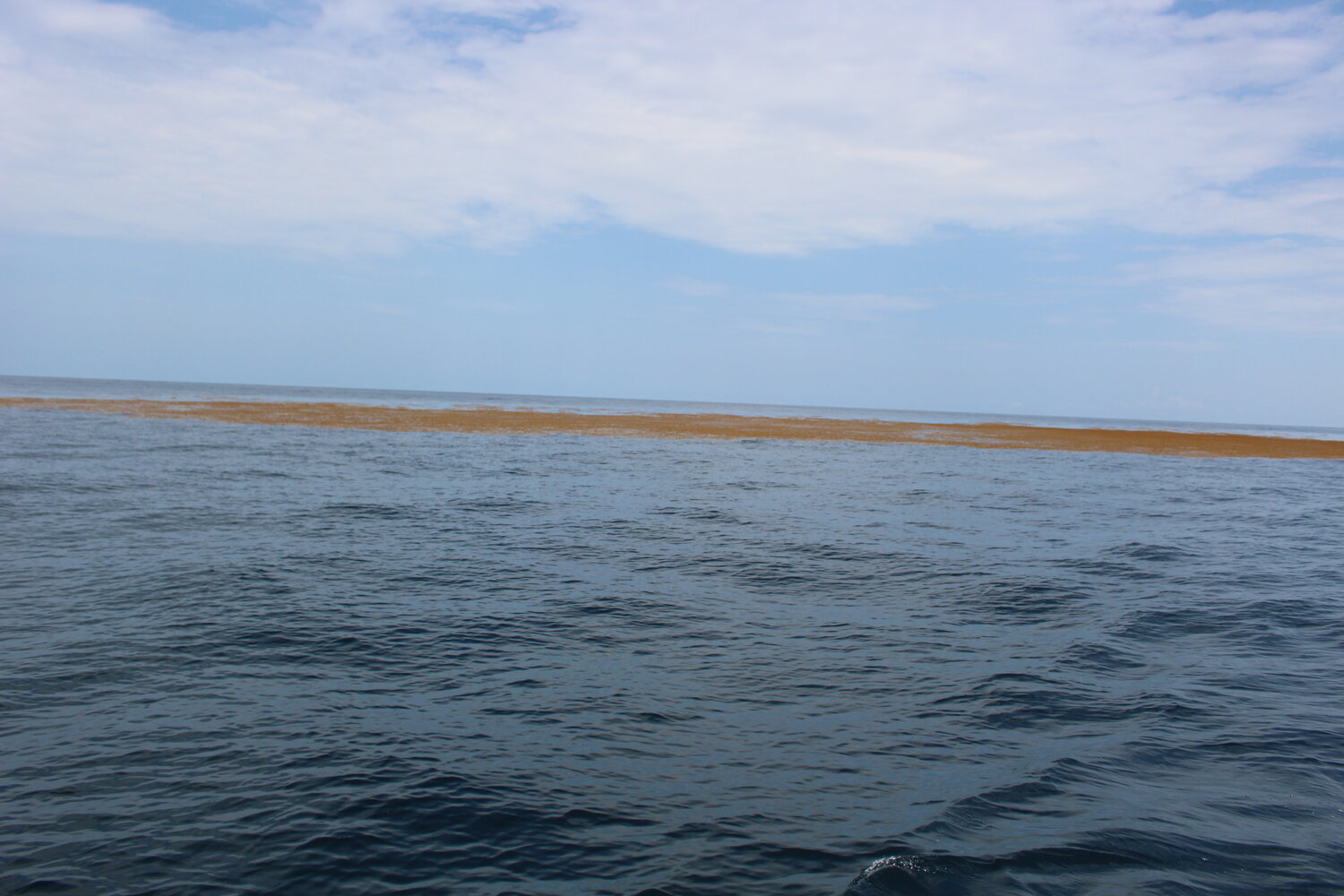 NOW GET OUT THERE AND PULL YOUR SPREAD TO PUT SOME FISH IN THE BOAT!​