May 22, 2003
1,005
1,061
Name

Halibut Howie
Boat

2004 Sailfish 2100 Bay Boat and 1987 Cabo216
First mate had other things to do so headed out solo to improve upon my technique to catch lingcod using a trolling motor. Needed bait so made up some chum, tuna fish in oil, oatmeal and veg. oil. Tried the bait barge for nil so headed out into the Pt. Loma kelp, around an area I've caught lings in the past, I found a few macs but they we big, 10" and up.
My new method to find these elusive fighters is to look around for structure in the 85' depth area that has some short kelp growing from the rocky structure. I spot lock the trolling motor over the hole and drop a big mac down and wait. While I'm opening a beer with the rod in a holder, the reel screams into action. I immediately release the drag and let the fish run. Then it stops and I let it chew on the large mac for 30 seconds or so. Then tighten the drag down, put it in gear and give it a mighty pull. Up comes a ling fighting for its life. But he lets go and I have a mac with teeth makes up to the gills. I hooked the mac through the lips. I did this in many areas around the ling area about the size of a football field and enticed 3-4 more tug-of-wars with some major size lings.
Finally I wise up and hook the macs back behind the dorsal fin. Next bite I let the ling eat it for over a minute in spotlock ( you can only do this while anchored for obvious reasons). Then set the hook and now i have a fish hooked. My setup is 25 lb test, 6 oz weight, no hardware, dropper loop 4' about weight with 7/0 Owner circle hook. This presents the bait above the small kelp. Initially the weight gets caught in the kelp, it breaks off after a few mighty pulls and up comes an angry 30" lingcod fighting all the way up.
By this time I only have the giant macs left, I have dinner, so I left at 0930 to catch the British Open on TV. I had lingcod bites everywhere I spotlocked. If no bites I'd take it out of spotlock and let the wind push me over the area. When I'd get a bite, I would engage spotlock and let the ling chew on my huge mac for awhile. Seemed to work today. However, tomorrow is another story.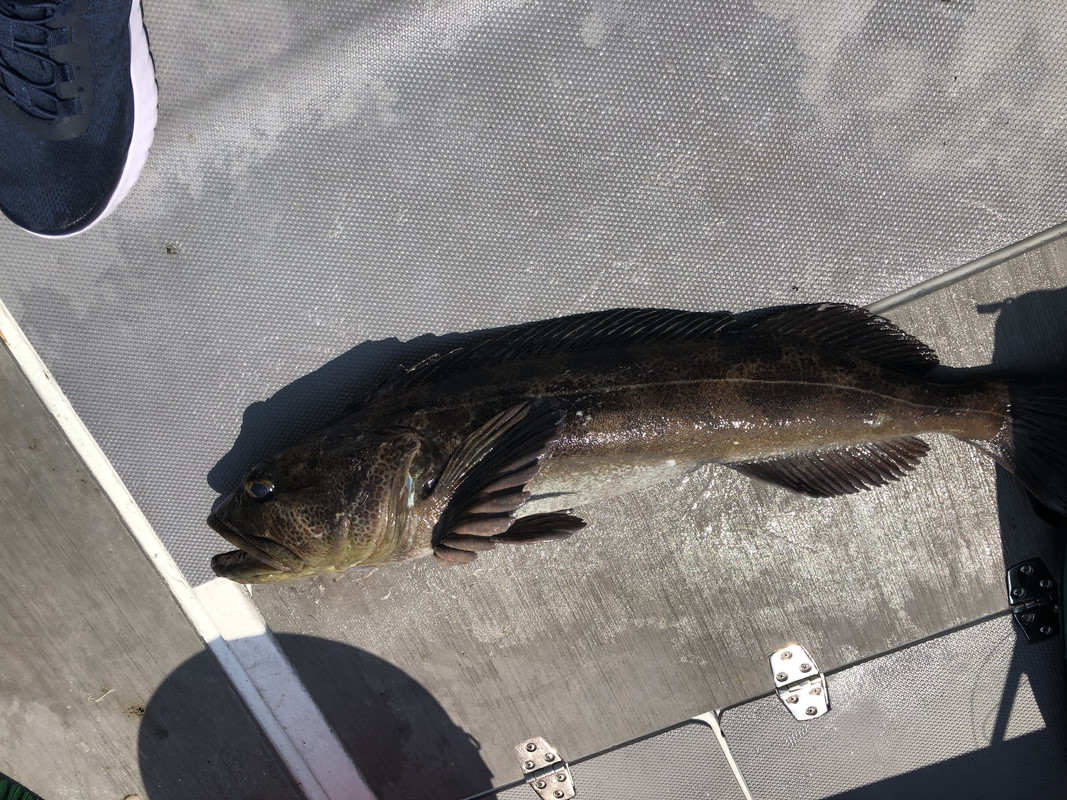 Last edited: