May 11, 2011
975
566
Name

Gary Graham
Boat

Watercloset
Baja Bytes Conditions Recap
Friday, August 1, 2014
Gary Graham​
Que Pasa
The Mexican moonfish (lookdown) and bonefish caught this week at San Quintin served to underline how bizarre the season is along Baja Norte's west coast. Those, coupled with Shari Bondy's report of warm water at Ascension Bay, only add fuel to the rumor of wahoo and marlin hanging all along that stretch of the coastline.
Coronado Islands
The yellowtail action continues to be very good. South Kelp and SKR are hot spots to look at but there are yellows all over the Islands right now.
Most are in the 6- to 10-pound class but some of the 22- to 26-pound yellows are still showing every day.
Trolling Green Mackerel X-Raps is working great!! Slow trolling mackerel is working great as well. Sea lions are a major problem right now and it pays to stay mobile. For those who want barracuda, focus on the Ribbon Kelp and South Kelp.
The Mexican Navy has been boarding boats at the Islands lately so if you come here make
sure
you have an FMM, a fishing permit, and a photo ID
for every person on board
. They may or may not require a passport. If you have one BRING IT. If you don't, GET ONE. Also be sure
not to have any bluefin tuna onboard
!!…
www.fishdope.com

Ensenada
photo courtesy of It's 4 Reels Ensenada Sportfishing Charters.
The yellowfin tuna bite is providing limits for the anglers from California and Baja. The "
Reel Adventure"
found excellent fishing at the tuna pens a few miles outside the island. Also the 238 and 395 Banks are holding lots of yellowfin tuna. The
"Reel Adventure"
scored 15 yellowfin tuna between 25 and 45 pounds and in 70 degree water trolling natural-colored cedar plugs.
"Papa Loco"
caught the same amount of fish in the same area along with many other private and charter boats enjoying beautiful weather and a flat ocean. Local charter boats are reporting yellowtail at the Todos Santos.
San Quintin
Mr. Petteroff showed up just in time for the bite…
Captain Juan
Skiff fishing out front with Captain Oscar.
Cedros Island
Stuart Heald sent us this photo with their 'catch of the morning' just yesterday.
The groups fishing with us during the last few weeks are thrilled with the amount and quality of yellowtail, and lately the calicos, which were absent or not hungry from the regular fishing grounds near the island.
For instance, a couple of days ago a couple of our anglers were able to get almost 100 calicos in their last afternoon with us. Extremely happy guys!
On the yellowtail front, limits have been reached in the morning for some, averaging in the 20-pound range, with a few exceptions in the 30's and 40's. The bait is coming back slowly, but some mention that the bite is evenly live bait and jigs with preferred blue on white 6x. The best spots for the yellowtail are next to the salt town and also at Punta Prieta Bank.
Also worth mentioning is the common appearance of white seabass in the scene with one or two for every group. Weather is magnificent in the 70s at night and the high 80s during the day with mostly sunny skies. We are expecting this trend to continue until the end of the season, and maybe visiting by some dorado and some tuna species.
Bonito has been seen in giant schools on the plane outside Punta Norte, but too far for our pangas to reach regularly. What is becoming more popular is our chartered planes from Brown Field in San Diego straight to Cedros (a stop in San Felipe for customs) allowing our guests to fish by noon…
Jose Angel Sanchez-Pacheco
Bahia Asuncion
The bass are boilin' in front of the Inn! Juan and Juanito brought home the bacon....er, bass, for ceviche today from right in front of our place!
We experienced September heat and weather in July this year with water temps nearly 20 degrees warmer than usual this time of year which is rather alarming for the abalone industry here as warm water kills all the kelp that they feed on.
The ocean temp here is over 75 degrees...terrific for swimming, surfing and fishing. The yellowtail are present and this week Capt. Juan Arce targeted calico bass which were boiling right in front of our Inn.
Shore fishing is producing yellowfin croaker and halibut as well.
Our local surf club, Los Jurjos, is hosting the annual Torneo de Surf at Los Choros Beach on August 8 and 9 and everyone is welcome to attend and participate in a variety of categories.…
Shari Bondy
Loreto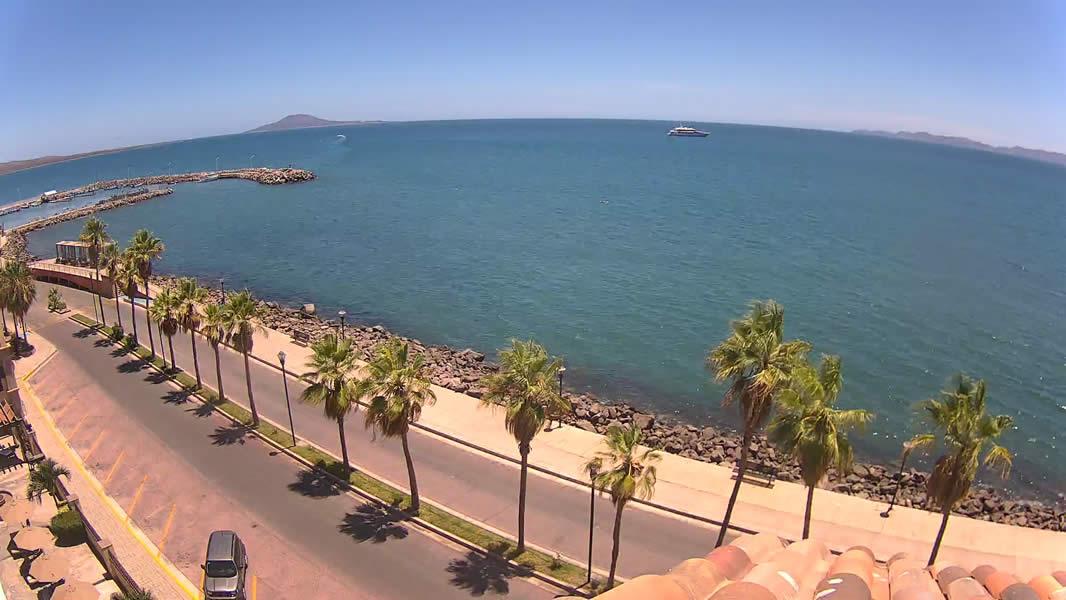 I'm posting some photos of the fishing at Loreto from last week between storms; the dorado fishing is starting to improve…
Pam Bolles, Baja Big Fish Company
I was having a conversation with a couple of fishermen who came up from La Paz to do a few days of fishing with us.
After a day of picking at the tiny to medium-sized dorado, they were commenting how high the water temperature was.
Summertime water temperatures, at least the surface temps, historically run in the upper 80s. This past week we were seeing 86 to 88 degrees...they claimed that we are 6 to 8 degrees warmer than La Paz.
Shallow bays and downwind pockets can even hit 90… are we really having hotter water than La Paz and the East Cape?
Any comments from our 'down south' fishing enthusiasts would be appreciated !
After last week's mini typhoon, I have been watching the satellite weather images more closely. What we had happen was so fast there was no way to know in advance. I have seen some similar systems pop up out of nowhere and disappear within half an hour.
Last week's sudden wind storm did push a few sail boats onto the rocks … one at Coronado Island and one down south at Carmen. We even found a stray dingy floating out near the "Sailfish" high spot that had blown up from a La Paz yacht.
As far as the fishing goes, it has been for the most part unchanged.
Bait has been for sale and easy to catch not far from Loreto's Harbor. Mackerel with a few bigeyes mixed in will improve the odds.
One complaint we have been hearing from the captains is that half the mackerel are too big for this week's average-sized dorado to swallow. Yes, we are continuing to see many of the dorado caught being under 36 inches.
One big change is the west side of Coronado Island (the "funnel") is coming back to life. We did a quick "leaving on the afternoon flight" fishing trip this past Wednesday for one of our regular clients and only got as far as the "funnel." Maybe an important factor was the sea was smooth as glass and we could see every little ripple. Boiling bonito, dorsal fins of dorado and even a small hammerhead shark. Lucky for us we only hooked into the dorado. By 9:30 we headed back to town and had five dorado on ice and three released.
A trip on the south side of Carmen Island dragged live mackerel across the noses of three sailfish and got completely ignored. No hookups on feathers although they did watch a greyhounding 45-pound dorado doing the "flying fish dogfight."
Is the hot water affecting the fish catching or is it that we can't use the "full moon" theory this week?
(Yeah, the water AND the sun are hot, but bring the swim suit and we'll bring the snorkel gear...stop on the way in and swim at Coronado, we do it frequently with our clients.
..and especially for the next six weeks...it's that time when Loreto fills up with the Italian vacationers and those European-style bikinis might be something unchecked on your bucket list)…
Rick Hill /Pinchy Sportfishing
La Paz
Steve Long with his first catch-and-release pez gallo!
Our anglers who fished Las Arenas ran into more of those school-sized dorado. They sometimes pesky fish are 5-15 pounds with the average being about 8 pounds. Lots of fun on light tackle and surface jigs. Have had several groups of anglers out there with bass rigs and spinning rods having way too much fun. Some larger fish in the 20-25 pound class but not that many.
One of the nice surprises this week were the rooster fish. We hadn't had that many roosters lately either because they've moved on or simply we haven't had that many folks chasing them. They're exotic and a much sought-after gamefish, but they don't taste good so if you're looking for something to put on the plate, it doesn't make too much sense for many anglers.
However, we had a number of folks take a shot at them this week coming back with 20-50 pound fish caught-and-released after nice photos.
Randy Payne from Sacramento area with a huge bull taken near El Rosario near La Paz on a live caballito with Tailhunters Sportfishing. His largest!
Our most solid fishing again. Fish can be surprisingly close to shore and literally in the bay. If you're looking for school-sized fish, one of our anglers said, "We could still see the hotel and Tailhunter Restaurant from where we were fishing all day. Every cast was a biter!" Again, great fun on light tackle and line.
Larger fish were found closer to Espirito Santo Island and around the corner in front of Las Cruces and El Rosario where the fish would be in the 30-40 pound class. As well, schools of jack crevalle would be found that really busted up some happy fishermen and put the hurt on some rods.
There are also some good numbers of billfish. A majority of our hook ups on marlin and sails this week occurred right where the small dorado schools were located probably because the billfish are feeding on the smaller dorado
.…Jonathan Roldan, tailhunter-international.com
Todos Santos
East Cape
http://www.weatherlink.com/user/losbarilles/
Fishing for four days on the
Yanet
with Felipe, Bill Bennett and buddy, Lou Dieters from Santa Clarita; fished offshore one day but spent the rest of their time closer in with the pack...Felipe Valdez, Hotel Buenavista Beach Resort
Our weather has turned very hot and humid with water temperatures ranging from 85 to 88 degrees. The warm water certainly has not hurt the fishing.
This week yellowfin tuna have made the best showing of the season. After a couple of week's lull, it is WFO for boats choosing to go the distance. Fish have been on porpoise schools from 25 to 50 miles off shore. Yikes! 50 miles off shore is half way across the pond. The tuna have been good grade with very few dinks in the mix. Blue marlin, sailfish, roosterfish and an odd wahoo are also providing good action closer to shore…
Mark Rayor
San Jose del Cabo
No source for sardina this past week; very limited-sized schools of these baitfish were found in local waters. Anglers have been using ballyhoo and a mix of live moonfish and caballito. Some anglers are bringing slabs of squid purchased from local super markets as an additional option for trying to entice the yellowfin tuna. There have been plentiful skipjack and some bolito on the fishing grounds, which are commonly used as bait during the summer months. Anglers found a mix of species, most common catch were dorado, with average sizes ranging 5 to 15 pounds with a handful of much larger bulls caught, including at least one reported 50-pound fish. The dorado were striking on about any type of medium-sized lure or baitfish, once the schools were located.
Yellowfin tuna action slowed way down from the previous week when live sardina were found north near Los Frailes. This week numbers of the yellowfin were limited, some football-sized fish between Iman and San Luis Banks and a handful of tuna to 40 pounds north of Vinorama, hitting on limited sources of sardina, dead or alive; Also skipjack used for chunk bait worked for some people. Mid week there were reports of yellowfin tuna found traveling with large porpoise pods off of Chileno to straight outside of San Jose Del Cabo; these fish were in the 10- to 50-pound class.
Action for billfish, mostly striped marlin, though also sailfish and blue marlin, were lurking, as well as possibilities of a black marlin.
A few more wahoo from the offshore grounds, were hitting the docks this past week; From 10-plus miles out, to inshore areas such as Iman, La Fortuna to Vinorama has produced wahoo to 50 pounds recently, striking on rigged ballyhoo as well as rapalas.
Not much bottom action now … a few bonito, various snappers (pargo), an occasional cabrilla. Swift current on some days made this option that much more challenging.
Only limited inshore action for roosterfish … these prized fighting jacks are still in the area though, a couple of fifty-pound specimens were reportedly landed and released in recent days…
Eric Brictson, Gordo Banks Pangas
Los Cabos


The area south of Cabo San Lucas has been the most productive billfish area for the past 3 weeks or more and it continues to provide the best billfish opportunities. This area south of Cabo known as the Herradura has produced blue marlin, striped marlin, sailfish, yellowfin tuna, skipjack tuna and dorado.

Cabo Climate: Partly cloudy days and cloudy through the weekend. Temperatures varied between 80 nighttime to 95 daytime highs.

Sea Conditions: Overall, very good fishing conditions for the past week with excellent sea temps and clarity through the area and on both sides of the peninsula. Pacific side, from Finger bank to Cabo Falso, temps ranged at 84 to 85 degrees. Cabo San Lucas to Gorda Banks and into the Sea of Cortez, the temps were stable at 86 to 87 degrees. Surface breezes were calm to 10 mph and flowing mostly from the southeast directions.

Best Fishing Area: The Herradura area, just southerly from Cabo about 12 miles or so.

Best Bait/Lure: Artificials were about 50/50 for the blue marlin along with rigged baits. Sailfish and stripers best on live baits and rigged baits.

Live Bait Supply: Remained plentiful throughout the week at the $3.00 per bait rate. Many of the boats were using the dead caballito to rig for trolling baits for the billfish and dorado.…Larry Edwards, Cortez Charters