May 11, 2011
975
566
Name

Gary Graham
Boat

Watercloset
Baja Bytes Weekly Overview
Friday, November 27, 2015
Gary Graham
​
Que Pas
Baja California just started its first artificial reef about 30 miles south of the border, off the coast near Rosarito, with the sinking of an old Navy patrol boat. The sunken Uribe 121 is meant to lure tourists to the Rosarito area during off-peak seasons, from fall through spring, when conditions for Baja California scuba diving are best because of clear visibility and warmer water.
"We want tourism sites of high cultural and economic value, to benefit our residents," said Baja California Governor Francisco Vega, who attended the sinking event on Saturday alongside other Mexican officials.
The ship now resrs in the Pacific Ocean, about 90 feet deep. In the coming months, a natural marine habitat will form in and around it, a new dwelling for plankton, algae, fish, other crevice-seeking sea creatures and their predators. The Uribe 121 sinking is the first step toward creating a large Rosarito Marine Park, with underwater sculptures and a ship graveyard that will include three more vessels, officials commented.
Coronado Islands
Small craft warnings recently.
Ensenada
Yellowtail action continues as the weather dazzles at Salsipuedes and Isla Todos Santos.
"Reel Adventure,"
attempting to set a new record, has managed to score on yellowtail for a number of simultaneous weeks in a row. Other boats, fishing south of Ensenada close to shore along the kelp beds, have reported good calico bass fishing as well as good bottom fishing.
"Pez Finder"
also caught several yellows and one Mako shark that had an estimated weight of 135 pounds by measurement formula. They found the toothy critter eight miles northwest of Todos Santos Island and they caught it eight miles northwest of the island.
San Quintín
Limits of yellowtail (25) for his crew. Fish were on the reefs in 150- to 200- of water with the 7xJr doing the job. Weather is epic. …Captain George Catian
Captain Juan seconds the report with one of his own…
http://www.bdoutdoors.com/forums/threads/fishinggoodinsanquintin.611729/#post-3980496
Bahía de Los Ángeles
While wind and even a bit of rain did slow the action recently, as the weather improved, it changed all of that. A few boats fishing found some large spotted bay bass while fishing in 300 feet of water. Then, fishing even deeper, they found some mossback yellowtail in the 30- to 40-pound class.
Bahía Ascensión
This week's fly-in group from San Diego had a great time here in Bahia Asuncion. Apart from three days of excellent fishing, they had a lot of fun in town -- especially at Restaurant Bar Keyko. They filled the two planes with fish . . . nine different species and lots of nice big yellowtail! …Shari Bondy
La Bocana
Wahoo and tuna by sea and snook in the estuary.
Abreojos
Cesare Calor from Surinam with
Fish Finder
caught a nice broomtail grouper south of Abreojos this week on my new Sea Vee 37 Z on a Tac 16 II and a live at sand bass…Julio Mesa Fishco Pesca Deportiva
The following was inadvertently cut in the editing of the report.
Broomtail Grouper was released after it was measured for a pending all tackle length International Game Fish Association world record claim.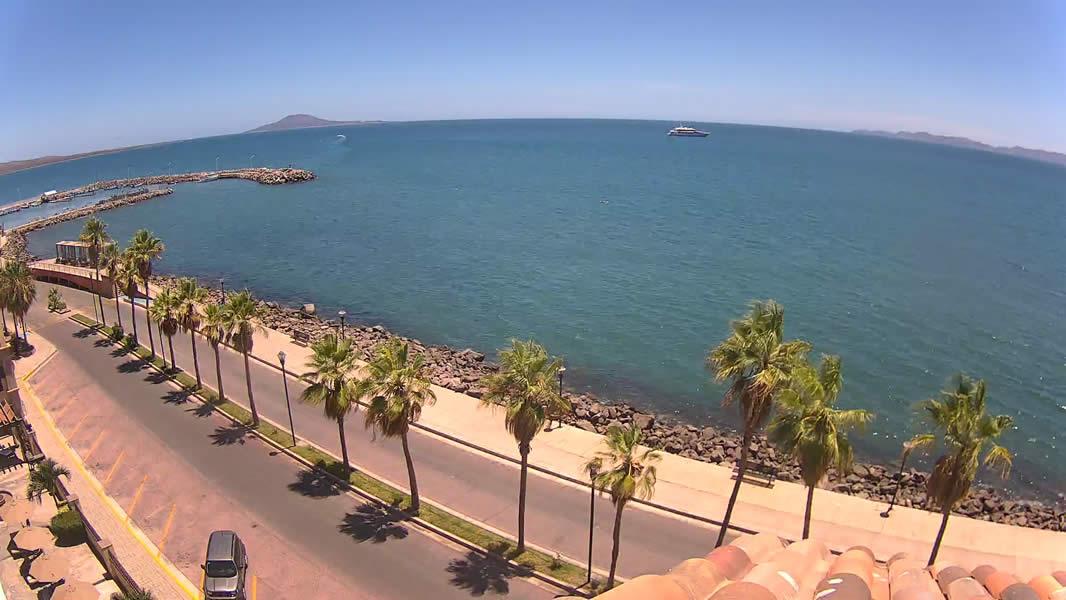 Captain "Cuate" Fernandez was the youngster at 48 . . . Ed, Mike and Rick are ten to thirty-years plus. "We are old but we can still tie a great knot!"
Wow, how the weather can totally hide what has been going on out there in our local waters. For weeks we have been limited to one or two days per week to explore the local high spots and hot spots.
This past weekend the wind stopped blowing and allowed the door to open.
"Bait catching" has been on and off but the "fish catching" is positively turned on.
The Coronado Island areas had been good for a variety of sizes of yellowtail and cabrilla. As the week progressed the focus turned to Puerto Almeja where near-limit action was happening.
Yellowtail and cabrilla on live bait was the rule -- not the exception. Today, one of our boats hooked up on a sailfish while soaking a mackerel for bottom monsters up at Almeja.
"Rick" from Loreto Shores worked over the La Cholla area yesterday and moved out of a triggerfish ambush only to hook up with another of our deep water billfish, a marlin outside of the "cleaning rock."
It's been a wild week with the only exception being down south with the hunt for wahoo. One of the Escondido boats did Santa Catalina Island for four days in a row and came up empty handed! (Hey, if the wahoo aren't showing, why not drop some iron on the northeast point and load up on some triggerfish and whatever else might be hiding down there?)
Off Carmen Island's southeast tip (Punta Perico) at a spot known as "sailfish" it was some hot action for big pargo.
The funny thing is, we fished for bait at the usual spots and even sampled the same spots with irons. We ended up with three big cocineros in the bait tank and headed out for "sailfish."
What do
you
think . . . with live bait, frozen squid and a handful of assorted irons, a fish dinner should be a good possibility?
In 200-feet of water with a flat bottom and nothing on the magic fish screen, WHAM!!! Three big pargo in a row . . . all on Salas 6X Juniors, blue and white!
The secret was the lure and a slow retrieve after it hit the bottom. We tried all of our combinations of lures and retrieves but only the "blue and white" rang the dinner bell!
Back in the water go the three big cocinero; back in the freezer with the squid and back to the old tackle boxes to dig for some more iron!
This coming week looks like a return to the windy days but we will be constantly watching the satellite reports for another clean week at the Loreto fish battles!
Happy Holidays to all! ...
Rick Hill, Pinchy Sportfishing
Magdalena Bay
John Keller, Josh Ringeisen, Mike Yanak and Brad Robson fished a three-day trip out of Lopez Mateos aboard the
Aguila
for 60 yellowfin tuna and 8 wahoo one over 70 pounds. They also fished one and one-half days in the bay catching snook, corvina and various bas. …Mag Bay Outfitters
http://www.bdoutdoors.com/forums/threads/magbay-report.612274/
La Paz
Here's a fish you don't see often. A tasty sheepshead caught by Joel Zarmati. I don't think I've ever posted a sheepshead photo in the 20 years that I've posted my fishing reports! I've seen them occasionally when scuba diving, but never seen one caught. Joel lives in El Sargento.
In rough water near the Las Arenas Lighthouse at the drop-off, Taylor was jigging and hooked this colorful amberjack. She was with her uncle, Roger Thompson, who says commercial guys using bait were catching yellowtail nearby. …
Jonathan Roldan, Tailhunter
East Cape

East Cape water temperature is presently 80 degrees and the North Wind has not let up. There have been very few departures but word from the die-hards is there is still a decent marlin bite and a few "good-grade" dorado have shown up. For us the season is over and our boats are out…
Mark Rayor
http://www.bdoutdoors.com/forums/threads/jen-wren-over-and-out.611828/#post-3979901
This week brought improvements in both the weather and the fishing. After two days of rain, the weather cleared up and made for some calm sea conditions.
The billfish bite is still
red hot
. Although sometimes tough to hook, there are a lot of sailfish in the area. While the hookup rate was a little lower, there were just so many opportunities during the course of the day that it was tough not to land a sailfish or two. Striped marlin and blue marlin are still present providing more action to the offshore trolling scene. During the course of the week, we hooked several baby striped marlin which were really cool to see. …
Scorpion Sportfishing and El Regalo Sportfishing
http://www.bdoutdoors.com/forums/th...egalo-fishing-report-november-15-2015.611185/
San José del Cabo
DORADO IN CABO!
It's called
"El Regalo"
for a reason! Many of you have been in a similar position -- and have been equally flustered to try and explain the experience. One rod goes off. Sweet! Then, like a three-year-old playing a xylophone, every other rod starts plinking in urgent and random manner. The entire spread was loaded up. There was enough time to put the boat in neutral (or idle, I don't even fucking remember) before all four of us had our hands on at least one handle. There's yelling and laughing and the un-choreographed, yet skilled, graceful dance. We spent the next 30 minutes hooking, gaffing, releasing, re-tying -- such wonderful mayhem! Believing that we'd found, and could stay on, the school, we relished the ability to selectively harvest, a rare embarrassment of riches. The live bait quickly disappeared; the dead bait worked just fine, as did flies, feathers, Rapalas, jigs, poppers, iron. …
J. David Le Compte
http://www.bdoutdoors.com/forums/threads/dorado-in-cabo.612301/
We are now just winding down from our busy fall season, there always is a slack period after Thanksgiving and before Christmas, family priority shift directions. Though this past week was busy with visitors. The week started off with persistent north winds limited options for anglers and making the overall action more spread out, by mid-week, the conditions calmed before the storm and we saw improved fishing action. Most catches were wahoo, yellowfin tuna, dorado, sailfish and striped marlin, also some roosterfish found near shore. For the most part there were no large numbers of any particular species, though there were some quality fish being accounted for, many days charters would just account for two, three or four fish in combination, though there were dorado to 25 lb., wahoo to 50 lb. and tuna to 80 lb. caught.
Dorado were harder to find compared to previous week, though wahoo became more active around the Iman Bank, early in the morning was best and you had to capitalize and make the best of the chances that you did have. Trolling with caballito, chihuil and various lures all produced wahoo strikes. Dorado were found scattered, no hot spot.
Ocean Temperatures were ranging 79 to 82 degrees through most of the region. Still no reports of any new resource for sardina, tuna action would be more consistent if this bait was available, most tuna are still be taken on strips of squid. The Inner Gordo Bank produced yellowfin tuna over 80 lb. and some days schooling tuna to 100 lb. could be seen surfacing, but were very finicky to bite. The action for tuna found under the porpoise became more sporadic, but was still an options when anglers found themselves in the right place at the right time.
More striped marlin appeared on local grounds, not always in the mood to bite, as they can be near full moon. There were two black marlin reportedly landed from private boats out of Puerto Los Cabos Marina and there was a blue marlin landed from a panga that was estimated to weigh close to 500 lb., this blue was hooked on a trolled caballito late in the afternoon about five miles off of Red Hill and was not landed and brought back to the docks until midnight. With the warm waters there are still quite a few sailfish in the area for this late in the year, most of these in the 40 to 80 lb. class.
The bottom action is triggerfish, small cabrilla and pargo, also a few bonito. A few charters reports good success on roosterfish while slow trolling caballito near Punta Gorda, lots of barracuda keeping anglers busy off the marina dock area, also a few sierra showing up...Eric Brictson, Gordo Banks Pangas.
Los Cabos
Team Spirit & 17th Annual WON/Yamaha Los Cabos Tuna Jackpot
http://www.bdoutdoors.com/team-spirit-17th-annual-wonyamaha-los-cabos-tuna-jackpot/
Mike O, Bob, and Don fishing for striped marlin and dorado on a panga and with Dreamweaver Sportfishing in Los Cabos in November 2015.
http://www.bdoutdoors.com/forums/threads/los-cabos-fishing-trip-with-dream-weaver.612125/
The overall fishing conditions have changed a bit -- with the full moon phase moving into place it seemed to increase the difficulty for catching the billfish.
Hurricane Sandra has moved considerably over the past few days and now looks like it will bring plenty of rain into Cabo San Lucas but with some diminished wind conditions. Earlier in the week the conditions were much better with some partially cloudy skies and mixed sunshine and with temperatures that varied from 70 nights to 87 daytime highs and an average humidity level at 71%.
Very good conditions early in the week with sea temps stable on the Pacific side at 83 to 85 degrees and falling off on the Sea of Cortez side to 81 to 82 degrees. Surface breezes flowed mostly from the southwest until Thursday, when it changed to the easterly and northeasterly on Thursday and Friday. Sunday through Thursday, surface breezes varied from calm mornings to about 12-mph. Friday and Saturday winds increased to red flag conditions created by Hurricane Sandra.
The better fishing for the marlin was in the area of Los Arcos, on the Pacific side, but billfish were scattered about the various "hot spots" all the way up the Pacific side within a few miles of Todos Santos. Dorado were being caught in all locations from Cabo Falso to Pozo de Cota and on up closer to Todos Santos.
Live bait was best for the billfish and even for the dorado with scattered strikes on the artificials for both, billfish and dorado. The wahoo were taken on artificial.
Live bait supply: Pacific green mackerel were the provided bait for the week and being caught at night on the Pacific side of Cabo. The caballito were almost non-existent. Bait price remained at $3.00 per bait…
Larry Edwards
Last edited: